The closer we get to Halloween, the more people want a thrill. An adrenaline rush, loud and fast heartbeat, fear, and horror – to get the whole range of emotions, you don't have to be a part of any real Halloween quest. Especially since the public horror rooms and other attractions have quite banal plots and can even disappoint you.
Recently, a game called Phasmophobia was released, which caused a sensation and amazed many even the most fearless players. This is a special game, where you will act as non-standard ghost hunters – all you have is a little equipment for spiritual sessions and flashlights. You can also check the list of 10 Best Multiplayer Horror Games for Android & iOS.
Also, Phasmophobia is special because you can play together with your friends and become a real team. We decided to find the 11 Best Games Like Phasmophobia for Android & iOS, so you can immerse yourself in an atmosphere of fear and horror.
Horrorfield – Multiplayer Survival Horror Game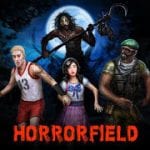 If you are going to play with your friends, Horrorfield is a great option. In total, the game can involve 5 people, and four of them will be regular people. In this case, one player will take on the role of a maniac, who will have to kill all the others.
Despite the fact that, at first glance, everything in Horrorfield is quite simple, in reality, it is more complicated. The four heroes who survived will have their own tasks to complete before the maniac gets to you.
Every action you take in Horrorfield takes precious time. During this time, the maniac can easily get to you, and your allies will be left without your help. Remember that the villain's main task is to stop you at any cost, and the attack occurs automatically.
Only one wound slows down the players, and the bloody traces will stretch all over the map. Horrorfield also displays the state of all players – in the panel you will see who is healthy, who got stunned, and who was able to escape.
Also in the game, you can use additional auxiliary items that you still need to find! In Horrorfield, you will be able to see how well you can adapt to the conditions of survival.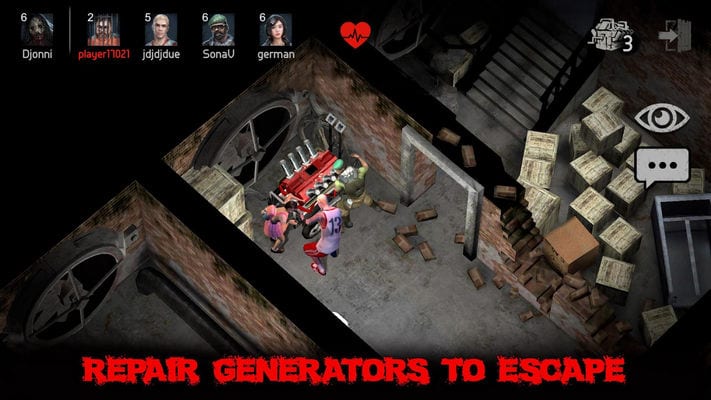 You may also like: 16 Best Survival Games for Android & iOS
Endless Nightmare: 3D Creepy & Scary Horror Game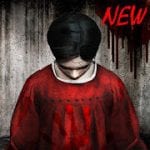 Sometimes it happens that you just can't sleep at night. At such moments, we are all used to taking a phone in our hands, aimlessly leafing through the ribbon in social networks, and so on. But there is a better option – for example, the game Endless Nightmare.
Here you will get a real adrenaline rush before going to sleep and perhaps you won't be able to sleep anymore in general. If you are looking for this feeling, then this game will please you. Moreover, that Endless Nightmare is filled with sudden terrible moments, and you will feel as if there is really someone near you.
In the story, you play for a police officer, whose family was killed. In your house, there is a strange essence in the form of a woman who will try to kill you too.
Your task is to find all the evidence that could help you in finding out the circumstances of the murder of your wife and child, without falling into the hands of a strange and vicious lady.
If you have already thought that everything is so simple – just run away from the ghost – it's actually quite scary. This lady will chase you armed with a kitchen knife, so the officer needs to act as discreet and quiet as possible.
The atmosphere of Endless Nightmare will make your heartbeat louder and faster, and the puzzles that will meet in the game will only add adrenaline.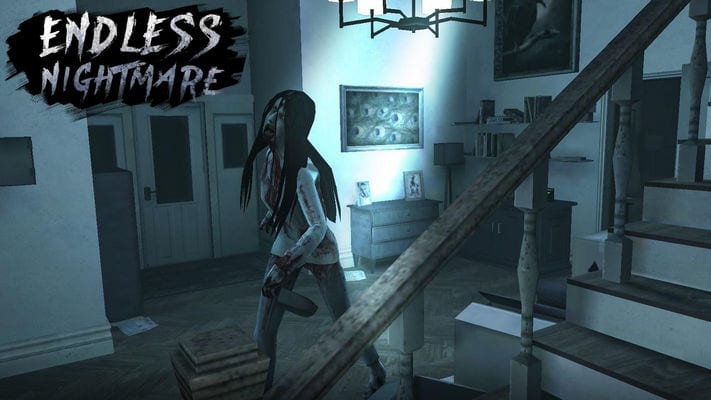 Horror Hunt: Until Daylight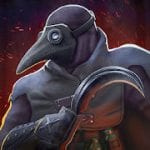 When the whole world is represented in the game with its heroes and characters, it is incredibly interesting. The developers of Horror Hunt tried to create a complete immersion for players in a completely different reality – Nightmare World.
Here you will be able to face creatures from your own nightmares, but now you can confront them and even expel them from your world. Horror Hunt is a hunting process, where you will try to destroy the monster – or you will become one. It all depends on what role you will play and how well you will be able to cope with it.
In Horror Hunt you will play together with your friends – there should be 5 participants in total. Among them, there will be 4 hunters and one terrible monster. In this case, the monster will have its own features, which will help him destroy ordinary people.
It should be noted that Horror Hunt has a great idea with totems, which give strength to this terrible creature. Hunters will need to destroy them until the monster caught you.
The game has only two outcomes – you can either live until dawn and defeat the evil monster, or he will eliminate you. You choose your own way, without looking back at the actions of other players.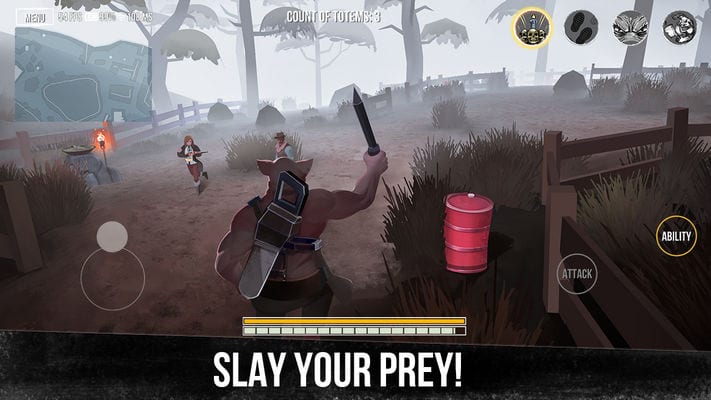 Mr Meat: Horror Escape Room Puzzle & action game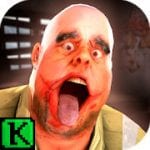 Mr Meat is a survival game with elements of horror and puzzles. In the story, you will be the savior of an innocent girl who was kidnapped by a maniac. This maniac is named Mr. Meat – for this reason, the game has this name.
In fact, he lives on an inconspicuous and simple farm, where the girl was brought. You will have time to find and save her before the butcher will deal with her.
It should be noted that despite the popularity among users, in Mr Meat you may encounter various bugs and freezes that will annoy you during the game – but this minus is easily compensated by the atmosphere.
The game has its own story and its development, which makes Mr. Meat special. The gameplay is simple and uncomplicated – all actions are performed with simple clicks on the screen. The Butcher himself will try to kill you before you can finally get to the girl.
It is worth noting that his house from the inside will look like a prison or maze, which is designed exclusively for torture and imprisonment of people. In order to pass Mr. Meat and release the prisoner, you will need to solve puzzles and even shoot the maniac.
You will not be able to complete the entire story with the first time – you will need to start again and again until you finally reach your goal.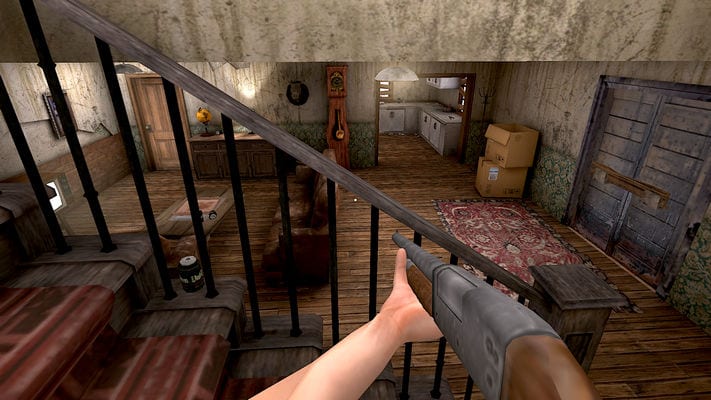 Antarctica 88: Scary Action Survival Horror Game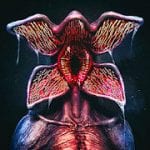 Antarctica 88 is a game for those people who like stories with researchers, travelers, or expeditions. As you can understand from the name, the whole action will take place in an extremely cold and snowy corner of the world – Antarctica.
The plot is that some expedition was at the station of Antarctica for more than half a year, but suddenly any connection with the crew members is lost. You arrive at the place to clarify the circumstances, but everything turns out to be much more terrible than it may have been at the beginning.
The main character immediately finds himself alone and with a huge number of questions to be answered. In Antarctica 88 there will be a lot of creatures that look nothing like humans – only 3 different species and you will need to kill all of them to stay alive.
The whole story is accompanied by various documents and notes, which will explain what is going on in more detail. By the way, we recommend playing with sound, because Antarctica 88 is fully voiced and it will only immerse you more in the atmosphere.
The game is not the scariest one, but monsters and everything that happens will definitely scare the player. In addition to action and the fight against monsters, Antarctica 88 has puzzles that need to be solved to get answers to your questions. Do not worry – the game itself will tell you exactly where to look for tasks.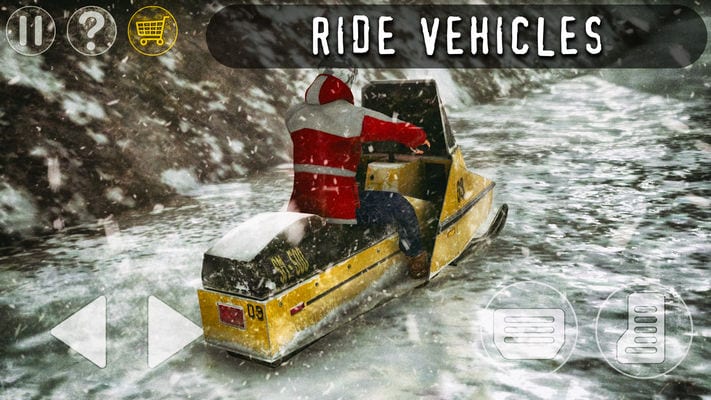 You may also like: 15 Free 3D Action Games Android & iOS
Death Park : Scary Clown Survival Horror Game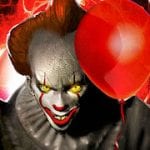 After the movie "It", the clown Pennywise literally got a second life. Now it can be often found in various horrors and games, which can not but please fans. The game Death Park presents you exactly the terrifying clown Pennywise as the main villain, and you will need to escape from him.
However, the game takes place not in film locations – all actions are carried out inside the abandoned park with an abundance of amusement rides where you will find all new puzzles and necessary for the game items.
The goal of the player is to get out of the amusement park alive at any price. Of course, the clown will try to kill you, as he is constantly on the active search for a victim.
In order not to die immediately, you will need to look for shelter in Death Park, as well as to lead Pennywise on a false trail. You will understand how to do this in the process because the map itself and the objects around you are accessible for interaction and even have hints.
Depending on your actions the game may have different endings. Even if you get out (but do not hope that it will be easy to do), the course of further events can be quite different. By the way, you can play Death Park not only on your smartphone but also on your computer, if it will be more convenient for you.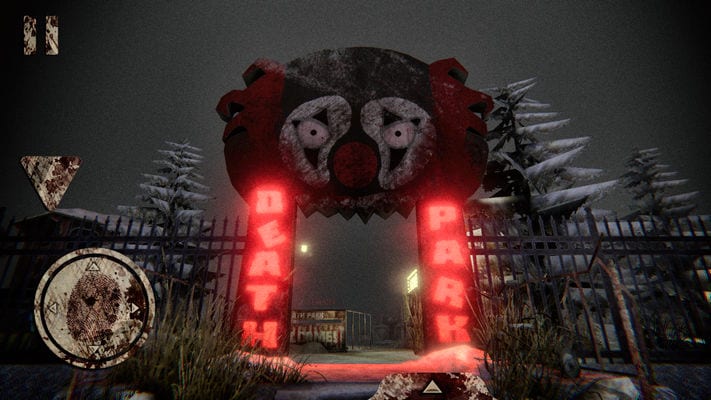 CASE: Animatronics – Horror game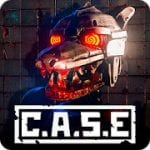 If you would like to play something with great graphics, but do not want to delve into a complex plot, then CASE: Animatronics is the perfect game for your criteria. The developers have tried to make an excellent visual part of the game, as well as not too complicated plot part – so that you can complete it quickly enough.
The game begins quite trivial: you find yourself all alone in a building, without the slightest understanding of what to do next. All instructions you will get in a phone conversation, from which it will be clear – there are hostile robots around you.
In CASE: Animatronics you will act as a detective, who is in the police station. Your system is hacked, the exits are blocked and the robots are already coming. In the process of investigating the station, you will find various evidence and clues with which the whole story is narrated.
From such scraps of information, in the end, you will discover a whole story that could well become a movie plot – if the developers had put a little more effort into it.
It is quite scary and unpleasant to fight against robots, of course, especially in the dark and in a creepy building. But CASE: Animatronics is more suitable for those players who just want to play something creepy and unusual, but not frightening to the full extent.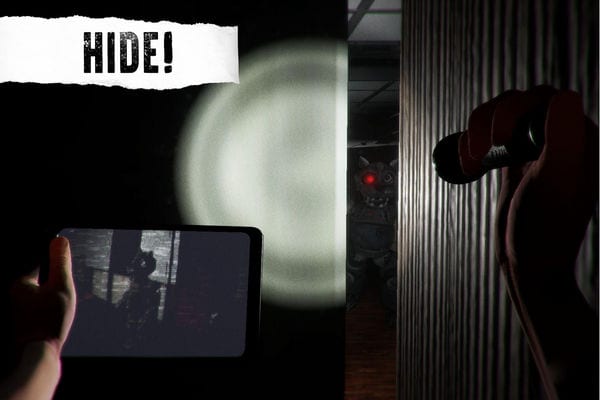 Eyes: Scary Thriller – Creepy Horror Game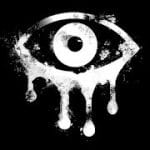 There are not many multiplatform applications among horrors, but Eyes is one of them. It is released on all popular platforms and devices, but the most convenient option is a tablet or smartphone.
In the game, you get into an abandoned house, where you have to look for bags of gold – but the building is a huge set of rooms, in each of which you will have to enter.
Believe me, it is not so easy, because Eyes will plunge you into a maze with many corridors. Fortunately, your hero will draw a map, which in time will be a great guide for you.
In addition to the abundance of rooms, there are also several floors, each of which is filled with different objects. To increase your fear, they will sometimes move and make sounds – but even knowing this, you will still be afraid.
Especially since there is a ghost in the house, who used to own all this. Believe me, he will not want to share his wealth. In Eyes you will try to find all the gold that you need, and the ghost will hunt for you.
A little hesitation is enough to make this creature appear on your screen with a nasty sound, and you will need to start from the beginning.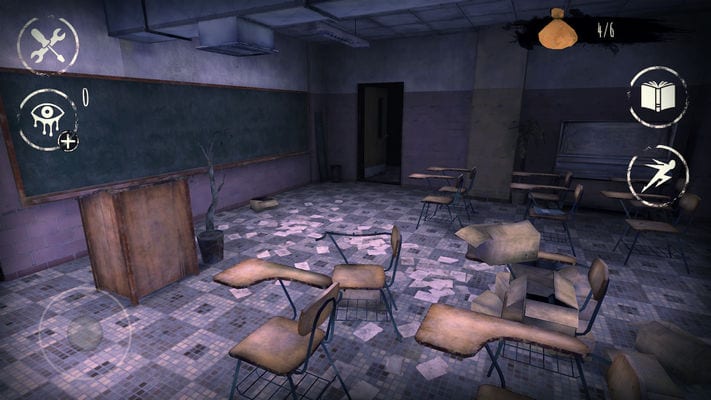 The Fear : Creepy Scream House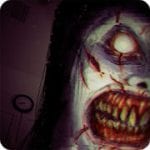 The Fear has already received high marks from all fans of creepy games, so we think you can trust their opinion. The game is horror in an ancient place, filled with death, horror, and other nasty things.
There is a good story in the game, with which you will be immediately introduced with the help of a video clip – it's an ordinary family that goes home after a hard day's work. The street is dusky, the road is badly seen… Suddenly, there is a woman on the road who has her own creepy story.
The Fear is fully dedicated to the story of a girl who hanged herself in a distant time in a creepy house, and now she is having fun by killing entire families. As soon as the video ends, you will realize that you have already woken up alone, and after the accident, your family members are missing.
You will have to go back to the house and study everything you find there – and the terrible girl from the road will be constantly chasing you. The ghost can really hurt you and just scare you, preventing you from exploring the rooms.
The Fear accompanies the players all the time with atmospheric musical inserts that keep you tense – so we recommend playing with headphones. Here you will face an unexpected twist in the plot and only then you will know who the girl is and who she is…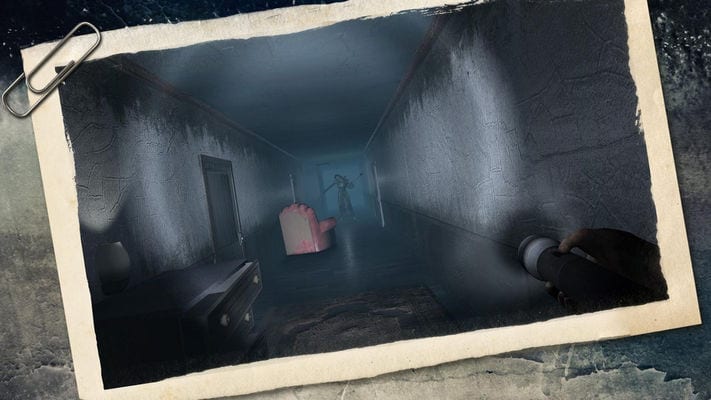 House of Slendrina (Free)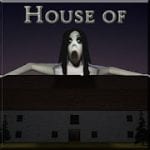 Slendrina is a creature that will scare you not only during the game itself but also every time you remember its image. House of Slendrina is the third part of a series of games in which players will have to face a terrifying girl and solve her mysteries.
Previous parts had completely different locations, but here you will be moving around the house of Slendrina and you can also encounter other characters associated with the girl. The purpose of the game is simple – to find all the hidden objects and make up of them a complete solution to the story.
House of Slendrina contains eight parts of the same circuit, which will allow you to open a mysterious and important closet. Since all parts are placed in different parts of the house, you will need to explore each room.
Of course, Slendrina will interfere with you and try to kill you – it will be enough to face the hero. The gameplay of House of Slendrina is quite simple and standard for mobile games – you control the movement of the character, open the doors and explore everything around.
You will need to collect not only the parts of the circuit but also the keys, opening the doors to different rooms. Fortunately, from the very beginning, you will have a map of the house, on which you can easily navigate.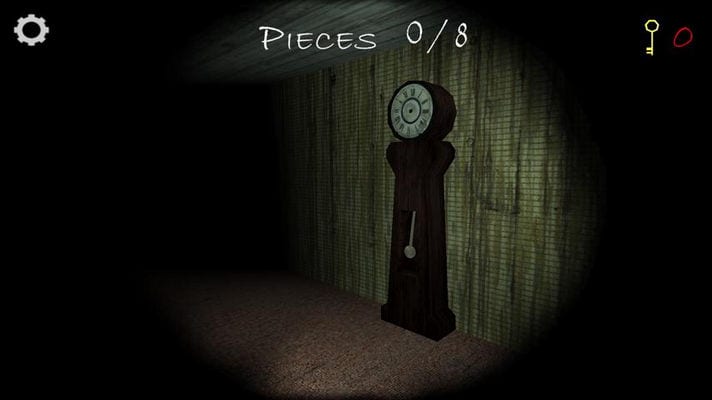 You may also like: 11 Best Scary Stories Apps (Android & iOS)
True Fear: Forsaken Souls Part 2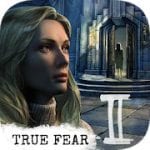 True Fear: Forsaken Souls is a two-part game that keeps players in suspense and fear. The story does not change in separate parts, so if you have already passed the first part of the game, you can see the continuation of the story here.
The game still tells the story of a girl who deals with her family secrets, and suddenly there are too many of them. In True Fear: Forsaken Souls you will go with her to a mental hospital to restore the whole chain of events that happened and finally solve the family secret.
Of course, the hospital turns out to be abandoned, and in it, you will find audio diaries of a certain journalist. In them, you will be able to hear a lot of creepy and strange things that will add to the already grim atmosphere.
Compared to the first part of True Fear: Forsaken Souls, here you will encounter a lot of puzzles and challenges, as well as an increased number of locations. You'll be introduced to the story with a variety of clippings from newspapers, diaries, audio recordings, and other details that will help you reconstruct past events.
If you want to play something really dark and tickle your nerves, we recommend that you play True Fear: Forsaken Souls in two parts.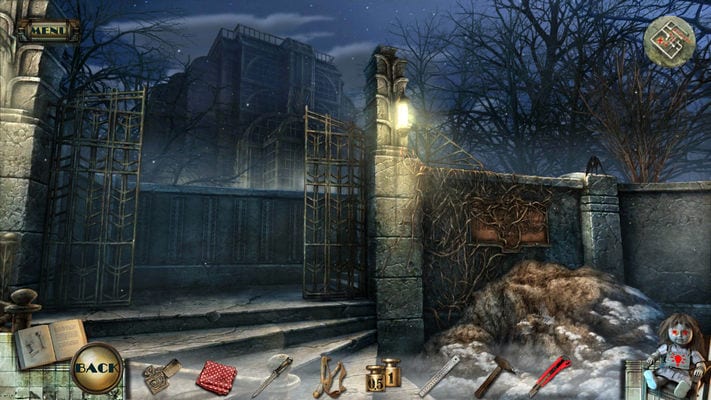 Among the lovers of horror and other horror content, there are many people who would like to experience all the sensations in real life. Games can really help in this – especially if you play at night or at dusk while being in the room alone.
As you immerse yourself in the gaming atmosphere, you will only be able to feel the full range of sensations more. Real fear, a fast heartbeat – all you have to do is to try to start the quests.
We tried to find really scary games with good stories that are perfect for you while waiting for Halloween. We hope that we were able to help you in your search and you now know what you can play in this genre.