AlphaPlugins HDR Portrait is an ideal tool for all photo lovers, who desire to create magnificent High Dynamic Range photography. The application enables you to edit your pictures and offers lots of different options for creating HDR images.
If you like making HDR portraits you should also like the cartoon effects on pictures. You can check this article to find the best apps in this category.
Compatible with iPhones, iPods, Mac, and iPod touch. This photo editor app ensures numerous tools and facilities on how to make an ideal portrait shooting. Perfect assistance for your gadgets to make or edit portraits anywhere and anytime you want!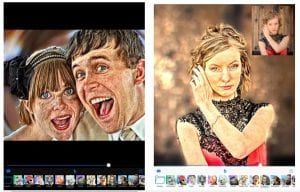 Only you decide what is best for you. Edit your images according to your wishes. AlphaPlugins HDR Portrait comes with artificial intelligence and neural networks to detect faces on pictures. You can easily separate your background from the faces.
Use an extensive palette of effects, opt for the most appropriate one, and apply it to your portraits. AlphaPlugins HDR Portrait offers a wide range of background effects, various blurs types, and shapes facilities. Make your pictures as impressive and appealing as you can!
In order to achieve even the better effect, you can add the sketch effect to your pictures.
Do not have the opportunity to make portraits on your phone or afford to buy a high-end model with portrait shooting capabilities? No need to worry! If your device does not support the dual cameras system or TrueDepth sensors – AlphaPlugins HDR Portrait will take care of it.
The application contains the own neural network to ensure ideal portrait photography. Adapts to all device versions, even the old ones! AlphaPlugins HD Portrait includes a basic kit, which guarantees a generous number of editing tools, various filters, and a great range of combinations settings.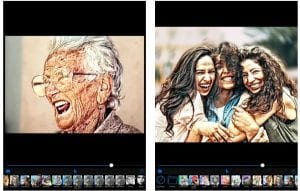 But if you want to make adjustments to your pictures on your own, then it is better to buy an extended version. The extended version enables you to regulate brightness, warmth, contrast, saturation, curves, highlights, and shadows settings.
It makes all editing parameters available at a reasonable price. Check it on the app store and you will be pleasantly surprised. Face recognition, high-resolution HDR pictures, a precise autofocus, and exposure – these are the major characteristics, which help this app to stand out among its competitors.
What is more, you can check out the collection of the best stop motion apps to extract the best shots from the picture and edit them.
The manufacturer stands firmly behind the app quality and tries to satisfy all customers' expectations. This user-friendly and functional application provides a great value for the price. Can not opt for an ideal photo editor app? Do not waste your time, hurry up to download this application – it will definitely suit you!