Have you ever wanted to design a home? Or do you wish to become an interior designer? Are you looking for inspiration for a design project? If your answer to any of these questions is in the positive then these decorating games are the ideal fit for you.
Most people would love to decorate their house but since the real-life things might be too expensive sometimes. Fortunately, there are various virtual methods to keep on doing that and home decorating games are one of them.
Those games will give you the opportunity to design your dream house without spending a penny. And when you'll have enough money you can easily translate these projects into action. Here's the list of 15 best home decorating games for adults. They are available for Android and iOS users.
You may also like: 9 Free Furniture Design Apps for Android & iOS
Design Home
Design Home is a free home decorating game that enables you to design rooms and build houses in a way similar to The Sims.
Playing this game you will quickly get lost in it and discover the fact that it's so much fun and relaxation to choose the wall's pattern and the dining tables. Just like in the other similar games. the more you play – the more stuff you can earn or buy.
That way, there are thousands of vases, paintings, mirrors, and antique chairs to choose from so that all your designs could feel real.
Along with that, other players can evaluate your designs and score you the stars. That way, if you have lots of objects to choose from, you'll more likely get 4 or 5 stars for your design. Those stars are not only to make you feel better, but it also gives you a piece of furniture as a prize depending on how many stars you get.
Moreover, if you get five stars you will also earn diamonds for your future shopping. There are more than 40 million users by far so as you can see this game is quite popular. Moreover, you can share the pictures of your designs on social networks like Facebook.
Playing this game you will get up to five new challenges and each one will have a specific theme like designing a modern-style living room for this authentic New-York loft.
That way if you've never played in this kind of game you'll spend a couple of hours falling into this designer game. But when you do, this game might be a great source of inspiration for your real-life decorations.
Apart from that, the game's not completely free, so you'll need to spend a little bit of your money on diamonds. To sum it up, Design Home is a great home decorating game that enables you to figure out what you like in style and then make it real in your life. Try this app out, it worth it.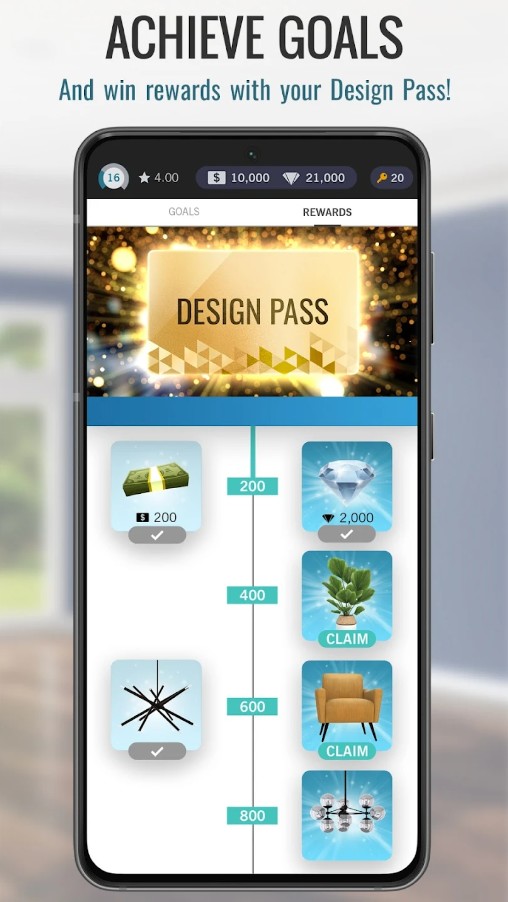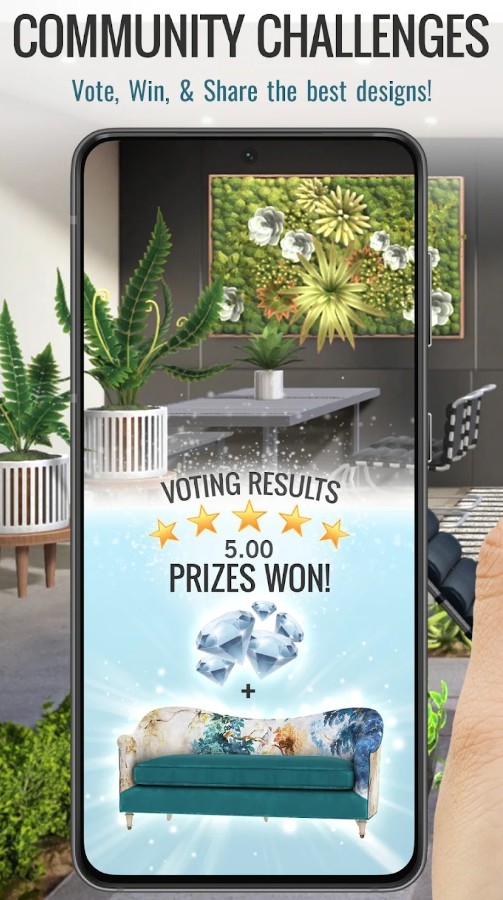 Check also: 20 Free Android Apps for Designers
Redecor – Home Design Game
If you are going to hone your design skills, you should definitely try Redecor. The application allows users to carry out amazing daily design tasks and work with assorted styles.
When you first open the app, you will have to enable several permissions. After that, tap on the Enter button to launch the design process.
Just click on a certain item and select an appropriate design to colorize it. When everything is ready, tap on the Submit button. Lastly, you will get the rewards.
Redecor runs as a social network. Once you have downloaded the app, it will automatically create an account for you.
On the bottom of the screen, there are several sections developed for particular tasks – e.g. collections, challenges, homepage, etc.
Users can perform daily challenges, so let's check some of them below:
Use the Bauhaus Season Pass Art in 10 different designs
Vote for 5 designs
Update your profile name
Complete 1 due challenge
When all the tasks are ready, you will receive money. For these rewards, you can buy new decorations for your designs.
The app comes with a great variety of design options, so you can try both traditional and modern styles. The apps' design is quite minimalistic, as you will not find any redundant features there.
In case you want to get inspired by magnificent designs, we advise you to visit the developer's website.
Overall, Redecor is a must-have tool for all designers, architects, and everyone who is fond of interior design.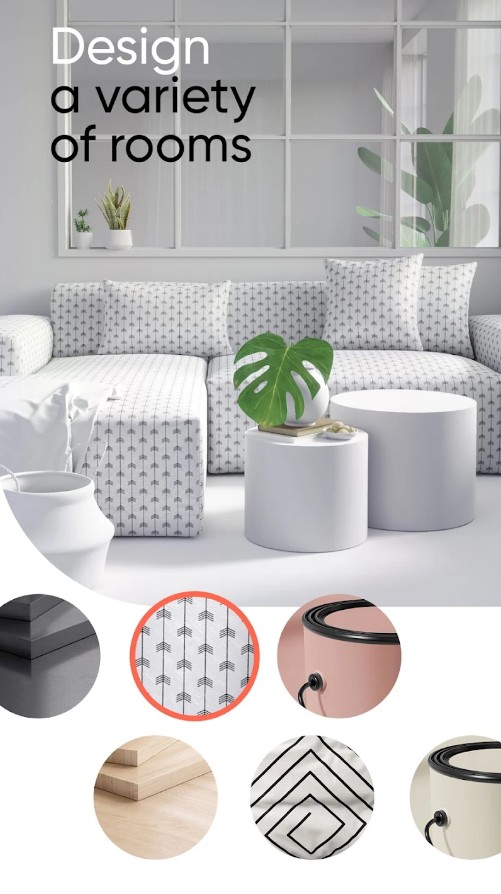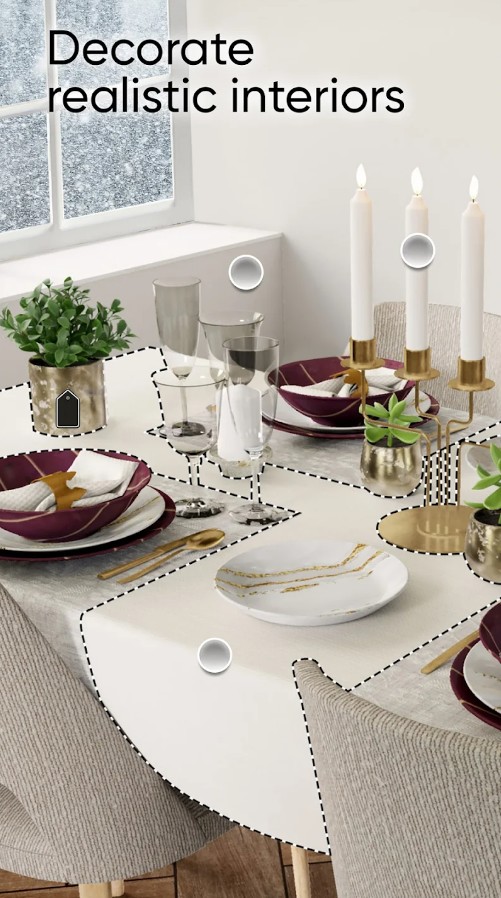 The Sims Freeplay
There is no way that you've never heard or played on even one game from The Sims franchise. So this game is basically the same as The Sims but for free and on your smartphone. It sounds like a dream, right?
Let's make it clear – designing the dream house was always the greatest part of The Sims. It's always cool to choose the perfect wallpaper and find the matching furniture to all of your Sims. If you feel the same – The Sims Freeplay is a must for you.
Speaking of the design of this game – it is on top of the level. You can turn your camera wherever you want and zoom everything you need. Everything feels easy and intuitive, so you can build your dream house and place furniture in comfort. Along with that, you will need money to buy furniture, just like in real life.
That way, you can make your Sim earn simoleons (money in the game) by going to work or selling something. Another way to make money is to simply buy lifestyle points to purchase some furniture and houses.
As you would expect, the level of customization here is staggeringly deep. The Sims FreePlay offers so much fun and variety of everything that can possibly be customized so you can easily spend hours designing the room or choosing an outfit for your Sim.
All in all, The Sims Freeplay is a nice game that is great for home decorating. It is still not the complete copy of the PC game but all of the best features are there. Give it a try!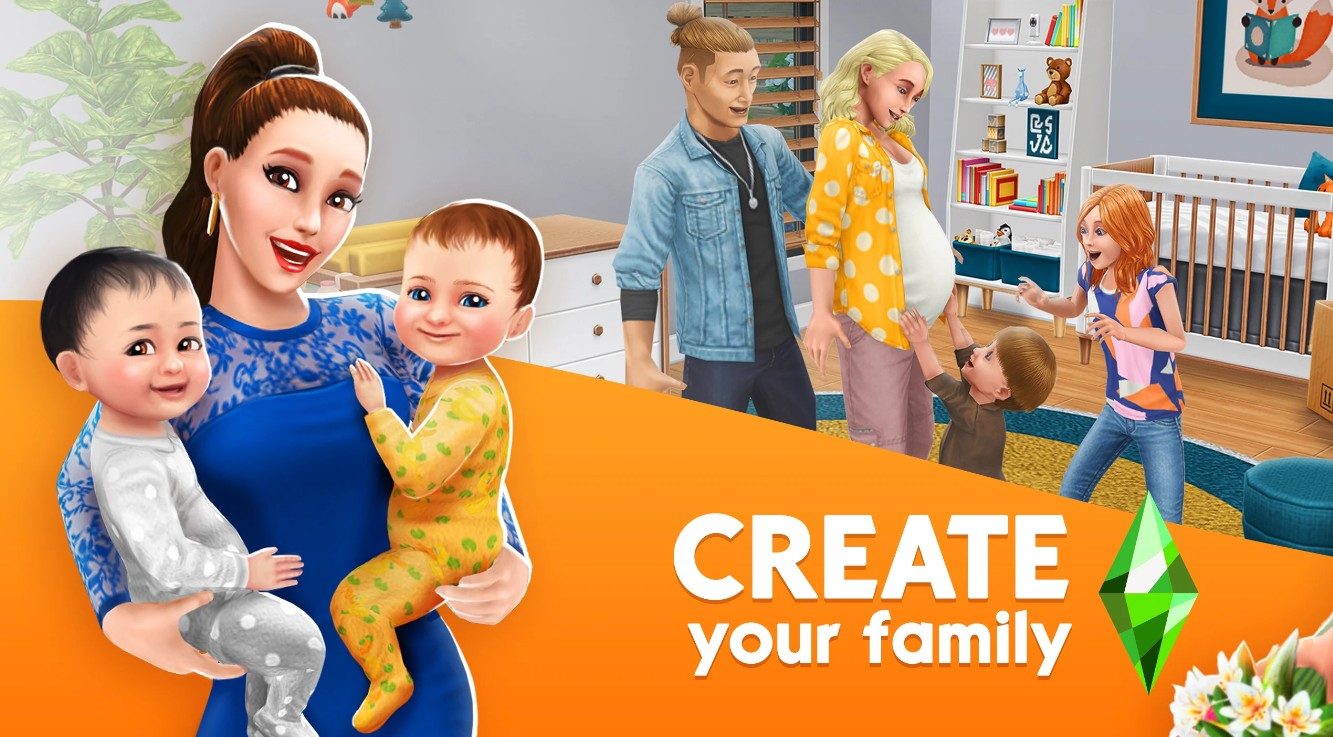 Home Design Makeover
Home Design Makeover is a nice home decorating game that gives you the opportunity to feel like a professional interior designer. Playing this game you will have one job – transform your client's old room in something he could be wowed about.
As you install the fame, you will need to design the living room for the client named Rachel. After you'll complete this task you will get a new client and then everything will repeat.
As you get a new client you'll need to start with making a blueprint that will be your base in customization of the room. Moreover, each client will have a particular task for you such as the preferred style.
Along with that, you will also find out that every element of your design might be changed by color and placed on different corners. Besides, each piece of furniture also has a private so you will need to earn some money when you'll run out of the cash you start the game with. The coins might be earned by playing the match 3 puzzle game.
Speaking about the graphics in this game, it is good enough to feel real. All the images are very detailed and there are many aspects of decoration you need to cover in the blueprint. Another great news is that Home Design Makeover doesn't require any in-app purchases so you can play it for free.
There is an option to buy diamonds that can help you get through the match 3 game quicker but overall, you don't have to buy anything to play.
This game is not very easy to play, because some designs might take you a few days to complete. It mostly depends on how good you are in the match 3 games and how much time you spend playing a day. As you high up your level, the difficulty will increase and some things might become difficult.
To sum it up, this is a nice home decorating game if you like the match 3 games. That way, you can have fun with interior design.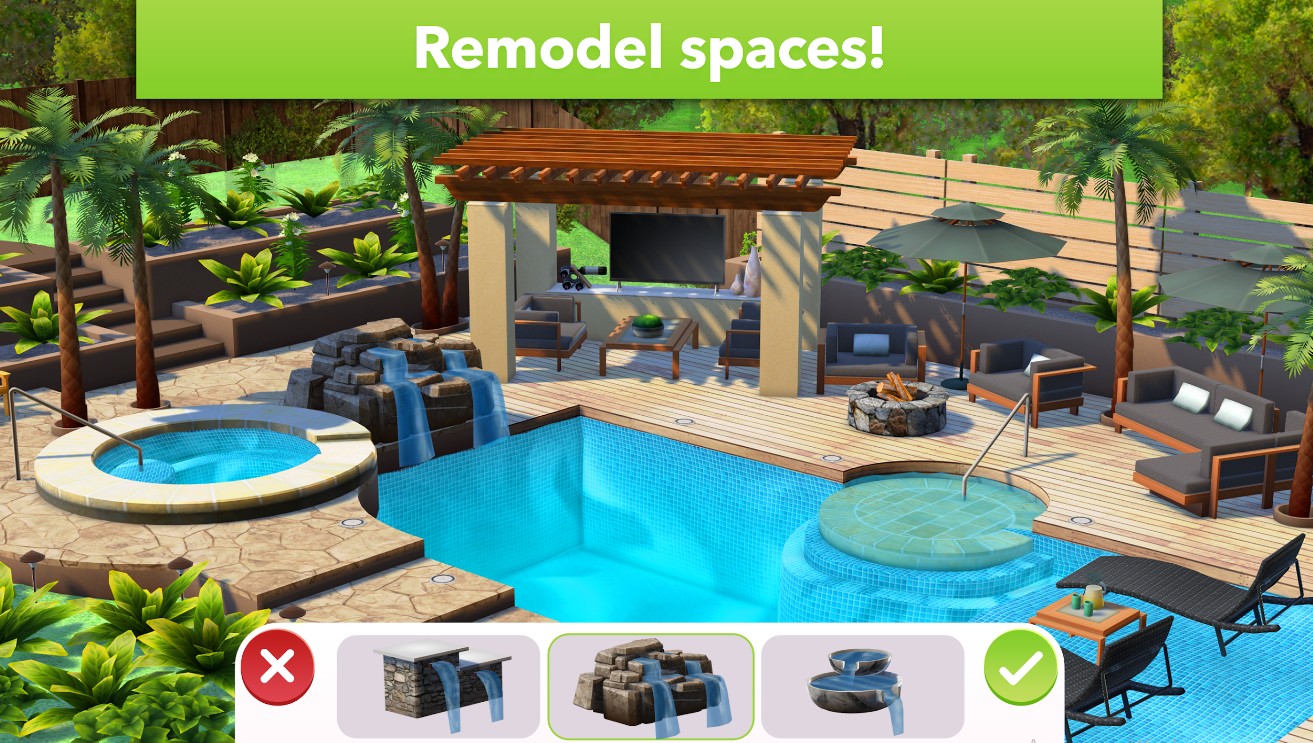 Dream House Craft: Sim Design
Dream House Craft: Sim Design is a home decorating game that has has a little bit of a Minecraft vibe to it. This game enables you to build houses and decorate rooms using a variety of tools.
Playing this game you will have the opportunity to build your dream house using plenty of tools and furniture. The Dream House Craft: Sim Design game will give you access to an unlimited number of houses and rooms to decorate.
As you install the app you will need to build your first house. The whole process starts with choosing the blocks. There are lots of originally blocked items that you will be able to unlock with time as you level up.
Along with that, the game gives you access to a large variety of crafting instruments that you can use for home decorating. You can even change the clothes of your character if you want to, so there are some clothing items available. The game also offers you a full view so you can fully appreciate how your character looks.
Speaking of gameplay, it is very well-made and user-friendly. It has simple controls so you can design the house of your dream with comfort. There are also thousands of different tools at your disposal so you can be creative.
To sum it up, Dream House Craft – Sim Design is a great home decorating game with lots of tools and features to try. So if you want a game that gives you the opportunity to design your dream house, this one is for you.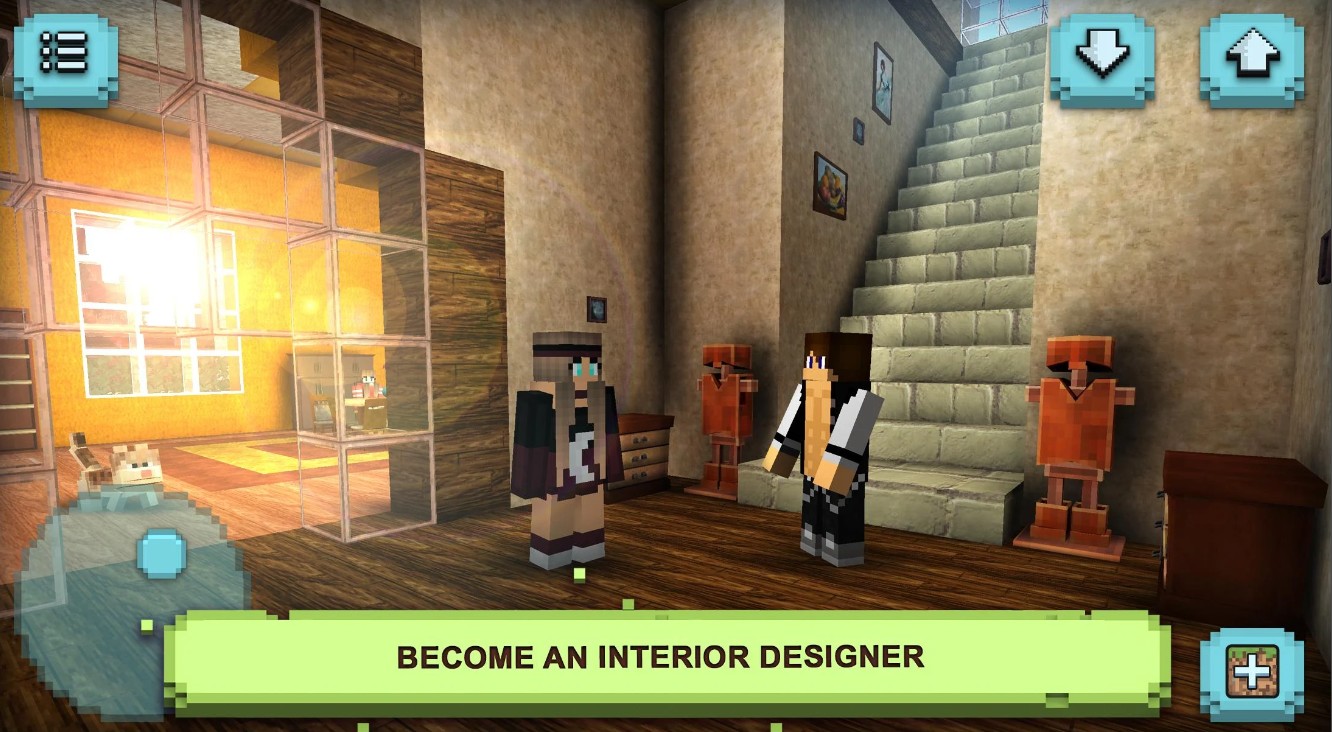 Castaway Home Designer
Castaway Home Designer is a home decorating game that enables you to become the mayor of a tropical island and the designer of all the citizens at the same time.
Playing this game you will need to decorate the houses to earn some diamonds. There are lots of tools to choose from so you could be as creative as ever. You will have thousands of pieces of furniture to customize and millions of patterns for the walls.
There are also some originally blocked items that will unlock as you level up. As long as your job is literally to make your client's dream house, you need to listen for what they like when you create a design. That way, you'll more likely get many diamonds.
Speaking about the interface of the game, Castaway Home Designer is a real colorful paradise. The game is very bright so your mood will level up as you play. The graphics are also beautiful and precisely reflect the atmosphere of a tropical island.
Along with that, every house that you see on the island will have its own missions to complete and rooms to decorate. Sometimes the game will even tell you how many pieces of furniture you'll need to put and move in each house.
To sum it up, the Castaway Home Designer game has everything you might want from a decorating game – it has beautiful graphics and a large variety of tools to choose from. If it sounds interesting to you – download this app now and enjoy your time.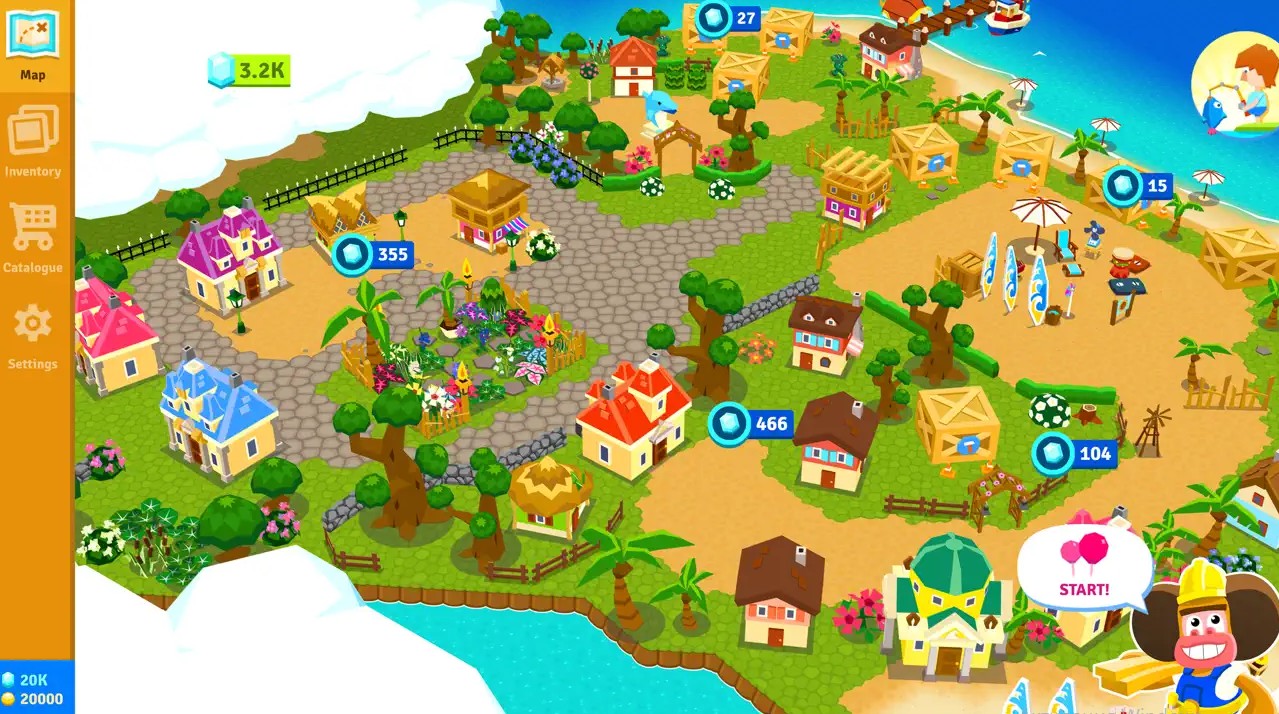 Sweet House
Sweet House is an app that will give you the home that belongs to you. As you start playing this game you will need to complete the variety of missions. If you complete the missions with the stars you will get lots of coins and goodies that you can exchange on something as the game goes.
Another option to get the coins is to connect your account to Facebook – that way you will get one thousand coins with a few taps. The connection with Facebook will also bring you the opportunity to play the game on multiple devices and save your progress throughout the game.
Apart from that, you will see that some levels in this game require a particular amount of stars so that you might need to come back and replay some missions. While you complete the missions you're choosing one of three given decors.
And if you'll choose the bad one or will simply want to try another one, you can always change it by tapping on the piece of furniture and replace it with another available one. This move is cheap so you can do it as many times as you want to try different furniture combos and create something unique.
To sum it up, Sweet House is a nice decorating game. So if you like to design and decorate homes with your own unique style, this game is perfect for you.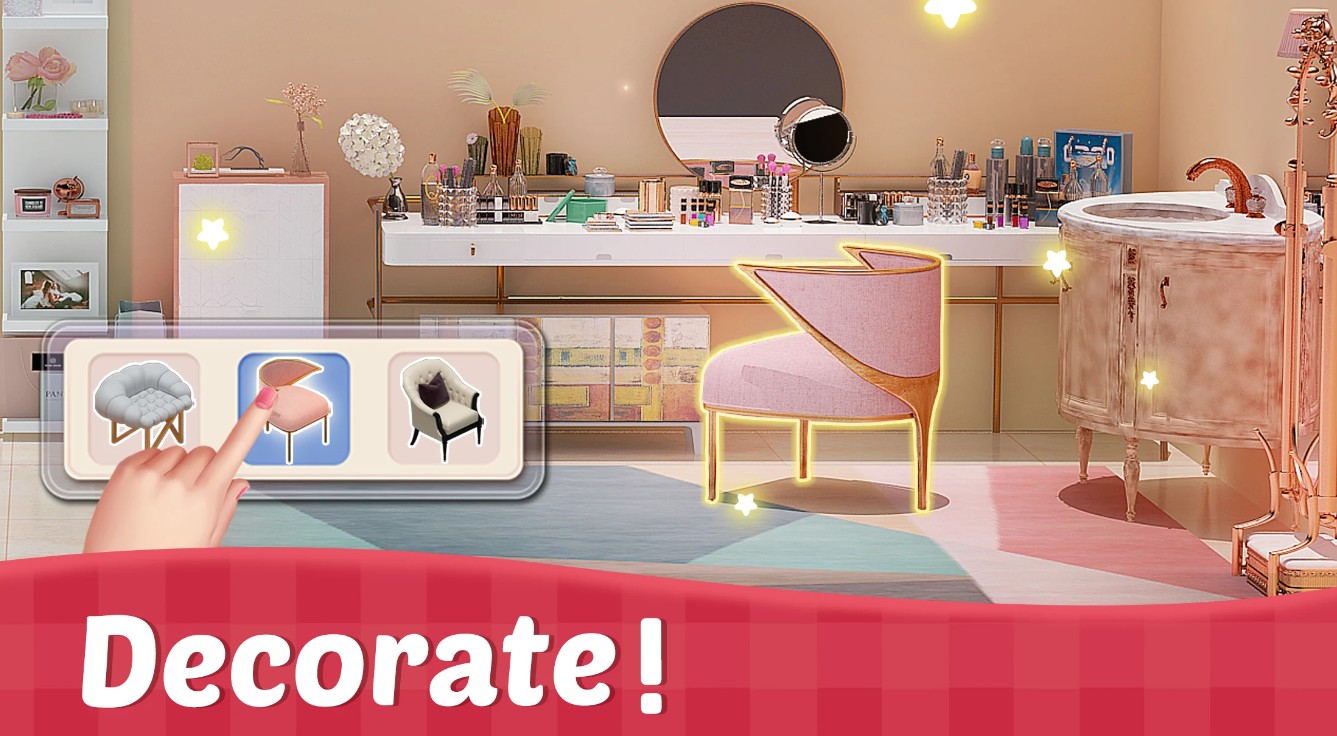 You may also like: 17 Free City Building Games for Android & iOS
Home Design Story
Home Design Story is a home decorating game that enables you to create your own unique designs and build the house of your dreams.
Playing this game you will have thousands of items to choose from so that you could recreate everything that comes to your mind. Literally, everything you could possibly want to customize in your house you can change in this game so you can be as creative as possible with no limits.
Along with that, you will not only need to build the house but also decorate it. You will be able to choose the style of the house and add all the custom touches you want.
As you install the game you will watch a quick guide of how to play it so that you will have no troubles in the future playing. This guide will walk you through the design process so you will understand everything before the first project.
As you level up in the game, you will have the ability to purchase design elements and unlock new ones that were originally blocked. You will also get everyday tasks and get coins s that can be used to purchase more items.
Speaking about the gameplay, it is easy to use and has a well-made detailed graphics. Moreover, this game is completely kid-friendly, so if you're a parent you can allow your kid to play it with no worries.
Another raging that worth mentioning is that this game requires an internet connection because it's a full-on online game. That fact limits the places where you can play, but it's not that bad. Besides, there are plenty of in-app purchases available, but it's totally up to you because you can easily play with no money.
To sum it up, Home Design Story is a nice home decorating game that enables you to design your own dream house. There are lots of customization options so that you can fully express yourself.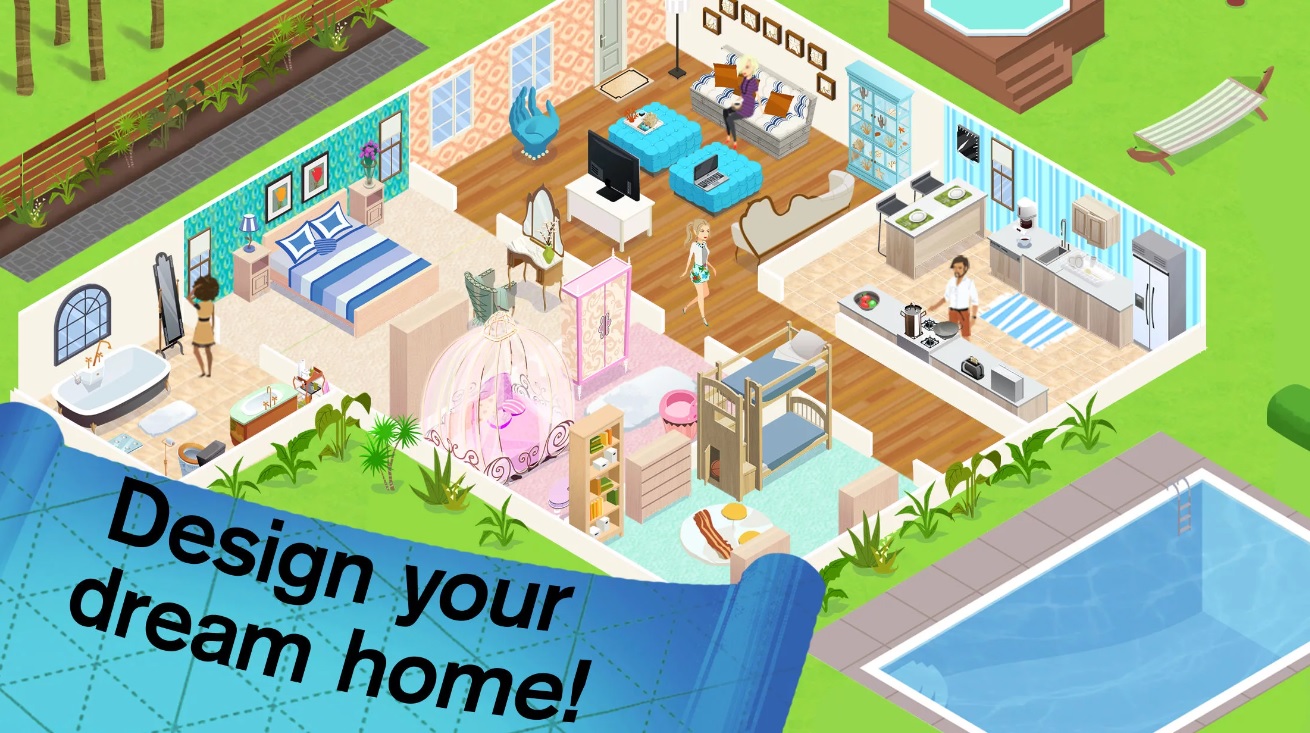 My Home Design – Modern City
My Home Design – Modern City game allows players to create and customize their modern dream city.
The game provides a vast expanse of virtual land, from high-rise apartments to luxurious mansions, players can construct a diverse range of buildings and structures to make their cityscape come to life.
Players can indulge in a plethora of design options, including chic furniture, state-of-the-art technology, and sleek decor pieces that accentuate the modern theme.
The power to design every nook and corner of the city lies in the hands of the players, giving them full creative control over their modern masterpieces.
The game serves as a delightful escape from reality, transporting players into a world where they can shape their vision of an ideal urban landscape. The sense of achievement in constructing a vibrant and functional city brings immense satisfaction to players of all ages.
As players expand their city, they need to manage resources, balance budgets, and ensure the well-being of virtual residents. This fosters problem-solving skills and sharpens the mind, making the game an enjoyable and intellectually stimulating experience.
In conclusion, My Home Design – Modern City is an amazing game that gives you a unique opportunity to try yourself as an architect.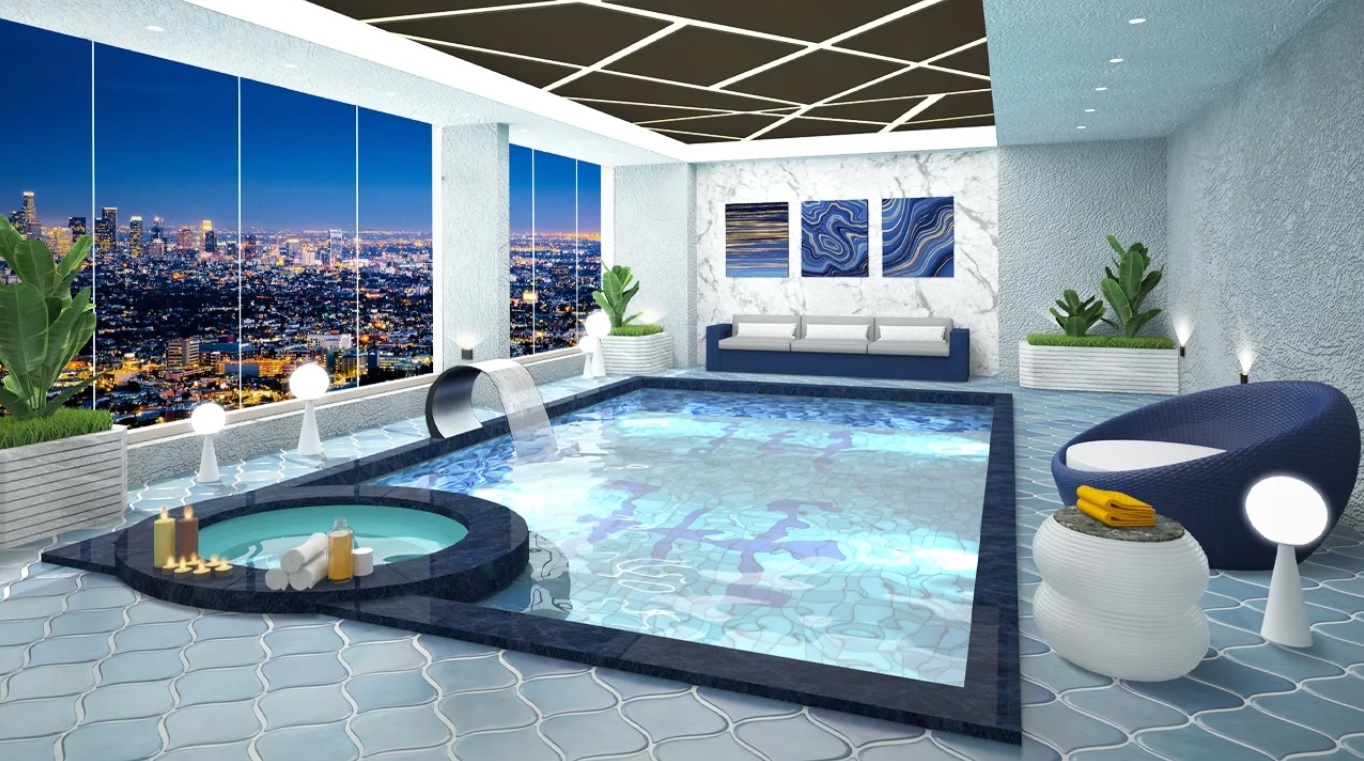 Home Street: Dream House Sim
Home Street is a brand new life and town simulator that allows you to build your very own dream home and neighborhood. This game gives you the power to choose the design and decoration of your own homes, create and fashion characters and meet, and also compete with neighbors from all over the world.
Home Street is a role-playing game which allows the curation of your ideal environment. Choosing home furnishings and designing custom wardrobes whilst not breaking the bank and with speed unknown to home renovations, you can fulfill a whole range of your fantasies within your neighborhood.
After creating your own character, you are encouraged to let them interact with neighbors and build your dream home using 'money' earned by completing various tasks. This game is beautifully designed so you can fully plunge into this world.
Home Street will challenge you to build a super house and craft all sorts of items, while adding friends and visiting them, joining competitions, and having so much fun overall.
Challenges in this game also include choosing home furnishings, designing a wardrobe, and fulfilling fantasy ambitions within their neighborhood. This game offers you escapism and provides tension release.
This game earns focus through the blend of the story (character-led quests), resource management (the ability to create, store, and trade products), and social interaction (global monthly events and meaningful social interactions with other players).
Overall, if you're a fan of The Sims series, Home Street will surely look like a game you will love to play. Playing this game you can act out your dream on your smartphone.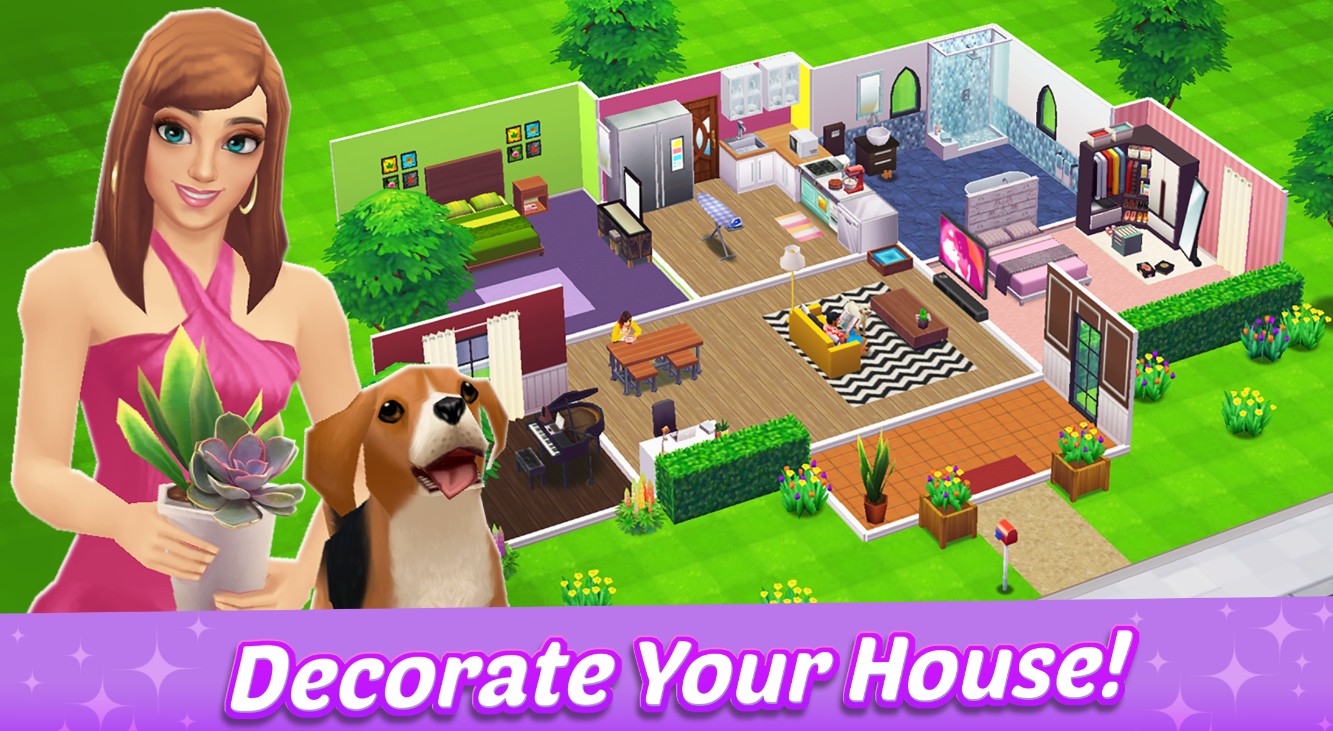 Design My Home: Makeover Games
In Design My Home players get to unleash their inner interior decorator and transform mundane spaces into stunning dream homes.
The game presents players with various virtual properties, from cozy apartments to luxurious penthouses, each with unique challenges and design possibilities.
Whether it's adding chic Scandinavian touches, contemporary modern aesthetics, or classic vintage charm, the options are diverse and tailored to suit individual tastes.
Unlock new items and features as you progress through the game by completing design challenges and earning rewards. The more you play, the more you expand your design repertoire, elevating your skills and unleashing new possibilities for your virtual clients.
Unlike real-life renovation projects, you can experiment and test out different designs without any financial burden or permanent consequences. It's a creative outlet where players can explore different decor styles, learn from their choices, and refine their design skills.
To sum up, Design My Home is an engaging home decorating game that allows players to indulge in their passion for design, all while experiencing the thrill of crafting personalized living spaces.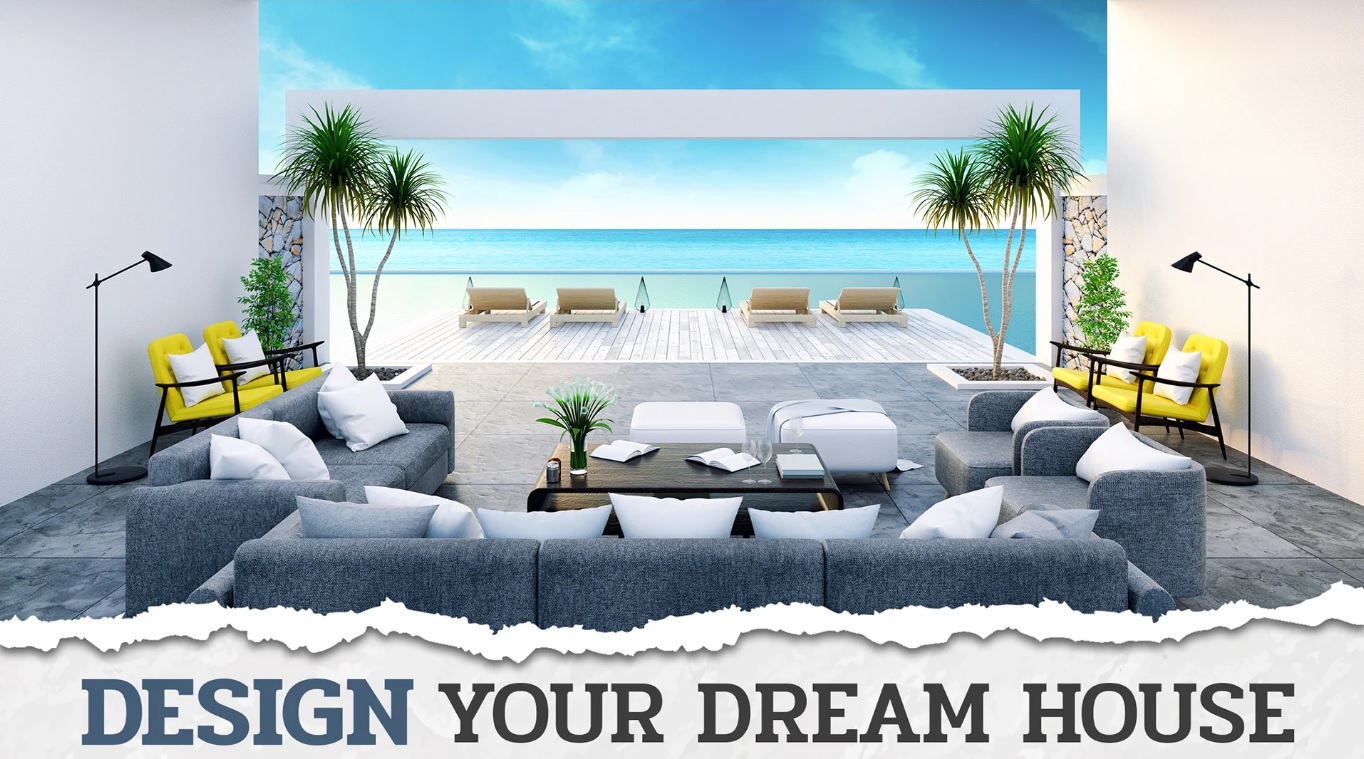 House Flip
House Flip is a home decorating game simulator that has a popular couple Chip and Joanna Gaines as its show hosts.
Playing this game you will need to create and rule your own house-flipping show. As you play, Chip and Joanna Gaines will guide you through Waco, Texas searching for houses to renovate and decorate. After the house is found you will need to design it – which is quite easy in this game.
You will get a list of objects that are needed to be improved and that's it. When you'll complete the task, you'll get a certain amount of stars depending on how many tasks you've completed before the house lits for sale.
As long as you will be satisfied with the house you've decorated, you will need to place this home on the market for sale and wait for buyers to come in.
Some of the buyers will ask for very small prices, just like in the real world. That way you will need a good offer to make a profit. The profit also depends on the quality of the design you've created.
However, you won't be able to choose where to place the items in the house and customize the color of objects. So all you basically need to do is to tap and wait for the options to appear.
Another thing you might find disturbing is that it takes quite a long time to complete the house after you've done with renovations. That way you have literally nothing to do while the game is loading. The offers for the house on sale also come once in 15 minutes so once again you will need to wait.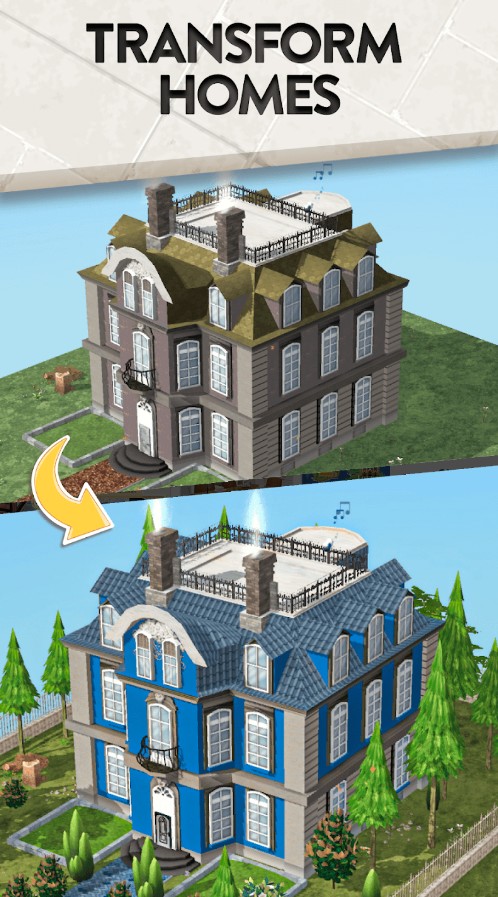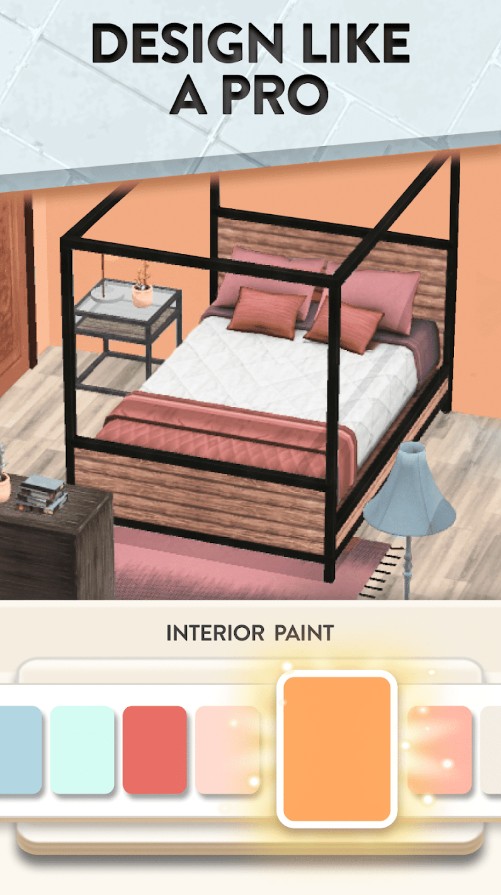 Decor Life – Home Design Game
The Decor Life game allows players to unleash their creativity and transform virtual spaces into stunning masterpieces.
The journey begins by selecting a virtual property, be it a cozy studio apartment, a stylish townhouse, or a grand mansion. Each property presents a unique canvas for you to unleash your design flair.
The game boasts an extensive collection of decorations, furnishings, and accessories, spanning a variety of styles and themes. Whether it's a contemporary chic, rustic charm, or minimalist elegance, the options are vast, allowing players to curate their dream homes with precision.
From sofas and coffee tables to rugs, wallpapers, and lighting fixtures, Decor Life leaves no stone unturned when it comes to decorating options. The gameplay is intuitive, with a user-friendly interface that allows for easy navigation and placement of decor elements.
The game provides a relaxing and stress-free environment, making it an ideal escape for players seeking a break from the hustle and bustle of everyday life.
Players can draw ideas from a plethora of design options, discovering new styles and gaining insights into interior design principles. The game encourages exploration and innovation, allowing decorators of all skill levels to refine their creative talents.
In conclusion, Decor Life is a captivating home decorating game that ignites the imagination and empowers players to create their dream living spaces. So, if you have a passion for interior design and an eye for aesthetics, Decor Life is the perfect game to bring your creative visions to life!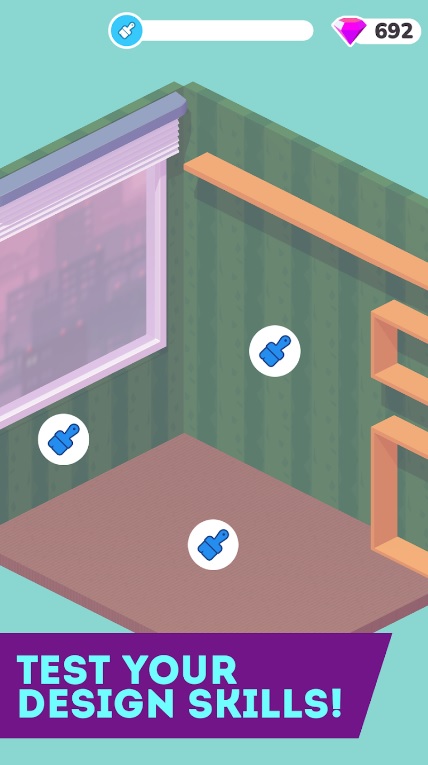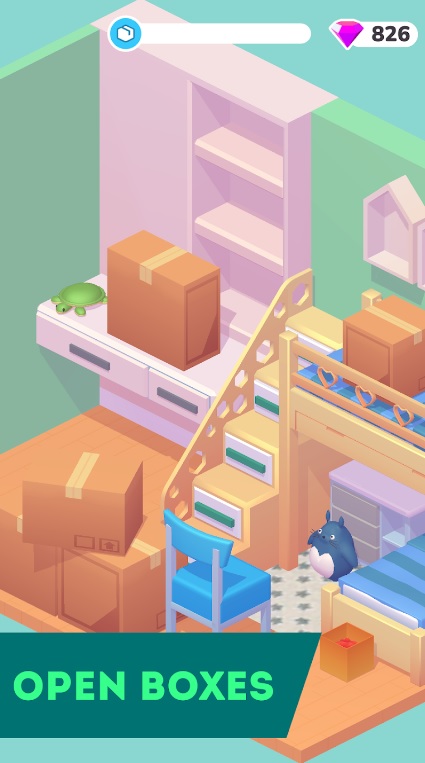 Home Design Star
Home Design Star is a full-featured application that enables users to generate fantastic home decor styles.
As soon as you have opened the app, the first thing you need to do- tap on the Design button. Thereafter, you can get to the designing process.
There is nothing difficult in this app, as it has a quite straightforward interface. So, you should tap on the area you want to edit and choose an appropriate design.
The application offers an extensive collection of textures and materials. Scroll down through the screen to find the most suitable ones.
During the process, users will be provided with a certain amount of money to generate a magnificent design.
When everything is ready, the app will demonstrate to you all the used items and the design value. In the last stage, press the Submit button and obtain the rewards.
Like similar design applications, Home Design Star works as a social network. On the bottom toolbar, you can keep track of the top designers worldwide, gain access to the homepage, or carry out a great variety of tasks and challenges.
By the way, we were truly impressed by the top-grade app's graphics. We have to admit that the presented objects and locations are developed quite realistically.
As for the additional features there, all the users can vote for their favorite designs. Plus, you can also create your own collection and get inspiration from the other players' designs.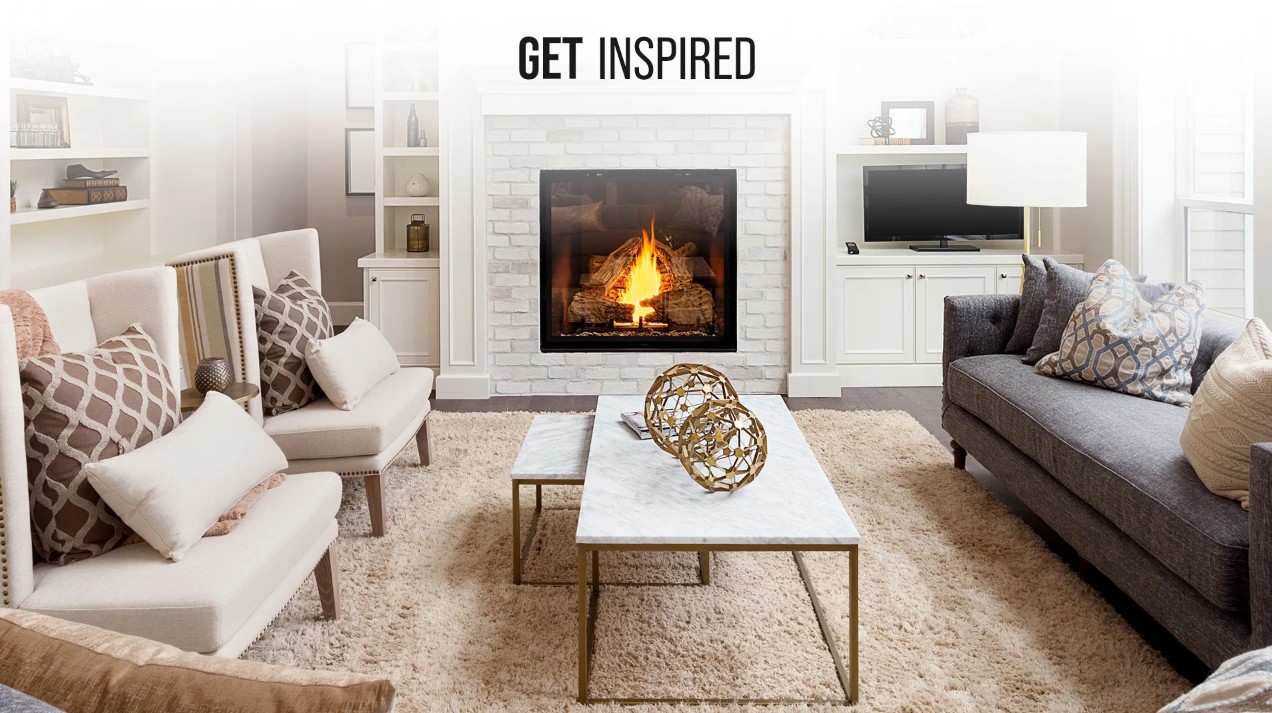 You can also check: 25 Best Home Design Apps for Android & iOS
My Home Makeover
This game is a real paradise for those who like decorating houses. One of the first aspects that you pay attention to when you open this app is its stunning 3D graphics – everything looks unbelievable realistically. In this game, you are going to be a home designer and you need to help your clients to construct the houses of their dreams.
You will have to solve the riddles in order to pass to the next level of the game. The whole idea might seem simple – decorate, build, change, and construct the house but the overall process is extremely captivating.
The app includes the incredible variety of home decor pieces – you will find thousands of types of furniture, wallpapers, plants, doors, and everything related to the topic. By the way, be ready that each client is going to have his/her own tastes and requirements concerning how exactly they want their house to look like.
Moreover, there will be different kinds of tasks – for some, you will need to build the house up from the ground, for other tasks you will need to reconstruct/renovate the houses. This is another advantage of the game – it is very dynamic and won't let you get bored.
The whole idea of the game is based on combining the 3 elements together which must match each other. You can collect a bunch of cool boosters and bonuses while playing the game and passing through the levels.
What is even cooler, the content in the game is constantly getting updated – so you will be working with new pieces more often than you think.