In the world of modern technology, our phone is an indispensable assistant. With it, we can receive a lot of useful information and share life moments with our friends. One of the most popular applications worldwide is Instagram. Here you can share your photos and videos.
Unfortunately, this application has some drawbacks. The most annoying is the automatic photo cropping. Sometimes we want to publish a wide-format photo to show the beauty of the view.
A large number of applications have been created in response to this problem. They help to keep the size and format of photos and videos for successful publication. The most common and used feature of Instagram is the publication of stories. With their help, you can share moments from your life.
The story feature also has a similar flaw. The application automatically cuts video and photos when they are published. Automatic content cropping reduces image quality. It can even trim important parts. These applications are also suitable for solving this problem.
So, which applications are best suited to solve these problems. This list contains the best no crop apps. This will help you save time on your search and spend it on publishing the best photos and videos.
You can also like: 11 Best Aesthetic Photo Apps for Instagram (Android & iOS)
Squaready
Squaready is one of the best apps, which was created to help users of the Instagram social network. It allows you to publish full-size photos and videos without cropping.
The application has a nice design and useful functionality. There is also a photo and video editor, various filters and effects. Make your publications more unique and attractive.
Features of the application Squaready:
Instant publication of finished photos and videos without cropping
Resize photos and videos, rotate and reflect them
Collage templates
Large selection of filters
A huge number of background images
Stickers will make your publications more impressive.
Ability to publish your materials not only in Instagram but also in other social networks
Ability to add text
Free
Lack of advertising
This is the easiest to use no crop app. You can resize a photo or video with a single click.
It has the best features. With their help, you can decorate your publications. There is a nice bonus for girls. Add makeup to your photo. Change eye color, add new lip color, or change face contour. You can also whiten your teeth or even out skin tone.
Here you will also find many different effects for photos. They are divided into: "light", "bokeh", "border", "texture" and "art". For each effect, you can select an overlay mode. Change the tone and transparency, as well as the location of the effect itself.
A unique application option is the eraser function at all stages of editing. A simple touch is enough to erase the unnecessary and the frame is ready. The application Squaready allows users to create their own galleries. Share photos with friends and create new masterpieces with them.
Make collages from your photos and videos. Add a variety of filters and creative backgrounds. Create a mirror effect of your photo. Adjust image borders.
Also in the application are available various masks for your photos and videos. Decorate your publications with different stickers and stickers. Take videos and publish them in real-time. Save publication size with this application.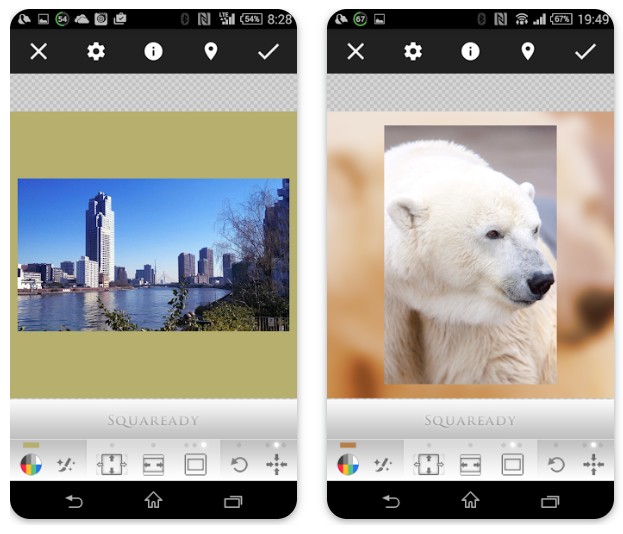 You can also check: 11 Best apps to unblur photos for Android & iOS
Instasize Photo Editor
Instasize Photo Editor is a very popular application that combines several functions at once. First, it acts as a mobile photo editor with lots of features.
And secondly, it helps with their publication in various services. For example, it will be used to upload an image to Instagram in uncircumcised form.
And now let's take a closer look at the capabilities of this application. The developers highlight the following advantages:
A wide range of tools for editing and retouching images
Auto photo enhancement
Natural retouching
Intuitive management
Creating collages
Personalized in-app collage
Rich filter library
Posting images without clipping, in full format
The ability to rotate photos
Presence of backgrounds and frames
Adding labels
Ability to publish changed pictures to Instagram, Facebook, WhatsApp, and similar services
How to use this application? First, open it on your phone or tablet. Now click on the plus icon. The first time you will be asked to accept the privacy policy, in the future, it will not be required. Next, select a format for future publication. 4 options are presented:
Photo — select a picture from the device's memory
Cloud – download a photo from the cloud storage, if it is tied to your phone or tablet
Collage – combine many images in a specific way.
Camera – snapshot from device
Now you will have access to the main elements of editing, perform all the desired actions with the image. Then click on the Share icon. Customize the publication nuances.
On this with the basics of using the application all. Download the free app Instasize Photo Editor and post photos on Instagram without cropping.


No Crop & Square for Instagram
No Crop & Square for Instagram helps you to publish your photos and videos on Instagram without cropping. Here you can edit photos as you like. This is the most necessary and free application.
The application has many different filters. They will make your publications more beautiful and special. Also here you will find interesting templates for collages. Resize photos and videos, rotate or reflect them. Use free wallpapers.
Also here is the function of adding text. You can change the location, font, and size. Add interesting stickers that will decorate your photos.
The application No Crop & Square for Instagram contains 4 sets of brushes according to the following modes of use. "Normal", "dotted", "dotted" and "figured".
With the first three modes, you can create beautiful photos with the effect of the picture on the image. The figured brush includes the most various modes. This type of brush can also be used to create only one shaped element. You just need to touch the screen.
Here you can publish your materials not only on Instagram but also on other social networks.
How to use this application? If you want to publish several photos at once, then you must first select up to 10 photos or videos from the gallery. All selected materials will be available for publication in the full-size version. You can edit all the photos together by selecting the filter or background.
The main advantages of the application No Crop & Square for Instagram:
Publish many full-size photos and videos at once
Filters and backgrounds
Change the shape, size or orientation of photos and videos
Ability to edit all publications at once or each separately
Publish photos and videos on Instagram and other various social networks
This is an absolutely free application that you will definitely like. It has no ads and useless features. Just what you need.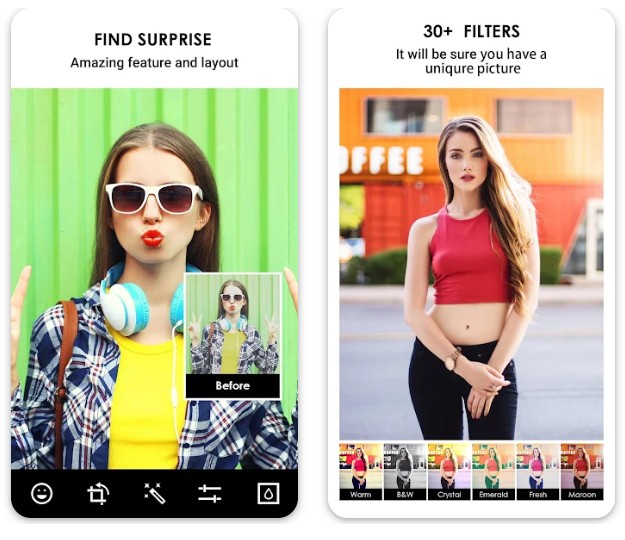 Square InPic – Photo Editor & Collage Maker
Download the application Square InPic – Photo Editor & Collage Maker to publish full-size photos and videos on Instagram. The application supports all types of publications.
After clicking the "download" button, the program will prompt you to select a photo or video. Immediately after this, you can start editing and publishing.
All materials are stored without pruning and in high quality. The application has a built-in editor. With it, you can improve your photos and videos and make them more attractive.
There is also a function to add text and various stickers. You can choose the font, layout, color, and size.
After editing, the application prompts you to preview the result. The design of the application is quite interesting. You can choose different topics. For example, day or night.
With the application Square InPic – Photo Editor & Collage Maker you can:
save your photos and videos in the best quality
edit your content
share posts with friends
publish full-scale photos and videos
change video
share interesting videos with friends
use the image resizing function
turn or flip your photos
The application will save the finished result in high quality in the gallery of your phone. If you use the phone on the Android platform, then you can save videos and photos directly to the SD card.
You can share publications with your friends on Instagram and other social networks. Add your account from any social network or email.
Change the video. You can trim it or apply a filter. You can also change the volume, brightness, and speed of the video. With this program, you will enjoy your publications without pruning. The unique editor will make your photos and videos unique and inimitable.
This application Square InPic – Photo Editor & Collage Maker can be found in free access. It has great design and useful functionality.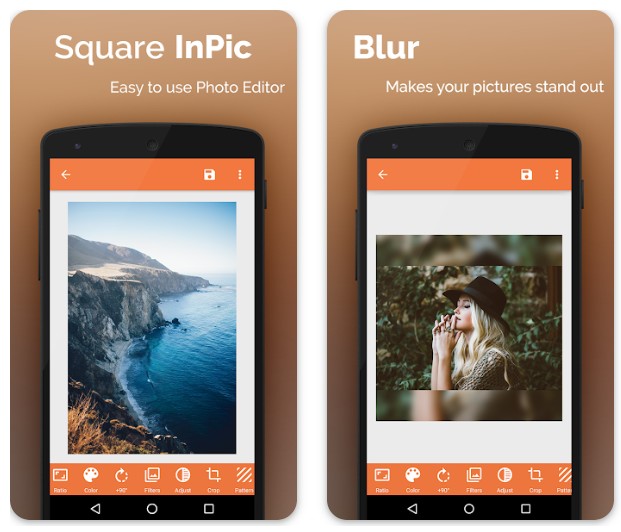 Square Quick – Photo Editor
Square Quick – Photo Editor is a great application for saving the size of your photos and videos. It has an interesting built-in photo and video editor.
Download the desired snapshot or video from the gallery of your phone. You can make the picture without leaving the application. You can also upload a file from any cloud service.
Now you can change your materials. You can resize the picture, flip it, crop it and even bring it to a standard square look. The application also helps to change the background of the photo, add a frame or sticker. Change your photo or video beyond recognition.
To edit a snapshot, click on the corresponding button in the middle of the bottom panel. This will open the edit mode. First, you will see a list of filters. To apply a specific filter, simply click on it. If you want to adjust the intensity of the filter, click on its icon again.
The application Square Quick – Photo Editor contains one of the best collections of filters. Edited images are very atmospheric, each filter has its own unique features.
In addition to filters, the application has standard photo settings. Brightness, contrast, sharpness, and so on. You can also crop or align the picture. To go to them, simply select the appropriate button in edit mode.
The original photo is stored in the program's gallery. You can return to the original version of the snapshot at any time. Besides, the application maintains a complete change history. You can return to the desired stage at any time.
All photos and videos are saved in full size. Directly from the application Square Quick – Photo Editor, you can publish your materials to Instagram without cropping.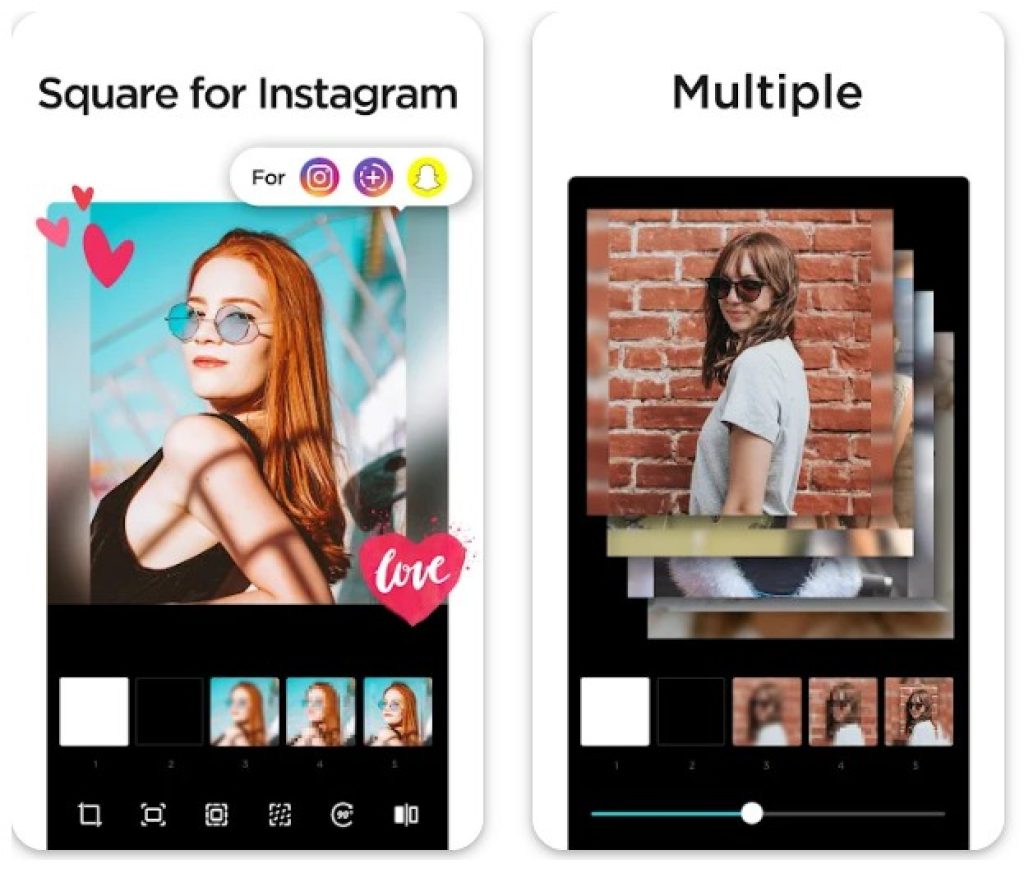 You can also like: 9 Best Hoarding Photo Frame Apps for Android & iOS
Square Fit Size – Collage Maker Photo Editor
Square Fit Size – Collage Maker Photo Editor is a simple photo editor for Instagram. It allows you to avoid cropped photos by making the pictures square.
You can add a frame of any size or color and rotate the photo. Send the publication to Instagram or share it via any other social network.
Save all the details of your photos. This application does not spoil the quality of your publications. You can choose the format and image quality.
Also, this application saves the photo in the most possible resolution. The application uses a beautiful theme. It gives the application a stylish and clear look. So, the application allows you to make a photo square by adding a square frame of any color and size.
Key features of the application Square Fit Size – Collage Maker Photo Editor:
You can select a photo from the gallery
You can take a picture directly in the application
Editing photos and videos
Publish your photos and videos to Instagram, without leaving the application
Rotate, crop or flip selected images
Customize the size and color of the frame that was added to make the photo square
Select frame color
Stylish theme
The application has a convenient gallery. You can adjust the number of displayed pictures in the top panel. In the same place, you can choose which photos to show: all marked, edited or not edited.
There is also a synchronization feature between your devices. Now you can start processing a snapshot on one gadget and continue on another. The application Square Fit Size – Collage Maker Photo Editor is absolutely free and has no built-in advertising.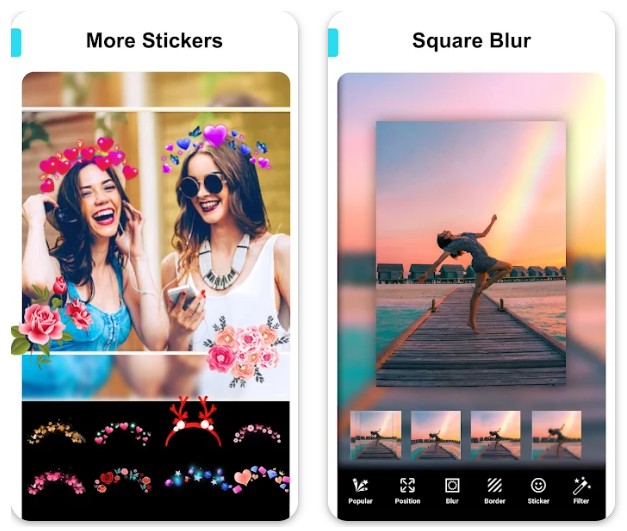 No Crop for Instagram Story
No Crop is an app that allows you to easily post a photo story on your Instagram. An application will perfectly suit people who want to make their life easier.
The key features of this application are quick cropping of your photos to the right size; adding color, gradient, or blur to the background; rotation and zooming of your photo, and sharing it to different social media.
You can also add stickers to the photo for a more beautiful appearance.
The application interface is as simple as possible. The app's home screen is shown as a white screen with two Camera and Gallery buttons. It is not difficult to guess which button is responsible for what.
There is a gear icon in the upper right corner, by clicking on it you can Remove Ads, write Feedback, Rate the app, Share the app, and read the Private Policy.
After you give access to media on your device and select a photo, you will be prompted to resize it following Instagram standards. Then you can zoom in and rotate it. The next step is to choose the background color, which can be blurred, colored, added with a gradient, structures, inscriptions, and stickers.
Talking more specifically about each of the features, cropping is available in such dimensions as 1:1, 3:4, 3:2, or 16:9; this will cause the prevention of unwanted deleting of the object portions while posting on the social media.
The background adding will make the photo feel like a story fits it from the sides. Stickers will leave your Instagram story stunning like it was never before.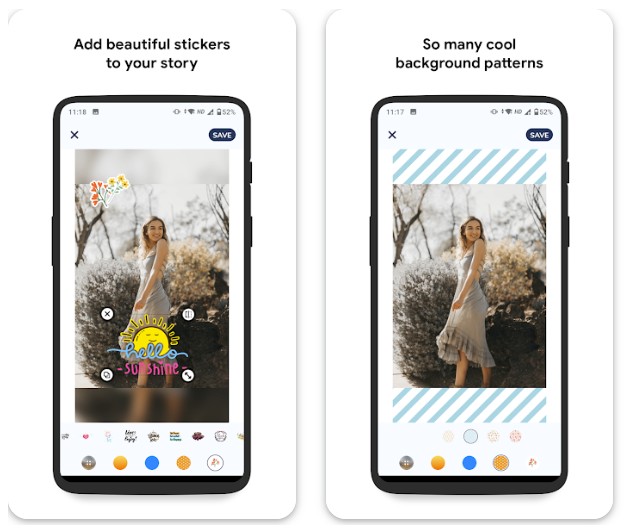 Layout from Instagram
This app is a popular tool used by social media enthusiasts for editing and posting pictures.
The app's main feature is that it allows users to post pictures on social media platforms without having to crop them.
This is useful for those who want to keep the full image intact, but often encounter the issue of having to crop a portion of it to fit the platform's formatting.
Moreover, it has a simple and user-friendly interface, making it easy for users to navigate. It offers a variety of editing tools, such as filters, effects, and the ability to adjust brightness, contrast, and saturation.
You can also add text and stickers to their photos, further enhancing their creativity.
However, you can face occasional crashes and slow loading times. Sometimes the app is not being able to save edited photos to the gallery.
The app's editing tools and variety of features make it a useful tool for enhancing photos and making them more appealing to viewers.
Advantages:
Allows posting full-size pictures on social media without cropping.
Simple and user-friendly interface.
Offers a variety of editing tools and features.
Drawbacks:
Occasional crashes and slow loading times.
Advertisements and need for subscription to access certain features.
Issues with saving edited photos to gallery reported by some users.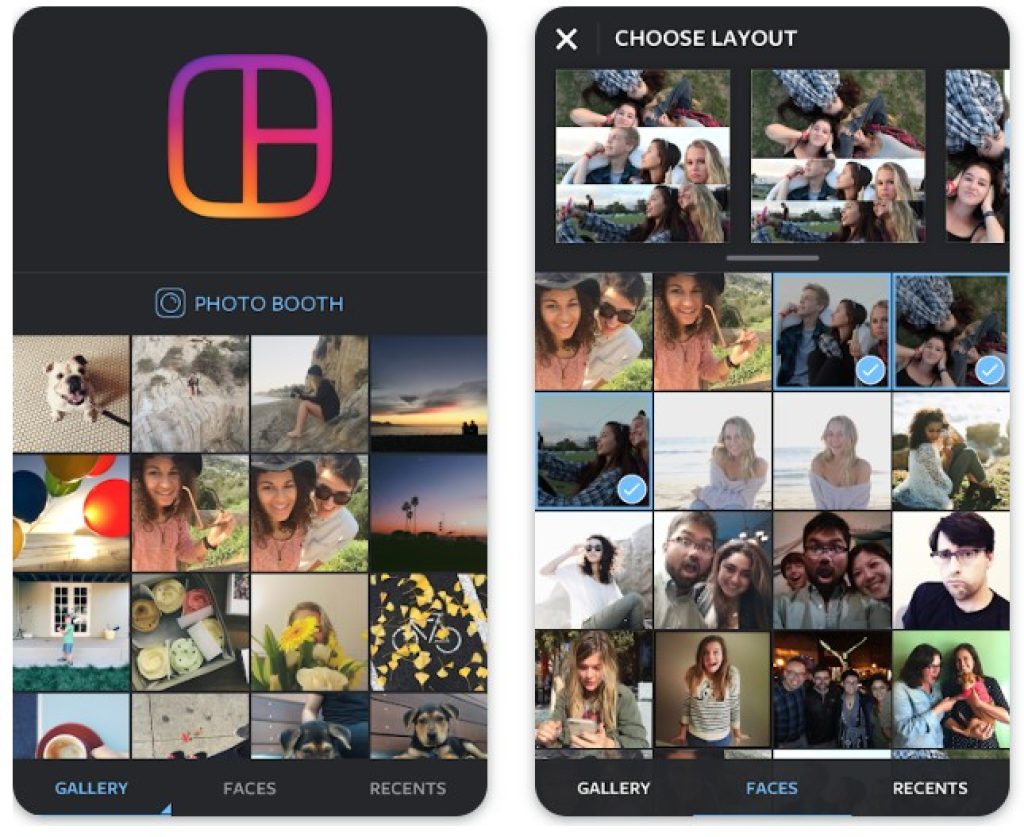 Cymera
Cymera is a great application for saving the size of your photos and videos. Instagram cuts off the publications. It is very distressing for users of the social network.
Now, this is not a problem. This wonderful application will help you publish your pictures without cropping. You can do this without leaving the program.
A distinctive feature of the application is the ability to process your portrait. This is sure to please all the girls who love to publish their photos on Instagram.
This application offers you five tools. The first is called "Portrait". There are several styles of face lighting. You can also change the correction of light and shade, smoothing the skin and lightening the eyes.
Use the tool and "head position". Just slowly move your finger across the screen of the device, and you can choose the perfect angle. And in this tool, you can change the size of the pupils and the tips of the mouth. Ideal for those who want to decorate the picture with a smile.
Blur will hide unnecessary details in the image. The application Cymera detects the area around the face and leaves it intact. With the help of Point Correction, you can get rid of small flaws on the face or cover up an extra piece. The Brush tool will make your picture brighter or darker.
In the "Export" menu, you can save a copy of the image and select the appropriate folder. You can also share the image through any application on your device.
Tired of trimming your post when posting them on Instagram? Does this feature take away important details? This application Cymera is the perfect solution to this problem. Now you can publish your most beautiful pictures in full size, so as not to miss important details.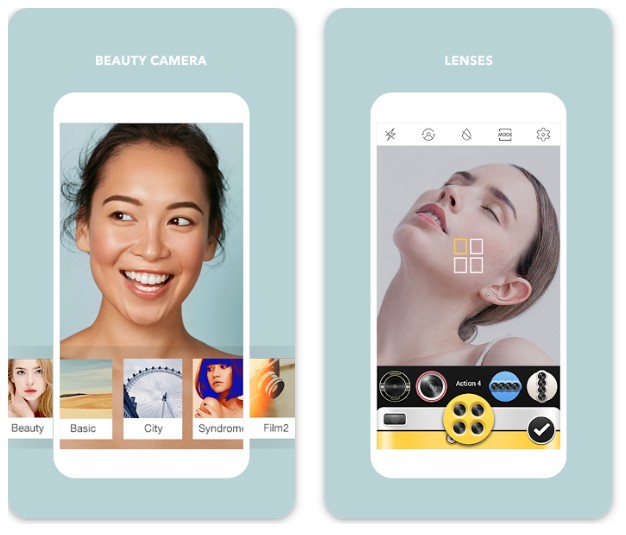 Snapseed
Snapseed is one of the best applications for editing photos and videos. It helps you to publish them to Instagram in full-size. This application combines professional tools and simple operation.
You can select the required option and specify the parameter using simple gestures. Next, the application will do everything on their own. Clicking on the "Frame" icon, you can crop, rotate or reflect the photo.
Also here you can add any text. It is enough to choose the tool of the same name and type on the keyboard that you want to see in your photo.
There are quite a few styles and fonts, so look at everything and choose the most suitable one. In the same place, go to select the color of your text.
"Mask overlay" will allow you to hide part of the text or put it into the background. Just put the effect of the "Text" tool on the number 0. Next, carefully mask the part that should be in front.
Crop, perspective, and expansion. Each of these tools will allow you to change the size or format of the image, as well as hide unnecessary elements. Use drag and zoom gestures. The application Snapseed will automatically fill in the blank edges of the image.
The Extension tool automatically enlarges your photo and aligns the horizon. In it, you can choose three fill modes: "Smart", "White" and "Black".
Besides, this application will help you save the size of the photo. You can turn any rectangular picture into a square photo. For this, the application has the function of adding a background. In the background, you can choose one of the proposed colors or pictures. You can also add there any other photo from your mobile device.
The free application Snapseed has a nice design and an intuitive interface. There is no embedded advertising. Post full-size photos to Instagram without cropping.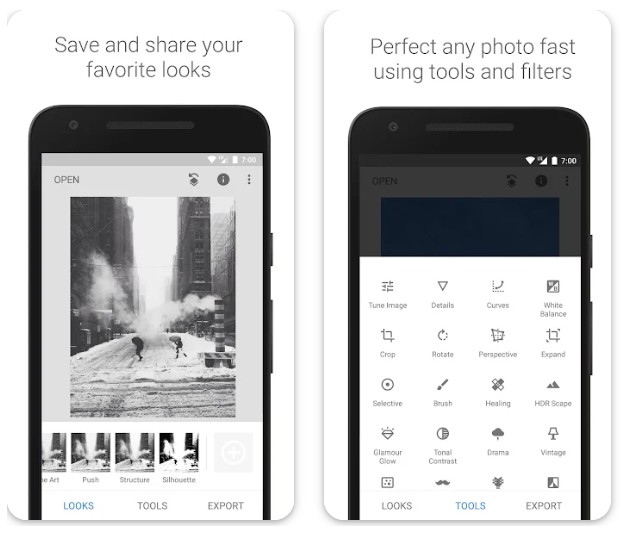 You may also like: 13 Best Instagram repost apps for Android & iOS
No Crop – Square Video & Photo
No Crop – Square Video & Photo helps you to publish full-size photos and videos on Instagram.
Tired of cropping images? Losing important elements of publications? Then download this app and improve the quality of your content. Also, the application has a multifunctional photo editor.
The main menu of the application consists of 4 main functions. "Editing", "collage", "drawing" and "camera". The "editing" section includes 15 tools, among which there are unique settings.
Instruments:
The tab presents 15 tools for adjusting and editing photos using effects.
"Dispersion". The effect allows you to split the selected area into geometric shapes. They can be adjusted in size and distance from each other. The tool is useful for creating the original abstraction or movement.
"Free Cut". With this tool, you can cut the desired area and apply it to another photo.
"Clone". A tool that helps to remove defects, bumps, and other unnecessary details.
"Tilt-Shift". The effect of the so-called "miniature" or "fake miniature" due to the small depth of field. Photos with this effect become like toys. To make the changes more noticeable, you can add a little contrast.
"Stretching" or plastic. It allows you to reduce or expand various volumes. There is a function of "freezing". It will not allow stretching to affect those areas that do not need to be adjusted.
Effects:
This section presents filters by subject groups.
"Effects". HDR, black and white, dimming and backlighting, sharpness, retro, sepia, and many others.
"Magic" – art filters, starting with a pencil imitation, pop sketch and ending with a neo-pop style. Turn your photo into a picture.
"Blur". It is a group of filters that represents several variations of the image defocusing.
"Art". 22 filters with various "painting" effects: watercolor, contour, oil, sketch, stamping, and others.
"Pop Art" – 12 filters. Along with color filters, there are solutions in the style of pop art and gradient.
"Paper" – 8 filters that can be used for styling.
Colors – 5 color filters. Using the tool "compensation" you can change the color of the object.
Besides, you can add different backgrounds for your photos if you want to make them square. Share full-size images on Instagram and use the unique editor!