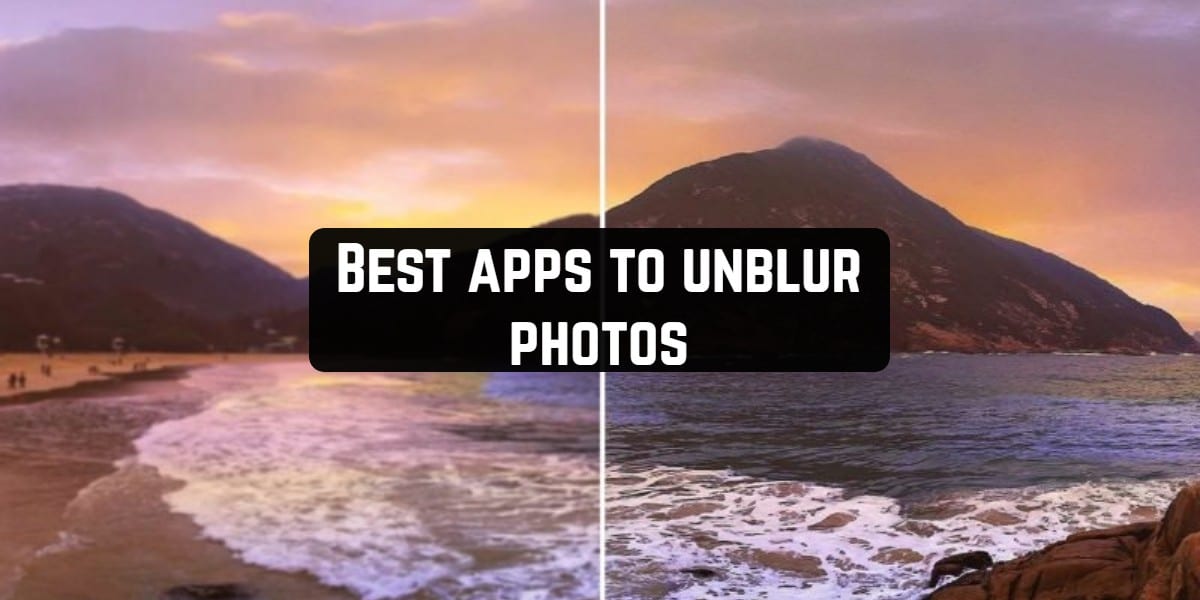 It happens, that you take an amazing photo, but it looks unclear and blurry. Unfortunately, it is of common occurrence. Your last recourse will be the deletion of the image, which will surely flag the spirits. But it's all in the past now.
At the moment everything can be corrected, even blurry photos. Special apps for mobile phones will help you in this matter. They are considered to be the most suitable tool by increasing photo quality.
The freeappsforme team has chosen and reviewed the best apps to unblur photos. Trusted by many users, they are capable to sharpen your image and avoid its deletion. Read this post, select several apps and find them on the App Store or Google Play.
Enhance Photo Quality
One of the best top-rated apps to unblur photos is this one. Here you can do it by increasing the sharpness of the edited photo.  Also, other features of this app will make your image look much clearer. It can be dozens of photo effects, contrast, hue, saturation, photo focus, etc.
In addition, you will get other features of this nice app. About 50 overlays, frames, vignette features will be at your fingertips. So if you want to get the all-in-one app and remove blur from pictures at the same time, install Enhance Photo Quality and enjoy it.
back to menu ↑
Photo Focus Photo Editor
This app will also be suitable for enhancing image quality. Use one-tap auto enhance or do it manually. Photo unblurring is very powerful here. Spare it a few seconds and make a well-defined image.
By the way, there are many other features available for you: photo effects, frames, photo filters, temperature control, auto-focus, cropping, rotating… The capabilities of Photo Focus Photo Editor are endless. This app will not only deblur the image but edit it as well.
back to menu ↑
Remove blur from Picture-Enhance Image
If you are focused just on removing blur from photos, install this app to your device right now. It is a very powerful tool in this matter (just look at the photos below). Use it and have your photo improved. Now you are able to see every little detail of it.
After finishing to work, share the image to social networks directly from the app. Remove blur from Picture-Enhance Image is a lean and mean app, it is just deblurring one.
back to menu ↑
Blur Image Background Editor (Blur Photo Editor)
This app's features are connected only with blurring. Here it is possible to unblur the image, selecting any photo from your phone gallery or taking a shot with the help of the application.
It must be mentioned, that you will be able to give a photo a blurry effect as well. Why do you need it? In order to emphasize a particular part of the photo by blurring another one. Choose blur opacity at your pleasure and save your masterpiece. There is no doubt, it will make your photo much more unusual and appealing.
back to menu ↑
Blur Photo- Portrait Mode Blur
Do you have a great photo, but it is blurry? Download this app and increase its quality. We assure, Blur Photo- Portrait Mode Blur is a highly effective app in this matter.
By the way, it has the capability to blur photos as well. It is a very nice feature that will make your photos look like made with a professional camera.
The app has very convenient tools – brush or eraser. By using them you can adjust a depth selection without difficulty. The user interface is very simple, which will simplify your working process a lot.


back to menu ↑
Photo Blur Background Editor'
This app is highly appreciated by many iOS-device owners. Enhance blurry photo quality at once. You need just to install Photo Blur Background Editor' and set a Sharpen intensity.
By doing this, you are able not only deblur photos but blur them as well. This feature is very popular among app's users. You can blur your photo's background and the image will look like a pro quality one.
What about the app's convenience, it supports undo and redo. Also, you can share the images to Facebook, Twitter, Instagram directly from the app. That's very reasonable.

back to menu ↑
Blurry Photo Editor
Are you improving your photography skills? Then, you probably have unclear and blurry photos. There are no more reasons to worry about it because Blurry Photo Editor will make your photos high-definition. App's professional tools will let you sharpen the photo and enjoy the result.
By the way, this feature is only an addition to this excellent app. Here it is available to use more than 100 overlays, various frames, dozens of filters. Add stickers, captions, and bubbles that will make your photo unique. To put it shortly, the app includes all the necessary features for photo editing.
back to menu ↑
Blur Image – DSLR focus effect
Is your friend always taking photos of you with shaky hands? You don't have to delete these images anymore. Download Blurry Photo Editor and forget about this problem. The smart app will sharpen all blurry photos by improving an image's quality. It remains to choose a photo from the gallery, choose Sharpen degree and save a sharp image.
You can blur photos with the help of this app as well. Just blur or deblur areas you wish to put a focus on. Then save the image to your phone gallery or share it to Facebook, Twitter, Instagram, Whatsapp, etc.
Also, you can read this post and learn some new social media networks.
back to menu ↑
Image Noise Remover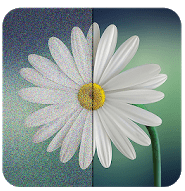 Have you ever taken a photo of an object in motion? We think the image was definitely blurry. But here is the solution to your problem. It is also one of the best apps that have been created just to deblur photos. Install it and make sure how powerful the app is.
The sequence of actions is very simple. Choose any blurry photo, load it to this app, then choose to Remove Noise degree (High, Med, Low) or do it manually. After that, you will see the difference for sure. Use Image Noise Remover that will effectively reduce noise and improve the quality of your photos.
back to menu ↑
Snapseed
We guess everybody knows about this brilliant app. Have you ever been thinking that it can also remove photo blur? Well, let's discuss this Snapseed's feature.
Here you can improve the quality of your photos by choosing Sharpen degree or using auto enhance. The app was developed by professionals, so be dead sure of its capabilities and trust it. The app will do its best to remove the noise of your photo.
By the way, there are many other tools in this app, that can make your photos sharper. For example, it can be "Brush" that will let you selectively retouch exposure, saturation, brightness or warmth. Besides, you can use "Details" option and bring out surface structures in images. These and many other indirect features will also unblur a photo.
back to menu ↑
Photo Editor-
It is one more multifunctional app that is able to unblur photos professionally. Photo Editor- will let you Sharpen your blurry images by choosing the degree or using auto enhance.  You can adjust brightness, saturation, a contrast to make your photos sharper as well.
In addition, you are able to blur your photo background, which is very suitable for a portrait or selfie. Or just blur any other part of a photo that you want to be unfocused. After finishing to edit, you will be able to export high-res images to all your favorite social media platforms.
Apart from this, with the help of this app, it will be extremely easy for photographers to not only unblur but also edit their photos. Hundreds of photo effects, dozens of stickers, various vignette tools, frames, and collages will let you create a really unique photo.
There are endless capabilities and you can study them only when using. But we were interested in unblurring photos, and yes, the app can cope with this problem as well.

Check also: 15 Best photo zoom apps for Android & iOS