If you're keeping up with the latest technology trends, you probably know what Chat GPT is. It's a smart AI model that is able to communicate with you like a real human would. Impressive, right?
That's why we've scouted the best GPT-4 type apps for Android & iOS you can use for free. These AI chat bots can do a bunch of tasks from finding stuff on the web to generating full-on essays.
You can use these to boost your school experience, get more effective at work, and much more. Some of these apps can even generate full-on avatars and play games with you. Let's get into it!
Chat AI: Ask & Write Anything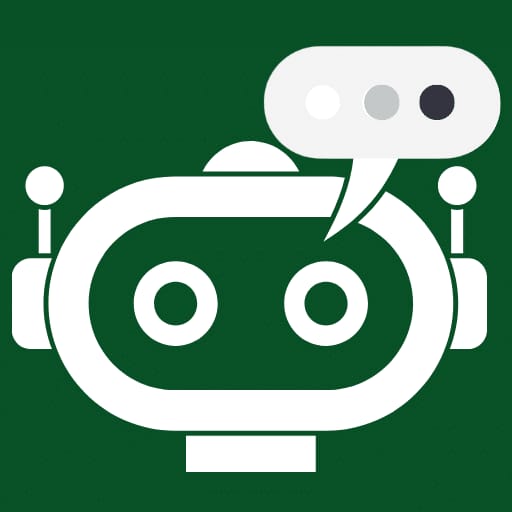 If you were looking for a good application based on the GPT-4 technology, Open Chat is what you need.
It can easily boost your productivity, thanks to a big set of options available at no cost:
Chat about anything!

If you have no one to talk to, it's not a problem anymore. Just open the chatbot and start a conversation. It will never ignore your messages and send instant answers to you.

Find all the data

you need. It is much faster than browsing the Internet yourself.

Correct your writing.

If you have written a text and you have doubts about your writing skills, this option is a must. The bot will correct all the words containing mistakes.

Get a piece of precious advice.

When you hesitate about what to do, ask a chatbot!
The app is rated 4.9 out of 5 on Google Play. You can get it for free.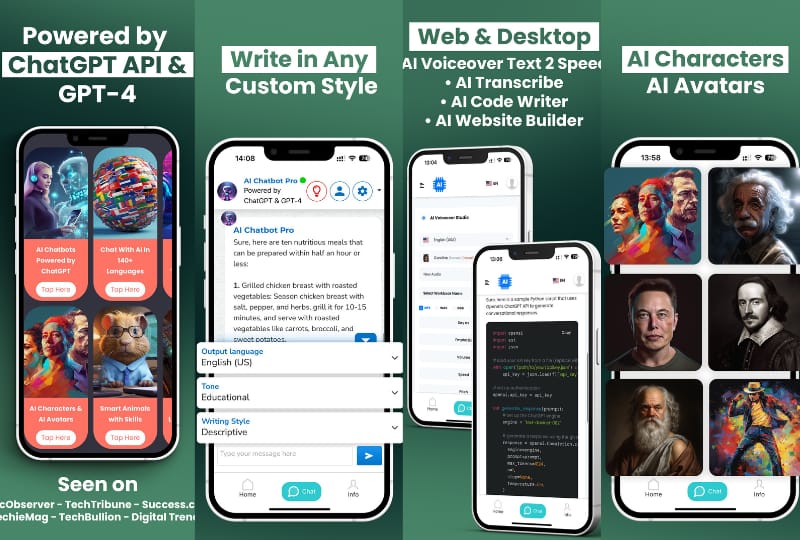 You may also like: 11 Best Workplace Chat Apps
Frank: The AI Chat Assistant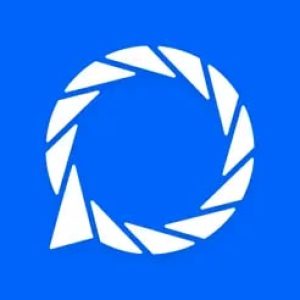 This app isn't a chat itself. However, it is connected to chats. It was inspired by the GPT-4 Chat created by OpenAI.
It allows you to do a wide variety of things:
Create

human-like texts

and speech. It can be any type of content, be it a short question or a big text devoted to a specific topic. You can even make poems!

Make an image

out of nothing. AI technology allows you to create almost anything.

Generate useful scripts

for your streams. This will come in quite handy for YouTube users and bloggers.
These are the best options that will be available for free.
You need to know that the Frank application isn't as safe as ChatGPT. This is why we wouldn't recommend giving Frank any sensitive information about you. What is more, the app may make some rude and offensive texts so be careful.
To install the app, you will need at least 50 MB of memory. You can get the Frank application on the App Store, as well as Google Play.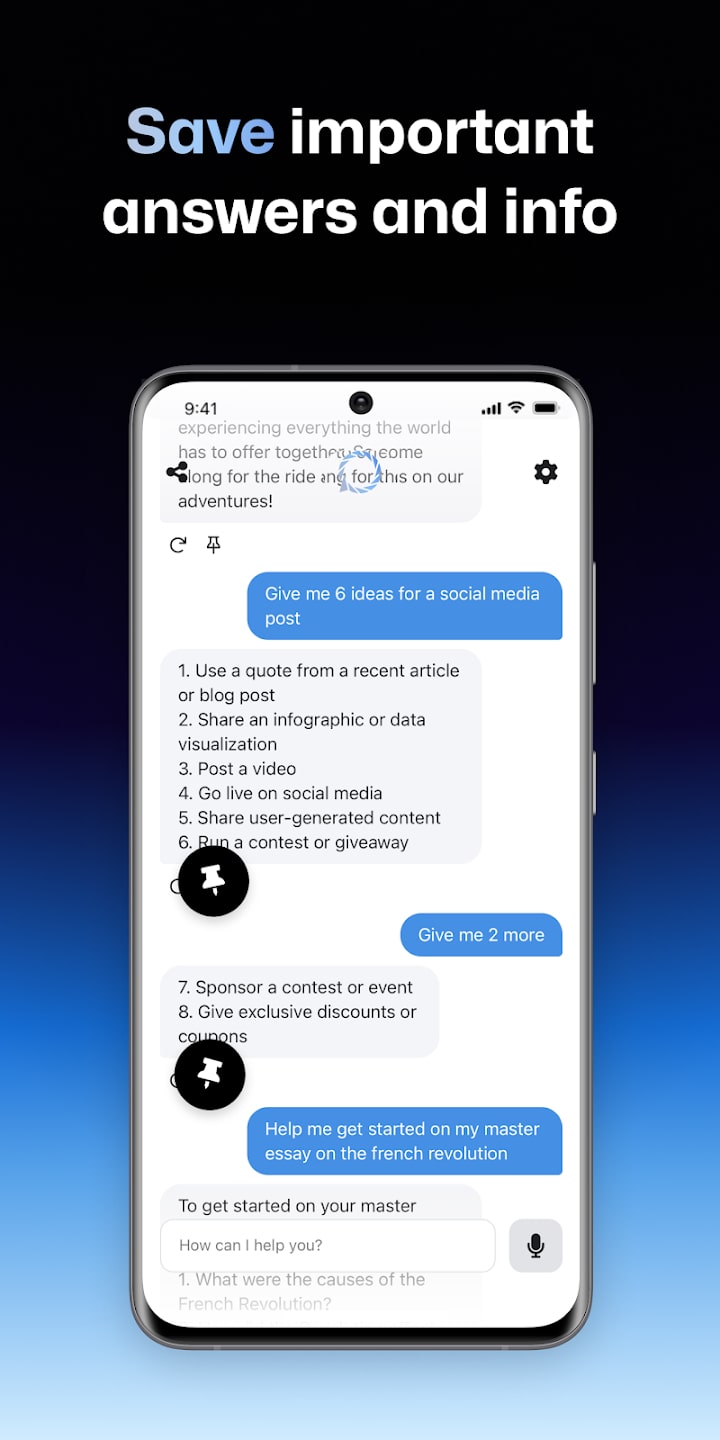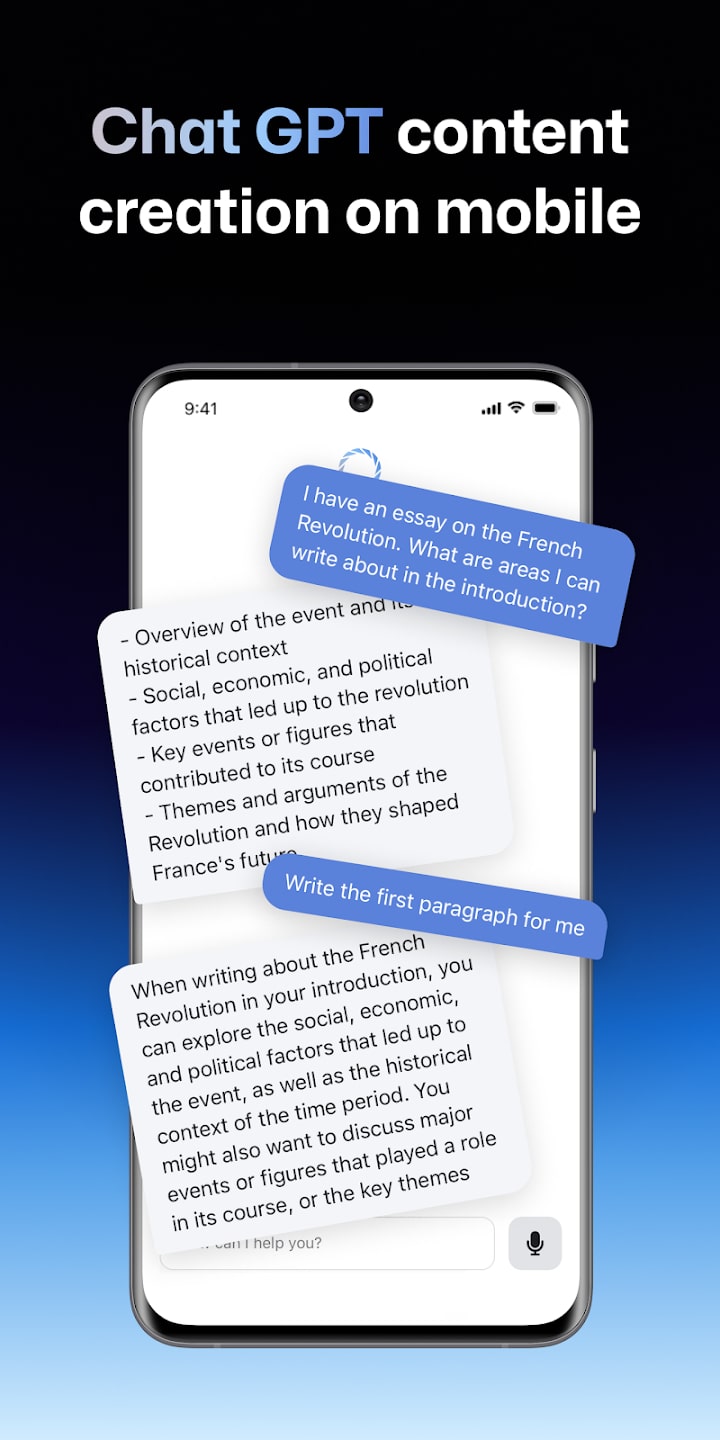 You may also like: 7 Best WhatsApp Chat Translator Apps for Android & iOS
ChatOn – AI Chat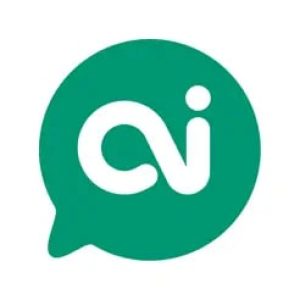 Do you need a good AI assistant? Well, ChatOn is one of them. It has a chatbot based on GPT technology.
The app has a simple UI, allowing you to start from scratch. However, the features are also cool:
Get a reliable virtual assistant.

Feel free to ask any questions and get fast answers.

Enjoy a good proofreader.

This is especially great when you need to write a business text or a cover letter when you apply for a job. Make a text yourself and wait for the app to correct it.

Try

AI writing assistant

. It will help you to write an essay for your school or even compose a poem.
The app is free with in-app purchases. However, having all the basic features is enough to get started.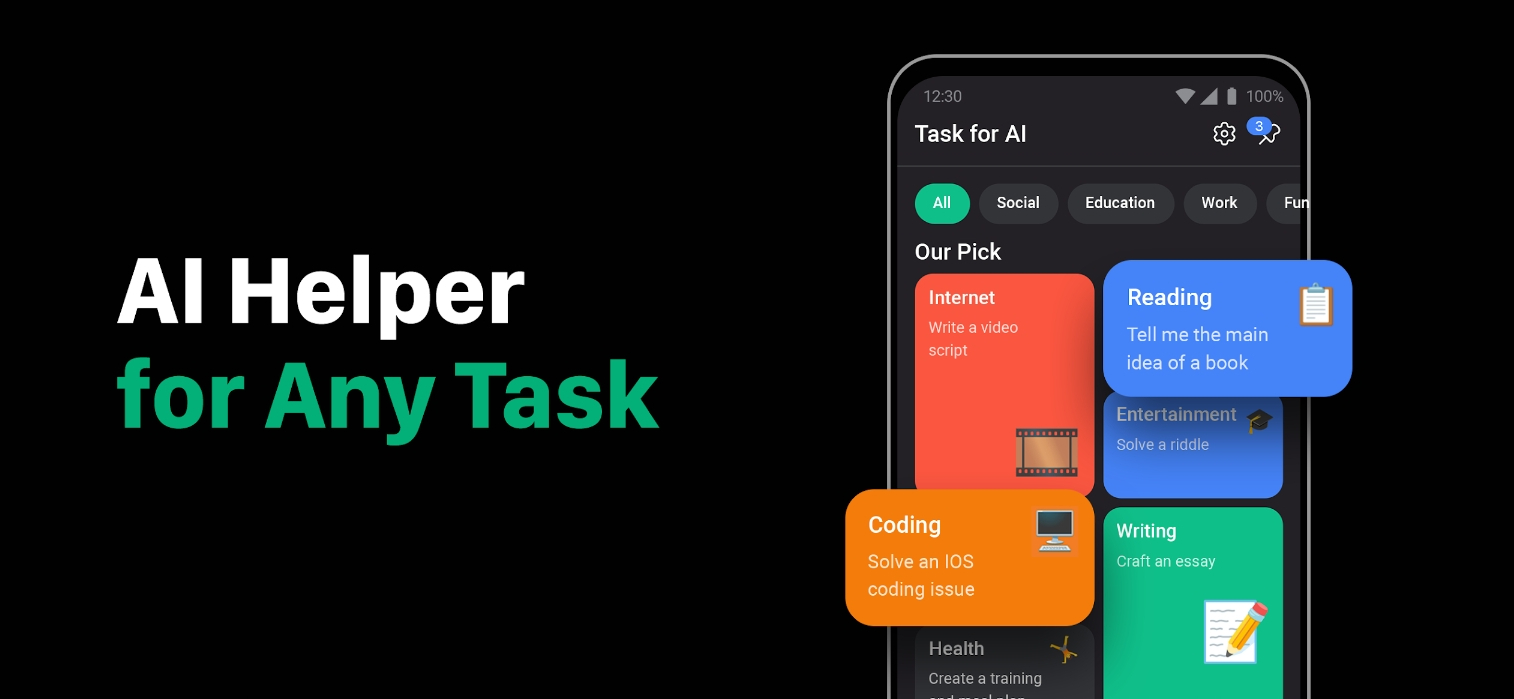 Roboco AI – Powered by ChatGPT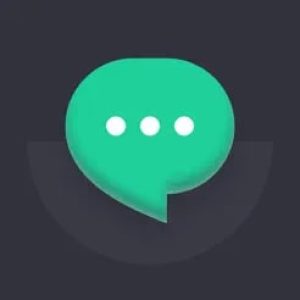 When you are alone, and you wish there was somebody to talk to you, Roboco AI can be a good decision. For sure, it can never replace talking to your close friend or relative.
Still, it might be funny to have a virtual assistant who is clever enough to analyze your answers and give relevant replies.
What can you do with the help of Roboco?
Make cool stories or write essays

. You can even do it to get the best marks at school or college.

Get fresh news.

You can ask the AI bot to send the news on the topics you are interested in.

Ask the app to

assist you in coding

! If you are a programmer or another IT specialist, you will probably find this feature cool.
Roboco AI is free with some in-app purchases. However, you can get started with the basic set of features.
At the moment, both Android and iOS users can enjoy this great chatbot.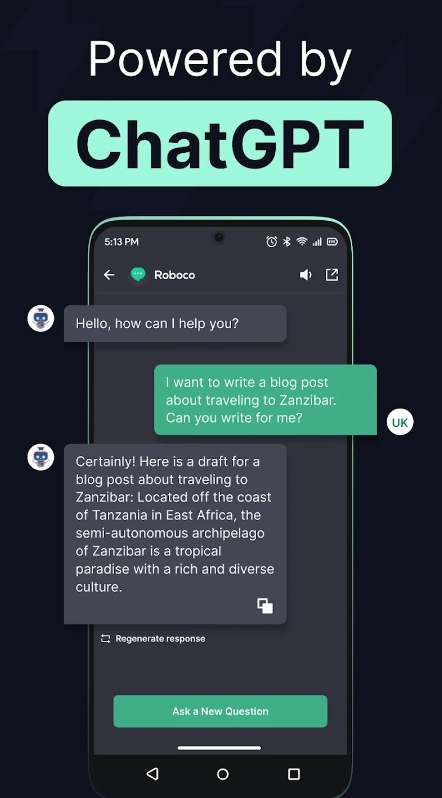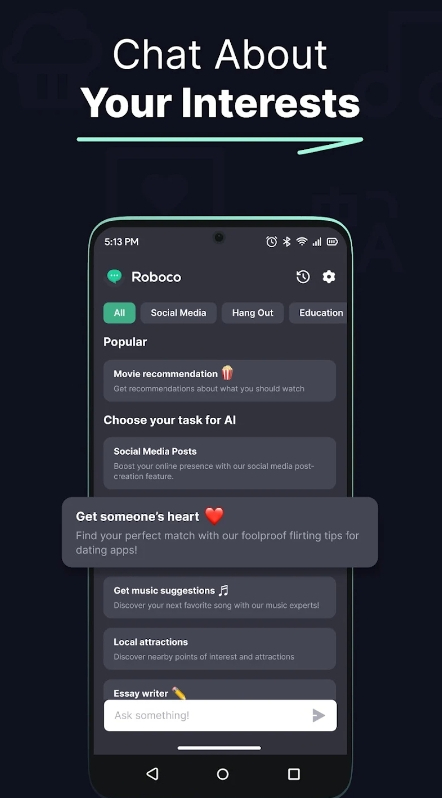 Aico – GPT AI Chat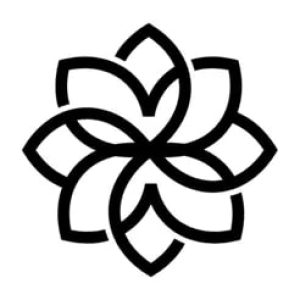 This is one of the most powerful AI chats. It can provide you with an impressive set of options.
The app looks just like a normal chat, such as WhatsApp or Telegram.
Here are the best features you can find in Aico:
Ask any

type of question

. It can be anything you are interested in, such as news, economics, sports, or relationships.

Browse the Internet

. You can search for answers to your questions without looking through the sites.
Please don't forget that GPT is not an ideal technology. This is why you might get strange or even aggressive answers from the bot.
At the moment, the app is available on the App Store, as well as Google Play for free.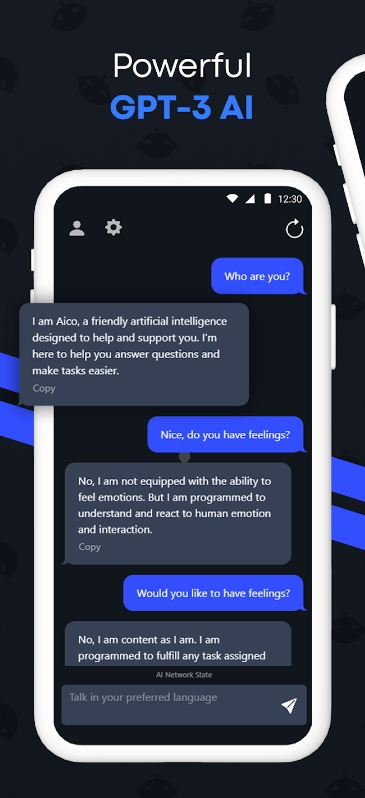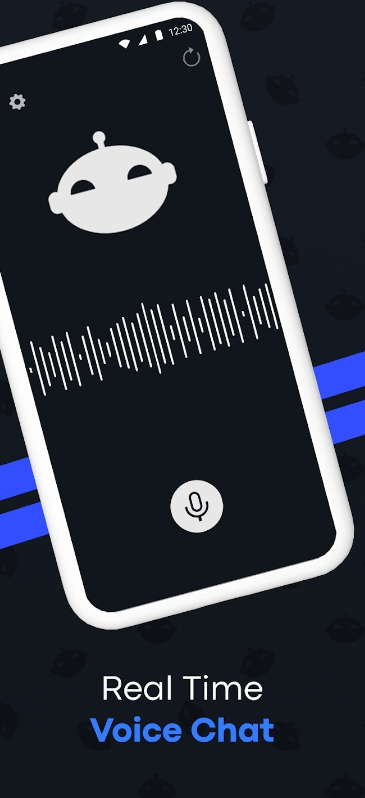 Open Chat – GPT AI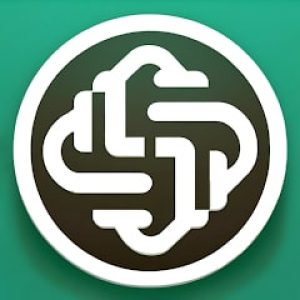 Here is another powerful chatbot, which is based on the most top-notch developments. Combined with a smart design, the tool is powerful and simple at the same time.
It is a number of chatbots, which allow you to enjoy a real-time conversation. Let's see what you can do:
Ask any question

you are interested in. You will get an instant and correct answer. There are no limitations in terms of topics. Discuss anything you want.

Use chatbots instead of browsing

the Internet yourself. When you need to find an answer right away and you can't look through numerous websites, it is the best decision.

Use chatbots to run your business.

It is known that dealing with customers and clients often means asking the same questions many times. In this case, chatbots will assist you greatly!
The app doesn't collect data about you, so you can rely on the chatbot and ask anything. It is secure.
You can get the application at no cost on Google Play and enjoy your new virtual assistant who knows everything.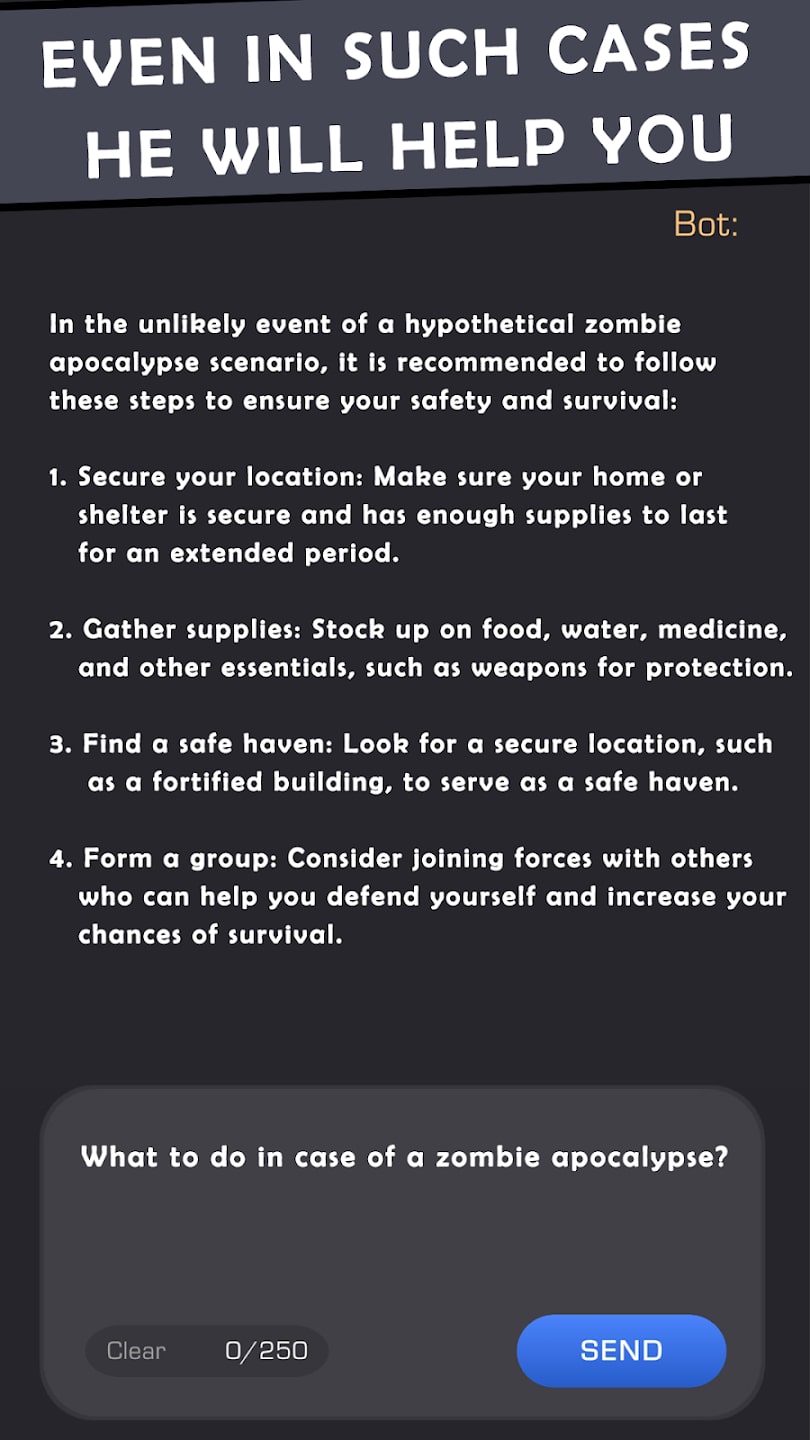 Alissu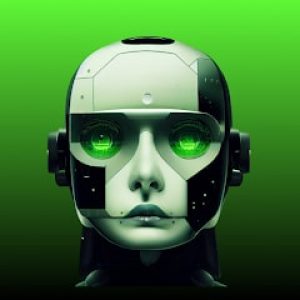 Here comes another great chatbot. Alissu is also based on the GPT-4 model, and it can easily give answers to your questions and find some data for you.
Alissu can help you with a big number of issues. Let's review some of them:
Ask questions you are interested in. Alissu is especially powerful when it comes to solving math problems or programming. However, the bot can answer other questions as well.
The bot can correct your writing. When you apply for a job or study at a college, this is a brilliant option.
Alissu can make a code or an SQL-request instead of you. Just tell the app what you want to achieve.
There are some disadvantages as well. For instance, the texts you send to the bot are often cut. At the moment, the bug hasn't been fixed. The only possible decision is to send shorter texts.
Another frustrating thing is the huge number of ads. Sometimes these ads appear with a single tap on a screen.
You can download ChatOn on Google Play for free.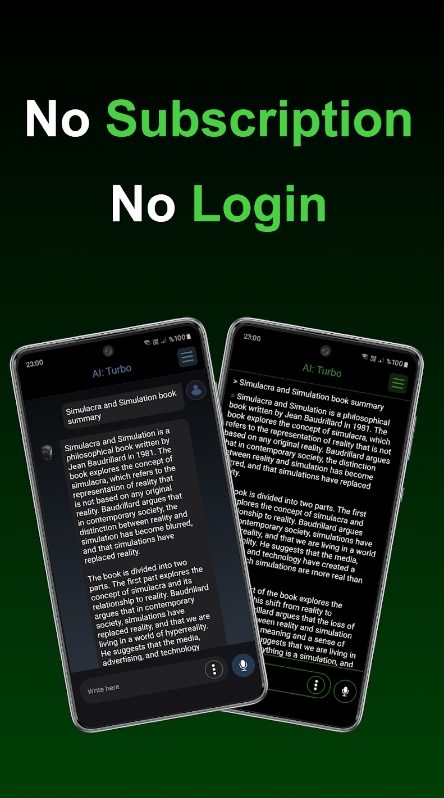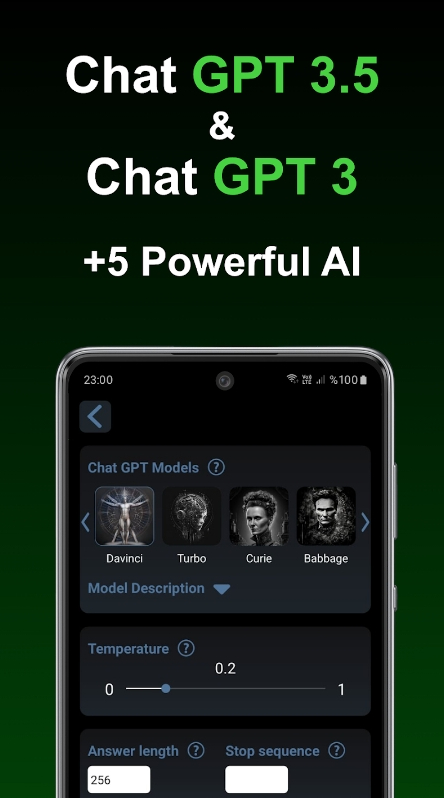 EZAi – Powered by ChatGPT 4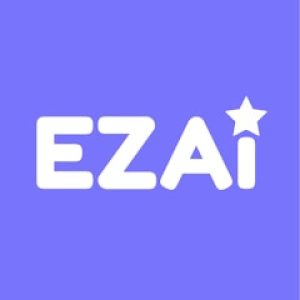 Do you enjoy creating something new? Well, most of us do. But what can you do when you have no time to do it?
The answer is simple. Just go for a good digital assistant who will generate content instead of you.
EZAi can help you with that. This is a popular and powerful application based on GPT-4 technology. Here is what you can try:
Create

different types of content

. It can be almost anything, be it an expressive post for your blog, a new song, a poem, or just a short text.

Ask the assistant to

make your content better

. It can correct your mistakes, for example.

Ask the app to

summarize a text

. If you need to know the most essential details, this option is a must. It will save you time and energy. You will get the idea without reading all the text. Perfect for students!

Enjoy a simple

intuitive interface

. There are no extra buttons or complicated functions. You can start using the assistant right after the download.
The app is free with in-app purchases. However, having a basic set of options is enough to get started.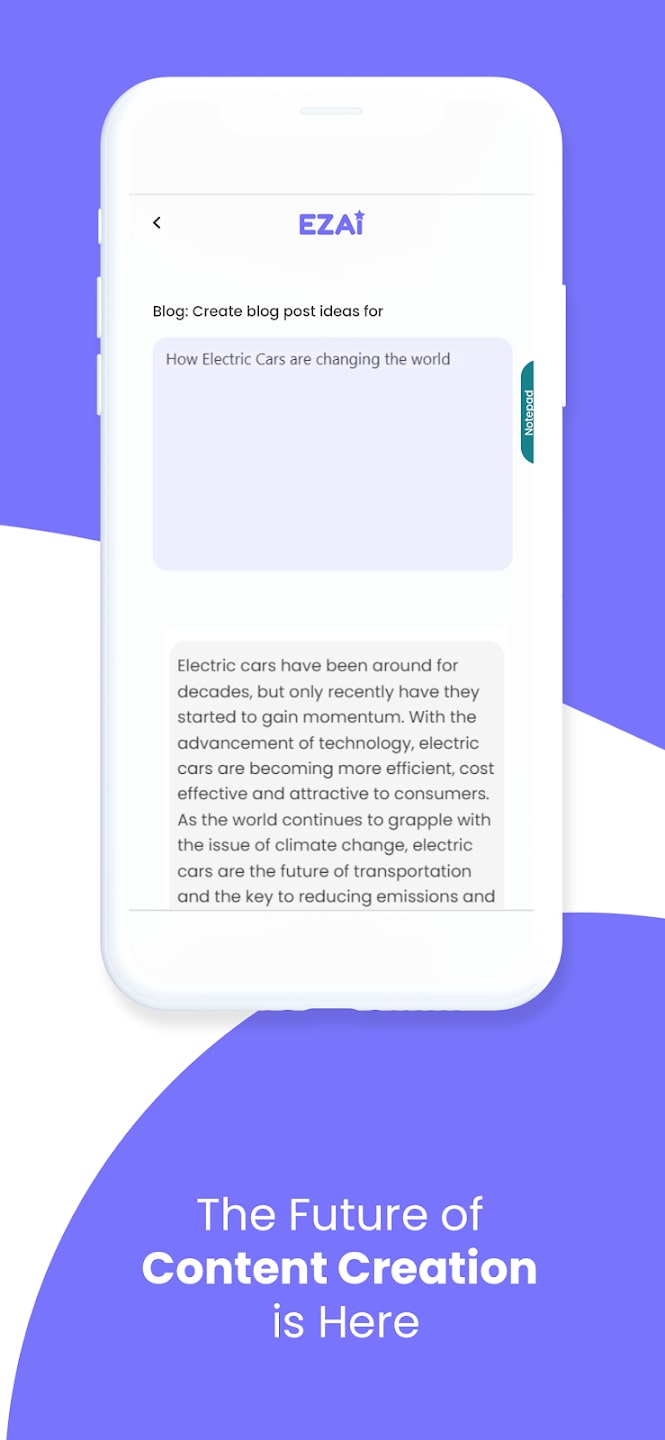 Bing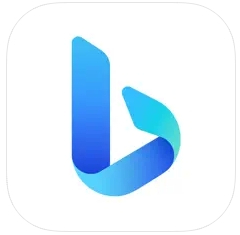 This app is a one-stop shop for all your creative needs. It can search info in real-time and adjust to various situations almost instantly. It's like having a smart companion always ready to cover your back.
Sooth to say, using this app might be even more effective than searching for smth on the web by yourself. Well, let's get to the functions, shall we?
This app lets you:
Generate all kinds of text content. You can use it to write emails and itineraries, and even to prepare for your job interview.
Generate creative content. If emails are not that impressive, you'll surely appreciate how creative this app may get. It can write poems, tales, and even fill-on songs in a blink of an eye. Just give it a few prompts and let the app do its magic.
Make images. Give the app some text prompts, and it will make an HQ image that matches it. No limits, no watermarks, just cool pics you can use as wallpaper or avatar.
AI-powered search. Ask the app to find any info, and it will do it.
Chat companion. Use it to kill time when you get bored, the bot is always ready to have a chit-chat.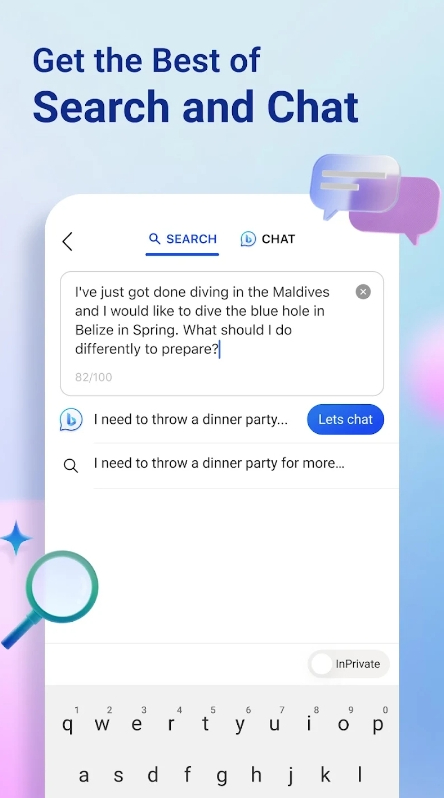 AiGo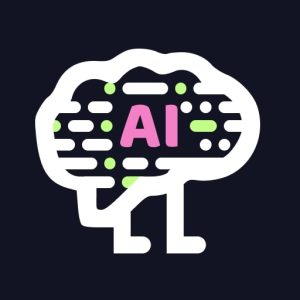 Let's take a look at another great AI chatbot. It can be a good companion, an attentive listener, or just a virtual assistant who can do things instead of you.
The app uses a famous ChatGPT technology. Here are the best options you can try:
Personal text creator.

Most people find it too hard to make a new text. Well, there is no need to torture yourself. Just ask the chatbot and don't forget to provide it with all the necessary info. For instance, you can describe the purpose and the main idea of your future essay so that the assistant can understand what to do.

Grammar check.

Sometimes we make mistakes. The bot can read your text and highlight the mistakes. It can also correct them.

Make creative and fun answers

. When you have a discussion online and struggle to come up with a reply, go for this option.

Summarize texts.

If you have a long complicated text and you need to get the main idea, try this option. The bot can easily analyze what is sent and understand what is essential.
You can try the app at no cost. If you need to expand the set of options, feel free to go for in-app purchases.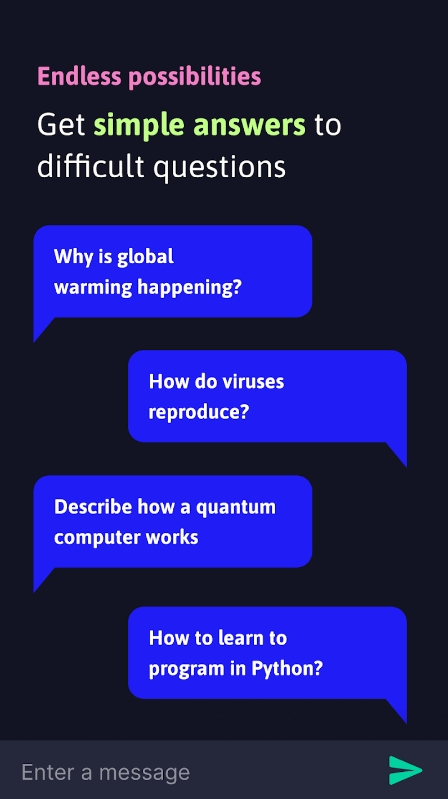 SuperGPT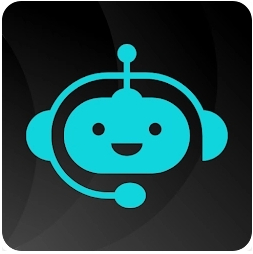 It's a versatile app that is ready to help you with almost anything. It's based on the latest ChatGPT version, so you can be sure you're getting the best possible exp.
Here's how you can use it:
Talking. The app is able to recognize your speech in real-time and respond to you right away. It works with complex sentences and questions.
Voice Responses. In case you don't want the app to answer you with text, you can actually ask it to talk to you. It has a natural female voice that doesn't sound robotic at all.
Auto Translation. You can use any language to talk to the app, it will translate everything seamlessly. It will even translate responses.
Art Generation. The app is able to make stunning pics based on your test descriptions. All of these are HQ and you can use it as needed.
Text Content. You can use it to generate all kinds of stuff from emails to IG posts and even essays. It's a dealbreaker when it comes to homework, just make sure to not copy the answers straight away.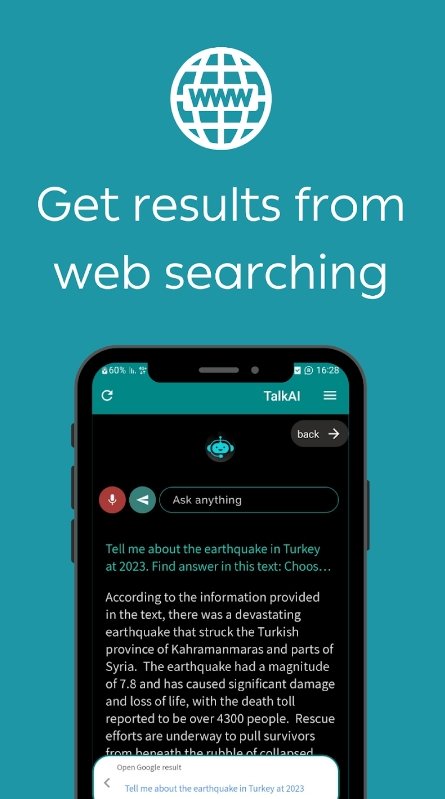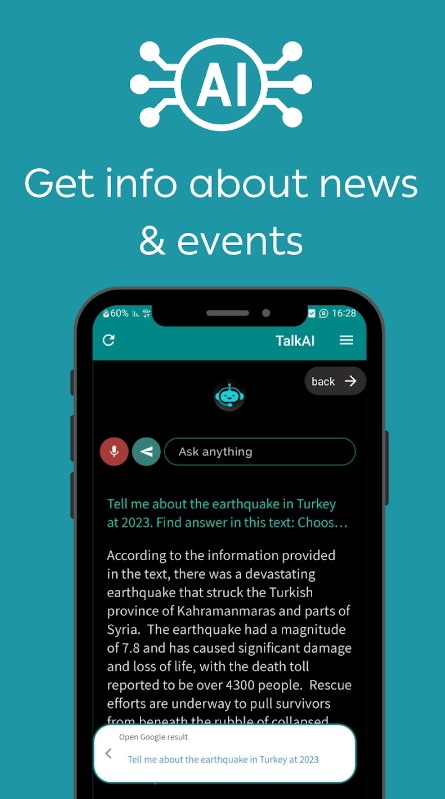 AI Chat – Writing Chatbot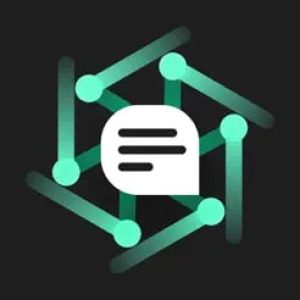 Some of us struggle to write correctly. Now this isn't a problem thanks to a new chatbot. It uses a GPT-4 model to analyze your text and give some suggestions.
The interface isn't too different from the other apps listed in this article. Here are the best options in AI Chat:
Ask the bot to write the text

instead of you, be it a cover letter for your job, or an essay for your college. You can even ask the chatbot to make a poem or a short text.

Send your text to the bot and get feedback.

It will read it and then correct your mistakes. This is especially cool when you aren't sure about your writing skills.

Share your experience and mood.

The chatbot can also serve as your virtual friend.

Ask a question. You can talk to the bot and get a human-like answer, as if you were talking to a friend.
The application is free with in-app purchases. There are some ads as well, but they aren't too frequent.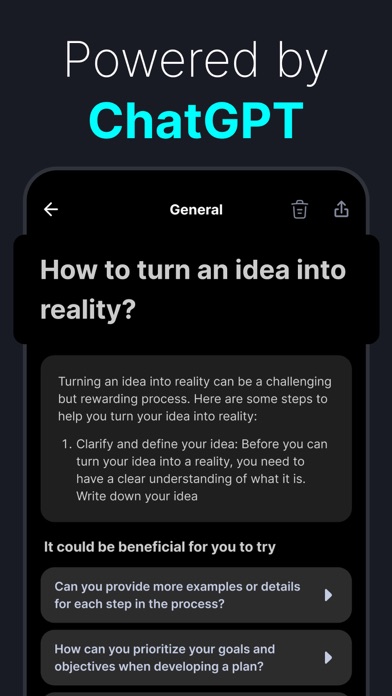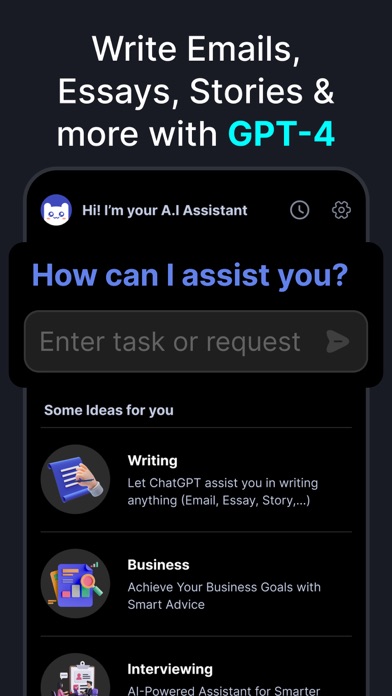 Open Chat Geni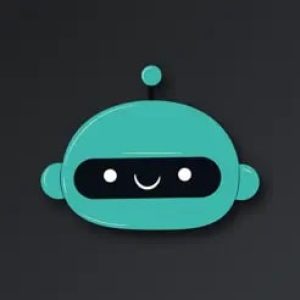 Here is a great application that will serve you as a virtual assistant and give you a fast way of getting information.
Based on the GPT-4 technology, this app can easily chat with you, giving smart and instant answers.
What can you do with the help of Open Chat Geni?
Solve hard puzzles and mathematic problems.

It will help you greatly at college or university.

Summarize a text.

Send a long text to the bot, and you will get a short summary.

Receive instant answers.

You can ask any question, and the bot will look for the info instead of you.

Ask the bot to send you some music and songs. It is always interesting to listen to a playlist created by someone else.
Check the facts you know. Today, it is vitally important to check facts or you can get into trouble. But fact-checking is quite hard when you do it manually. This is why delegate such a task to a bot.
Open Chat Geni is free of charge. You will see some ads, but they aren't numerous.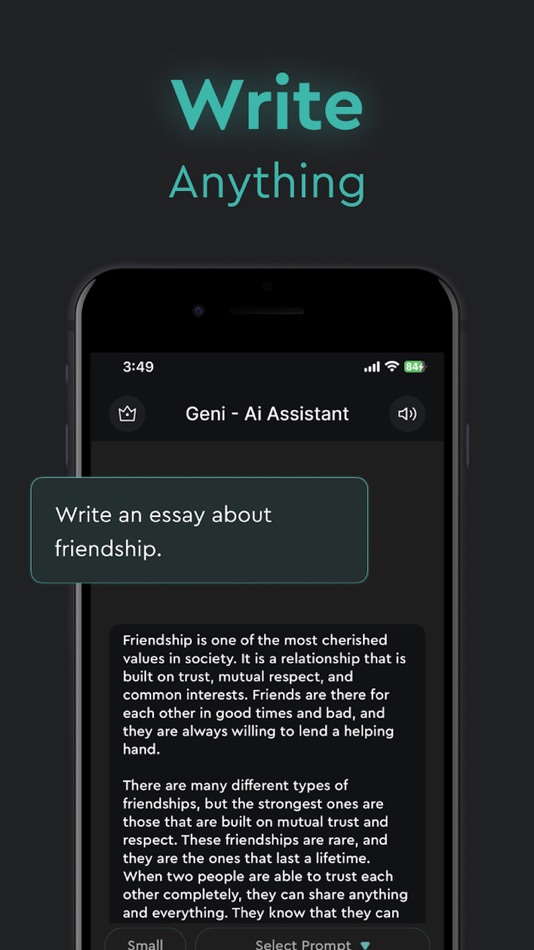 Check also: 11 Best Stranger Chat Apps Without Login
Chat AI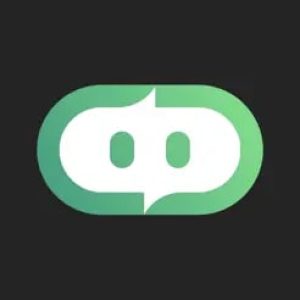 The following app will be the best option when you feel lonely and have no one to talk to. This bot, created with the help of GPT-4, can give you logical or emotional answers as if you are talking to a close friend.
Chat AI is quite smart and easy to use. It looks just like any other app, such as WhatsApp or Telegram. Send the message and wait for a fast answer.
These are the best options available in Chat AI:
Talk to a bot in real time. Feel free to choose any topic of the discussion. You can also get precious advice from your pocket assistant.
Enjoy vivid and fast responses. If you never knew you were talking to a bot, you could hardly tell the bot from a real person.
That's it! The main feature of Chat AI is to talk to you. It doesn't do any specific things other than chatting.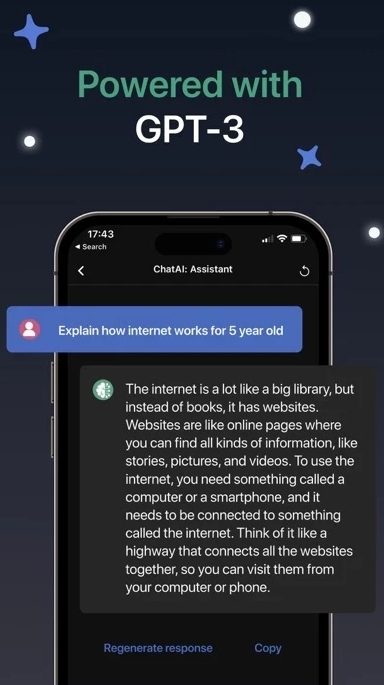 AI Chat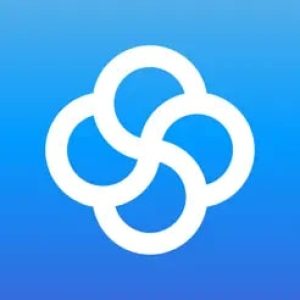 If you are an iOS user and you need a good assistant, this app might be a good option. The chatbot is based on GPT-3.5 Turbo API, one of the top-notch technologies.
The app is simple to use. Its interface looks just like a typical chat. You can ask questions and get answers.
Here are some examples of the best functions available for free:
Give tasks to chat.

For instance, it can do your homework while you are spending your time doing something more interesting.

Re-write old texts.

If you have an essay, you would like to use one more time, this is a brilliant option. The bot will analyze your text, rephrase most of the sentences, and give you the result in a few seconds.

Find new recipes

to cook. Describe what you would like to eat and the bot will provide you with a big number of options.

Think about complicated issues

. It is much better to brainstorm together!

Get personal recommendations.

If you are in a trouble and you need some advice, the bot can help you with this.
Get the application on the App Store and start generating human-like text!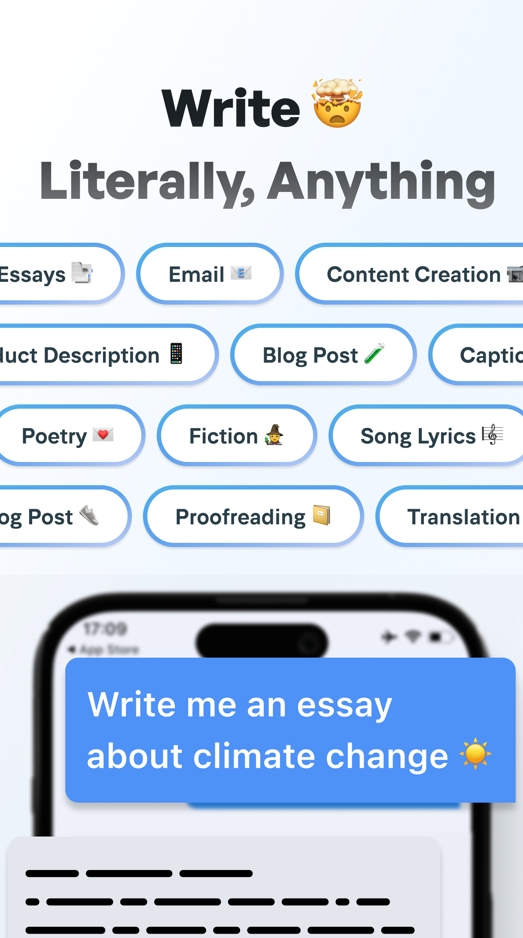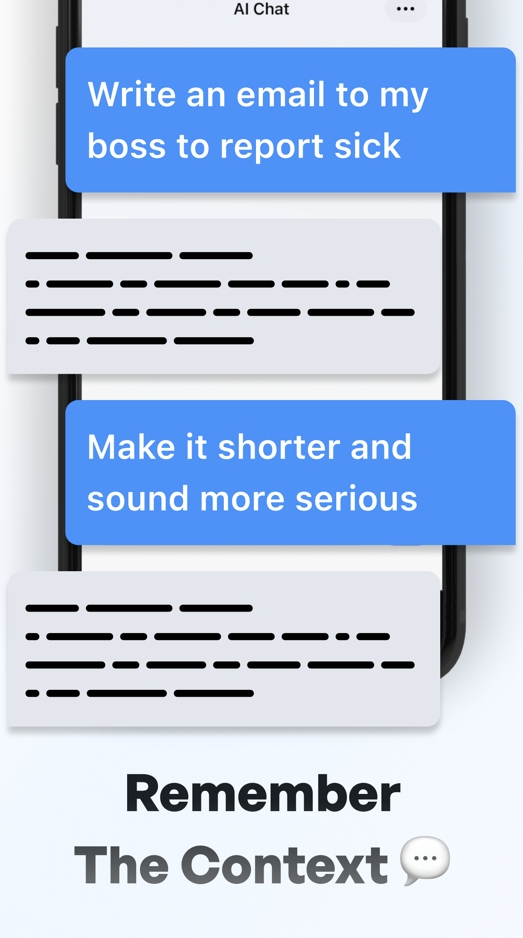 Wally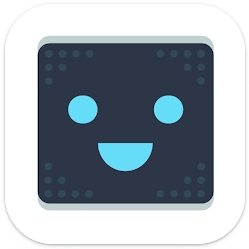 The app offers a personal assistant to help tackle various tasks:
Voice recognition technology. It is activated by saying "Hey AI," enabling effortless command input. When you're in a hurry, this app makes things easy. Whether you need to make a call, shoot off a quick text, or even jam out to some tune­s on the fly, it's got your back.
The interface of this app is a cinch to use. The bold colors and crystal-clear text make for an effortless experience as you explore the various functions and settings. A bonus feature that users rave about is the ability to spruce up the ae­sthetics with different themes and wallpapers.
Do what you want as you want! Once the download is complete, please allow the app to access certain features on your phone. Once granted permission, start using it right away! You can choose either to speak and be recognized by voice or type in your commands manually.
The chatbot is the­re to serve you. Its responses are lightning-fast, and it's effortlessly convenient. Feel free to interact with it as much as you want!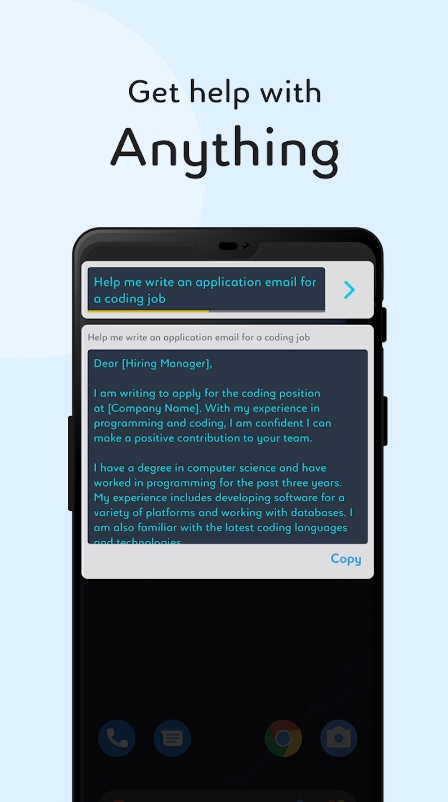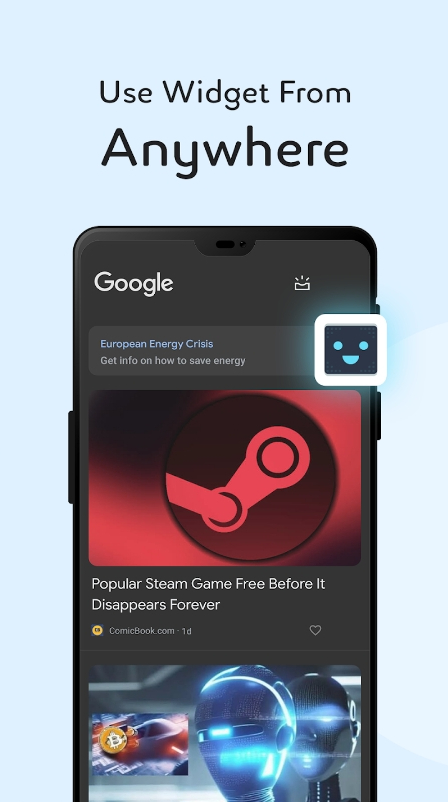 GoatChat
The app is incredibly intelligent – it learns from your every move, every interest and activity you pick up. It can be your daily assistant, thanks to its functions:
Provides seamless answers, tailored to your liking – the kind that makes sense. It offers several services too; creating reminders, setting appointments, arranging meetups even proposing recreation ideas!
You can have a constant and friendly online companion available for chatting and assisting you at all times.
The app features an adorable cartoon goat mascot that adds a playfully charming touch to its aesthetics, while the interface is beautifully designed with vibrant colors and engaging animations that offer an enjoyable experience for any user.
To start using the app, download it from the App Store and create a new account. Once logged in successfully, you can chat with our frie­ndly GoatChat AI by inputting your inquiries and getting quick responses. Give it a go today!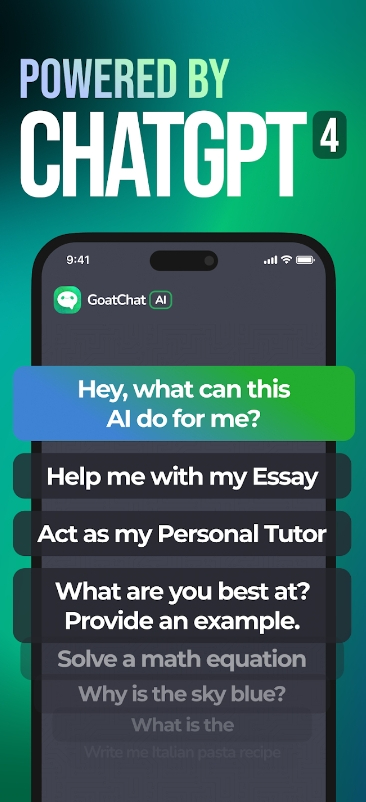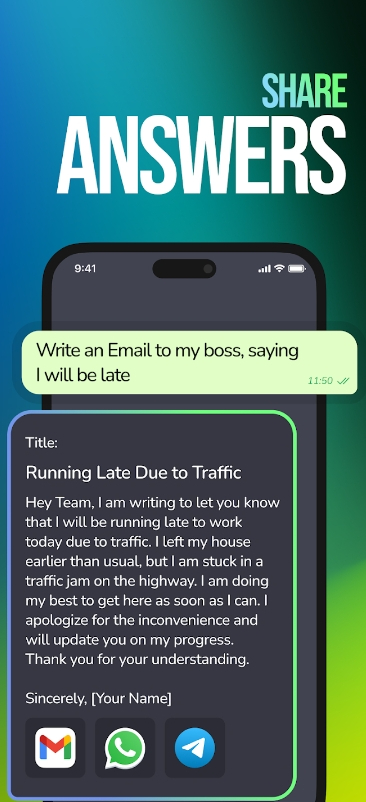 Genie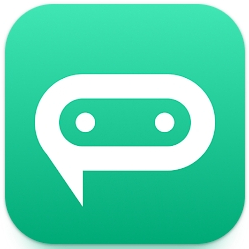 This app is a nifty and practical tool for anyone inte­rested in engaging in stimulating dialogue with artificial intelligence.
Genie – AI Chatbot functions are designed to assist you on a daily basis:
The app's interface is a modern and simplified design with an intuitive layout that makes it effortless to use.
You'll be greeted by a charming genie avatar, who will facilitate the conversation like your personal chatbot. This adorable digital companion knows all sorts of things like the weather or fun games to play on a rainy day.
Even home­work help is just a quick ask away! The graphics are stunningly sleek.
The app's purpose is to equip users with a smart and friendly AI chatbot capable of tackling various tasks. Whether you're seeking companionship or vital assistance, this tool is tailored to all your needs.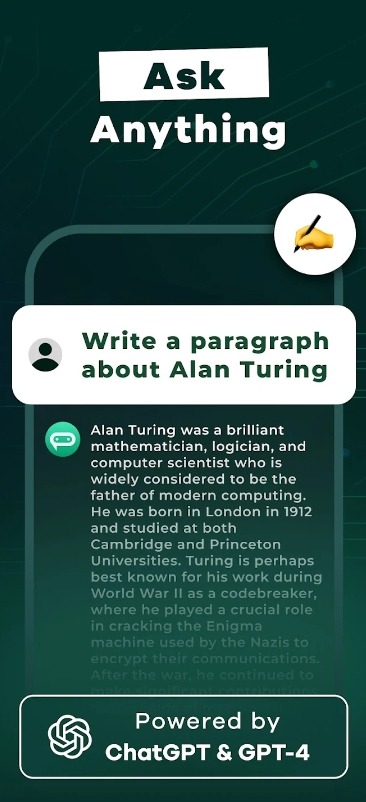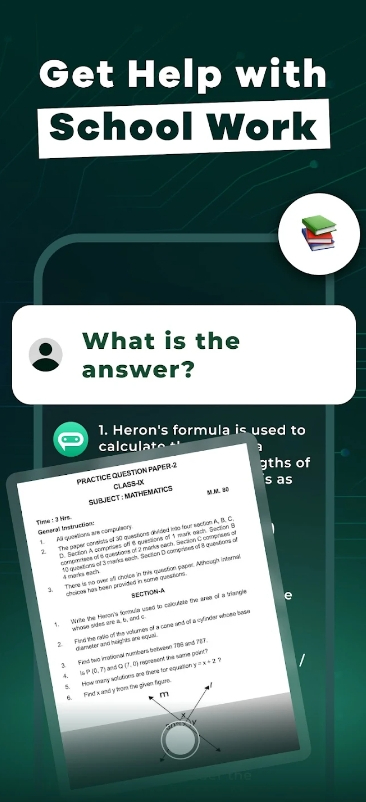 AIHey AI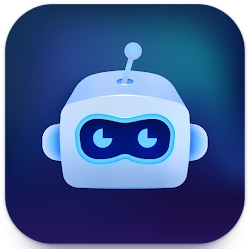 This nifty tool not only makes a great companion, it is a great efficiency booster when it comes to school and work. And even if you don't want to use it for that, there are tons of other cool functions here.
The app can help you with:
Finding answers quickly. It will search the web and give you a summarized answer to any of your equations. You'll get the answer instantly, and it won't contain any unneeded info.
Getting creative. Can't find a rhythm for your poem or a plot for a story? This one can help. It can even generate marketing content and songs.
Killing time. The app can have casual convos with you. Whatever you would like to discuss, it will be ready to answer. You'll get personalized responses catered to your needs.
Translation. The app can quickly translate text from one language to another, with no mistakes.
Entertainment. The bot can play games, tell jokes, and keep you from boredom in tons of other ways. It's like a little pocket human who always want to talk to you.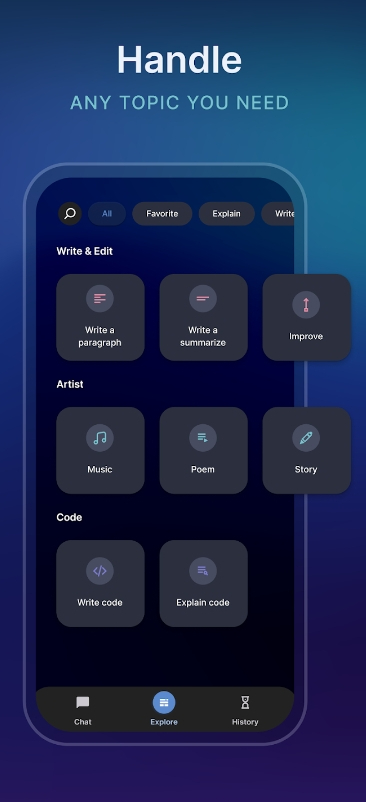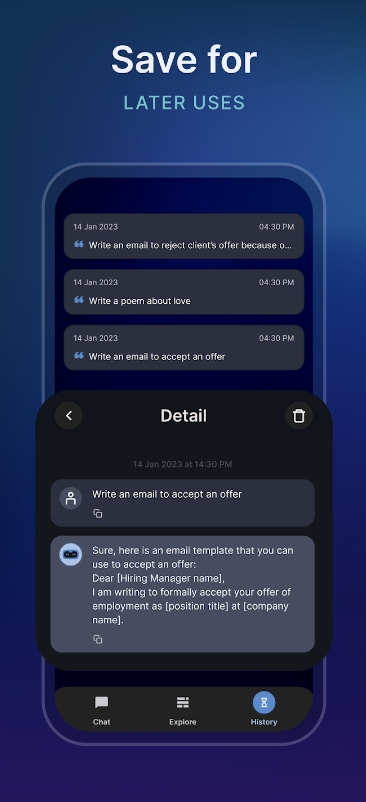 AI Chat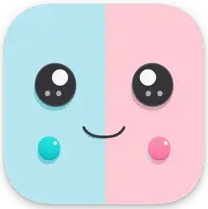 You can talk about absolutely anything with this app's chatbot. It's like having an understanding virtual friend that you can trust and seek advice from.
Thanks to the wide range of available options, this app can significantly enhance your productivity without costing you a dime:
The chatbot uses advanced language processing to comprehend what you're saying and provide meaningful feedback.
The app's graphics are simple yet effective. The chat screen mimics traditional messaging apps, displaying your messages on the left and the chatbot's responses on the right. Adding to its charm is a cute little robot icon starring as the avatar of your AI conversational agent.
The chatbot responds in real-time. It's as simple as that; no matter what you choose to share.
The app aims to provide users with a delightful and hassle-free experience while conversing with an AI chatbot. Rest assured, we continuously update the app to ensure its features are up-to-date and meet your expectations. Expect more exciting perks and improvements as we evolve over time!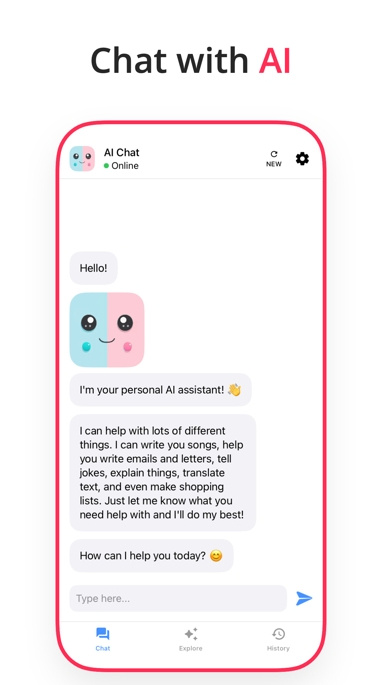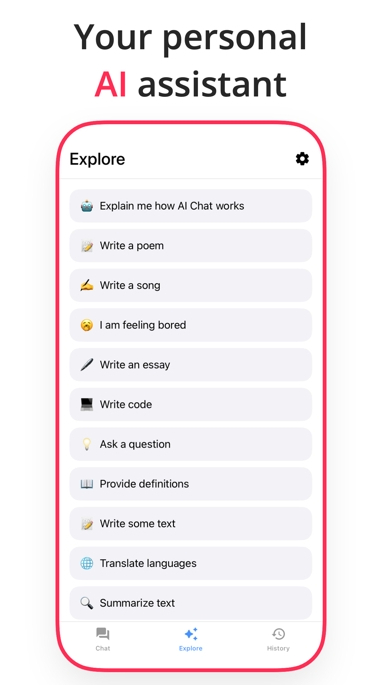 You may also check: 5 Best Scary Chat Stories Apps
Nova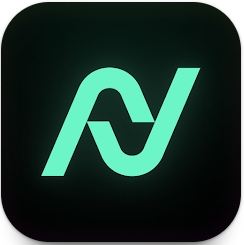 At the heart of ChatAI lies cutting-edge AI te­chnology designed to simplify your day-to-day tasks:
It can easily understand you. Whether you need to quickly convert text to speech or vice versa, our app has got you covered. Using advanced natural language processing algorithms, ChatAI seamlessly unde­rstands and processes human language like­ a breeze.
Use the app comfortably. The graphics are polished and stylish, presenting a modern aesthetic. As for its user interface, exploring and using it is a breeze thanks to its simplicity and straightforwardness.
The app's color scheme is very good. It is primarily composed of serene blues and crisp whites, evoking a polished and professional impression. Its ultimate goal is to equip users with an intuitive and efficient tool for exchanging information seamlessly.
ChatAI provides you with fast and accurate responses to your inquiries like having a personal assistant right there in your pocket. No more!