Have you ever wanted to open your own pizzeria? Do you love pizza and know a large number of its types? Then you definitely need to try the pizza shop apps. Exciting levels and many recipes are waiting for you.
Open your virtual pizzeria and attract as many customers as possible. Moreover, all apps have HD graphics and nice music. We have prepared for you a list of 9 cool pizza shop apps. Try them all or choose the one you like the most.
If you like cooking games then check out this article with offline cooking apps.
Pizza Ready!
This first of our pizza shop games is Pizza Ready! which allows you to unleash your inner pizza tycoon by simulating running your very own pizza empire­. You can create and customize pizzas, improve and expand your pizzeria, manage employees, and even establish chain stores to dominate the whole industry.
The app is quite reliable and rarely crashes or encounters bugs, which is definitely a positive aspect. I enjoyed the interface in vivid pizza-themed reds, yellows, and gree­ns that aid in creating a fitting aesthetic. The visuals are simple but have a nice cartoonish style.
In this game, you'll be playing solo without any multiplayer options. Plus, you can play offline.
The abundance of advertisements is a downside, though. They can be quite intrusive. Additionally, the app may offer in-app purchase­s if you want to accelerate your progre­ss towards becoming a pizza master.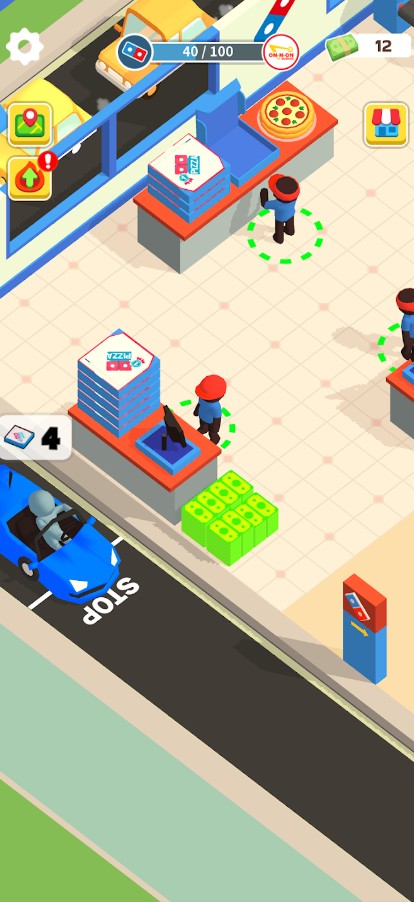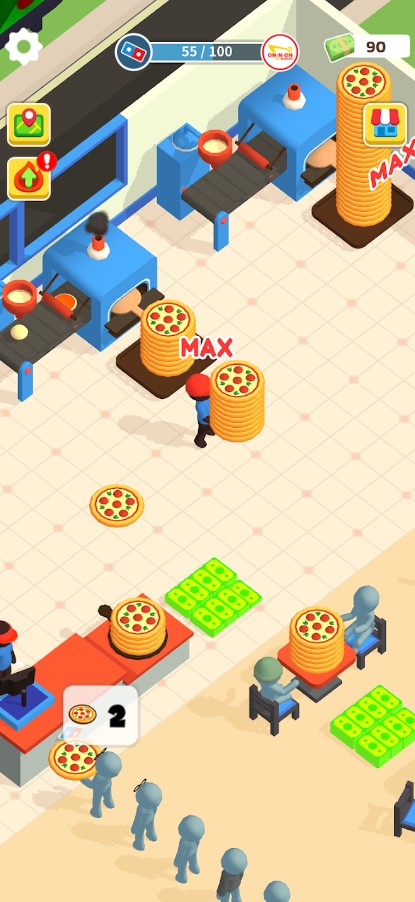 You may also like: 11 Best Cooking Games for Android
Good Pizza, Great Pizza
Want to try creating your own cafe? This app will help you do just that. Fulfill orders of your clients and earn money. You will be able to spend the money you earn to improve your pizza restaurant.
More than 100 unique clients with different orders and preferences are waiting for you. As you play, you will be shown a customer mood icon. Make sure that the mood of the clients is at their best!
Moreover, you can make your own pizza using different toppings and ingredients. There are two types of cash in the game – coins and bills. Customize your pizza restaurant.
Create a cozy atmosphere. This will allow your clients to call their friends. You will get more profit.
You will definitely not get bored with this game, because every time you will encounter new characters and stories. Running an entire pizzeria is a huge responsibility. Try to become the best pizzeria restaurateur.
The interface is made in pleasant pastel colors. The app has been installed over 50 million times. It doesn't run in the background, so it doesn't waste a lot of battery. Good Pizza, Great Pizza weighs just over 80MB.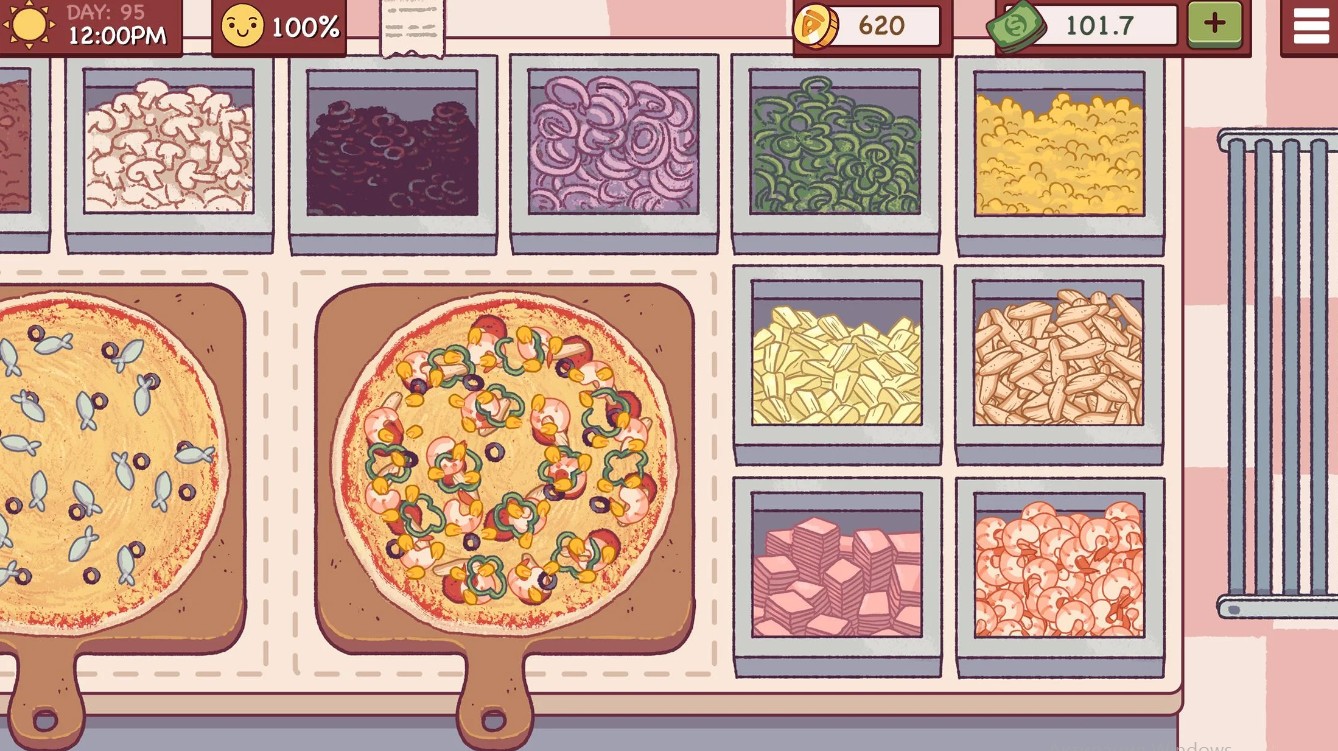 Pizza Shop: Kitchen Cooking Game‬
Try to develop your pizza cooking skills with this app. It is specially optimized for IOS. You will not be able to find an analog on Androids. This app is so addicting that you will play it for hours. See your pizza restaurant empire.
You will be able to learn many types of pizza recipes. Each pizza restaurant has its own menu and development path. Explore new possibilities and secrets of pizza making. Put your culinary skills to the test and try to make pizza recipes from the game in the real world.
You will be surprised but the recipes really work and will help you prepare the most delicious pizzas. The Pizza Shop has unique gesture controls while making pizzas.
You will be amazed at the extraordinary cooking skills. Moreover, you will be able to cut vegetables in the air. Can you do this in real life?
In addition to making pizzas and expanding your restaurants, you will face several challenges. Your restaurant can be attacked by rats, and do not forget about the general cleaning of the kitchen.
The health inspectorate can come to your restaurant and do a check. You can buy up to 6 restaurants as you progress through the game. We want to make you happy! Developers periodically update the app, adding new levels and locations.
Take part in the Fortified Chef contest and prove that you are the best pizza chef. Make sure you have enough space on your smartphone to install the application. It takes over 140MB.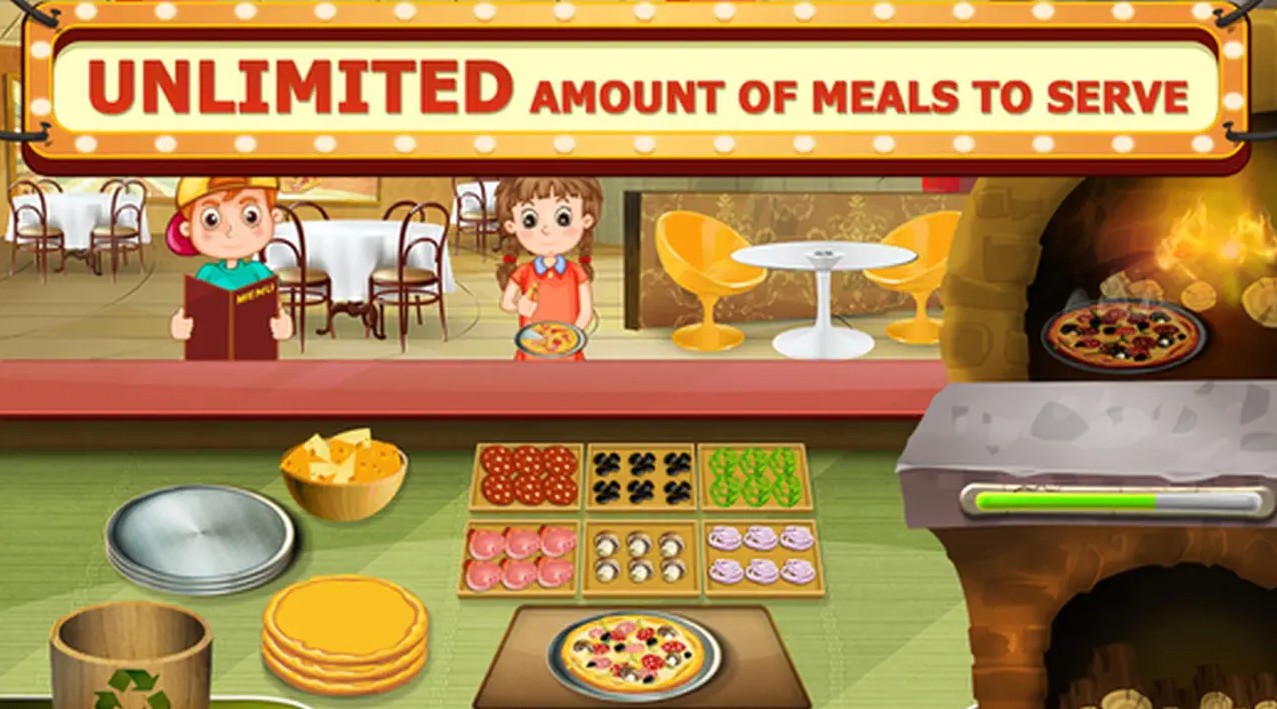 My Pizza Shop 2 – Italian Restaurant Manager Game
Open your virtual Italian pizza restaurant. This app will allow you to become a real pizza chef. You can explore over 100 pizza recipes. Perform drops and earn money. Each level has a certain number of customers.
Your task is to make all customers happy and satisfied with your restaurants. Otherwise, you will lose your reputation. Fulfill visitors' orders as quickly as possible.
The faster you complete the order, the more money, and satisfied visitors you will receive. Don't forget to upgrade your restaurant. Buy improvements for cooking or drinks. You can also upgrade your stove, cookware, and kitchen utensils.
Hundreds of exciting levels await you. The app has two currencies – crystals and gold coins. Spend them on upgrades. Remember to remove the meat from the stove or it will burn.
The app has a cute cartoonish interface with unique visitors. This game is free to play but contains some real money purchases. My Pizza Shop 2 may seem like a challenge and it will captivate you. Time will fly by when you play this game.
Watch ads and get rewards. The app has been installed over 1 million times. Download it and join the community of virtual pizza owners.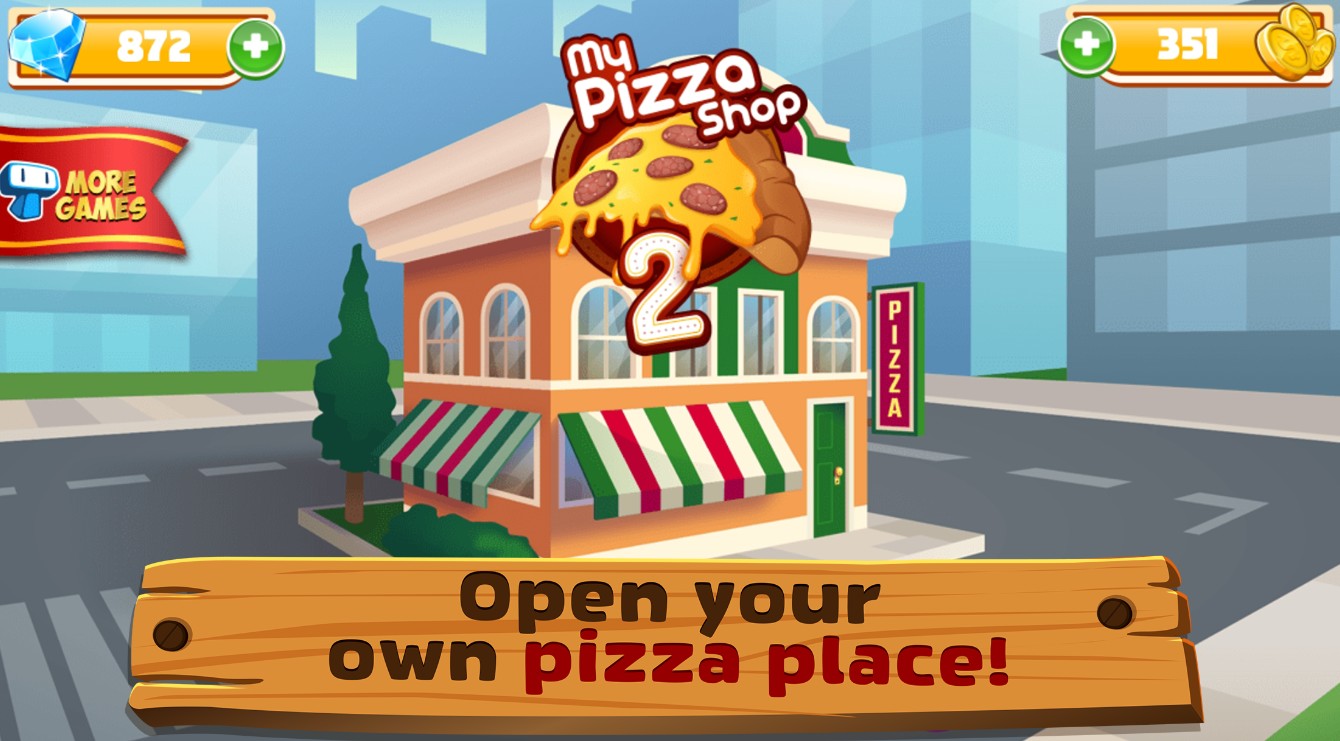 My Pizza Shop ~ Pizza Maker Game ~ Cooking Game‪s‬
If you love games with a minimalistic design, then this is what you need. Pizza Maker Game will let you own the best pizzeria in the virtual city. Complete the orders of your visitors and make them happy.
You will see the desire of the visitors in the cloud of their thoughts. Try to make the pizza your customers want. The oven is always hot and ready to cook.
Complete levels and get rewards. The more you play, the cooler your pizzeria gets. This game is also great for kids. They just love it.
This is an excellent educational exercise for the smallest pizza lovers. The design of the appъ is very simple and has nothing superfluous. The navigation of the app is as intuitive as possible. Moreover, the app is only 16MB.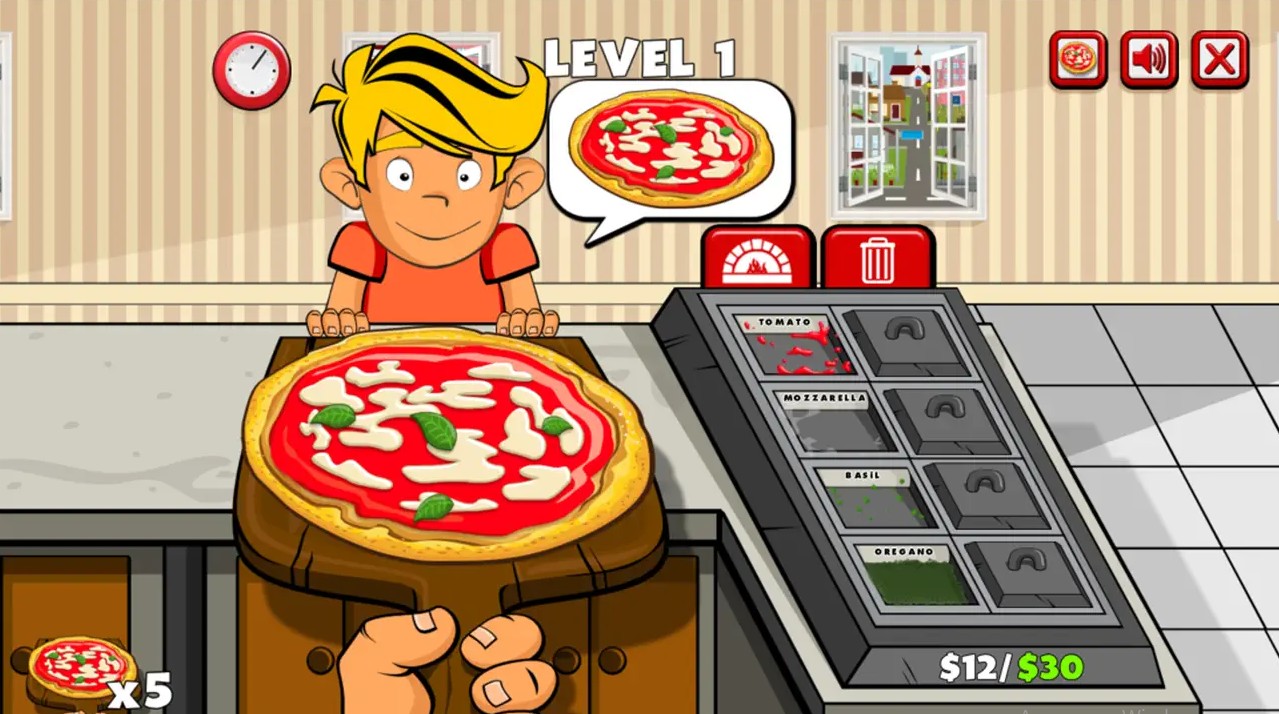 You may also like: 11 Best Apps For Vegan Recipes (Android & iOS)
Cake Pizza Factory Tycoon: Kitchen Cooking Game
You've already read about several pizza shop apps, but what if you could have a virtual pizza factory? This app is a combination of several cooking games. Build your pizza empire and conquer all the visitors in the city.
Buy individual ingredients for your pizzas at grocery stores. Prepare pizza on a conveyor belt. You can expand your pizza production and become a pizza tycoon. The app will allow you to cook not only pizza but also other dishes.
Cake Pizza Factory Tycoon is a very addictive app. You will be amazed at the huge amount of games and recipes. It will be difficult for you to tear yourself away from this app. This is a great time killer.
You can even make complex wedding cakes. This app will help you develop your imagination. Cake Pizza Factory Tycoon has been installed over 1 million times.
The app will not take up much space on your smartphone. It weighs less than 30MB. This is a great solution for those who always have not enough space on their smartphone.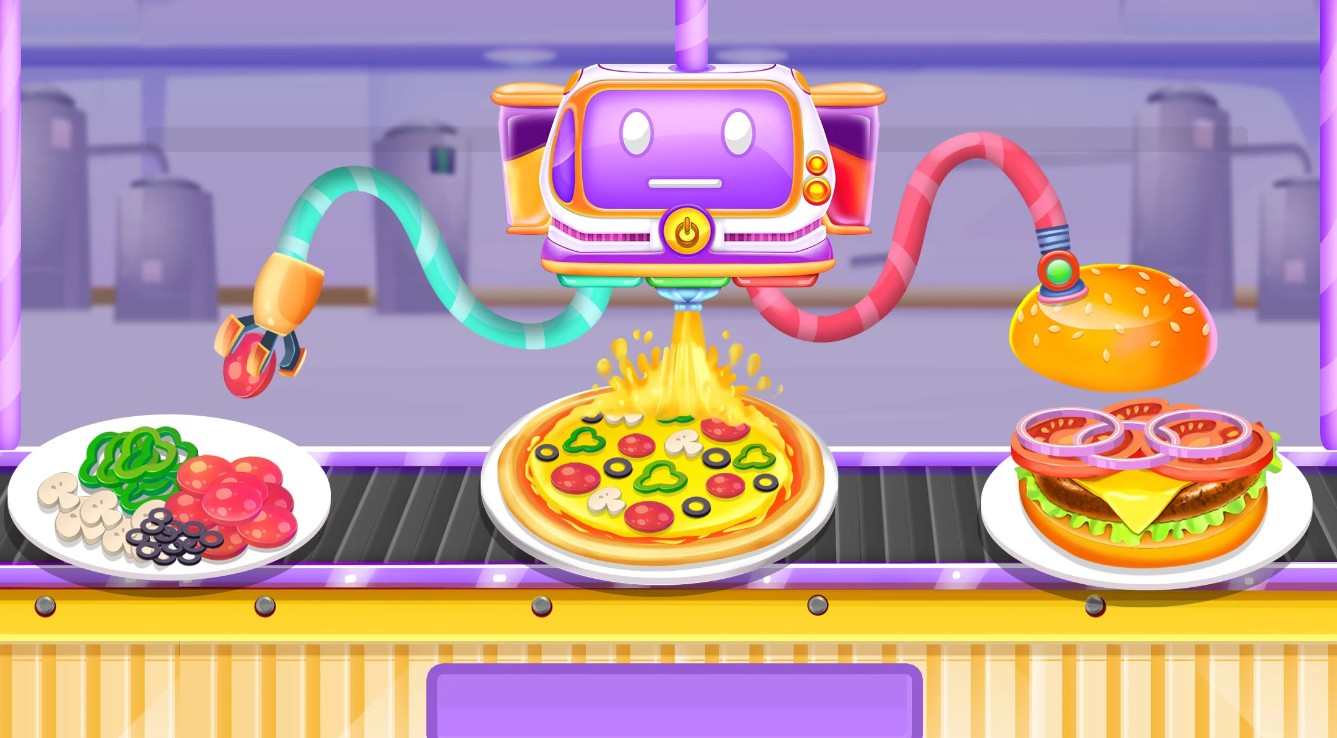 Pizza Shop – Cooking game‪s‬
Pizza Shop is one of the cutest pizza games. You will be delighted with the attractive graphics. Prepare ready-made pizza recipes. You can become a professional chef.
A boy character will help you. Upgrade your pizzeria. and add new equipment and ingredients. You can also use delicacies to make pizza. The gameplay is standard for all cooking games.
The application is 28MB. It is more suitable for children than adults. But if you are an adult do not get discouraged this game will help you to relax after a hard day at work. Cook pizza and make your virtual guests happy.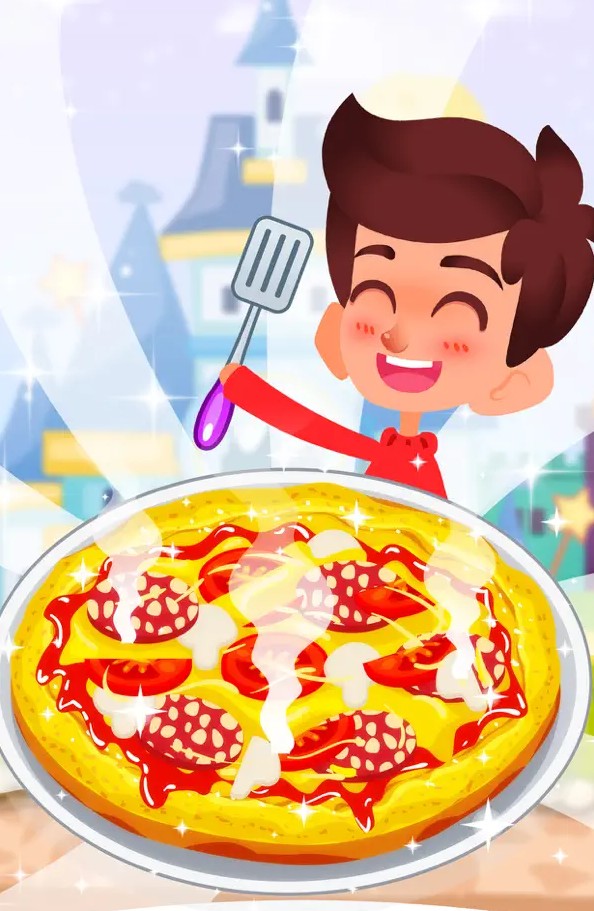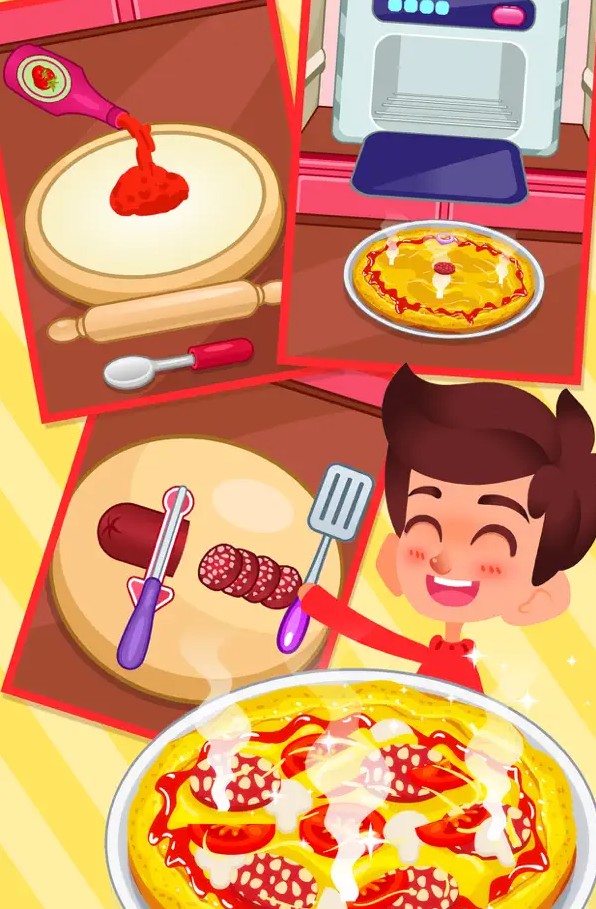 Masha and the Bear Pizzeria Game! Pizza Maker Game
Meet everyone's favorite characters – Masha and the Bear. If you adore these funny friends, then making pizza will be a pleasure for you.
More than 9 hungry friends are waiting for you who want your delicious pizza. You can make up to 16 types of pizza from 35 ingredients. Take orders from animals and make the pizzas.
You can also deliver orders using bear delivery. Try to become the manager of Masha's pizzeria.
Watch funny videos and make pizza. Try the recipes in real life! The app has been installed over 5 million times. This proves once again the quality of the app.
It only takes up 41MB on your smartphone. Download Masha and the Bear Pizzeria Game and you will spend many hours playing this wonderful game. You can become the best chef.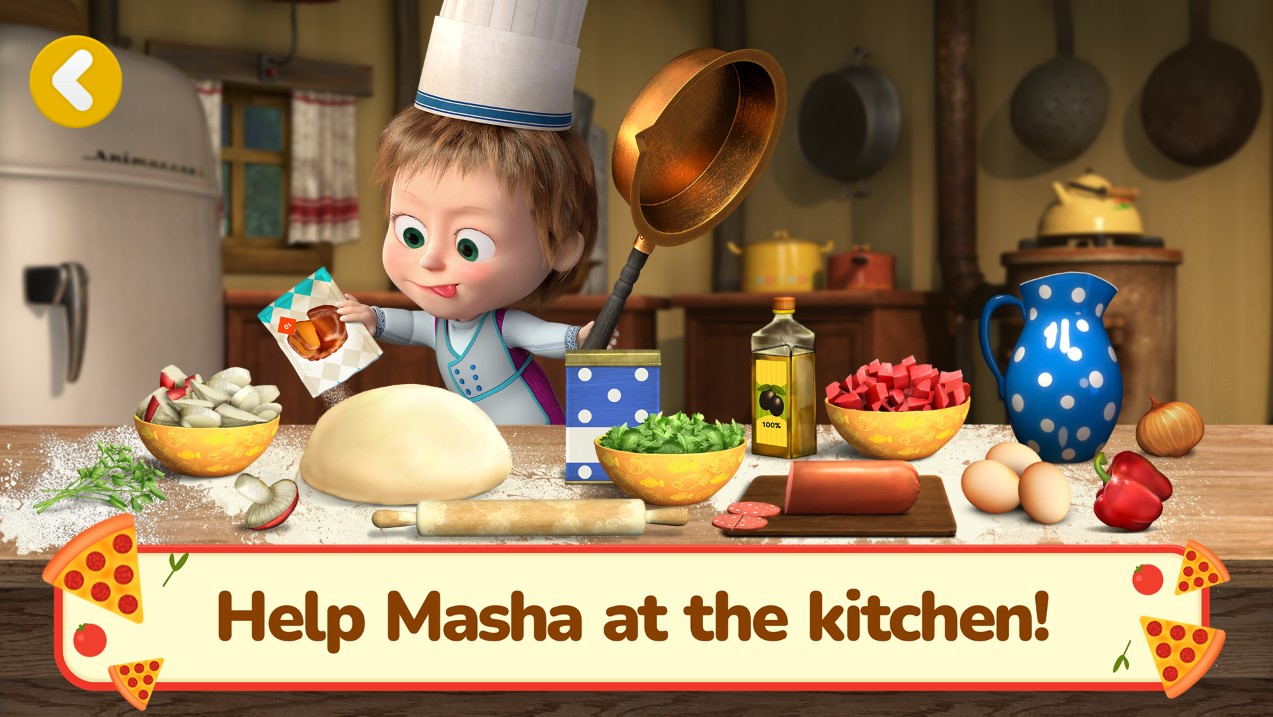 Pizza Game‪s
Pizza Games stands out from others for its realistic graphics. You will be able to make pizzas very similar to real ones. Cook pizza half and half, whole, platter, and deep dish. You will prepare a complete pizza using every ingredient.
The app has many toppings from tomatoes to mushrooms, from cheese to herbs. You will also prepare the dough yourself. Try to create new pizza recipes.
We repeat once again that the graphics of the app are realistic. You will enjoy the special effects in the cooking process. The app has an average rating of 4.5 out of 5. This is an excellent result.
There is a small drawback to the app – cheese is not very similar to cheese. But this is not very striking. The best thing about the app is the sauce. It is a delight for the eyes. Try this app and you will not regret it!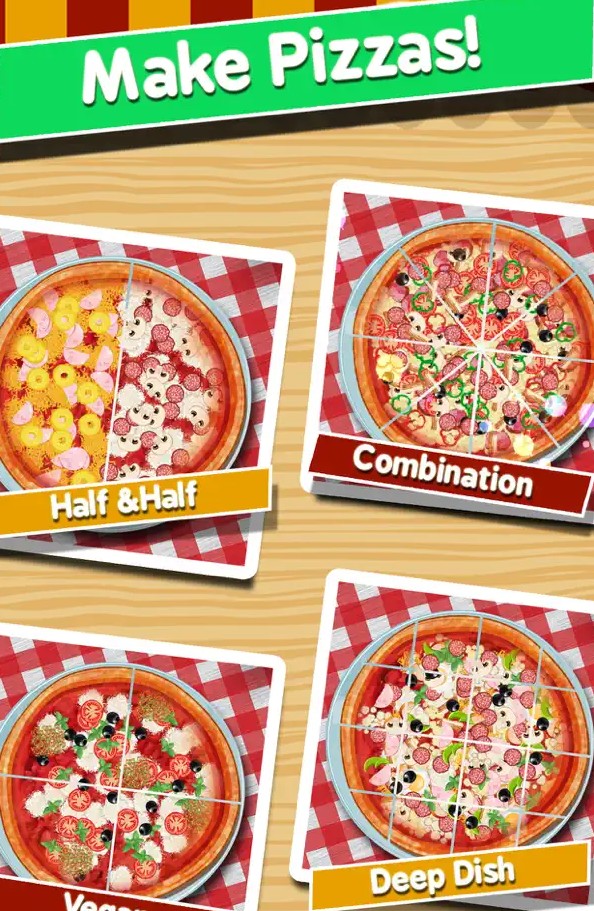 You may also like: 17 Best Crockpot recipe apps for Android & iOS
Pizza Empire – Pizza Restauran
This pizza empire-building game is focused on various activities from crafting de­licious pizzas to serving customers and expanding your business. It's not just about pizza: you get a chance to cook grilled meats or seafood in a variety of fantasy settings. You can play this game as a solo player, or alternatively, you can compete with other aspiring pizzaiolos around the world.
Unfortunately, I found the app not exactly reliable, but somewhat laggy. While the visuals are straightforward, they look rather charming. You can enjoy playing offline. With over 300 levels, the game can be enjoyed for a long time – or until you get bored.
The advertiseme­nts can be quite pre­valent. Additionally, there are in-app purchases available that you can use to buy special boosts and upgrade your pizza shop. At some point, it gets hard to earn coins in-game to upgrade, so you'll have to resort to paying for features.