The world of games was born a long time ago. First, it was a simple game on consoles Sega, Dendi and similar; then there were computer games of the new generation, modern consoles PlayStation and Sony.
Game developers never stand still, constantly modifying old versions, creating new games, expanding the horizons of gaming, and promoting the gaming industry. But sometimes you want to dive into the old (and sometimes even not very old, and just a few years earlier) times, to remember childhood and youth, as before to play Sega, Dendi or find an old game.
The problem is that even outdated versions of modern games are often taken out of production and it is almost impossible to buy them in regular stores. And sometimes the beauty of these games is in their drawbacks!
That's why there are websites that allow you to remember the long forgotten games and enjoy them. Look at our top and immediately download your favorite game of your childhood!
You may also like: 13 Best Apps to Download Retro ROMs for Android
Gamulator
The Gamulator is a website that will be useful if you want to download a ROM with the game, without having to bother to search the Internet. If your favorite game isn't available now on most of these sites, the Gamulator is obviously of interest to you.
After all, if a game has ever been released on a console, set-top box, or personal computer as a whole, there's a good chance you'll find it here! The site is not limited to ROM – you can find blogs and articles directly related to the gaming industry on it.
We recommend that you remember all the games you've ever been interested in and go to the Gamulator website immediately because it's never too late to play.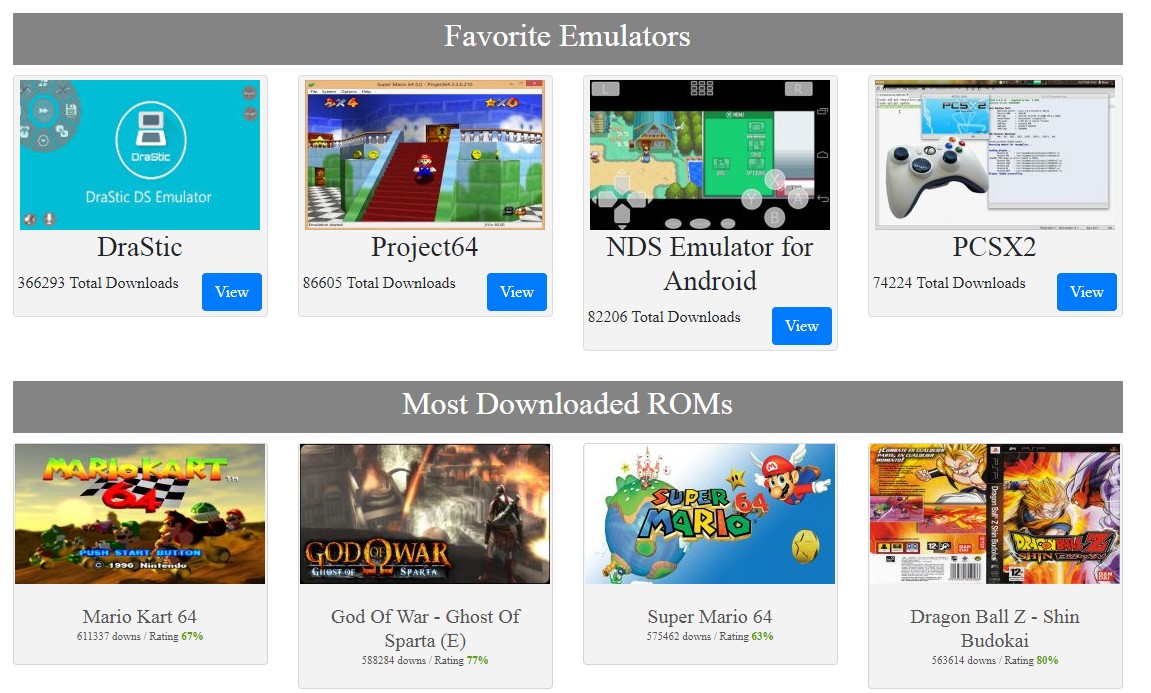 You may also like: 9 Best ROM Manager Apps for Android
Retrostic
The name of the site already speaks for itself. Here you can safely remember your teenage gaming experience and even childhood games on the console!
Sometimes you want to experience this atmosphere – chips, cola, playing on the console, and no worries about taxes and payments!
If you have a favorite game, but it's old and impossible to find, Retrostic will become a real treasure and find.
Here you can find the game of your childhood without paying a cent. The service is free, which is another plus.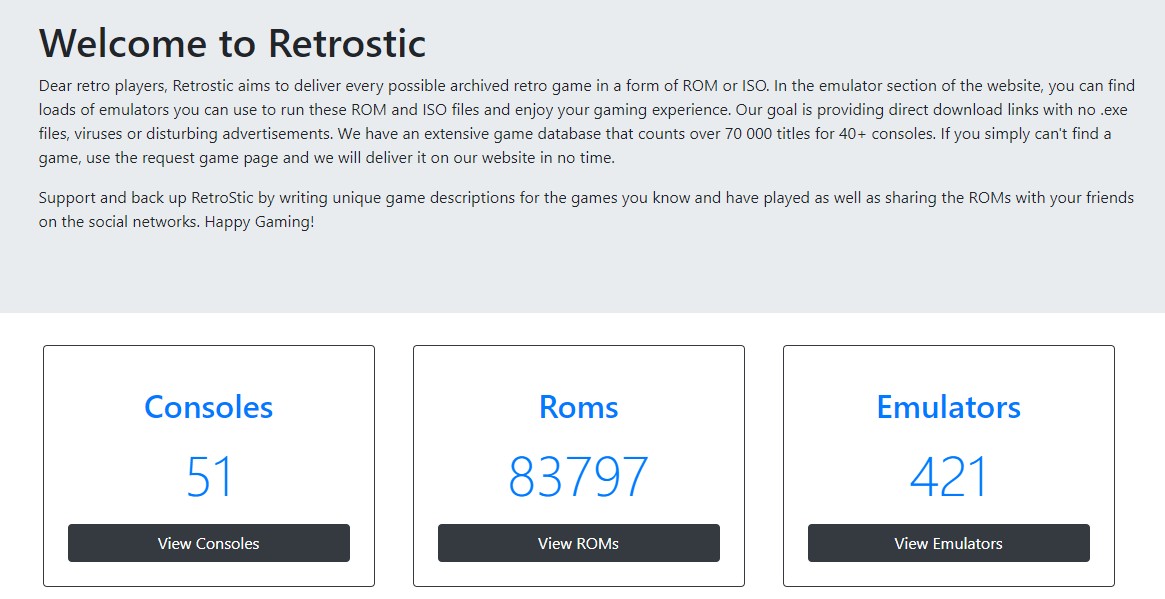 You can also check: 22 Cool old game apps for Android & iOS
DopeROMs
DopeROMs is one of the most popular sites with emulators. The website is a dynamic archive of games and video games, even those that were released on cartridges. Emulators are a copy of the cartridges of old or forgotten games.
A nice bonus – the games are already translated into your language! This means that even if the game was released in Japan and you don't know a single hieroglyphics, it won't be a problem for you.
Enjoy the game, regardless of language barriers. You can also easily save yourself. If your child, friend, or just a life situation distract you, stay with us! Next time the emulator from DopeROMs website will restore your game session. Interested? You know what to do.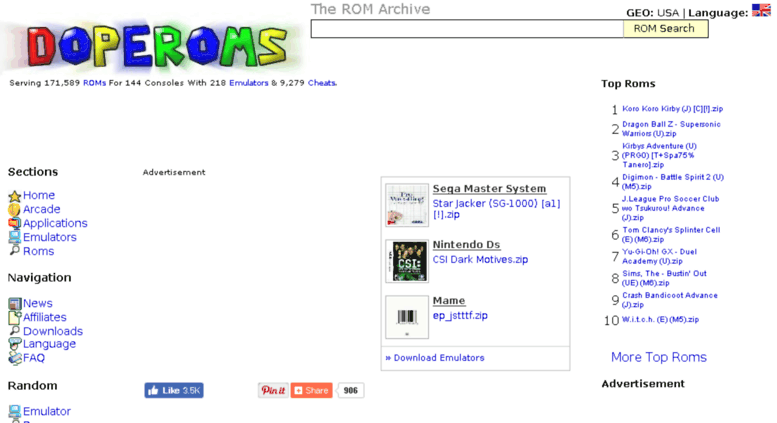 Vimm's Lair
Vimm's Lair is a site that brings together the most popular directories and game libraries. If you are suddenly nostalgic, you want to remember the past – you should visit the website of Vimms Lair.
Legendary and greatest games are collected here. Full-color handmade scans, feedback, overviews, and reviews of users will allow you to plunge into the world of childhood games. Already excited?
There is one "but": the games presented on the site, released exclusively in the U.S., there are only a few games from Japan. But even with this drawback, you can still find something for yourself on Vimms Lair.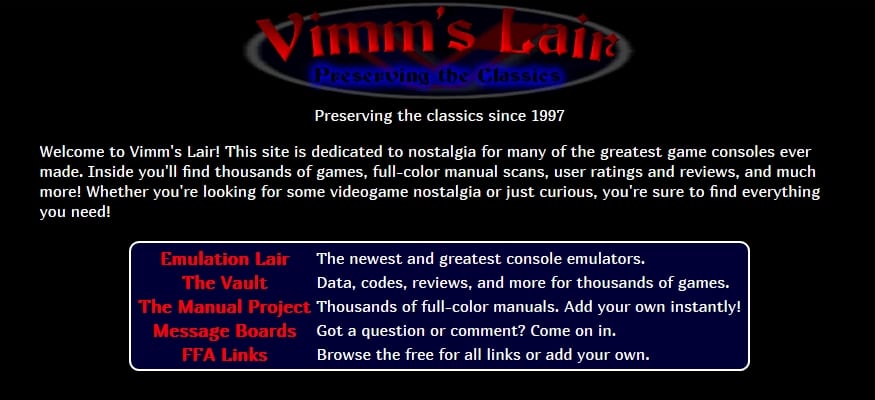 The Eye
The Eye is a website that specializes not only in gaming ROMs. This site provides data storage and backup services. What for? So you always have access to the information you need. Because the website saves a lot of data, there are versions of games with cartridges, long gone and forgotten by corporations.
The site has no advertising and annoying pop-up windows but remains free. How? It exists on donations from users. Creators of The Eye will be glad to receive material support – in bitcoins, on PayPal and other monetary systems.
Also, you will rarely find a site on the Internet, which technical support is available in Discord. If you have any questions, feel free to send them to Discord – the staff will tell you everything, explain and show you "how to download Mario to the MacBook Pro."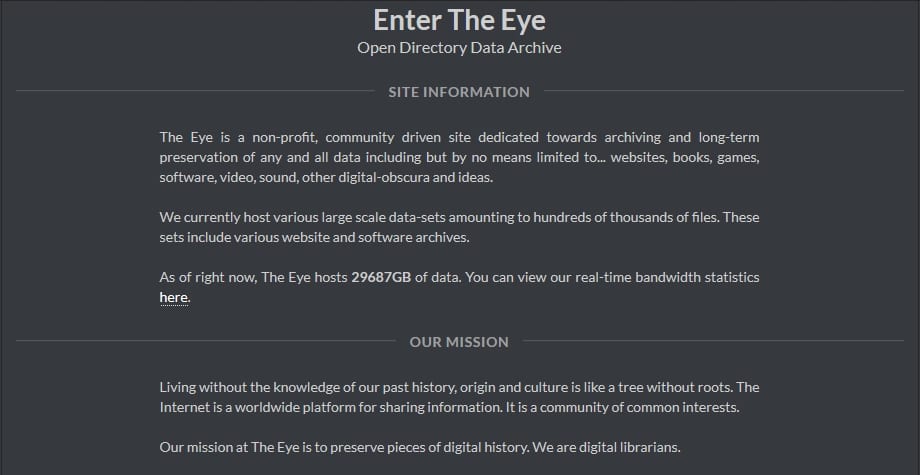 RomUlation
The site with a more exciting and complex system, in comparison with the previous ones. RomUlation makes sure that users do not download files for free.
The website uses a point system. When you register, you are given 10,000 points, which you can spend as needed. Later on, to get the points, you have to upload new games and data to the site – an equivalent exchange.
Regular participants get 500 points every day, but you need to become a regular participant – no one will give you this status at once.
You can become a Premium Participant, but this will not happen without investment.
The convenience of RomUlation is that all files are compressed to .rar and .7z formats – these are the most convenient and familiar formats for users. If you need to use the service once or you are satisfied with such a system – go to RomUlation, download and play.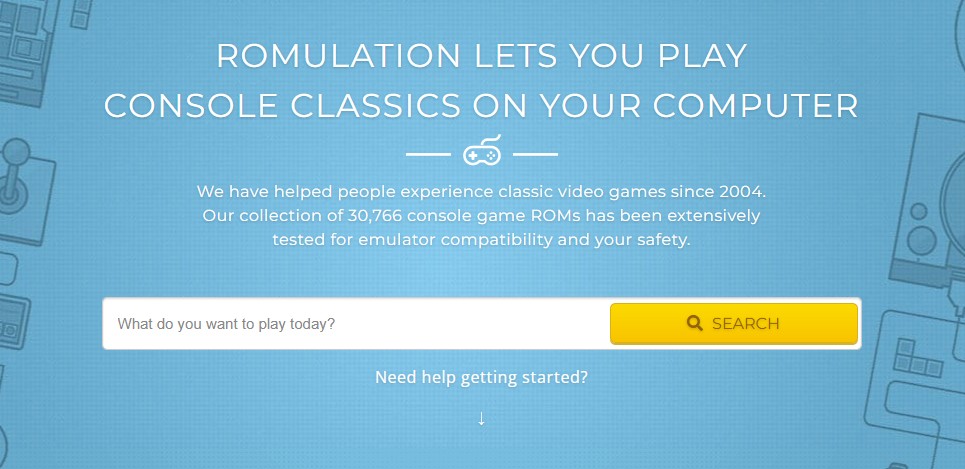 WoWroMs
WoWroMs is one of those websites and services, which are created not for the sake of profit, but the sake of interest and love for the business.
The site was founded and created by the guys who united in the development team. Their goal is to preserve the old games because they are sometimes so interesting and ingenious that despite their imperfect design are worthy of being seen by other generations.
WoWroMs is an open library where users can upload games and files themselves.
The creators made a disclaimer: they do not bear any responsibility for what their users download. That is, if it turns out that the user did not have the right to do so, then the developers can not be affected by it. Distributing already downloaded files without permission is prohibited.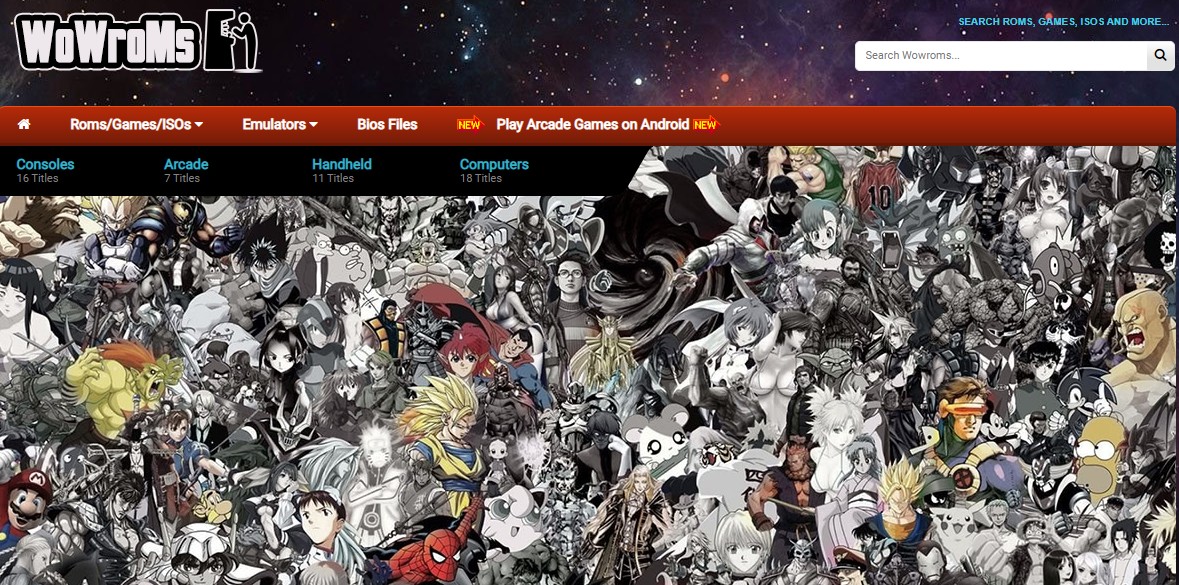 You may also like: 7 Free N64 Emulators for Android
NicoBlog
The website, which has been blocked on several occasions and opposed its full operation in every possible way. Sometimes the site changes its domain, but it is still easy to find it by the name of Nicoblog.
On the website you can download old ROM games, emulators and other necessary things to play games on the "console" or to remember the games that you played for a long time.
Many users consider it a pirate site and condemn the download of games through it, but we all understand that the Internet always provides and implies piracy and chitting.
It also has an alternative site, exclusively for retro-ROM. If you're looking for a GameCube or SNES game, you'd better use Nicoblog not directly, but in a dedicated version.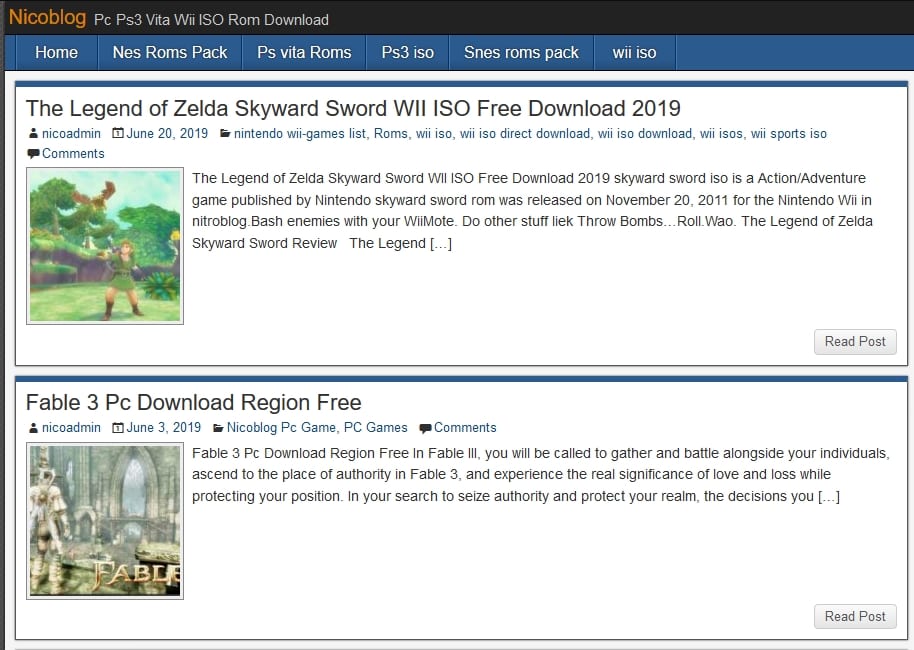 Rom Hustler
Rom Hustler is a site, the design, and appearance of which the developers did not bother with. But the functionality is impressive: on the site, you can download ROM on keywords.
The site is not guaranteed to infect your device with malware and viruses, and you can enjoy the game in absolute safety.
The Rom Hustler website has a rating system that allows users to rate their applications themselves – so you can make your choice without worrying about being cheated. There is also a mobile version of the site.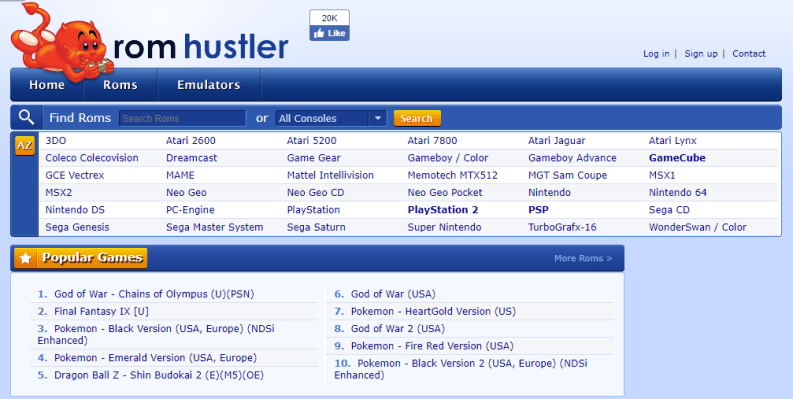 CoolROM
The name of the site speaks for itself. Although the design of the web page does not differ with unique features and is not striking, the functionality can impress.
CoolROM is one of the most extensive game resources, which contains more than tens of thousands of games, emulators, and game images. With its help, you can even play the most popular emulators on your smartphone.
CoolROM contains many games, each of which has a preliminary description, screenshots, ratings, and also reviews. You will be able to conclude the game without even playing it, but just paying a little attention to it.
If you can't form your opinion and desire to download the emulator even after the reviews and ratings, the list of the best ROMs will help you. The website has created it specifically for such cases – the games from this top have the best ratings and functionality.
CoolROM contains the most detailed instructions on installation, archiving, and unpacking of emulators. The site even recommends the best services for this purpose! With CoolROM you won't get confused about step-by-step installation.


Emuparadise
Emuparadise is a website that has been known for a long time. The vast library of various ROMs attracts users from all over the Internet.
You can play different applications without even downloading them – open the game window directly with Emuparadise.
In addition to ROM, there are a lot of videos, movies and even music related to games on the site. Thematic entertainment content dilutes the vast library of games available on the site. Here you can also find comics – amateurs will appreciate it.
The obvious plus is that Emuparadise doesn't have pop-up ads or malware ads, so you won't catch even the slightest virus from here, staying safe and free of viruses.


EmulatorZone
A site that has a massive database of emulators for personal computers, android, and ios devices. You can find games even MAME4Droid, for Sega and the like, but play from your modern device.
Download freely, without registration, viruses, a considerable amount of advertising.
The database is continuously updated, dynamically supplemented because the developers put a lot of effort to do this. Minimalism in simplicity.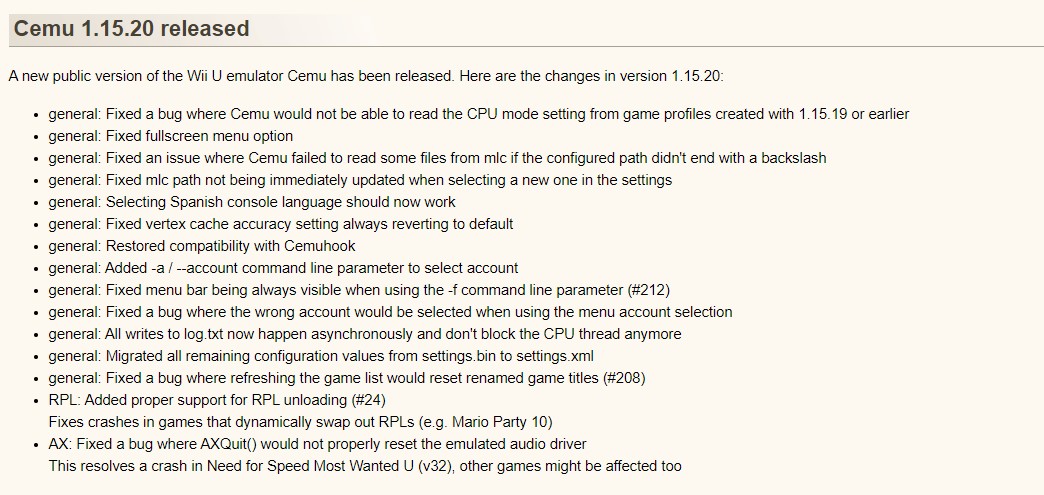 ROM World
Guess what the application is for? Right, here you can buy a monkey! Of course not. ROM World is a catalog of ROMs and discs for Sega, Nintendo, and other well-known platforms.
If you feel like a gamer in your old school, and you don't recognize modern games, and for you, Mario is the best way to spend the evening (and save the Princess at the same time), then welcome to the ROM world!
Yes, the catalog is extensive, the games can be found for any platform and even with translations if necessary.
But there is one thing but: persistent advertising on the Home page pushes away, and loosely inserted advertising in the middle of the text frightens. If you are not receptive to this – the site is recommended to visit, at least out of interest.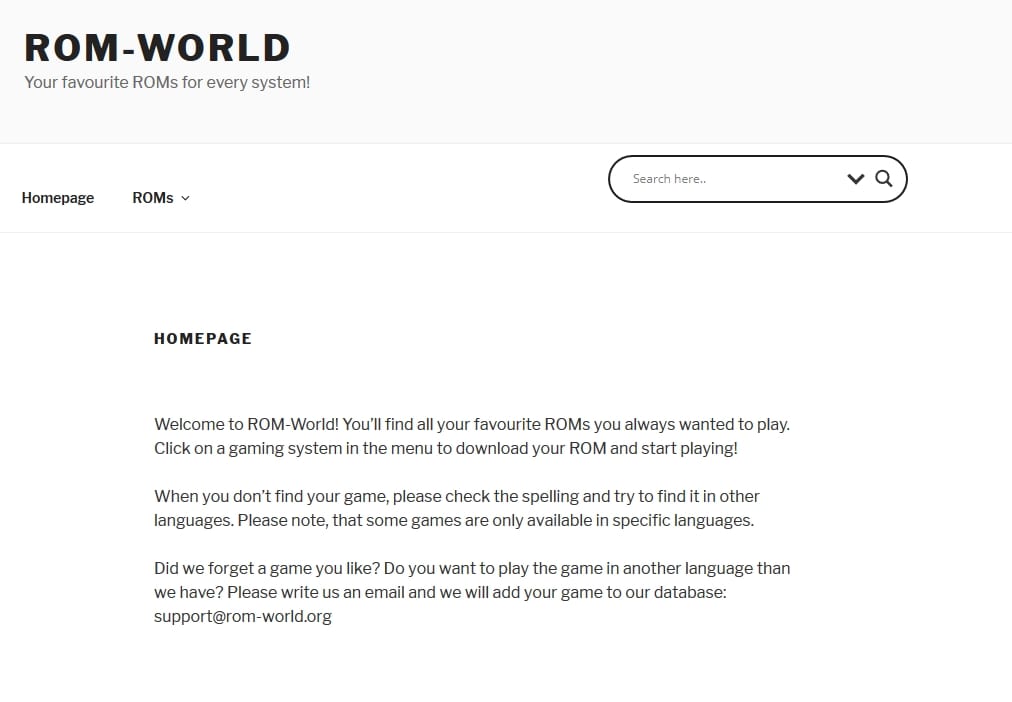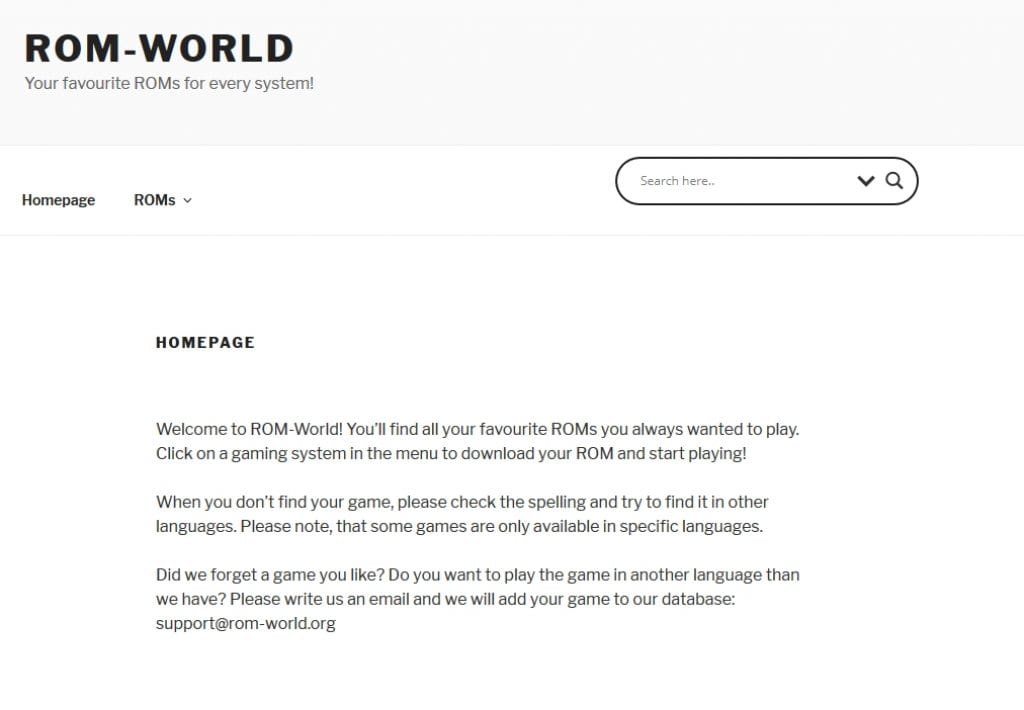 RetroMania.gg
This is a website that allows you to install the best classic games such as Mario, Pokémon Go! and so on your PC and other devices.
In the center of the main screen of the website, you can use the search bar. Just type in the title of your favorite game and download it.
It is also possible to choose games from special collections. For example, there are such collections as games for Nintendo, PlayStation, Sega or Xbox.
Moreover, you can read articles dedicated to classic retro games. You will definitely learn something new and useful. Sometimes it is exciting not only to play but also to read the articles.
Advantages:
There is a large collection of different games that can be installed in just a few clicks.
You can read articles with the tops of various games.
Easy website navigation.
Drawbacks:
The website provides only old games.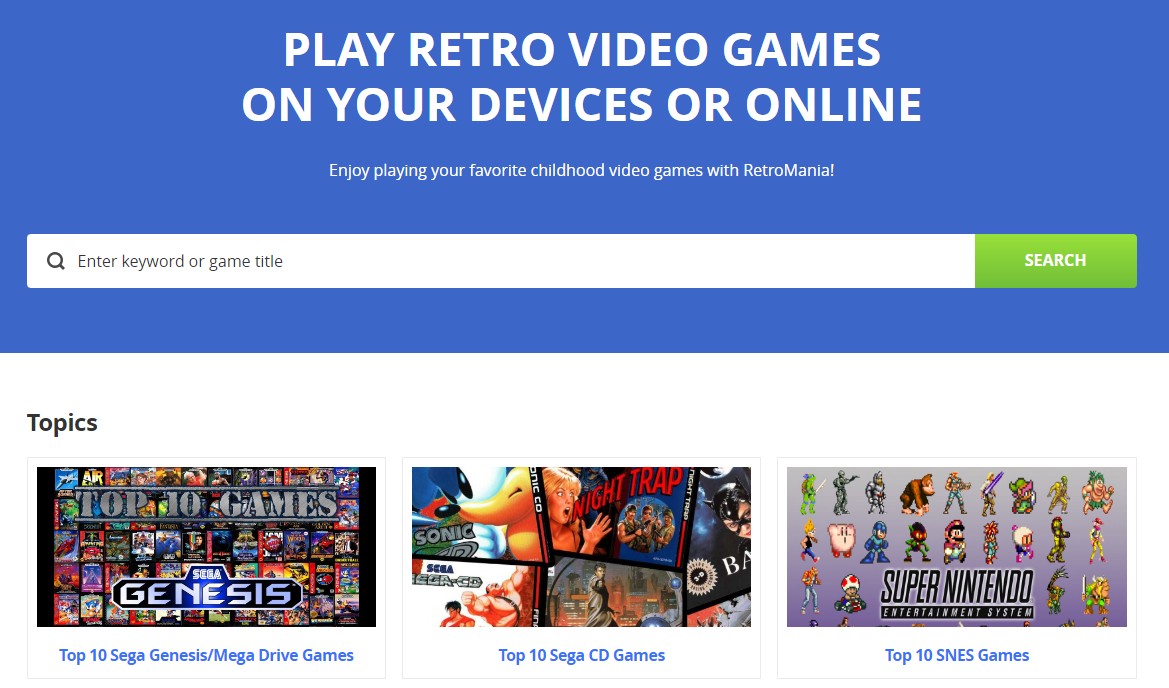 You may also like: 11 Free NES Emulator Apps for Android
ClassicGames.me
Classic Games is one of the standard sites with ROM and ISO old or lost games. Early versions, rare games, copies of games with cartridges and just games of your childhood – all this is in the catalog of the site.
What is the peculiarity of the service? Yes, the fact that you do not need to download any files to your personal computer – you can plunge into the gaming atmosphere just by opening your browser!
Classic Games allows you to play such classic and legendary games as Mario and Pokémon. The plus is the vast number of versions of these games – from Brutal Mario to Mario Coning Edition.
That is if your favorite version of the game is rare or you can not find it – then on the site, you can enjoy the game right in your browser window. Classic Games gives you access to games on SNES, SEGA, GB, GBA and many others. Don't want to fill your device memory? Play online!