Snakes are beautiful and elegant animals. However, it is quite hard to identify them if you have no education in zoology.
By the way, if you always wanted to have a reliable tool to identify fish, try 9 Best Fish Identification Apps.
Now you don't have to keep all the things in mind and memorize species, just delegate it to a good app. In this article, you will find cool options for Android and iOS users.
SnakeSnap!
This is a great mobile app to recognize various snakes' types. It is simple and powerful, and now let's see why.
All the app's options can be roughly divided into 2 categories – one section is educational (it has articles and descriptions), another one is scanner, and it requires subscription. If you plan to use the app regularly, then you should better go for a yearly subscription, which will save you money and time.
How does the scanner work? Well, you need to do these steps:
When you have downloaded the app, you need to give the permissions it asks for. The most important one is the access to camera.
Take a photo of the snake. Please be careful! If you don't know what snake it is, always remember it can be dangerous. This is why don't get too close to this animal when taking a picture.
Wait for the result. The app will use the AI principles to analyze the photo. It usually takes about 5 seconds to fulfill the operation.
SnakeSnap doesn't collect sensitive data about you, which allows you not to worry about your safety.
Both Android and iOS users can enjoy this amazing service.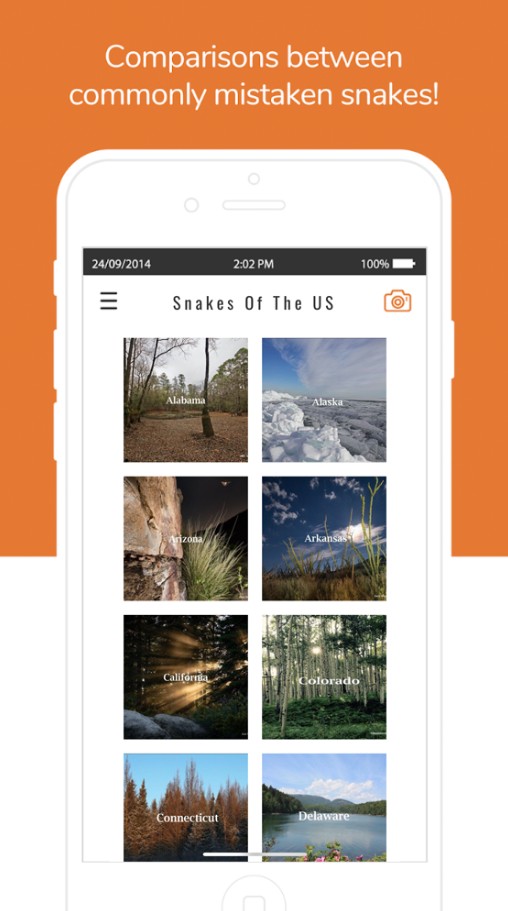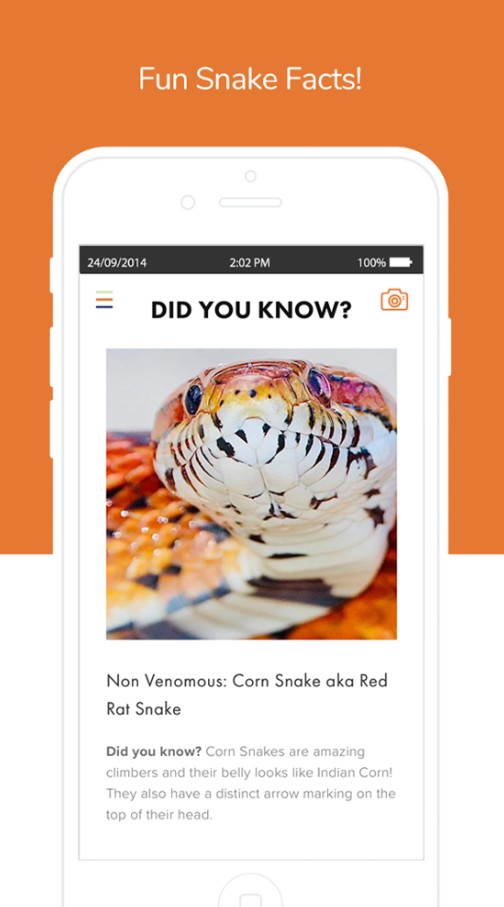 You may also like: 7 Best Mushrooms Identification Apps
SnakeCheck Snake Identification
If you have a photo of a snake, and you want to identify it, try SnakeCheck! It can recognize a snake in a few seconds.
How does the app work? Just like other tools listed here, it uses artificial intelligence to analyze your image.
Then you need to tap on a button 'Click to classify an image'. Then a few options that match your image will appear on your screen. Tap on the option that looks like your snake most.
If the app is confused and can't give you a precise result, it will give you a few options and the percentage. For instance, if one type gets 70%, it means your snake is highly likely to belong to it.
The app collects some info about you, such as usage data. However, it won't be given to a third party.
You can download SnakeCheck from the App Store, as well as Google Play at no cost.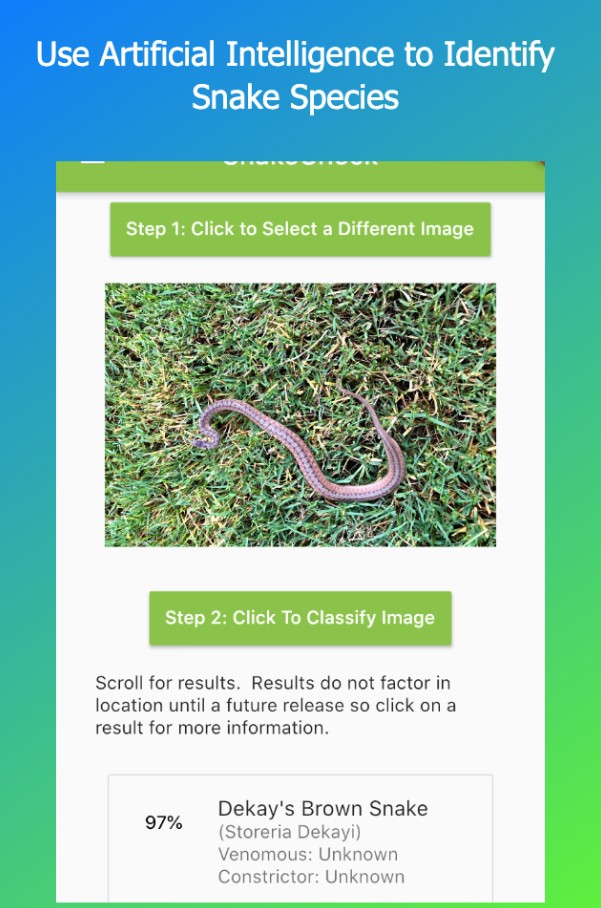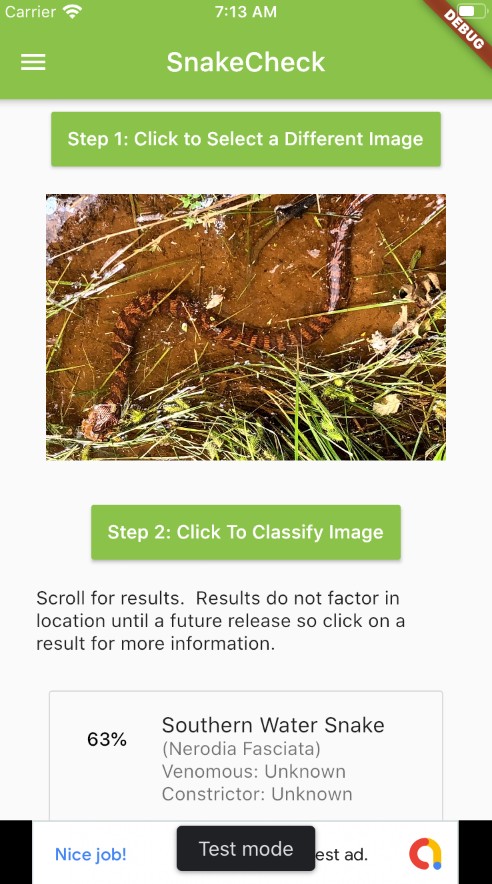 Snake Species Identifier
The Snake Species Identifier app leverages cutting-edge technology to aid users in identifying various snake species accurately.
The app's advanced image recognition technology, coupled with a vast database of snake species, swiftly analyzes the photo to provide precise results.
The app promotes safety by allowing users to identify potentially venomous or dangerous snake species encountered in the wild. Armed with knowledge about the snake's species, users can take appropriate precautions and avoid unnecessary risks.
What is more, the app serves as an educational tool, offering valuable information about different snake species, their habitats, and behaviors.
In conclusion, "Snake Species Identifier" is a reliable companion for snake identification, education, and safety.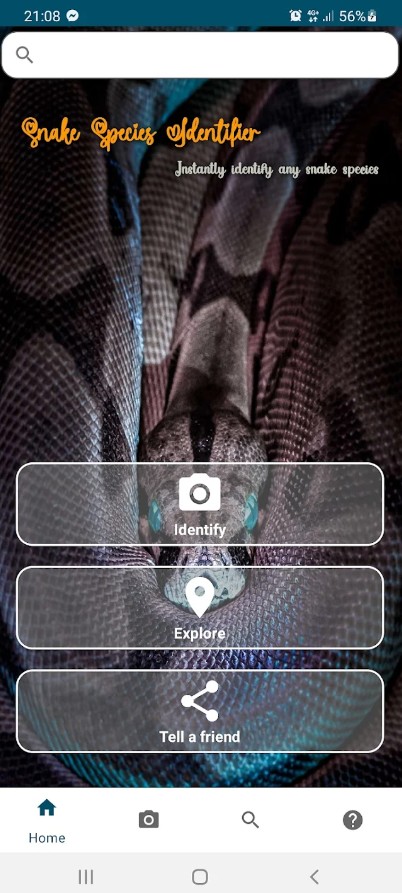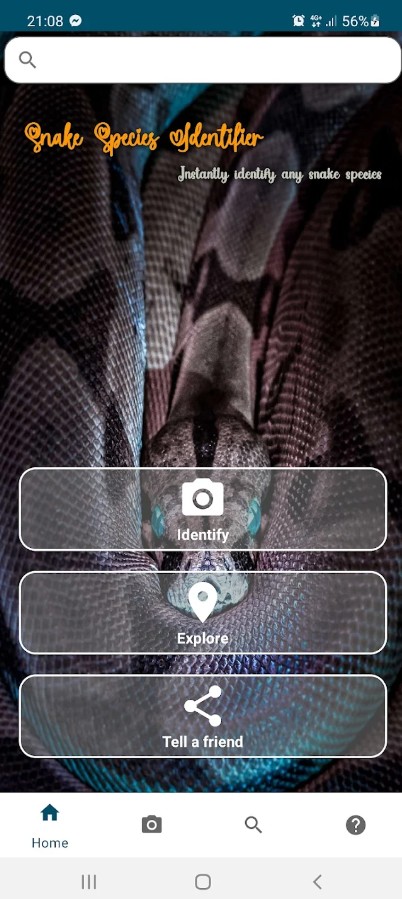 You may also check: 7 Best Animal Identification Apps
Seek by iNaturalist
This app is a great tool that allows users to explore, identify, and learn about the diverse flora and fauna that surround them.
Seek harnesses the power of advanced image recognition technology to instantly identify plants and animals in real time. This app can be used by both specialists and beginners who are just interested in snake identification.
It serves as an excellent educational instrument for curious minds, helping them learn about the fascinating life forms they encounter daily.
Through the app, users can document their sightings and contribute to a global database, aiding scientists and researchers in monitoring and protecting various species.
Moreover, Seek offers a gamified experience, making nature exploration interactive and enjoyable. As users identify more species, they earn badges and achievements, adding a sense of fun and accomplishment to their outdoor journeys.
All in all, you can bravely use Seek to explore the nature around you and learn more about snakes.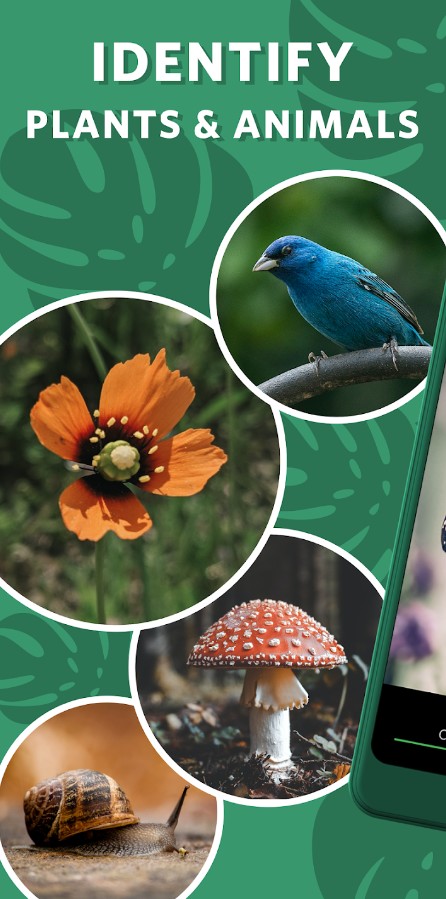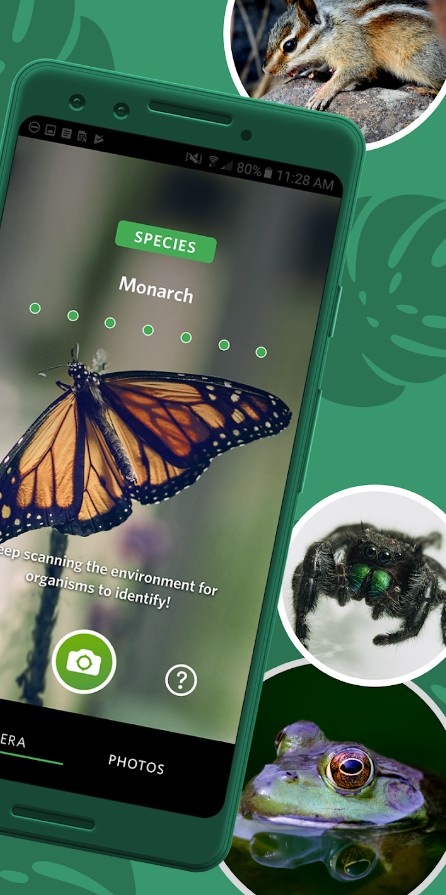 Identify Indian Snakes
Identify Indian Snakes is a valuable app designed to aid nature enthusiasts, herpetologists, and wildlife lovers in identifying a wide array of snake species found in the Indian subcontinent.
The app's sophisticated image recognition algorithm then analyzes the photo and quickly provides accurate results, helping users determine the snake's species with ease.
With a vast database encompassing numerous Indian snakes, the app caters directly to those interested in the region's unique wildlife. From venomous cobras to docile rat snakes, the app covers a diverse range of species, ensuring users have access to comprehensive information.
Also, it not only aids users in identifying snakes but also provides crucial information about each species, including their habits, habitats, and potential dangers.
Moreover, the app promotes safety by enabling users to differentiate between venomous and nonvenomous snakes. Armed with this knowledge, outdoor enthusiasts and hikers can navigate nature with greater confidence and precaution, reducing the risk of potential encounters.
Overall, Identify Indian Snakes is a powerful and informative tool that empowers individuals to explore the fascinating world of snakes in India, however, I cannot recommend it if you are interested in searching for snakes in America.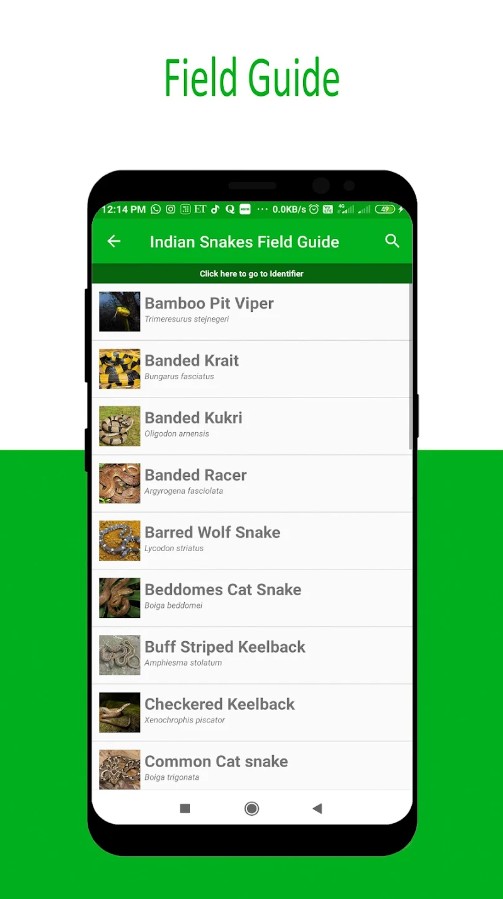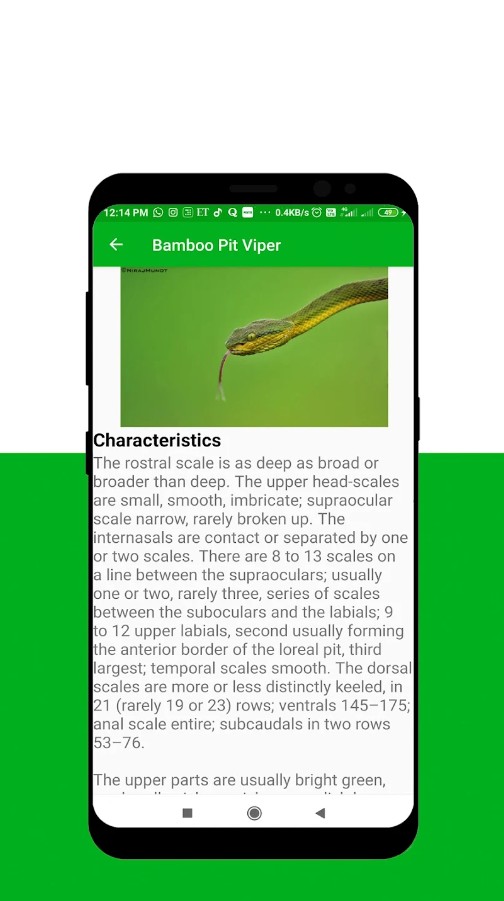 Snakepedia
Here comes a fantastic database of snakes. Combined with powerful search mechanisms, it helps people from all around the world to recognize snakes by camera.
Why should you give Snakepedia a try? Well, there are at least three reasons to do it:
The

content is ad-free

, meaning a loud and unexpected app won't distract you from learning snakes.

General info is available even when you are disconnected from the Internet. Check the

basic facts about snakes offline

.

Search snakes

by their features or names. All the species are divided into groups, enabling you to find the info about species much faster.
Snakepedia is a great application. Users love its UI with a simple navigation.
The app is available on Google Play at no cost.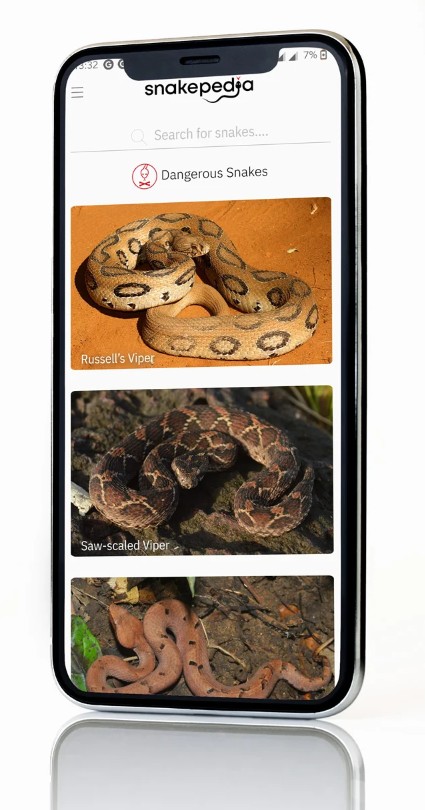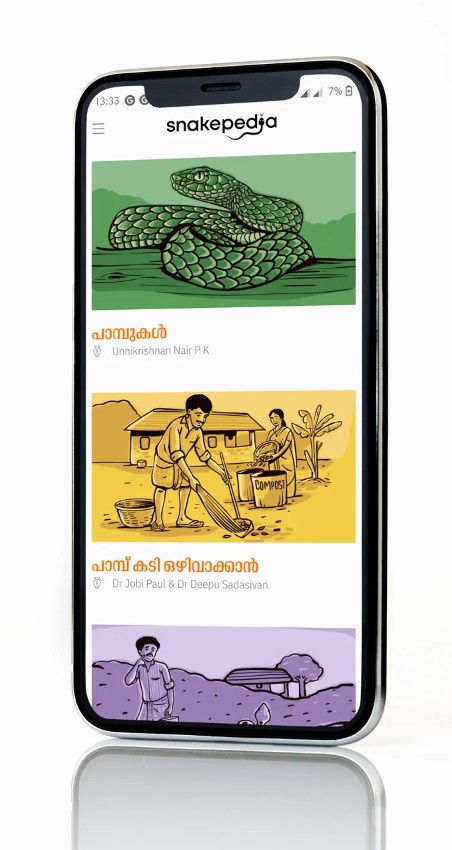 You can also check: 7 Best Bird Identification Apps
Automatic Snake Identifier
The Automatic Snake Identifier app aims to assist users in identifying snakes with the help of artificial intelligence and machine learning algorithms.
Users can capture or upload a clear image of the snake they want to identify. The app's advanced AI technology then analyzes the image and compares it with a vast database of snake species to provide accurate results.
By swiftly identifying the species of a snake, individuals can take appropriate precautions and avoid potential dangers associated with venomous snakes.
Accurate identification allows users to report snake sightings to relevant authorities or organizations, contributing valuable data to research and conservation efforts.
The app is designed to be user-friendly, making it accessible to a wide range of people, including outdoor enthusiasts, hikers, wildlife researchers, and nature lovers.
Overall, Automatic Snake Identifier has all the necessary to learn more about snakes.