Now we would like to present to you 11 excellent apps which will make your life easier. The point at issue is that right now each of us can download an app that will let us convert speech to text.
There is no doubt, such apps will become personal assistants to people of various occupations. For example, for students that can't write down every single lecturer's word. Also, it will be appropriate for busy people that haven't enough time to type lengthy texts manually. These apps will be popular among all of us as well because usually, we incline to laziness when we want something to be typed but don't want to do it ourselves.
You may want to check this: Free Speech-to-text Apps for 2023
Get rid of this monotonous work. Read this post and don't care about this matter anymore.
We have chosen and reviewed the best speech-to-text apps that you can find on the App Store or Google Play.
Voice Notes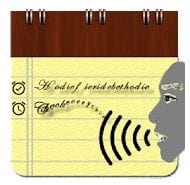 To begin with, let's review this app. Voice Notes app is able to receive your speech and convert it to text. Just press the blue button and start dictating.
The app supports 120 languages and 20 user-interface languages, which is very important. It worth being mentioned that the app can work when the phone screen is turned off. So be sure that your speech will be correctly converted to text. After finishing to record, you can share your notes with friends.
Additionally, the app has other nice features. You can write something down and then it will remind you of your note on the time you set. Also, the app integrates with your mobile phone calendars, that is why you don't need to maintain another one.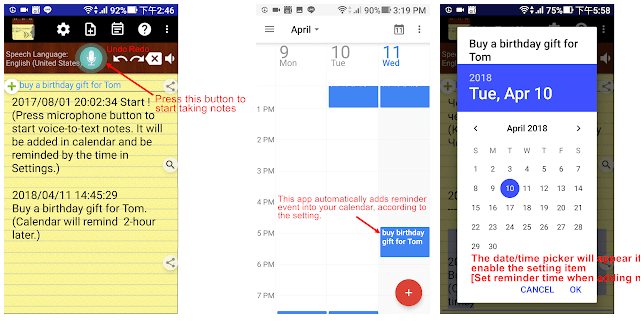 SpeechTexter – Speech to Text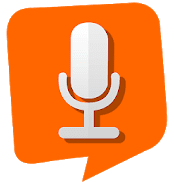 Make yourself sure that the app's speech recognition accuracy is very high (about 95% for the English language). You need to download the app and try it. Now it is possible to create all types of text (notes, SMS, emails, tweets, etc.) by using your voice. Study special Dictionary with verbal commands and start recording. By the way, there you can add your own commands as well.
The app supports more than 60 languages, so it will be very easy for you to work with it. And of course, you can share your notes to social networks, Email, Messages, etc.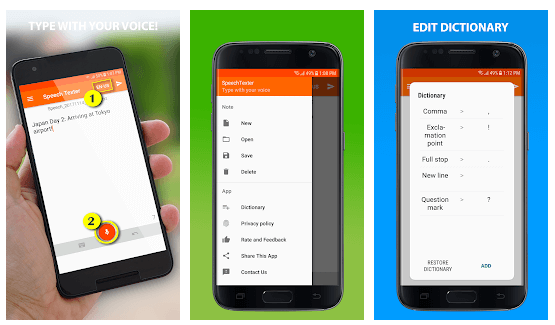 Voice Texting Pro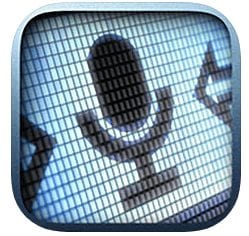 Voice Texting Pro is one more nice app that must be listed here. It also has a feature that will let you convert your speech to text.
The user interface is very simple: just press the button and start speaking. Then you can directly send the text to e-mail, SMS, WhatsApp, etc.; or you can copy the note and paste it in any other application.
Keep in mind, it uses the language that is appropriate to the settings of your device. So if you are in Germany, it recognizes German. You can change this language in the settings page. Install the app and see how accurate it is.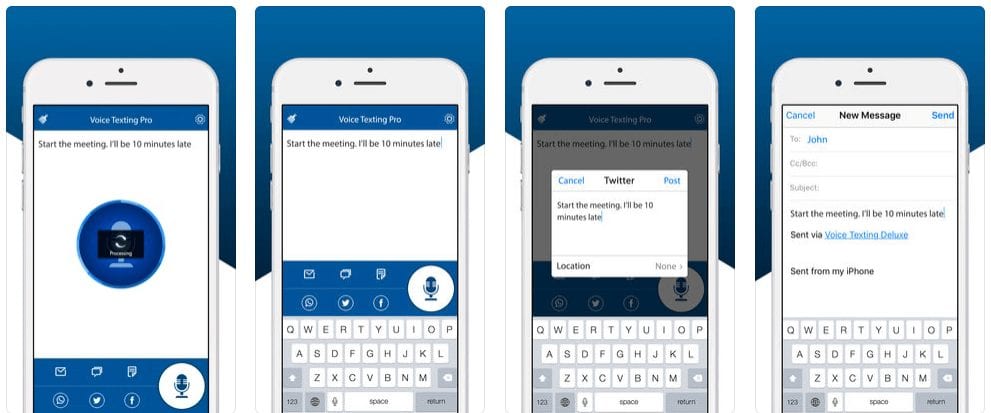 ListNote Speech-to-Text Notes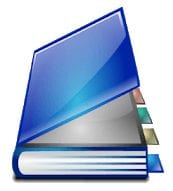 Have you ever wanted to type with your voice? ListNote Speech-to-Text Notes makes your dreams come true!
This app has all features that will make your working process very convenient. It remains just to press the button and start recording. After that, share your notes with SMS, email, Twitter, and any other app that accepts plain text.
The main advantage of this app is that your notes will be protected by a password. In addition, they will be organized at your pleasure. It is possible to star them, to group by categories or to filter your list by color. As you can see, the app is very multifunctional.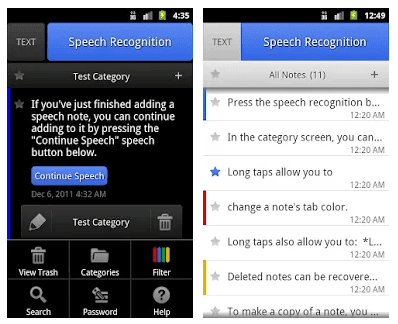 Speechnotes – Speech To Text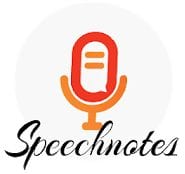 This app will be the most appropriate for continuous non-stop and unlimited dictation. Its very accurate Google's speech recognition service will write down all your notes correctly. Moreover, the app is multilingual. So you need simply choose your language and enjoy dictating. Then you can share, export and even print your notes in one click.
Also, the app works even Offline, so you can use it everywhere.
The main distinguishing feature of Speechnotes is its capability of simultaneous voice-typing for words with keyboard for punctuation, symbols, and emojis. That is why you can edit text, while still in dictation mode – there is no need to stop and restart. Its recognition of many verbal commands will make your work much easier. That sounds really great!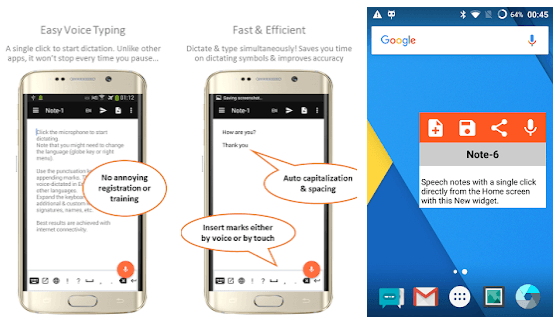 Voice to text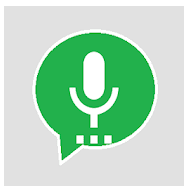 This app has the simplest user interface ever. But how powerful it is! Voice to text app will convert your voice into the text from any language, whatever you speak.
The main advantage is that here you can use this app with Facebook messenger, so you don't have to write a message anymore, it will write everything automatically. In addition, by using this app, you will be able to share any notes by Bluetooth.
The paid version of this app is also available. There you can convert your message into other languages. Unfortunately, this feature is not included in the free version of the app.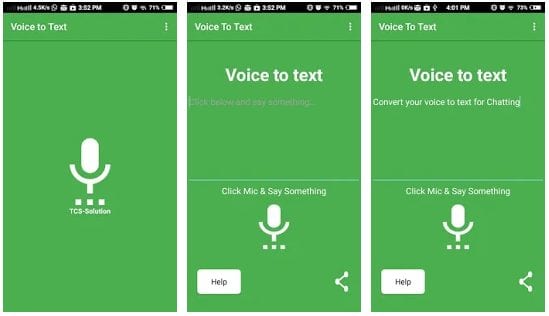 Just Press Record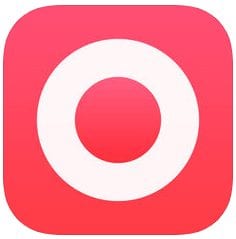 This app is highly appreciated by most iOS users. If you are an iPhone owner, this app is the most suitable for you. There are no time limits at all. It is possible to control over the recording with a start, pause, and stop; so you won't feel rushed while dictating and thinking.
Just Press Record will quickly convert your speech into a text that you can edit right inside. The app supports over 30 languages, which is very important for polyglots.
You should pay special attention that this app includes an Apple Watch app that gives you the freedom to record anywhere, even when your iPhone is not around. That's true, its capabilities are endless!
Transcribe – Speech to Text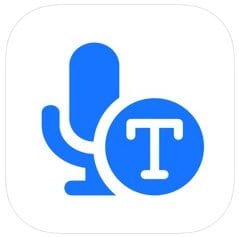 It is one more brilliant app for those who own an iOS device. Transcribe – Speech to Text can convert not only voice records but video records as well. By using this app, it is possible to transfer speech from multiple sources into plain, readable text ready to read, translate and share with others to any social network.
Text Search through transcriptions is also available for you. One more argument for its multifunctionality is the app's capacity to synch audios and transcriptions across your iOS devices. By the way, this app supports 89 languages and even dialects! Install the app and start using it, you will meet your expectations for sure!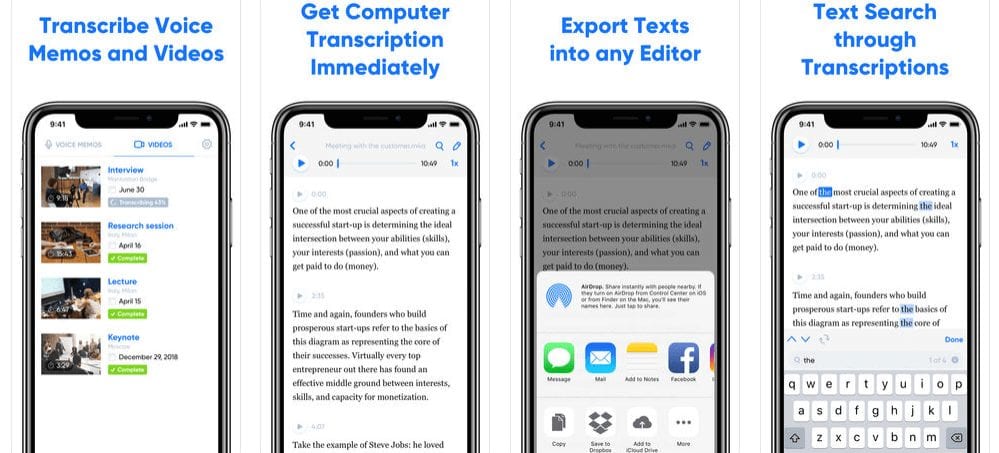 Speechkeys Smart Voice Typing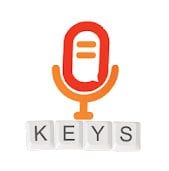 This all-in-one app also has a feature that is able to convert speech to text. It will become your highly effective tool in this matter. Here it is possible to type unlimited at the speed of speech. It remains just click the mic and start dictating.
Additionally, add whatever you want to corresponding custom key: your email address, signature, common phrases, names, etc.
Speechkeys Smart Voice Typing works Offline as well, but keep in mind that this feature is available only with downloaded language packages. The main advantage of this app is that it supports Bluetooth headsets. That is why there is no need to be close to the phone anymore.
We advise you to try this app. Use just once to realize how much time can be saved at work, school or university!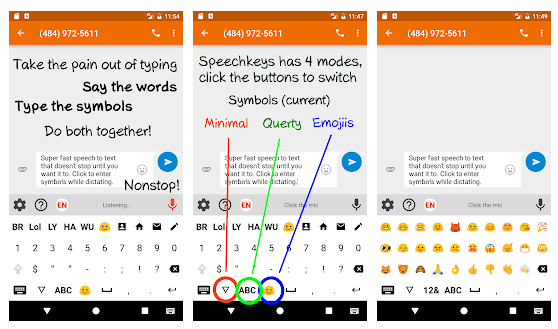 Voice Notebook – continuous speech to text

This app is also considered to be one of the most reliable among speech-to-text apps. It will let you take voice notes and save them on your device or share them to social networks.
But let's discuss its distinguishing features instead of basic ones. The app is capable to work in Online and Offline modes. Additionally, it has "Saving power" mode and "Always on Screen" mode that will make your dictation much more convenient. Live word counter – one more feature that not every speech-to-text app has.
So, there will be no more struggling to write down short or long texts. Use Voice Notebook and enjoy its features.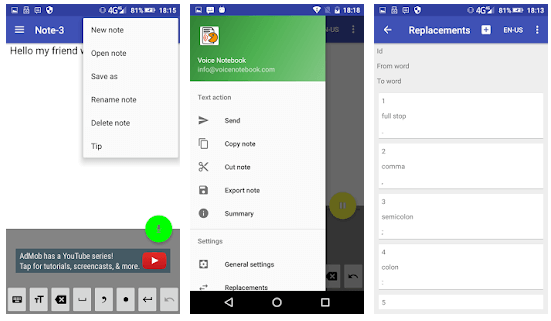 Speech To Text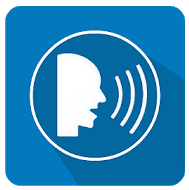 Believe it or not, but this app with a very simple user interface is very powerful. It will help you when you have no opportunity to write down your thoughts – while walking, driving or working around the house. Just open the app, press button and start dictating. The app will convert your speech to the text that you can share with or copy. It's very accurate, so everything will be written down correctly.
Speech To Text app with no-frills, but its basic features will surely meet your requirements.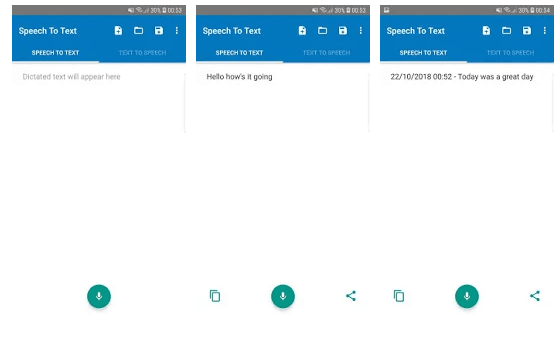 Check also: Easy Voice Recorder app review