Many musicians and creative people, undoubtedly, face many difficulties on their way to reaching professionalism in playing a musical instrument or singing.

The most common issue for them turns out to be the problem of lack of musical hearing, which makes it complicated to distinguish the sounds and sheet music during their work. Therefore, in the article down below we collected the best ear training apps and websites.

And for those who want to continue developing their music skills, we also recommend checking the article about harmonica learning apps.
EarMaster – Music Theory
This app can definitely be considered a "must-have" for any musician due to its multifunctionality and the number of training techniques. Ear-training, sight-singing, rhythm practicing – so many tools to develop your musical skills that are worth giving a try!
The most significant advantage of this app is the possibility of evaluating one's progress step by step. The strengths and weaknesses of a user are perfectly identified so that it doesn't require of many efforts to analyze the areas that do need improvements.
In addition to this, EarMaster allows a musician to copy what has been sung or played by the program. For instance, after hearing some rhythm, a user should repeat it by clapping or singing. Then the program will give feedback on the user's accuracy and mark the notes that were wrong.
In comparison with other ear training apps, EarMaster possesses Artificial Intelligence that is responsible for regulating the time of classes. If a user succeeds, the lesson will be finished earlier, however, if there are some "stumbling blocks", the duration of the lesson will be prolonged automatically.

Moreover, the complexity of the exercises will be increased gradually in order to ensure the constant development of musical hearing.
What is more, this app provides its most sophisticated users with an opportunity to try jazz exercises! Nine workouts full of Jazz and Blues are at your disposal! Swing rhythms, the most noted compositions are available to cover and train on, how can it possibly be better?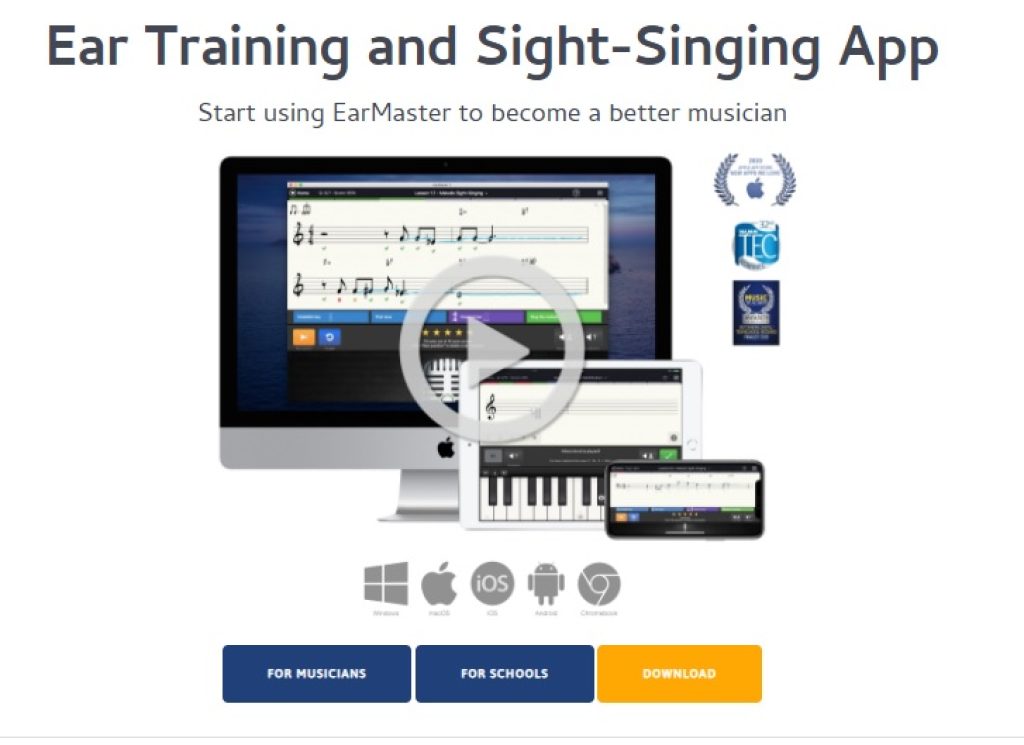 You may also like: 9 Best Apps for Classical Music Radio (Android & iOS)
Quiztones
Quiztones – it has all the rights to be called a basic tool of any content-maker, engineer, or the average consumer. Be sure that your sound recognition skills will be brought up to excellence, your ears will be sharpened enough and you will be more than contented with the results.
What is really remarkable about this particular app? It has loops, and that do come in handy if you are working as a producer or a beatmaker because loops are the foundation of your tracks. But don't think that loops are the only thing provided by the developers of the app.

Quiztones broaden your opportunities when it comes to music-making. While mixing, recording, or producing new sounds, it eliminates inappropriate noises, increases the level of clarity in your sound and, of course, implements the functions of a general ear training app. Such a versatile software, isn't it?
Furthermore, Quiztones supplies one with an ability to listen critically, being able to differentiate different notes, frequencies, and tones, which is extremely essential in terms of track-mixing.

However, what will be disappointing for you is the lack of any level increase. For instance, if you crave for improvement step by step, having finished one quiz, you will only be able to start another one, without any evaluation of your progress.

It is a bit discouraging because this way a potential user can experience a shortage of motivation and will not be able to judge how far he has already gone in ear training.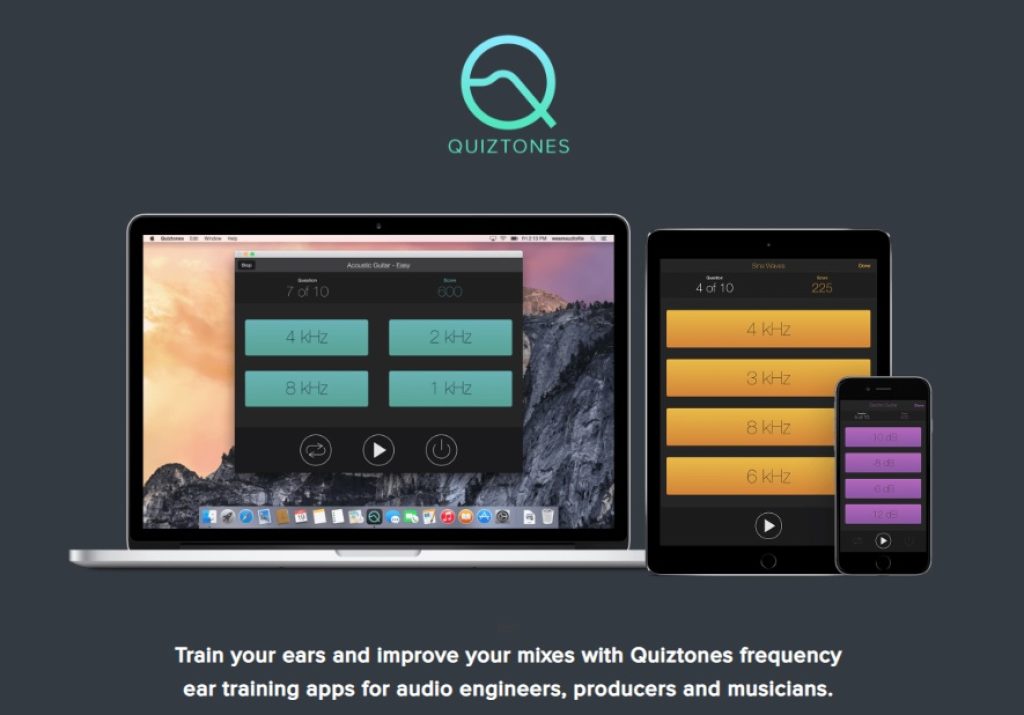 Complete Ear Trainer
That is the app that can really boast an ability to engage! It bears a striking resemblance to a video game; therefore, it attracts not only kids but even adults.

Besides, having gained some scores during practicing, one can easily share its progress with friends, which creates somehow an image of social media where your achievements can be exposed.
Along with its arcade game settings, it is estimated to have a large content base with over four levels and thirty chapters on average that must be completed.

Each level completion starts with theory repetition: if one is scared to death after seeing some unknown chords – then the program will teach how to use them, but if a person is acquainted with it – practice never does harm.
The probable disadvantage to be considered is the fact that it may seem frivolous for professionals. Playing while learning suits perfectly the beginners, however, if you are an inveterate musician, it can only disturb your work and attention. Additionally, it may still pose some questions to beginners.
Some levels seem too hard to cope with; consequently, without proper motivation to keep repeating and struggle with one single task for days or even months it will turn out to be complicated to finish all levels, so before starting pay attention to your perseverance and be ready to work on a regular basis.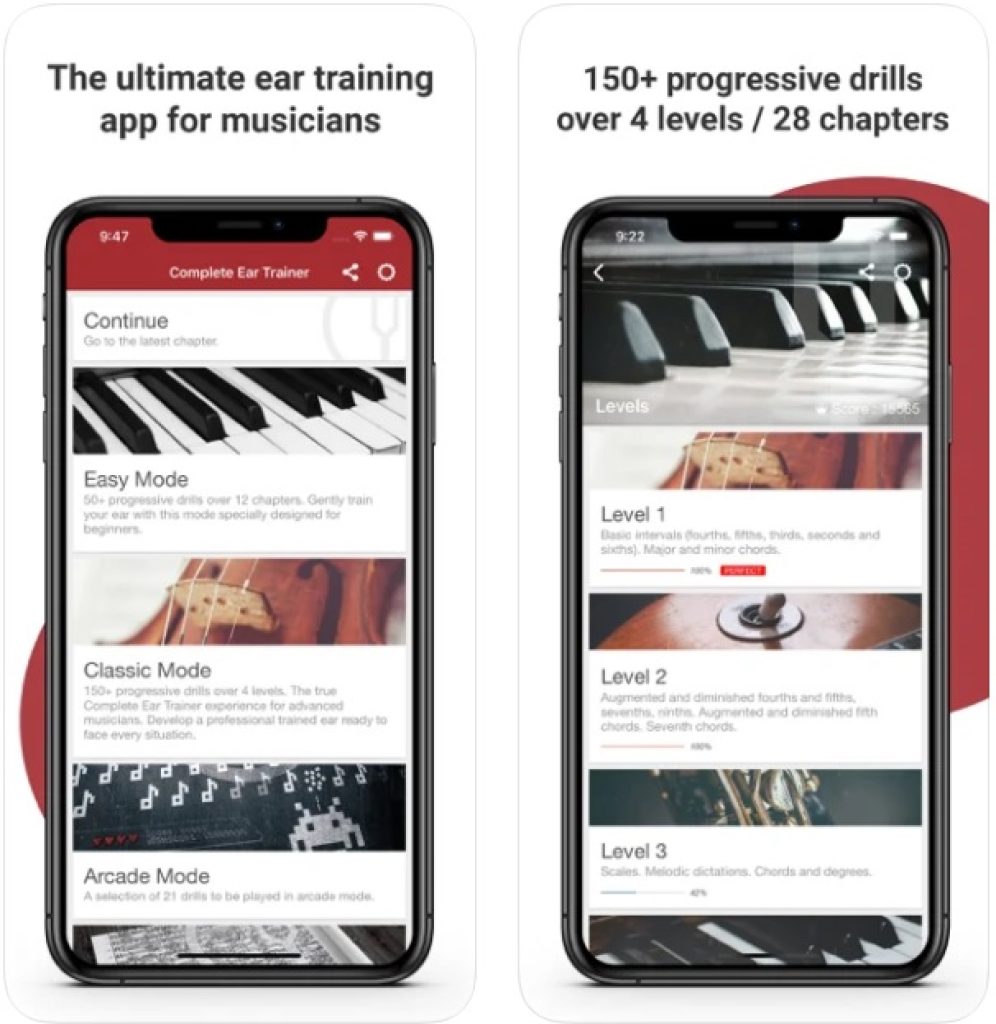 Perfect Ear
At first, this app seems to be similar to many such apps, aimed at ear training. However, it possesses some unique functions that are going to be described.
Firstly, its convenience. It is almost impossible to "get lost" while searching for the data needed in the vastness of this app. In the main menu you are given a freedom of choice: guitar trainers or maybe slight reading? It lacks some piano samples, to be honest, but for guitar amateurs, it can be relevant.
Secondly, compared to other apps that do resemble the Perfect Ear, this tool supplies a user with audio feedback. For instance, if you stumble across a misunderstanding while scrolling through your mistakes, it is necessary just to click on the audio recording to get a clearer comprehension of your errors.
Thirdly, customization of your lessons and studying process is provided. It is allowed to choose the most appropriate lessons for you and, undoubtedly, examine your training progress. This app, furthermore, may be considered the most suitable one for mobile users, as it does operate better in terms of your device.
Finally, this app suits the best self-studying students because theoretic part is explained the way no discrepancies or misunderstandings are left.
"Fresh meat" in the world of music can truly trust this app, as it will not confuse one on the way to get knowledge, but also satisfy one's curiosity with all thoroughly written details on music learning.
One probable disadvantage that should be born in mind is that if you desire to upgrade and go further in your musical career, there are some additional packs that must be purchased, which is not so convenient for an experienced musician.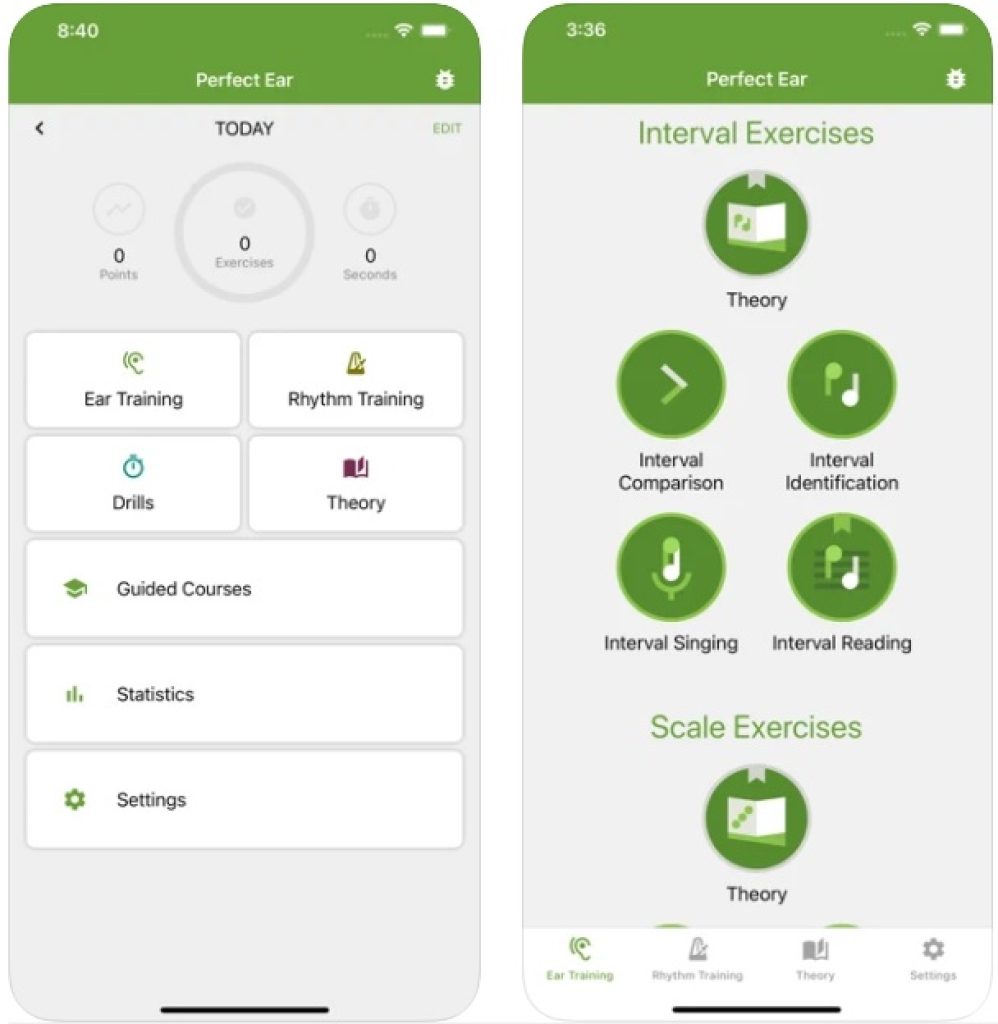 Tenuto
From the very beginning, Tenuto makes one acquainted with the range of musical instruments that can be played: in the majority of cases those are guitars, pianos or it is still possible to opt for some sheet lists to analyze and practice.
The whole interface just represents the surface of a piano with its keys or a guitar with strings, so it is made sure that a user can not only train the hearing but also play as if it was in the real life.
While using the app, the first characteristic that just draws your attention – is its full-screen interface. For the amateurs of aesthetics that trait can definitely play a significant role in visual aspect.
The design looks not just attractive, but even practical. For instance, when it comes to piano playing, clear and colored graphics will help one distinguish the incorrectly pressed keys from the correct ones.
In addition, having customized your studying sessions, try your best to succeed in tasks of limited time! That can be challenging, but that will allow one to improve one's technique and fasten the reactions. The main goal – is to beat the previous score and; undeniably, to become a real master of notes, chords, and all that jazz.
Tenuto does not require any Internet connection. Practice freely at home or outdoors, on the road or while waiting for your vehicle, on the seaside or deep down in the forest – Tenuto will still be working, and that is its indisputable superiority over the analogues of this app.
The only drawback to be considered, this app has no note identification mode. Copying a chord after you have heard it is, actually, impossible. But still, it has more other good-looking modes to catch your eye or maybe your ear.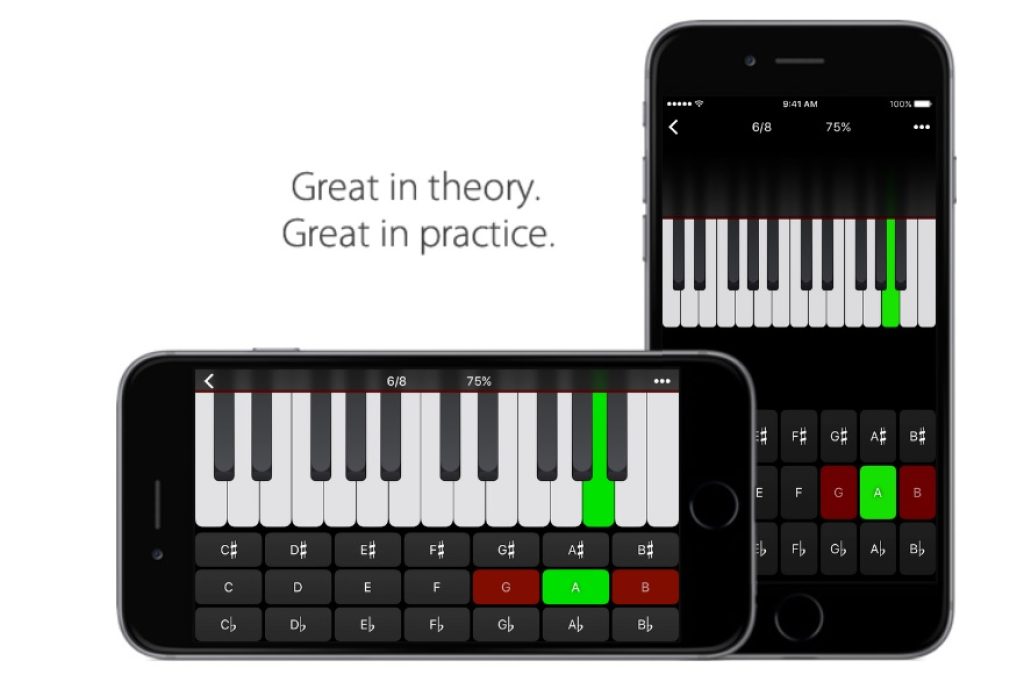 You may also like: 11 Best Music Composer Apps for Android & iOS
Ear Trainer
Having launched the application, you will face an old-school design that might resemble the ones who had studied in music schools or conservatories in the sceneries of the educational lecture hall.
Just imagine: you sit down at the piano, open the keys, all the necessary notes are in front of you – and you commence playing. Well, maybe that is how the interface of this app can be described.
One mind-boggling feature: this app allows you to get connected with your own musical instrument in a real-time mode. Install your microphone, connect it to the app and play! Easy!
While playing, the app will detect your flaws and mark your weak spots, so that you will always know which areas require improvements.
What is more, a user is capable of taking notes during the lesson! For example, while training a person has written down all necessary information from music and sounds, and then he makes use of it in a real-time mode.
Maybe this technique will not suit everyone, however, those who possess photographic memory will definitely benefit from that specific feature.
By the way, chord inversions and progressions are not included, so if you are aimed at practicing these particular aspects, always remember that.
Moreover, this app provides you with exercises dedicated to piano practicing. That may turn out to be afflicting because the world of musical instruments is not limited to this keyboard instrument.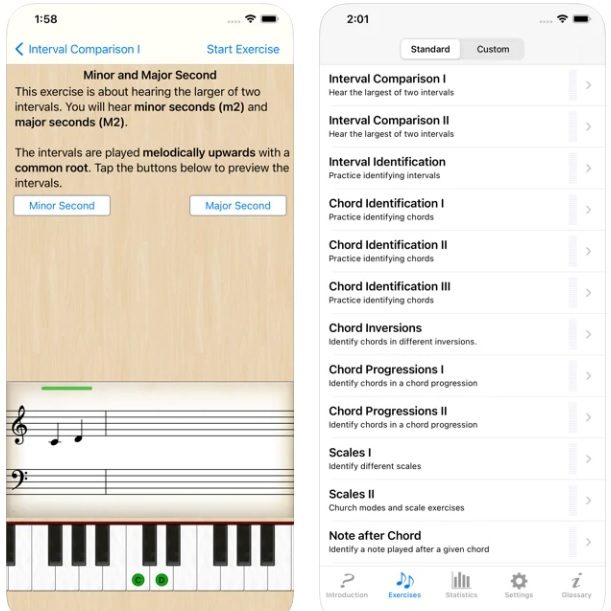 Functional Ear Trainer
This app is a perfect tool if a person is aimed at picking up or playing music by ear. It is based on the method of Alain Benbassat, which has proved to give steady results in recognizing the tones.
Functional Ear Trainer has a range of advantages that cannot just leave one indifferent: a simple interface that is so close to an understanding of an ordinary musician that it can be used by even a kid, minimalistic design indulges one into the atmosphere of work in combination with the lack of annoying advertisement that sometimes tends to interfere with one's concentration.
Learning to distinguish notes is made the way one chooses whether to work with a major or a minor key at the beginning. It is possible to opt for working with random keys or with a single one simultaneously.
In addition, it is never late to put emphasis on particular notes to drill, or give the program an opportunity to test you using a couple of notes at a time.
Of course, the initial version of the app provides a consumer with a prepared "pack" of notes, but never be shy to adjust this setup to you. The maximum possible quantity of notes is twelve.
The app is mostly approved by many musicians all around the world thanks to its special methodology for remembering notes. Functional Ear Trainer just destroys the stereotype that the notes are always worth strict learning by heart.
According to Benbassat, it is only necessary to stick to some stages of tonality that will create a system of tones in your imagination which makes it easier to develop a proper hearing.

Who knows: maybe this method will be useful, especially for you?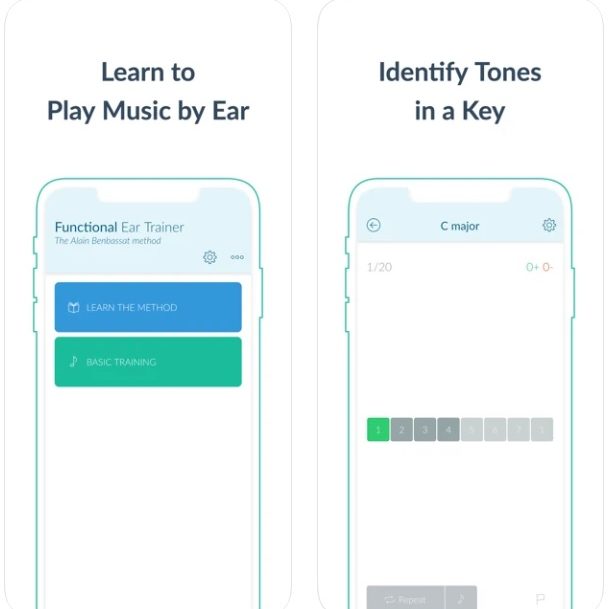 Train Your Ears
Still, confuse frequencies and equalizers? Then it is high time you checked this tool!
Train Your Ears. From the very first glimpse of the name, it is already evident what is the main goal of this website.

It is mostly popular among real professionals, especially sound engineers, by the way, it can give one a good impetus to becoming one, so if you have racked your brain on how to master this fascinating, yet challenging profession, then train your ears on this platform!
Having clicked on the website link, it is advisable to watch a short video in order to get an understanding of the software's functionality. Then the website presents the script of transforming your imaginary sounds in the mind into the real ones, using special parameters.

At this stage, it is worth drawing attention to the fact that the data is represented in colorful sketches, which create a special ambiance of friendliness. Moreover, the texts explain complex moments so skillfully, that it is impossible to resist trying all the tools that were written about.
In addition to everything mentioned above, one unique technique provided by this app should not be forgotten! For the most proficient ones the developers of the app have created a "Guess Method".

A user is supposed to listen to the original and a bit changed signals and then tries to predict which signals were transformed. In that way, we can ensure the total development of hearing skills and the ability to differentiate the sounds correctly.
The pros of this website are numerous, however, let us remark on the most significant ones. Firstly, if you crave for improvement, this app will allow you to monitor your progress and check the mistakes.

Secondly, before one starts practicing, he or she can make use of white noise player – a built-in function that help a lot on the way to warm up.

Additionally, it has a connection to Spotify; therefore, the signal created while working on the website can be transported there.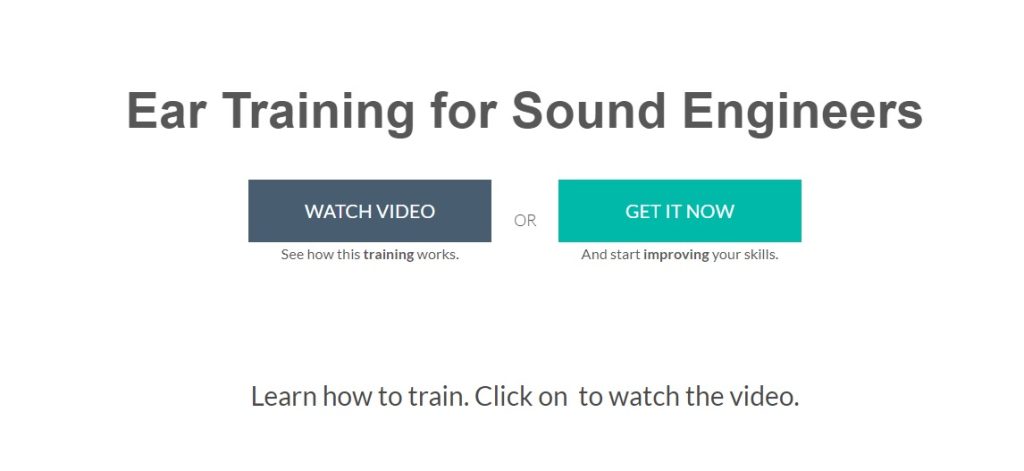 SoundGym
Frequently go to the gym? And what about your ears?
Unexpectedly or not, SoundGym is a center where lots of musicians, producers, engineers, and sound experts do work. So many creative people are untied there and anyone can become your colleague, teacher, or partner on the route to success.
To begin with, SoundGym can be estimated to have the biggest platform of games dedicated to mastering your skills.
Almost five hundred games are available for the residents of the SoundGym community and, in addition to this, thirty-eight workouts can really build up your musical muscles just like the real ones, but playfully, of course.
Anyway, there are always some cons to be considered. To be honest, the target audience of this website are mostly the professionals, consequently, the site is more into creating music than working on one's hearing skills.
On the contrary, if you are aimed at learning to record your own music or mix the singles, you are on your way! The distinctive feature of the platform – is the availability of various schools where the training process is implemented by only experts and highly-qualified teachers.
A potential student just has to opt for the desired program and then he will be able to earn points for learning and even compete with other participants.
"Stay motivated and create music!" – is the slogan that can be chosen for this particular app.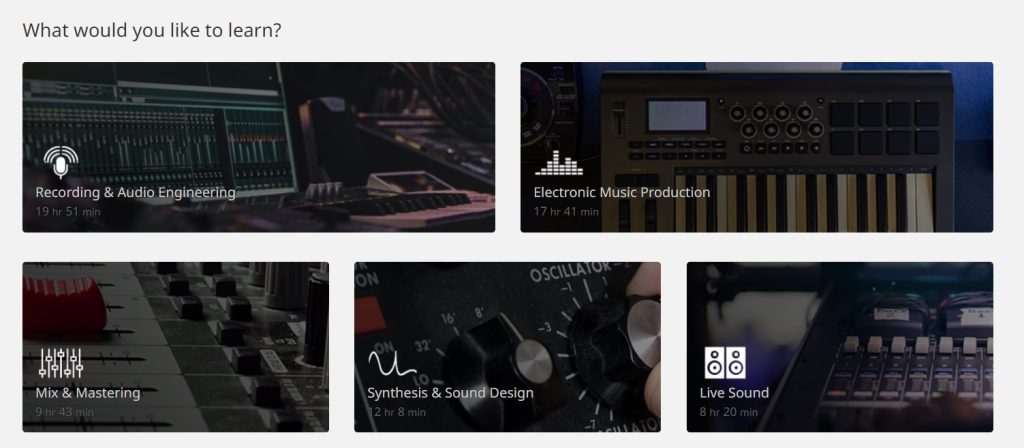 Teoria
This website will be extremely useful for both students and teachers, as it is really helpful when it comes to teaching music. Initially, the main goal of the website was not to serve as an ear training platform, however, special sections for hearing practicing were also launched.
What do we appreciate most about this website? Its keen desire to help! If you are not acquainted with such terminology as "triads", "extended chords" or "jazz progressions", do not make a fuss about that!

A special section called "Tutorials" will help an inexperienced user to figure out the meaning of the most complicated musical terms, search for their usage and then practice them in the "Exercises" tab.
Speaking about its flaws, it does not support other foreign languages except for English and Spanish. Moreover, the interface may also seem difficult for beginners, as the great deal of chords, intervals, and scales for practicing can confuse an unprofessional user.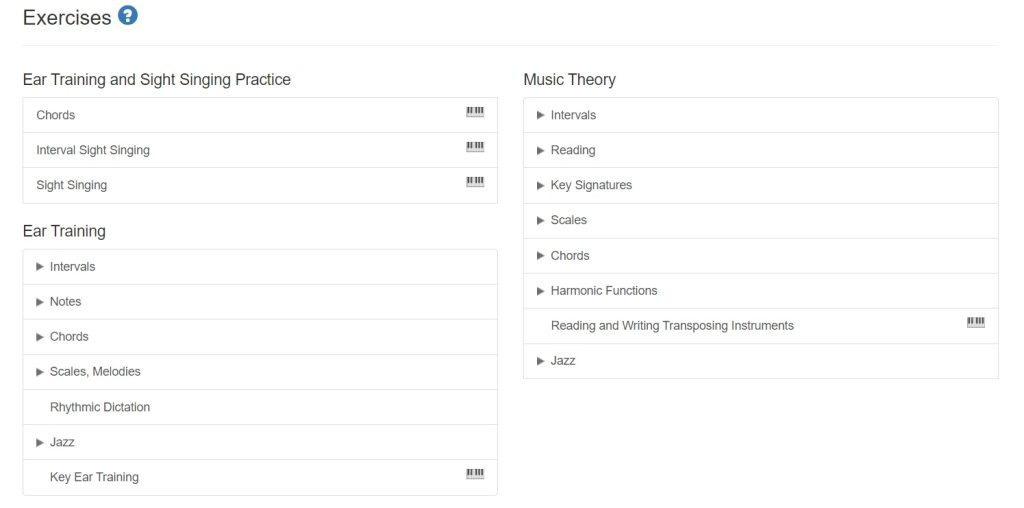 You may also like: 7 Best Piano Apps for Android & iOS.
Piano Ear Trainer
As it is obvious from the name, the bent of this app is piano samples that stand out with the sound of high quality. But, except for its excellence in piano practicing, this app can please you with lots of tools coming in handy.

Scale identification, pitches, chords, melodic dictations – everything that the most sophisticated musician has ever required!
It has a structure similar to a game, for instance, the game where a user is able to try its best in identifying the chords. Development from a beginner to a proficient musician is the key point of this app, consequently, it can be presented as a number of levels that ensure total addiction to a learning process.
By the way, it is worth mentioning some drawbacks. The most evident of them – adds, and they do really get on nerves! It can be acceptable to see them in pauses between the tasks, but when it comes to the process of practicing, pop-up ads can spoil the whole task.

Moreover, it is essential to remark that feedback on the work that has been done do disappear very quickly, leaving no time for analyzing mistakes after the session.