7 Best torrent apps for Android & iOS
Tired of every kind of media is getting payable? Want to have a chance to get media files at your smartphone just in a few clicks? Would you like to have offline access to everything you downloaded?
The apps listed down below will help you to get any kind of media on your phone fast and for free. There are also apps that will help you to protect your data from hackers and to change your VPN address in order to have access to those Internet sources which may be not accessible in your home country.
Also check: Music streaming apps
µTorrent®- Free Music and Video Torrent Downloader
Some people have probably heard about this app. The advantage of it is that it allows you to download any type of media for free and in high quality.
You just put a name of a media file that you would like to download and then choose from a list of available links every of which has different characteristics and data details. After you have made your choice you download a tracker file, save it to your device. After you can open it and your download will be started.
A prominent feature of this program is that the downloads in it have a very high speed. For instance, if your Internet connection is decent, then you can download a 5GB movie in 20 minutes.
Working with the app is quite easy, it has an easy and cute interface. After you have downloaded media files (or you have your own on your device) you can share them on uTorrent so other people will be able to download them too.
You may also like: Apps to watch tv shows for free
Flud
Flud is another version of uTorrent for Android, which means that you can download media files for free using this app and later share it with other users. The speed is not limited. You can also choose separate files for sharing and downloading.
Another useful option here is that you can mark priorities on various files of your choice. You can even start watching a movie here before it is completely downloaded. There is a chance to set the place where your files will be put after the download, it can be even external storage.
It supports NAT-PMP, DHT, UPnP, magnet links. Moreover, it can redirect magnet links from other browsers. And you don't need to worry if the file you want to download is too heavy, because the app supports the big-sized media files.
The app has three styles of the interface: dark, white, and white with black-styled tools. The coding is also adjustable, IP filters are included.
VPN in Touch | VPN Proxy and Hotspot Security
Give VPN in Touch a try on your iPhone, iPad or iPod Touch, and discover for yourself that it's the fastest and the most secure mobile VPN service around. Nowadays that public wifi is so accessible it may seem extremely comfortable, but it also hides a lot of peril for its users.
If you are going to do banking, for example, you better be safe than sorry, because your data can be easily stolen by hackers. To prevent yourself from situations like this, use this app in order to protect your connection.
Before sending your private data over the net, encrypt it by connecting to VPN servers, included in this app. In case if your phone is in state of sleep mode, the VPN will not be working, but as soon as you are connected to the WiFi or 4G it turns on.
Unique data compression algorithms, created especially for this app allows you to be always sure that your private info will be hidden from others. Another beneficial feature here is that it blocks any add trying to break onto your screen.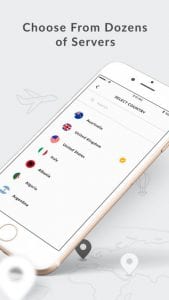 MediaGet
Probably, you have already heard of this web source. Now you also know that this is also the app that you can download on your device.
This program, just like uTorrent, allows you do get media files from the Internet at a high speed. Often MediaGet is used in cases when uTorrent is blocked or doesn't work for some reason. And we must say that this version is more than decent to substitute it.
When you go to the search bar, you can see a small notification that will guide you through the research process. After you have found that you wanted you can choose from the list which files to download.
You stay in total control on your downloading list and can change it and correct it in the way you wish. The setting is also very convenient and easy to adjust. Just one essential thing here that you need to remember is that your Internet connection must be well working, in other cases, it can be impossible to get files at a high speed.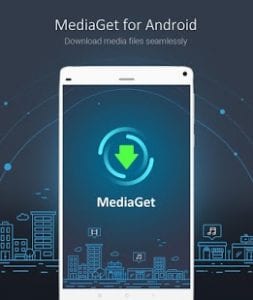 You may also like: Best torrent apps for Android & iOS
Vuze Torrent Downloader
This is another kind of app for downloading files for free, but a little bit different from the previous ones.  Lightweight yet powerful, this BitTorrent app brings complete torrent management directly to your smartphone. You shouldn't think it will be hard for you to understand how it works just because you have never used it before. Working with it is really easy. You can just type the name or the description of the file in the search bar and the app will show you the results.
As always you can manage your downloads list in any way you want. One interesting feature of this app is that you are also in control of the downloading speed when the process is started.
However, the app works only if you are connected to WiFi. After the media file is downloaded it will be played automatically. Unfortunately, the app has added and this is a disadvantage. To get rid of it you need to pay to get an extended version.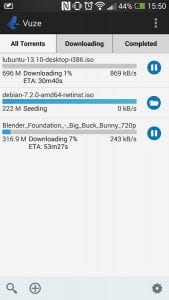 TorrDroid
TorrDroid is a standard Torrent app for Android and the main advantage of it is that it is lightweight, it works fast and it doesn't have any extra function to distract you.
It was developed in order to protect your privacy and allow you to surf the Internet without any risks of being tracked. It encrypts your data so it will never be available to any external sources. you can download any types of media files without a risk of being caught or those frauds would steal your personal info.
What is more, your ID address will remain hidden, so you can browse the Internet and do everything without the fear that your location will be detected.
Nowadays it is a life changer since we have to put such important information as credit card numbers, passwords, bank accounts into the digital space and there is no guarantee it is not going to be stolen. Privacy is also a big issue today.
The speed of downloading is more than decent. What is more, the app doesn't overload your phone's RAM, because it puts all the files that you are downloading in the queue. When a certain file gets downloaded you will get a notification.
You may also like: 11 Best Apps Like Pandora for Android & iOS
LibreTorrent
Search for the Torrent files right in the app and download them absolutely with no hassle with LibreTorrent. It is a simple, but a cool app to download media files immediately. All the downloads are encrypted, so you don't have to worry that you are going to get tracked and fined or something like this.
The app supports HTTP links as well. What is more, one of the coolest features of LibreTorrents is that it is free of ads and other nasty stuff that you might often face in the free apps.
Here users can set the download directory (and automatically move completed downloads), configure network usage, set the app to torrent only when connected to Wi-Fi, set download priority and sequence, and support for scheduling and streaming. For more fun, you can customize the themes of the app.