We are used to using our smartphone for entertainment, calls and photos. Most of the applications that have been developed for iOS and Android are designed to improve the quality of the device or give the user some new features that he has not used before. All our mobile communication, which is organized through the Internet, is possible thanks to new services and plug-ins.
Over time, technology has evolved so much that it is not enough for people to just call each other on the phone or text each other. We are always connected using messengers, social networks, various utilities and so on.
The most interesting area for innovation is 3G and 4G. Data transfer allows you to be online literally 24 hours a day. And if you also have a front camera, you can actually be close to a person. In this article we have selected for you 15 best applications that will help you make video and audio calls to your friends, loved ones and family.
Skype
Skype is one of the first apps to appear on the market. Initially it was a computer service that allowed you to make video calls to anyone – all you needed was a personal computer, a webcam and a microphone. Later, the sphere began to develop and Skype did not stay in place.
At the moment the service has several types of mobile applications – Preview (free version), For Business, Lite and so on. Depending on your goals, you can connect any of them.
All you need to access is a smartphone and the internet! You can chat, connect to a video conference (up to 24 people), and of course, make regular calls. When you register, you will be asked to enter your current phone number, with which you will make your calls.
Speaking a little more about voice calls, it is worth noting that Skype charges a small fee for them. You can easily call mobiles and landlines around the world at low rates – believe me, their prices are lower than those of mobile operators. Moreover, it is possible to do it both from a computer and from a mobile phone.
WhatsApp Messenger
I guess there's not gonna be a person today who hasn't heard of WhatsApp. This is really a unique and popular application, which is also free for all users. Connection is done via the Internet, so you will need Wi-Fi or 3G, 4G, EDGE to work. WhatsApp doesn't even have a subscription fee, making it even more attractive to users.
In the application you can freely communicate with people wherever they are. Money is charged only by your mobile operator for data transfer service, and the minutes of your tariff plan are not spent. You don't need a username, password or anything like that to log in – just your phone number is enough, WhatsApp will connect you.
For fast communication, WhatsApp uses contacts from your smartphone's memory. If a person uses the application, you will know about it right away and will be able to call them.
If they are currently offline, they will be notified of the call or your message later. The only thing to consider is that WhatsApp doesn't make emergency calls to 911 and 112.
KakaoTalk: Free Calls & Text
We could joke that the huge number of downloads of KakaoTalk is due to the fact that it is used in Korea and by fans of kpop music. But we won't do that because the application is really easy to use and has a good design. For those who are looking for fun everywhere, KakaoTalk even has mobile games – they will definitely keep you entertained.
KakaoTalk works very quickly and efficiently without the need for additional internet traffic. In order to make calls, you will of course need a 3G or Wi-fi connection.
Also worth noting is another convenience – KakaoTalk is cross-platform and supports iOS, Android, Windows and Mac devices. There will be no problems and difficulties in communication because of different devices – KakaoTalk is optimized for all of them.
Regardless of the quality of your connection, your calls will be fast and of high quality. You can use smileys, a lot of stickers and different multimedia in chats. In the app store you can also buy exclusive stickers. Use KakaoTalk on all your devices and stay in touch with your friends!
You may also like: 15 Free Android apps for notification tones and ringtones
Facebook Messenger
Facebook is one of the most popular social networks in the world. With its help, people are already communicating a lot of time, and it is difficult to imagine a world without Facebook.
Since this is a modern company, they decided to develop their own Messenger, in which users could conveniently communicate with each other not only by text messages and likes in the feed, but also by voice and video calls.
In addition to the fact that you can organize a full chat – send photos, videos, voice messages and GIF animations, you can also call directly through the application.
Messenger allows you to make voice calls simply by having an internet connection, and you can even apply filters when making video calls. It's completely free and Messenger doesn't get any money from you for making calls.
You may also be interested in the money transfer feature. In a limited number of countries Messenger allows you to transfer money through the application, and in the United States you can even add your PayPal account. So if you find out during the conversation that your friends need money, you can send it right away using just one application.
Viber Messenger
Viber is also popular among modern users and is not inferior to top-notch applications. Here you can make free calls and video calls with your tablet or smartphone. You don't have to pay a fee or a personal account to communicate – Viber provides its services free of charge, connecting people from different parts of the world.
Like WhattsApp, Viber synchronizes with your contact list. All those users who use Viber will be immediately displayed in the application. You can invite a person into the community if you add their phone number manually. After that, you will be able to contact this person for free – to share locations, call each other or share photos.
In addition to good quality calls and videos, Viber also entertains its users. You can also add a variety of stickers and smileys to your chat. All your chats and calls are protected by end-to-end encryption, so you don't have to worry about privacy. Even if you're offline or have not enabled Viber, the app will send you Push notifications – so you won't miss an important call.
Hangouts
You have a huge number of friends, but you are not comfortable communicating with each other individually? Or do you have a major event or activity coming up and working on it as a team? To keep in touch with each other, use Hangouts. You will always be in touch with your friends and will be able to exchange information at the right time and much more!
Hangouts supports group chats for up to 150 people as well as group video calls. The whole conference will take place in your smartphone and you will be its direct participant! If you have several devices, Hangouts allows you to synchronize information and chats.
It is worth noting that a call to any phone number with the help of the application will be absolutely free. In addition, it is possible to send something to a person even if he is not online. In just a few moments you can go from a simple entertainment chat to a real voice call or even a group video chat. A few stickers also make Hangouts attractive.
Yalla – Free Voice Chat Rooms
You think you just have no one to call? Or do you miss spending your weekend alone, stuck in your smartphone? We suggest you find new friends or just make friends in Yalla.
You choose who you want to talk to out of thousands of people, or you choose certain "rooms" according to your interests. If you already have friends and they also use this service, you can easily contact them for free.
What are the "rooms"? This is a public chat room where people from all over the world can communicate with each other on different topics. Usually, each room is packed with interests and people really have a lot to discuss! Even if it seems boring to you, Yalla has small games to play directly in group chat.
You can talk to your friends wherever they are. Do you live in different cities? Party on the phone with Yalla, sing karaoke and play games. In great quality, you'll be able to hear everything you're told – all you need is a Wi-Fi, 4G or LTE connection.
ooVoo
If your friends and family are in different parts of the world, or if you're out of the house, then ooVoo will be a great way for you to keep in touch with each other. If you have a mobile data connection or Wi-Fi signal, you may think you're practically there with them. The app is available for almost all devices, so you won't have to deal with incompatibilities or malfunctions.
In terms of specific calls, you can make both video and audio calls. The quality of the image transmitted to you and your conversation partner will only depend on the resolution of your camera – ooVoo provides you with a quality video call.
Up to 12 people can participate in your discussion at the same time – you can meet the whole family in one video call! There are also no complaints about audio calls.
Developers use SuperClear technology, which does not use unnecessary traffic. However, there is no echo or interference during the call – the sound quality is excellent.
For those who are still used to chat first in text chat, there is also this feature. You can send a photo or document to the chat room right during the call. In addition, ooVoo has its own dog Potus stickers and other characters!
Line
Many people know Line applications as photo editors that use various nice stickers, filters and effects. But in fact, Line is a great opportunity to make calls and video calls around the world.
The application is popular all over the world, as it not only allows you to communicate with different people, but also to create interactive surveys and use popular free stickers.
The main function of Line is voice and video calls. If less than 200 people are involved in your conversation, then this feature is free for you. Speaking only of video calls, you can note the good quality of the image and the ability to apply the effects in real time.
Since Line has a version for personal computers, you can install it and synchronize between your devices. The application has a Keep space where you can store photos, chats, videos and more and use it on all your devices.
If you are going to make calls to another country, use the Line Out feature. Line requires a small fee for such communication at low rates. You can even call people who are not using Line. If you don't want to spend money, the developers offer you to view ads for free calls.
Talk360 – Cheap International Calling App
Talk360 is a free application that gives you the ability to call any mobile and landline phone around the world. It is worth noting that international calls are made at low rates, which are much lower than the prices of mobile operators.
You won't have to make a new SIM card, change your phone number or enter into a contract. Talk360 accepts your personal number as your identifier.
Talk360 works in 214 countries and easily makes calls between them. Most importantly, the caller does not need an internet connection, a Wi-Fi network or mobile data transfer, but only the person making the call needs it.
It is worth noting the quality of the call – the developers do provide premium quality conversations. Talk360 automatically integrates with your contact list, so you can call anyone.
Talk360 requires constant recharge to make calls. If you're using the app for the first time, you can make a free trial call to check quality. You will immediately understand why people really praise Talk360 and use it on a regular basis. You can buy credits in a variety of ways, from autofill as well as when you need it.
WeChat
Those users who are looking for not just the ability to make calls, but a full-fledged social network, should try WeChat. Here you can not only call your friends, but also chat with them, read the latest news, play minigames and even make money transfers. More than a billion people around the world already use WeChat, and the application itself has high ratings. What is the reason for this popularity?
At first, this is a high quality call. With the help of WeChat you can call anywhere in the world and still talk to a person as if he is near you. With group video calls, you can communicate with up to 9 people at the same time without losing any audio or video quality.
It is also possible to communicate in chats, capacity of which is up to 500 people at a time. There you can not only share your thoughts in a message format, but also send photos and other files.
WeChat has the "Moments" feature, which is similar to the History of Instagram. You also post a short video or photo in a time capsule, where it will be available for viewing within 24 hours.
Of course, you can organize your own news feed from subscriptions and use various stickers. Stickers are now popular all over the world, and WeChat offers you a whole catalogue of ready-made and allows you to create your own, which are your photos or pictures.
Maaii: Free Calls & Messages
Maaii is a communication service that allows people to talk to each other even from a distance. The application is available in 12 languages, which are the most popular and widespread around the world.
If you want to go beyond a simple conversation on the phone and do not want to pay for international calls – you should install Maaii on your device and enjoy the communication.
Calls and messages will be free if you and your friend have installed this application. Communication between users is perfectly adjusted and of high quality. But in case your conversation partner is not registered or even has no access to the Internet, you can also contact him.
Maaii offers its users low tariffs for offline calls and SMS, while carrying them out all over the world. You can even talk to your friends on a group call!
The application has a Maaii Store where you can buy various stickers, audio effects or animation. This can be useful for recording video or voice mail, which you leave to other users.
Share content with friends, look for new acquaintances through your location and make instant contact – Maaii gives you the ability to communicate without limits within the application.
YeeCall
Stable calls without interference, interruptions and other problems are always appreciated by users. Due to the quality of the mobile Internet, router malfunctions and other problems, calls can be dropped or re-connected, which annoys and interferes with the conversation.
YeeCall also provides a stable connection, which is also protected by encryption. You won't have to interrupt or worry that your personal conversation will be recognized by someone else – the application automatically encrypts video calls and voice calls.
Of course, you can also chat. YeeCall does not limit the number of text messages, stickers, GIFs and photos. You can even record voice messages and send them instantly. But why would you want to? You can call your family at any time.
The only fee that users are charged is the network provider's fee for Internet services. YeeCall does not charge you any money for communication – you call anywhere in the world for free, and get excellent quality.
Some countries limit the use of video calls on their territory, as well as block certain applications. With YeeCall you don't have to worry about it, because you can make a video call in any country and in any region.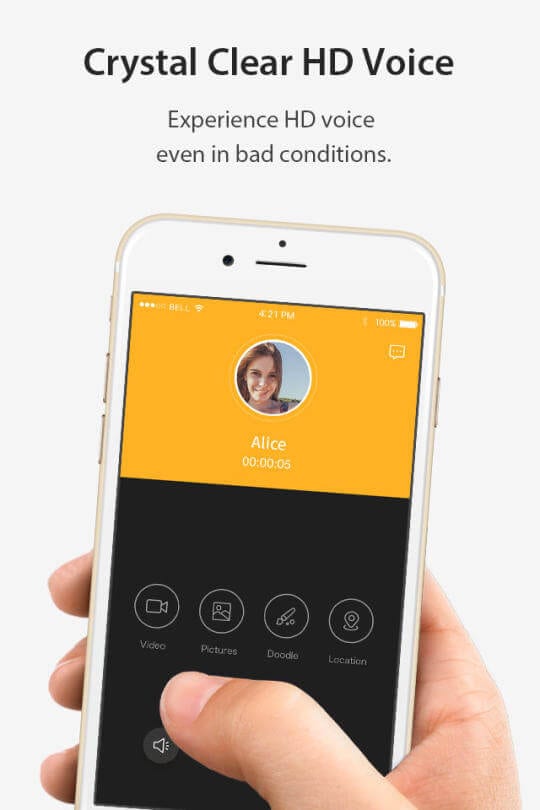 JusTalk
JusTalk is an excellent communication application, which is designed for voice calls or video calls. The service is working hard on the quality of video, so you will not have any complaints about it! The application is safe and simple, and you will not lose a single moment or minute, constantly sharing your news and stories with loved ones.
The quality of calls to JusTalk does not depend on the type of connection you use. You can keep in touch via Wi-Fi, sitting in one place or on the go, using 3G, 4G or even 5G.
International calls are made for a small fee. Even if your friend's phone is offline, you will still be able to contact him using cheap cost out call. JusTalk is easy to install on all types of smartphones and tablets, which is convenient if you use different device platforms.
By the way, you no longer need to manually search for friends or put their phone numbers in the application. Adding friends can be done with a QR code.
However, your personal conversations are not so easy. Every call you make is encrypted using a pass-through encryption algorithm. So your messages and conversations during transmission are divided into several ways, which makes it impossible to steal data.
You may also like: 11 Free prank calling apps for Android & iOS 2019
Hala
If you are not using calls for business or work, but only to communicate with friends, you can try a good Hala application. Everything here is designed for fun, informal communication and other effects that make communication fun. Despite the lack of seriousness, Hala provides users with an excellent quality of communication.
In order to contact your friends in Hala, all you need to do is select a contact from your phone book and add it to the app. You can then send text messages or even make calls right away. In chat mode, you can send each other sticky notes, emojis, or even record voice messages. All text messages are encrypted automatically, as are voice and video calls.
Interestingly, you can use a variety of effects and filters during a video call. This will help you look better (especially if you're talking to your soulmate!). Hala allows you to contact people you can't call or who just live in another country – the app erases the boundaries between you.
In fact, when you look at how much technology is developing, you can see huge progress. In the past, when video calls first appeared, people could only use them with a desktop computer and a webcam, and regular calls were made with the help of a mobile operator.
Now all smartphones are equipped with a camera, and calls can be made over the Internet. Today you don't need to look for a phone booth – you can make calls through the application even to other countries without paying huge phone bills. Always stay in touch with your loved ones – choose your favorite app and try it out faster in action.