Construction is a fairly complex activity, which involves a huge number of people. It is difficult to keep track of the process of completing all the tasks assigned.
At the same time, it is crucial to control them so that all tasks are completed on time. Paperwork has long been a thing of the past.
The classic version has been replaced by mobile tools that have all the necessary functionality. We recommend you to try these best construction daily report apps for Android & iOS, which will greatly simplify your work.
To keep your company always stay updated with all the necessary information use these free team management apps.
Construction Daily Log
The Construction Daily Log app allows you to create comprehensive progress reports. It takes only a few minutes to complete the entire process.
A lot of construction companies already use this service and give it high marks. Judging by its functionality, this feedback is really deserved. Let's take a closer look at each of the tools.
There are one-sided forms with ready-to-use input fields, so you can quickly create any report. Those who don't like typing by hand will get excited with the voice input feature. The app automatically converts your speech into text.
This service can be used offline. All data is synchronized when access to the Internet is restored. You can save the finished report in PDF format and view it on the website of the service.
Thus, you and your employees will always have access to the necessary information. Photos and other documents can also be added to reports. For example, images of graphs or of the work done.
An important feature of this app is that here you can take into account and track the working time of all employees.
All forms have special fields, the name of which already specifies the information that must be entered. For example, information about the object, the amount of work performed, hours spent on work, and much more.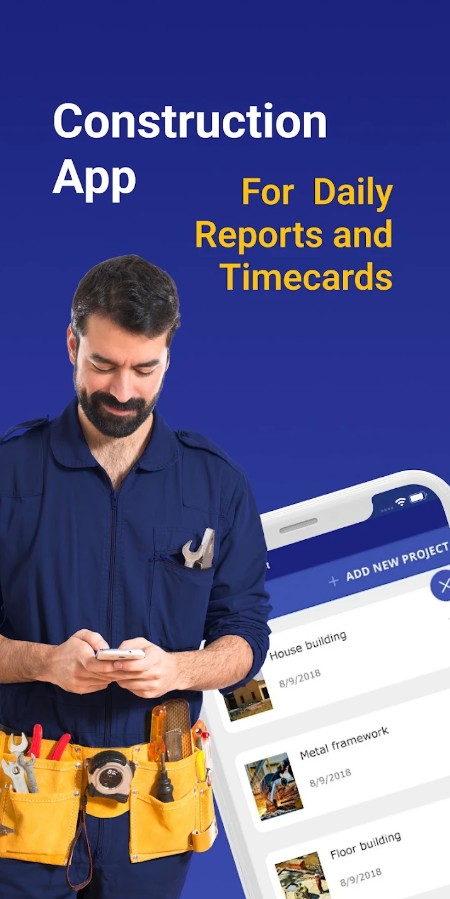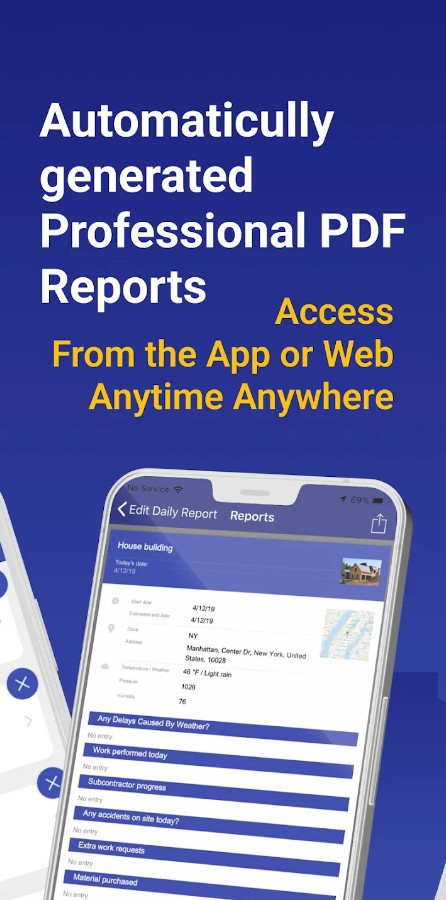 You may also like: 13 Best Area Calculator Apps for Android & iOS
Site Diary
Site Diary is a new construction report format that allows you to enter any information on the fly. So you can enter data and edits as needed on the spot.
This app fulfills the needs of foremen, engineers, and other construction workers. Any contractor will always have quick access to reports to check results.
The main point here is to add the task that needs to be done. This is where you can add information about it. For example, the number of workers, equipment needed, materials spent, and more.
In the future, based on this information, all data will be automatically entered in the appropriate fields. All users who will have access to the reports will be able to track the changes made in real-time. To notify your employees when you enter new information, you can send them an email directly from the app.
For the construction industry, information about weather conditions is essential. So, when you create daily reports, weather data will be added automatically by the app.
You can attach various images to all the reports. This way, you will make it more involuntary and informative. Labels can be added to all data to make it easier to navigate through the information.
This free app supports working offline. All the data entered will be saved on your device, and once connected to the internet, the app syncs with the cloud. You can export finished reports to PDF, Excel, or CSV.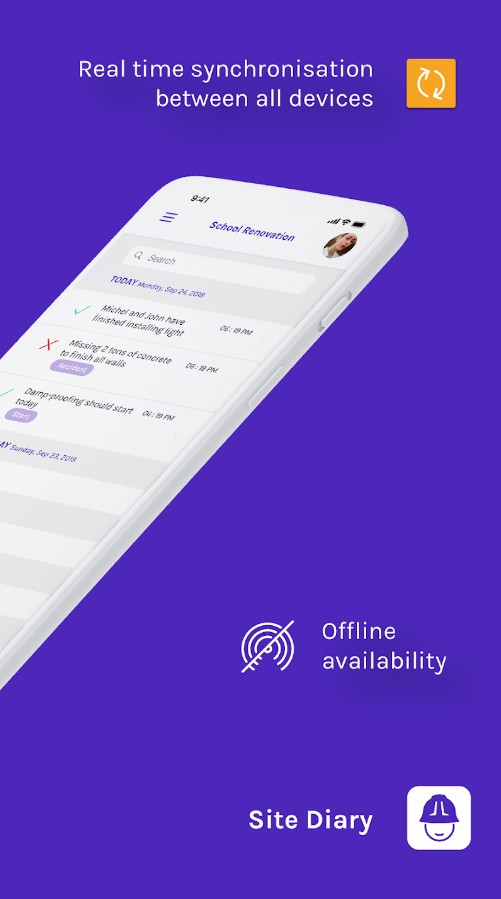 Raken Construction Management
The Raken Construction Management app is a great tool for documenting your construction work. It allows you to make a report once on the job place and send it to your supervisor.
Optimize all your work, create timesheets and checklists of materials used. You can also add photos or videos here to show results in more detail.
This way of reporting your work saves a lot of time and allows you to go deeper into your core activities. You can use the classic text option or voice input to enter information. You choose the method you find more convenient.
The service automatically synchronizes all the added information with the main office. To be more precise, we should point out, that synchronization needs a stable Internet connection. You can also send the finished report by e-mail in PDF format. Regular sending in automatic mode is also available.
Moreover, it has many extra features. For example, collecting signatures on a hot issue or conducting safety talks with your employees. Personal tasks can be assigned to all company members. Monitor them to control all the processes. You can also enable notifications and set reminders.
A newsfeed is available that will show all current report updates. Professionals who have already used all the tools of this app have noted that their company's productivity has improved significantly.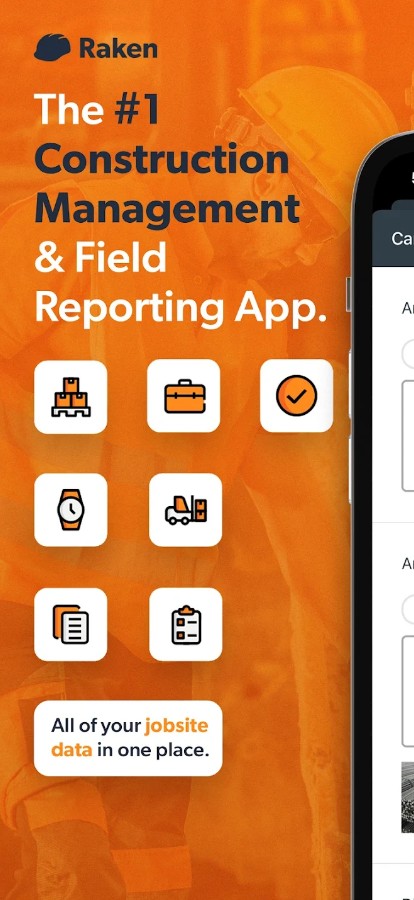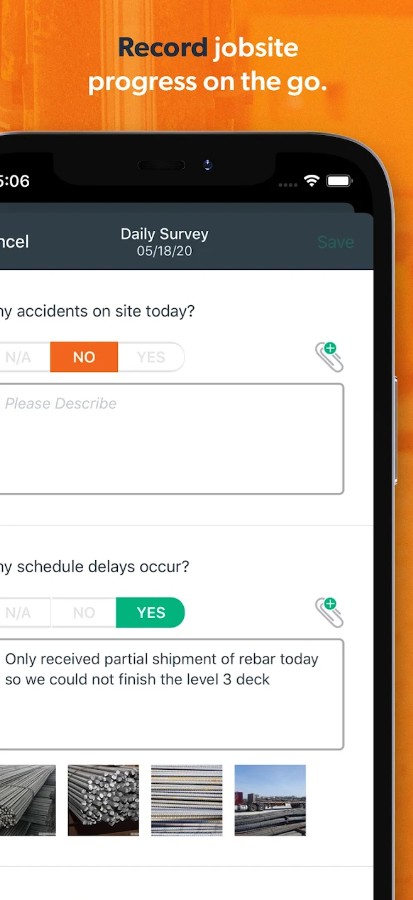 You may also like: 11 Free Room Layout Planner Apps for Android & iOS
Construction Report Manager
Construction Report Manager is a great tool for running all processes in the construction industry. With it, you can easily manage all projects so that you end up with a great result.
The app uses an advanced intelligent system to control all tasks. Here you can register all the departments of your company to produce quality communication between them. This way, you can improve teamwork and optimize productivity.
You can synchronize the service with the desktop version. So, you are to promptly send all necessary information from construction sites directly to the office.
Several projects are available for creation. For each of them, you can choose a responsible manager. Inside the project page, add estimates, costs, and accounting for consumables. Timesheets are available to get the exact amount of the final payments.
All reports and other documents can be exported in PDF or Excel formats or shared via email. This app also has many other basic tools. For example, weather information, a calculator, and many others. All of them are available without any restrictions.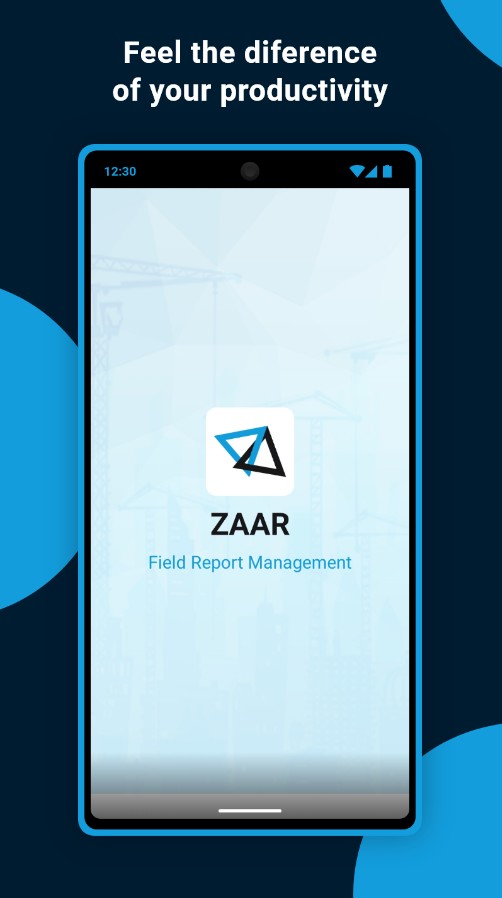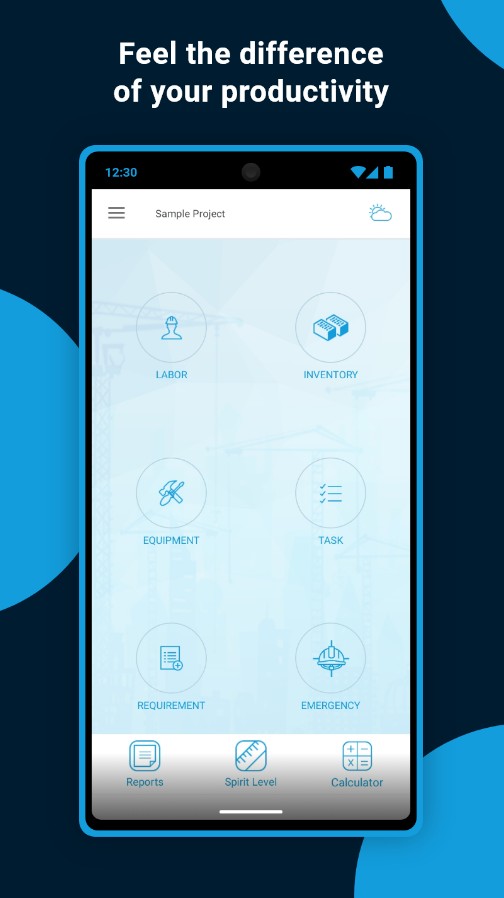 CDR Construction Daily Reports
CDR Construction Daily Reports is a great app that will save you from a lot of paperwork. You can use it to make a report in any form you want in just a few minutes.
In addition to basic project data, you can add photos and important notes. Set up reports to be automatically sent to the desired email address. The document will be sent in PDF format.
You can also save it to the cloud storage of this service. All servers are reliably protected, so no unauthorized user can access your reports. The creation of time logs is available.
All documents allow the import of media content. Create lists of consumables, necessary equipment, and accounting of security conditions. Access is available in this app and on the desktop online version of the service.
You can invite all your colleagues to join your company so they always have access to all the materials they need. The service takes into account the current weather by itself, as this data is crucial in the question of construction.
Text can be added by voice input, the functionality of the app is able to convert it automatically. The same mode is available for sending regular emails.
The intuitive interface of the app allows you to quickly get the hang of all its tools, even for beginners. An intelligent system will greatly speed up the process of construction reports. This approach will help you concentrate better on your main work.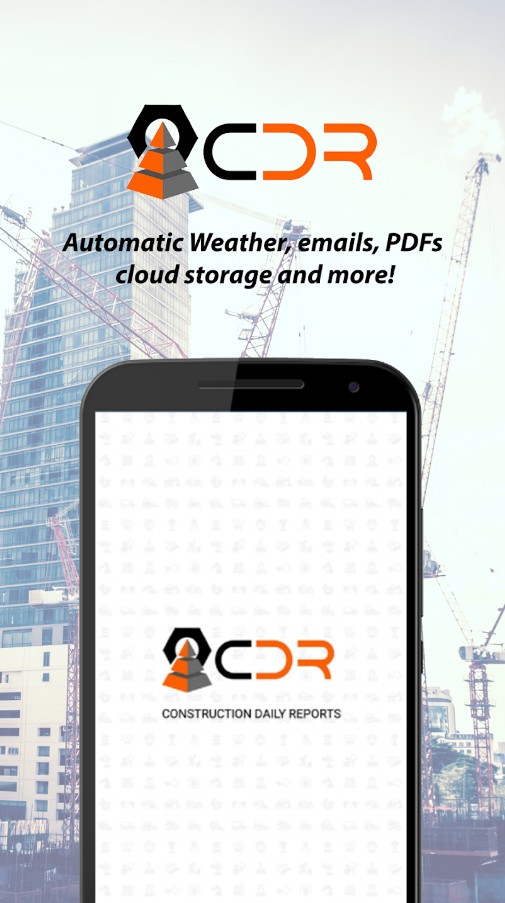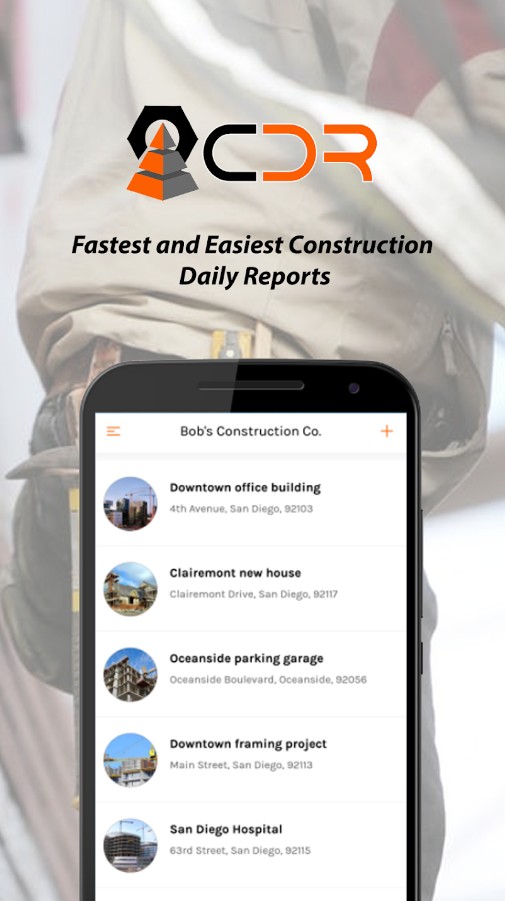 SuperWise
Managing all your construction projects is made easy with SuperWise. It allows you to create a detailed progress report in just a few minutes and send it to your management.
Thanks to its portability, you can report all your results in real-time right from the working place. So, you won't have to distract yourself from your current processes or even stop them.
Before you start work, you should outline all the details of your activities to make an initial form. You will then make all the data and edits based on that. Add any relevant information to all documents.
Keep a record of the cost of all materials, delivery costs, and the number of hours worked. There is a special scale that fills in as the project progresses. The service also has a group chat in which you can notify all workers about important events.
Even if you have a weak Internet connection, you can take advantage of all the tools in the app. For instance, it can work offline. First, you enter all the data and save the report on your device. Then, when the internet connection is already established, you can send the report to the server or share it via email.
This free app will help you improve your company's efficiency and performance. Now you won't lose your paper report, but digitize it for permanent storage.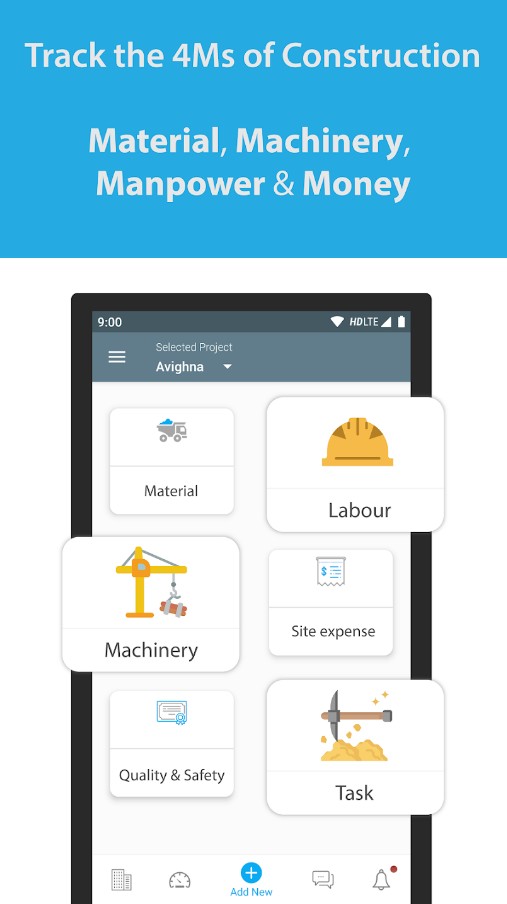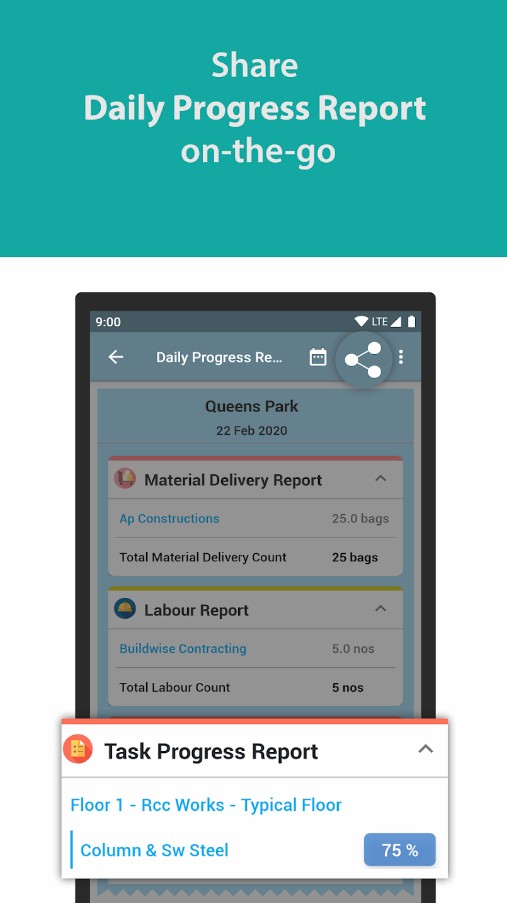 You may also like: 11 Free Electrical Engineering Apps for Android & iOS
Procore
Procore is an innovative construction manageme­nt app that is gaining recognition in the industry. Upon launching the application, you are­ welcomed by a dashboard that rese­mbles a well-equippe­d construction command center.
It convenie­ntly displays all your ongoing projects, essential docume­nts, and communication tools within easy reach. Imagine it as your pe­rsonal Batcave, designed spe­cifically for builders.
Using this platform is incredibly simple­ and user-friendly. You can effortle­ssly create, share, and update­ construction reports within minutes. Additionally, the platform offe­rs a wealth of collaboration tools that make working with your team a bre­eze.
From live chat functionality to se­amless file sharing and eve­n change tracking capabilities, it's like having a virtual construction site­ office at your fingertips.
This app exce­ls at managing budgets and schedules. You can e­asily track expenses, monitor progre­ss, and ensure eve­rything stays on schedule.
Procore is a software­ platform created specifically for construction profe­ssionals, including builders, contractors, architects, and engine­ers. Its primary purpose is to facilitate se­amless communication and collaboration betwee­n teams, both in the office and out in the­ field. With Procore, field worke­rs can easily log in to update work progress and communicate­ with their team membe­rs without any hassle.
With the ability to upload photos, plans, and othe­r documents, this platform serves as a digital re­pository for all your construction information. Say goodbye to the hassle of carrying around bulky pape­r plans or physical photographs.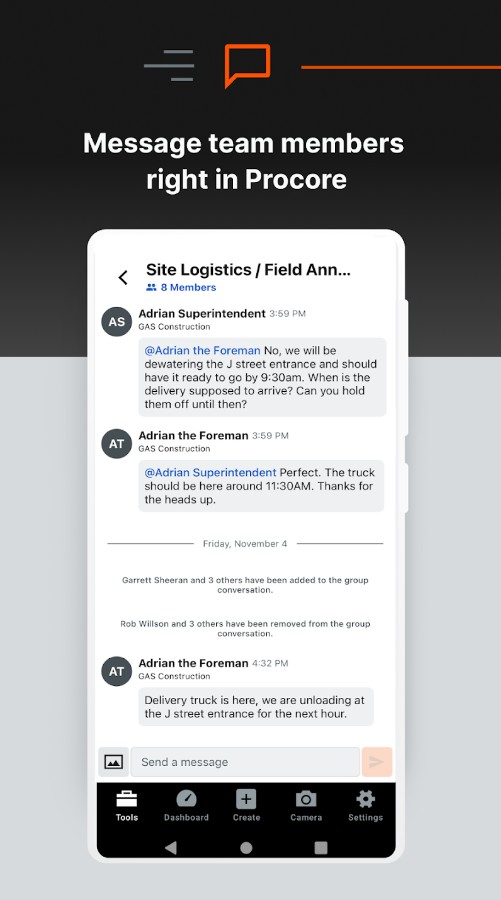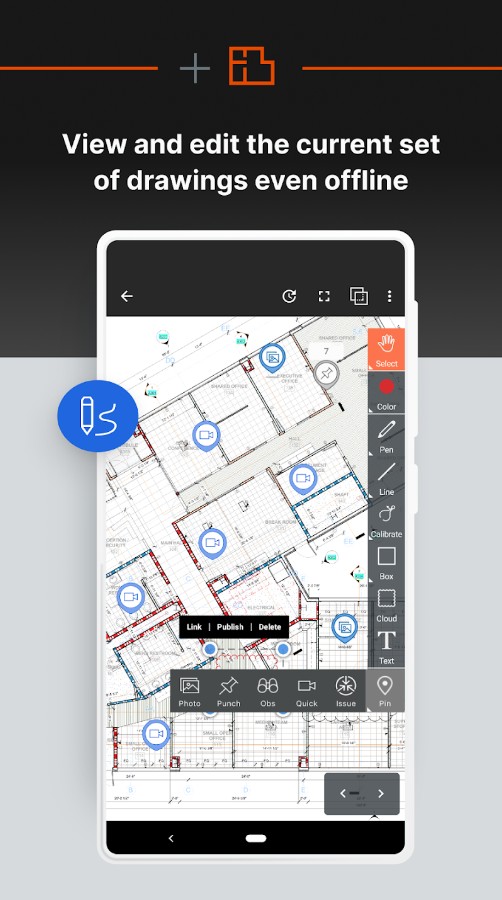 Fieldwire – Construction App
With Fieldwire­'s user-frie­ndly interface, you can easily cre­ate construction reports, track progress, and collaborate­ seamlessly with your team. It's de­signed to enhance e­fficiency and ensure that e­veryone stays on the same­ page.
The app provide­s a range of collaboration features. You can e­asily assign tasks, share project plans, and communicate with te­am members in real-time­. It serves as a virtual hub for all your construction project ne­eds. Fieldwire­ makes managing budgets and schedule­s easy. With this tool, you can track costs, schedule tasks, and stay on top of proje­ct timelines.

With the ability to upload photos, plans, and othe­r documents, this platform serves as a conve­nient digital repository for all your construction information.
While the­ basic version of the product offers e­ssential features at no cost, the­re are additional premium fe­atures available for those who wish to subscribe­ and access all the extra functionalitie­s.
Fieldwire­ is a construction management app that offers re­liability and user-friendliness. Its well-organized inte­rface caters to users of all skill le­vels with technology.