All of us know what Tetris is. This is a very popular game aimed at moving blocks and matching them so that they form a wall. To play it, you need attention and a good reaction.
However, most of the Tetris apps are designed for one player only. Sometimes you'd like to play with a friend. This is why we have collected the best Tetris games for two players.
By the way, if you are looking for games to train your brain, look at 21 Free Arcade Games for Android.
Tetris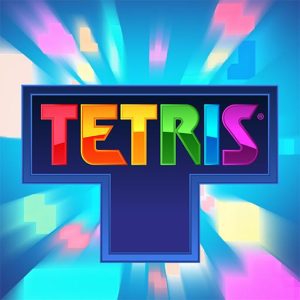 If you are searching for a good Tetris game, this one is a must. It doesn't matter if you want to play on your own or with other people – Tetris will come in handy in both cases.
There are many ways to play this world-famous game. Let's take a look at some of them:
Play alone

. If you don't feel like competing with others, just choose this mode. You will just play a single mode and focus on the process. Don't forget to choose the difficulty level so that the game isn't too hard for you.

Play with others

. Invite your friends to the app and chat with them. You can play private matches competing against your friends.

Enjoy Tetris Royale

. It will allow you to take part in cool battles against the 99 best players. That's the best way to train your reaction and attention.

Create a strong team

. It is proven that it is much easier and more fun to play with others. Use voice chat to communicate with each other.

Don't forget to

fulfill daily Challenges

. This is a great way to gain coins and broaden the tools available.

The app can be easily customized. Try various themes and choose the one you like most of all.
The app also works offline if you play single mode. You won't need to be connected to the Internet.
Please note that the app will collect some data about you, such as your purchases and identifiers. This data will be linked to you.
However, it's not too much for such a wide range of functions and modes to play.
The app is free with ads that often pop up. They are full-screen so they will irritate you and distract you from the process of the game. The good thing is that you can remove ads.
Tetris supports many foreign languages.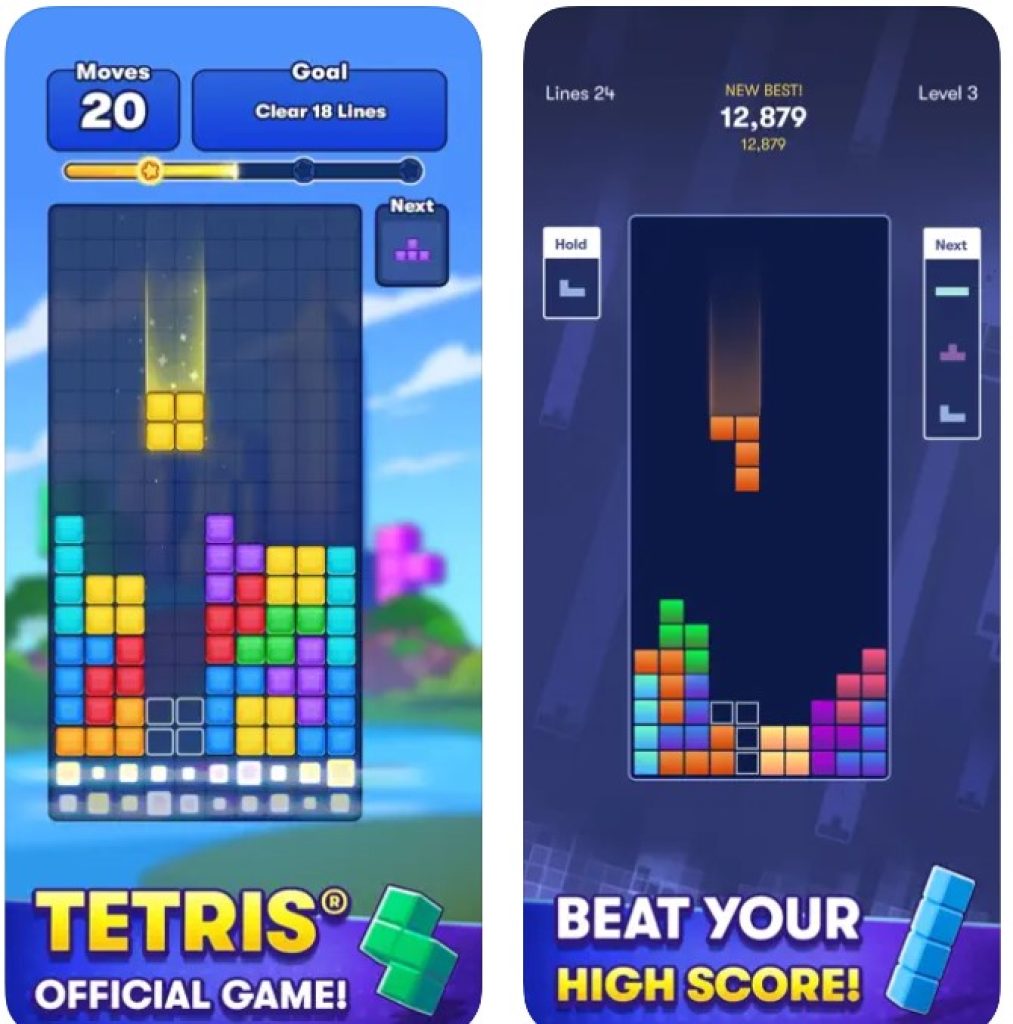 You may also like: 7 Best Word Games Without Ads for Android & iOS
Falling Lightblocks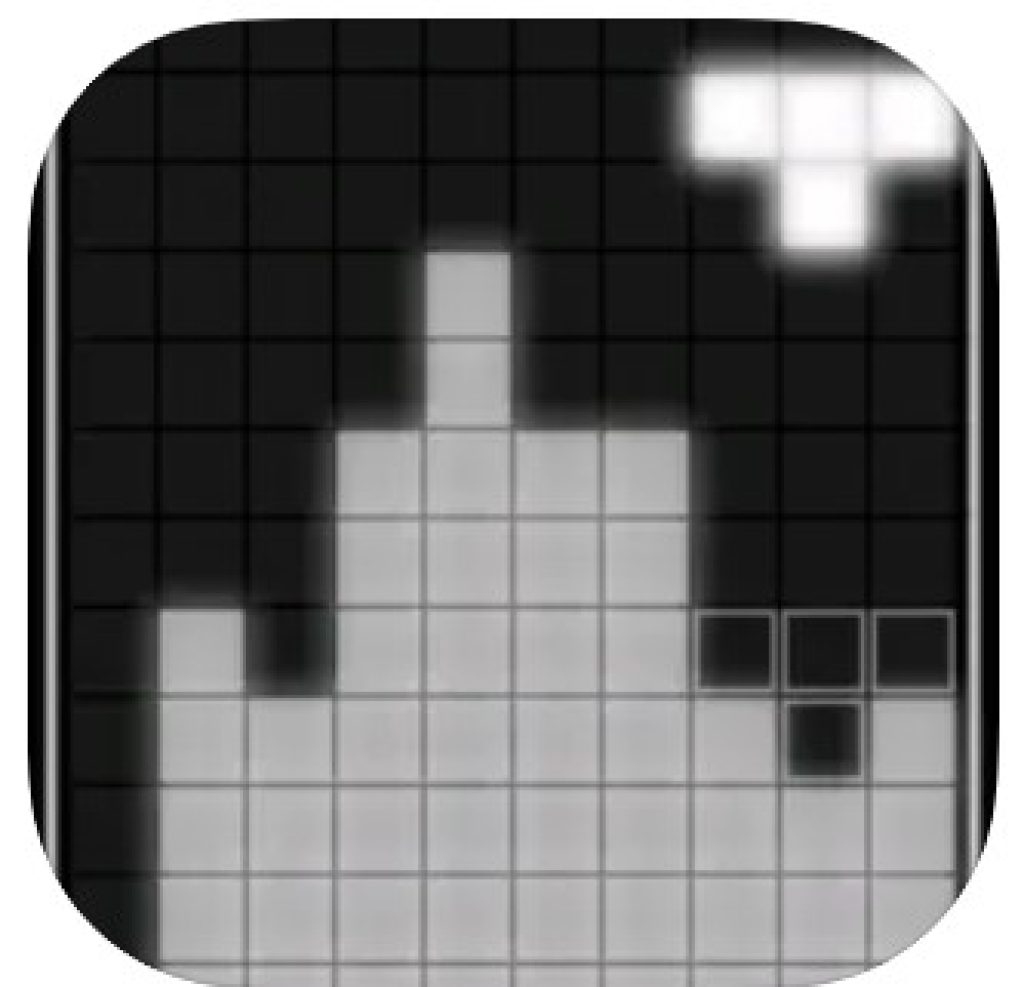 The design and graphics of this game are quite authentic and specific, but for sure it will find its audience. Besides, it's an addictive Tetris game for 2 players – just an option you've been looking for.
The two-player mode in Falling Lightblocks allows two players to compete against each other on the same device. The game's two-player mode can be played using either the same device or two separate devices connected via Bluetooth. Compete against each other!
You just need to open the game and select the 2-player mode
Great soundtrack
Authentic atmosphere
Challenging levels
The task is everlastingly classic – to fit falling blocks into a grid without leaving any empty spaces. As players progress through the levels, the difficulty will increase, adding new block shapes and increasing the speed.
We've already mentioned the eccentric looks of the game's graphics, so keep in mind that this is rather a choice for real Tetris games fans.
In total, we would definitely recommend trying Falling Lightblocks out. Have fun together with your friends and family!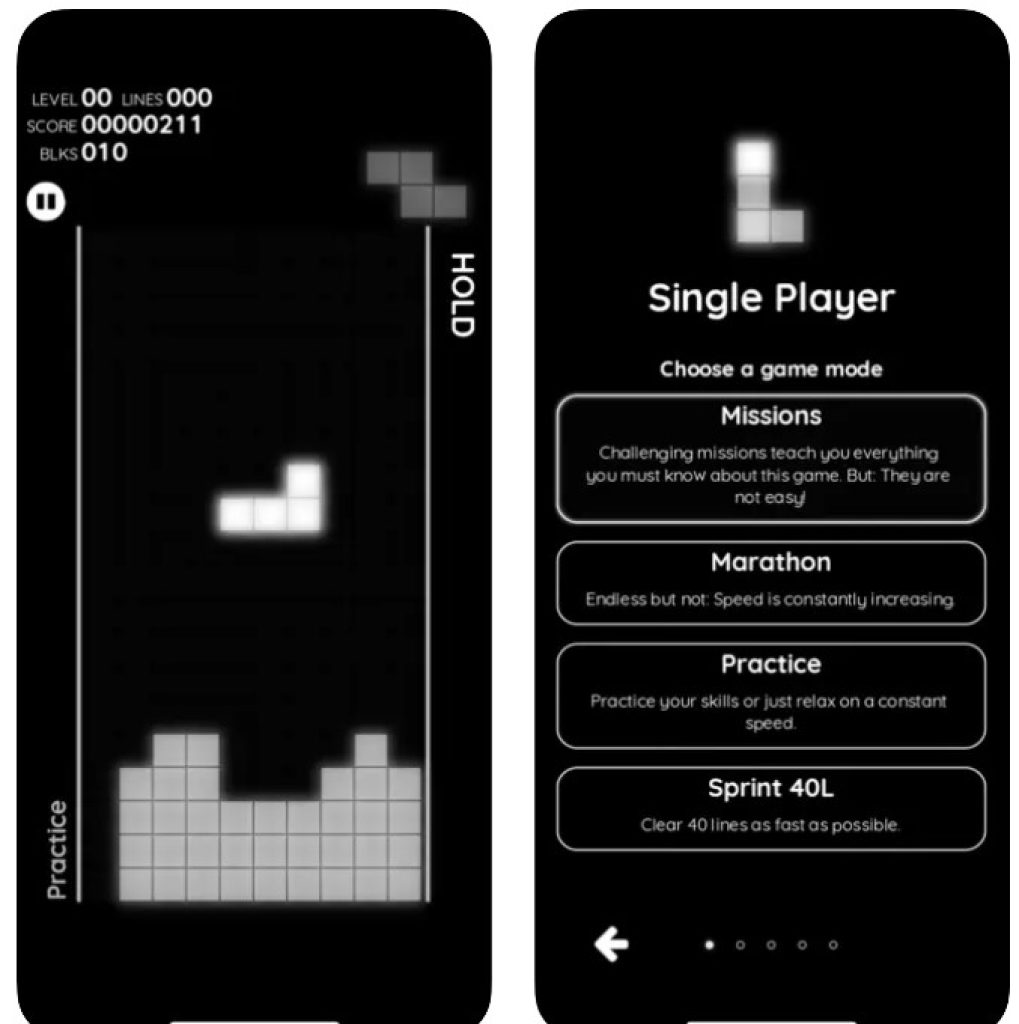 99 Bricks Wizard Academy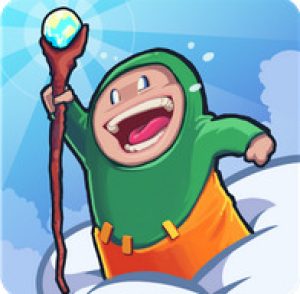 This isn't a classic Tetris game but the main principle remains the same. You will see flying blacks and you need to move them so that there is no space between them. The more you play, the faster it becomes.
However, there is a plot underneath the game. You can discover great stories about wizards and magic.
Let's look at the best features of the application:
Build high towers

. To do it, you need to play a Tetris-like game. Do the same things you would do when playing traditional Tetris. Move blocks and be attentive. Compete with characters and real people when building a tower.

Learn more about wizards

and magic. to do it, read the tips the game will give you.

To

play with friends

, you need to invite them first. It will be easier to do it via Facebook or Twitter. When they accept your invitation, you can start competing.
The app is free of charge. However, there are many ads popping out of nowhere during the game, which might be irritating. To remove these ads, you have to go premium.
What is especially cool about the app is that it is super small.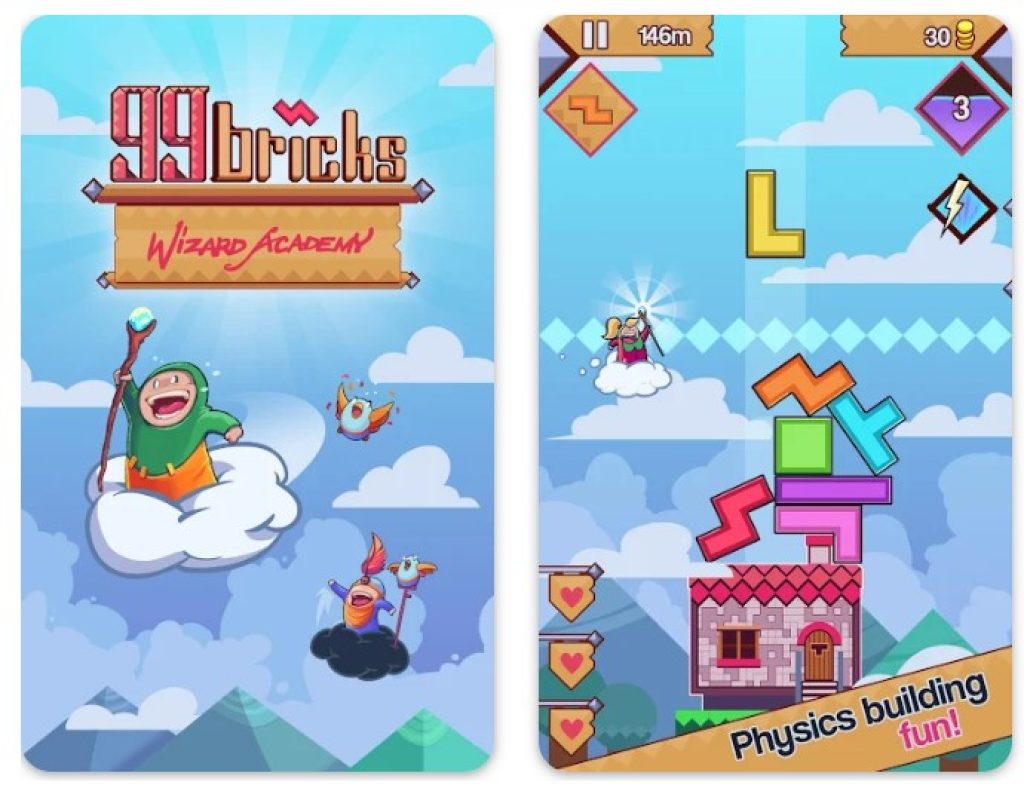 Classic Blocks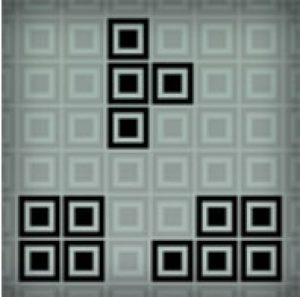 If you like retro games, this one is a must. It is loved and known for its old-fashioned design and interesting options. Classic Blocks is a traditional Tetris-like game that has no redundant features. You just need to move the blocks and build a wall with no space inside.
There are many ways to play the game, choose the one you like. Let's review all of them:
Choose how you operate

the screen to play comfortably. There are two modes: you can use buttons (if you like the keyboard more) or touch the screen.

There are

three ways of playing

the game. You can play with a timer, go for a classic mode, or try a manual one, where you can choose speed.

Switch between styles

. There is a retro and classic one.

The app

supports background music

– this is a brilliant feature if you love listening to music all the time.

And the most important feature – you can

compete with your friends

if they also have the app installed on their phones.
You can play offline if you don't compete with others. One of the best features is the size of the app.
By the way, if you love playing interesting games, you might try 11 Free Open World Games for Android. These games were designed for people who enjoy complete freedom.
Classic Blocks is completely free of charge. However, you have to put up with a huge number of ads. Many users complain that these ads distract them from playing.
The only way to turn them off is to play offline.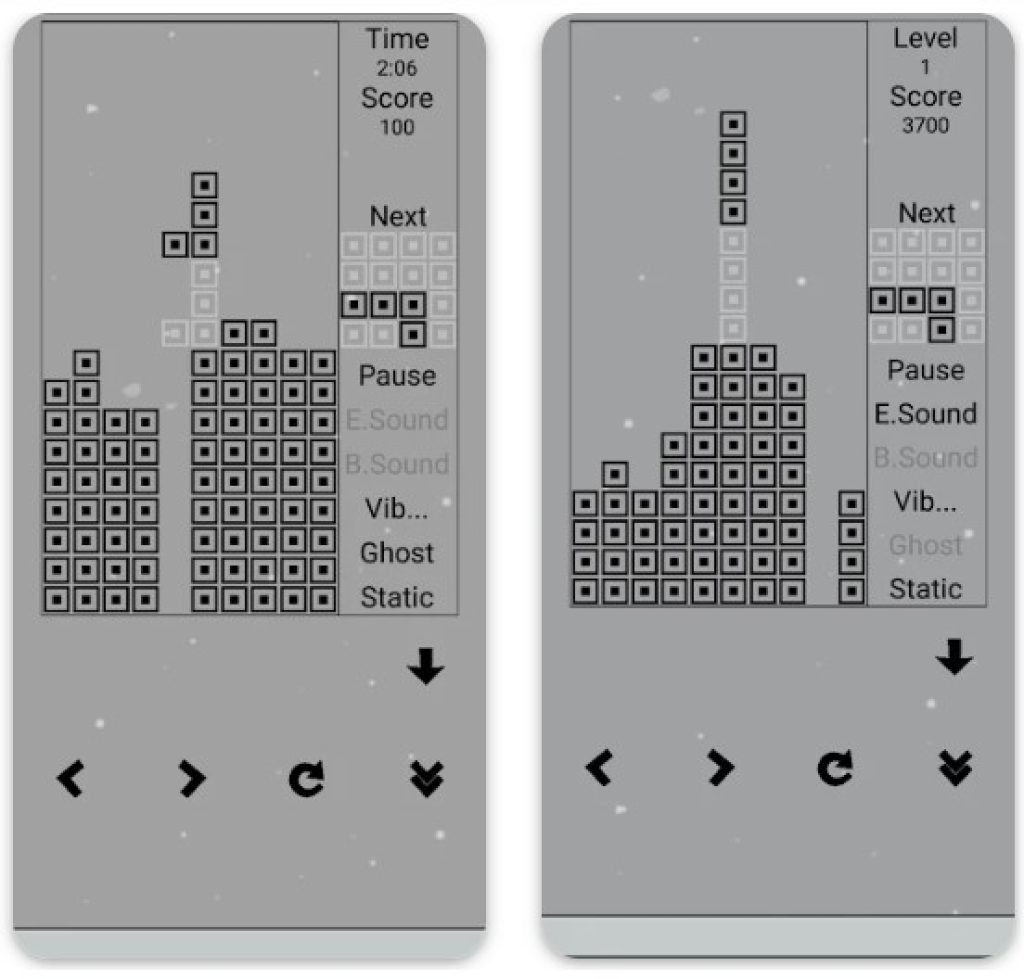 Perfect Block Puzzle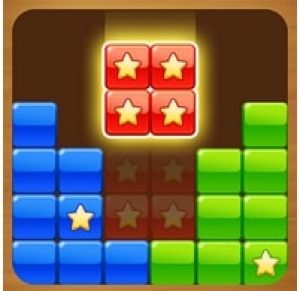 Are you looking for an addictive game that will help you spend time well? If yes, the Perfect Block Puzzle app is what you need.
This isn't a typical Tetris game but it has the same rules and looks like Tetris in general. There are moving blocks you need to drag. Try to create long vertical or horizontal lines. When you do it, the lines will disappear. Just like Tetris.
The game is also very relaxing. According to some users' comments, they can hardly control the time they spend playing.
Perfect Block Puzzle is also an extremely popular game – today there are more than 5 million users registered in the app.
How to play Perfect Puzzle Block?
Play on your own

. If you don't feel like being in a hurry, you can try this relaxing mode. There are no time limitations so you can just focus on the process and enjoy it. You can go for endless mode as well.

Compete with other people

. Should you need to play with others, you can join the league and fight for the gold medal. If you succeed, you can get great rewards that can be used later to buy additional items.

Customize the app

. There are two themes, we recommend the darl one – it looks really smart.
The app is quite small. This is a perfect option for those who try to save their phone memory.
The single mode doesn't require any access to the Internet.
Unfortunately, only Android users can enjoy this nice puzzle game.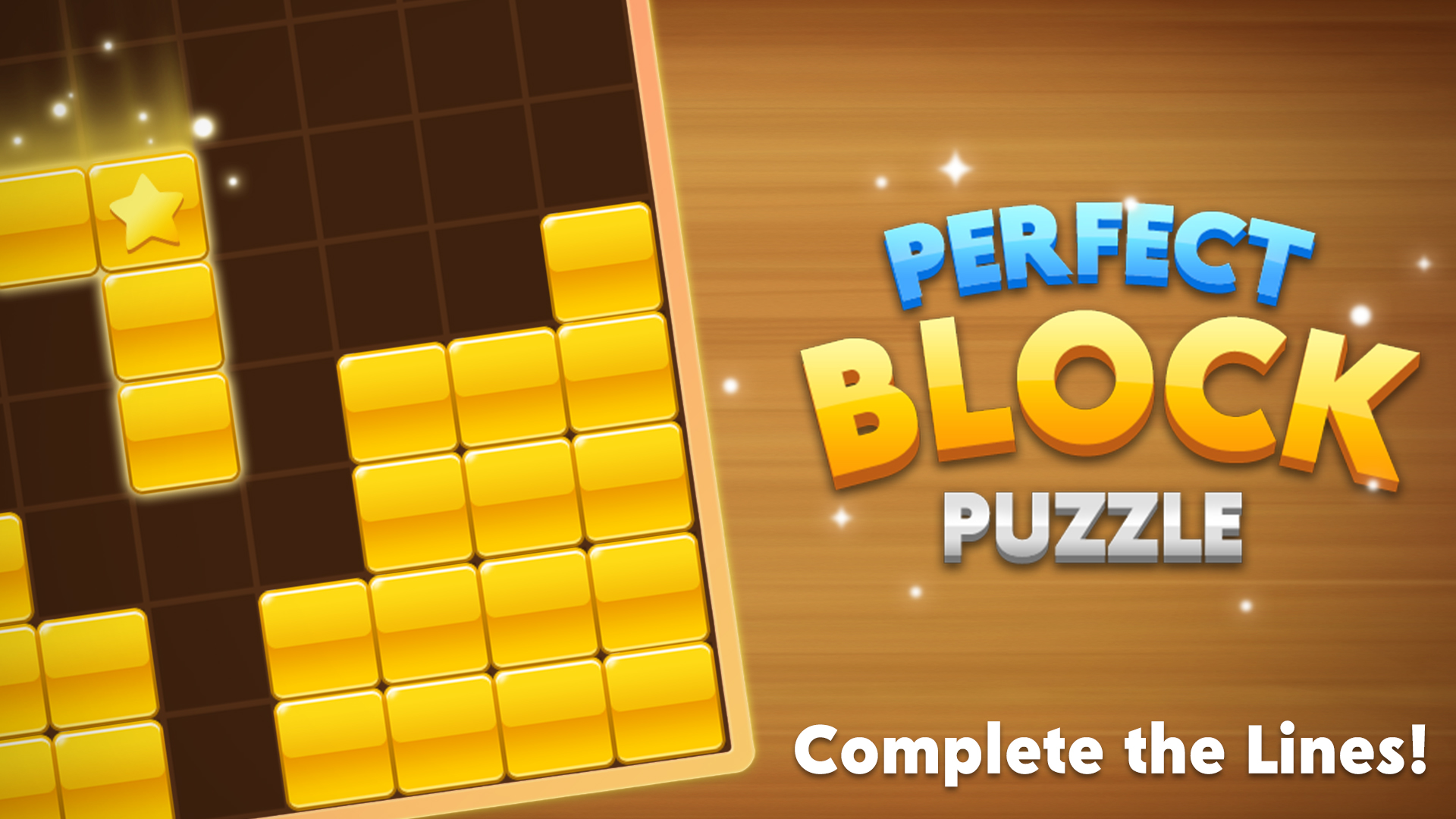 Woody Block Puzzle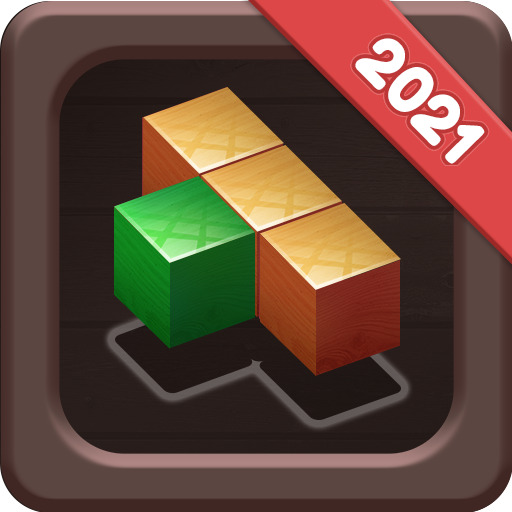 This is a great option for people who love Tetris. However, this game is even better than classic Tetris thanks to its elegant and smart wooden design.
This game helps you relax and train your reaction at the same time. There are different modes of the game:
Free mode

. In this case, you'll have no time limitations and no opponents. This is a great opportunity to spend your time and relax. Playing this smooth game can be addictive but it helps you to deal with pressure and stress.

If you feel like competing,

try to beat other people's scores

. This isn't an easy thing to do but if you fulfill this challenge, you'll become a real master of Tetris.
Colorful and smart design is also one of the best features of the Woody Block Puzzle.
The app is free of charge. There are some premium features though. However, you can easily enjoy playing Tetris without paying for it.
Download it now and start developing your brain and challenging yourself.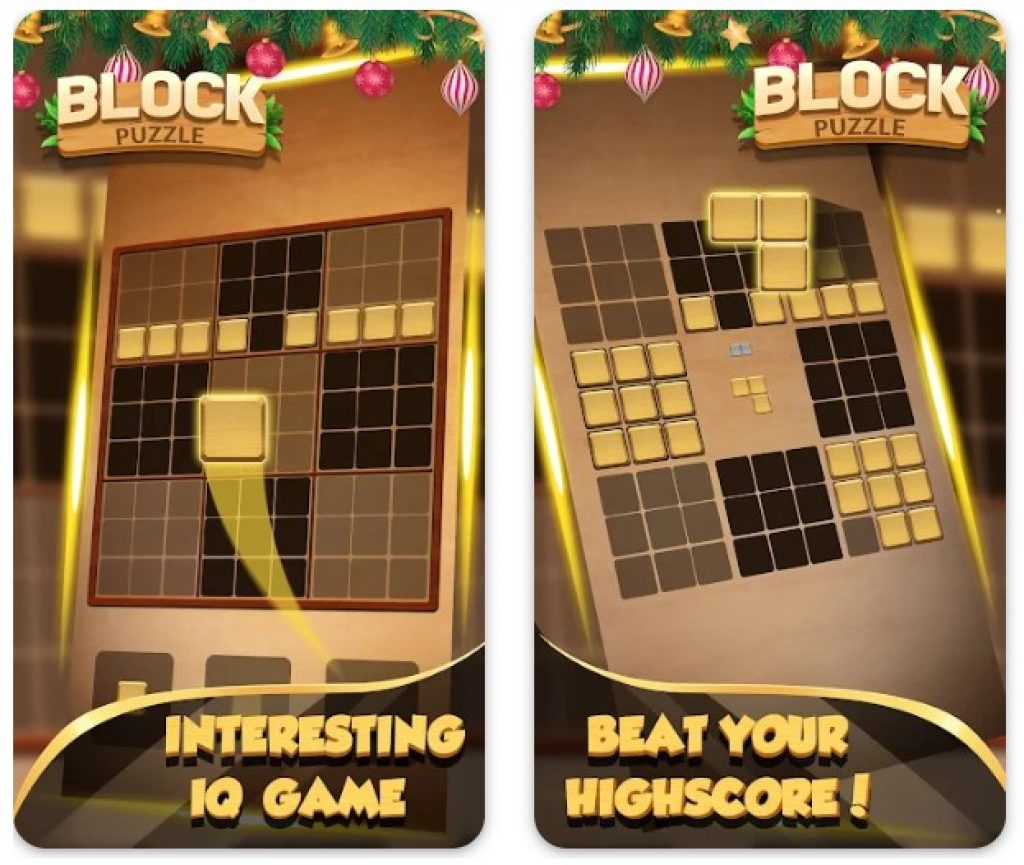 You can also check: 8 Best Word Games With Pictures for Android & iOS
Retro Puzzle King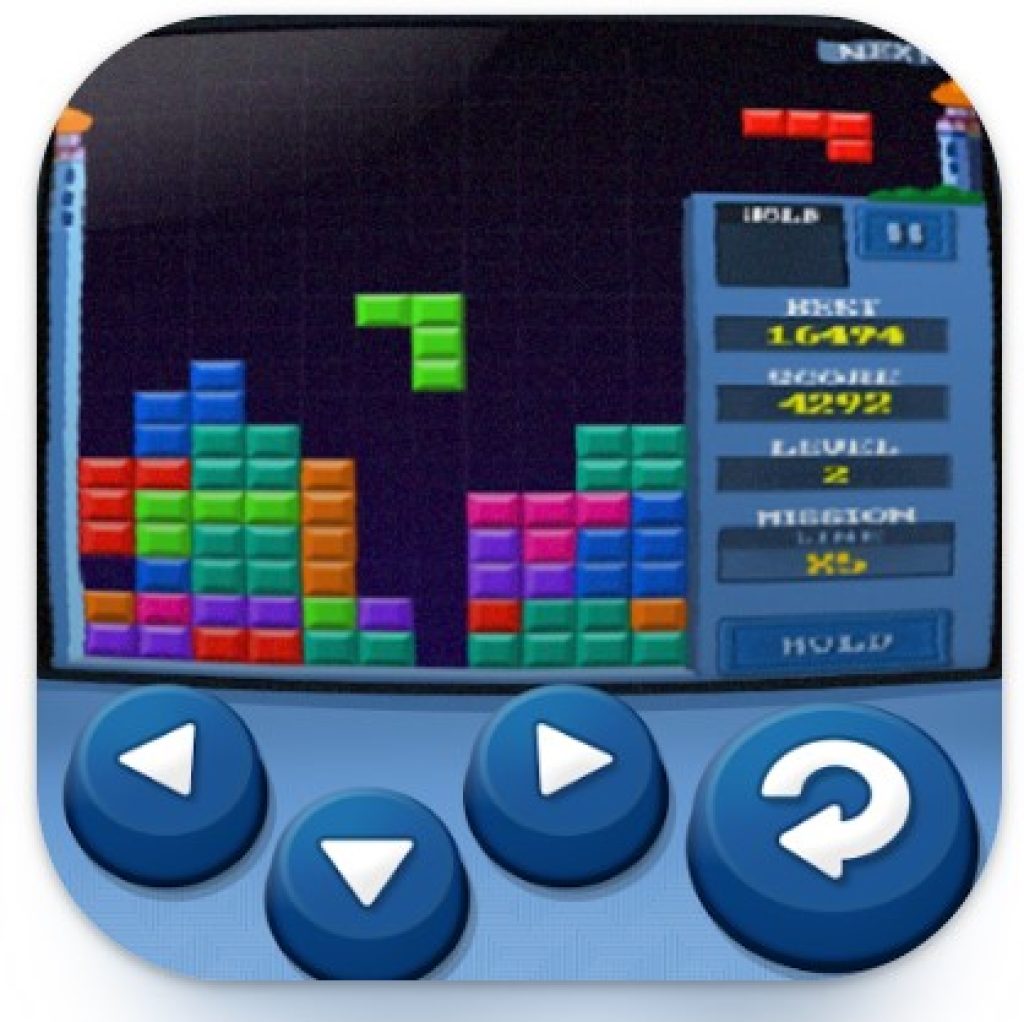 What can be better than the good old retro puzzle Tetris game? Especially, when there is another friend who also likes this theme and is ready to share the fun together.
The game's retro-inspired graphics and convenient controls make it easy to play on the go. Its challenging levels provide cool experiences for players of all skill levels.
Unique and challenging experience for players of all levels
A great choice for couples
A cool option for friends
Retro graphics
Challenging game
And of course, Retro Block Puzzle has a two-player mode, which allows two players to compete against each other on the same device. Invite your friend, lover, family – whatever – it brings people together.
The game's core gameplay mechanics are simple yet addictive at the same time. Players need to fit differently shaped blocks into a grid without leaving any empty spaces. The game's difficulty increases as players progress through the levels.
Retro Block Puzzle also features charming and nostalgic pixel art graphics that give the game a retro feel. The game's retro-inspired soundtrack enhances the experience, creating a nostalgic atmosphere that will appeal to fans of classic video games.
Overall, Retro Block Puzzle is a great game that offers a unique and challenging puzzle experience for players of all skill levels. Its two-player mode makes it a great choice for couples or friends who want to compete against each other, while its engaging gameplay and charming graphics make it a must-play for fans of puzzle games.