Everyone has talents, some just haven't discovered them yet. You may have heard the phrase, but you always thought you didn't really have any creative talents. In fact, we assure you that you can develop some abilities and talents even if you were originally not able to do anything.
For example, drawing: many artists say that only practice and patience will make you a great illustrator or painter.
To develop your drawing abilities, you can resort to modern technology. There are many apps that allow you to not just draw whatever you want but can teach you how to do it. Some apps will help you draw digitally, for example, 13 Best graph paper drawing and digital drawing apps for Android & iOS.
Even if you already have some prerequisites and abilities, you can learn the basics of the human body, shadows, or learn new drawing techniques. Here are 11 Best Apps to Draw Step By Step in 2023 for Android & iOS.
sketch a Day: Daily challenges & tutorials
As we said before, the most important thing in learning to draw is to practice all the time. But sometimes it happens that you don't have any idea what you can draw on paper. In that case, we strongly recommend that you install the Sketch a Day app.
Not only will it tell you what to draw, but you'll be able to track your progress, look at the work of other students and artists, and get in the habit of drawing every day – even if it's just a little sketch.
Sketch a Day gives its users a new idea for their drawings every day. You will need to complete a task, take a picture of the resulting sketch, and upload it to the application. Then everyone in the community can see it and evaluate it – so you can share your experience and talent with other people.
Sketch a Day also has a special "Learning" section with various step-by-step guides and drawing tutorials. There you can find watercolor drawings, unusual pictures of people, and many other things that can help you develop further.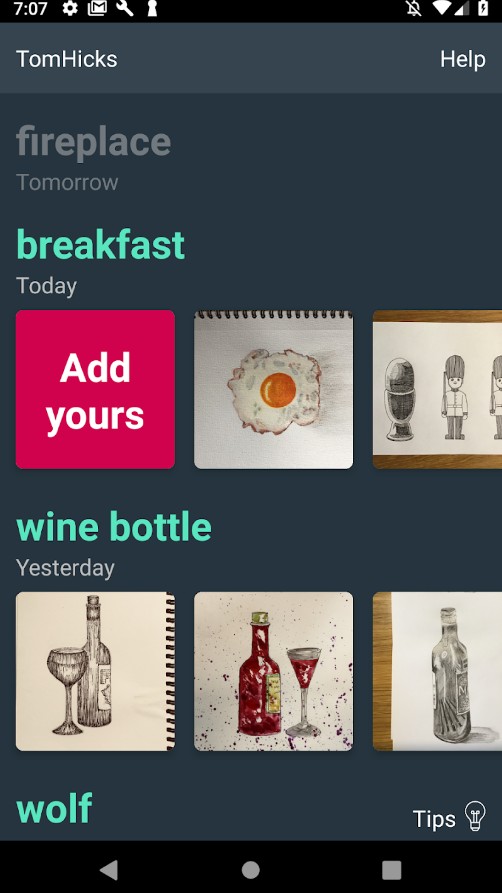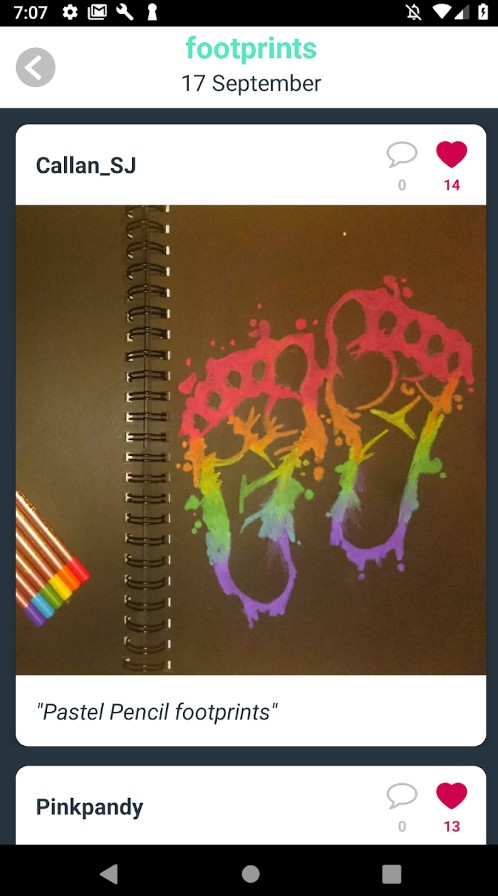 You may also like: 11 Free photo sketch apps for Android & iOS
How to Draw – Learn step by step by ViyanApps
Every activity should be learned gradually. At first, you learn the basics and the most basic knowledge, and then complicate the task and begin to develop.
With the application How to Draw you can learn the basics of drawing or offer your child to learn it. Here are fairly simple, but creative drawings that are not as difficult to create, as you think. How to Draw explores drawing shapes, proportions, colors, and more.
Of course, there is a separate category in the app for step-by-step drawings. It separates all the drawings by theme or difficulty-for example, desserts, eyes, animals, and so on. In each such category, you learn something new while following the instructions.
How to Draw will not give you a personal teacher, you will learn to draw on your own. You can always be guided by what is shown on your screen, gradually moving from one drawing step to the next. Learning how to draw is easy, the main thing is to have desire and free time.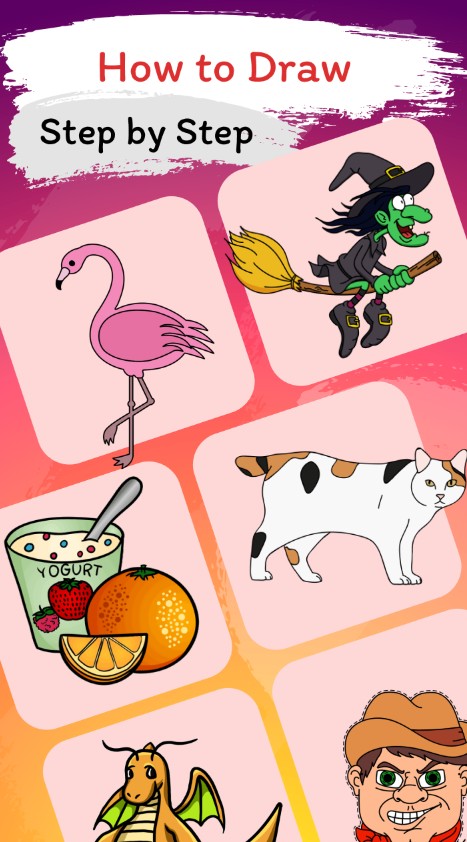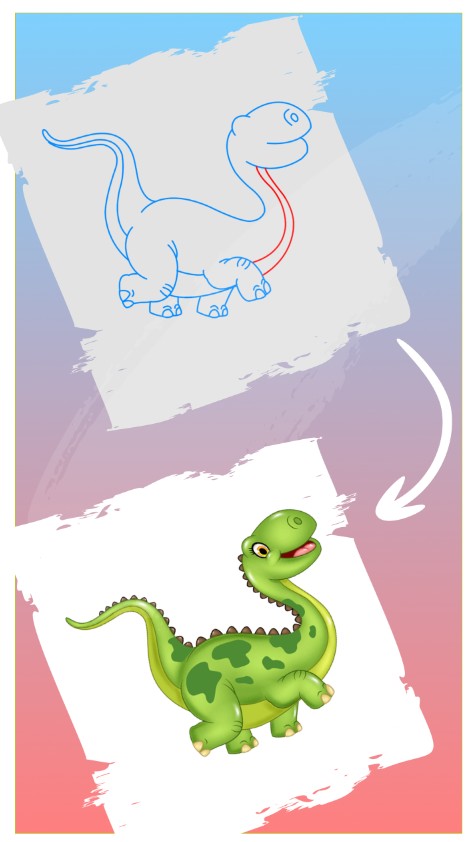 Easy Drawing: How to draw Step by Step by Better Life
You can learn how to draw at any age, but it is better to start developing any talent from childhood. Easy Drawing is aimed at kids, but the reality is that anyone who wants to learn how to draw can use it.
Here you will learn your very first drawings, the basics of animation and geometry, as well as the use of ready-made templates and drawings. Easy Drawing turns the process of drawing into a game, which is very liked by children.
The application contains many different drawings – of course, all of them are quite simple. For example, it can be animals or cartoon and fairy tale characters. You choose what you would like to draw at the moment, and the app will help you realize it step by step.
Once you've finished your creation, Easy Drawing offers to watch a video of how you did it all. The video shows the gradual manifestation of the drawing, how you created it in parts, and how you went from a simple sketch to a finished picture.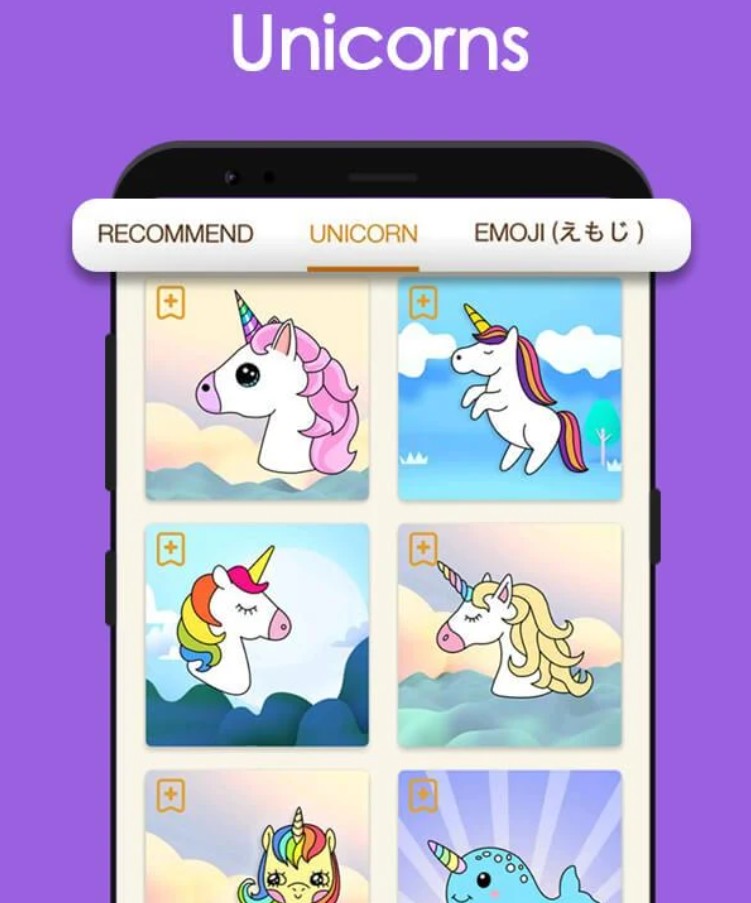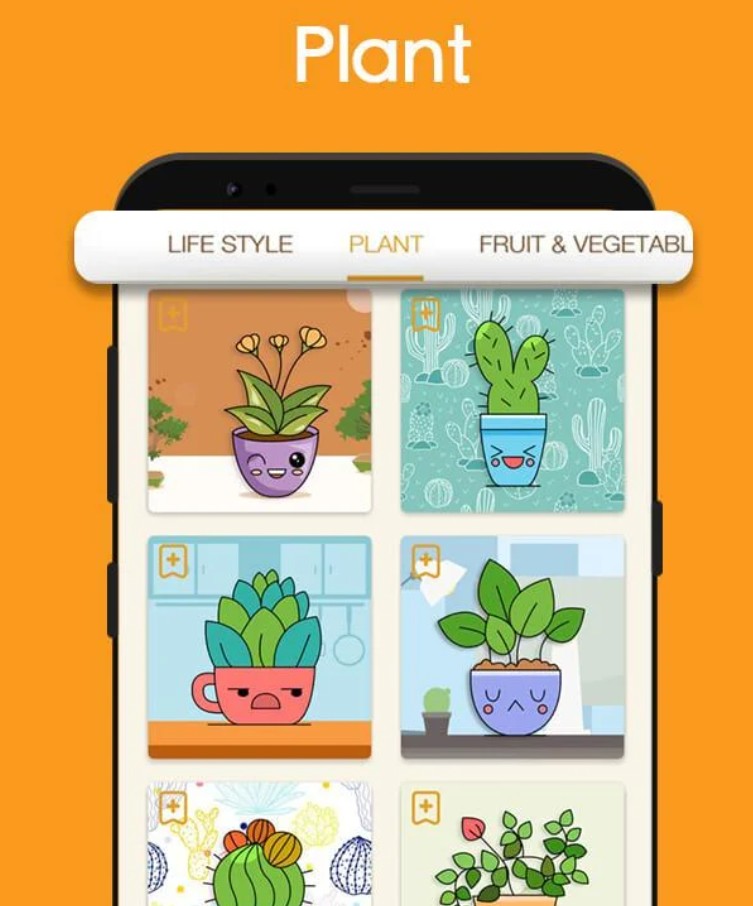 how to draw anime step by step by Smart Room Apps
Anime is a fairly popular genre at the moment. This style is used for creating games, drawing and writing manga, comics, cartoons, and much more. If you like the look of such drawings, then it's time to learn how to create them yourself.
The application How to draw anime will tell you step by step how to create drawings in the style of anime, which are the main features of such drawings, and what features of the genre should be observed.
How to draw anime teaches you to draw cute characters, beautiful girls, as well as teach all the basics of the genre. For example, when drawing a full-length, you must observe certain proportions, as well as know the basic features of the faces of these characters.
In anime, they are very different from the drawings in the style of realism – How to draw anime tells than.
Step by step instructions will accompany you throughout the process of drawing, and you can start a new drawing at any time – you do not have to finish it at once. Moreover, that How to draw anime is available even without connecting to the network.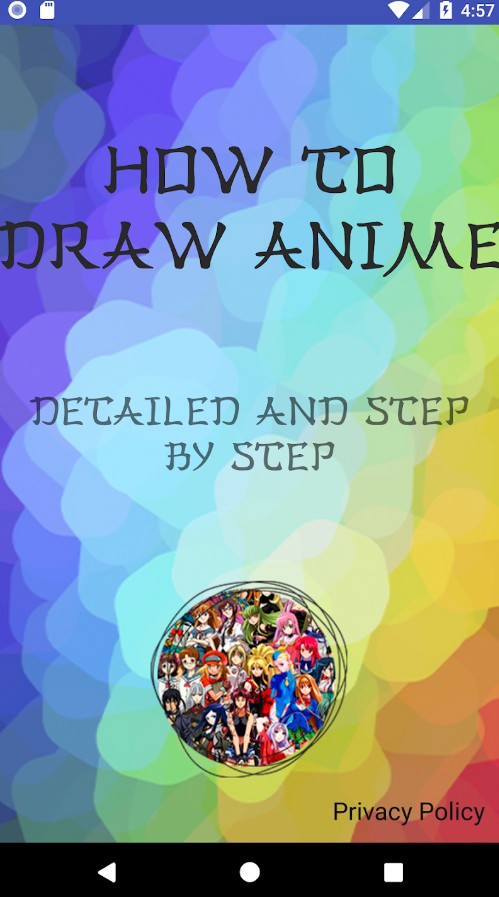 You may also like: 12 Free Anime Drawing Apps for Android & iOS
Drawy. Drawing step by step by Alexey Landyrev
Want to learn the basics of visual art? Looking for an easy application, which would help you to learn how to draw? Drawy app will help you to develop your drawing skills and give you only a couple of minutes of your free time.
With Drawy, you can draw step by step, so that you can get a nice, full-fledged drawing. You can start with any level of difficulty – even with the simplest drawings, which are mostly designed for children.
Drawy has over 40 step-by-step tutorials that you can follow as you learn. Over time, you'll progress from the simplest to more complex sketches, and eventually, you'll be able to draw on your own without the need for prompts.
Millions of people learn to draw with these instructions, and Drawy helps you have access to them from your smartphone. It's also where you can get your drawings graded – Drawy has an automatic built-in grading algorithm that lets you know if you can move on or if you should practice a little more at this level.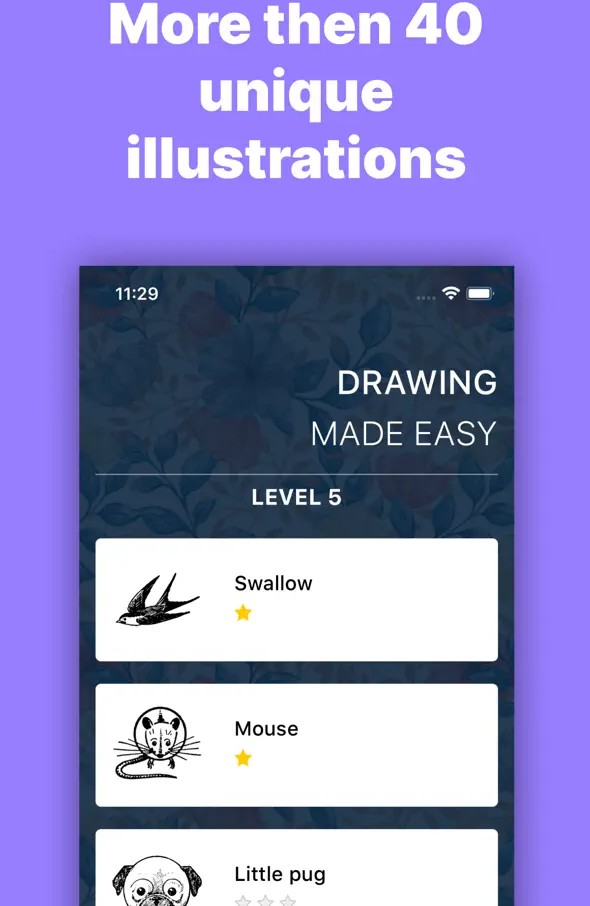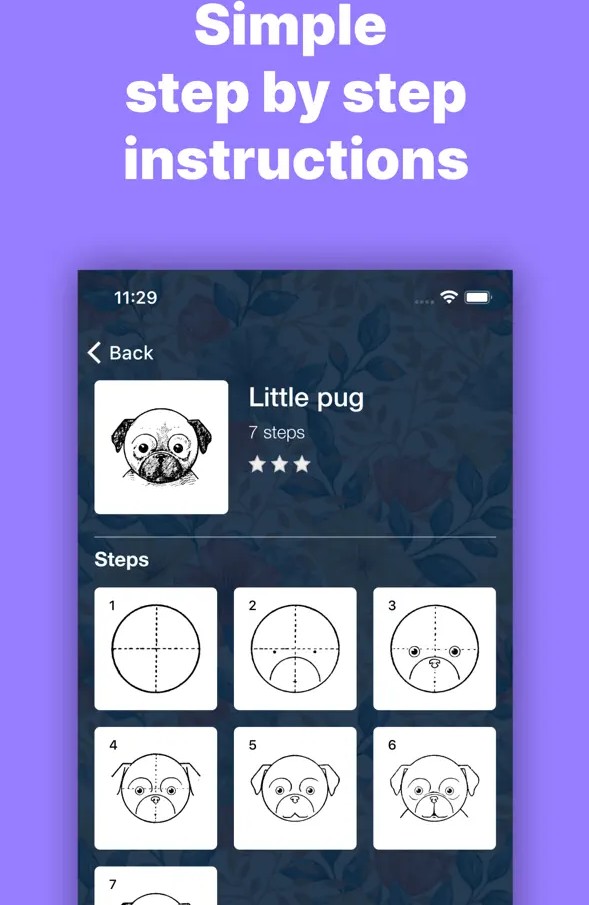 WeDraw
The WeDraw app offers a diverse selection of drawing tools and brushes, allowing users to create various artworks ranging from simple doodles to intricate illustrations.
Users can access an extensive collection of pre-designed artwork, offering inspiration and guidance for their creative endeavors. Additionally, the app allows users to draw on photos and images, providing the flexibility to customize and personalize their creations.
Also, users can share their artwork with a community of like-minded individuals, receive feedback, and appreciate the work of others. This sense of community fosters motivation and encouragement for artists to continue developing their skills.
The app's intuitive and user-friendly interface ensures that both beginners and experienced artists can navigate and utilize its features with ease. Whether you want to indulge in casual drawing or pursue serious digital art projects, WeDraw accommodates various art styles and preferences.
WeDraw is an excellent platform for step-by-step drawing. The classes are suitable for both children and professionals.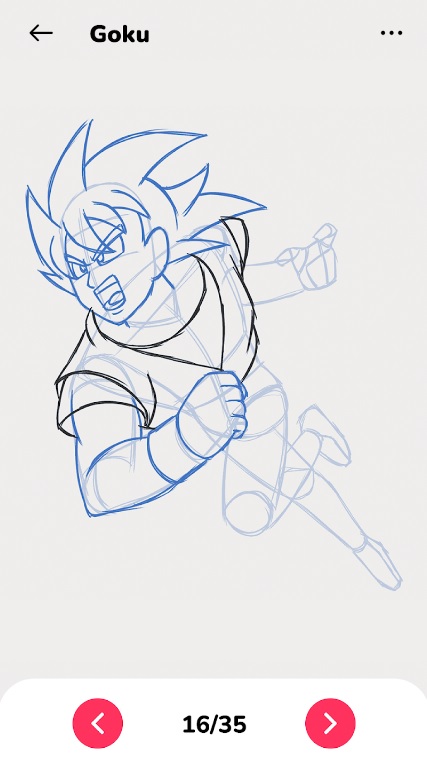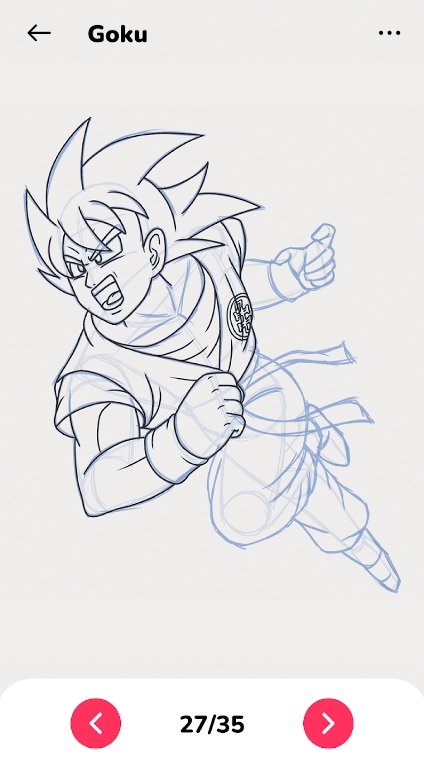 Learn Drawing by Learn For All
The urge to learn how to draw comes for a reason. You see a cartoon or movie character, a beautiful landscape, or a beautiful object and realize you want to draw it yourself. The Learn Drawing app can make your wish come true and draw your favorite character or characters on paper.
With each update, there are more and more new characters in the application, among which, perhaps, there will be those that will interest you. You can also find a lot of interesting things in the application, in addition to the step-by-step tutorials.
For example, in Learn Drawing there are special tutorials designed to teach you how to draw with a pencil sketch. And of course, there are many different anime, cartoon, and movie characters that you can draw yourself.
Learn Drawing will tell you which step is next in your sketch and what to do to make your drawing look exactly like your hero. The application will help all the beginners with the basics of drawing, as well as suitable for those who just want to try themselves in creativity.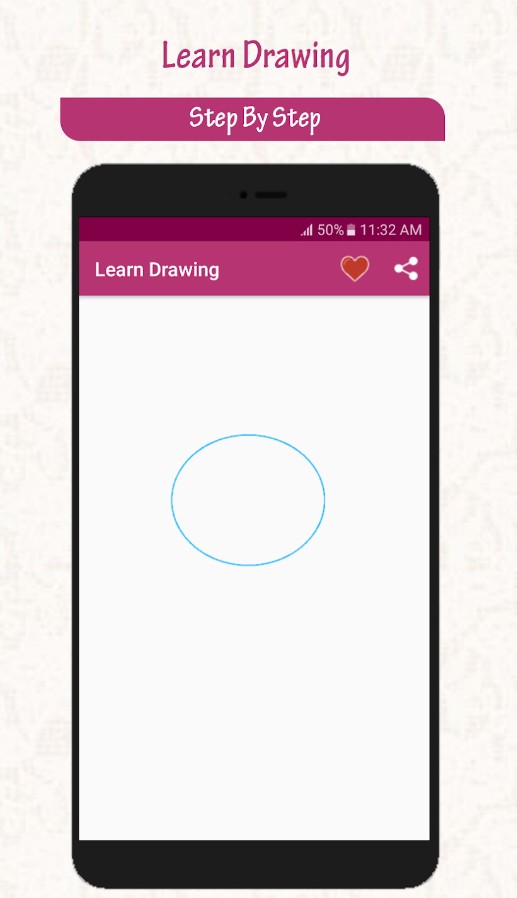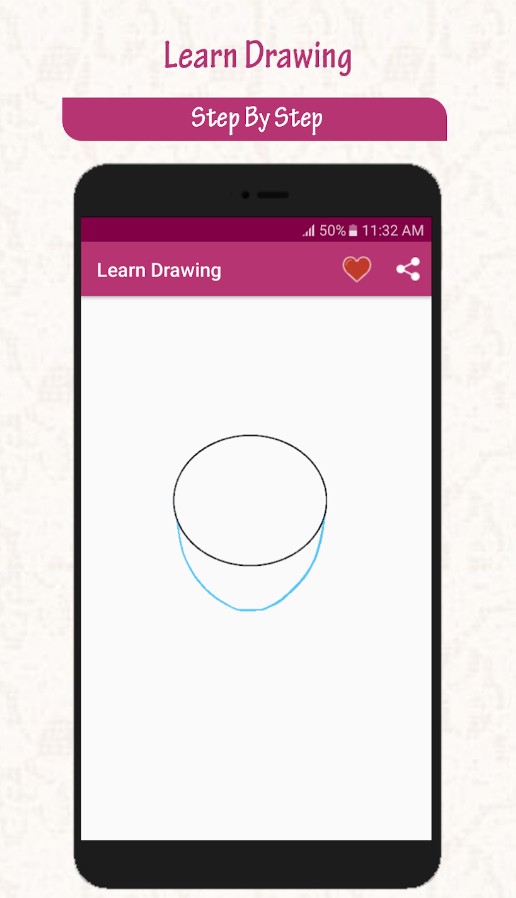 Learn Drawing by Rstream Labs
Learn Drawing is a colorful and convenient application that will teach you how to draw even for beginners and children. With the help of special video lessons, you will be able to create sketches, draw, find inspiration, and so on.
By practicing constantly, you will get in the habit of drawing at least something every day – cartoons, sketches, interesting details, and so on. In Learn Drawing there are different categories, which are divided into step-by-step lessons – you can immediately choose exactly the category that will suit your needs.
The video lessons show not only the steps and give tips, but there is also information about different drawing techniques and methods of building characters. Drawing exercises, which are in each category, teach you to draw and imagine how this or that subject will look on paper.
If you want to quickly and easily learn a new skill, then we can recommend you Learn Drawing. Videos always help you better understand the information, and you will see how exactly you should place lines and details on paper.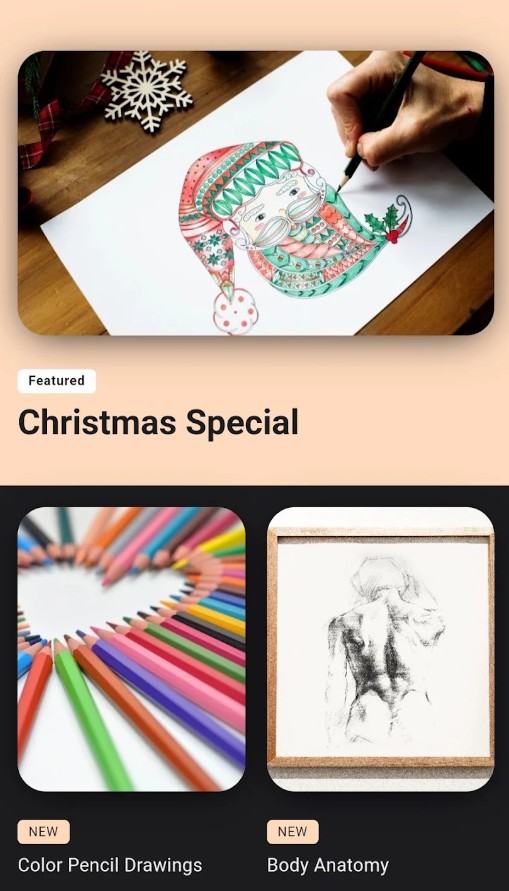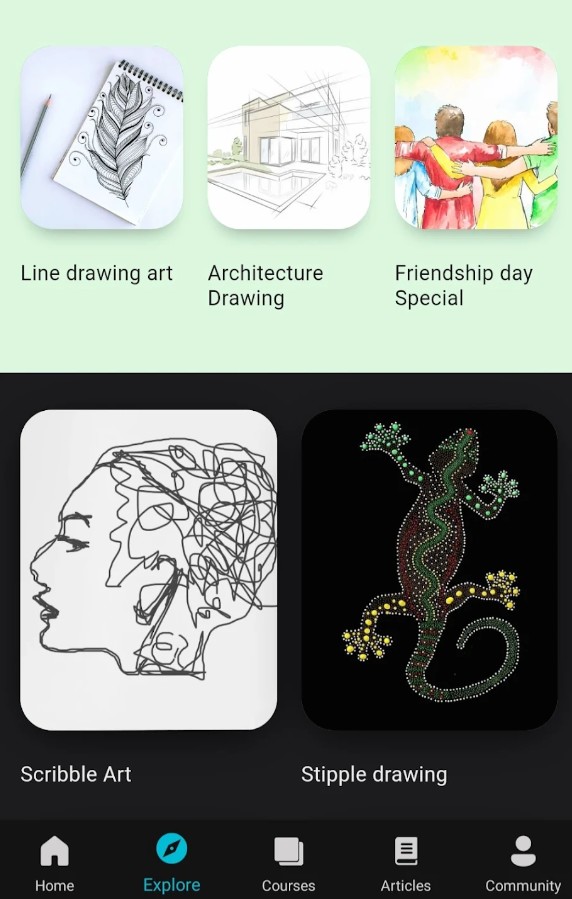 ColorColor: Step by Step
ColorColor: Step by Step offers aspiring artists, beginners, and art enthusiasts a platform to learn and improve their drawing and sketching skills. The app provides step-by-step tutorials and lessons on drawing various subjects, with a particular focus on portrait art.
With this app, users can learn to draw realistic portraits of people, animals, and more. The tutorials are designed to be easy to follow, allowing users of all skill levels to create impressive artworks.
Users can explore different subjects and styles, helping them expand their artistic abilities and experiment with diverse drawing techniques.
For aspiring artists, this app offers a convenient and accessible way to practice and improve their drawing skills at their own pace. The step-by-step format makes the learning process engaging and interactive, allowing users to see their progress as they complete each stage of the artwork.
All in all, ColorColor is a useful app for those people who want to get drawing skills. It is really effective for beginners.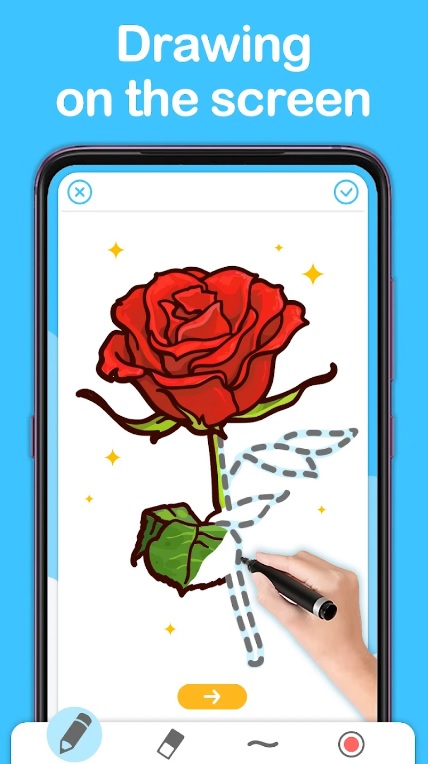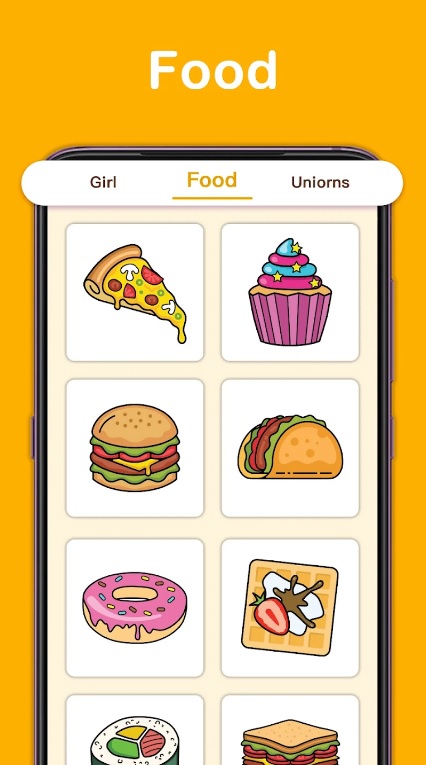 How to Draw Kawaii Drawings by Sweefit Studios
Cute drawings are created every day by different people who are not even related to the art world. The fact is that people decorate the pages of their diaries, notebooks, and other writing books with these small images.
How to Draw Kawaii Drawings will help you learn how to create these cute drawings, so you can decorate any pages of your notebooks with them. Moreover, each of the drawings will not take much time and will be easy to make.
In How to Draw Kawaii Drawings there are not only the simplest drawings. There are also higher levels of difficulty, to which it is better to go after some time of learning.
You'll watch step by step how your sketch becomes like a final and full-fledged drawing. Also in How to Draw Kawaii Drawings you can color them, add some details, and even share the resulting cute creatures on social networks.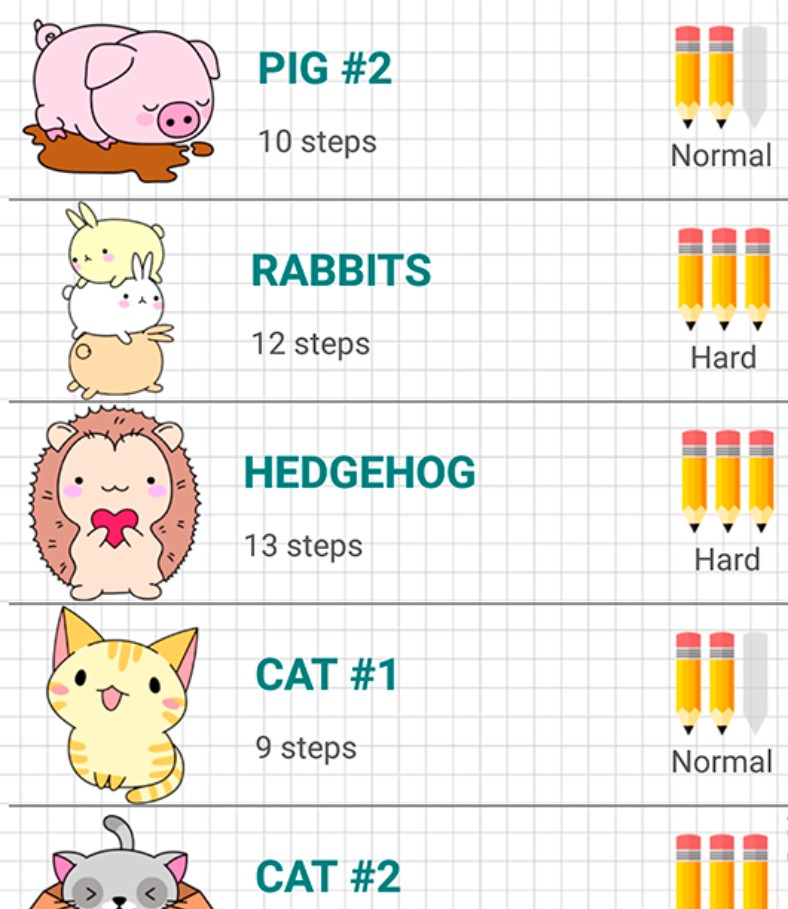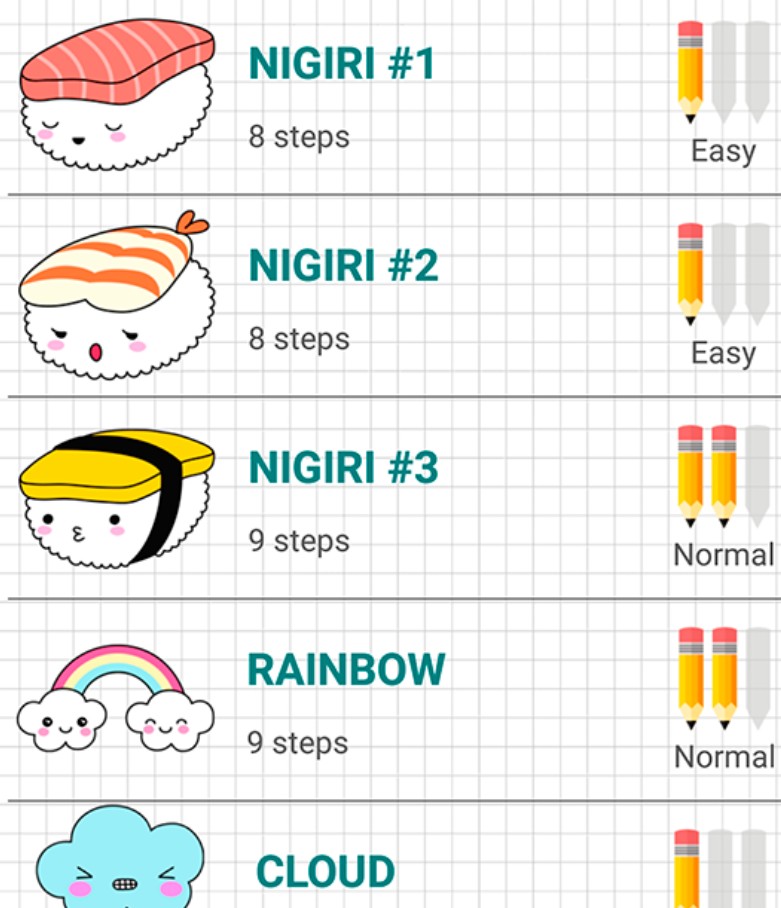 You may also like: 7 Best Disney Drawing Style Apps
How to draw animals. Step by step drawing lessons by Udenity
Drawing in the style of realism is probably the most difficult direction. The thing is that in sketches and manga you can easily make a mistake that will not be too clearly visible – for example, make eyes too low or too small hands.
In the realism genre, every detail is important. How to draw animals will help you learn how to draw animals as if they were real – but it will take patience and time.
In the app, you are encouraged to start with the simplest vector drawings that have little to do with real animals. Gradually in How to draw animals you will move on to more complex pictures, following the instructions and gaining new skills.
In a very short time, you will understand how to draw animals believably, and you will be able to draw anything you want. It is worth noting that children can be taught in How to draw animals – the learning process will go much faster, as well as better disclose the talent.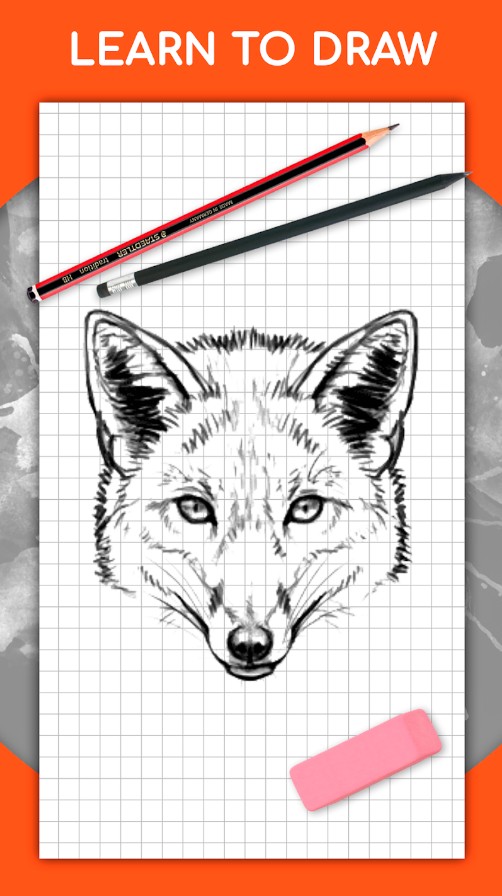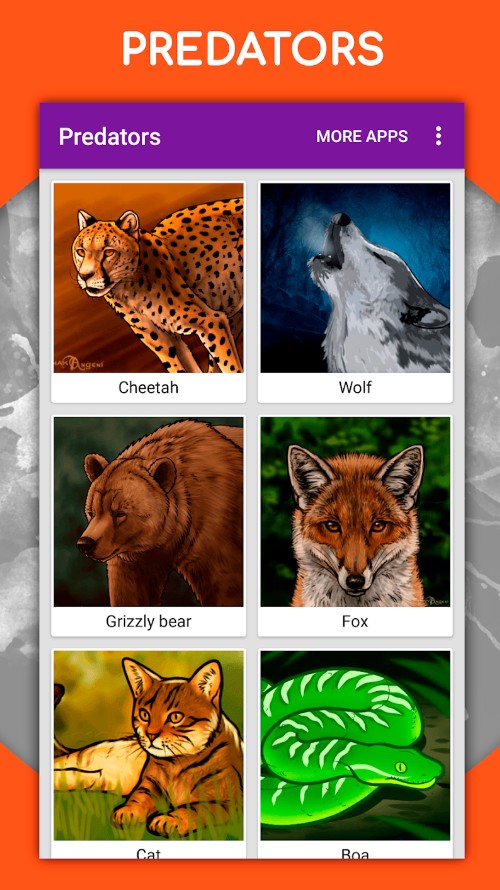 A true artist is always practicing and looking for his own style – maybe you like sketches, landscapes, or drawings with the addition of abstraction. A unique style and handwriting can be discovered while you are still learning – for example, you may like to draw in 2D or sketches.
Since the apps teach you to draw step-by-step, at some point you'll get past that stage and be able to create your own drawings from scratch without using any cues. The most important thing to discover your talent is to practice and never give up.
With Step By Step Drawing, even a child can learn to draw! We hope that the apps we have gathered for you will help you become an artist.