There is always something going on in the football industry. New matches take place every week. There are such top competitions as the English Premier League, Champions League, and other top European championships. The streaming apps in the list below will help you get access to all of them on your mobile device.
These apps have become a real trend in the past few years. Seriously, who would depend on TV when you can watch all the channels on your smartphone?
Nowadays many streaming apps are not only aimed at streaming but also at introducing you to additional information about matches, scores, live chats, bets, and a lot more. Everyone can find something for themselves in the list of best football streaming apps in 2023 for Android and iOS devices down below!
Live Football TV App & Scores
This app will turn your phone into a multi-optional football fan platform. It contains official TV streams of football matches from all over the world.
It provides match schedules along with multi-platform broadcast listings. And it also includes the latest news from the football world: match stats and events, live scores, news, and analysis.
In other words, the developers have collected all the necessary functions for football fans out there. Any competition, no matter whether it is a recent one or a legendary one, cups, broadcasting competitions from all the popular sources: tv, online, on-demand, online audio, and radio broadcasts.
With this app, you can get the latest updates on scores, match stats, and commentary, and also get notifications about the games with your favorite team.
Live Football TV is a smartphone application from LiveSoccerTV.com. This is a reliable source in the sporting world. There is an option in the app which is called "personal calendar".
You can mark important football events there and when it's time you will get a notification. If you want, you can watch the local life and replay broadcast listings chosen by day, team, or competition.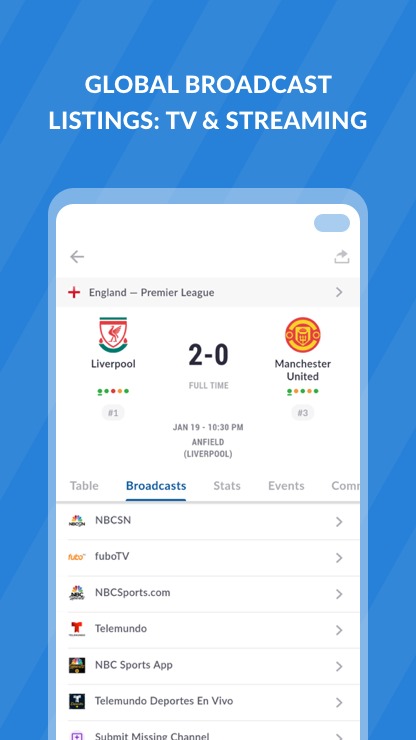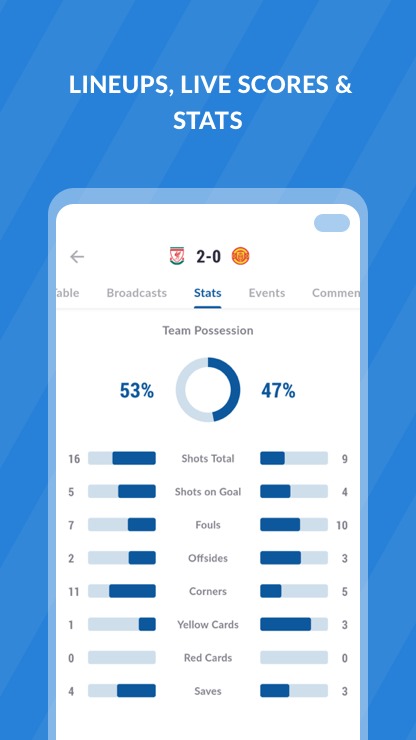 You may also like: Top 11 sport video analysis apps for Android & iOS
StarTimes – Live TV & Football
Are you looking for a service that will provide you with a ton of channels including sports ones? StarTimes is what you need! With it, you will get a chance to watch exclusive football matches from different leagues, such as Bundesliga, Serie A, Ghana Premier League, FIFA, ICC, and Ligue 1.
Add to this the possibility to watch online videos on more than 400 channels and you've got a multi-optional app that doesn't limit you in anything.
Since the range of available programs is huge, you can pick up something interesting every day. If you do so, you will get daily recommendations based on your preferences. Besides live streaming, there's the latest news from the football world.
If you are planning to watch a significant football match and you're afraid to forget about it, you can set a reminder and the app will send you a notification before the match starts.
By the way, there are automatic notifications of all the important matches. So, wherever you are, you can always rely on this mini-TV on your smartphone!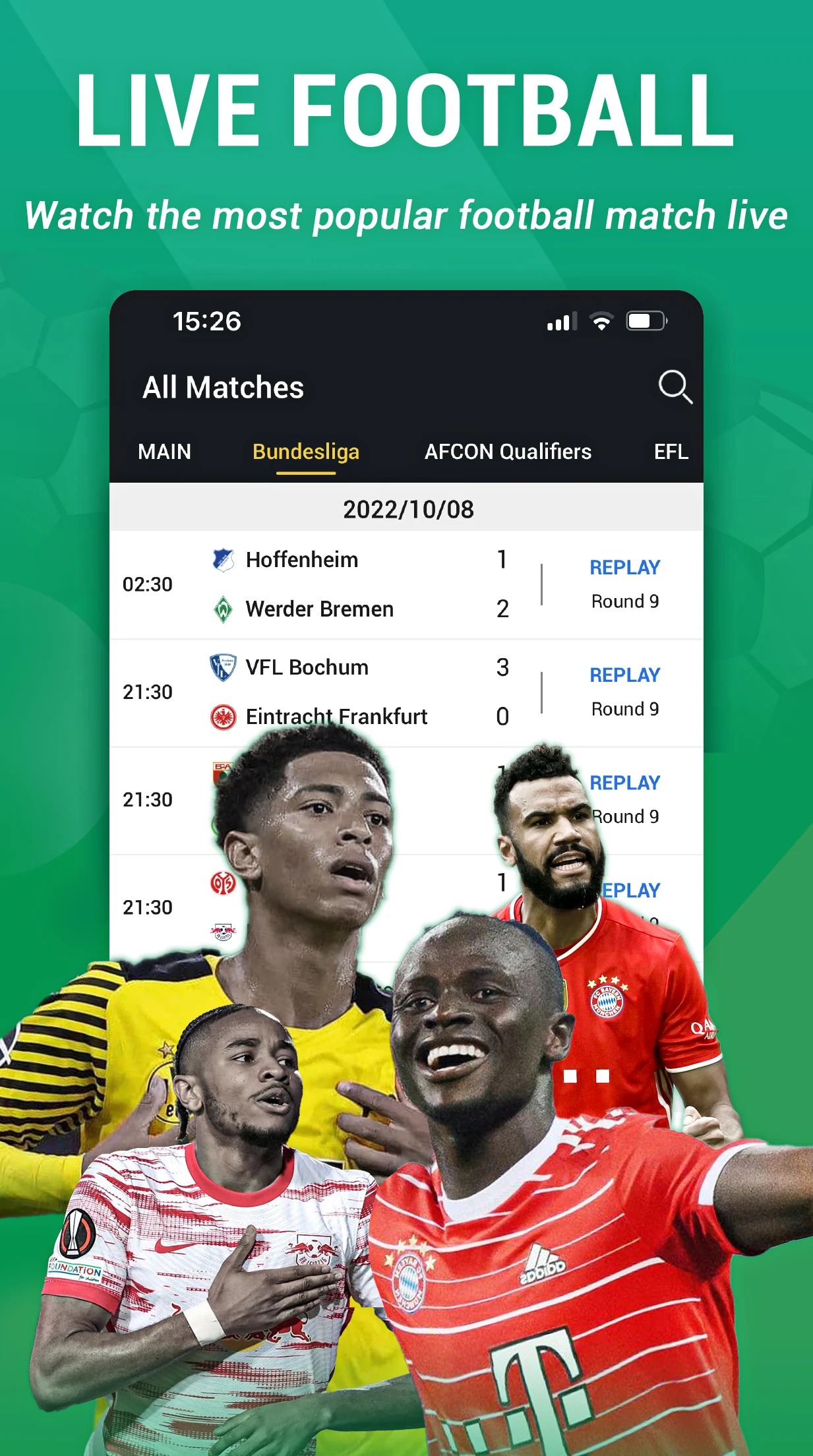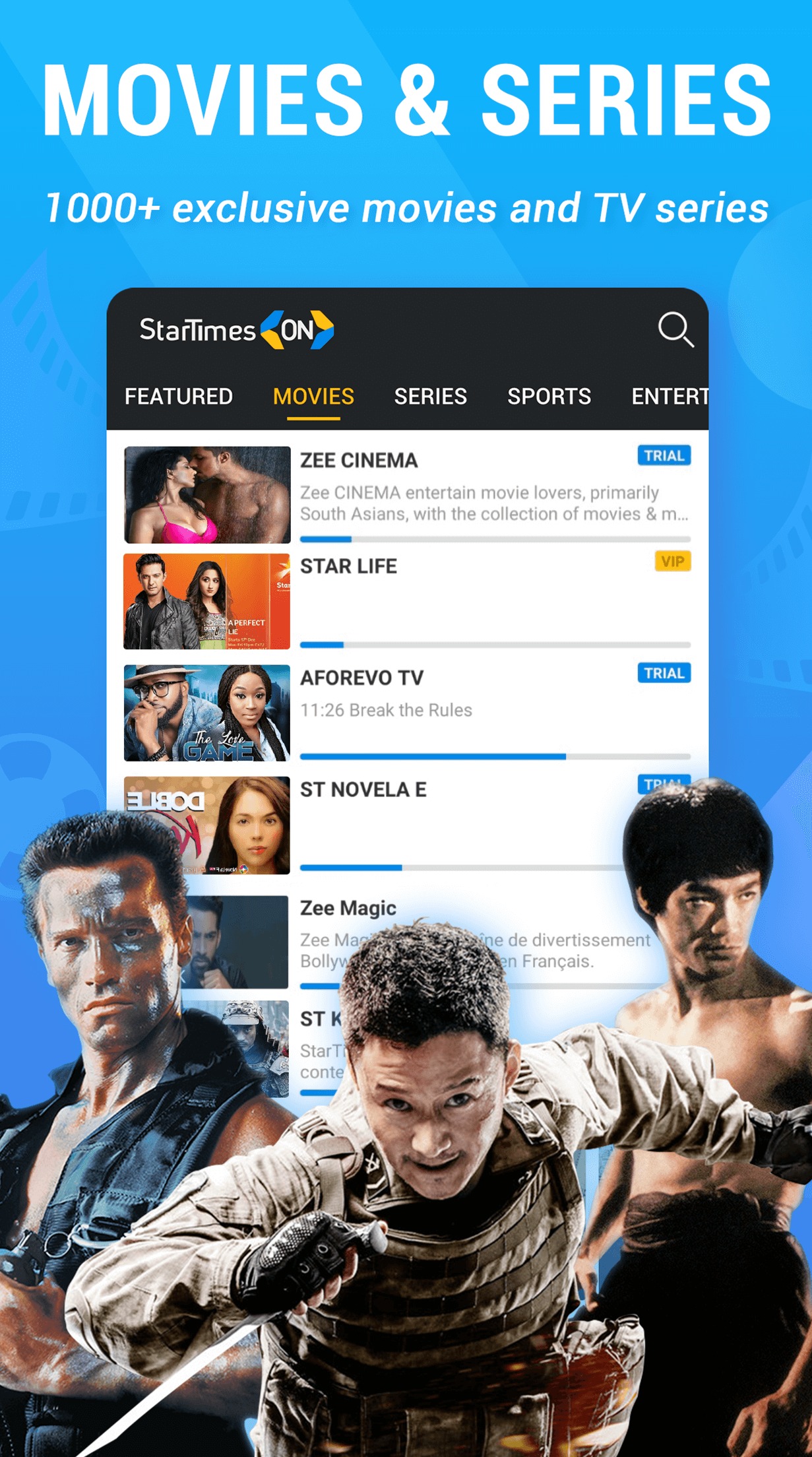 fuboTV: Stream Live Sports
This app provides live streaming of all kinds of sports, not just football. However, even if we are talking only about football streaming here, this app has a number of decent features that make it stand out from the others. You will get access to more than 65 live channels.
The most popular ones, such as CBS, CBS Sports Networks, FOX, NBC, FS1, NBCSN, NFL Network, NFL RedZone, NBA TV, beIN Sports networks, and many others, will be available at any time.
What is more, new channels are added regularly. The app highlights all the essential events from the sports world, for instance, NFL, NBA, MLB, and so on.
There is also regional sports coverage. Another advantage is that the app has 30 hours of Cloud DVR space. So, in case you miss a match you can watch it later – it will be in the program. You've got three days to watch that game.
The app is multi-functional and works not only with the iPhone but also with iPad and Apple TV. Now there's also an Android version of the app. The quality of streams is top.
The app includes over 10,000 hours of on-demand TV shows and movies – you can watch those between football matches. Finally, the app has been praised by such authoritative sources as Forbes and BGR.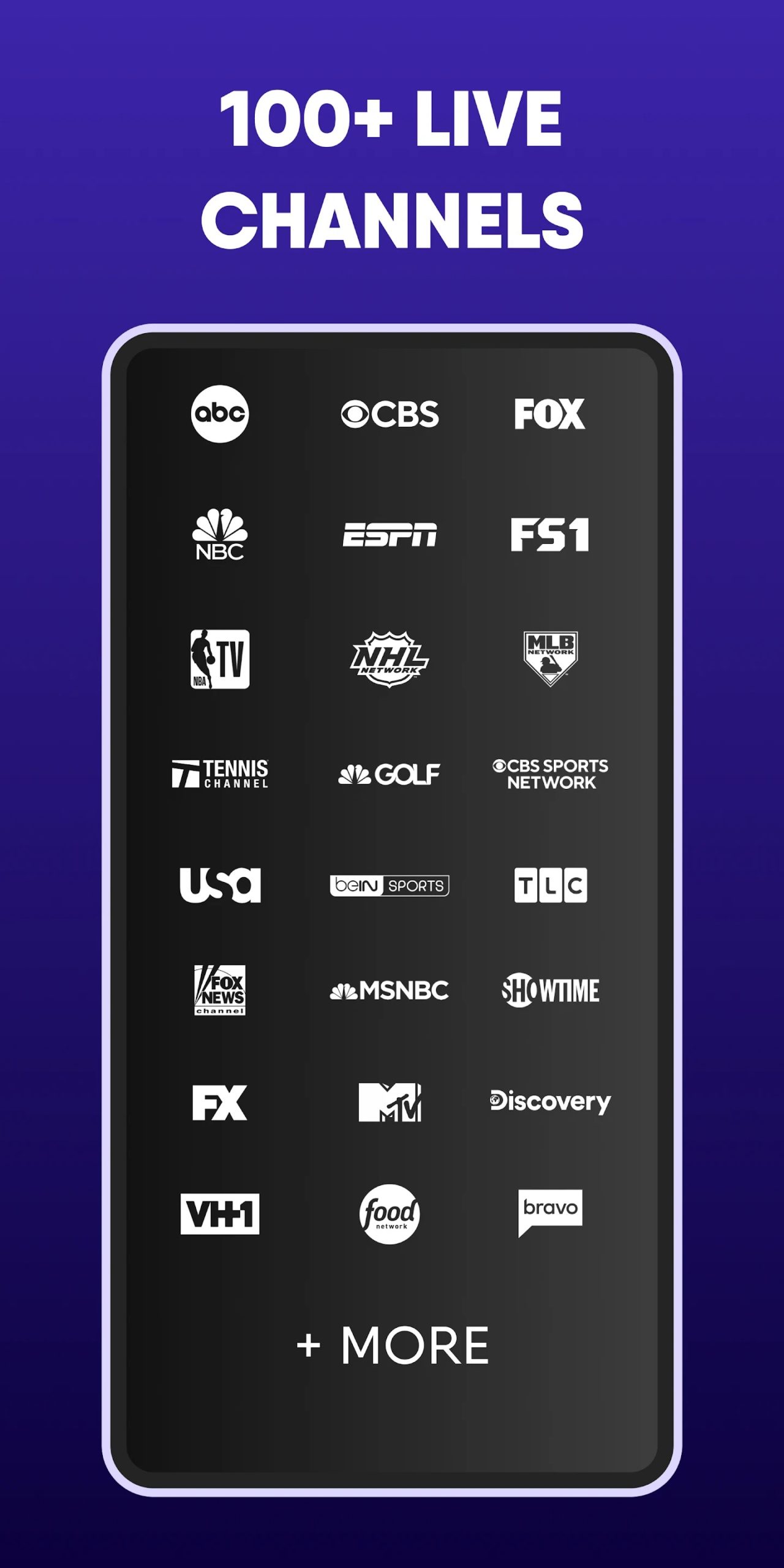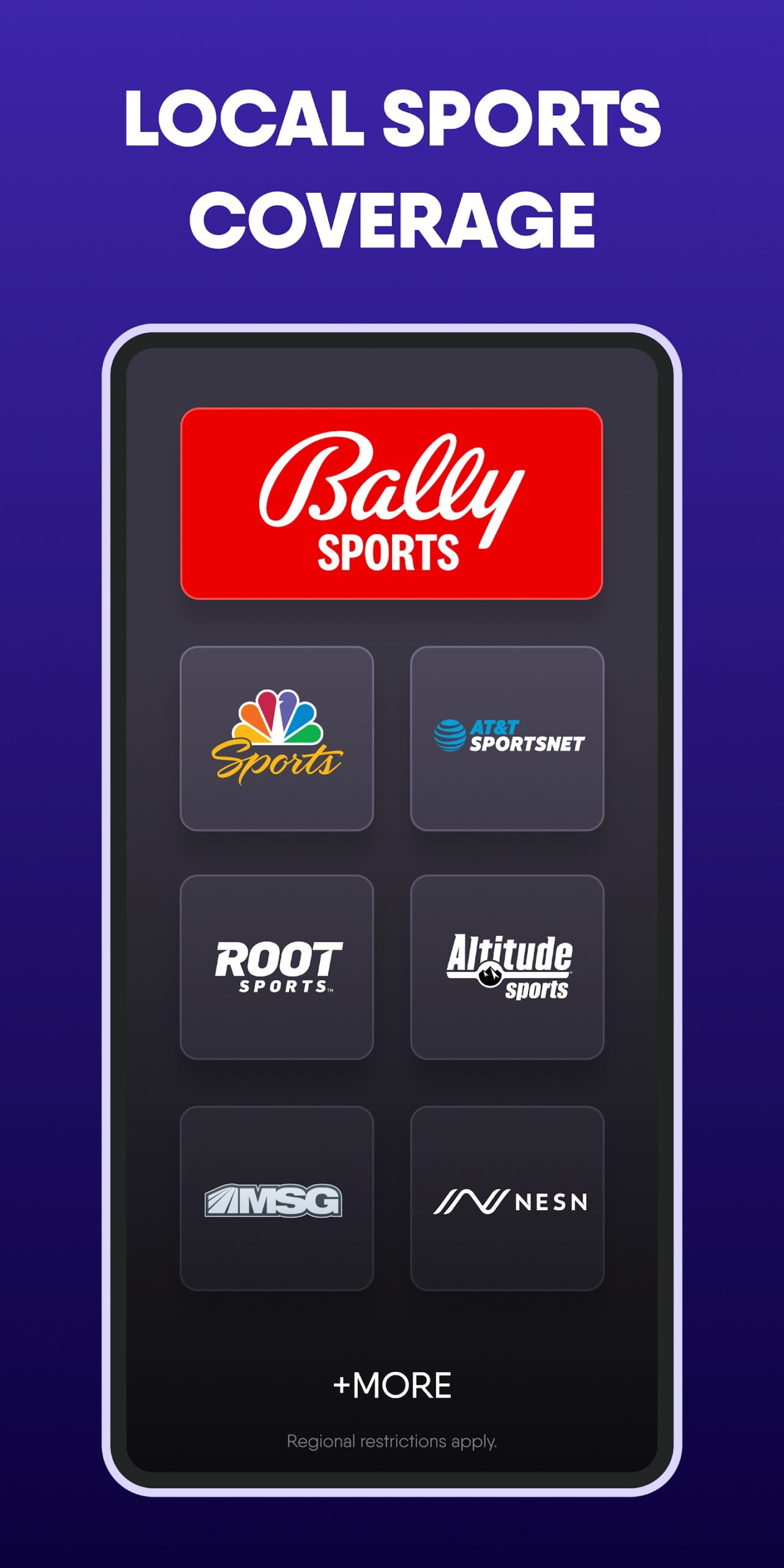 DAZN
A new sports streaming app is on the market. Here you can watch not only football but also the streaming of other kinds of sports. The app itself is free, but when you open it and want to watch something live you will need first to get a free trial, and then you will need to get a subscription.
Apart from the live streaming, the app includes sports highlights, where you can review the best moments of the sports tournaments if you want. Moreover, here you will find interesting documentaries produced by the DAZN company and other interesting stories.
And if you want to obtain more features and exclusive functions in the app you should send the request – all of those will be able for an additional payment. Once again, on DAZN you can watch not only football but also UFC tournaments and basketball leagues.
The design of the app's interface is super simple – to be honest, we were not really impressed by it and it looks a little bit obsolete. Moreover, the app claims to have some recordings in its store that it actually doesn't.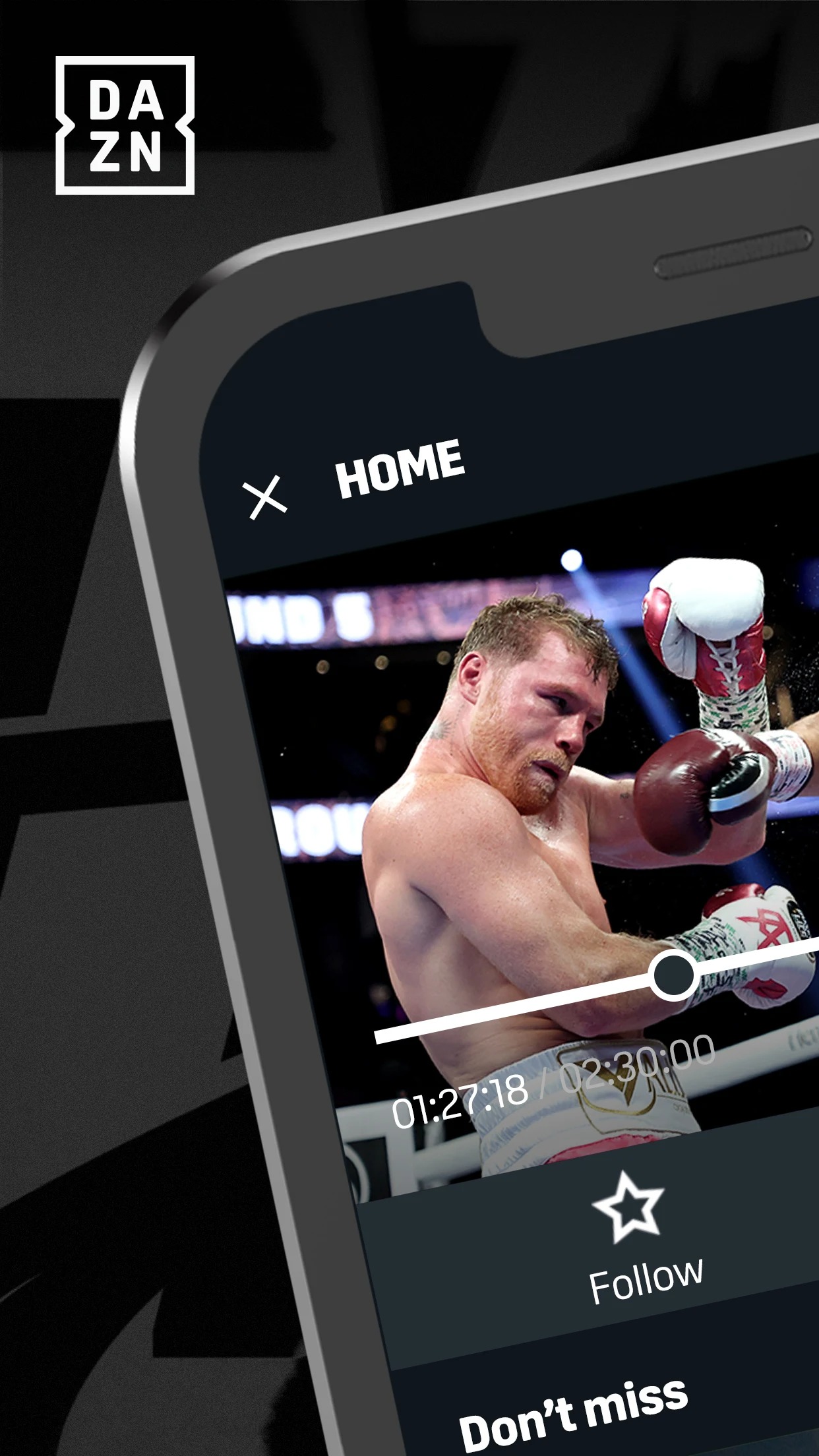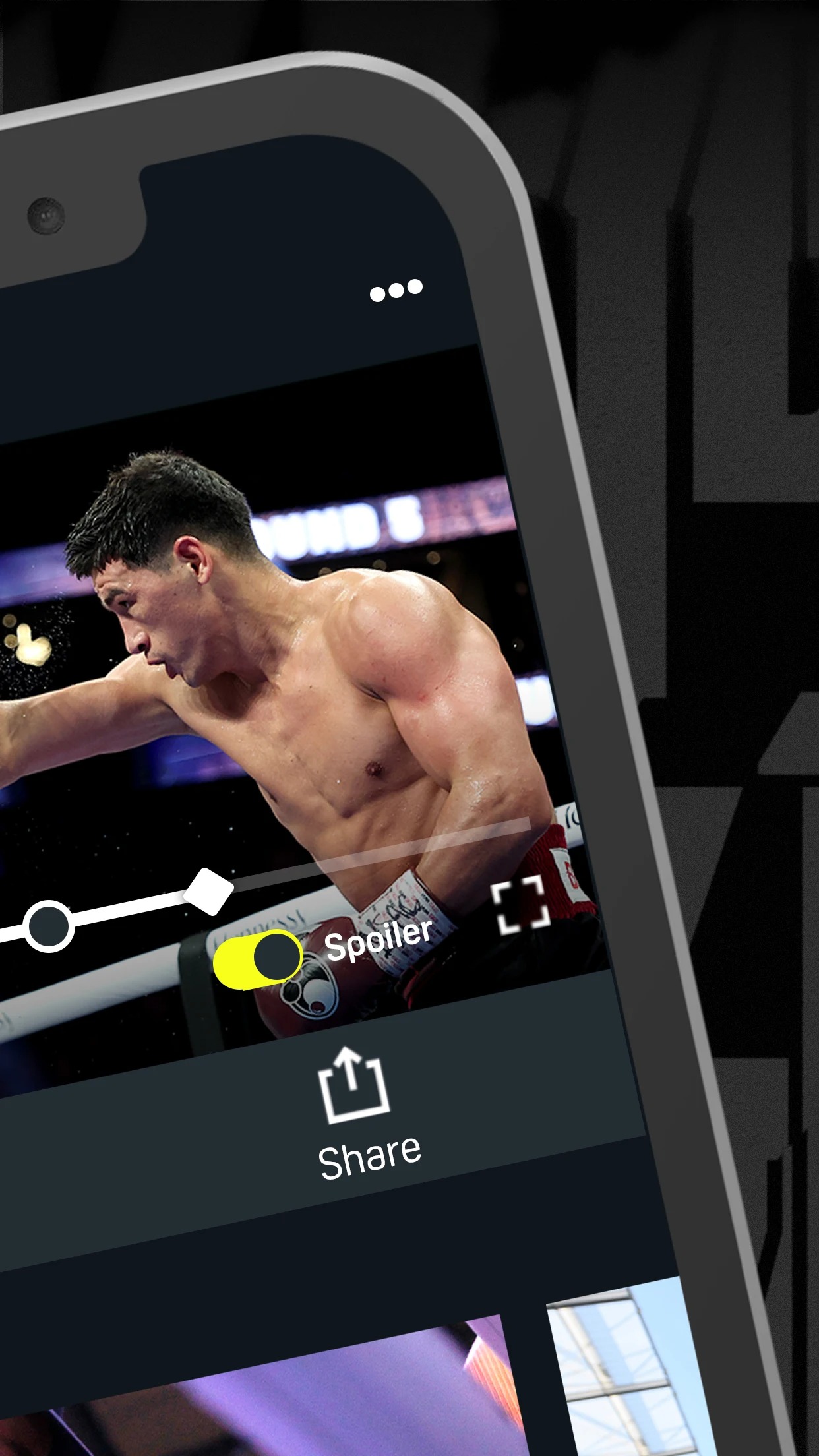 ESPN
One of the most popular sports streaming apps, ESPN, is also a great choice for watching football live streams.
As soon as you launch it you see lots of channels available with different kinds of sport. We recommend going to the news page and then choosing the "football" category – therefore you will see the latest news about it and the announcement of future games broadcasts.
What is more, you can find any stream from the past in the app and then find out all the information about the game – the teams, players, scores, time, and many more. All the facts are placed conveniently on the tables.
And even if you can't watch the live game you can always catch up with live scores so you're aware of the game process.
You will discover that the following channels are available in the ESPN app: ESPN, ESPN2, ESPN3, ESPNU, and SECN. The app itself is owned by Disney corporation.
The fans of European football can be disappointed a little because ESPN is an American app and its main concern is American football. Therefore, the data about the European football matches can sometimes be inaccurate and the range of games broadcasted isn't as diverse as we would like it to be.
What is more, note that ESPN works not in every country (that's often the main concern of the disappointed users).
However, it's definitely one of the best apps to watch NFL.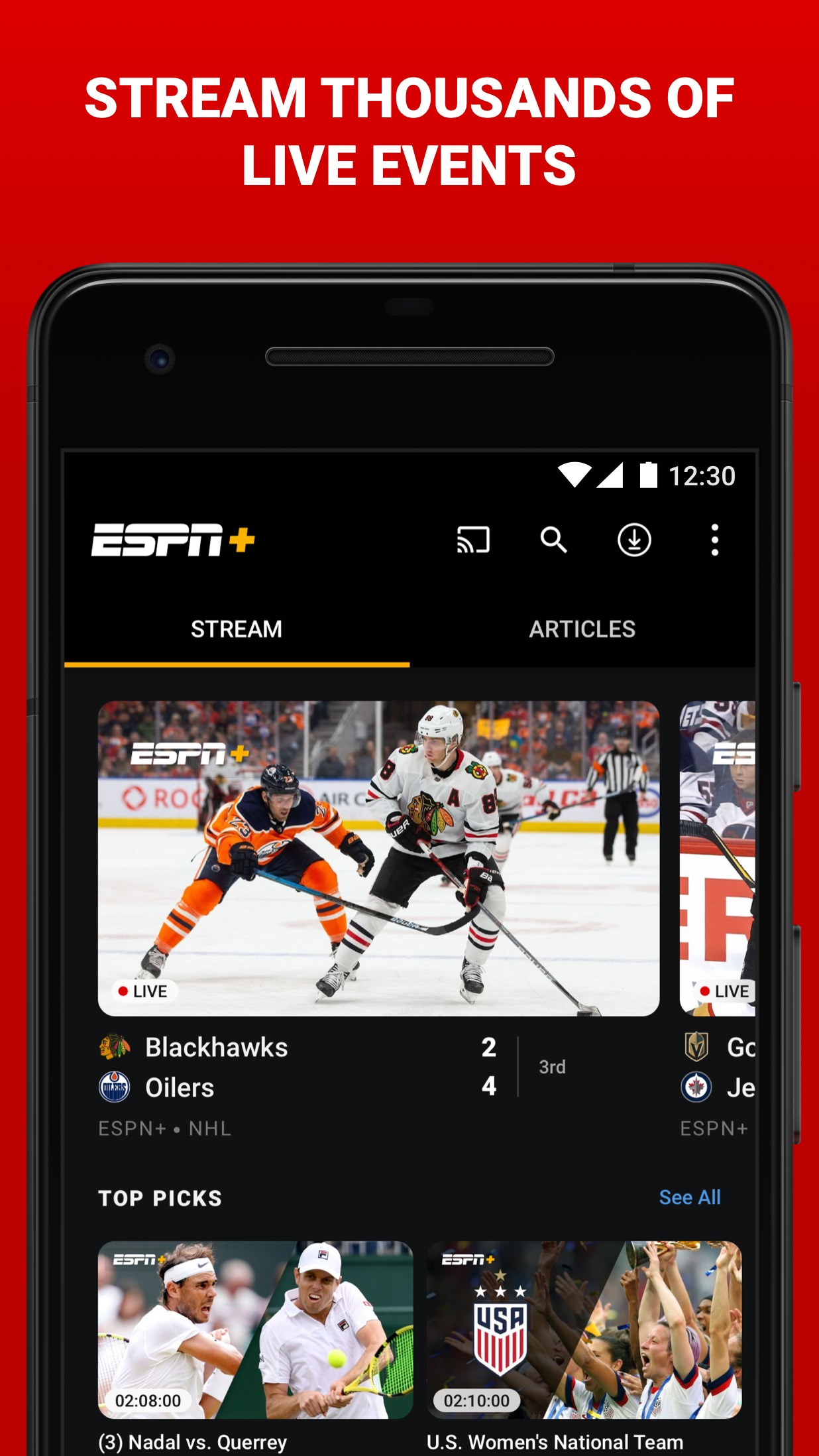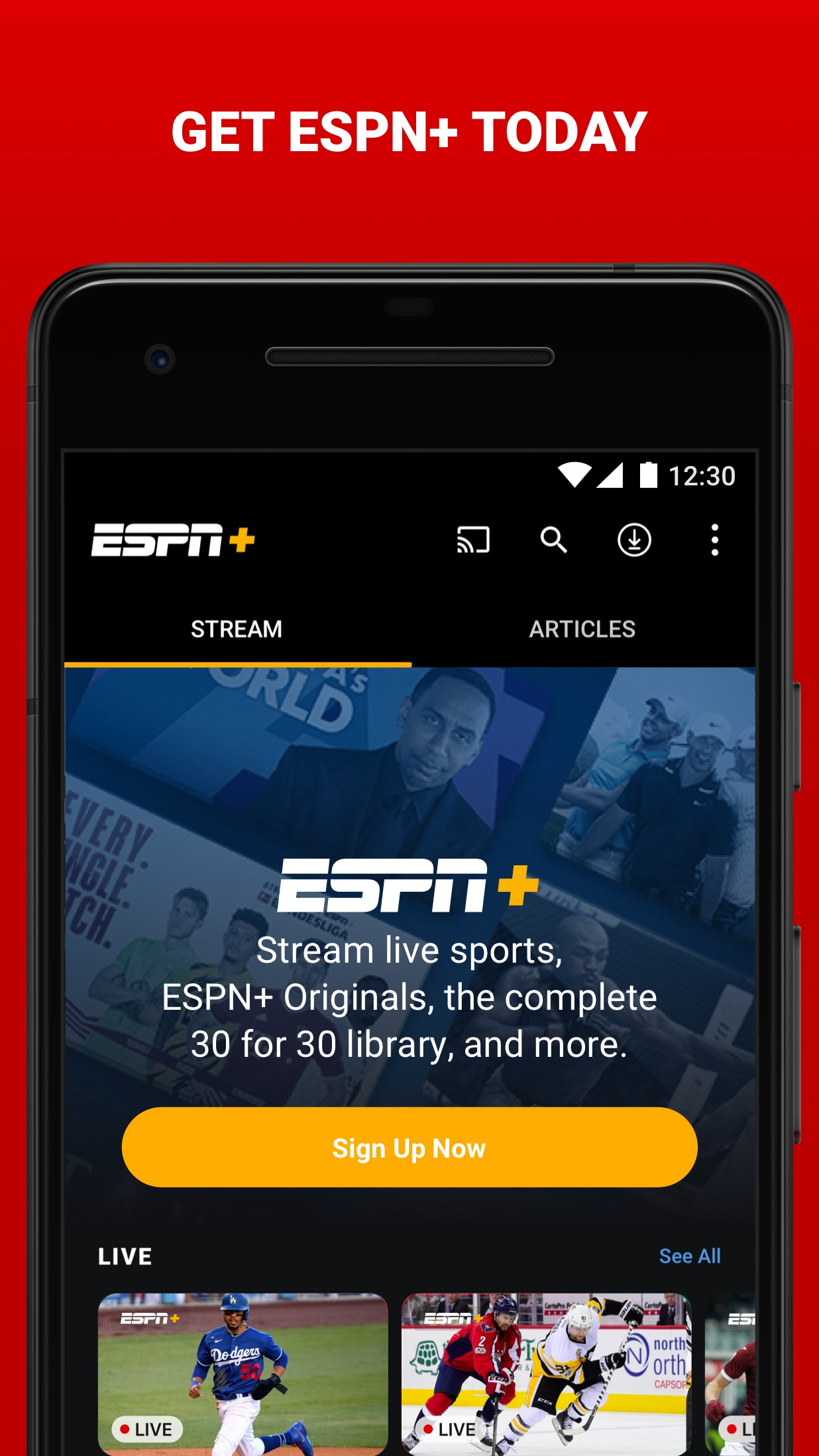 CBS Sports App Scores & News
Sports have always been popular and our time is no exception. There are a lot of soccer fans all over the world, but what to do when your favorite team's match is about to start but you're still on your way home from work?
CBS Sports App Scores & News solves that problem. Thanks to this app, you can:
Receive news from the world of sports around the clock. The news is based on your interests, nothing extra.
Watch exclusive soccer matches and pre and post-match broadcasts of major events on CBS.
Watch live soccer games of your own passion
Access sports programs such as NCAA Football, NCAA Basketball, PGA Tour Golf, Tennis, Time to Schein, etc.
Get daily betting tips from SportsLine experts. You can earn good money in just a couple of clicks!
The important point is that this app is absolutely FREE when you download it and you don't have to pay anything while using it.
Stay up to date on sports events, especially football! Hurry up and download CBS Sports app.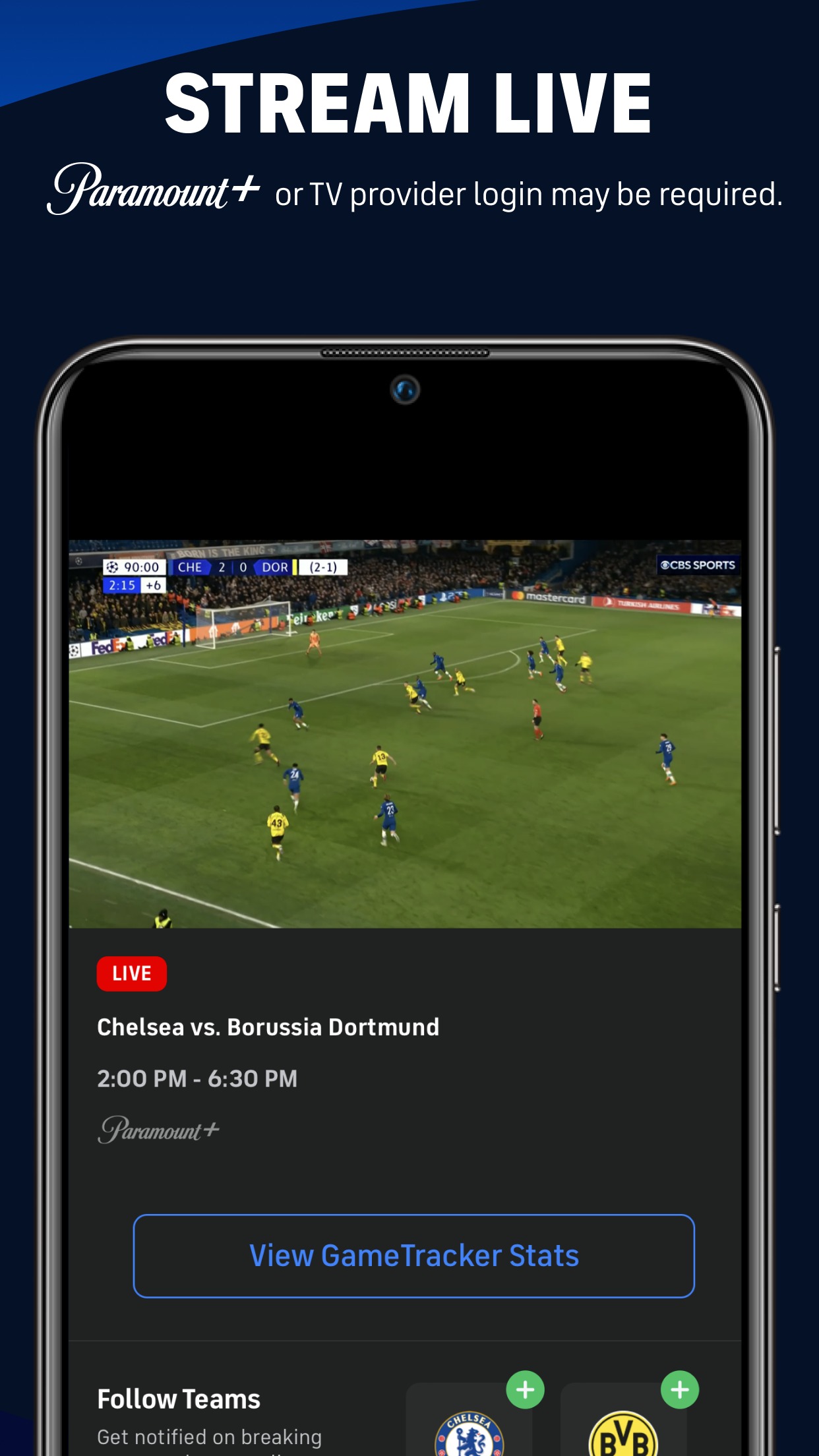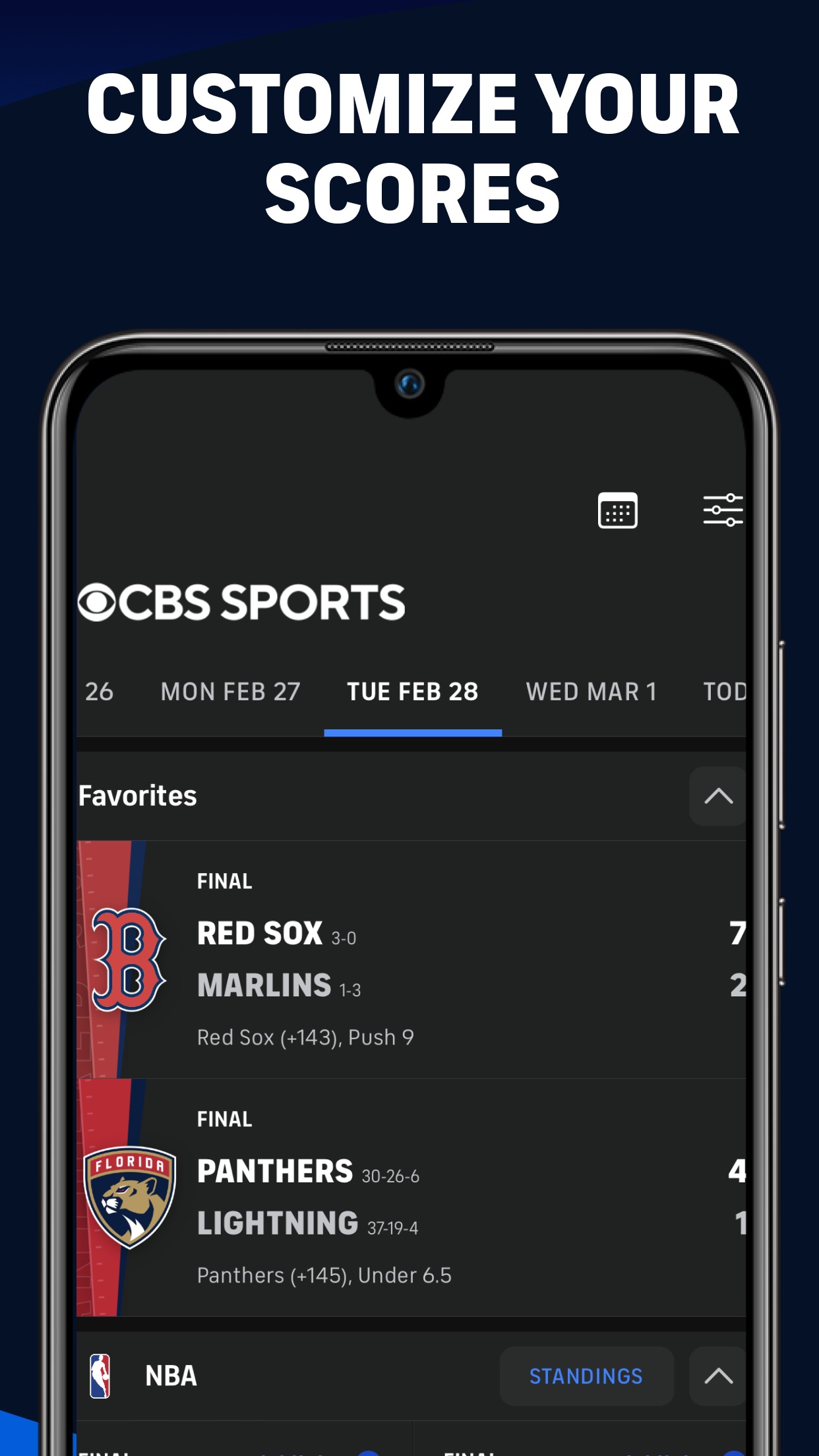 LaLigaSportstv
Spain is known for its football clubs, best football players, and for being the world's football champion in 2010. Therefore, for all the fans of Spanish football, there is an excellent app LaLigaSportstv.
But who said you can't watch games of Spanish teams with foreigners here?
The real reason why we added this app specifically to our list is that it is remarkable for its functionality and user-friendly interface.
When you first open the app, you get to the main page where you can choose which kind of sports you want to watch. After choosing football, LaLiga will provide you with the latest news from the football world, the schedule of live streams, and video highlights from past games.
You can also watch sports channels right in the app. In addition, when you first open it, you can choose several kinds of sports as your favorite ones and then the app will be displaying news about them first each time you open it.
What is more, you can input the information about your favorite football team into the app and the news about it will be always displayed in the first place!
There are literally tons of videos and highlights about football even though the app is concentrated on Spanish football mainly. We would recommend LaLiga to all the football fans out there.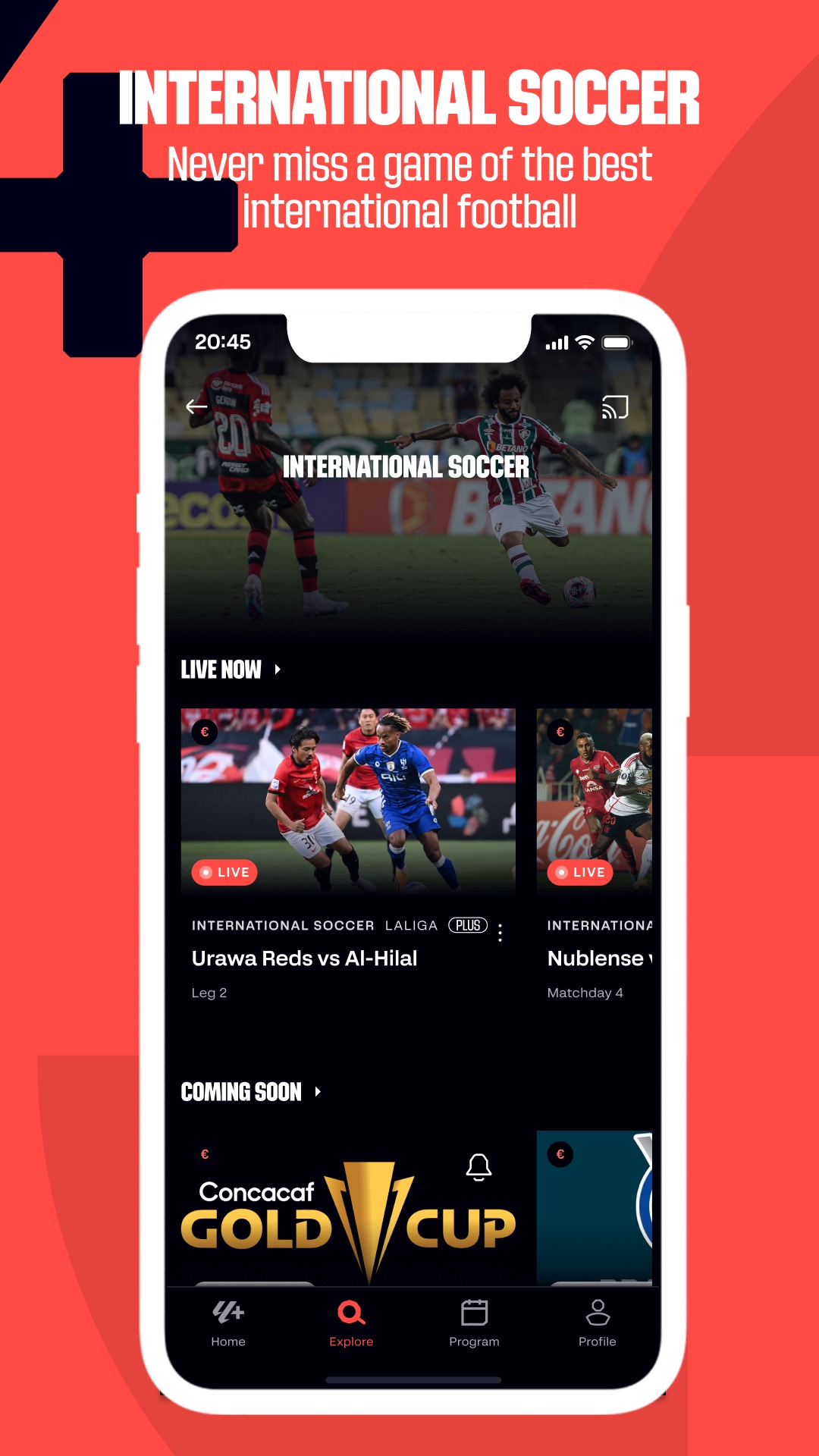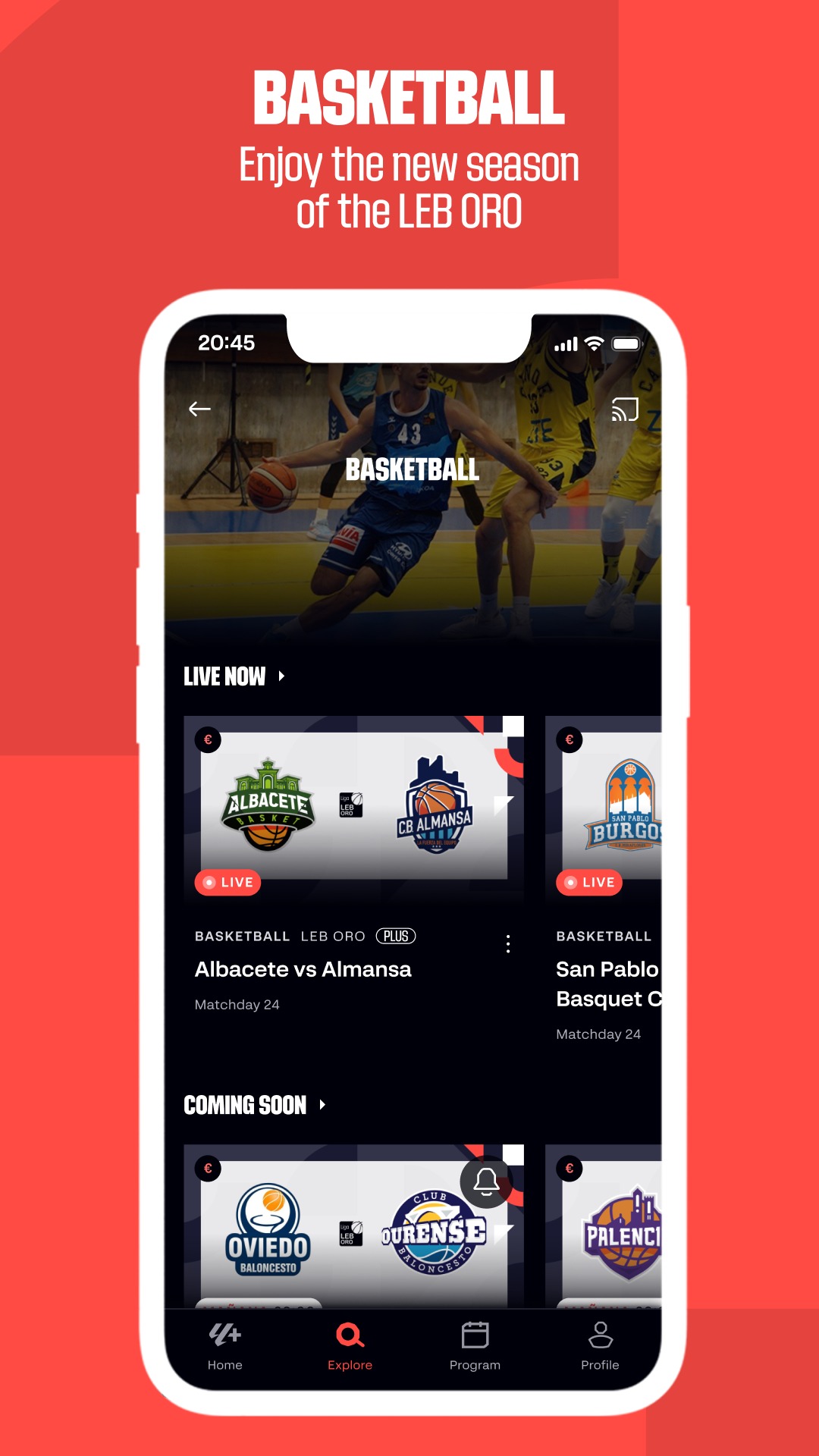 You may also like: 9 Best Apps to Watch Sports Highlights (Android & iOS)
Football Scores – FotMob
FotMob is an app both for Android and iOS that lets you track scores and see match stats. Let's be honest, watching streams consumes lots of data, so if your device is not connected to WiFi, it may not be an option for you. The good news is that you can follow your favorite games without watching them.
This app, as well as the ones below, allows you to update information about the ongoing matches, see scores and read comments. It may be not as entertaining as watching football but it is something and if you are a big football fan, you will probably appreciate it.
This app lets you follow matches from Premier League, La Liga, Serie A, Ligue 1, Champions League, FA Women's Super League, and many others.
You can listen to audio comments in 10 different languages. If you've got special preferences, you can create a list of your favorites and read or listen to only what's interesting to you.
In sum, this is a very nice app that lets you stay updated on your favorite teams' games. Download FotMob now and be the first to know who scored when!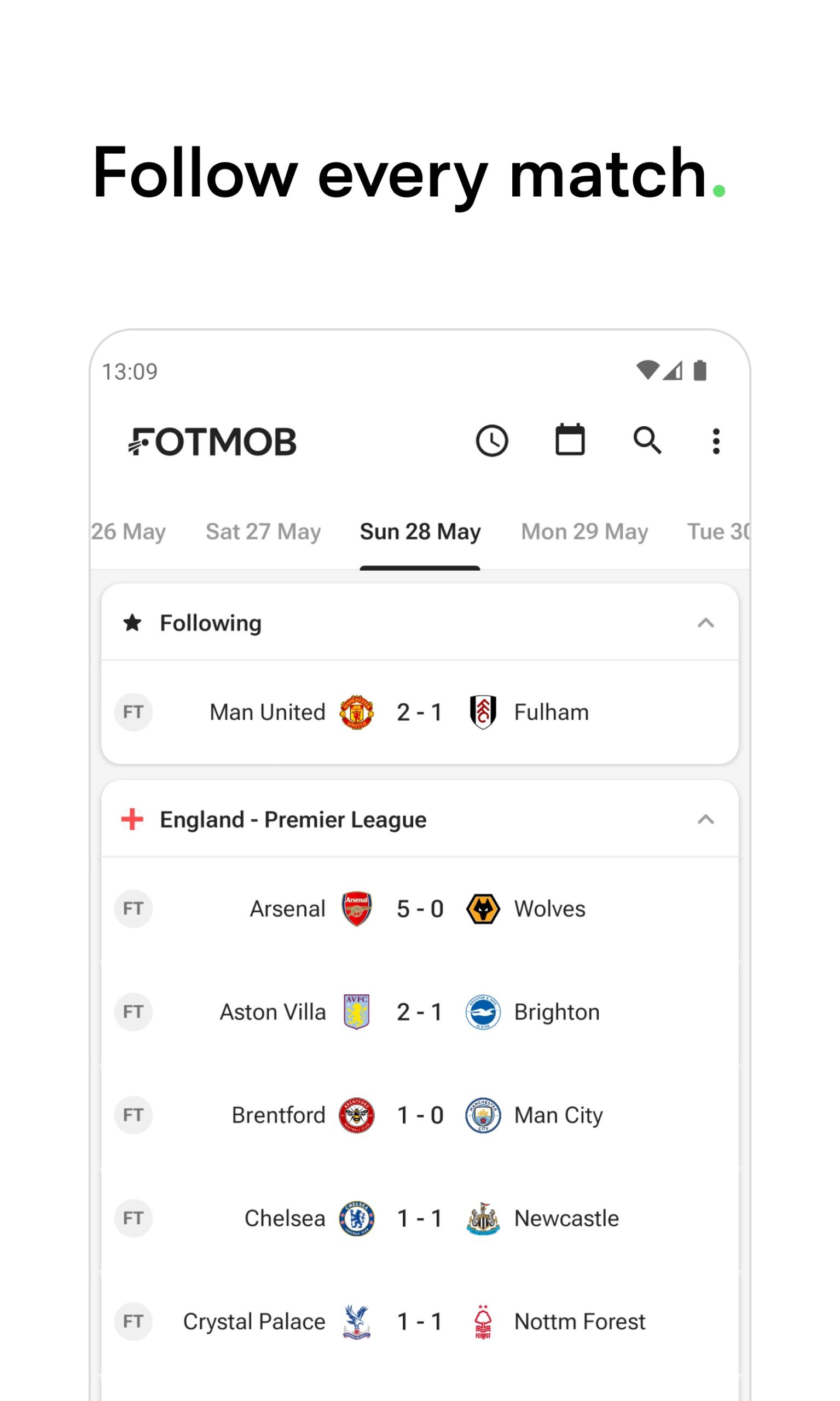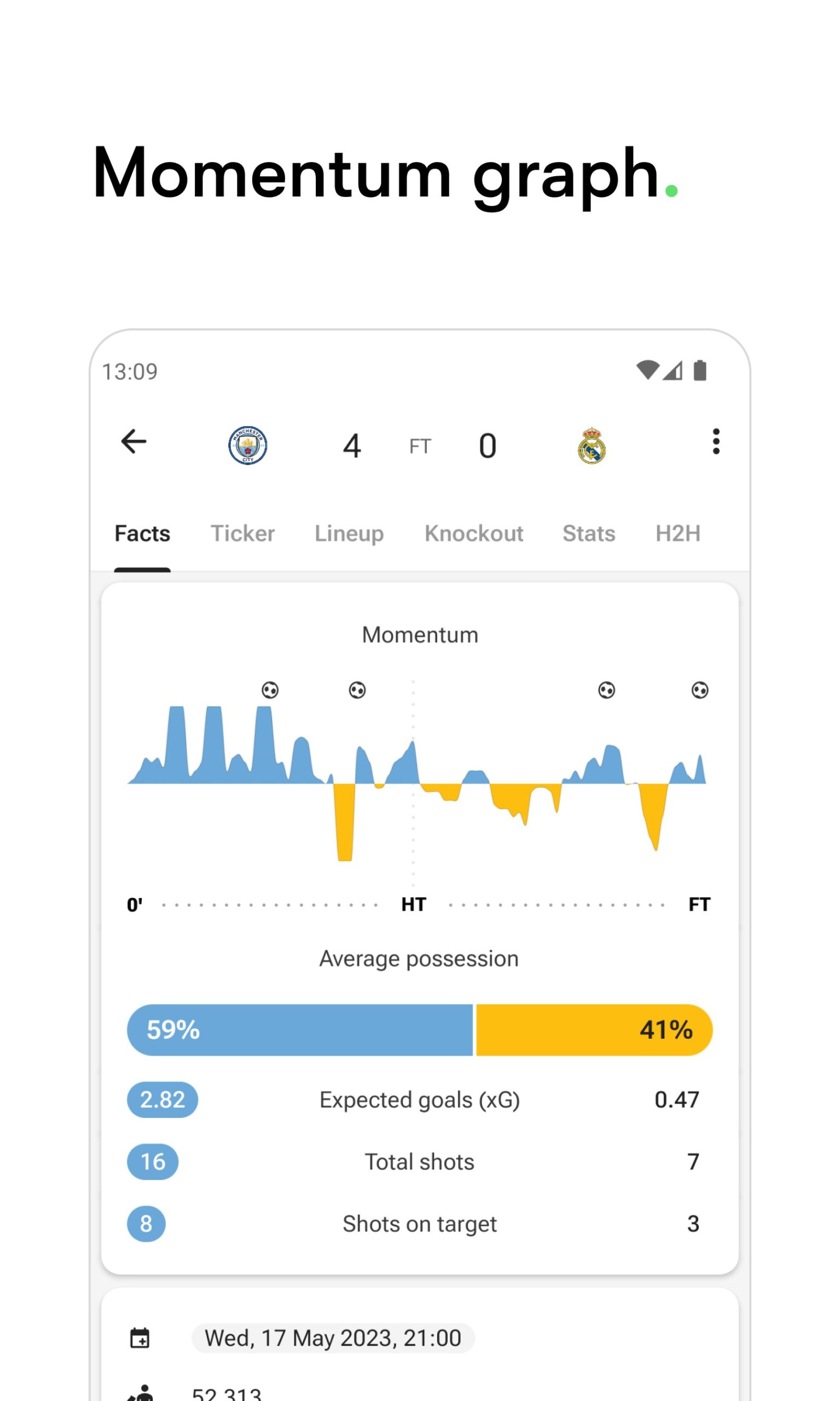 Yahoo Sport: Football & More
We didn't place Yahoo higher because it's more a general sports streaming app. however, the main advantage of it is that it makes the special focus on football.
The search engine Yahoo might be in the past, however, its streaming service is quite nice. When you first open the app you need to create your account so the app could provide your personalized feed and recommendations.
You will see on the main page all the latest news from the sports world from different categories. You can also find the information about the game that you didn't see and find out the scores, the history of the game, and so on.
In the football section, you will discover tons of information – the announcements of future tournaments, information about football teams, the best players, the latest news, analytics of past games, and many more.
It might seem like a lot at the beginning, but the interface is designed quite conveniently, so you won't feel overwhelmed or something.
On Yahoo sports, you will find the broadcasts of any football league on the planet and information about each team and each player. You can also watch live sports channels if you want. We also need to mention here if you prefer your streaming apps compact and focused, this one is not the best option for you.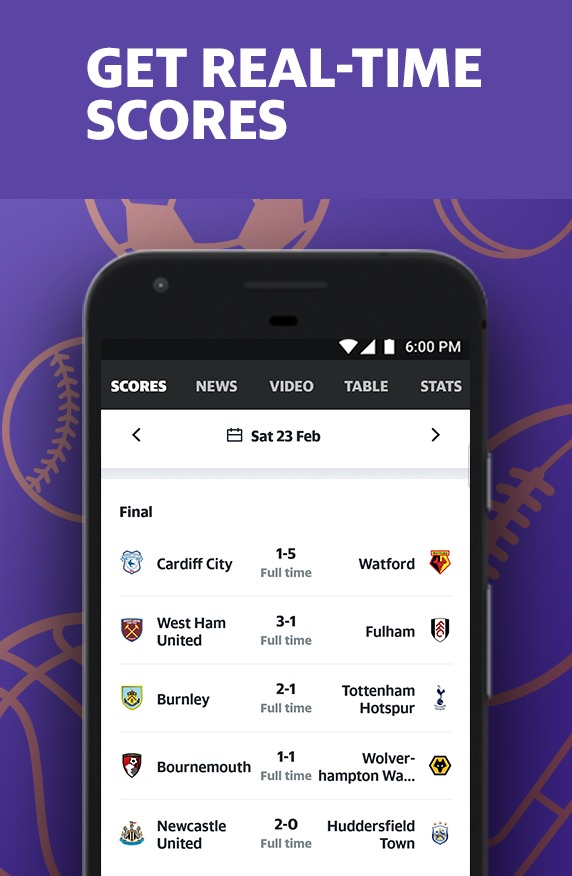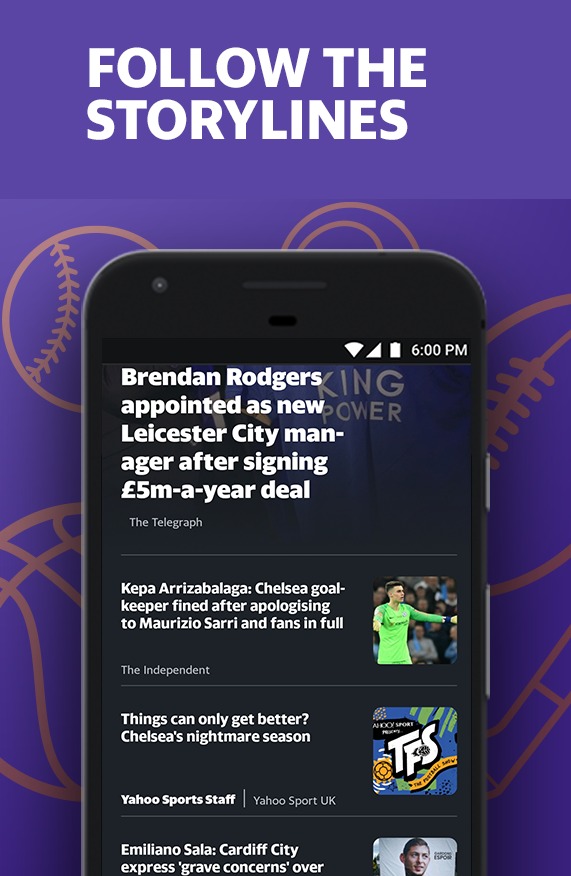 GoalAlert Football Live Scores Fixtures Results
GoalAlert is in many ways similar to the previous app. It lets you get notifications about scores. You can follow all the matches of all the European leagues.
There are no audio comments but the app is light and fast. You can change the sound of notifications if you want to. The app goes well both with Android and iOS. The design is wonderful. If you want something simple that lets you learn about your most expected matches, this is a great option to try out!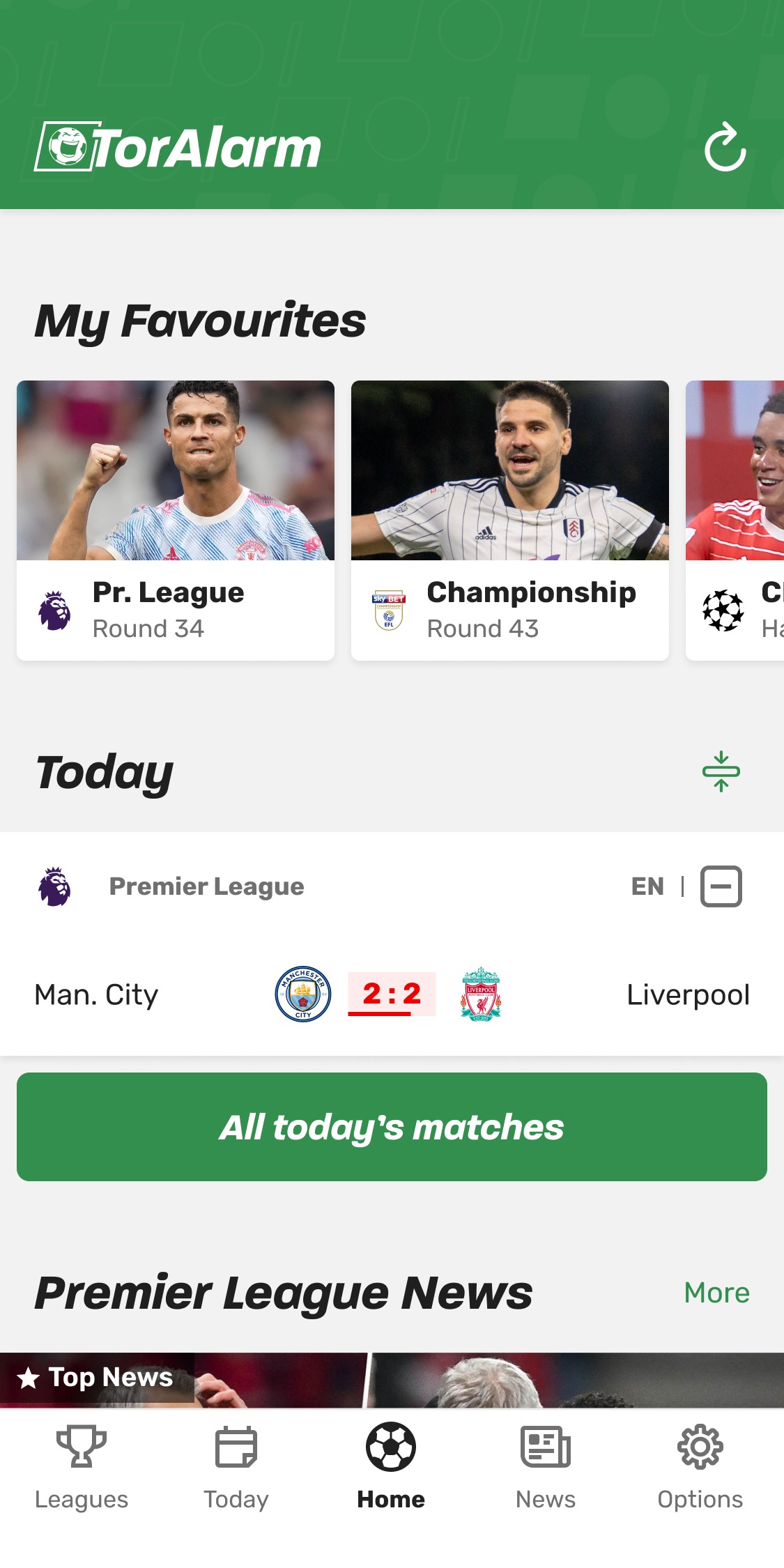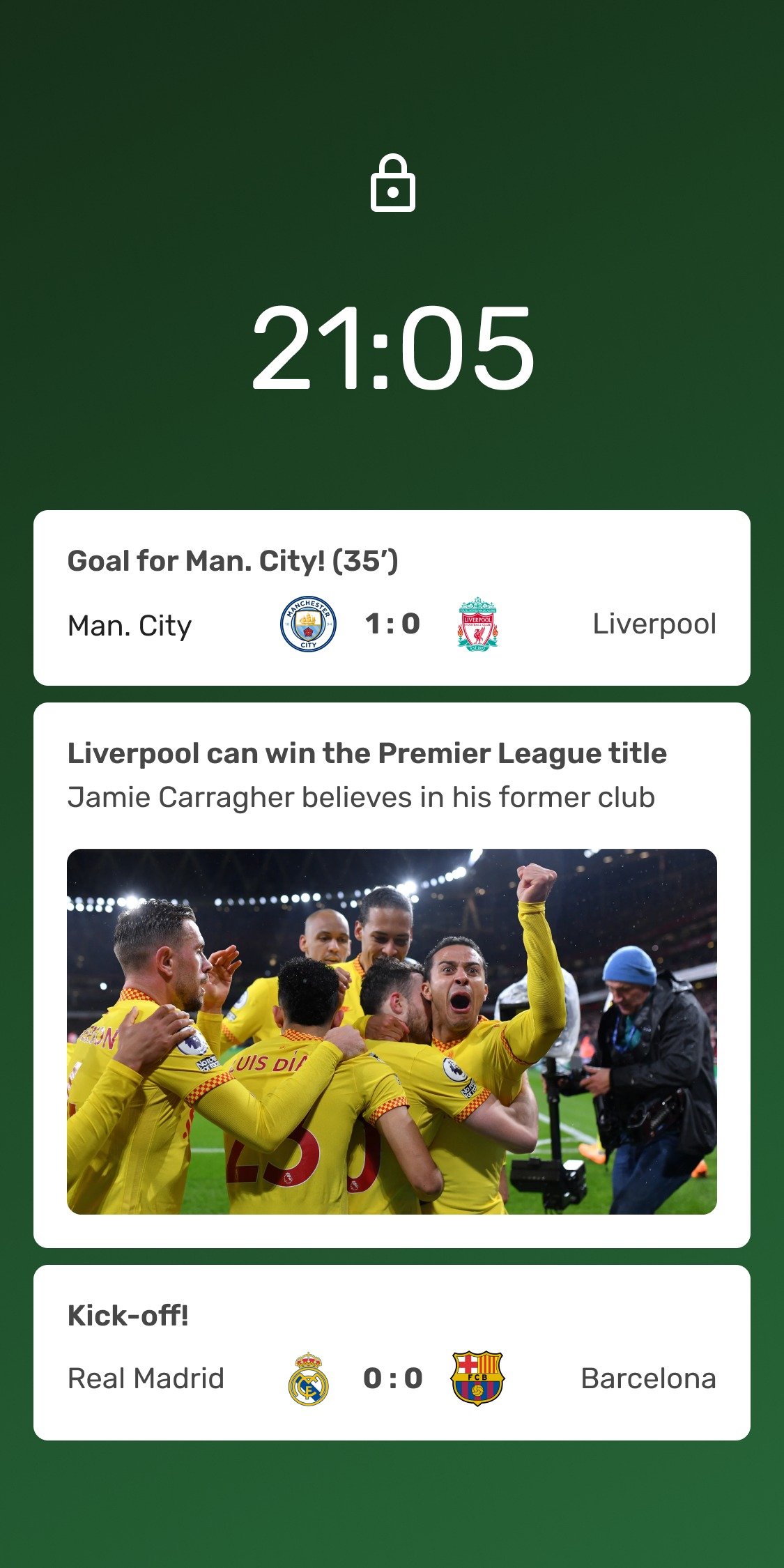 La Liga: Live Soccer Scores
If you are a fan of La Liga and Europa soccer leagues, then this app is a must-have. The application allows you to get notifications of important events and scores.
You can view the games' schedule and plan ahead which ones you'll be able to watch. If you can't make time for watching your favorite team playing, you can use the app for getting score notifications.
The app lets you create a favorites list as well as get recent news from the football world. This is an official La Liga app so be sure all the facts are checked and proven.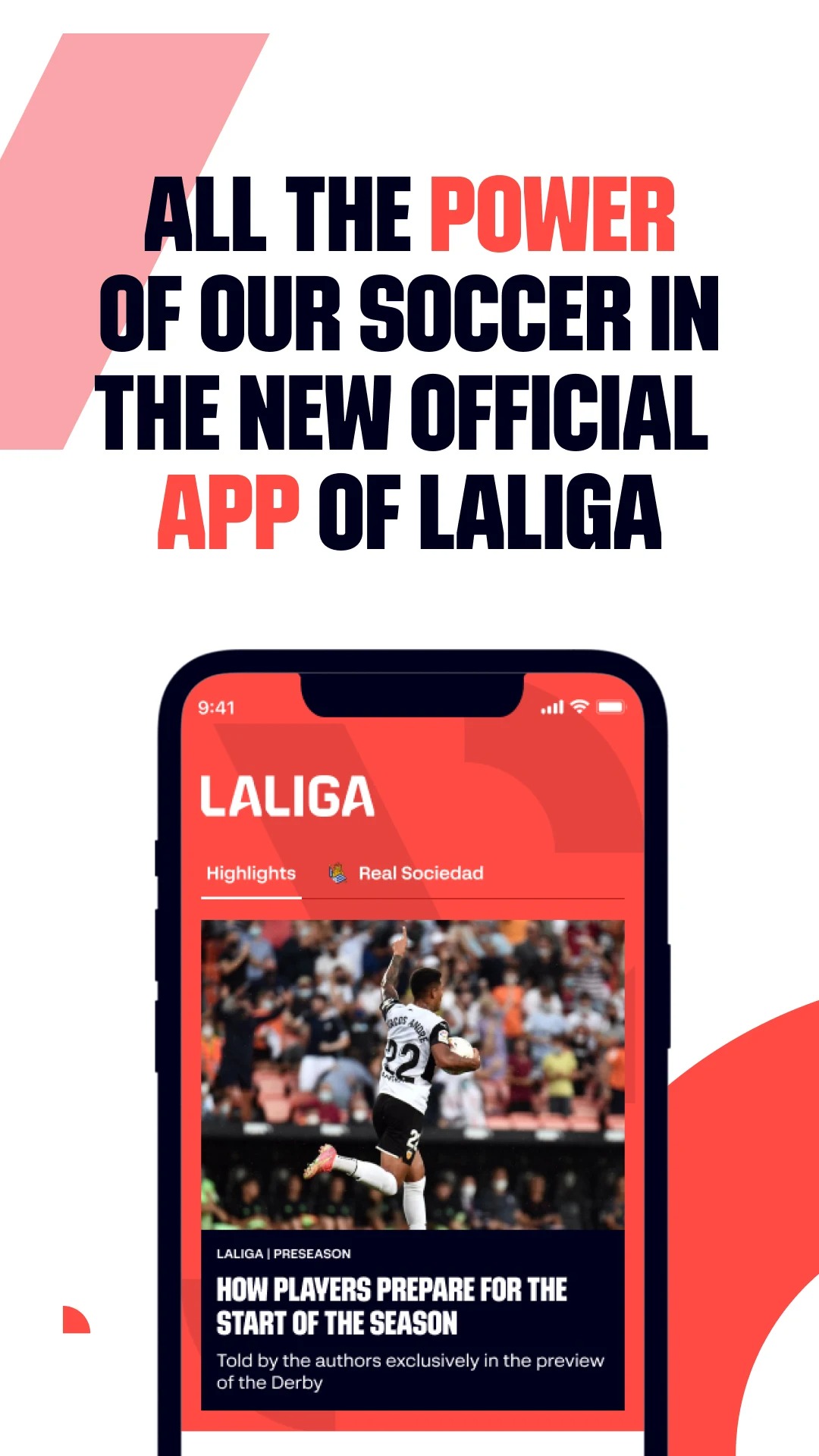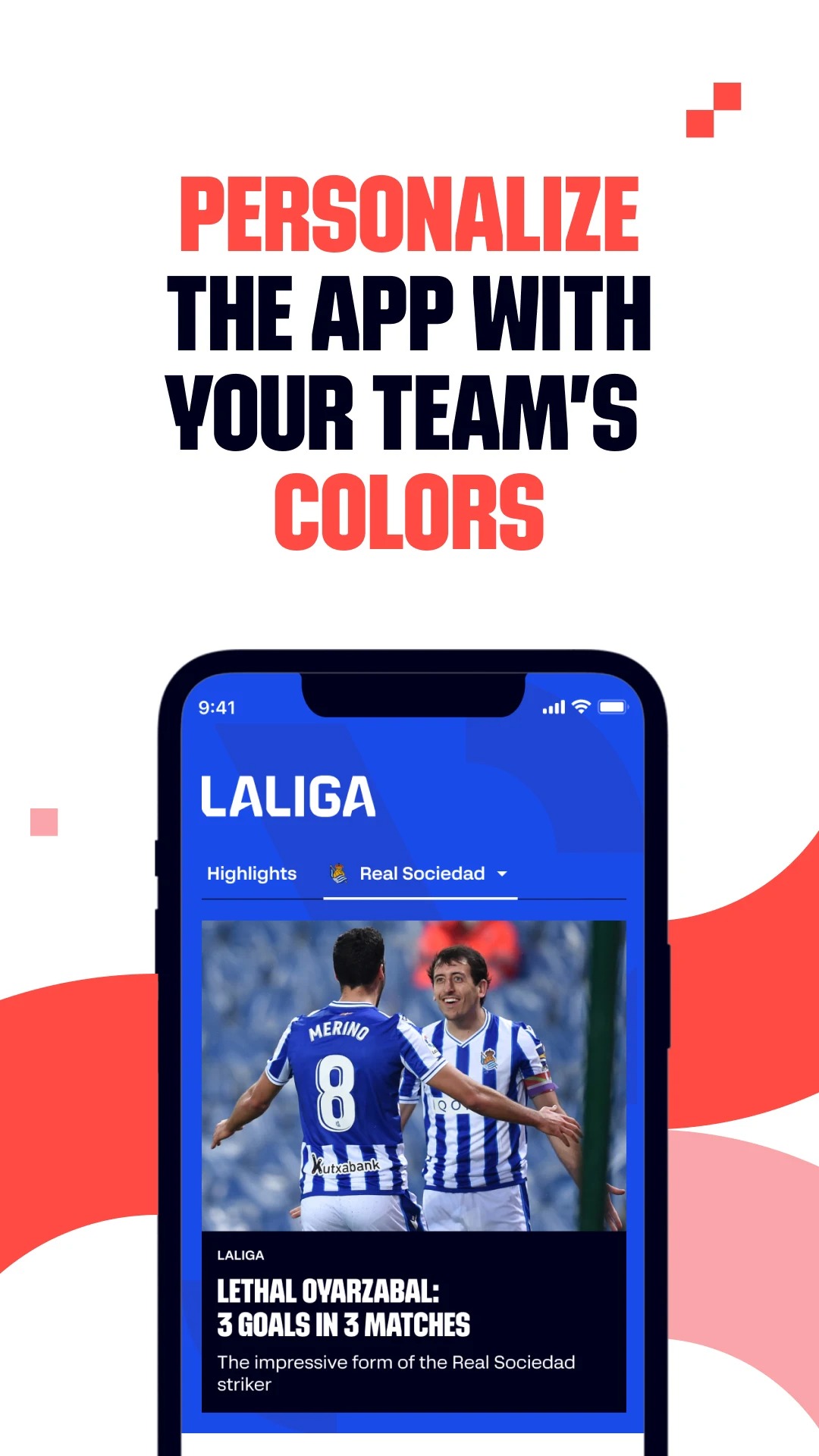 Liga – Live Football Scores
Liga is an app for Android users that is very convenient for updating scores in football matches. With this app, you can view the results of practically all the significant football games in the world.
The app does not only provide you with scores but it also shows you game cards with goals, players, and their dispositions. There is a lot this app has to offer. Everything is totally free given the condition that you agree to watch the ads.
You can get rid of them at any moment by using an in-app purchase. All in all, if you want to be able to follow football matches from all over the world, the Liga app is for you.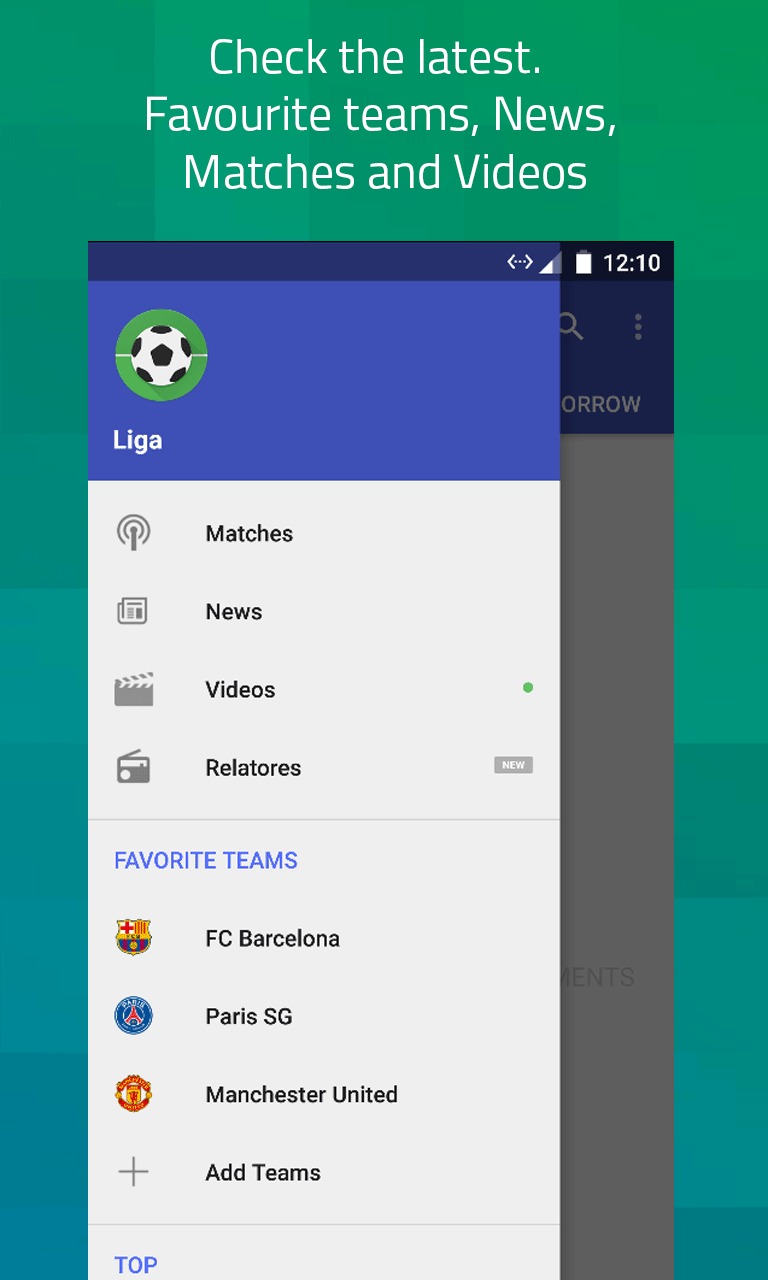 You may also like: 7 Best apps to watch NFL games on Android & iOS
UEFA.tv
UEFA TV is the official app of UEFA, which gives all soccer fans access to a wide range of private and exclusive video content. With this app, you will always have the opportunity to keep up to date with the latest news, player interviews, historical material, and much more.
The app offers a unique opportunity to watch exclusive videos with interviews with famous soccer players, match reviews, and comments from experts. Here you can find any archive recordings and watch them at a convenient moment.
The program also provides information about various soccer tournaments. It is designed with all the needs of users in mind, so it is quite simple and easy to use.
In the app, you can register your account so that you can always have the available sports content at your fingertips. All your viewing history will be saved here, which will allow you to come back to the desired material after a certain period of time.
The app features a variety of content, so you'll be able to view new videos and tournaments as well as those that have been out for a while. The service provides all its functionality for free, so every user will be able to use it at their own pleasure.