Looking for a way to simplify check writing? This article has you covered!
We've picked up the 7 best check writer apps & websites 2023 that let you write checks and send them to printing on the go. With these apps, you won't need to carry your paper checkbook around anymore: everything gets done right on your phone! These apps will be useful for business owners, accountants, and individuals, so there's smth for everyone. Take a look!
Print Checks Pro
Let's start with an app that lets you manage checkbooks without much effort.
This app is targeted at home users or small business owners who want to cope with checkbook work easily. It comes with a simple UI but powerful features that let you manage complex check tasks. The app lets you make multiple accs (there are no limits for that) which is great if you're running several businesses and want to keep things organized.
You'll get to make both checks and deposit slips, which is handy. Herewith, you may rather use blank check stocks or pre-made personalized ones. Plus, you can choose between standard and personal sizes for printing. In other words, the check layout is fully adjustable, so no worries here.
You get to change paper type, format, switch accs, and all that. Of course, you'll also get to add a business logo, contact info, signature, and all that. You can even use it to print blank checks for further fill-in if needed. The app syncs between the devices and automatically creates backups for all the checks.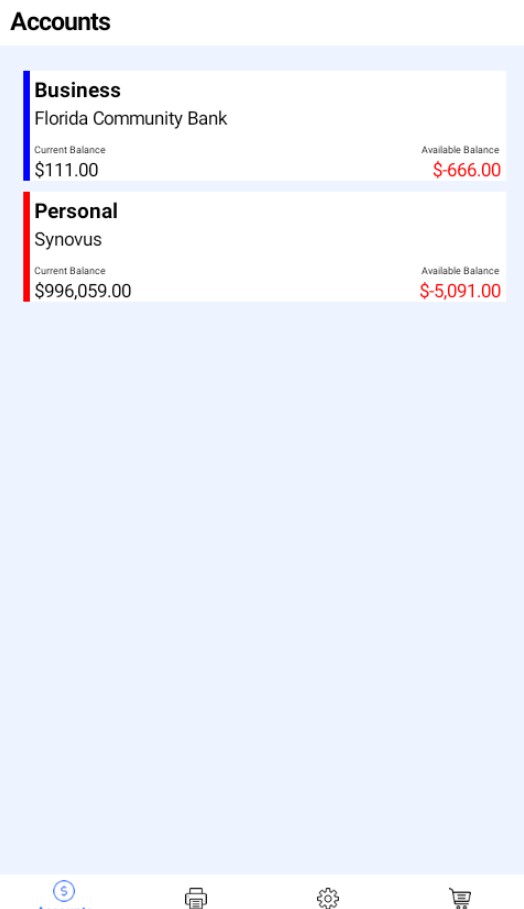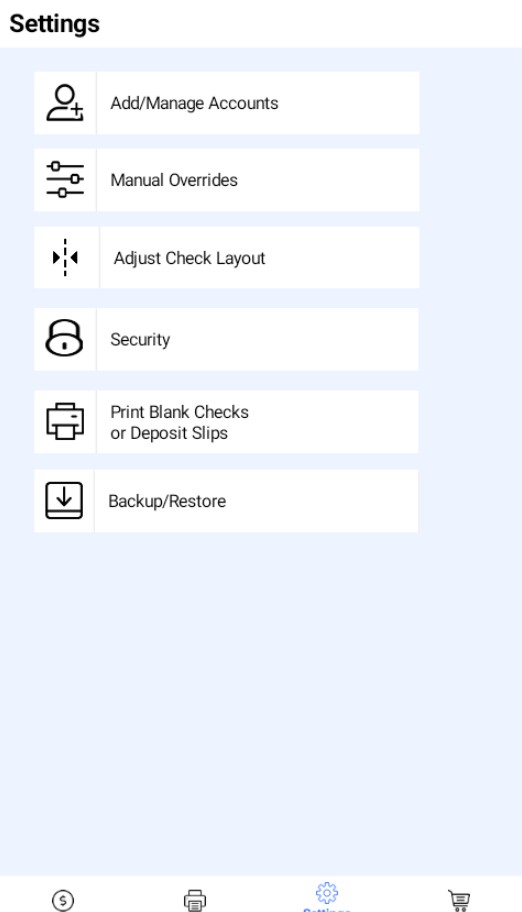 You may also like: 11 Best Apps for Cashing Checks
USA Check Writer & Printing
This awesome app is incredibly handy for anyone who needs to write checks with ease and precision. It works like magic – just input the necessary information, such as the payee's name and the amount, and the app will generate a beautifully printed check for you. No more embarrassing scribbles or mistakes!
But that's not all – USA Check Writer & Printing can handle various types of documents. Whether it's personal checks, business checks, or even official bank checks, this app has got you covered. It ensures that your checks not only look professional but also meet all the necessary banking requirements.
Now, let's talk features. While we won't list them all, rest assured that this app offers everything you need for hassle-free check writing.
From customizable check templates to easy checkbook management, it's designed to simplify your financial tasks. Also, It's convenient and ensures that your checks are always on point.
As for me, this is one of the best apps in this category on this list. I think you will enjoy this tool as it makes your life much easier.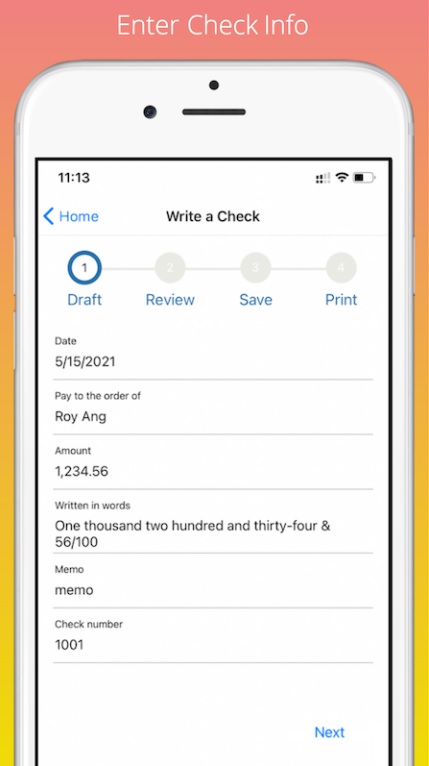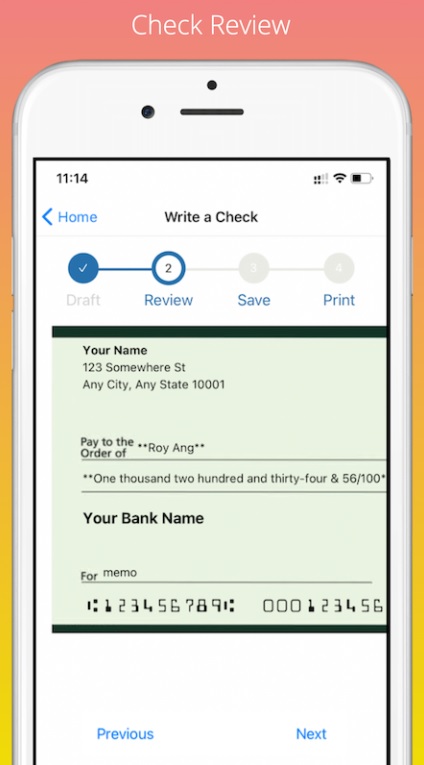 Check Writer
Tired of the need to carry around your checkbook? This app is here to help.
It lets you write, manage and print checks at home with the help of your phone. That's right, you won't have to order checks from the bank anymore. All you need is a printer and this easy-to-use free app. Well, a bit more, actually. You also require an account in a US bank and a stock of check paper (which you can easily order online).
This app is practically a digital checkbook. It lets you write checks on the go and keep records of all of them. It supports both persona land business check sizes, so it's also useful if you're running a small business. The app uses special font and symbols recognizable by the banks, so no worries here.
All you need to do is to enter a payee and the amount of money to pay. Herewith, the app automatically converts the amount of money from numbers, not letters, so you won't misspell anything. Once it's done, you can print the check, and sign it manually, and it's done. You don't even need to create an account in the app: just install it, and you're ready to go.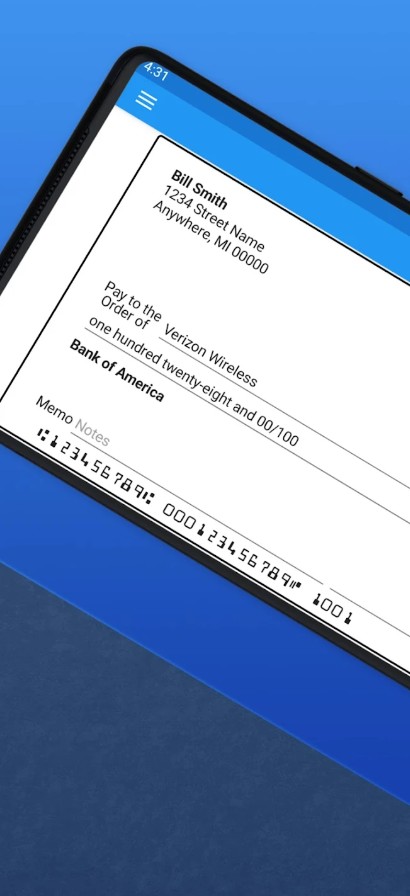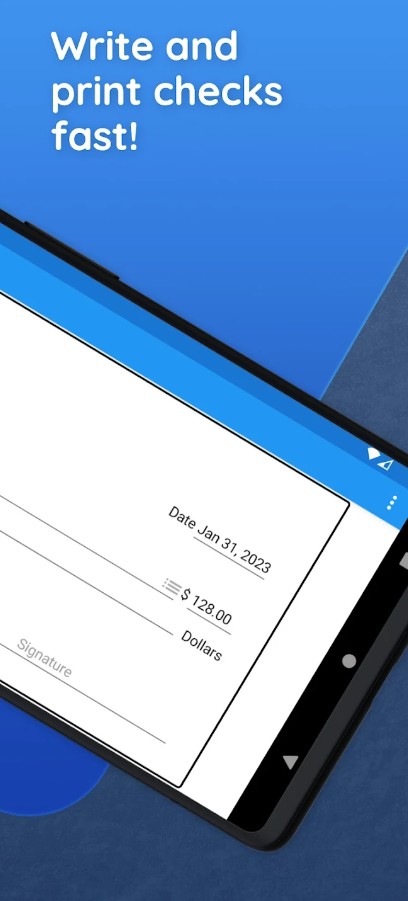 You may also check: 11 Best Expense Tracker Apps
Xero Accounting
Here's an accounting app for small business owners that lets you easily write checks on the go.
The main goal of this app is to help anyone without an accounting degree to manage checks, invoices, bills, and cash flow without any effort. It lets you create invoices with a couple of taps and view the entire payment history. Herewith, the app automatically converts quotes into invoices, so you won't need to re-enter any info.
All the invoices you make in this app will look professional. You'll get to edit every little detail about it to make it fully personalized. Plus, the app lets you reconcile bank accounts in a blink of an eye, so you can keep track of your business condition.
Speaking of other features, the app lets you cope with bills. You can add multiple spending categories, attach all the essential docs, and set reminders to not forget about them. You can also sync the app with your bank acc to keep an eye n the balance and cash flow.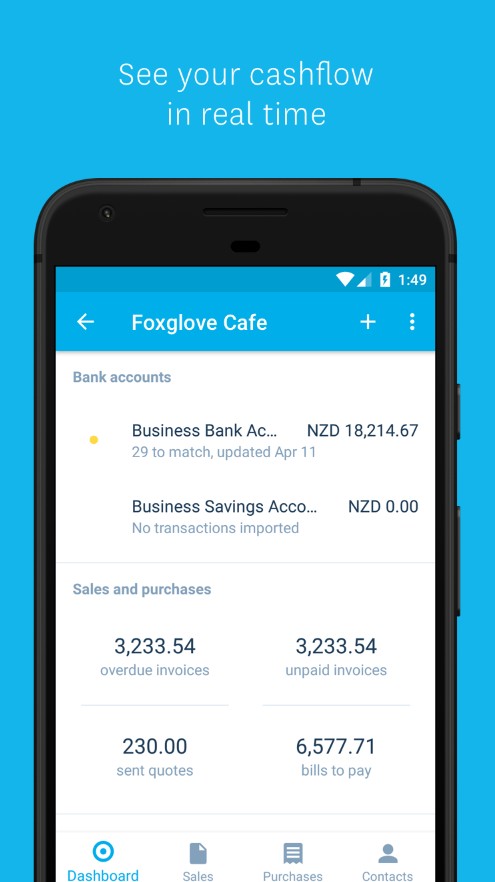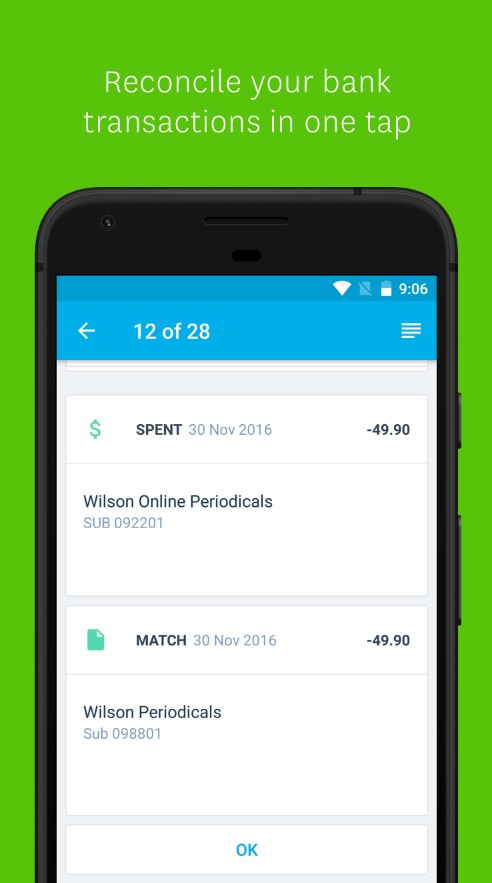 Check Writer: Print Checks
Check Writer is here to save the day, bringing a touch of modern convenience to your financial tasks.
Writing checks can be a tedious process, especially in today's digital age. But fear not, Check Writer is here to simplify your life.
This nifty app allows you to effortlessly create and print checks from your device. Here's how it works: input the essential details like payee information, amount, and date. Check Writer then generates a professional-looking check that you can print using any regular printer.
Check Writer can handle various types of financial documents, including payroll and business checks. This versatility makes it an invaluable tool for both individuals and small businesses.
The app also includes features like check templates, signature management, and the ability to keep track of your transactions. Plus, it ensures that your checks meet all the legal requirements, so you can use them with confidence.
So, whether you're tired of hand-cramping check writing or simply want a more convenient way to manage your finances, Check Writer has got you covered.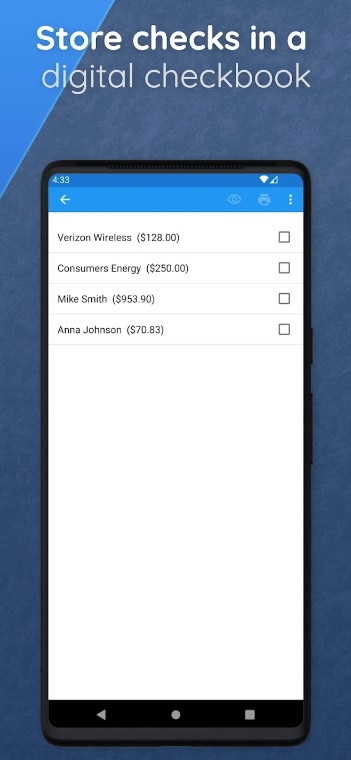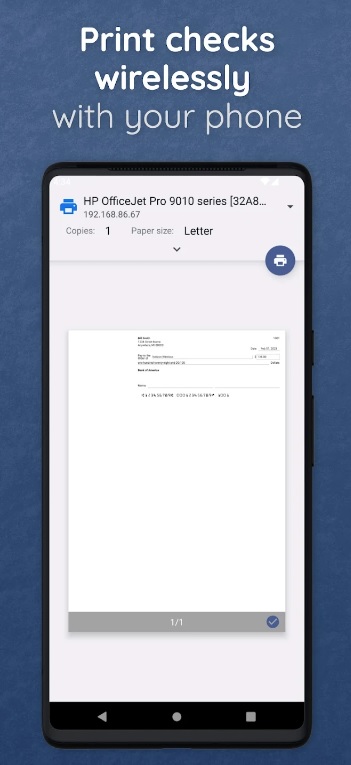 ChecKeeper
If you run a small business and looking for a way to simplify check printing, this website is a must-have for you.
This site is actually founded by a small business owner who's got tired of making checks in Photoshop. Its main goal is to make check writing easy and accessible for all. However, it does run on sub packs, but you get a free trial to check out if it's worth it. The amount of checks to print is unlimited, so could cope with any client flow.
You'll get to customize the look of the check as needed, pick the required format, and all that. The site covers several check templates you can use as a base. Plus, you get to add a logo, images, and even an electronic signature if needed. But the best thing is the site doesn't require a check stock paper.
In other words, you won't need to buy any special paper or ink, but your check will tell meet the national banking standards. The website integrates with various accounting software, which is handy. You can even set it up to mail checks to customers automatically. And if you need to print several checks at once, the site can cope with it too.

You may also like: 11 Best Cashback App (Android & iOS)
CheckWriter
And lastly, there's a website that lets you make both digital and printed checks.
This site lets you design your own checks with custom branding and all that. You get to customize all the details by adding logos, images, signatures, and all that. There are plenty of templates you can see as a base, so no special graphic design skills are required.
The same goes for deposit slips. You can make deposit slips from any bank and auto reconcile them with a couple of taps. Once it's done, you get to integrate the site with your bank if needed. The tool runs on sub-packs, and each one lets you make an unlimited number of checks. Of course, there's a free trial, so you could see if the site matches your needs.
You can also set the website up to automatically email the checks to customers. It even lets you create a link form to receive payments. However, unlike the previous website, this one does require special paper for check printing. Plus, it only works in US and Canada, so keep that in mind.