In everyday life, people are often faced up with the fact that their credit account is not high enough to, say, take out a mortgage or the required amount of money for any of their purposes. Special programs were created for this purpose. This article will feature best credit boosting apps to use in 2023.
And since you are interested in this topic, you might also be interested in the credit repair apps.
Kikoff – Build Credit Quickly
Kikoff is the best option so that you can dramatically increase your credit account level quickly and efficiently. Thanks to the user-friendly interface, as well as developed options, the utility deserves to be on the first line.

This app has options such as:
fast app registration that does not require checking your credit account for various debts
the ability to obtain almost instant approval of a loan not exceeding five hundred US dollars, which can be spent on a certain number of purchases in the virtual store of the program itself
activation of your account through literally one purchase in a virtual utility store that will allow you to use your credit account more productively
a premium option that costs a very small amount and allows you to create a loan with payments without negative stories
Thus, we can conclude that the utility really deserves attention due to the simplicity of all the indicated options, as well as a convenient interface and a number of developed functions. Try to download this program and make sure with your own eyes.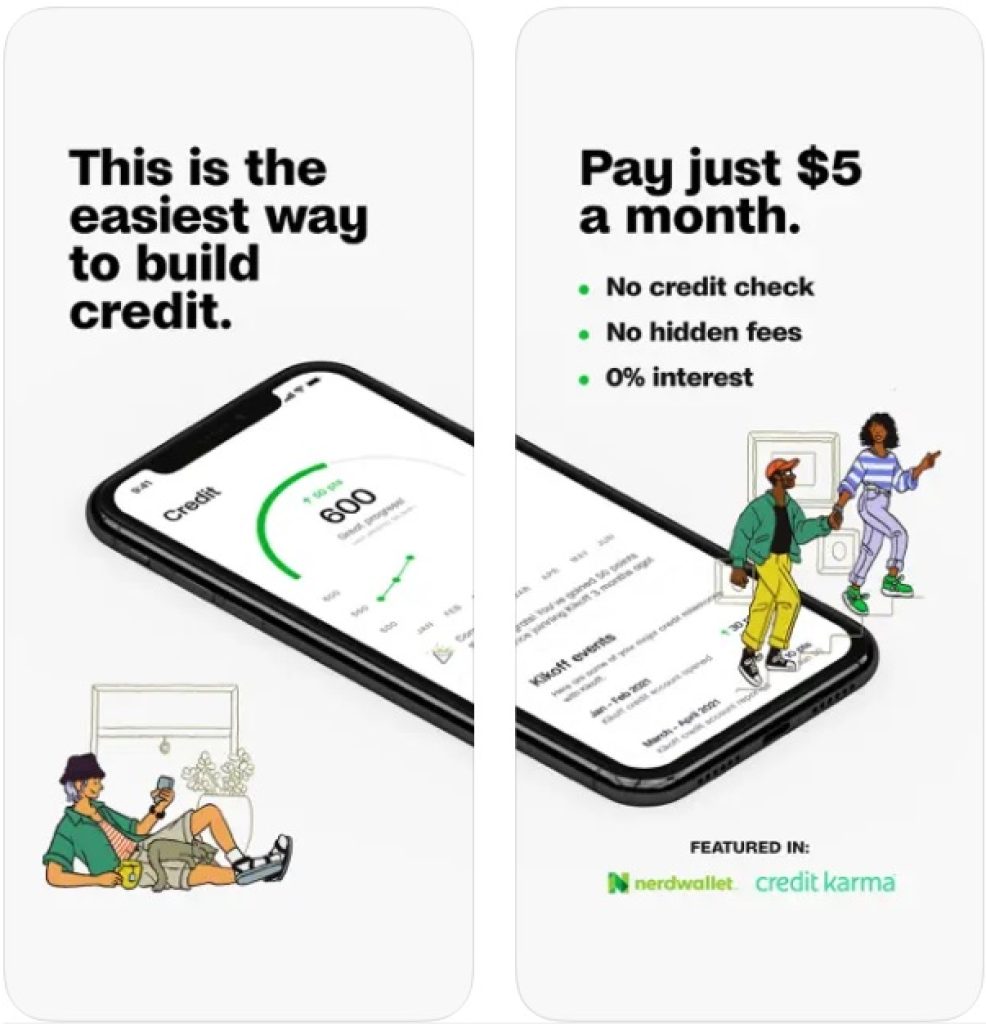 You may also like: 17 Money-Saving Apps for Android & iOS
Experian
This program can be safely called one of the best in this area, because Experian will help you not only increase the value of the credit account, but also gain new knowledge and skills in the field of lending. Thanks to the clear elaboration of the app, you can be calm about the balance on your account.
The developers attach the greatest importance to the following characteristics of the utility:
receiving of permanent reports on the availability of funds on the balance sheet that does not affect various transactions with the account, as well as does not require a credit card; if you enter the app, you will be able to receive reports every month
the ability to increase a kind of FICO score using positive actions, for example, paying bills for a phone, Internet or anything else
a unique system of notifications about various actions performed with a score, which can be enabled in the utility settings
the ability to select a credit card or car insurance with the criteria that suit you, in addition, the criteria can be set in your profile
reliable protection of the app from the intervention of a third party to perform actions over someone else's score; if such a situation occurs, Experian will immediately send a notification to the user
To sum up, we can say that this program is perfect for those who want to raise their credit account according to a very clearly established plan. The app is constantly updated, which allows developers to improve the program, making it even better.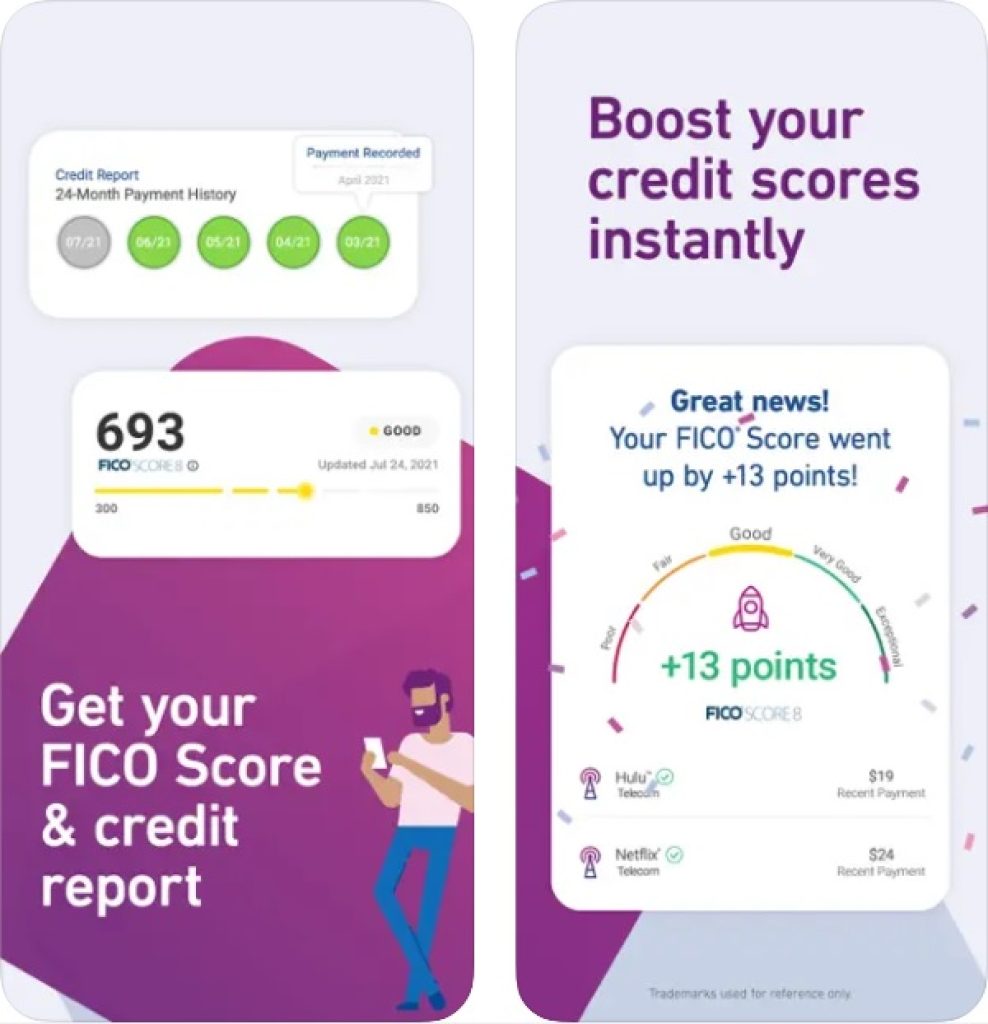 Credit Karma
Credit Karma was created in order to improve its credit account in every way, because this utility has collected all the necessary options, coupled with advanced algorithms that make the process of boosting an account as simple as possible. Thanks to various options that you can influence your account level.

Several of the most important program options are:
unique ability to check your account using the "early charge" option and have a chance for a cash refund from Karma for debit card purchases
refinancing credit card debt or an emergency loan of a certain amount of money, which is provided to each user personally and saves up to more than thirty percent at rates
universal saving system that does not require any additional boards, interest rate cuts thanks to advanced algorithms of the app, as well as a monthly chance of winning more than fifteen thousand dollars
personal offers about profitable loans of funds, selected for each user individually with the compliance of all specified filters in the profile
the possibility of connecting with various loyalty programs such as a government incentive program, various unemployment benefits, which will help ease any official obligation and a number of other options
free credit and ID monitoring, which allows you to reliably protect your money, as well as find truly profitable offers
As a result, we can conclude that Credit Karma can become an indispensable tool for you in the field of credit enhancement thanks to a competent and business approach to various issues of savings. Download the utility now and start saving wisely.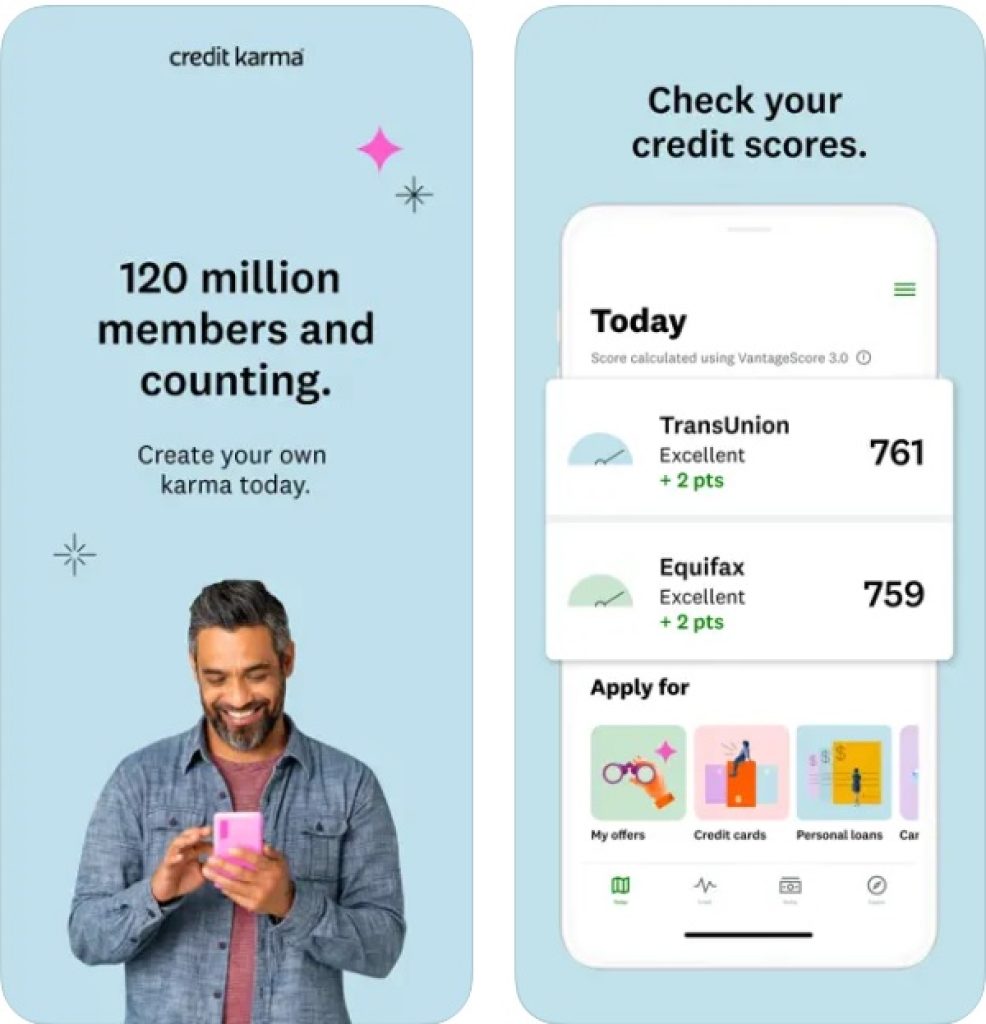 Self – Build Credit & Savings
Have you ever grabbed your head while checking your credit account? If so, then Self is your way out of situations like this, because a competent, and most importantly, creative and intelligible approach will help you forget about the lack of funds forever.

Close attention should be paid to the following characteristics:
no need for a "clean" credit history, which allows you to start leveling the situation with finances much faster, as well as a unique Vantage Score assistant that allows you to track your account
variability in the selection of as many as three different bureaus to report over a period of time, as well as the ability to start any plan for less than thirty dollars a month
a perfect system of protection against decryption of your credit account data, the effectiveness of which is checked by time, as well as the confidentiality of all your data by any of the banks
the ability to return all impersonal funds and increase your payment history for the better thanks to the bills paid on time
It can be concluded that Self will be useful even for the most inexperienced user, who is just beginning to master in such a field of development. The developed and understandable functionality of the app, as well as detailed instructions for each of the options, make this program truly indispensable.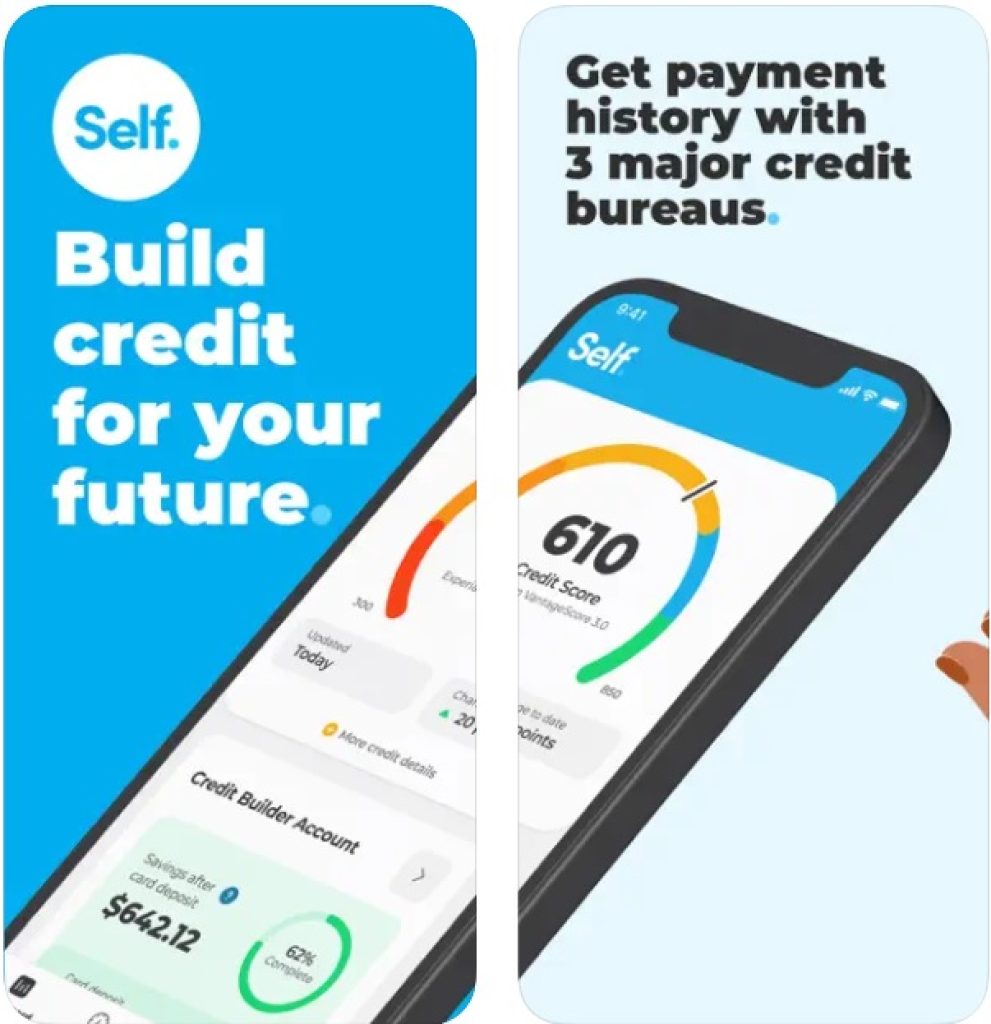 You may also like: 16 Best Money Transfer Apps for Android & iOS
Grow Credit
At the moment, Grow Credit is beginning to rapidly seize leadership positions in the field of competent construction of credit accounts, as evidenced by the high percentage of utility downloads in recent months. The program has wide functionality and variability in the choice of strategy.

It is necessary to focus on such functions as:
competent separation of five different business plans of gradual construction of credit: ordinary for beginners, protected for amateurs, student for professionals, growing for good specialists and accelerating for experts
availability of a free FICO account with a wide stream of unique instructions created by real experts of their business who have high qualifications
an excellent blocking system, followed by the destruction of any virus or user ID that risks entering your account in order to steal a certain amount of money
the ability to link all your subscriptions in one place to make it easier for you to pay the required bills; for example, link Spotify, LordsFilm, or something else
If we combine all of the above into a single whole, we can conclude that Grow Credit is a very good option in order to increase funds in its credit account using various points of view. Take the first step towards this area by downloading this app and using one of the plans.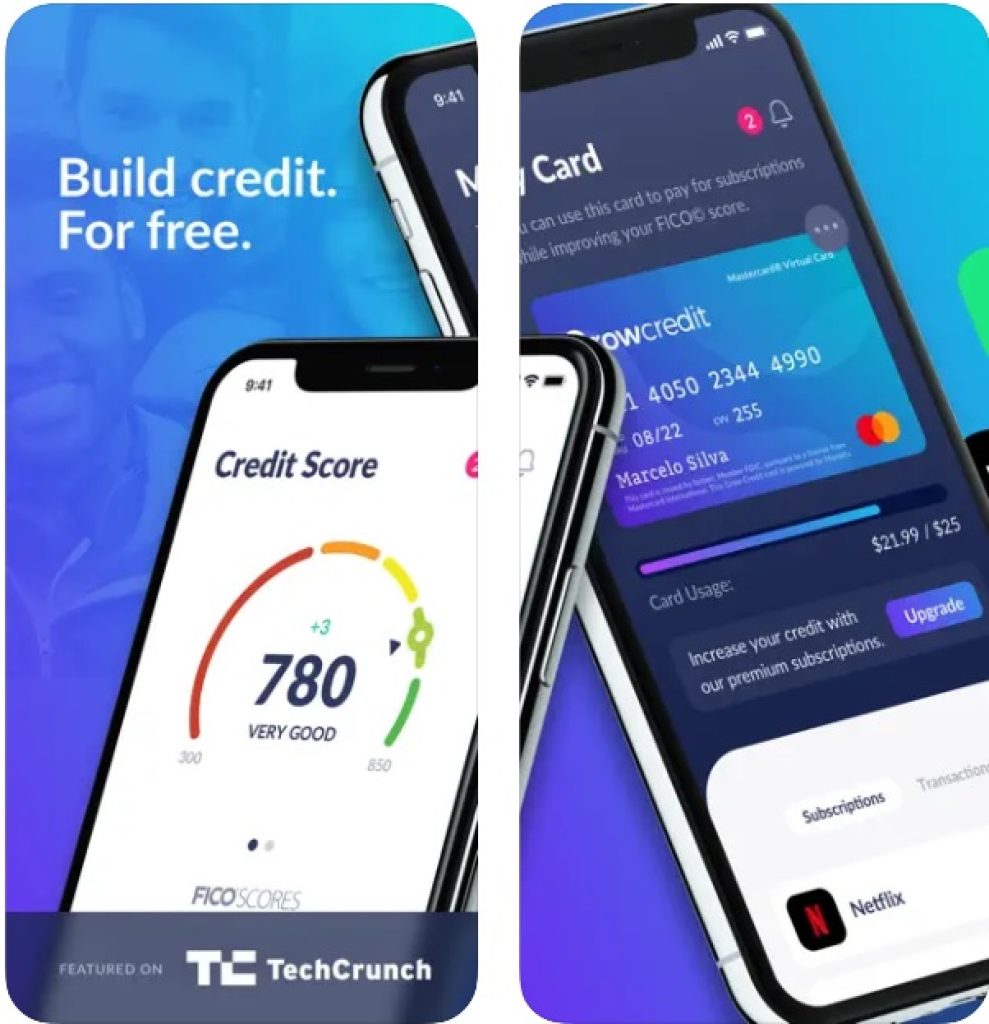 Credit Sesame
Credit Sesame allows the most inexperienced user to put all his business in full order in matters of increasing credit. And this is not surprising, because the app from download to device provides an individual and competent approach to each user.

These characteristics are worth looking at in more depth:
the possibility of high cost savings up to more than twenty percent for purchases that correspond to the cashback section and have partnerships with Credit Sesame
unique credit plan for each user, consisting in the use of advanced algorithms, as well as statistical analysis of specific account data of a specific person
daily receipt of unique offers, useful tips for opening a certain list of credit cards that are most profitable for the user, as well as a high density of refinancing options
advanced analytics and analysis of all your assets, followed by the display of all factors that may negatively or positively affect your finances
Thus, we can say that Credit Sesame is the very quality standard that all utilities of this kind should strive for, because not every app can boast of such detailed options and close attention to every detail.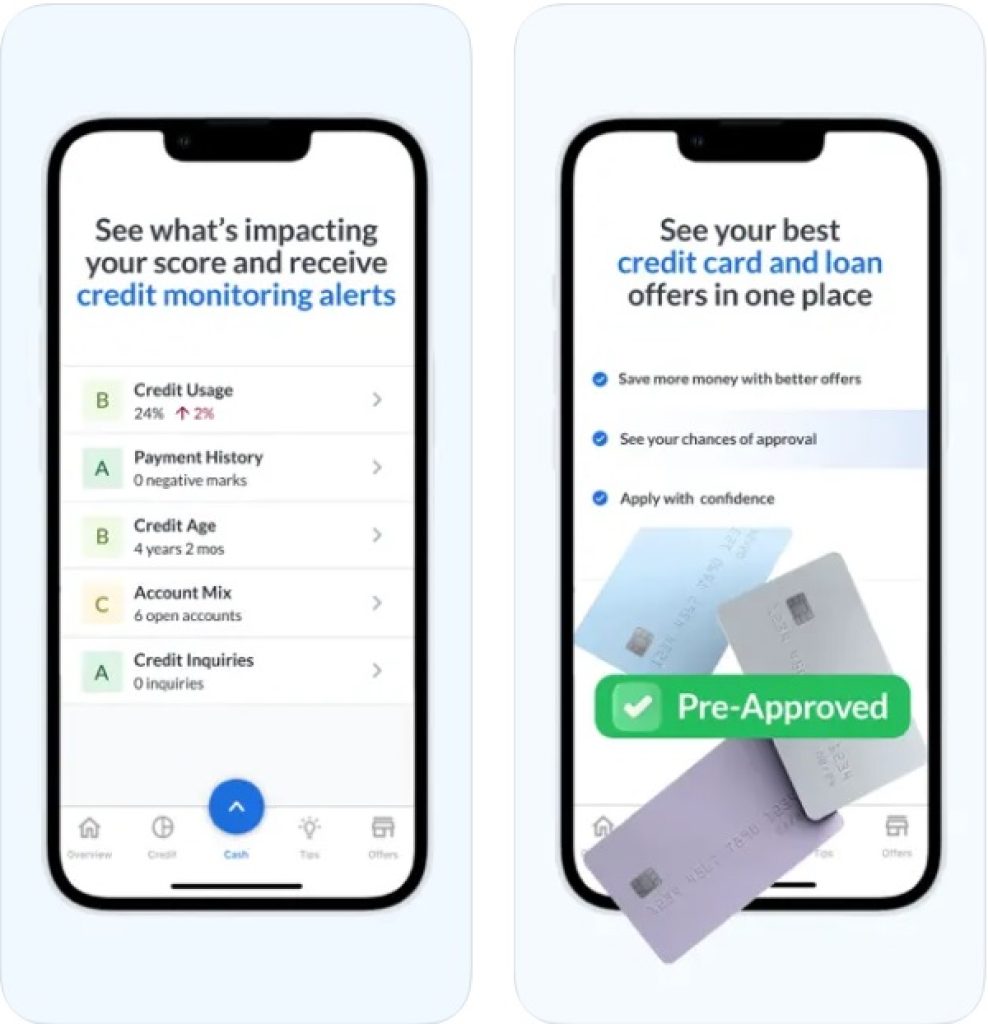 Credit Repair App
Credit Repair App is the easiest service aimed at improving credit accounts of all users. Thanks to detailed options, the user becomes insured against dishonest offers and transactions, as well as various types of financial fraud.
Several options worthy of user attention:
calculating the impact of all the necessary options to improve your financial condition, followed by a proposal to change strategy or continue working in the current direction
tracking all changes taking place with your account in real time with the remote TransUnion assistant, as well as a convenient interface that allows you to solve all your current difficulties as responsibly as possible
the ability to download various files, be it image, video, audio or even a GIVE file directly from the device memory to the utility
convenient notification system that allows you to monitor the status of the account at any time, as well as calculate the most useful actions using advanced analytics
So, this program is most clearly suitable for experts who work in the field of banking or economics, because thanks to the various options of this program, the user will be able to get a broader view of a specific problem.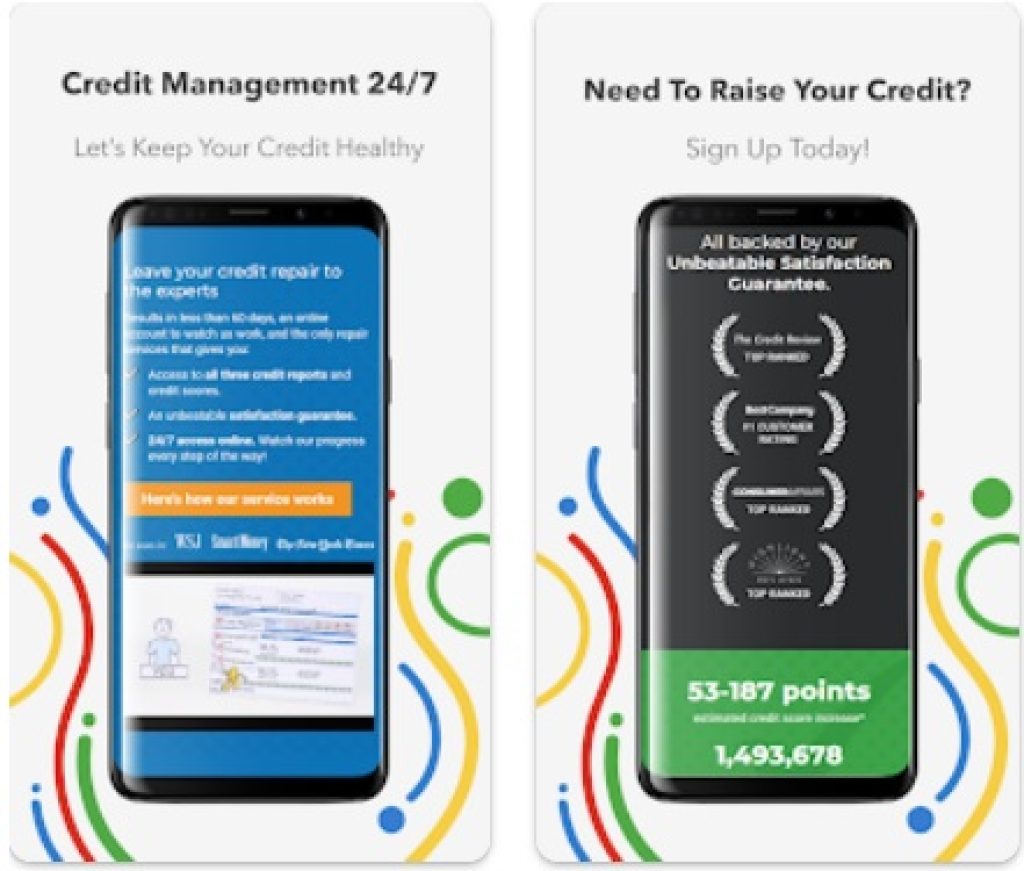 Lexington Law – Credit Repair
Lexington Law was developed by Progrexion IP, which has been a leader in credit repair for more than one year, which can confirm a huge number of people. This utility has helped many people in difficult situations, so, give it the opportunity to help you.

Some interesting features of Lexington Law:
focusing on variability in choosing a strategy to achieve the greatest benefit in a goal such as improving creditworthiness
a huge number of different programs that protect your account from decryptions and intrusions by third parties; an example is one well-known company that entrusted the utility with more than three billion dollars
smart analyzer of absolutely all actions taken with your account, be it transfers, purchases, made deposits and other types of transactions
the unique ability of this ReportWatch utility to constantly analyze all actions taken with a score and offer various positive options with the highest exhaust
Thus, Lexington Law is the simplest option so that you can straighten out your credit history without fear of leaking the means or maximizing the zeroing of all means at once.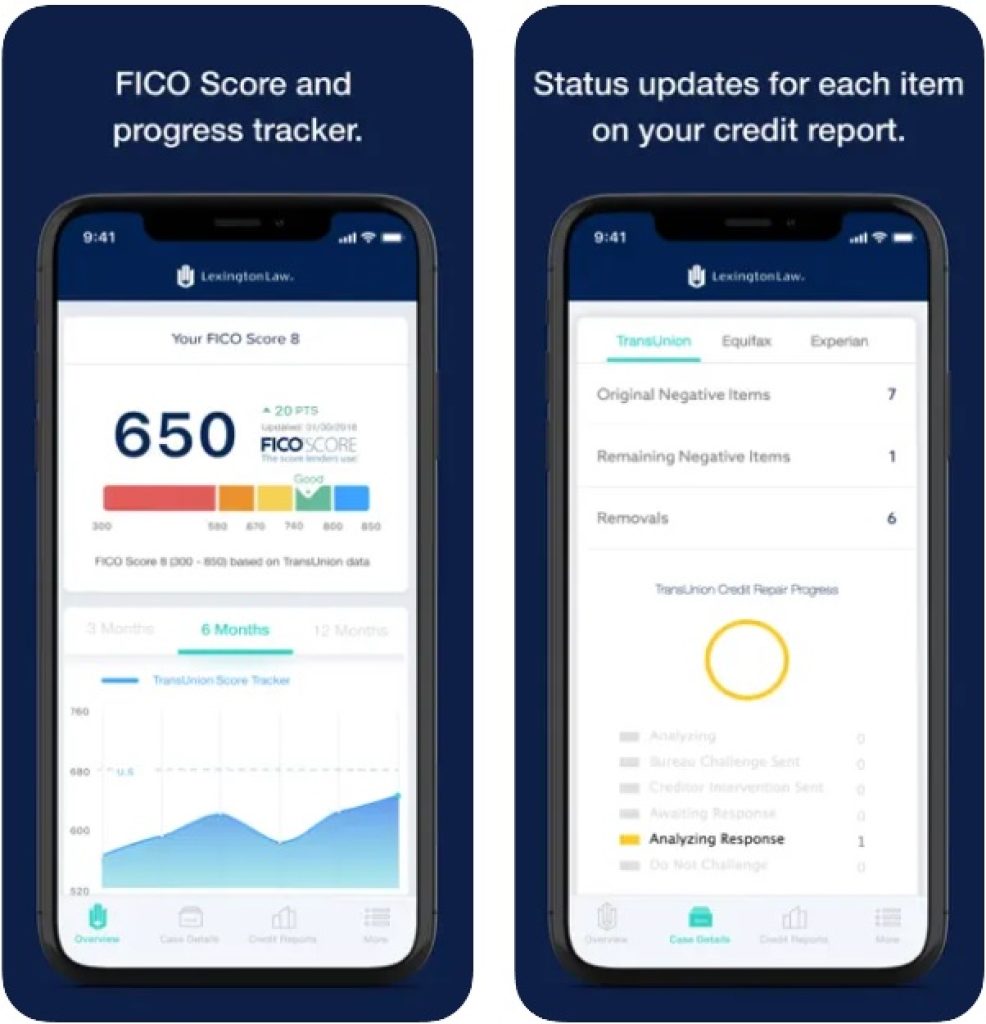 Ava Finance
Ava Finance is the very app that the "indelible quality standard" speaks about, because if you take into account all the work invested in this utility, as well as the fact that all functions are completely detailed, you can immediately understand why people say this.

So, a few important characteristics:
convenient credit account that does not require any long startups and investments, gaining points for which you can literally immediately
a unique option to create a special account that adds several additional credit lines in order to make it easier to fill points in the account
the ability to pay for subscriptions by IVI or Okko cinema type by linking existing accounts to a credit card that can be created in the utility
Summing up all the above, we can conclude that Ava Finance is a new word in the field of improving creditworthiness and credit history analytics, because the work of the developers is justified to this day.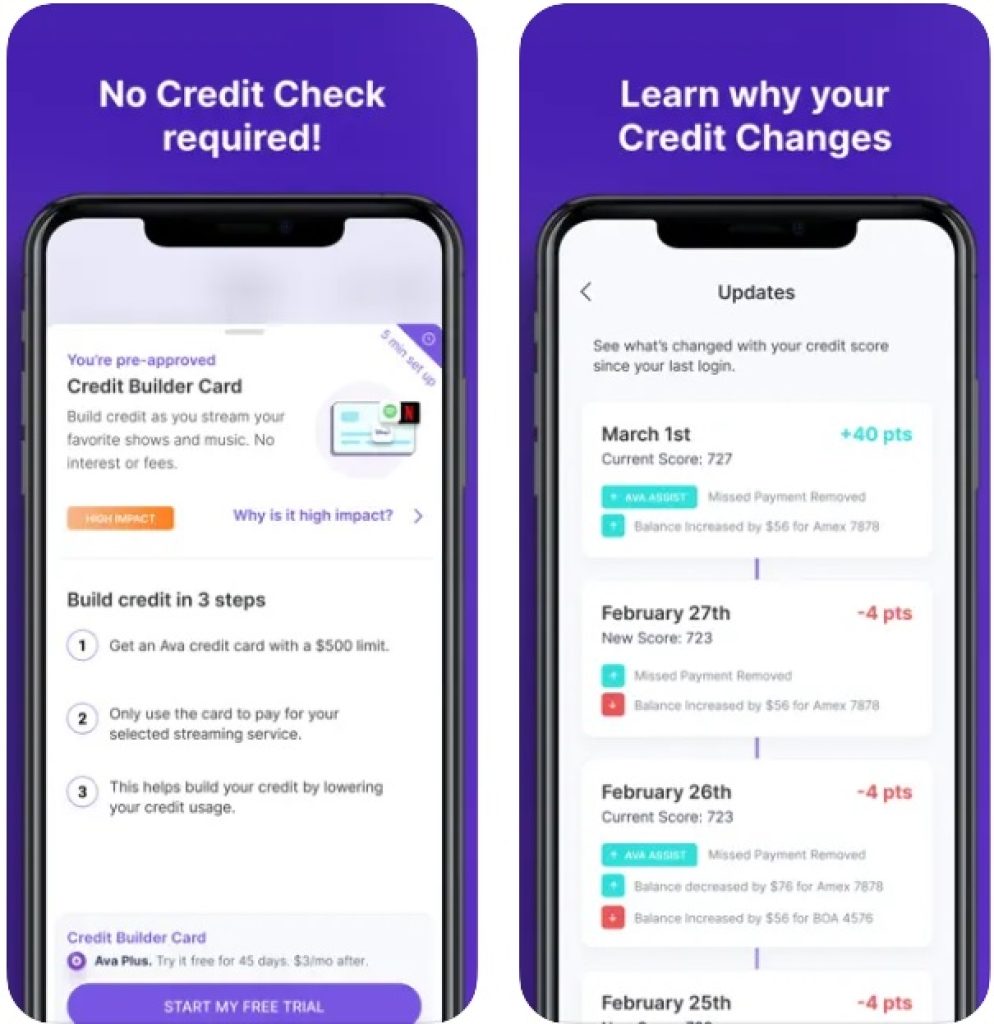 TransUnion: Credit Monitoring
TransUnion Credit is the best program so that you can raise your credit account from zero to high values ​ ​ thanks to useful advice and practice of modern methods. Trust the TransUnion Consumer development company and more than ten downloads.
The most important option of this utility is advanced analysis of your account using smart Equifax tools that protect your personal data from theft by their attackers.
In addition, the app has the ability to put a card on notifications for constant control over the score. A pleasant bonus of this utility is the "Credit Compass" option, which allows you to inform the account holder about hacker attacks and protect it in the shortest possible time.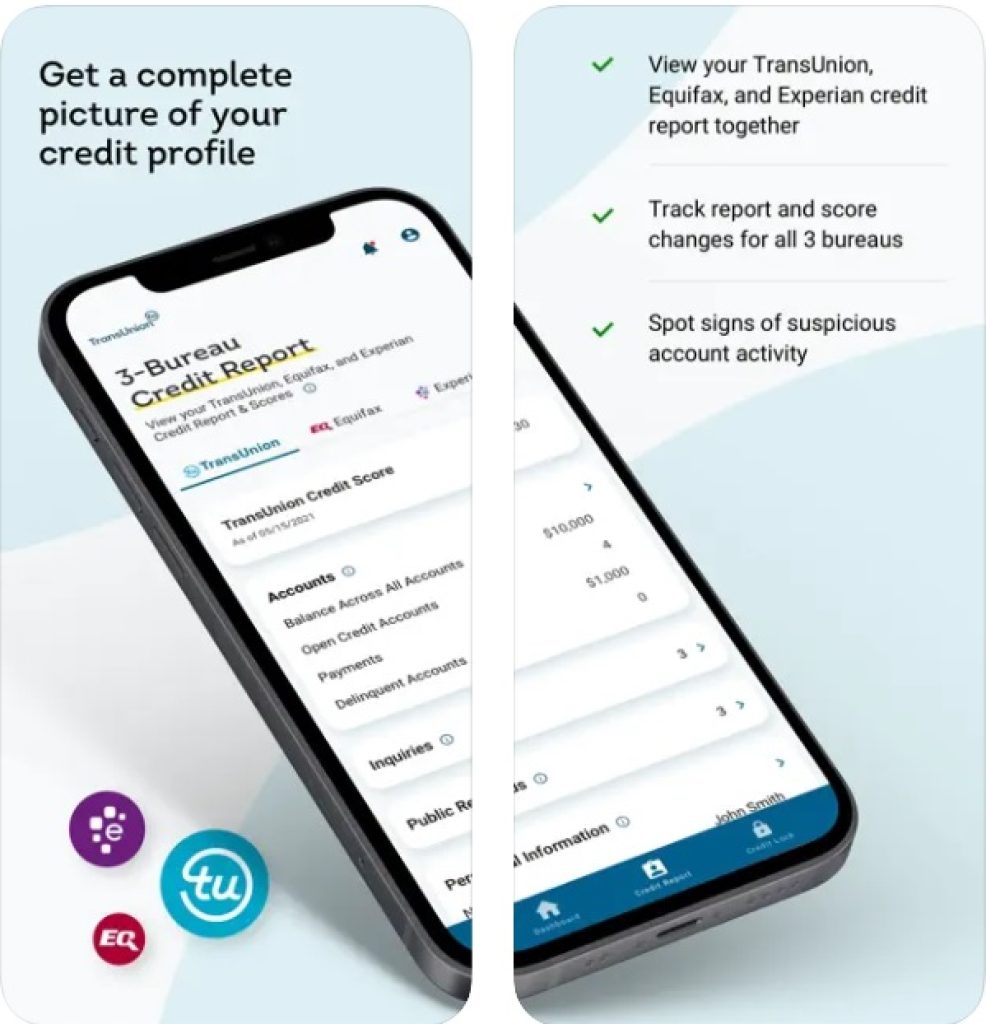 You may also like: 11 Best tax manager apps (Android & iOS)
Wallet Hub – Free Credit Score
This program has been successfully working for more than four years in order to successfully raise the credit account of a particular user, as well as provide weekly reports. This approach very quickly allows you to improve your financial condition.
A remarkable fact is that this utility has won a number of awards, which testifies to well-observed quality standards, and also increases its authority among all apps of this kind. One of the most notable options is that the program is one hundred percent free.
Thus, WalletHub is a real find for those users who want to get out of a difficult financial situation, but at the same time do not imagine how to do it as competently as possible.