There are moments when you have an awesome idea or simply remember that you have to do something later. Inspiration comes and you need to send a message to yourself. And if you often ask yourself why there is still no app for that, we have excellent news.
Moreover, there is a lot of brain games that help you to relax and develop your brain abilities at the same time. You can find them on this list.
There is Braintoss. It's a perfect application to capture your thoughts immediately and to remind yourself of them later. We all want to make our products more efficient and it is a great tool for it. So how exactly does this app function?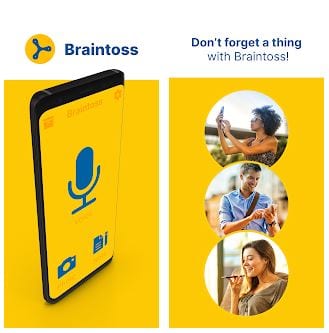 The interface is very clean and simple. You can set it up in 1 minute, just need to enter your email and choose your preferred language. It helps to get a transcription from you more clearly. After the setup, you can see the main screen, there are icons of the microphone, camera, and message.
So, when you want to make a recording, just long-press the mic icon in the app, and your message will be captured and transcribed. Afterward, the system will send it to your email. If there are some discrepancies in the text itself due to the noisy background, you will always find an original voice message attached.
Taking a picture or writing a text also works the same way – just long-press the according to icons and here you go. By the way, we just loved the joyful yellow background.
Brain games are great but sometimes we all need that "stupid" kind of rest – you know, to forget about our daily problems and laugh. You can try naked scanner apps with your friends and have a great time.
If you don't have an internet connection at the moment and you still need to use this app, record yourself a message and as soon as the phone is connected to the internet again, the app will send it to your email.
In case you have an iWatch you can enjoy using this app as well (the update will be released soon). You will need to just put it on the face of your watch and capture inspirational stuff even faster. It comes very helpful and not so many productivity apps have this option.
Moreover, Braintoss allows you to save copies of documents, receipts, and business cards in the app stores.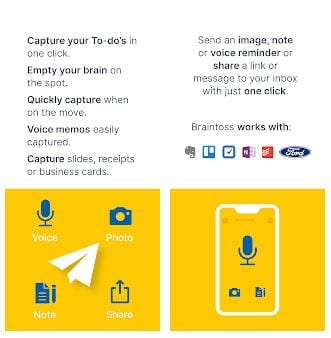 So if you need to look through some paper urgently, just take your phone out and check it in the app. And it's possible to review the messages from the last two weeks, they are all stored in the History section. The tech support acts very quickly and helps with any issue.
They also check the comments of the app users not just on Itunes but on different websites too. They are ready to answer any question and consider any critics.
For our female audience, we can also recommend the best apps for teenage girls – you will find lots of useful apps on that list.
Of course, you can use ToDo managers, Notes, or even type an email to yourself. However, we find these ways useless comparing to this app. Get the important thoughts off your head at once and then file it wherever you want. This app is essential for improving time management and productivity.