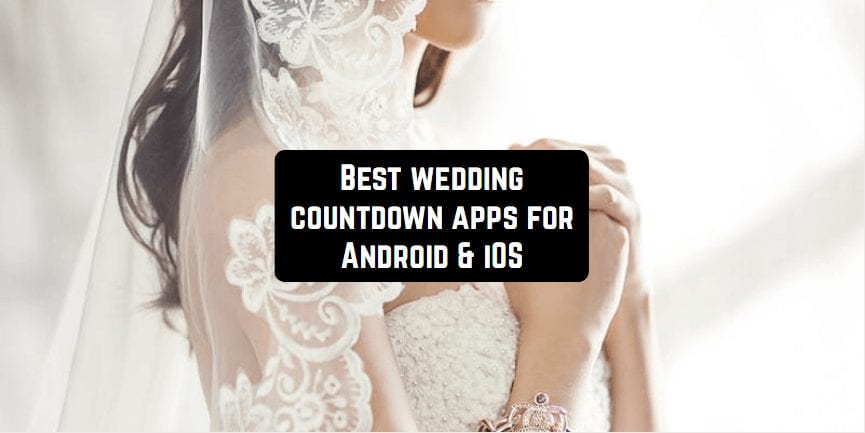 Weddings! As Captain Jack Sparrow said: 'I love weddings! Drinks all around!'
We are waiting for these wonderful events, getting ready, buying dresses and all of that. Be aware though that some people have turned our expectations into a good business. You don't need to get all crazy about your wedding but it doesn't mean you shouldn't expect the event either! After all, it is a beautiful tradition, the celebration of love and loyalty. Below, we've collected five great apps that will help you count down the time until the X date.
1. Wedding Countdown
Wedding Countdown is a great app for counting days, hours, minutes, seconds, and even heartbeats until your wedding! The app represents both a basic 4×1 countdown widget and quite a sophisticated functionality. You can make your widget look exactly as you want to. There is even a possibility to set your personal picture as a background.
There are lots of different units: years (just in case you're not near that yet), months, days, hours, minutes, seconds, kisses, heartbeats. You can choose what you like most! In sum, this is an excellent app for making longing a little bit more beautiful!
Also check: 11 Best birthday tracking apps (Android & iOS)
2. WeddingHappy
WeddingHappy is a wedding planner, so apart from the basic countdown, there are also some other features that will help you plan your wedding. You can create to-do lists, manage vendors, manage your spendings, find real professionals, etc. The app will notify you of all the most important tasks that you'll need to do so that you don't forget anything.
Preparation for any big event can be overwhelming! That's why WeddingHappy is a nice way to get rid of unnecessary worries and enjoy the process. If you feel there are too many things to do and you can't even know where to start, it is a good idea to download this app.
By the way, there are many productivity apps that can also help you to stay calm and organized. Click the green link to check them out.
3. DAILY DAY D-Day Schedule Widget
D-Day is quite a comprehensive yet excellent app for Android that will help you count down days not only until your wedding but also until other various events, such as anniversaries, birthdays, and even exams! So, this is a very useful app in many ways. Besides, there are three main functions: a reminder, a countdown – showing time left until a certain event, and a 'count-up' – okay, this is a word I've just made up but it means counting days, hours, years after a certain event; the feature makes you able not to forget and always celebrate anniversaries, first dates, first kisses, and so on.
There are also three ways of making both countdown and count-up visual. You can choose from two differently styled widgets or add a new line to your notification bar. I guess many people would find the latter way very useful! Widgets are all very beautiful, but you can edit them if you want – for example, you can add your own personal picture background.
In sum, this is a highly customizable app which is just great for counting down the time until day X. And not just day X – also the hairdresser visit, the makeup artist visit, and many more. If you like things to be multifunctional, this one is for you!

4. Tie The Knot Wedding Countdown
Tie The Knot is a very sound name for a wedding countdown app. This app is for iOS. Now, when your friends ask you: "When?", you can tell them exactly how many days, hours, minutes and even seconds are left until that day. This app doesn't function as a widget but it offers you many editing features and a beautiful interface with all the needed information right on the front page. In order to make the countdown a bit more personal, you can add names of future spouses and a picture.
After you get married, the app turns into a count-up. Sorry, I really like this word! So, every second spent together will be counted by the app. You can make it notify you of anniversaries and other events that are worth celebrating. All in all, this is a wonderful iOS app for counting down the time until your wedding.

5. Wedding Countdown Boho Vintage Flower Widget
This wedding countdown for Android is very beautiful. It can create widgets in a form of floral wreaths. You can choose one of four styles – boho, vintage, shabby chic or floral style. Before setting a widget, all you need to do is choose the date and time and write your and your spouse's names. You can also choose the kind of event, so it can be not just wedding but many other things as well.
If you are fond of personalized backgrounds, you should make it! The app also provides you with checklists feature and offers useful tips on how to plan a wedding day more carefully. All in all, this is a marvelous Android app for those who expect a wedding. It is both pretty and functional.

---
So, to end up with, we've covered five beautiful wedding countdown apps for Android and iOS. Hopefully, they will help you to plan the event more carefully and not forget anything! Cheers. Be smart in choosing apps.