11 Best Craigslist Apps for Android & iOS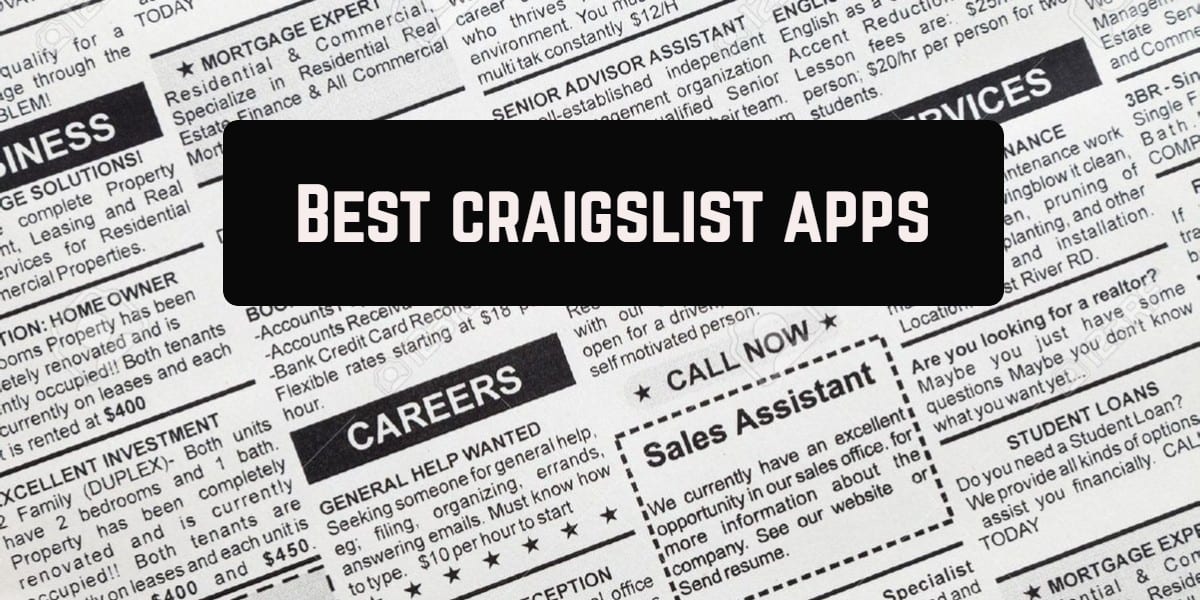 Have you ever wanted to sell the things you no longer use or rent accommodation for your holidays without paying any money to special agencies?
All these things can be easily done with a range of applications for Android and IOS devices! What you need is to write your own post, advertising whatever you want, or read others' ads and get in touch with the authors.
You may also like: 15 Best garage & yard sale apps for Android & iOS
All the posts are clearly organized in the topics so that you will never have difficulty looking for what you need. If you wonder what can be used for this purpose, all the following Craiglist applications are right for you!
Daily for Craigslist App
With this app, it is so easy to come up with the latest ads in the area you live in. Your location will be identified automatically, provided that you give the app all the respective permissions.
If you are looking for a particular thing, there is no need to tape in every time you launch the app. All your frequent inquiries are automatically saved. You can also get notifications when something you are in search of appears. Just go to the settings and click the respective option.
If you have found something suitable for your friends, just share the add via e-mail, Facebook or Twitter. They will be definitely glad to know that you care about them!
You may also like: Top 8 Garage & Yard Sale apps for android, Iphone
CLassify
This is the best classifieds app where you can buy any car that you want. Classifieds is one of the types of Craiglist apps, and it definitely brings a similar vibe. Here you can browse for the cars sold in your area, you can contact the sellers directly and carry the discussion with them about the ending price.
However, even though this app is the car selling and buying app in the first place, here you can find not only cars. There are also job announcements, houses and apartments for rent, and other things for sale (for example, old electronics).
Each time the new item in the category you are interested in is added, you will get the notification (of course if you adjust that in the settings). The interface design is quite simple and plain but on the other hand, it makes it easier to orientate in all the diversity of posts.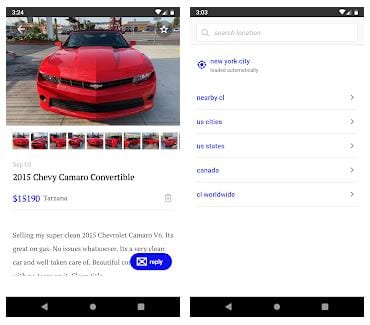 Browser for classifiend jobs, for sale, services
For better convenience, you can even download the browser for craigslist and search for anything that you need. When you open this app, you can see different craigslist – you just need to choose the one matching your goals more. The app is extremely simple, so don't expect any technological innovations here.
You can go to any craigslist that you will find in this browser and all the content will be displayed as the newsfeed. The app is quick and convenient in usage. The only thing is that here you can't contact the seller directly in the app. You will have to do that in the old fashioned way – find the phone number and call.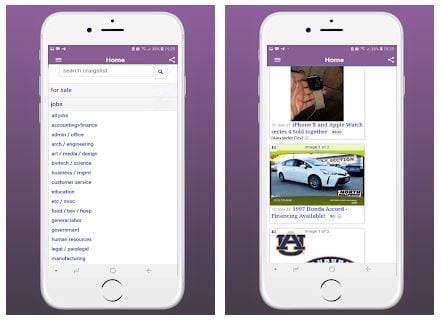 Craigsafe for Craigslist
This is one of the few apps in this category that is available for iOS. What is more, it is an extremely cool app that solves one of the main problems that you can so often face on any Craiglist web sites – it keeps safe you and your money.
When you are negotiating on the Craiglist source, the person on the other side can be anyone – a fraud, a robot, a government, and so on. This app has a convenient and intuitive interface that allows you to safely browse through the posts on the craigslist, looking for the things you need.
The app includes more than 700 locations each with more than 100 subcategories. You can zoom images and save those images on your phone. You can affect the search at multiple locations at the same time. You can contact the sellers directly in the app without the risk that you are going to be fooled.
You may also like: Best apps to create brochures on Android & iOS
Listings for Craigslist
This nice and handy app will help you to find whatever you want with a few clicks! All you are required to do is to select your location and choose some categories.
Whatever you want to do – find a job, buy some goods or get a service – go ahead and make the most of the possibilities of technological advances! Do not forget to visit the page with sales! There are a lot of goods which are sold at reasonable prices, affordable on any budget!
What's more, you can have a conversation with other users on the forum, discussing some app features or other questions you want to ask.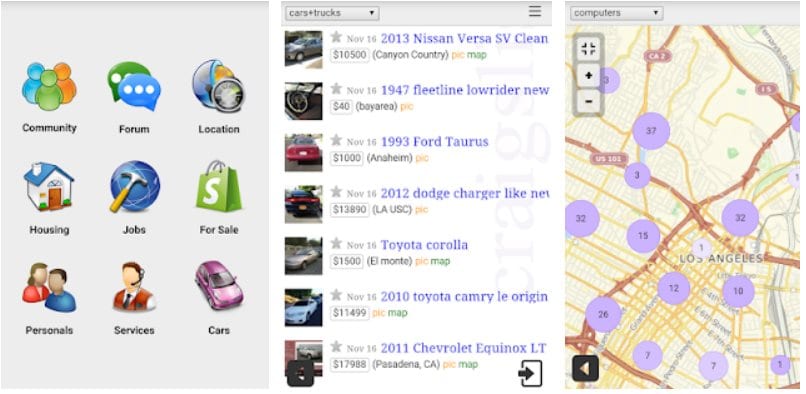 Facebook
If you haven't found what you've been looking for in the regular craigslist apps, then you can try out to use Facebook as your craigslist app. In fact, nowadays the giant social networks become more and more powerful and dense and slowly swallow all the small apps.
So, what you need to do here, is to find the classifieds groups of craigslist groups in your living area and join them. One advantage of buying or ordering something on Facebook is that you can more or less see the person you are talking to, explore their page, see their activity, and if they're not a fake account.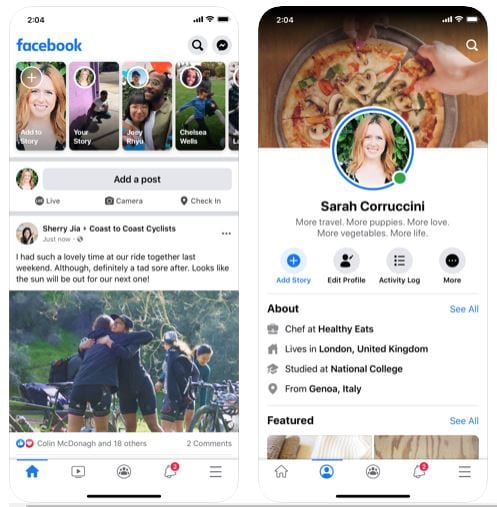 Search Craigslist with cubiX
This app can provide you with an auto-search feature, allowing you to do whatever you want, while the research is being done for you! The app can easily work in the background, checking for new posts automatically.
If you want to get informed about a new good you are looking for immediately, you can get notifications on your device, so that it vibrated or made a sound. In case you are a fan of your email, you can get notifications there and receive them no matter where your phone is.
If you like a post and want to come back to it later, there is no need to make a search one more time. Just click the button and send it to the list of your favorites!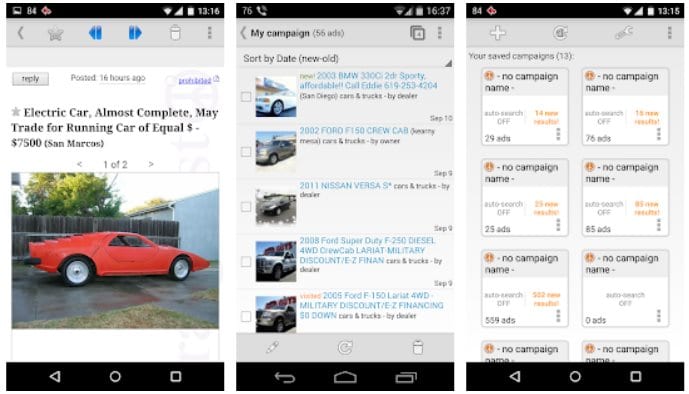 You may also like: 7 Best Apps to sell your books
CPlus for Craigslist
Use this up-to-the-date app to buy and sell whatever you wish! Any types of goods can be posted there and you will definitely find something for you!
While scrolling the ads, you are given the opportunity not only to view the photos but also to see the prices and advertisers' notes, allowing you to compare the goods easily.
You can easily set your location for selecting only the nearby ads. However, if your job is connected to moving from one place to another on a regular basis or you are a fan of traveling, – opt for geo-location and your coordinates will be defined automatically!
If you look for the same things from time to time, just mark them favorite and you will easily access them the next time.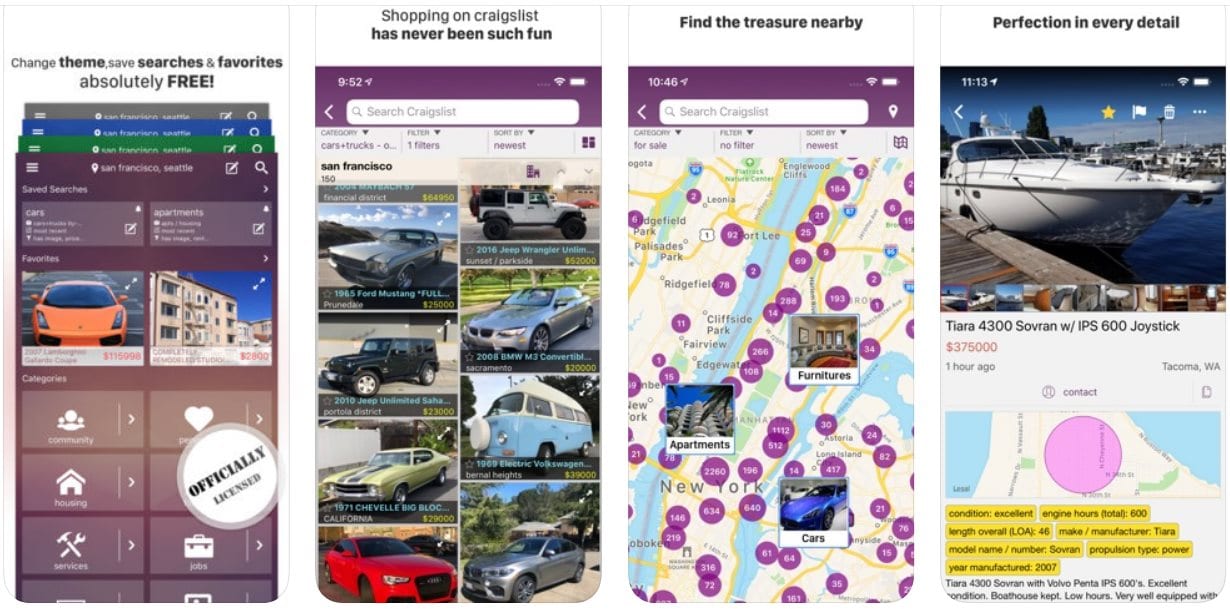 CSmart
CSmart is a state-of-the-art and handy app, providing a full variety of functions to fulfill your desire. You can scroll the ads, looking at pictures and prices of each item. As soon as you take a liking to one, you can click the picture and find more information.
For your convenience, all the ads already viewed are highlighted grey, so you won't spend time considering ads more than once. The ads can be sorted out by price, date of publication, and place.
In case you are faced with some difficulties while using the app, all the information concerning its functions are available on the youtube channel. Also, any inquiries and offers are accepted on the Facebook page.
Postings (Craigslist Search App)
This app is easy-to-use yet functional and eye-catching. What makes this app special is the ability to choose the ad layout that is more suitable for you, as well as either a light or dark theme.
With a variety of filters, you can be sure that all your researches are extremely precise and complete. You will definitely find whatever you are looking for and will be given a wide choice of offers to purchase the most suitable one at a reasonable price.
In case of your desire to get rid of useless things, taking a lot of space in your flat, you are provided with a feature to make your own post and sell them. You will definitely notice how roomy your house is!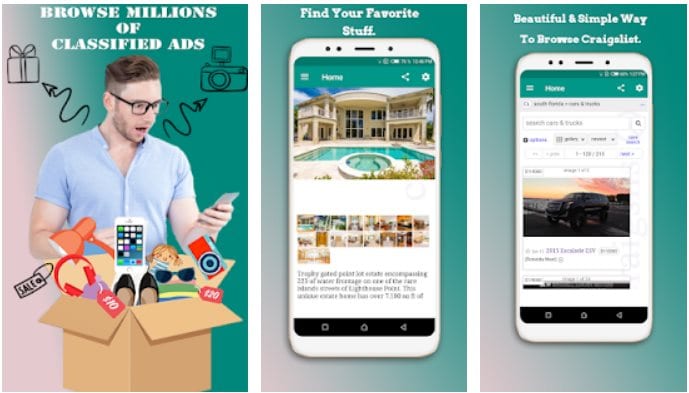 letgo
There are less and less traditional craigslist apps as technologies are evolving, and they are slowly being replaced by the classifieds and second-hand app. And those are pretty good actually and don't differ that much from the craigslist apps, like this one.
This is the cool classifieds app where people can sell their old stuff and other people can find rare things which they have been looking for for a long time before. Just install letgo and see which offers you have in your own living area. You can contact any seller in seconds and ask questions about the product and negotiate the price.
Additionally, your interest might be aroused by Best online shopping apps for Android & iOS