We all know that there is one huge problem connected with storing photos and videos on Android. And that is how to do it secretly! In other words, sometimes it is important to have some privacy and prevent people from viewing some unfortunate shots or personal files.
Have you also encountered such kind of a problem? If yes, then you are quite lucky to be reading this article! We've have gathered 10 best apps for making files magically disappear from the prying eyes. Choose one of them and be sure no one will be able to view your private stuff until you want them to!
You may also like: 15 Free Apps to Hide Photos and Videos On iPhone & Android
Vaulty
One of the most popular apps of such genre is Vaulty. Vaulty is designed for concealing exclusively photos and videos. But that's exactly what we, average users, need, right?
Vaulty allows you to hide the chosen files and view them from inside the app. The files are protected by a PIN or a text password. You are able to classify them in the most convenient way due to the opportunity to create multiple inside folders, which, by the way, can be additionally protected by individual passwords.
If someone tries to access your hidden files and does it by entering a wrong PIN or password, the app will make an unwanted selfie of the intruder to let you know who has tried to violate your privacy.
One more amazing feature of this app is a free online backup. No one is protected from the loss of a phone or its breakdown. In such situations, we all wish we had backed up our photos and videos.
Vault gives you such an opportunity, so it is better to use it – caution is the parent of safety!
So what do we get? A simple app with the ability to hide media files. Download it now and make sure your files are under protection!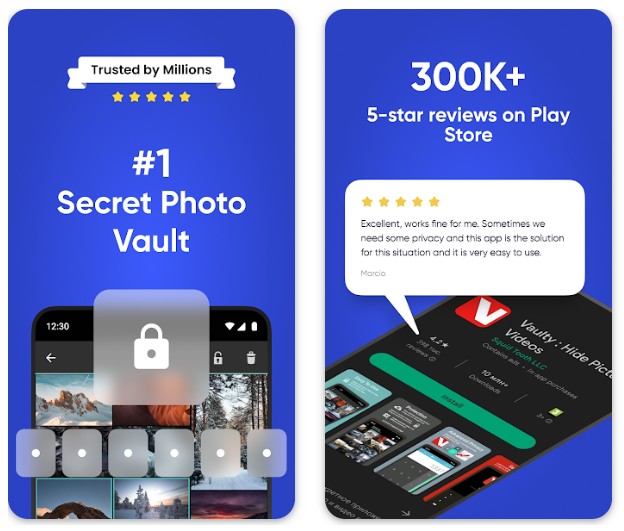 You may also like: 9 Best Secret Calculator Apps to Hide Files on Android & iOS
KeepSafe
KeepSafe is one more app for hiding photos, videos, and files. This app is considered to be the most secure one, however we doubt that other apps are less secure than this, so let's be objective and mark the real advantages
First of all, there are three types of protection: PIN, pattern, and fingerprint. Fingerprint is something new, which is not available in other apps, so this is definitely the plus.
Secondly, the gallery in which photos are being replaced or copied is full of useful features. The most remarkable ones are rotate, zoom and slideshow.
So what it means is that you can basically use the app as the only gallery and no one will ever know that you have any media files at all. The convenience of viewing files is the second plus.
Thirdly, the app allows you to sync and back up your photos, videos or files. These are nice options, but they are also provided by other apps.
A real advantage, though, is an awesome simple design. Clear interface makes this app one of the best.
There is also a premium package, which includes such features as changing a cover of an album, fake PIN, additional passwords, break-in alert and so on. You can find some of these being absolutely free on other apps.
What do we have then? A secure and beautiful app, which is suitable for users who like simplicity and do not need extra features.
The app has everything a one needs for keeping files protected. Download it now and check out how it works!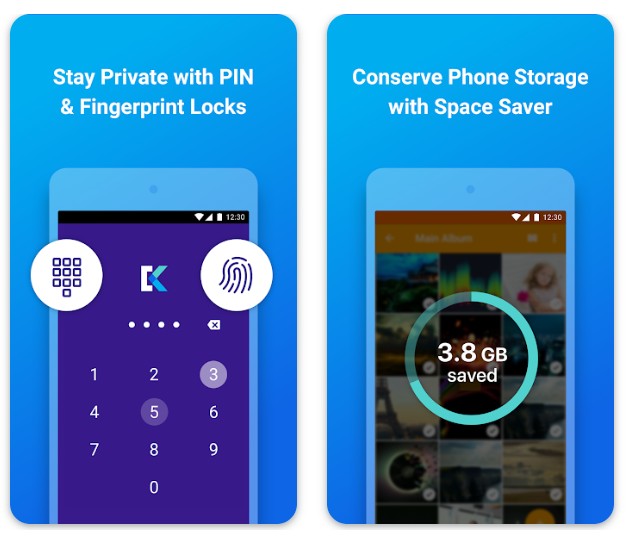 Hide it Pro
Hide it Pro icon doesn't resemble at all an icon that a one would normally use for a vaulter. On the contrary, it looks like an audio manager and it is actually an audio manager, which allows you to change volume settings. Only when you long press the icon, it will open a password/PIN window, which then will lead to the hidden gallery. Amazing, isn't it?
The gallery itself is quite convenient in use. It has all essential features like slideshow, video-player, sharing, etc. There are no special passwords for each folder, but our beloved decoy password is available to mislead those who want to view your pictures.
The other advantage is the variety of files that can be stored in the app – photos, videos, applications, messages and even calls. All this stuff can be simply backed up to Google Drive.
So, this one is also not full of features like catching an intruder red-handed, but at least it provides some basic features that function quite well. Get this one and feel like James Bond every time you open your "audio manager"!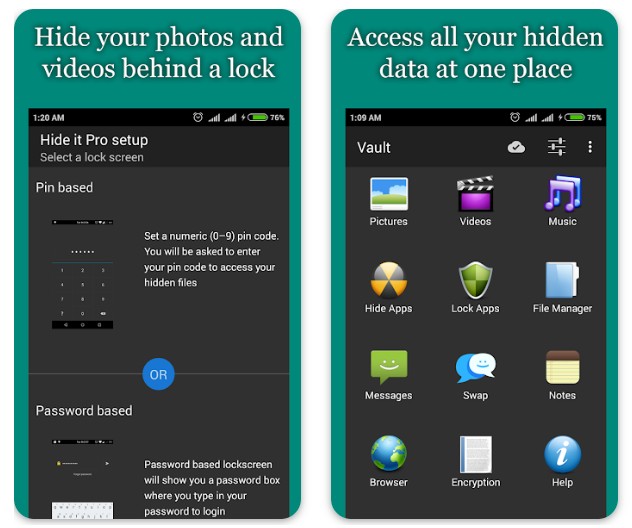 [wpsm_ads2]
Vault-Hide SMS, Pics, Videos
Vault-Hide is for the sly people. Actually all these apps for the sly people, but this one is for the slyest ones, because it allows concealing not only photos and videos, but also messages, call logs and contacts. Moreover, it can lock apps with passwords, which may also appear to be useful one day.
There is a number of advanced features, such as fake vault, break-in alerts, back-up. As for the rest, the app is a perfectly designed vault. So, if you desperately need to keep your private life private, this app is exactly what you should download!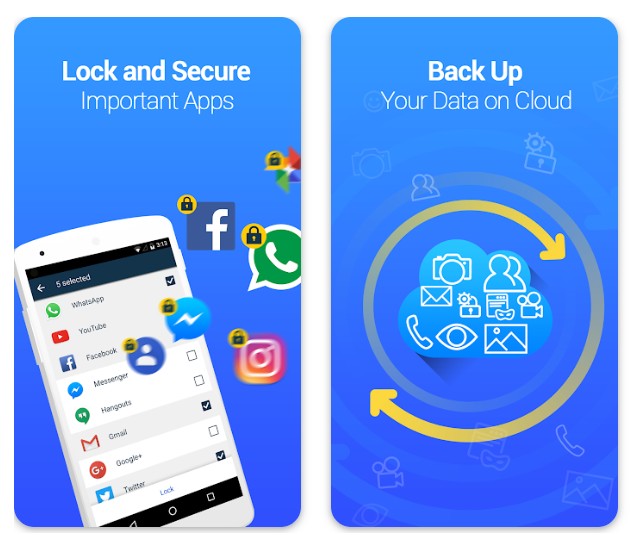 Private Photo Vault
Private Photo Vault was originally created as an iOS vaulter app, but it was successfully adapted to Android as well. The app hides only photos and videos, but the level of protection is quite impressive.
One of the remarkable features is a decoy password. It works in the following way: you enter two passwords – the one for your private content and the other for your "open" gallery. When someone asks you to show pictures, you just enter the second password and get a nice image of a person who doesn't have anything to hide!
Apart from the decoy password feature, there is also a free break-in report. The person who tries to hack into your secret gallery several times will be awarded by a selfie and his GPS-location sent to you, so you'll know exactly who is it!
The secret gallery itself has all the necessary features – sharing, zooming, rotation, slideshow, video player. The design of is much too simple, but at least a user won't get confused by anything. Get this one and make sure your pictures and videos are under a good protection!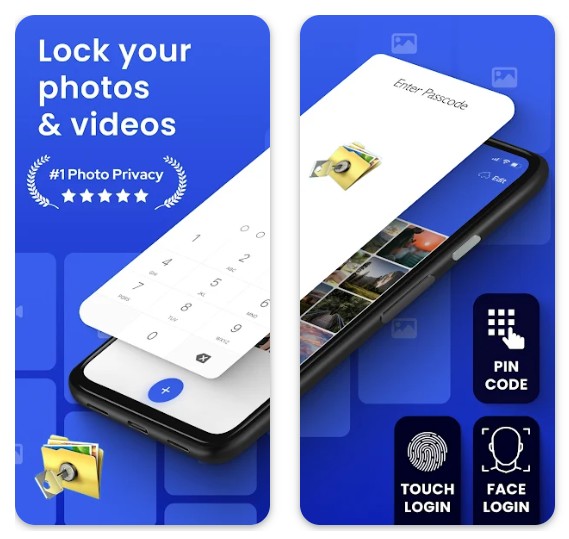 Fotox
Fotox is one more vaulter app for Android. The app creates a cloud of your personal photos and videos, which can be synced through devices. So this is also a backup app, which ensures that you'll never lose any of your files.
The features are mostly similar to those ones the other apps have, but there are a few special ones as well. For example, not only can you protect your files by pin, password or pattern, but you may also use face detection, which is quite outstanding. One more cool feature is making the icon of the app invisible to others.
So, Fotox seems to be a good alternative. Try this one, if you are looking for a safe backup for your photos and videos!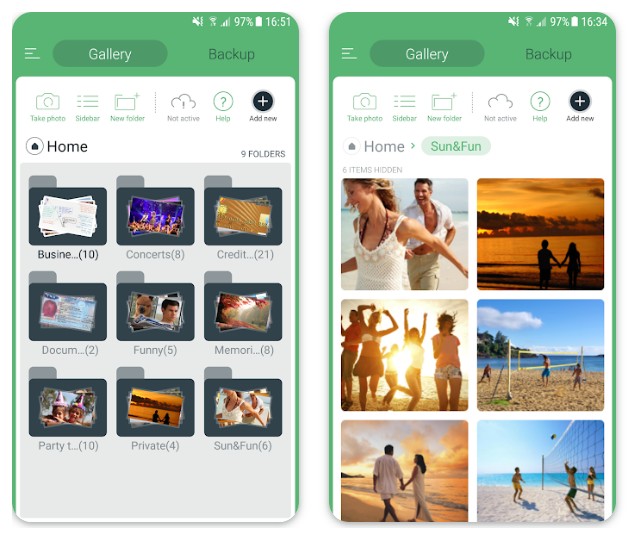 You may also like: 7 Best Android Apps to Hide Text Messages
Safe Gallery
Safe Gallery is another simple app for hiding photos on Android. Three standard types of protection are present here: pin, password, and pattern.
The app is also able to back up your files. The distinguishing feature is the ability to save pictures from the net right to the vaulter. So the inside gallery is divided into two big folds – for photos and for savings from the web.
This app is not for fussy users, but if you're looking for something simple, it may be the one worth downloading!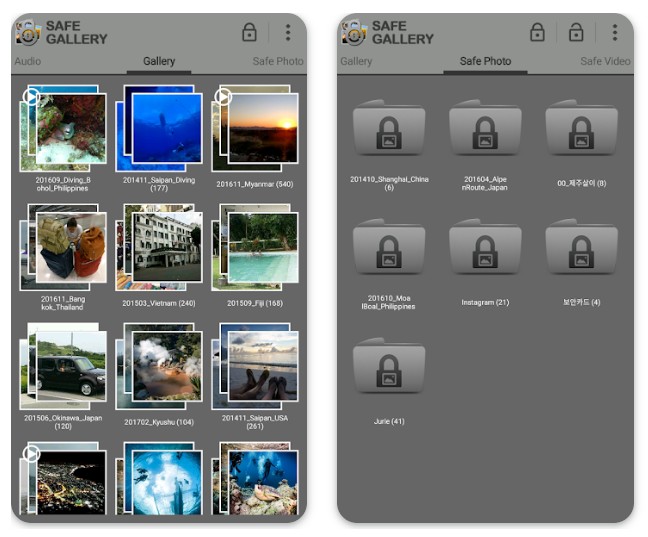 Secure Photo Hiding Calculator
This app is a clever and discreet one to keep your private media hidden from prying eyes.
When you first open the app, it appears to be a simple calculator with basic arithmetic functions. However, once you enter your secret password, it unlocks a hidden area where you can securely store your photos and videos.
You can import media from your device's gallery, or take new photos and videos directly within the app.
The app offers several security features to keep your media safe. For example, you can set up a fake password that leads to a decoy folder with innocuous content.
You can also enable a feature that takes a photo of anyone who enters the wrong password, providing an additional layer of security.
Advantages:
Discreet and clever way to hide photos and videos.
Offers several security features.
Drawbacks:
Limited functionality beyond hiding media.
App may be vulnerable to being discovered and hacked.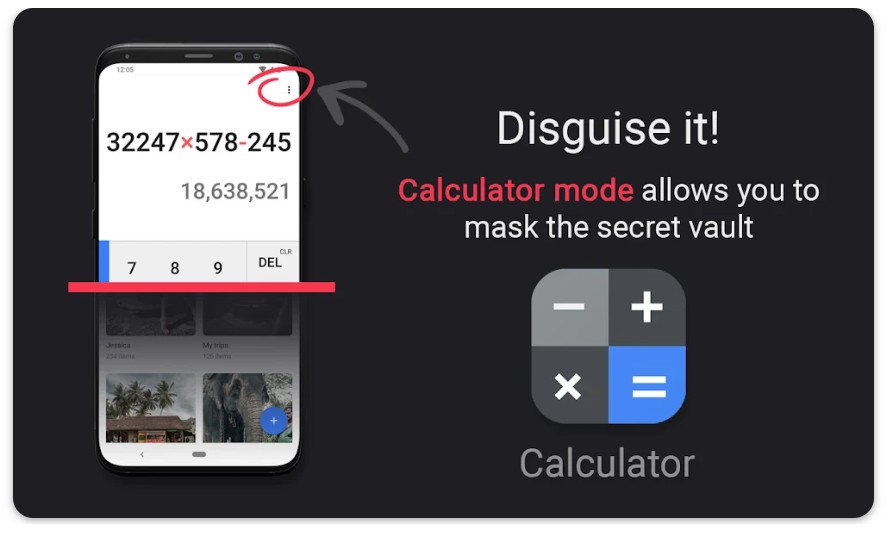 Andrognito
Andrognito is a vaulter for all kinds of files. The app boasts with its military-grade encryption algorithm, which is used to provide the highest level of protection.
Besides this algorithm, the app includes a number of other cool protection features like timely PIN, Invisible Mode, Fake Force Close. The last one is designed for faking the interruption of the app's functioning.
We think, though, that the greatest advantage of this app is not its high levels of protection, but the strict and attractive design. So download the app now and discover both these advantages!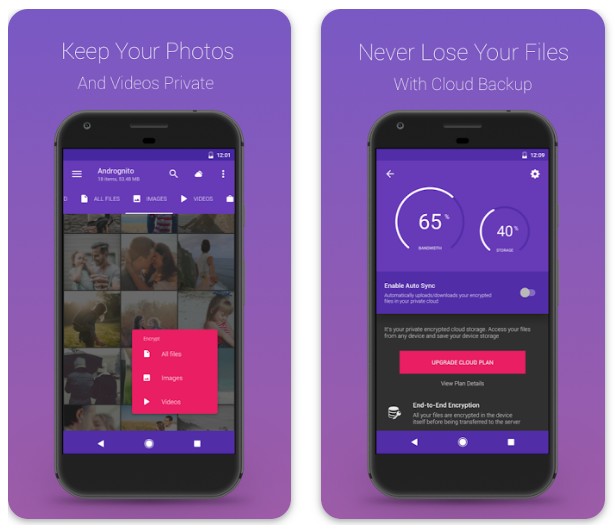 Smart Hide Calculator
Downloading Smart Hide Calculator, you get two useful apps at once. The first one is a fully functional calculator and the second one is a secret vault for your files. In order to switch to the second one all you need to do is to enter the appropriate combination of numbers and tap "=".
The app is able to store all kinds of files – pictures, videos, documents and so on. If you're an advanced user and have root controls, you can also freeze and unfreeze apps.
This is pretty much of what this app is able to offer, however new features are promised to be installed soon. Get this app now, be sure that your sliest protection is cleverly disguised!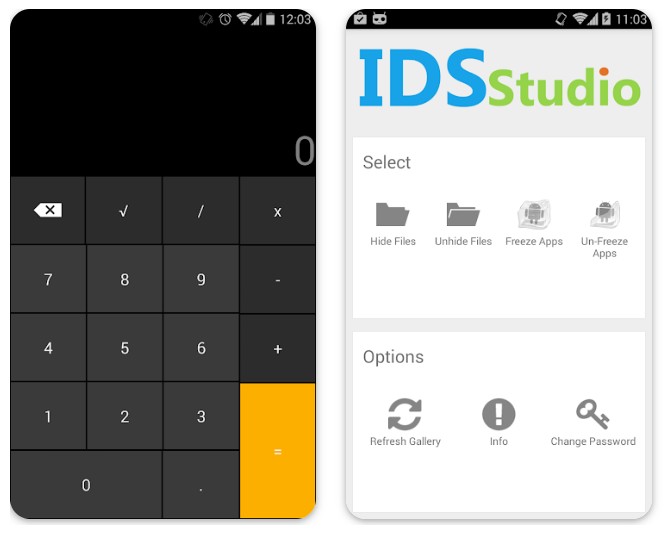 You may also like: 5 Best iOS Apps to Hide Text Messages
Hide something: photos, videos
This is an app that provides users with a safe and secure way to hide their personal photos and videos.
It allows you to protect user privacy by allowing them to store sensitive media files away from prying eyes, either on their device or on the cloud.
With a simple and user-friendly interface, you can easily create private albums, move files into them, and lock them with a PIN or password.
The abums are then hidden from public view, and only accessible to the user with the correct credentials.
This gallery also provides users with additional features that further enhance their privacy and security.
These features include a decoy password option, which creates a fake password for the app to disguise its existence, as well as the ability to import and export media files between devices.
Moreover, the app uses advanced encryption techniques to protect user data, ensuring that it cannot be accessed or stolen by unauthorized users.
Advantages:
User-friendly interface.
Advanced encryption techniques.
Cloud backup capabilities.
Decoy password option.
Drawbacks: