What's up, my princes, and princesses? I don't know a human who has never seen or doesn't like cartoons, produced by the Walt Disney Studio, seriously.
We spent a childhood or teenage period, watching old good animated cartoons. Remember how we were walking in a forest with Bambi, dancing at the ball with Cinderella, flying above the midnight city with Peter Pan and swimming in big water with a little mermaid Ariel, fighting with evil together with Chip and Dale and more and more else.
Twenty years ago we couldn't imagine that we would be able to watch movies on tablets and smartphones, download and use various applications that make life much easier and bring a lot of entertainment and happiness into our lives.
Today's abilities allow us to be with our animated friends of childhood. It is time to show you or your child the beautiful and curious world of Disney.
We have prepared a wonderful collection of 15 Best Disney Apps for Android & iOS. Stay with us, there will be a lot of fun!
You may also like: 5 Best Disney Drawing Style Apps
Maleficent Free Fall
I hope, everybody saw "Maleficent"- an adventure fantasy film directed by Robert Stromberg. It was as perfect as Angelina's Jolie playing. For those who didn't read Sleeping Beauty or watch it.
Maleficent is a bad witch, who made Aurora sleeping forever. But let's return to the app review.
Maleficent Free Fall is an interactive game where you need to switch and slide the board of enchanted gemstones to create matches of 3 or more as you trigger cascading combos and conquer original objectives.
Cast Maleficent's green magic to instantly vanish the same color gemstones, call upon Diaval to swoop down and rearrange the board, or cast tendrils of thorns to clear entire rows and columns.
The game begins with you when you are a young Maleficent and a big journey only waits for you! Step by step you will be able to explore the untold story and a lot more. Diaval- your faithful raven and servant will help you until the end.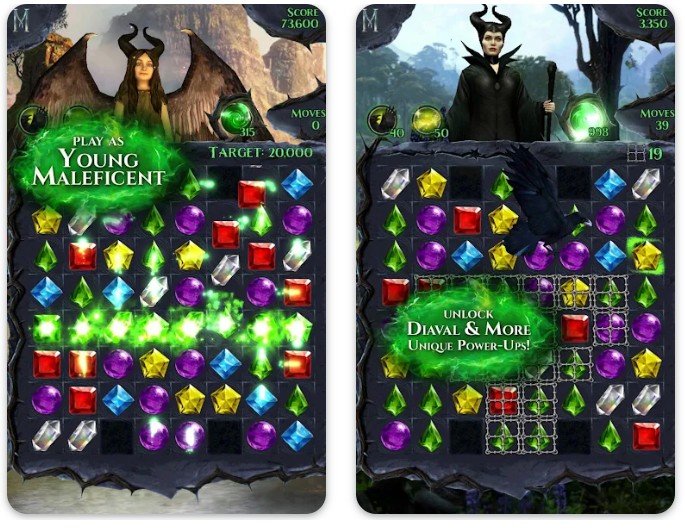 You may also like: Top 11 Apps To Watch Disney Channel
Frozen: Disney's Deluxe Storybook
Frozen is one of my favorite latest cartoons produced by Disney. In "Frozen," fearless optimist Anna teams up with rugged mountain man Kristoff and his loyal reindeer Sven in an epic journey, encouraging Everest-like conditions, mystical trolls and a hilarious snowman named Olaf in a race to find Anna's sister, Elsa, whose icy powers have trapped the kingdom of Arendelle in eternal winter.
The developers tried to create an app that can be as useful and educational as interactive. So that's it! Frozen: Disney's Deluxe Storybook. It costs $6,99 but you will get a lot of buying it. The main feature is that this Storybook, as other high-priced applications, they are never idea-less.
As for its other features, of course, it is an ability to read on your own and even to record a voice and see both sides of the Frozen story. While reading you face different games, exciting tasks, and riddles. Also, create and build frozen scenes and crystal palaces with your "ice craft" tools.
Another feature is that some pages are frozen and to read them, you need to put it together. The ice-puzzle is a little challenging than usual picture puzzles, as the single ice pieces can only be placed aside if they have the correct shape and form. The picture is then slowly revealed one piece at a time.
Little clips from the film will definitely satisfy you! Unfortunately, it is designed only for the iPhone and iPad. But for Android Frozen prepares wonderful puzzles, necessarily check it!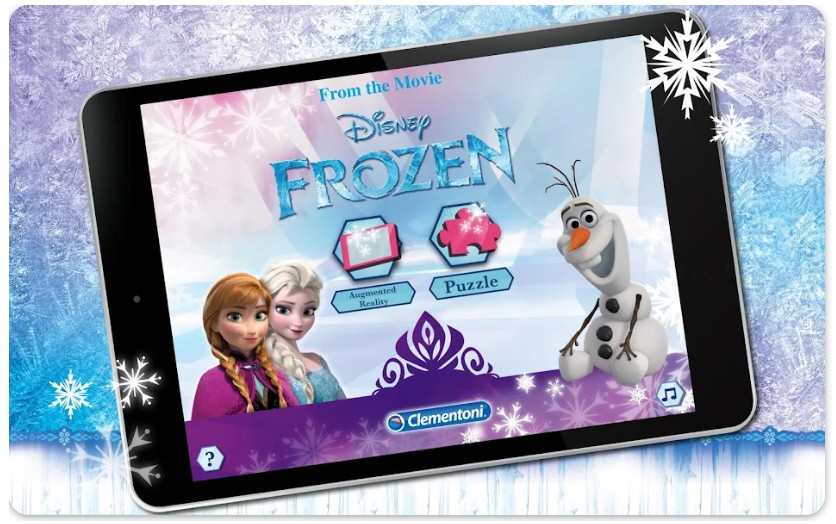 Inside Out Thought Bubbles
Inside out is a very funny film so I can re-watch it many times. The main idea of the film was the big role of our emotions and memories. I definitely knew that Disney's developers would create something based on the film.
And here it is! Disney Interactive brings you this one-of-a-kind bubble-shooter.
Inside this game, you will join Riley's Emotions on a journey to match, sort, and burst memory bubbles, as you travel through unique locations inspired by the film — Family Island, Dream Productions, Boy Band Island, Imagination Land, Train Yard. There are more than 500 levels, so you will be busy for quite a long time.
As for its features, you will be able to unlock various characters from the film in order and shoot and match memories, of course. Create sunbursts with Joy, let the rain pour with Sadness, blaze a fiery path with Anger, repel matching memories with Disgust, and scatter orbs in the frantic fun with Fear.
A lot of adventures, obstacles, like Brain Freezes, and gifts from Facebook wait for you. To receive a gift in a form of free levels, just connect Facebook. Moreover, you can stack up against your friends!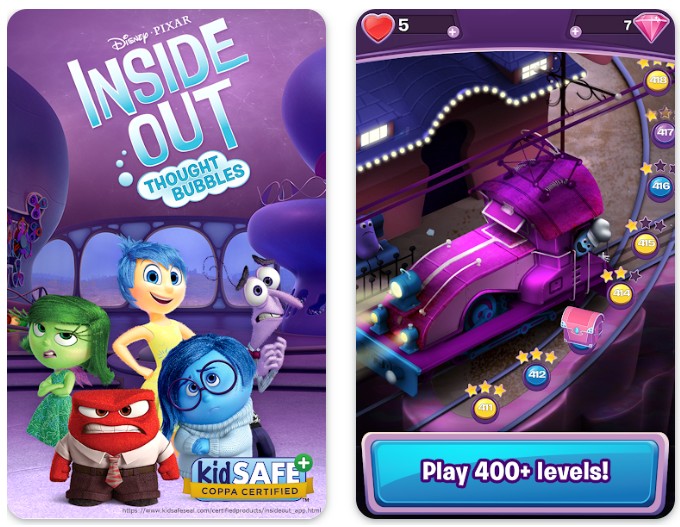 Disney Channel – Watch Full Episodes, Movies & TV
All movies are in one place- on Disney Channel. Sometimes we don't have time to watch movies at home with children, or they don't fit in our timetables.
But they are great companions in a question of entertainment! So if you are at SPA or too busy at work, you just need to download this app, where your child will be able to watch full episodes, movies, and TV, including his favorite cartoons. Trust me, he will be busy for a very long time by watching TV.
Here are some features and this list is not full! -FULL EPISODES: Missed an episode of Where is Perry or Girls meets World? Catch up wherever, whenever, or watch live TV if you are away from home right in the app.
There is only one requirement- Internet access. Apart from watching movies, there are some games and trivia you can play for. Bonuses are musical clips, videos, and trailers for a break.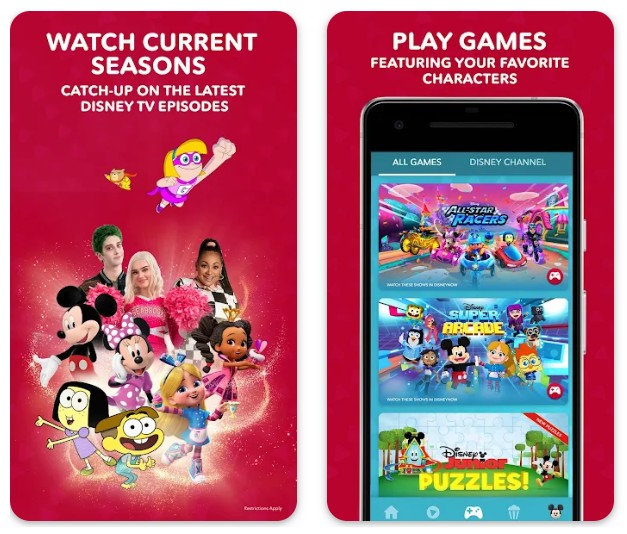 BYJU'S Learning Disney
This is a popular educational app designed for kids to learn coding skills in a fun and interactive way.
The gameplay is structured to teach children how to solve problems and develop their critical thinking skills. It features a series of levels that gradually increase in difficulty as the player progresses.
What is more, the graphics are colorful and engaging, with characters and backgrounds that are designed to appeal to children. The interface is simple and straightforward, making it easy for kids to focus on the game's objectives.
One minor flaw in the game is that some levels can be a bit too challenging for younger children. This can lead to frustration, which may result in them losing interest in the app.
Additionally, some parents have complained about the limited number of free levels available, requiring them to purchase additional levels to continue their child's learning journey.
Advantages:
Fun and engaging way for kids to learn coding skills.
Colorful and appealing graphics.
Intuitive interface and gameplay structure.
Drawbacks:
Some levels may be too challenging for younger children.
Limited number of free levels available, requiring in-app purchases to access more content.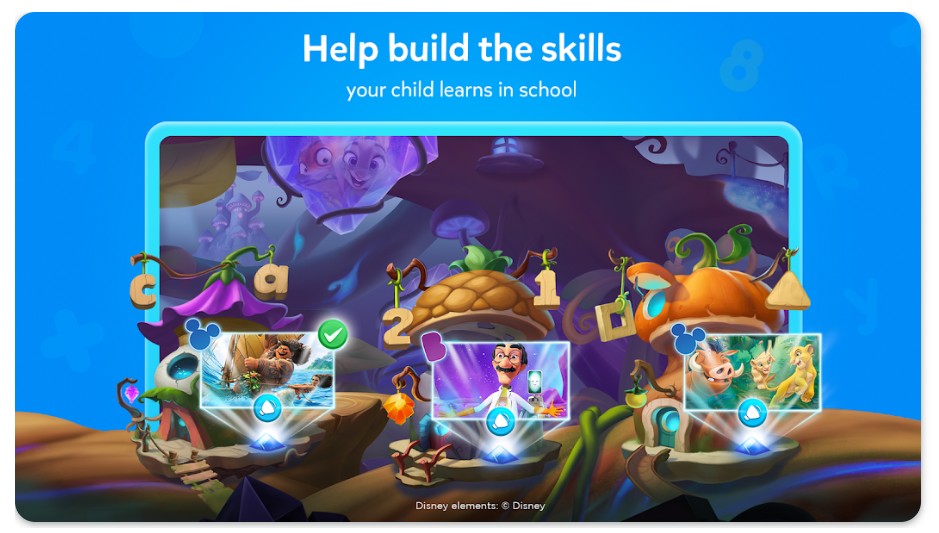 Toy Story Drop!
Toy Story cartoon wasn't initially made by Disney. It was made by Pixar studios and it became the first 3D animated cartoon in 1999 ever.
It has quite a success, so it had many sequels, merchandise, and, of course, games. After Walt Disney Studio has acquired Pixar Toy Story can be considered as Disney product – and that's cool because it is now on our list!
Toy Story Drop is a game that will be suitable more for kids age 4-8. In this game, you need to solve the puzzles and help characters to get through missions. There are a lot of exciting and funny challenges, as, for example, solving puzzles to collect Playset pieces for Sheriff Woody, Space Ranger Buzz, Cowgirl Jessie, and more.
All the missions will be taking plays at iconic locations of the Toy Story cartoon. As you are progressing in the game, you are watching the development of a story, which is also a bonus (the levels aren't allocated chaotically, but compiled into a logical story).
All the challenges are comparatively easy – that's why this app will be more suitable for younger kids.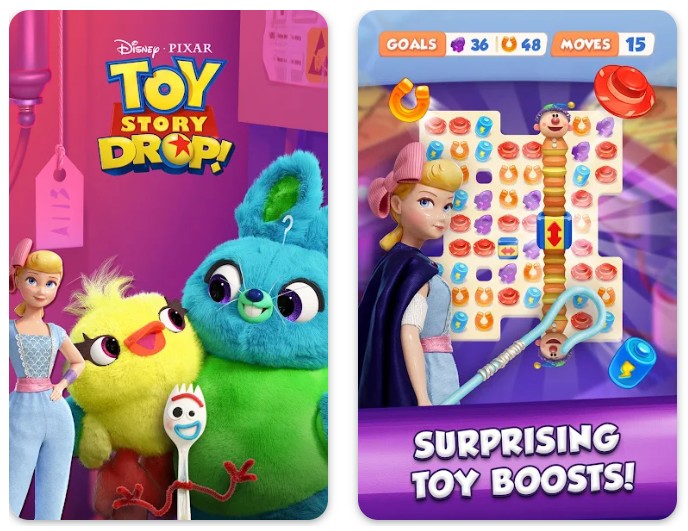 Disney Sorcerer's Arena
In this app, you will have to take part in many battles and create strategies to win. You will be playing for the Disney character according to your choice. Besides, this is not just a regular "fighting game" – here you will actually have to think several steps further and create beneficial alliances if you really want to pass the level.
As you have probably guessed, this is an RPG game. The more levels you pass, the more characters you unlock. By the way, here, unlike another similar app, Disney Heroes, that you will find down below, this one has worse graphics and a more narrow range of characters assortment.
However, the main advantage of Disney Sorcerer's Arena in front of that app is the fact that it is a strategy, not just a battle game. It means you will get more or less the evolution of the plot and logical sequence of fights. You will be gaining points, allowing you to upgrade the abilities of your characters. Find and exciting game.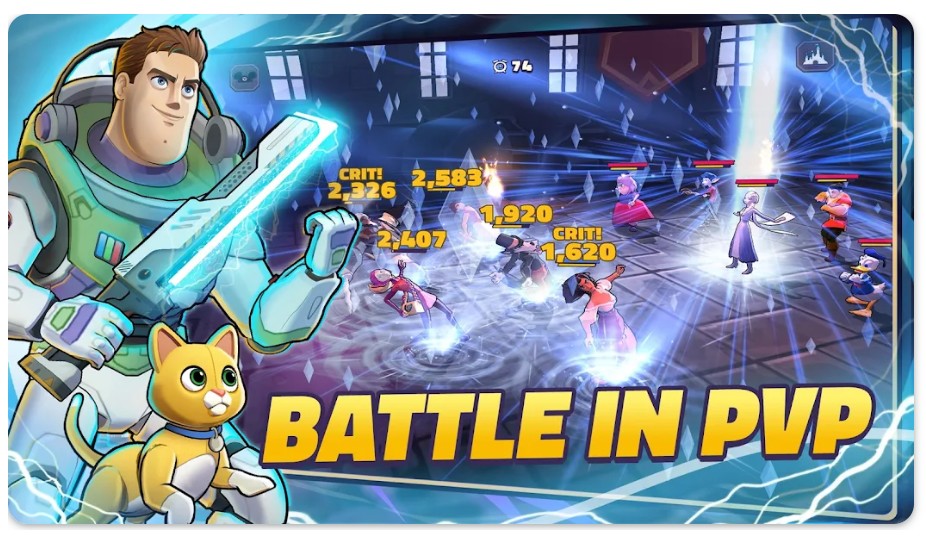 You may also like: 11 Best Movie Renting Apps 2023 (Android & iOS)
My Disney Experience
Here we have the app meant more for parents than for kids. However, any adult who is going to visit a Disney park will probably find it helpful. Even those who haven't been there before, know that this park is huge and it is quite easy to get lost and not to get to that exact attraction that you wanted to visit.
This app was created to help you with all the issues that can occur during your visit. First of all, here you will find a detailed map with all the objects on the territory. Maps are getting updated in the real-time mode. The app also shows the time of the park's working hours and upcoming events.
You can check the schedule of each attraction that is in the park so you could come on time without being too late or too early. Another nice feature is that all the pictures, taken by photographers in this certain park will be published in the app as well- maybe you will find yourself there?
Another feature of My Disney Experience is that in the app you can view the whole assortment of the stores which are located in the park's territory and check the price of each item so you could plan your budget better.
You can also check the opening hours of all the restaurants out there. Plus, you don't have to stay the line to get tickets – you can purchase them in My Disney Experience including Fast Pass.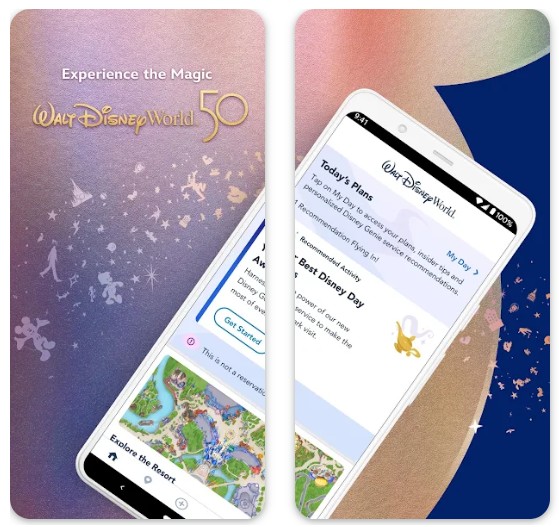 Disney Coloring World
Coming back to the topic of Disney apps for younger kids, here we have another cool game for toddlers – Disney Coloring World. Let your kids enjoy their favorite Disney characters and give them a new makeover. Moreover, coloring games help to develop the imaginary skills of children.
Kids will never get boring because there are more than 100 characters. Once a character has been colored and decorated it turns into a sticker that can then be placed and played within magical 3D sticker books. There are several sets of tools which include brushes, crayons, markers, and many other interesting things.
The sticker books present iconic places from Disney films where kids will discover hidden interactive surprises, adding a sprinkling of magic to their creative play. Thus, it is possible not just to colorize characters but also to create stories and play imaginary games.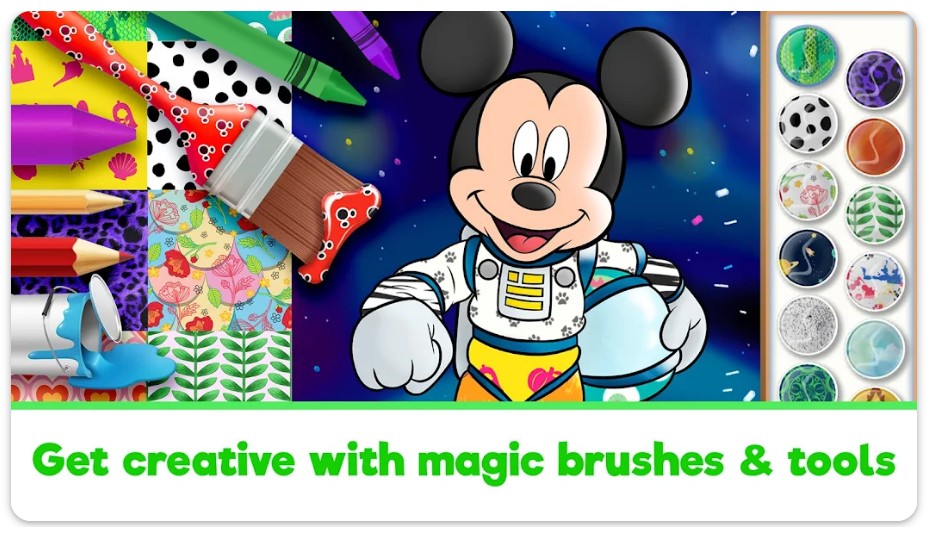 Disney Heroes: Battle Mode
For those who don't' want to play the building of that sticky-sweet kingdom with princesses, there is a cool app with more action. In this game, all you will have to do will be fighting. You can choose any Disney character you want – starting from Simba, ending with Elsa and try their powers in an epic fight.
All the characters are going to fight with each other. That is why this game is not really recommended to kids younger 8-9 years old. You can team up with other characters or play alone.
As you are winning more battle you get more chances to upgrade the powers of your character. All of that remains a little bit of a Mortal Kombat but in a Disney version. An interesting game that you should try out!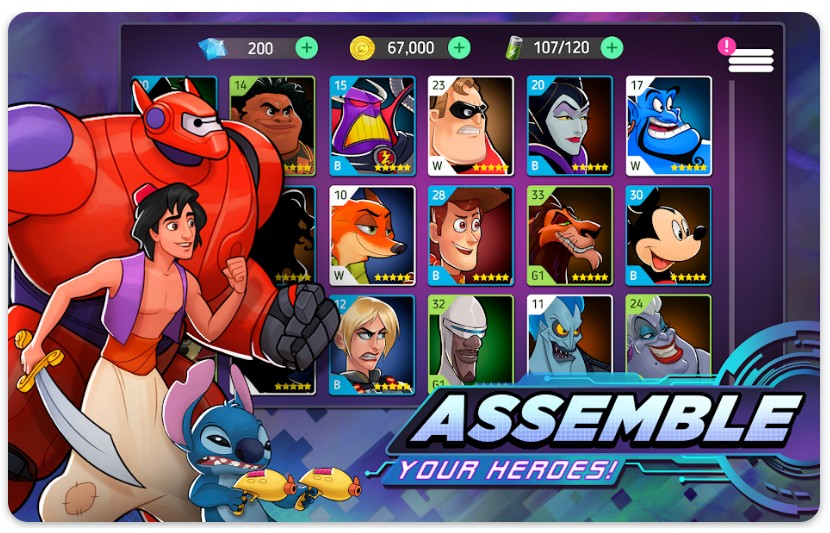 Disney Frozen Free Fall Game
Among the recent Disney cartoons that had tremendous success just like their masterpieces in the 90s, we can surely name "Frozen".
We were all moved by this not trivial and moving story, by its catchy songs and bright characters. "Frozen" became one of the most merchandised cartoons of the 2010s and here we have another game based on this story.
This is a puzzle game with more than 100 levels. However, unlike most Disney games, this one is a little bit difficult so it is not recommended for the kids under 8. The more levels you pass, the more levels you unlock.
Moreover, by winning more and more points you can unlock new characters, for example, Anna or Olaf.
Use Anna's torch to burn up an entire row of crystals, or Elsa's glacier power-up to make all of the same color crystals magically disappear. Try Hans' sword to slash right through the crystals, and explore many more cool power-ups.
Another cool section of this game is where you can customize your own area in the Arendelle with shops, fountains, carts, and more in exchange for the coins you win during the game. Apart from that, it is should be said that the graphics of this game is really nice and almost repeat the original one.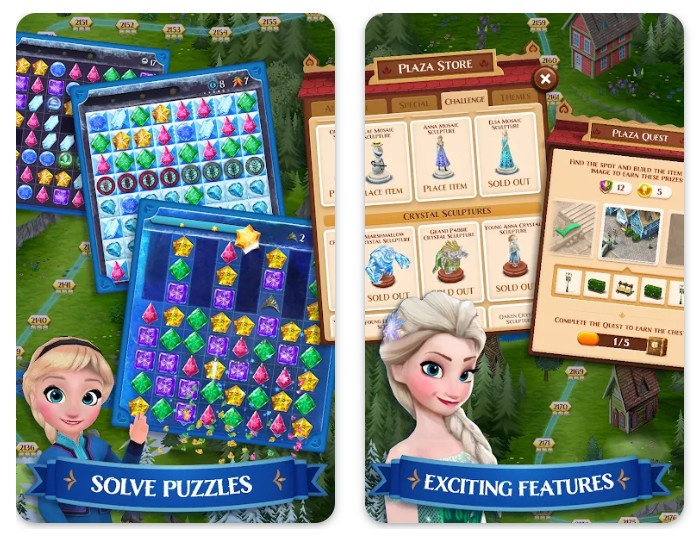 Disney Princess Majestic Quest
Do you like Disney princesses? Well, there are very few people in fact, who don't. Even the boys in the childhood had a crush on them even though now they're denying it with all their hearts.
But no one can deny, Disney processes is another aspect of modern culture that became phenomenal and, of course, created tons of merchandise as a result.
This game is another story about princesses. It is a quest where you first get into a world of one character, for example, Mulan or Jasmine. You need to help them to solve difficult riddles and puzzles on each level in order to complete the whole story.
Most of the time in this game you are going to solve the puzzles. Swipe, swap, and match Gems of the same color to crush them. You will need also to restore and improve the kingdom of each process.
In general, this is not the most exciting game ever, but fans of Disney princess will surely appreciate it.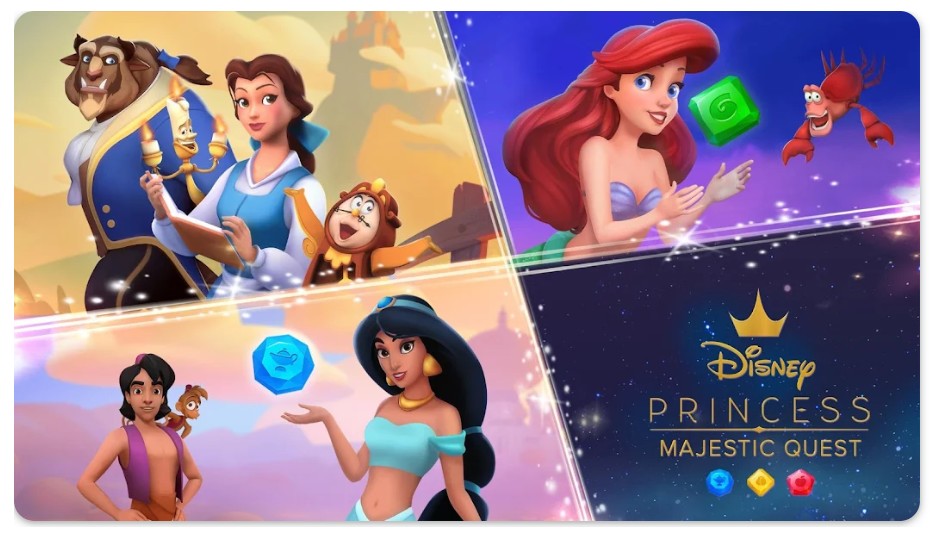 Disney Magic Kingdoms
Have you ever been to Disneyland? You can find them in different parts of the world and each one brings something special. It is a really magical experience, exciting both for children and adults.
If you're a real fan of Disney Magic Kingdom, then you will find this game interesting.
Here you need to create your own Magic Kingdom. Finally, more than 90 of your favorite characters from the most popular Disney cartoon are gathered together in one app. Now you can create your own special world and unite them in the way you want, making your own authentic story.
You can build your part using more than 170 attractions form the range in the app. After you created your park, it becomes the real Magic Kindom that you need to take care of and protect it from villains, like Ursula or Scar!
Another really cool feature here is that the game never stops evolving – new characters and updates are added on a regular basis.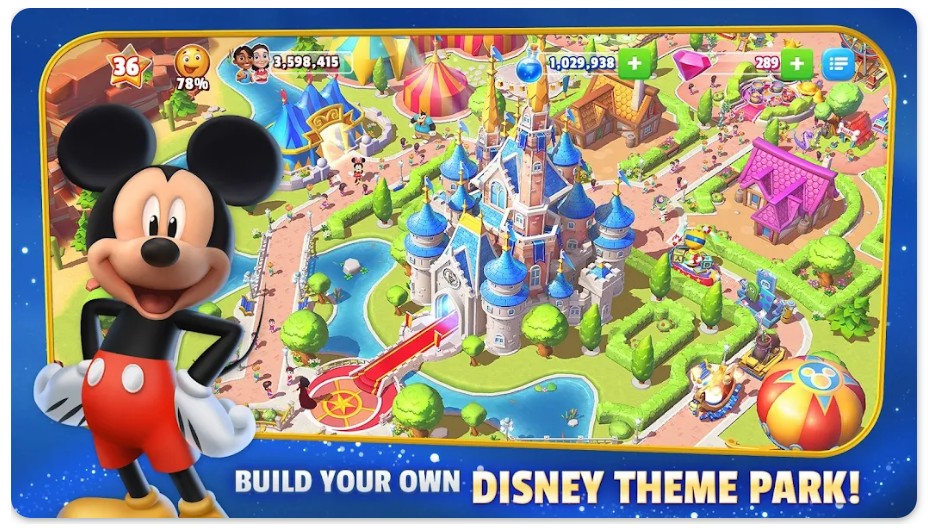 Castle of Illusion
This game is made in the best traditions of the good old adventure games for kids. However, this one is meant for older kids, approximately aged 8-13. This is that type of a captivating game that will grab your attention by exciting challenges, unexpected plot twists ad adventures on different levels of the game.
The main protagonist of Castle of Illusion is our famous Mickey Mouse. Of course, during the game, you're going to play not only for him but for his friends as well. All the levels will be different and that what makes this game so interesting – you are not bored with repeating challenges and stories because each new level you have something new.
The graphics are decent as well. It would be weird to expect the reality-like animations in this game since it is for kids, but even for this genre, it's made quite good. It looks like an old good Disney cartoon, but this time it's a videogame.
A nice bonus here is that you can collect points during the game and then unlock cool costumes for Mickey later. Oh, and not to forget, your main goal in this adventure is to save Minnie. Gather your courage and traverse enchanted forests, take on hordes of rebellious toys and navigate mazes of living books.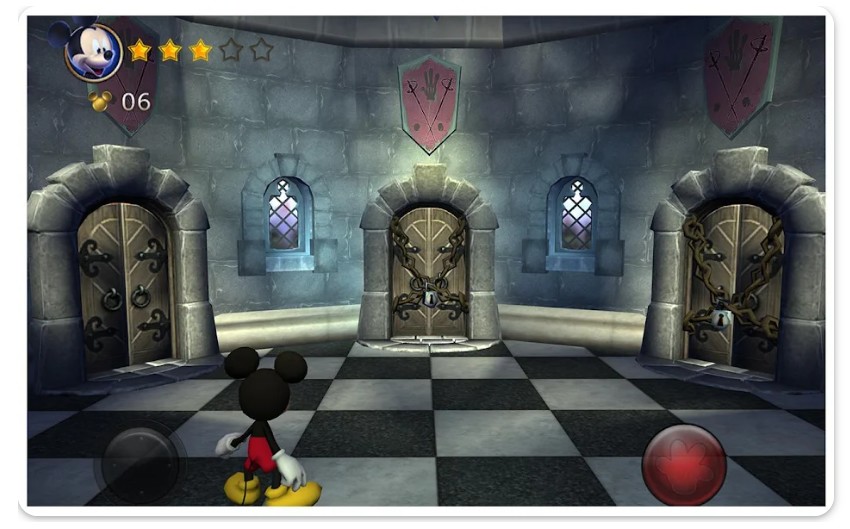 You may also like: 7 Best Moana Games for Android & iOS
Disney Story Realms
This app is developed for the kids of a younger age, approximately 3-6 years old. This is a painting collection that allows children not to simply colorize the pictures, but also create their own unique story, complete the magic world of one of Disney's famous cartoons and create a new exciting plot twist.
All the favorite characters from Disney all-time favorite cartoons are presented here. Three are more than 80 activities and storybooks to enjoy.
Kids will be captivated by the fully illustrated and interactive storybook adventure that awaits them when they join beloved characters in their journey, helping to solve a variety of activities from word puzzles to gesture challenges. A really beneficial bonus here that this way kids will also be practicing their reading skills.
The app will also enhance movement and thinking skills with in-app activities, while kids will be interacting with their favorite characters from Disney tales. For example, there are tasks where they can create their own costumes for Mr. Incredible and Elastigirl. Or, they will need to create the ice sculptured in the Frozen world.
In general, this is a really cool and useful app for toddlers and kids under 7, but the older children won't probably find this interesting.