Moana is a favorite cartoon of boys and girls of different ages. This movie, released by Disney more than 6 years ago still attracts new fans. The story about the brave Hawaiian girl and breathtaking adventures led to the occurrence of various game apps, based on the idea of the Moana movie. In the article down below, we collected the best of those.
And in general, we all love playing games based on the ideas of Disney movies. They always bring a feeling of something magical – if you want to dive into this atmosphere one more time, you can explore the article about Best Disney Apps for Android & iOS.
Moana Games
Let's kick off our list with the most obvious names app related to the topic. This is probably the most popular Moana game on Google Play and its idea is really similar to the games like Temple Run, Subway Surfers, and so on. We also have to admit that this app has the most decent gameplay among all other Moana games.
Everything is on the surface here – you open the game, choose to start, and see Moana running on her track. Your task, obviously, maneuver and jump over the humps on your way. The further your progress is, the most difficult the game is. And don't forget to collect the coins! Later on, you'll be able to exchange them for essential upgrades.
Moana Games are mostly suitable for kids aged 8-12, like most games of this type. Apart from everything mentioned above, there is nothing extraordinary about this app. We're saying that just to keep you from having overwhelming expectations. Moreover, the app can run not on every single device. Sometimes there is an error for no reason and the developers don't seem to be willing to fix this problem.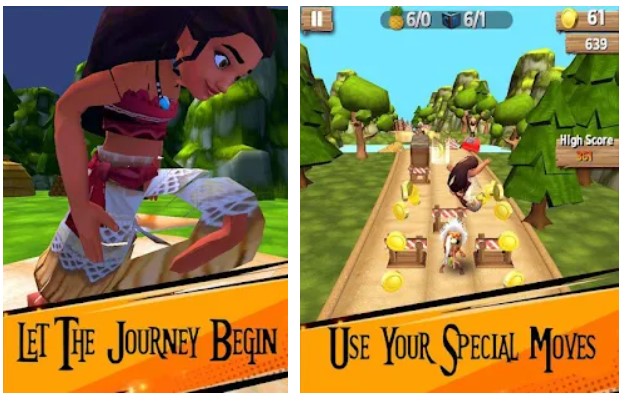 You may also like: 11 Best Dress Up Games for Adults (Android & iOS)
Disney Story Realms
This is one of the coolest game apps based on Disney theme, and you can find there Moana as well. This app has the absolute best graphics and all the characters look exactly like in the movie. In the game, you have to pass the levels and each level is dedicated to a Disney movie. You will find all your favorite characters from Toy Story, Frozen, Beauty and the Beast, and, of course, Moana cartoons.
When you download the app you can immediately see that it occupies around 1GB of your phone's memory- it's explained by a number of realms inside the game and high-end graphics.
Various levels suppose various tasks. We can even say that all of them have different genres of games – some are adventure games, some are strategies, quests, dress-up games, and many more! As for the Moana, you will find a whole new updated realm with astonishing graphics and plots.
The app comes with a 7-day free trial and if you want to proceed to use it then you have to pay a considerable sum for a subscription. The game is recommended for children aged 3+ but we deem the best age for playing this game is 5+.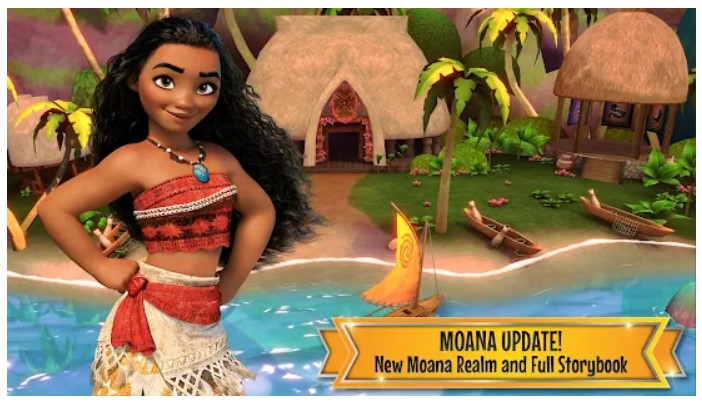 How Far I Go Moana Magic Saber
A similar game, but much more simple. It will be nice to play only in case you are determined to choose something that involves Moana's theme. You basically got Moana running on the track and collecting magic objects. But even though the graphics aren't the biggest masterpiece here, it still contains authentic style and is pleasant to the eye.
As with all the games of this type, this one contains lots of ads. Each time you start a new game or reach the saving point you're going to see a banner.
The game controls work decently and it's easy to manipulate the main character – the controls are quite classic. While testing out the game we didn't point out any bugs. It's not the most popular app ever, but it's worth trying.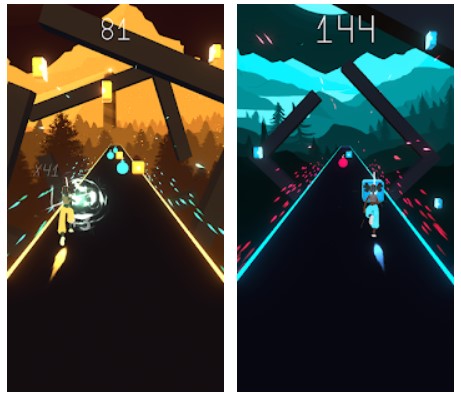 How Far I'll Go Moana Road EDM
Well, you know, they say – you never get enough of a cool game! Here is another version of How Far I'll Go but there is no presence of Moana in this game. Instead, you got a magic ball that you have to lead through all the challenges and obstacles. You control the ball with your finger and your task is to bump into the color balls that match your color of yours. If you are bumping into a ball of a different color, you lose.
The game itself is super short and simple – it is more suitable for little kids than for the grown audience.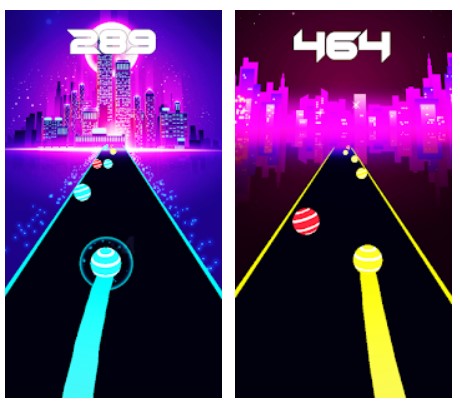 You may also like: 5 Best Disney Drawing Style Apps
How Far I Go Moana Magic Hop
One more cute little game, but the only thing it has in common with Moana is the name. It's a super simple game where you have to control the ball and jump on sports. You tap on the ball with your finger to jump.
And let the fact of simplicity not scare you away – it is quite relaxing and perfect to play when you want to get distracted from daily hassle. The graphics and gameplay are OK. In addition, during the process, you get to enjoy the beautiful sceneries that open in the background. If you want, you can also switch on the soundtrack and enjoy.
This version of the game is developed by Allahyar Valiyev and you can see he's producing many games of a similar type based on the ideas of famous cartoons and movies.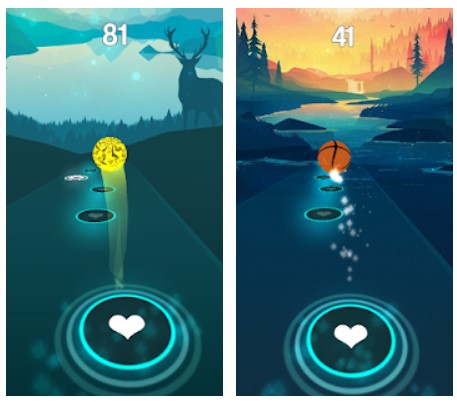 How Far I'll Go – Moana Music Light Tiles
Finally, we have something slightly different on our list. If you like the Moana soundtrack and you like music games then you found your best choice. This app belongs to the genre "tap and play" music games, where all you have to do is to tap on the stripes on the screen according to the length of those.
Each time you play a new melody with a different background. This is pretty much about the game – yes, it's not the kind of app that you might use for long hours. The developers added nice effects to the game so when you tap on the stripes it bursts with bubbles or flowers – depending on the theme. Play the music, gain scores and have fun!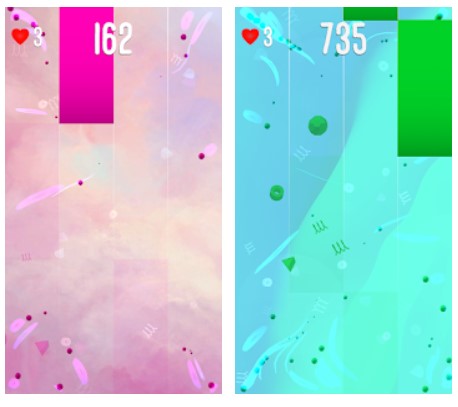 You may also like: Top 11 Apps to watch Disney channel
mona coloring the island princess
Apparently, the developer was really in hurry with this app since he even made a mistake in the name of the princess, but let's focus on the main advantages of this coloring game.
Moana coloring game will be suitable for toddlers and in general for everyone who likes Moana since it contains more than 80 coloring pages with various scenes and characters from the movie. The coloring process itself isn't that complicated, you just choose the color and apply it on screen. You can zoom in on the image if you need.
The interface design and graphics are in general quite straightforward, but it's not the kind of a game that you expect something superior from. However, unexpectedly from such a game, some images are so elaborate to color that it might take literally hours to paint everything right. The color transition is not quite smooth and most colors look acidly bright.
And after you are done with colorizing your image you can share it on social media – quite a trivial, but a nice additional feature. The only significant drawback that we couldn't hold back from mentioning – some images look really cringy.