It seems like "renting" movies nowadays is a completely obsolete thing. If you think this way, you're wrong! People are still renting movies, however, it all came to the digital format. And if you want to "rent" movies as well in the article down below you will find the best movie renting apps in the contemporary situation.
Moreover, we also recommend you explore the article about the free websites to stream movies online without signing up.
Amazon Prime Video
Have you ever wanted to access one of the biggest libraries of movies and TV shows? Amazon Prime will be able to make this desire a reality because it is in this utility that a huge number of films are constantly updated. To verify the quality, you need to download or go to the site.
Moreover, on Amazon Prime, you can choose an option to rent a movie.

This utility has the following characteristics:
high quality of all masterpieces of cinema, as well as a sound regulator that adapts to any user device
a unique option to watch a movie for a small amount for a certain period or a complete purchase for viewing at any time
ownership of a premium subscription allows you to rent and watch the latest films and TV series, as well as access to licensed soundtracks
Thus, Amazon will be the best solution to watch any movie almost immediately after its release, without spending a lot of money on renting or fully buying access to the film.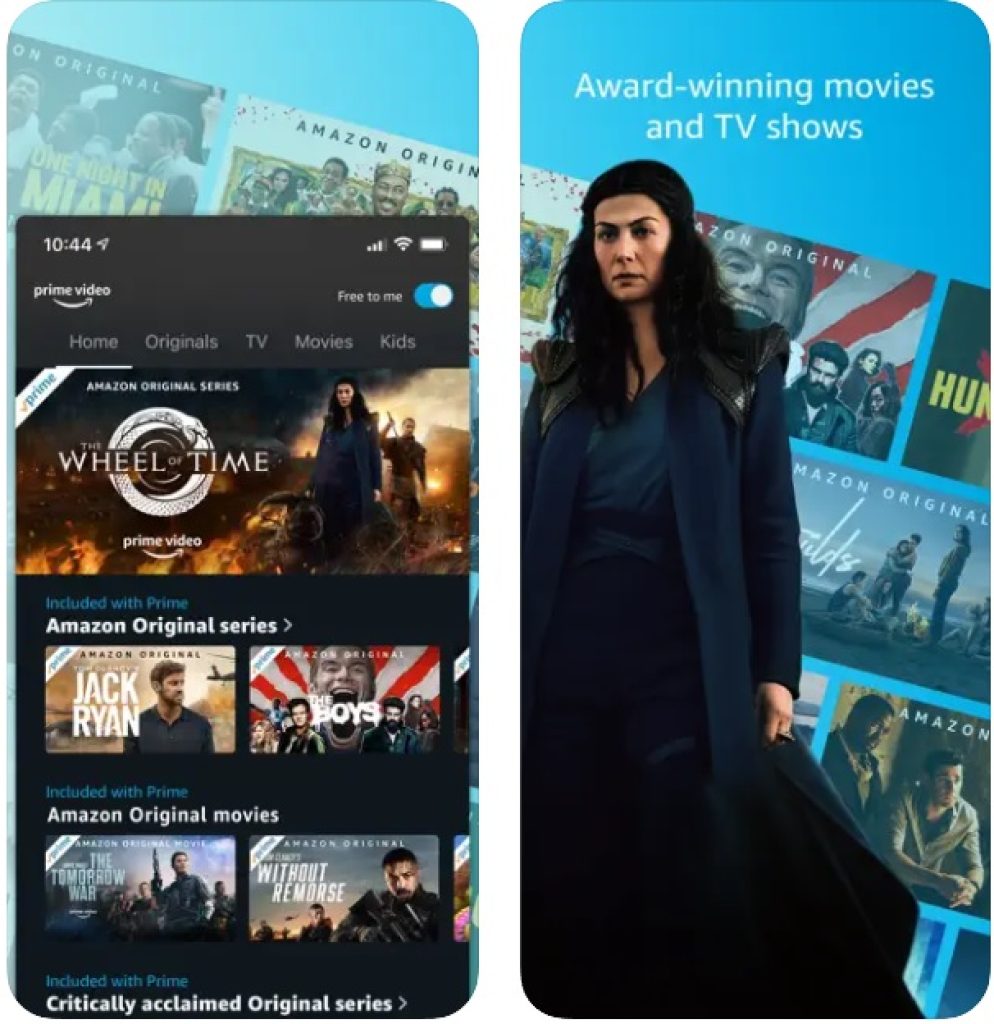 You may also like: 11 Free HD Movie Apps for Android & iOS
Apple TV
Apple TV is a good opportunity to rent any new work of cinema and is interesting to spend time on. Due to the high number of partnerships with film production, an abundance of new films appears quickly in the utility. The program is aimed at an older audience due to the presence of a film with a high age limit.

It is worth highlighting the following characteristics of this program:
the ability to choose a good screen resolution and film quality when a certain amount is entered
viewing absolutely any cinematic creations using a short-term rental for a symbolic fee with the ability to synchronize
buying access to Apple TV for a month with a connection directly through the provider, which makes it easier to watch movies
To summarize, we can say that Apple TV is a very good platform for watching movies and TV shows in decent quality and having recently released premieres.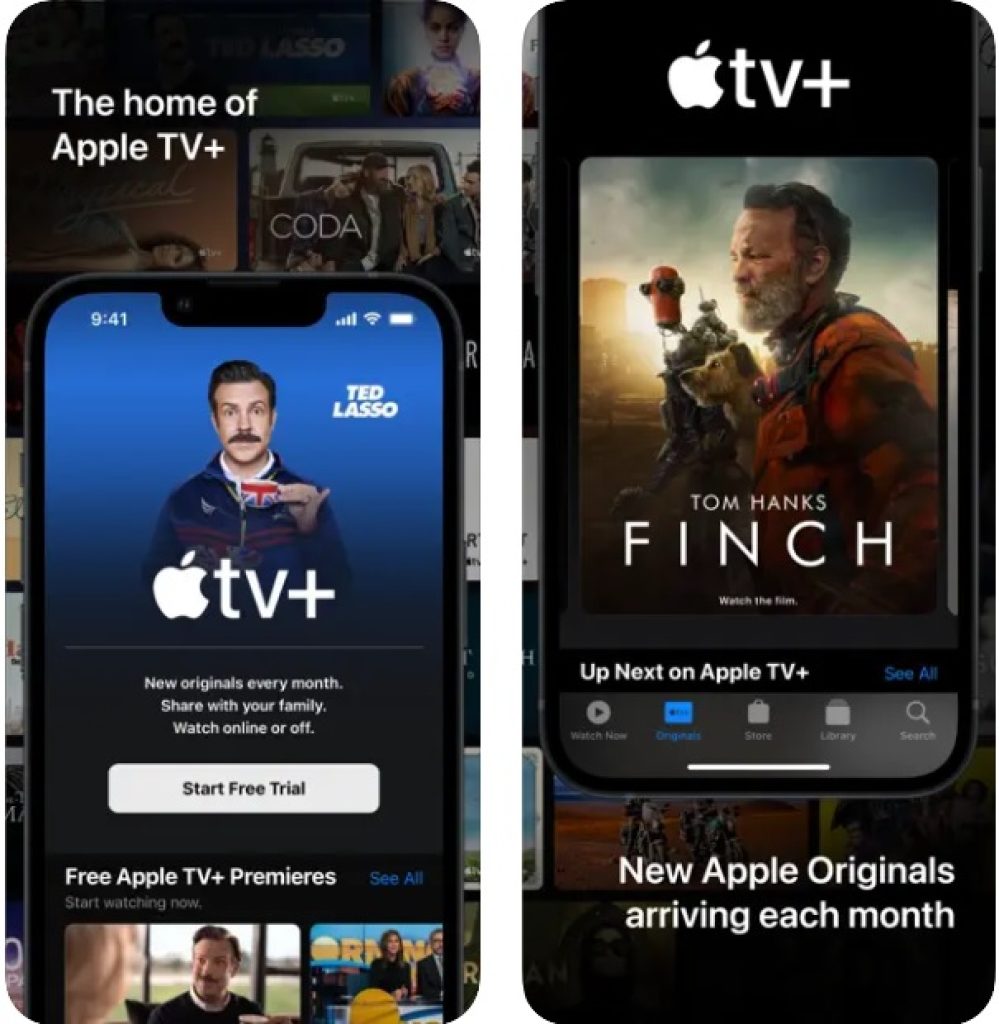 Vudu Movie Rentals
Vudu Movie Rentals is the easiest and most convenient way to watch movies and TV series online. In addition, this service allows you to perform almost all actions from the cinema, be it buying, streaming, renting, or watching. The functionality of the utility allows you to use the app at any time and place.

The utility contains the following interesting options:
synchronizing all rented films and TV series by developing filters on one device in certain places and storage
the ability to buy a subscription with the subsequent download of the film and unlimited viewing without connecting to the Internet
the ability to transform a digital copy of a film into a portable one by downloading the film to a disc or SD card
Combining all of the above, we can conclude that Vudu Movie will be an excellent option in order to spend time with your family. Variability in the choice of films and TV series makes this app one of indispensable.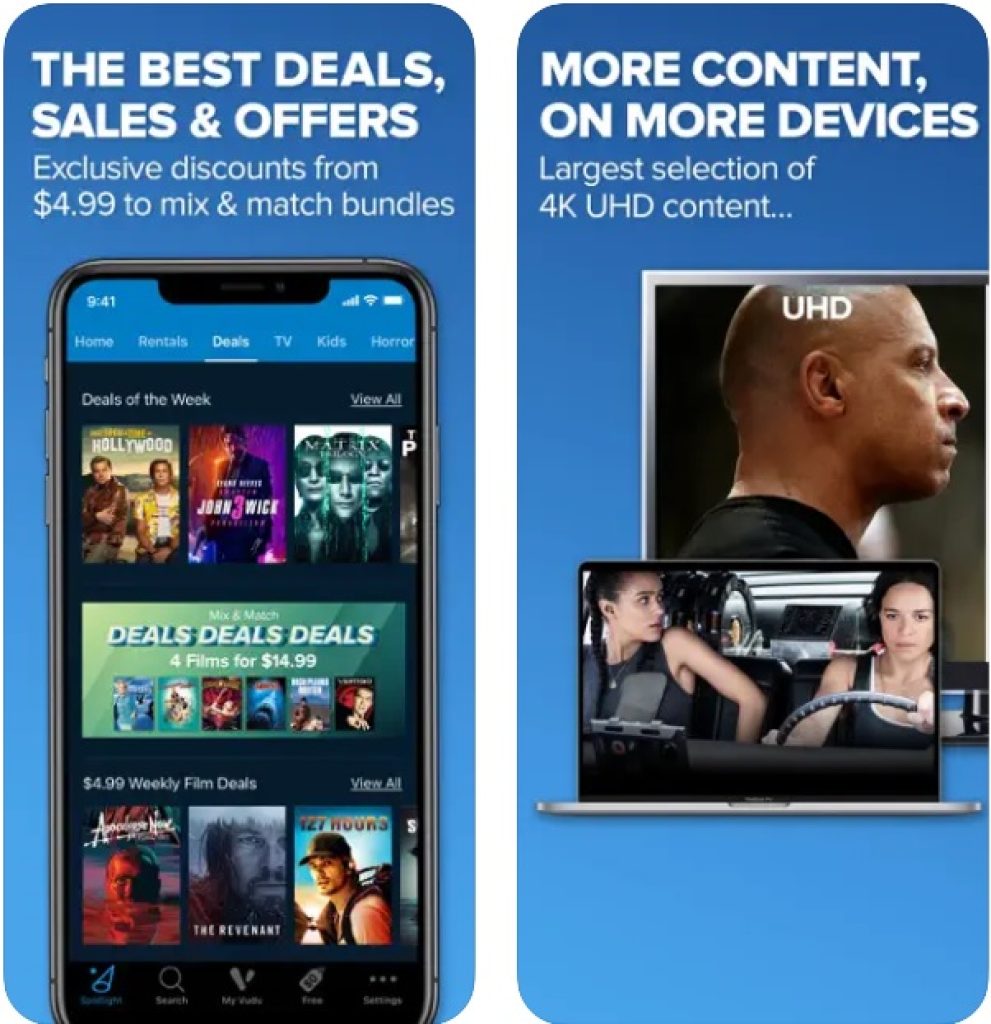 Google TV
Google TV has been considered one of the best home cinemas of our time for more than three years. This title strengthens a various complex of films and TV series of various genres, which can be viewed for a limited period of time for a small fee. You also don't need authentication to sign up.

Several of the most important features are:
availability of free and paid films and TV series with unlimited viewing, when renting one paid – another as a gift
watching movies in the best quality on both Google TV and its partners such as Roku or Chromecast
uploading all rented content to an SD card or other storage for viewing on any device without time limits
To summarize, the utility really deserves attention due to the availability and wide volume of content. It is worth noting that for more comfortable viewing of all masterpieces of cinema, you can download Google Play Movies, which will only improve your impression of the app.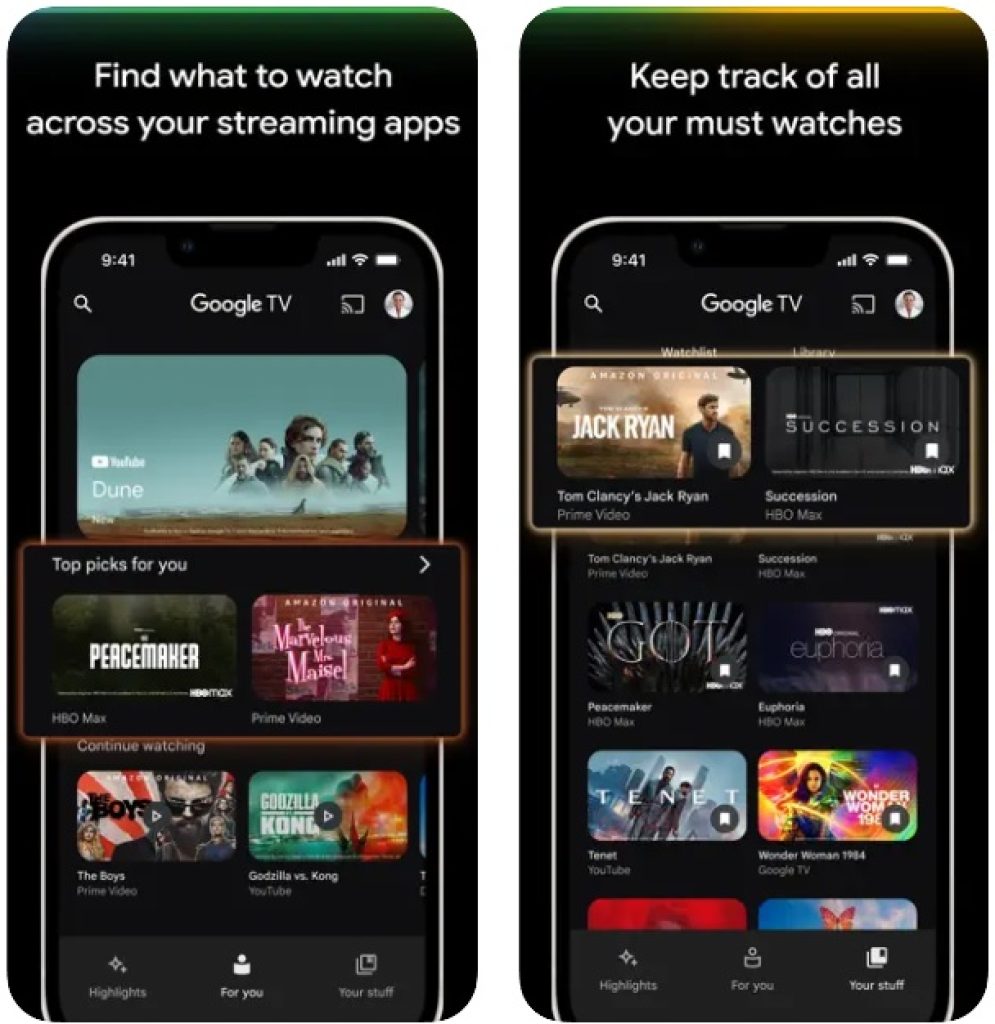 FandangoNOW is moving to Vudu
Over seventy thousand movies and shows are available on this streaming service. All content is offered in a buy or rent format, but if you are a true movie buff, with the loyalty program you can accumulate points by buying content or movie theater tickets with these points to buy new content
Almost all content is available in high quality and 4K ultra HD, which also affects the purchase price, but some popular streaming movies do not have this feature, so FandangoNOW has a significant advantage over them in this sense.
The rental period varies by vendor, but it's often a month, and when you pause the movie, you only have two days left.
In addition to the film, there are broadcasts from popular channels and platforms like HBO, NBC, and Netflix. Series aren't usually rented, so you'll have to buy them in full.
This app will consolidate all of your streaming libraries and put their content together, and you can watch the content on any device with the app.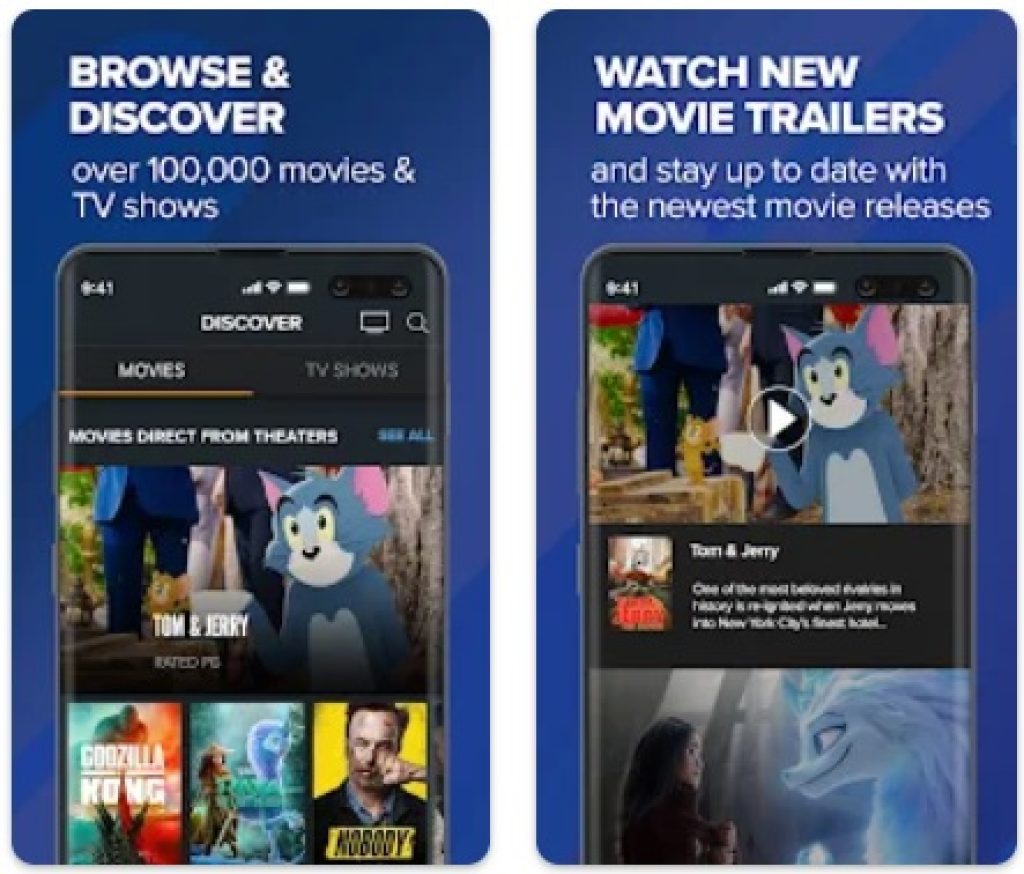 Redbox: Rent. Stream. Buy.
Redbox combines many features that will help many movie lovers or those who want to watch something interesting. Thanks to free rentals and a huge library of online broadcasts, there are many such fans all over the world.
Yes, there are many pay-per-view movies, but the main audience always visits free content such as free broadcasts, trailers, sports and news channels, and TV shows. And all this is available twenty-four hours a day.
Nevertheless, it has its disadvantages. The app, like other rentals, is set up to make a profit and you'll often see ads, the movie selection is quite sparse, and some TV shows are time-limited due to vendor requirements.
A wide selection not only of devices for playback but also of the countries whose channels are played in this application. There are channels from nineteen countries in Europe, the USA, and Asia.
The app actively supports the sports theme. In addition to sports movies and broadcasts, it contains almost all of the most popular sports channels on topics such as boxing, soccer, martial arts, and other sports and competitions.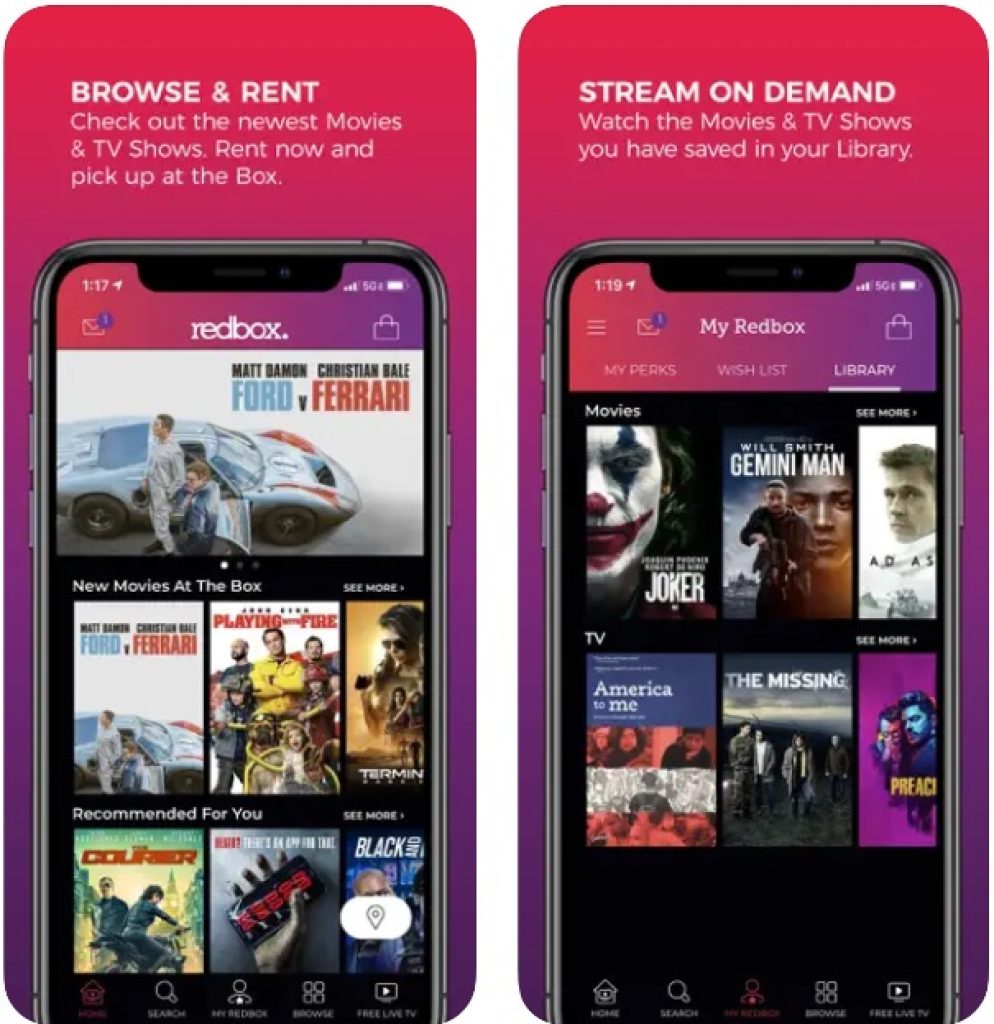 You may also like: 11 Best Apps for Movie Reviews
JustWatch – Streaming Guide
All the most colorful movies, current new releases, and just timeless hits are collected in this app under incredibly colorful posters, concise descriptions, release dates, and the ability to stream content on your TV.
The service's feed is simply amazed at the number of famous faces, and sequel logos per page. Popular children of Amazon Prime, Disney, Netflix, and other movie companies will be replaced one by one in the feed.
Everything is categorized for ease of navigation, but if you're looking for something specific, there's a search function. In addition to the usual scanning of the app's library, the search has a selection of popular and recently viewed queries, which often makes it easier to find.
To avoid having to scroll through the feed for a long time, there are two separate tabs in the app – these are new and recently viewed. You can connect your favorite providers to the app, and then your previously purchased movies and shows will be available here and their content will be prioritized.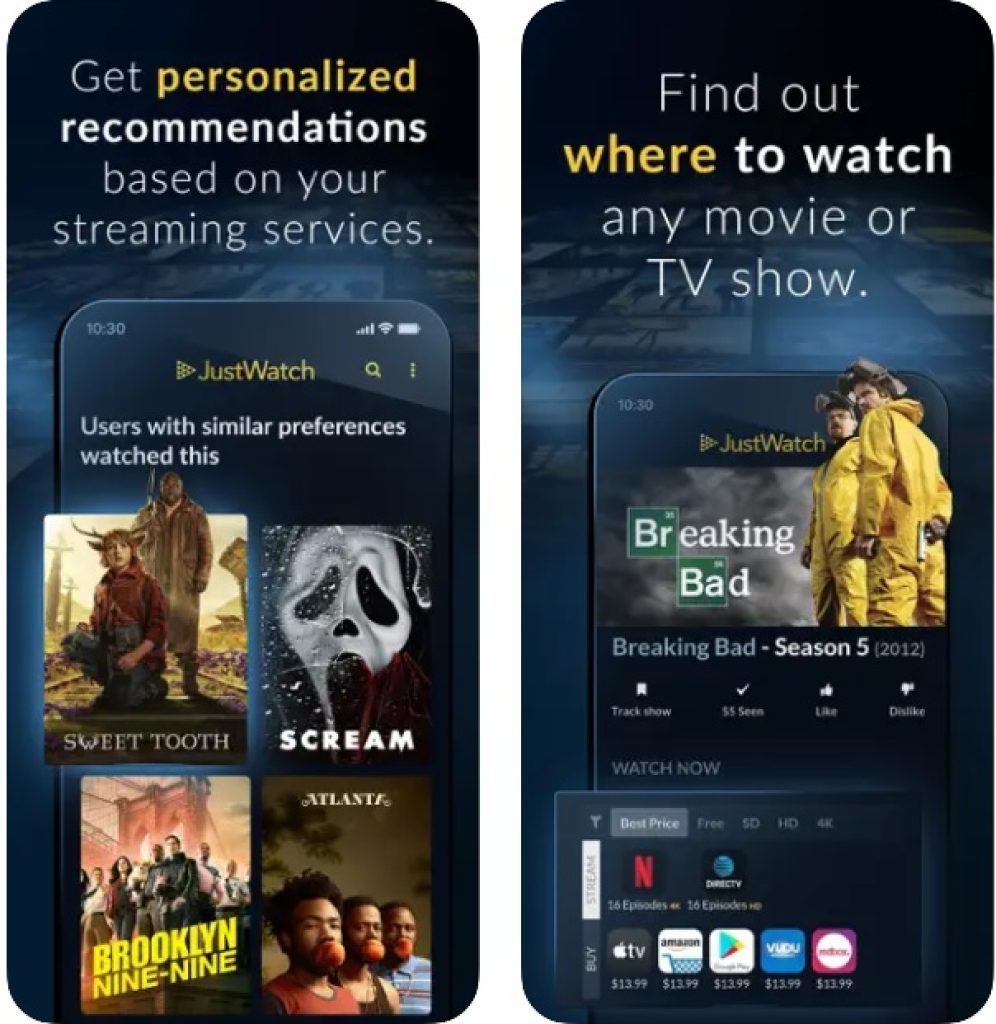 IMDb: Your guide to movies, TV shows, and celebrities
IMDb is the worldwide leader in the movie review industry, not only about films but also about directors, series, actors, and any other movie content. The app provides the most data about any content regardless of genre or focus. Its rating is what everyone takes into account and everyone agrees with it.
The name of the acronym "Internet Movie Database" gives the best description of the app's activity. Here you can find reviews, statistics, and other relevant information about actors, series, TV shows, directors, and other media luminaries.
All information can display up-to-date information in sync with the movie that's playing on your TV
It is noteworthy that you do not need to register in such a famous service, because not all users like to leave their data. But if you decide to register, you can have playlists, leave reviews, and rate movies and serials.
This app is not only a movie statistic but also a feed of the latest news from the world of film. All movies and serials can be rented, through other platforms that provide these movies. And you can buy tickets through this app for that series's most current movie novelties.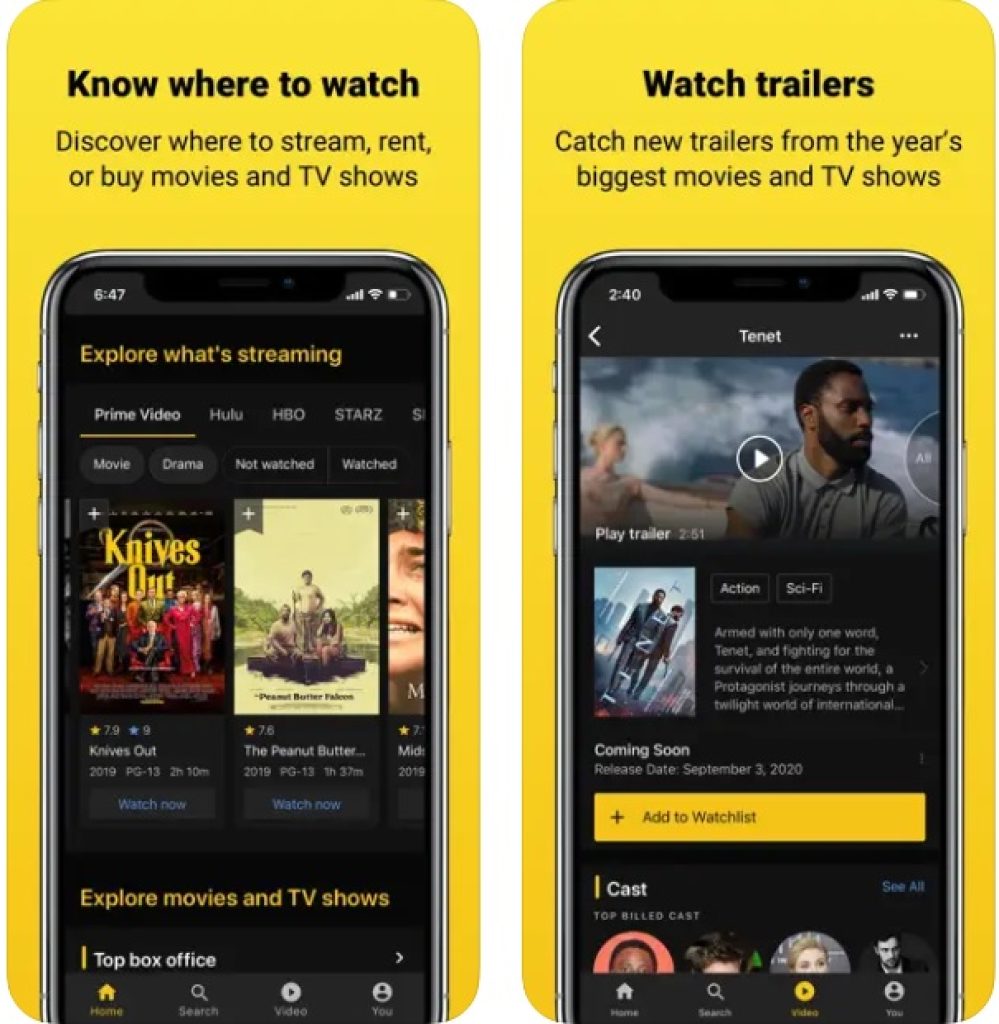 Mflix
Mflix is more than just a basic movie renting app since you can find not only your favorite films here but also TV shows and even TV channels. You can watch live streaming TV or choose something specific from an extensive library of movies or opt for an episode of a brand new TV series.
The service offers quite an extensive language base. You can find movies and shows in English, Hindi, Bangla, French, and Arabic. The content is also divided into such genres as Drama, Action, Comedy, Thriller, Horror, Romance, Adventure, Sci-Fi, and Fantasy.
As for the live streaming, you can sort the channels out by categories such as Entertainment, Lifestyle, Music, News, and Sports.
If you are a sports fan, you can browse the sports section. Here you can watch current competitions in archery, badminton, car racing, cricket, football, and hockey.
The app is completely free so you don't have to worry about subscription plans.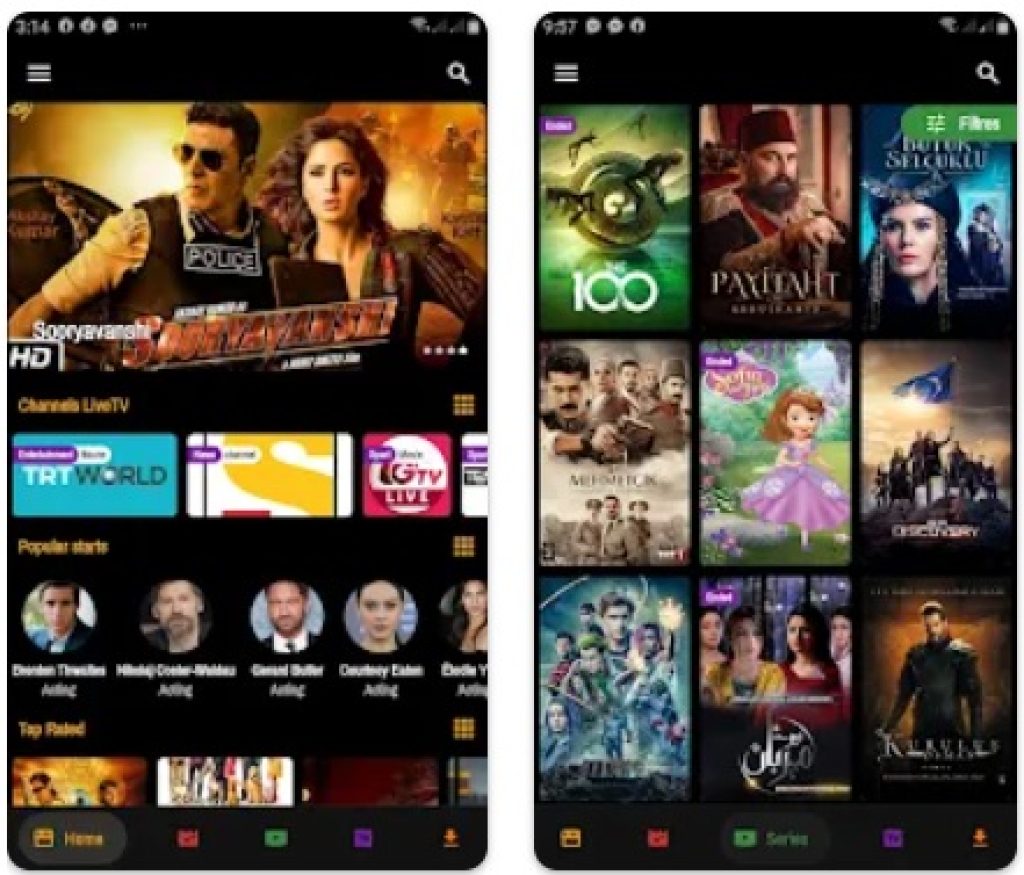 Old Movies Hollywood Classics
This app is dedicated especially to titles dating back to classical old Hollywood. The movies you will find in the app's library all were made between the 1910s and 1960s. What's more, we aren't talking about renting films since you can watch them absolutely for free.
You can use the service on your phone as an app or enjoy watching a movie on a big screen via Chromecast or Android TV. There are multiple basic categories available including comedy, adventure, action, western, love, sci-fi, war, horror, and many more.
The library of movies contains all the classic titles having a new one coming every week. So even if you are an old Hollywood geek, in this app you will still be able to find something new starring everyone's favorite Marlon Brando or John Wayne.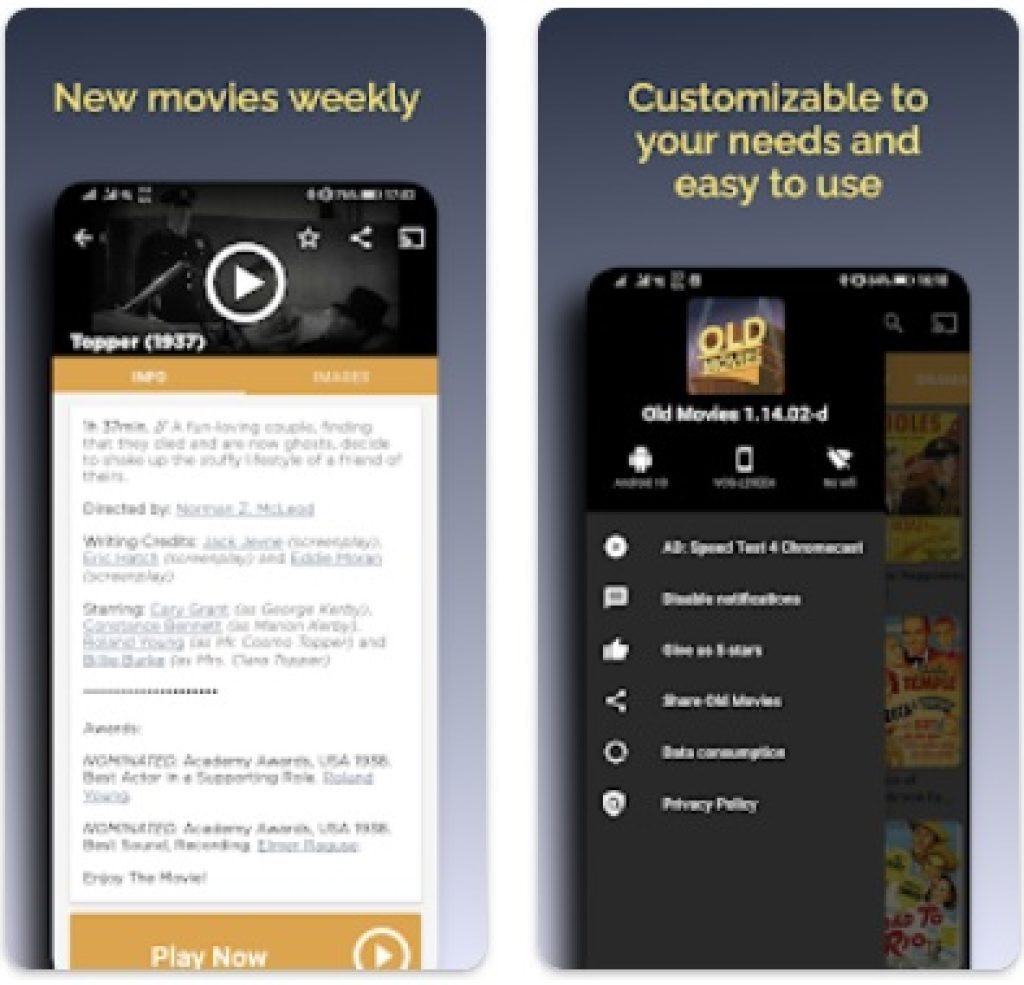 You may also like: 15 Best Movie Apps for iPad
YouTube
Though we casually think of YouTube as a video streaming service, it also has something to offer if you decide to opt for a full-length film. We don't even talk about full movies you can watch for free – you can dive into an extensive library of titles to buy or rent every film you like.
All you have to do is to type Youtube Movies & Shows into the search bar. You will find yourself in the library with hundreds of available titles divided into categories. You can browse those recommended for you, the top-selling ones, or any genre you are looking for.
Once you choose a movie, you can watch a trailer and then decide whether to buy or rent it. All payments are conducted via Google Pay with the help of a credit card, a debit card, or a Paysafecard.
The rent period is 48 hours after the first playback. But if you rent a movie but don't watch it at once, you will have 30 days to do so.