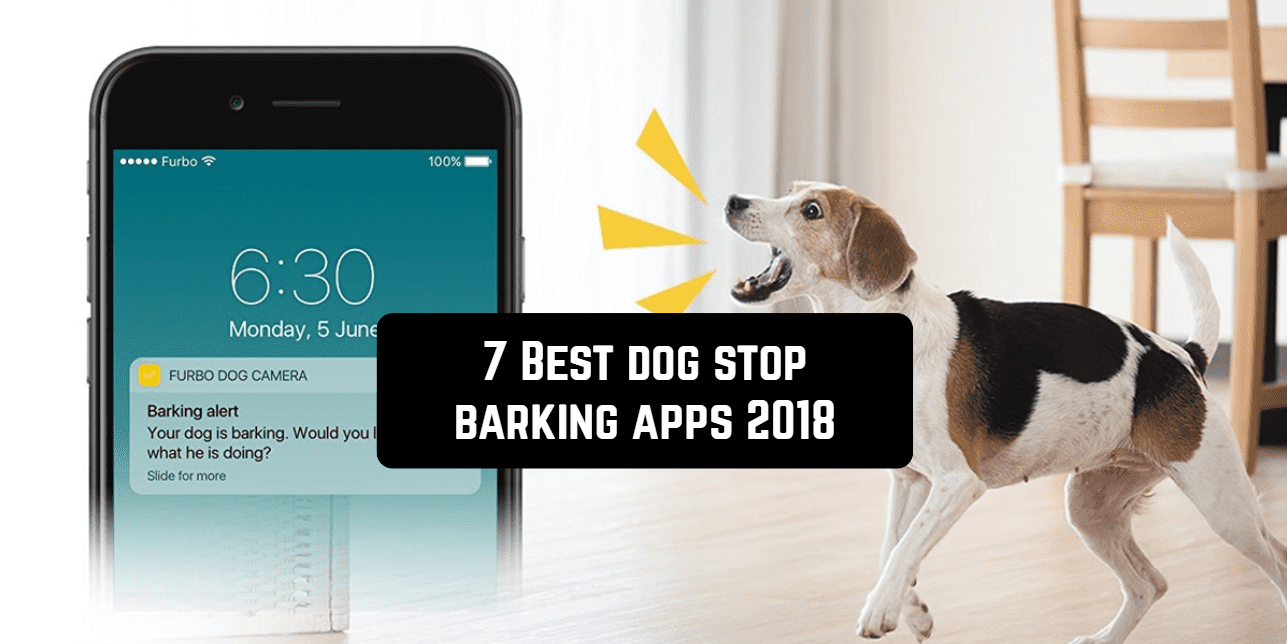 Barking can cause many problems. You are the owner of the dog, so it is your responsibility to make every effort in time to restrain excessive barking. We suggest you 7 applications that will help stop the unbearable barking forever.
Dog Training Clicker
Dog Training Clicker is that application aiming to train your dog in a simple and effective way. Turn your smartphone into a dog clicker! It was tested and approved by thousands of pet owners.
Many dog owners have noticed that for example, a loud rattling sound can stop barking.  Awesomeness from this sound switches the attention of the dog and quiet it. The Dog Training Clicker application also has such sounds. This technique is often used in training. When the dog calms down, praise it.
Dog Training Clicker is easy to use and has a nice interface. It will replace a dog clicker. The application can be used for training dogs, puppies, cats, horses and rats.

You can also check: 13 Free Fishing games for kids (Android & iOS)
back to menu ↑
Barking Dog Responder
Barking Dog Responder is a free application for Android which will be useful if you are irritated by your neighbor's dog barking. It is simple in use and has an intuitive interface. After you open the app, choose a sound and the sensitivity.
A neighbor's dog doesn't let you sleep at night? It's time to act. The Barking Dog Responder application will be the fastest and best way to stop the noise.
back to menu ↑
Dog Whistle to Train Your Dog
Dog Whistle to Train Your Dog is a multifunctional application used for training dogs and cats as well as to stop barking playing a specific sound.
There are many conflicting reviews about the effectiveness of such tools, but many note their effectiveness. Silent whistles make sounds that people can not hear, but well perceived by dogs, so your neighbors will hardly know that you are using such a whistle. Every time a dog barks, use a whistle. This will take several attempts, but in the end, the dog will begin to associate barking with the piercing sound of the whistle and stop barking.

back to menu ↑
Dog Whistler
Dog Whistler for iPhone will help to stop barking. This free application also makes the training process easier and more enjoyable. You get a whistle built into the phone with additional features: for example, you can change the frequency and volume of the sound.
The best option is the ability to set the mode when the whistle is activated by a certain movement. Thus, when you understand which signal frequency is optimal for your dog, you can turn this option on and the whistle will sound whenever the dog, for example, jumps on the sofa. Automatic training and control of dog behavior – what could be better?

back to menu ↑
Dog Whistle, Free Dog Trainer!
Dogs are more disciplined animals by nature. They are simple enough to teach simple commands, to instill useful habits, but all this doesn't happen right away but through your patience and long training. The Dog Whistle application can help in this matter.
The program simulates a dog whistle, generating frequencies in the range from 100 to 22000 Hertz. The description of the application also indicates that it will help stop the dog barking, train the dog with new tricks or protect from stray dogs. According to user feedback, the effectiveness of Dog Whistle depends on the specific case. Someone was very pleased with it and trained the dog the way they wanted, but someone couldn't.
Currently unavailable
back to menu ↑
Anti Dog bark
Anto Dog Bark will help you to make any dog stop barking. When do you think a dog can stop barking? Right, when it's afraid or curious about something. So, Anti Dog Bark application has various sounds in its arsenal to stop barking.
You will have full control and can find the normal sound (ultrasound) which works with most dogs. You can add other sounds every minute or make the normal sound higher if the dog is still barking.
Currently unavailable
back to menu ↑
Dog Bark Control
Dog Bark Control is one of the most powerful stop barking apps for iPhone of 2018. This handy tool will help you to restrain excessive barking.
The principle of its work is that the sound of barking generates a loud reverse ultrasonic signal. The signal is strong enough to cause unpleasant sensations for the dog but inaudible to people.
You can regulate the ultrasonic frequency. It is also possible to choose other sounds: dog bark, cat meow, whistle. You can enable vibration when playing a sound.
Currently unavailable