Being a dog parent is wonderful, but it can still come with some issues. And we all know what's the biggest issue of all: barking. It can cause a load of problems, and we're here to help you deal with it.
We've rounded up the best dog stop barking apps you could try. These are dog training apps that will help you get rid of various behavioral problems, including barking.
The apps come with educational programs, tips, and instructions on how to prevent barking from happening. Most of them come with built-in whistlers and clickers to make the training even more effective. Let's get into it!
GoDog
Let's start with a must-have for all dog owners. Even if your furry friend doesn't have any behavioral problems, you still need to give this app a try. It covers tons of tools that will boost your pet care exp right away.
Of course, the main part of this app is dedicated to training. There's a whole scope of problems it helps you deal with barking, chewing, biting, and more. There are numerous lessons to help you deal with these issues, and all of these explain exactly what you should be doing step by step.
There's also a built-in clicker and whistler if needed. These help to strengthen the results and improve training progress in general. Above that, there's a walking tracker that lets you see if your dog gets enough activity in a day. Use it to match your walking routine to your dog's needs.
There's also a section of health articles and tips you may want to add to your pet care. And to top it off, there's a health diary for vaccine tracking and all that.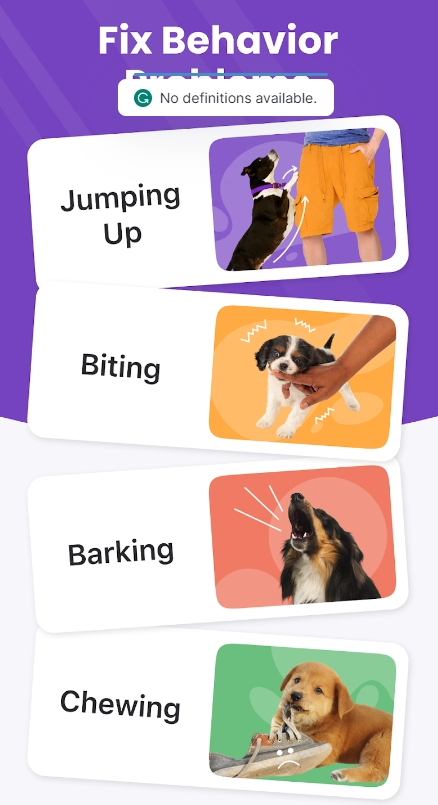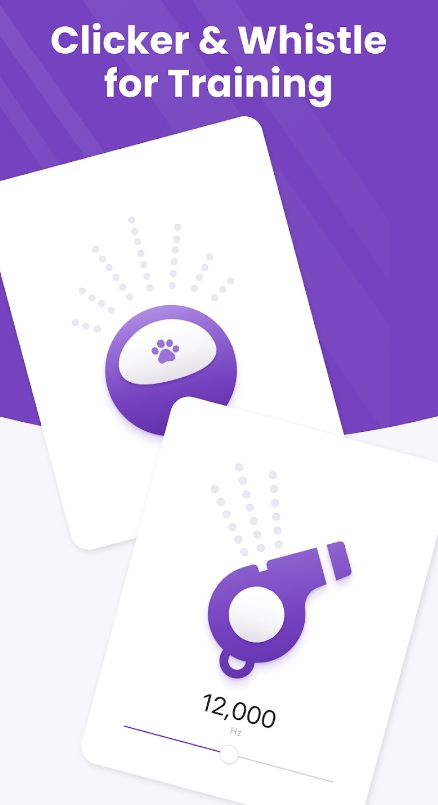 You may also like: 13 Best Dog Translator Apps
iTrainer
Dogs are humans' best friends. They guard us, stay with us, and give us support when we need it. They are smart creatures, and it is easy to train them. However, there is one aspect of dogs that probably no one likes – they can bark and do that long and loudly.
This app will be suitable for dog owners (because it includes elements for training the dog if you're not the owner you logically don't need it). If you are tired of trying to calm down your dog from barking at every single moving object then you should try this app. It has a whole set of noises which can prevent the barking.
These dog whistles have a customizable frequency from 100hz to 35kHz. Apart from whistles, there are more than 40 sounds to entertain your dog. What is more, you can record in the app the sound your dog likes and play it whenever you want. There are also clickers for training your dog.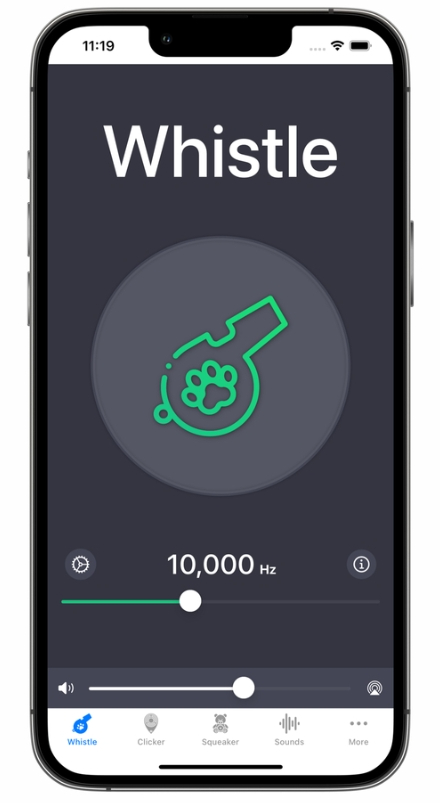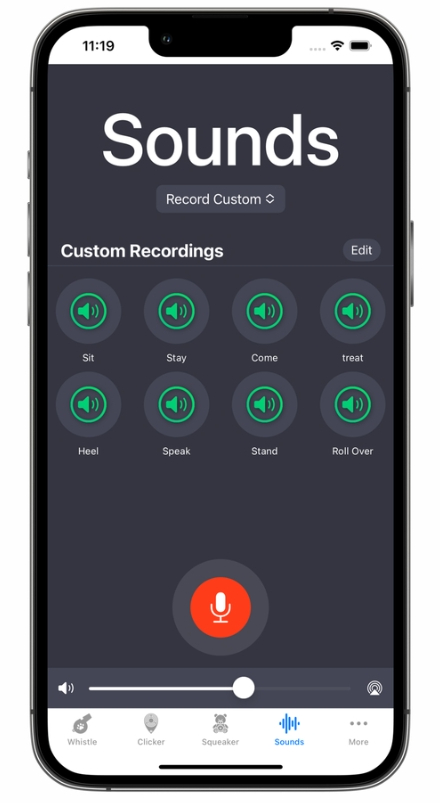 Barking Dog Responder
Barking Dog Responder is a free application for Android which will be useful if you are irritated by your neighbor's dog barking. It is simple to use and has an intuitive interface. After you open the app, choose the sound and the sensitivity.
A neighbor's dog doesn't let you sleep at night? It's time to act. The Barking Dog Responder application will be the fastest and best way to stop the noise.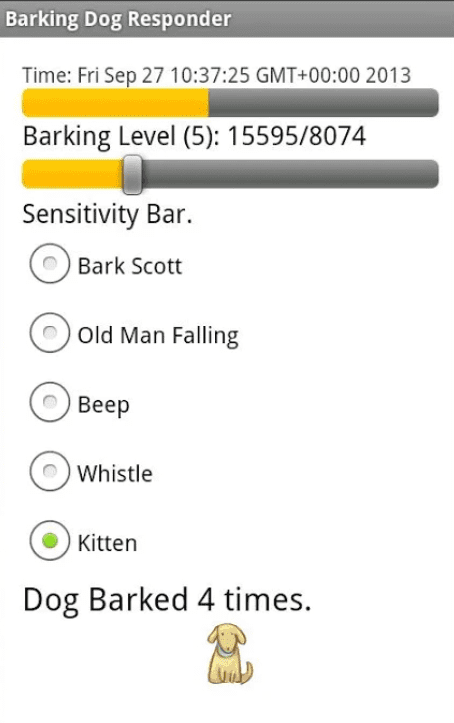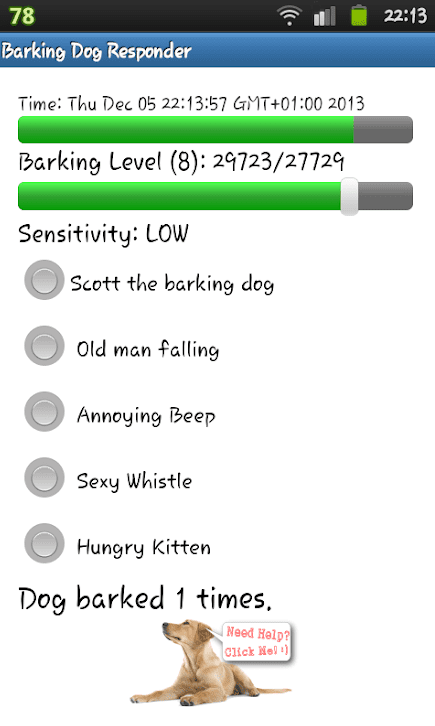 Pupford
Do you know the best way to deal with your dog barking? Make sure it won't turn into a full-on problem while he's still a puppy. And this app is here to help new and soon-to-be dog parents deal with behavioral issues.
The app covers a fully free video course made by a pro dog trainer. You can be sure the info you're getting was tested during years of practice, so all the techniques will give positive results. The course takes 30 days to complete, but the results are fully worth the effort. You can also use it will full-grown dogs if needed.
The course covers in-depth tutorials and training on how to prevent and deal with barking, biting, and other issues you might be having. There are over 70 tricks you could use, and even some guides on how to teach your dog some useful commands.
And if that's not enough, there's a full-on e-book with all the info repeated and unexplained in detail. There's even a list of top dog products if needed.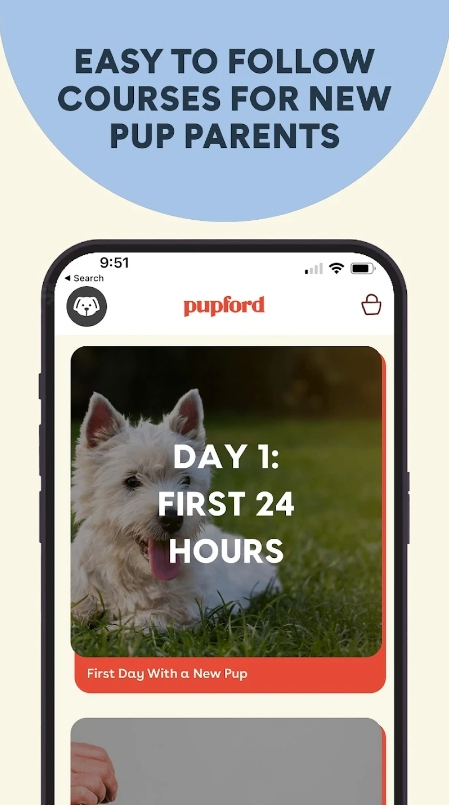 Dog Whistle to Train Your Dog
Dog Whistle to Train Your Dog is a multifunctional application used for training dogs and cats as well as to stop barking playing a specific sound.
There are many conflicting reviews about the effectiveness of such tools, but many note their effectiveness. Silent whistles make sounds that people can not hear, but well perceived by dogs, so your neighbors will hardly know that you are using such a whistle. Every time a dog barks, use a whistle. This will take several attempts, but in the end, the dog will begin to associate barking with the piercing sound of the whistle and stop barking.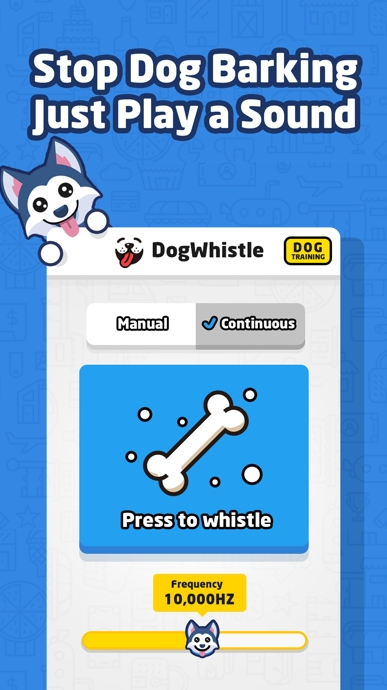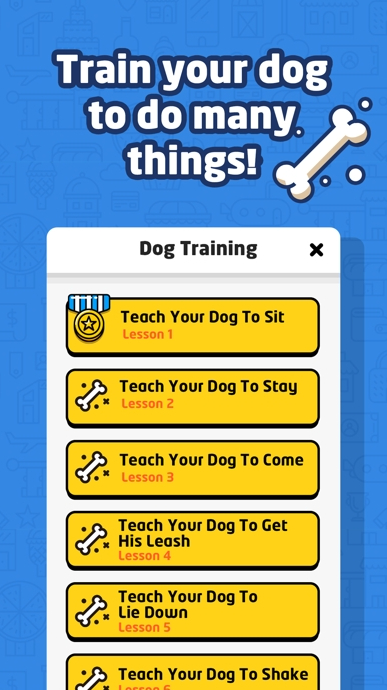 Check also: 15 Free Apps for Pet Lovers
Dog Whistler
Dog Whistler for iPhone will help to stop barking. This free application also makes the training process easier and more enjoyable. You get a whistle built into the phone with additional features: for example, you can change the frequency and volume of the sound.
The best option is the ability to set the mode when the whistle is activated by a certain movement. Thus, when you understand which signal frequency is optimal for your dog, you can turn this option on and the whistle will sound whenever the dog, for example, jumps on the sofa. Automatic training and control of dog behavior – what could be better?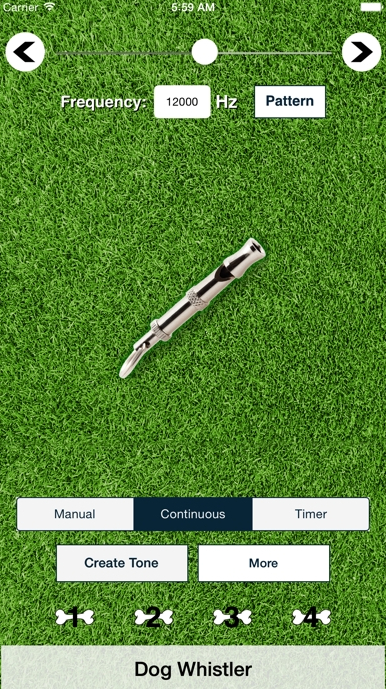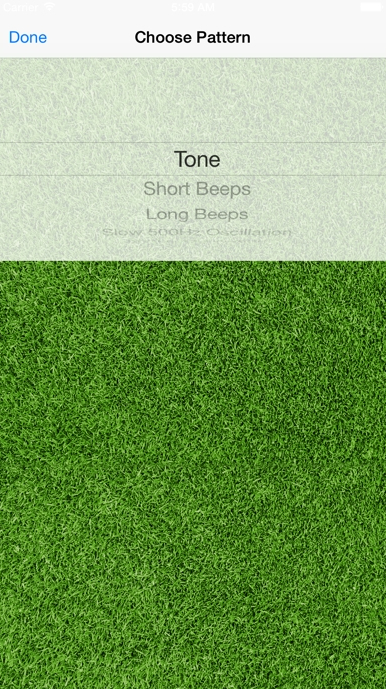 Dog whistle & training app
It's an all-in-one app for dig and puppy training. It's here to ensure your dog won't drive you mad by barking or chewing on your fave shows while you're at work.
The app covers all kinds of training to help you get rid of diverse behavioral issues your furry friend might be having. It can also help you teach the dog some fun little tricks and commands. There's even a full-on section that tells you how to help your pup socialize.
Hereby, there are both theoretical and practical lessons, so you're all the way covered. And to boost the efficiency of the training, there's a built-in whistle you can use for free. It covers high-frequency sound that is inaudible for humans but loud for dogs. You can regulate the intensity to ensure it's not too much for your pup, so no worries here.
Plus, there's a built-in clicker that helps to make reinforcement training more efficient. It should be used when your dog does smth right and helps to reinforce this behavior.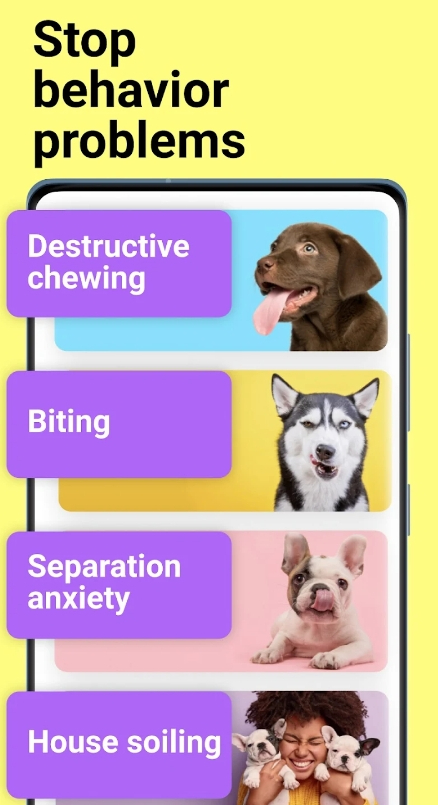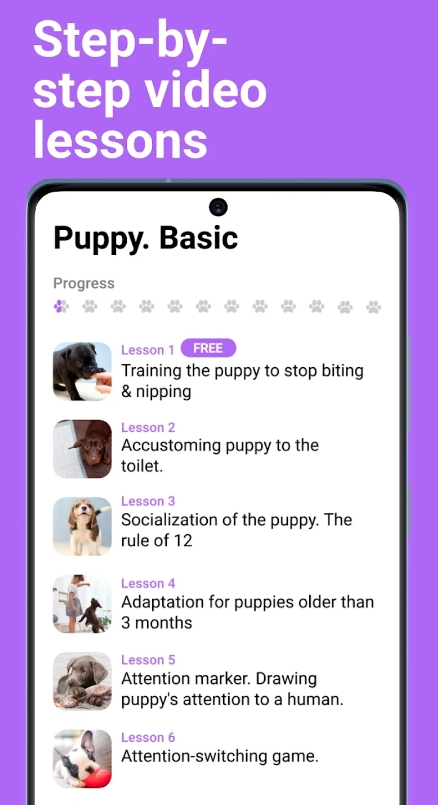 Dogo
Dogo is one of the most popular apps on the market for training and luring dogs. There are also functions that can help you to calm down the barking dog and make it stop barking. There are various whistle and clicker sounds that have different effects on dogs, but they all have one purpose – to restrain the pet from doing hazardous actions.
In order to use the stop barking features in Dogo, you need to enter the section basic obedience and there choose the specific sound. Among all the apps, this one has the best interface design and functionality, however, it's not made specifically for preventing the dog from barking and that's why it's not number 1 on our list.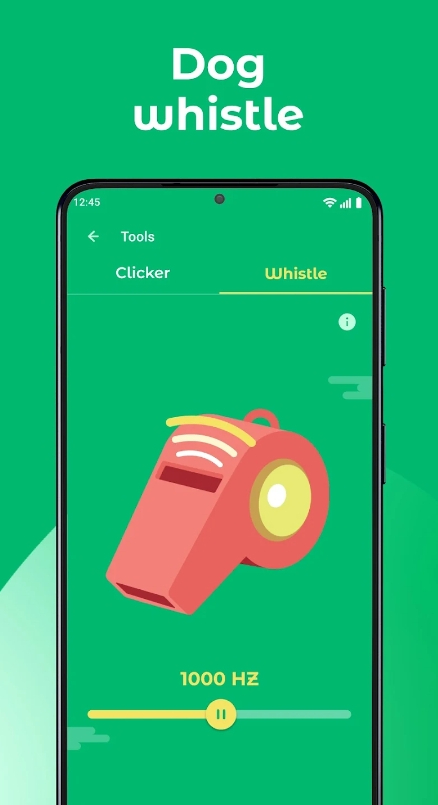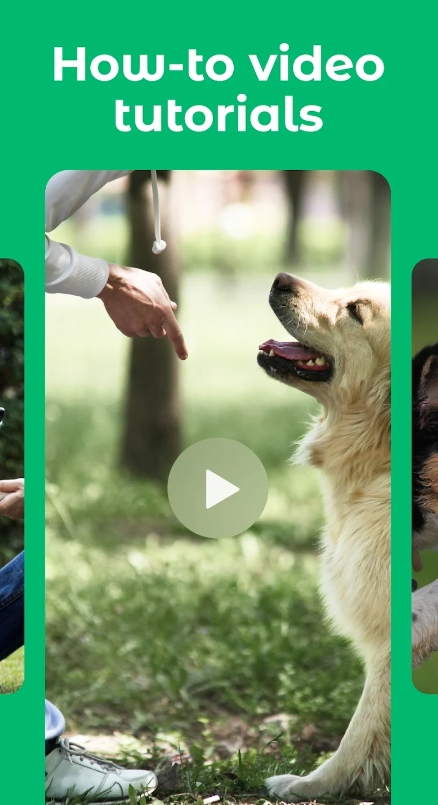 You may also check: 7 Best Pet Camera Apps
Dog Whistle
As you could figure out from this app, whistles can make dogs do various things, and they can also force them to stop barking.
This is a whistle collection app that is lightweight, so no matter what your device is, you can download it and use special guarding whistles each time you want to calm down the dog. When you open the app, you can choose between the dog whistle, dog clicker, and tips sections.
The anti-barking tools can be mainly found in the whistle sections. Explore all the sounds and see which ones work best.