Right now there are various kinds of photo processing and editing apps available on the web. But despite all these lists of apps, Facetune is certainly one of the best. In this list we have made a selection of free apps like Facetune – now you don't need to pay to look beautiful in pics!
And before you start, you need a good portrait shot, right? Don't worry, we have already found the best apps to make portrait photos for you.
Photoshop Express Photo Editor
The app was created by Adobe developers and is a smart and easy photo editor with which you can do not only various effects on images, but also excellent photoshop without any difficulty.
The program is quite simple and easy to work with, despite the fact that the work in Photoshop seems too difficult. The app is one in a million because its features are awesome. It can be used by professionals in the field as well as beginners. Let's take a look at what features and editing tools it has.
Nowadays, putting ordinary selfies and simple photos online is not interesting and already lags behind fashion. To do something unusual and at the same time creative is what's most interesting.
And to achieve such unusual photos you can use photoshop. In the app, you can register as a regular user, so that in this community you can swap ideas and look for inspiration.
The main benefit of such a community is that each user can leave a comment about the effects he used and give likes. Don't be intimidated, the app isn't just for creating photoshops.
You can also use it to do some simple photo processing, such as removing unnecessary objects or applying special effects. You can also change the way you look in your images. There are various tools to change the color or shape of your eyes, and face, and to correct your appearance.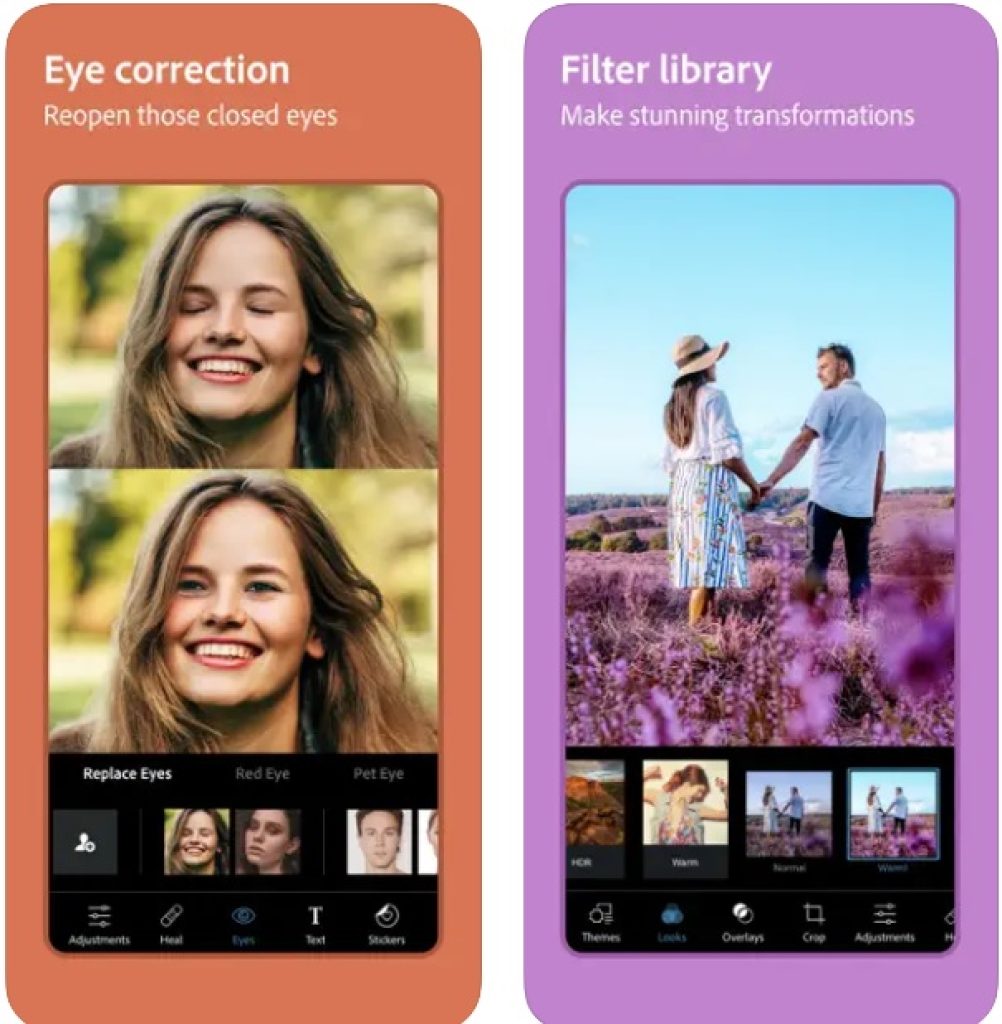 You may also like: 11 Best Makeup Learning Apps for Android & iOS
Ulike
Another top app that, I'm not afraid to say it, can replace Facetune. It's a photo and video editor with all the features and processing tools you need.
Each of the tools is divided into different sections, and it's also a camera where you can take pictures or shoot video in real-time. And if you need to change an existing photo, you can just choose it from the gallery and do magic with it right in the app.
On the main screen in the filters menu, you can find ready-made makeup, you choose any of dozens of different filters. For cuties, the app is the best, because the effects are mostly in linen and bright colors.
These filters can also be customized to your liking. On the top menu, you may notice a poses section that contains many kinds of ready-made templates that you can use to pose for a photo.
This feature is cool because not all people are photogenic and some people are even camera shy and don't know how to pose for a photo in the right way so it's not awkward.
In the images section, you will open a dozen images with makeup and special masks and effects that you can apply to a ready-made photo or take a picture yourself. There's also a beauty tool where you can apply changes to your appearance, like changing the contour of your face, adjusting your nose or eyes, and so on.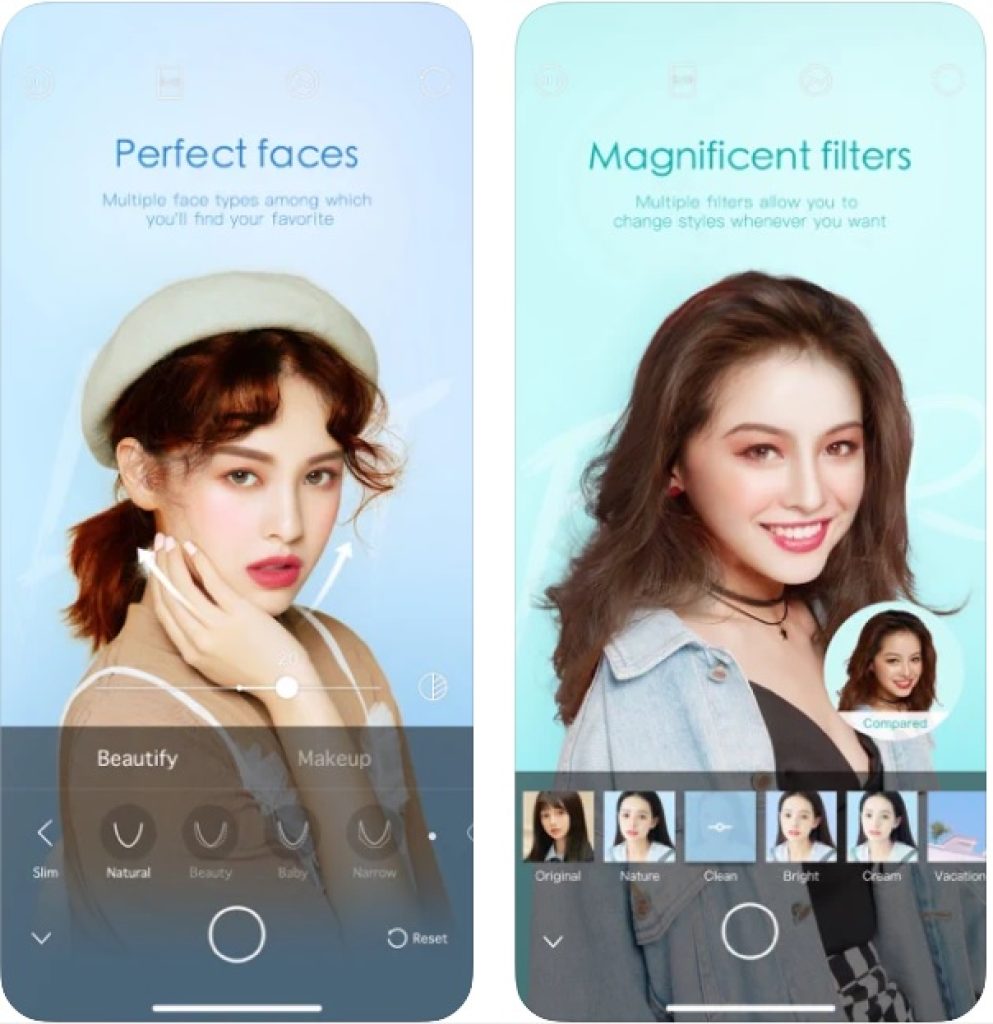 Fotogenic
You know, the app is cool. It's got all kinds of different effects to change your images. With it, you can not only change photos but also add cool and funny effects to your work. You can even change your full belly into abs, can you imagine?
The interface of the application is quite extensive and can be a bit confusing when you first use it, as there are plenty of photo editing tools.
Ordinary photos can be turned into creative and groovy ones using effects like bubbles, glitter, or sun glare. You could even add captions and change the font from the list provided.
To change your face and appearance, it is also convenient to use this app. It allows you to whiten your teeth, remove or smooth out wrinkles, remove or hide acne, and much more.
And if you want to know how a tattoo would look on you, you can try the app first. There are several templates of ready-made tattoos here, too.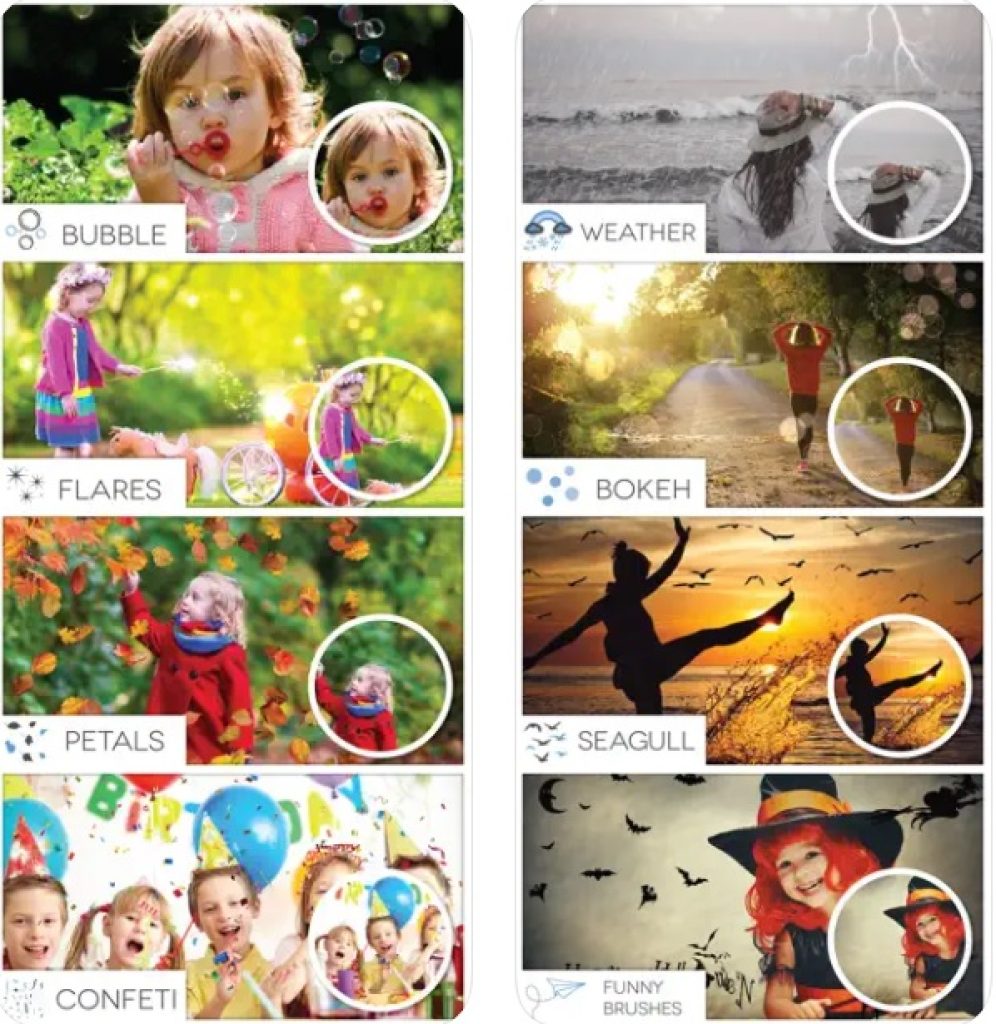 Pixlr
An app with which you can unleash your creativity. The app is a photo editor with over 2 million effects and filters, and we think it's a great analog to Facetune.
Do you want pretty skin, or to edit minor details in a photo? Just open the app and get going. Now let's find out exactly what this application is and what you can achieve with it.
In this app, you can edit photos to your liking without too many worries. The app is easy to use without getting lost in the tools, thanks to a simple interface.
With this app, you can try different effects, overlays, and filters. These app tools allow you to take cool and unusual photos instead of ordinary and boring ones. Let's face the fact that no one is curious to look at ordinary photos that are no different from anyone else.
You can use the app to create creative ideas for your photos. Not only does the app have many effects, but you can also create great collages, add various interesting texts to your photos, and share your work with other people in the community.
Yeah, the app has a community where users can share their masterpieces and exchange ideas. In general, to learn more about the possibilities offered in the application you need to try and assess everything.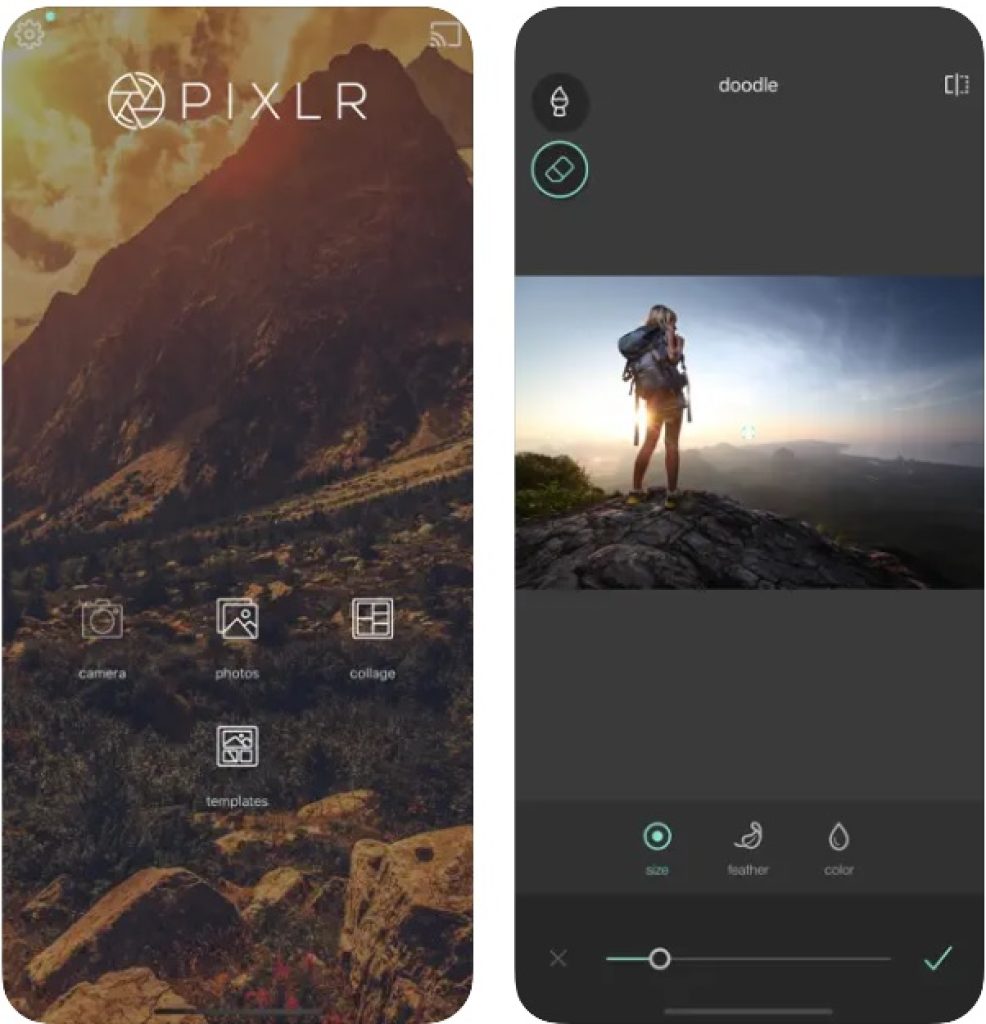 Visage Lab
Convenient and easy photo editor with which you can get completely different images. For photo retouching, the application is the best. At first glance, the app may seem like it sucks, seriously, but you just have to try it. Here are six major retouching tools to help you transform your photo.
Basic facial modification tools help remove pimples, wrinkles and shadows, and unnecessary objects from your face. These features are also used to smooth out your facial tone and change your skin tone.
Whiten your teeth, and also remove the red-eye effect in images. And we almost forgot about the tool to remove shine from the face. The main downside of the app is probably its lack of filters.
There are filters in it and a few, but at the same time, there are not as many as we would like. And those filters that are available in the application can be changed by color, brightness, and style. The background can also be changed as desired.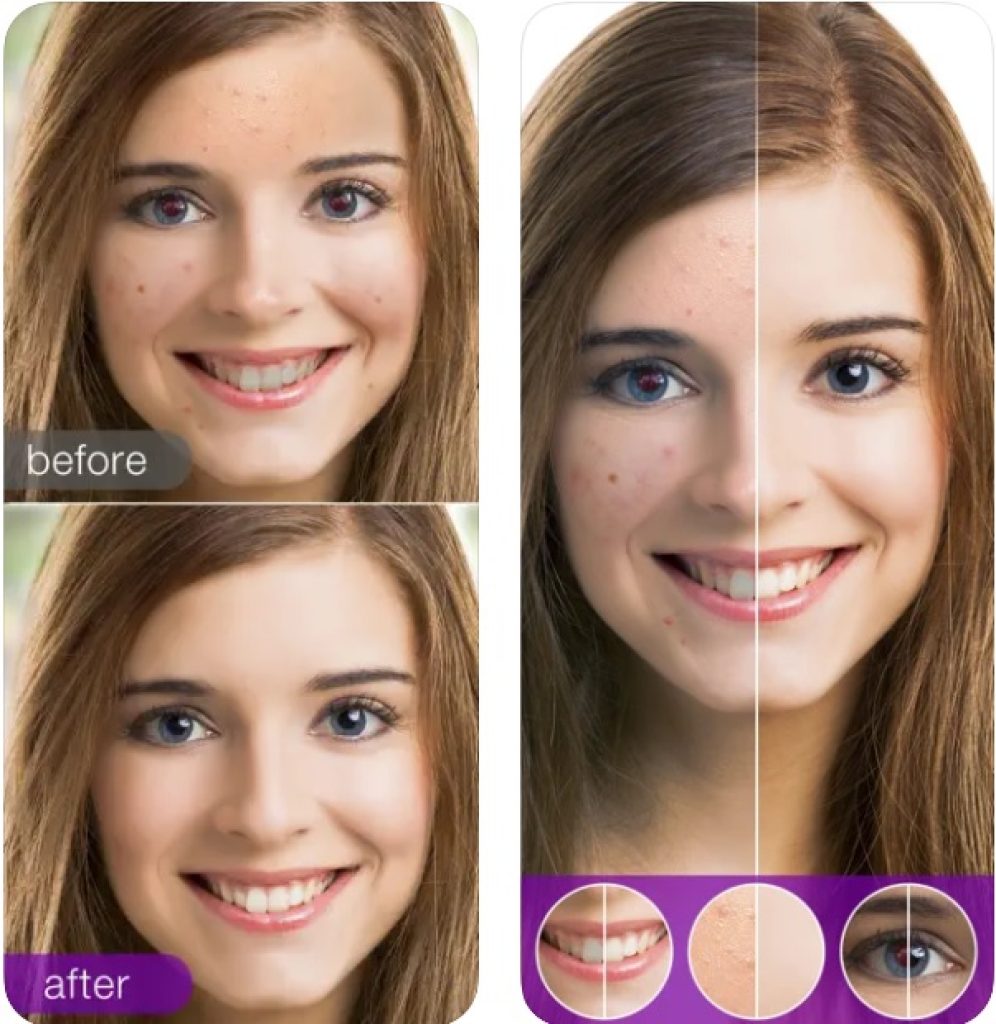 CreamCam
Not to say that the app is fancy and one in a million, but it has similar tools and features to edit your selfies. More accurately, the app allows you to change your face tone, remove pimples or wrinkles, achieve perfectly smooth skin, and much more.
Even though the app is not as famous, it has great photo editing tools. The app allows you to take not only beautiful photos but also shoot videos with the best effects and filters.
The main similarity of these two applications is to achieve perfect skin in a photograph. That is, they allow you to change your selfies without any problems.
The tools of this photo editing app are not many, so it still needs improvement. We don't always turn out great in photos, so using some help from a third-party app wouldn't be much of a problem, would it?
The main positive of the application is that it is not difficult to use and does not require additional actions to get an edited photo.
The app is easy to use, thanks to its easy and user-friendly interface. If you need to use filters or anything else, you just have to look at the buttons where everything is written.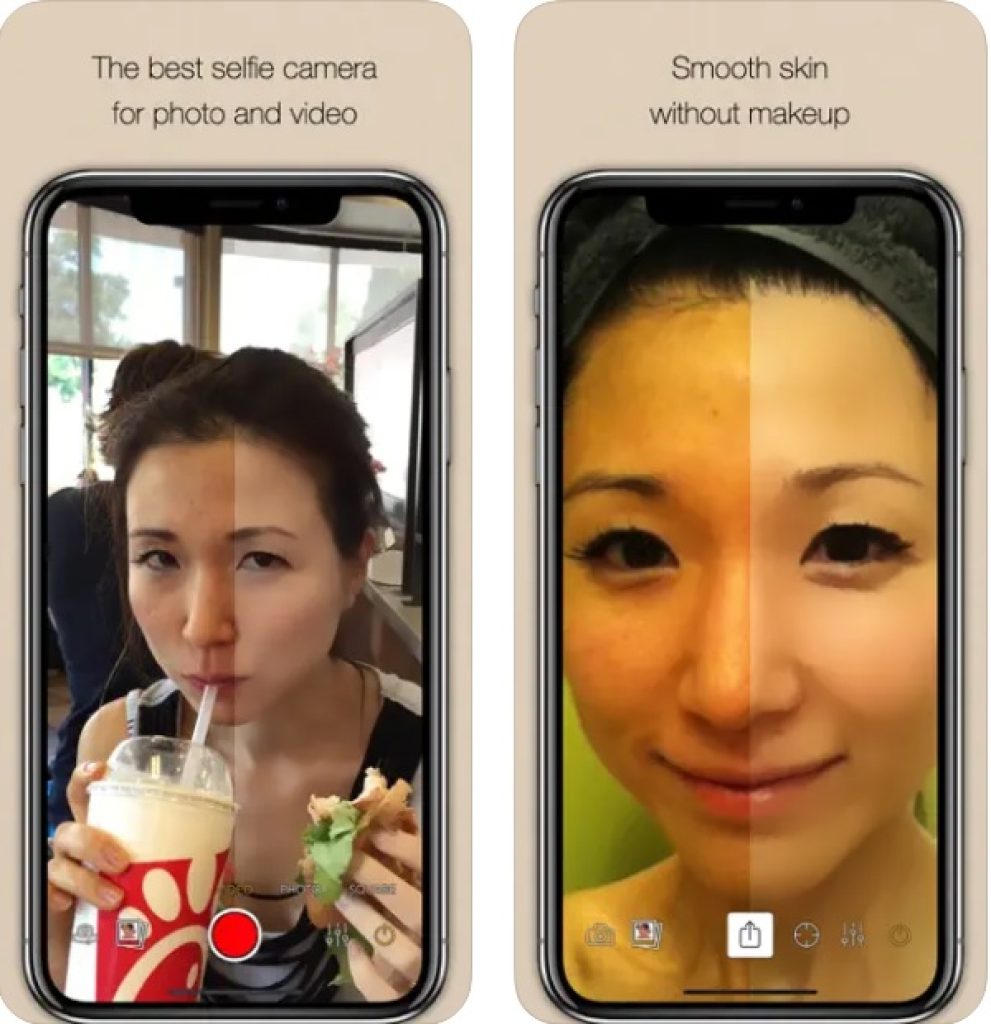 You may also like: 9 Best Photo Morphing Apps for Android & iOS
Afterlight
This photo editor may seem simple enough but is nevertheless a powerful editor that has excellent reviews from users. The interface is probably the easiest, you can not get lost in it.
Everything is very easy; on the first page choose a photo from the gallery or take a picture manually. Once you have made your selection a new menu will open and you can try your hand at experimenting with your work.
Photo editor is common, it contains the necessary tools for editing and processing photos such as cropping, filters, adjusting colors and brightness, and so on.
The only downside of the application is probably its filters. You have to be happy with the filters that are on the list. And there, as you have already understood, not so many.
But you can close your eyes to this problem because there is a substitute in the form of highlights and other effects. Your photos can be changed into unusual ones using the list of flare effects provided.
You can customize these effects and change their location and size. After you're done editing, you can upload your photo to Instagram directly from the app.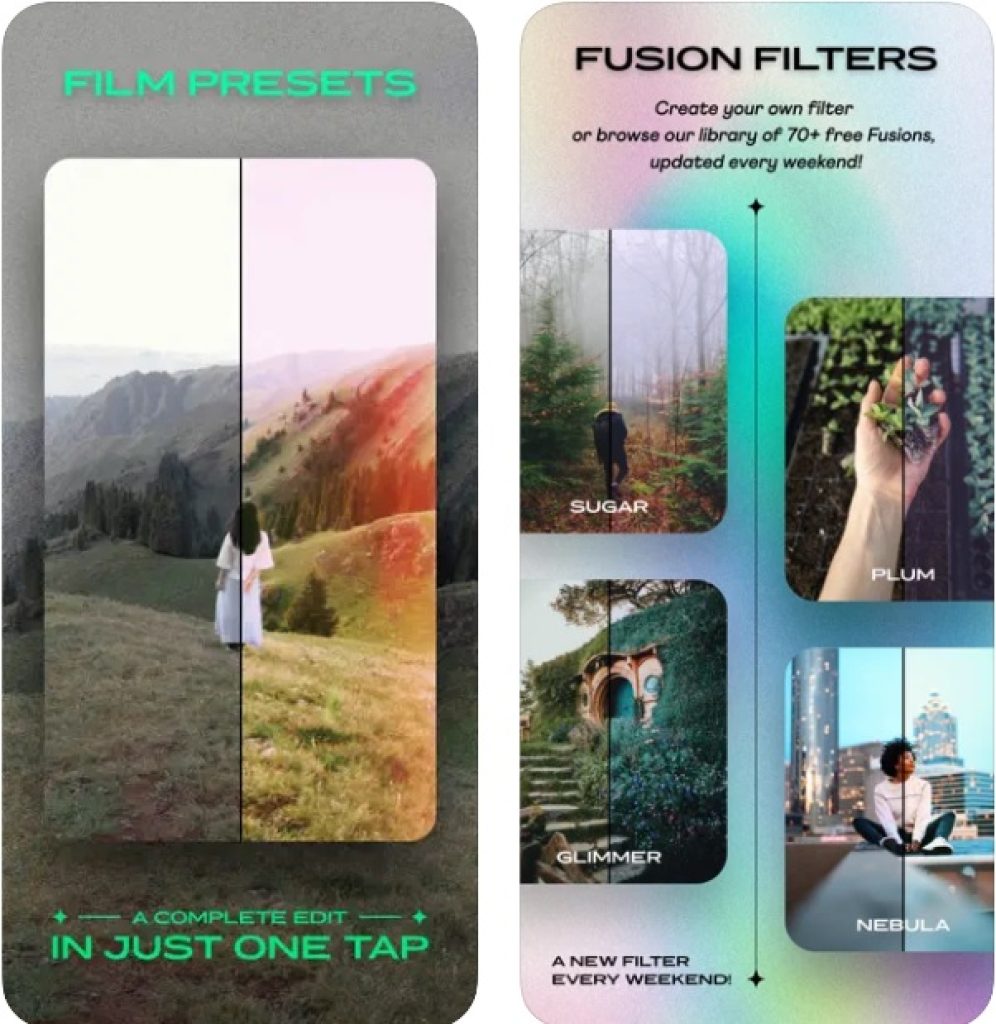 Lensa: Photo/Pictures Editor
In principle, this editor is no different from the previous ones, has almost the same tools and features. However, we think we should make a short review of it.
Let's start with the small features of the application. The first and most important one is that you can blur the background perfectly. We are not only talking about a straightforward blurring of the background but its appearance can be modified.
Filters that are in the application are a separate topic. There are some great photo filters here, and they're not all the same as the others.
When selecting filters you can also adjust their brightness, sharpness, or contrast. In general, you can adjust and customize everything in the app to your liking.
And here you can professionally and discreetly correct your face and appearance. You can remove unnecessary details from a photo and replace them with something else. Do you need to remove the bags under your eyes and make your look more lively? One-click and it's done.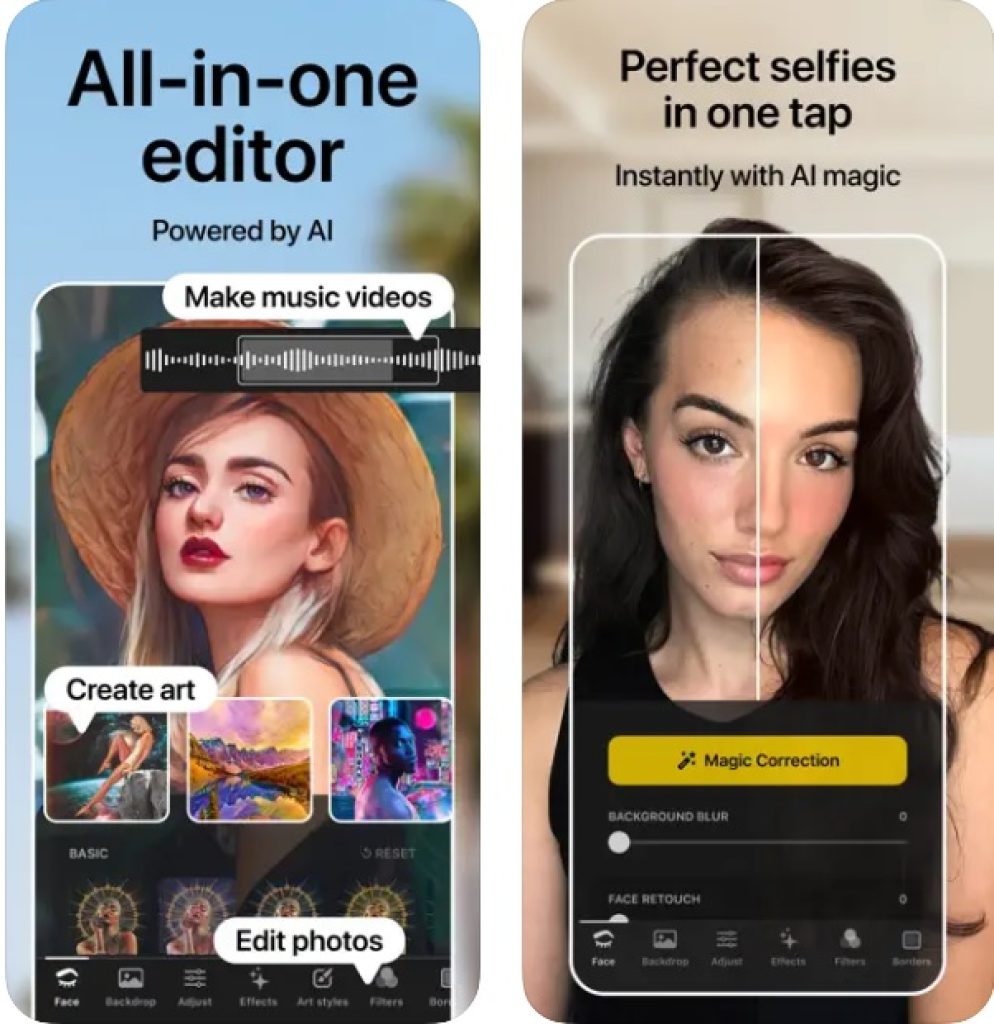 Camera360
One of the most convenient apps for those who like to experiment with their photos. The application is a photo editor with many features and interesting possibilities for changing and processing images.
If it is in your interest to find a user-friendly editor that will not ask for different registrations and other unnecessary things, then this application is what you need. And the question of why we decided so, we will answer below.
There are many kinds of high-quality filters available in the application to create great photos. You also have the ability to change the style of the photo to your liking.
Small details in the photo can also be changed with the help of special tools. And if you want the perfect selfies, you have this app at your fingertips where you can achieve that. In one click your photo will be perfect; even features, perfect skin tone, a dazzling smile, and so on.
You can also use this app for your selfies on Instagram or Snapchat. The app is not only analogous but also has different kinds of masks for selfies.
And it also has all kinds of natural makeup masks that are hard to distinguish from the original. Here you can turn not a beautiful photo into a masterpiece, the main thing is to know how to choose the filters correctly.
The interface of the application is very simple, everyone can easily process their work. The app is not new, and in the expanses of the Internet managed to become famous as an outstanding photo editor.
So, you should not think about possible bugs and problems. It also does not have intrusive commercials that will distract you from the process.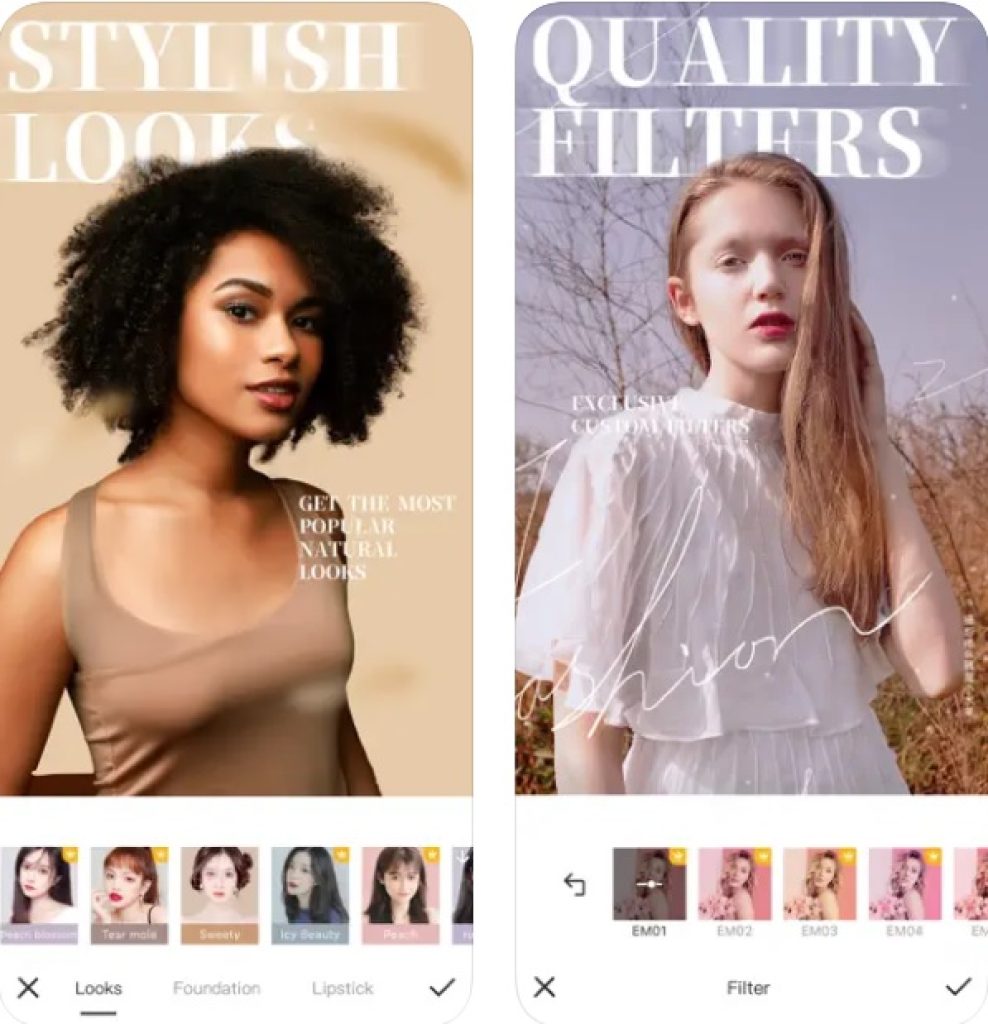 Perfect365 Makeup Photo Editor
It looks like an ordinary photo editor, but in fact, it is just a great application for creating images. The application contains several thousand tools you need for your look.
There are different ready images with natural makeup looks as well as special looks for a certain theme, like makeup for Christmas, for a candlelit evening, or something else. With these tools, you can look stunning in photos, because we don't always wear makeup and the situation has to be changed on the fly.
The tools in the program are enhanced, each of them carrying excellent modification capabilities. You don't have to worry about whether photoshop work is noticeable.
The functions of the app are user-friendly and there is almost no noticeable interference from the photo editor tools on the photo. Users choose the adjustments themselves, so the app is very handy and recommended by many.
Another benefit of the app is its online community. In this community, you can look for inspiration for your makeup images in real life. You can browse other users' photos and replicate their looks in real life or with the tools in the app.
There are also more than 4,000 kinds of ready-made templates and backgrounds for photography. You can use these templates as a navigator, or you can create your images with the app tools.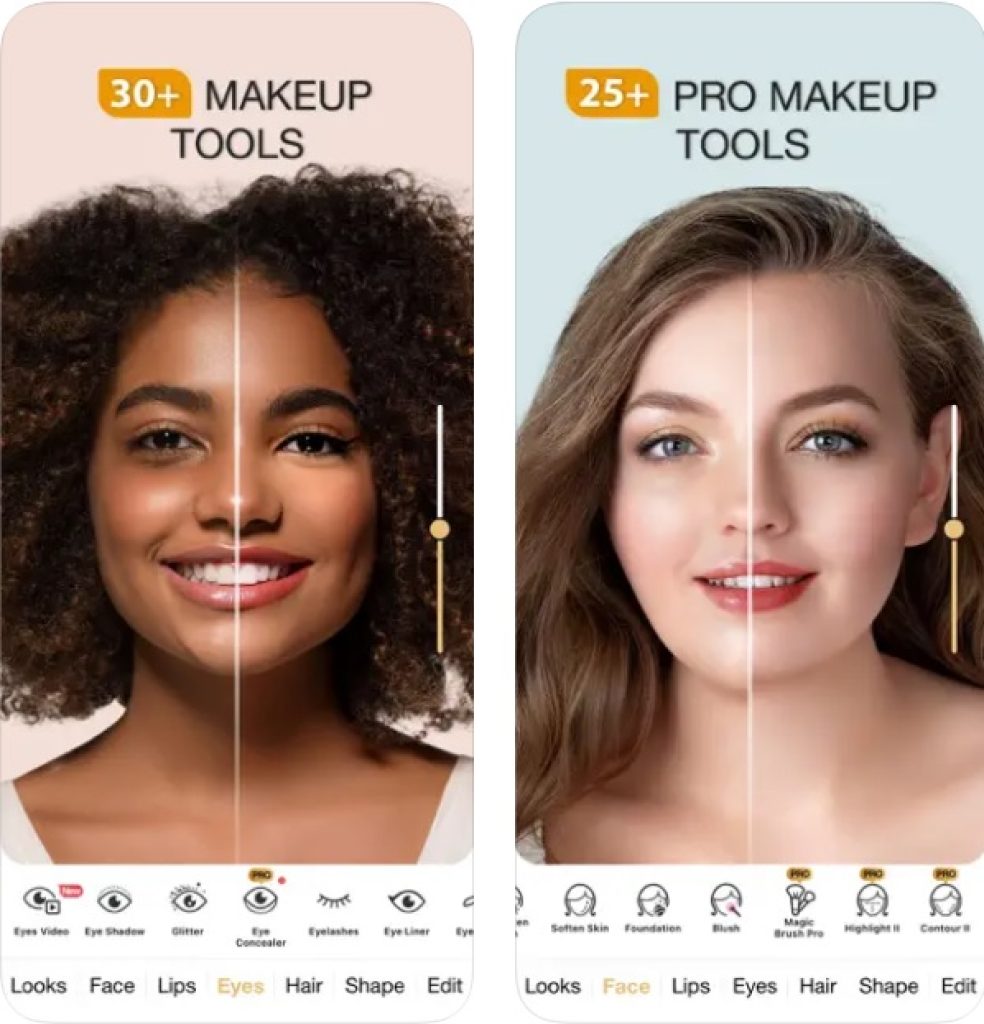 You may also like: 7 Free Facerig Alternatives for Android & iOS
Meitu – Beauty Camera
The app has all in one, you can use it as an editor, a smart photoshop, and much more. You no longer have to look for different options when it comes to photos.
All you need to do is download this application, which by the way is popular among users. And it is clear after all that the program has everything you need for your photos, one click and it's done.
The app is easy and affordable to use and allows you to change your appearance, from the color of your skin and face to a perfect bright smile.
For those who want to emphasize their image light makeup without unnecessary movements. To get the perfect look you do not need to put on makeup and think about how the lighting will change the whole image.
In the bottom menu, among the tools, you can choose the right makeup and adjust and change it to your preference. We have already mentioned that this application can also be used as a professional photoshop.
That is, you can remove unnecessary objects in the picture, and insert and add new details at your discretion. And we can also just make collages, add different texts to photos and change their styles and fonts, and much more.
All the editing tools are located in the bottom menu, by scrolling, we can find more and more new features and functions of the application.