Writing is a significant part of our daily routine. We have to write essays, articles, reports, drafts for different aims and occasions. It could be our school project or essay for a college assessment. Someone can have an internet blog with multiple articles on different subjects.
Generally, we all do mistakes in grammar or punctuation. Luckily an internet market offers a big variety of services for grammar and spells checking. Moreover, there are a number of apps that provide free grammar checking.
In brief, you can save a lot of time and effort by delegating proofreading for an application. Below, there are 10 meticulously selected grammar checking apps for Android and iOS.
Grammarly Keyboard
Grammarly will help you correct all your spelling mistakes with one click on the go. You can type your essay or article and simultaneously has it checked. Words with mistakes will be underlined with red color. And not only words. if you have forgotten to use the correct article in front of the noun the app will notify you suggesting the right option. Likewise, Grammarly will suggest better lexis to be used in a sentence.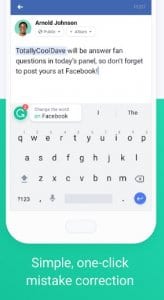 As a result, you will have a clear text that is ready to be posted or used. Along with its simplicity, the app is free but not without a paid subscription. Though it could be more than enough to use the free version. Needless to say that its the most popular app in its genre. The app is available for Android and iOS.
You may also like: 11 Best writing apps for iPad
eAngel
eAngel is a simple and unsophisticated, uncluttered application for text correction. It works fast displaying you all your mistakes on the go. Highlighted in red color grammar mistakes will be obvious with suggested corrections. Those who need to have free and simple writer assistant can find the app convenient and helpful.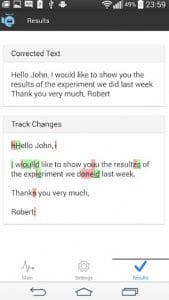 It can be assumed that the app can be used by school and college students for essay writing or study. Any school project can require writing a summary or specification. This all would require to be better checked for grammatical mistakes. And the free app is the best help that can be obtained in a short time.
Ginger Online
Ginger writer assistant has been popular and favorite among writers during a long period of time. It works as many apps of this genre. You write your text and Ginger checks your grammar and spelling mistakes. It won't let you feel shameful anytime someone points out on multiple inconsiderable mistakes in your texts.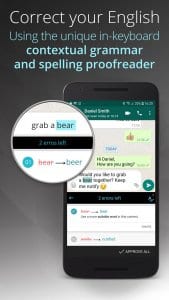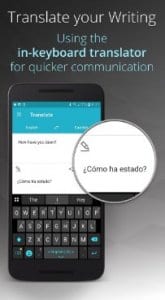 The app examines texts for mistakes in spelling such as homophones or homonyms confusion. It could be also typing mistakes that are not easy to be noticed. As well as for writers the app will be handy for students. It's free for Android but unfortunately paid for iOS.
WhiteSmoke
White smoke is a simple handy app for writers on one hand. On the other hand its an advance application with the benefit for those who want to avoid mistakes in the future. It won't only check your spelling and grammar but also will give you tips and explanations of some grammatical rules. Moreover, the app will evaluate your writing, will count words an sentences. In the same way sentence, length and structure will be counted.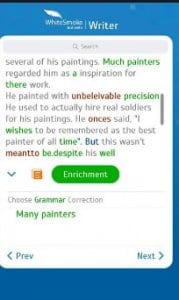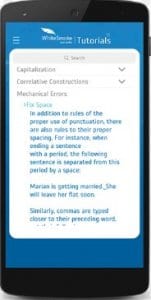 There are a few steps to be completed in order to get a better text. Copy-paste your writing into the app and press on a "feather" button that is highlighted in orange color. If you have mistakes your text will be marked with green, red and blue color. Red will notify you about spelling mistakes, green will tell you about grammar error and blue will give style suggestions. The app is available on both Android and iOS devices.
Spell Checker
Spell check is yet another free app for proofreading. It could help you to check your texts or essays. It doesn't require an internet connection and can do all its functions being offline. With this in mind, you can correct simple typing mistakes without scanning the whole text by yourself. Such a simple task can be done by the app. In the end, it must simplify your writing routine.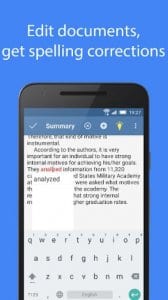 In addition, the app can be used as a note maker for saving important information right at the moment. Without a doubt, there can be a great help in proving your language skills. As long as you have a smart mistake corrector you can minimize errors in the future. By far the app is available only for Android.
Grammar Check
Grammar Check is yet another spell checker and grammar correction app that will cost you nothing except download time. Hence it deserves to be download in order to try the app.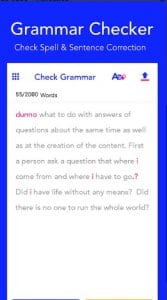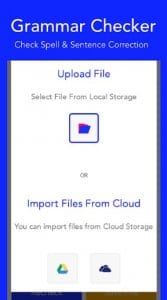 Everyone who writes a lot will fin such a tool very helpful as not always we type without mistakes that can be not obvious. We can sen our works full of spelling mistakes or grammatical errors. Being blushed after comments about it will not add more positive to our mood. In order to avoid it, we would better use this light tool that won't take much space on our device.
Correct me
Correct me is an iOS application for checking grammar an spelling mistakes in the text. It's also free and easy to use. Of course, it's not without in-app offers with extra payment. Copy and paste your text into the app and press the orange button to check grammar. You will find mistakes highlighted in red color with the right suggestion for you to choose. In addition, the app offers various synonyms for words that may be used alternatively. All this can help to enrich your writing.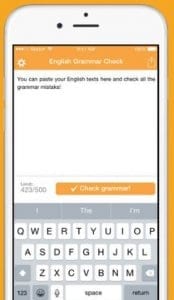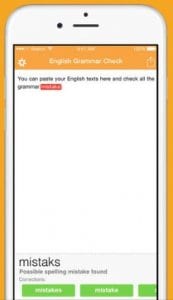 The design and interface of the app are user-friendly and comprehensive for even schoolkid.  Moreover, the app`s high rating proves the app to be worthy to download.
Spell Checker Editor
Spell Checker is a simple application for Android devices that supports dozens of languages. You can check any language mistake while you are writing. You can write inside of the app or call the app to check your text while you typing it in another application.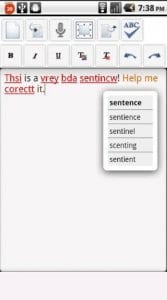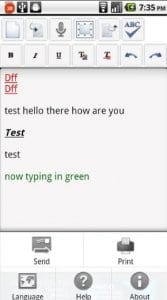 All grammatical or typing mistakes will be highlighted in red color. You have to choose the right possible correction. The app is popular and weight to few not to download it so as to try.
LanguageTool
LanguageTool proofreading app is a tool that implies spellchecking in apps like Twitter Facebook, telegram and WhatsApp. After installing it will be built in and wor automatically in different social media applications. So while you are typing the app corrects your mistakes.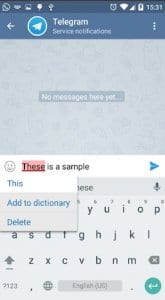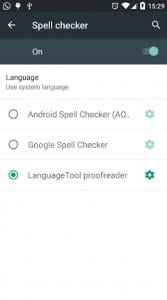 The app is free and works with Android and iOS devices. It will definitely boost your productivity especially if you are in the process of learning a language. Whether it's English of other language supported by the app. The developers are constantly working on updates adding new languages support. So by far, there are Portugal, Esperanto, French, Russian and a few more languages.
Editorr
Edittor is a good choice for iOS devices. Its partly free service. Why partly? Because it would allow checking a limited number of words. The rest you have to buy if you need of course. The app has a distinguishing feature. It suggests not just grammar and spelling words corrections. You will be offered lexical improvements in the text. In other words, it will beautify your text making it more professional and attractive.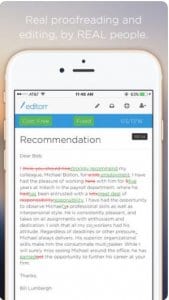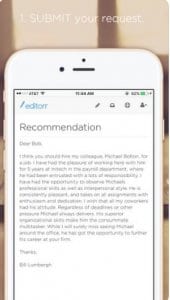 The procedure is simple and suitable for all ages even for pupils of the first grades of school. It can play the role of a teacher for anyone. In brief, the app can be used as educational.
You may also like: Exam preparation apps for students