If you are working for a company, you probably know how important it is to care about the office workers or human resources as we often call them.
By the way, if your company is divided into teams, you might also need Best Free Team Management Apps
However there is good news – now we have collected a list of apps that can solve such a problem. There are nice human resources apps for iOS, as well as Android users.
Toggl Track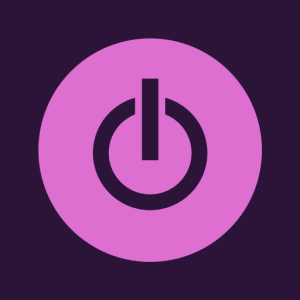 Managing your employee's time is the hardest challenge you can face at work. It all depends on time. This is why you need to plan your meetings, phone calls, and sync between calendars.
Toggl Track will provide you with a huge number of tools to do this type of task.
Now let's move to the best functions of Toggl Track:
Gather data and generate reports

. This is a great function to analyze all types of things. For example, you can analyze the hours your workers spend in the office.

Create

timelines for your projects and then synchronize them

with your colleagues and clients. This is the best function enabling you to collaborate easily.

Use Siri

. Yes, Toggl Track is fully compatible with Siri, enabling you to save time and do tasks with your voice.

Create widgets

. This will help you to access your favorite functions right after you turn on your device.

The app is

completely free

. You don't need to link your card to the app or choose any type of subscription. Just download and add others.
If you are disconnected from the Internet, it's not a problem at all. You can still view the information but can't upload new details.
There is a new cool feature called Pomodoro timer. It will enable your workers and you to work effectively. The thing is that you work for 25 minutes and then have a 5-minute pause. Such a method proves to be truly easy and powerful.
Please note that the application will collect some data about you, including your contacts, your files, and your identifiers. This data will be linked to you.
The app needs about 40 MB to be installed on your device.
Toggl Track is available on the App Store, as well as Google Play.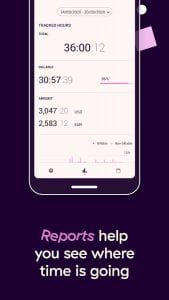 You may also like: 5 Best Franchise Management Apps for Android & iOS
Justworks Hours (Boomr)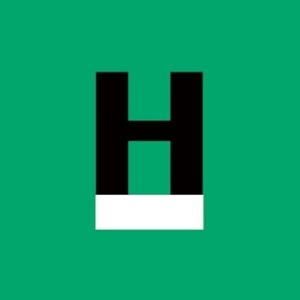 Here is another good HR app. Its main aim is to track time. However, there are many other functions as well.
It has a minimalist and intuitive interface. There are no extra functions that will only distract you from the main purpose. What is more, the app isn't too big – it requires about 83 MB, which is not a lot, taking into account the fact that you can add as many users as you need.
Here are the best features you may try in Justworks Hours:
Track the time

your workers and you spend on a project. This is vitally important not to miss a deadline.

Request time off

. The process is simple. There is no need to call anyone and ask for some time, just open the app and choose the necessary function.

Create reports and analyze them later. This is a fairly important thing to do. If you neglect analyzing time, you will lose it again and again and therefore, get less money.
However, if you choose the basic version of the app, all the functions will be strictly limited. For example, if you need to track more than 5 employees, it will cost you 19.99$ per month. If you have fewer employees, then you can do without paid functions.
Unfortunately, we can't say Justworks Hours is a super privacy-respecting application. It tracks your location, purchases, contacts, financial data, and many other details. What is even worse, all the details will be linked to you.
You can download Justworks Hours on the App Store, as well as Google Play.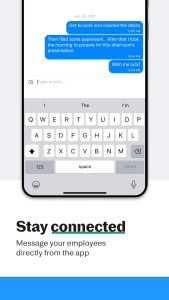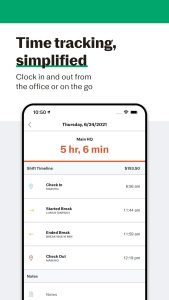 ClickUp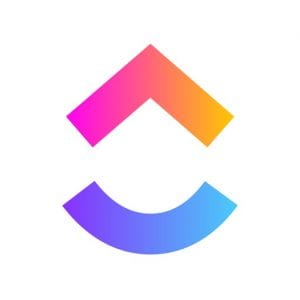 Well, this isn't a typical HR management app but it has all the necessary tools you need at work. ClickUp is also a perfect service for managers.
It has a free and paid version. However, even if you don't want to pay, it's not a problem. You will still have a big number of options.
Here are the best of them:
The app

combines an impressive number of functions

, such as your calendar, timelines, meetings, tasks, setting your goals, and many other things. And all of them are in one place.

Edit anything seamlessly

. This will ensure you save your time and focus on what matters.

View all the tasks as a dashboard or a typical to-do list. You can study it yourself or share it with others.
Add comments and communicate with others via chat. This will make collaboration more effective. This will be a great function for HR managers and product owners.
ClickUp is a simple-to-use app. It has a smart interface friendly to users. You will be able to understand it at once. However, even if you fail to learn something, feel free to go for tips.
The app is available for iOS, as well as Android users. Download ClickUp and start managing your HR matters simply!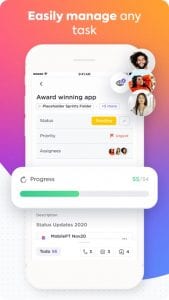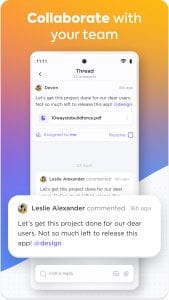 Zenefits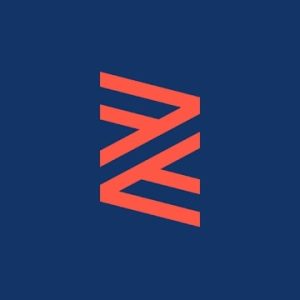 If you are an HR manager or just a trainee at the department, you know how hard it might get when you need to control a big number of processes running at the same time.
With the help of Zenefits, you can do a huge number of tasks:
Review all the departments

. You can see who's working in each team and see the project they are working on.

Connect with your colleagues

at the click of a button. There is no need to write them via email, which is quite hard and old-fashioned. Instead of this, just message them directly in Zenefits.

Request and schedule time off

. This will help you to keep the balance and keep working on a project with your team. All the requests will be shown on the screen so that you can clearly see the situation.
Another great thing about the app is that it is completely free of charge. The only thing you need to do is to log in all of your employees so that they have accounts in the app.
By the way, if you often work with various resources, you should take a look at 15 Best Resource Management Games for Android & iOS.
Zenefits is a highly reliable application. It has no glitches, and the data you give it will be secure.
You can get the app at no cost on the App Store, as well as Google Play.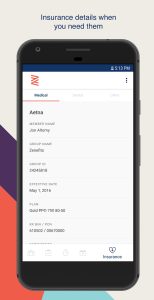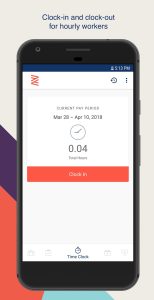 Better HR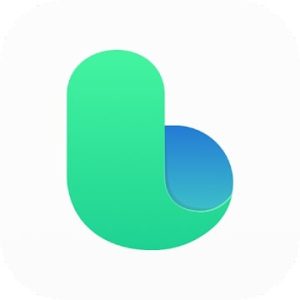 HR processes are hard to control, especially if you have many employees or work for a big company. This is why you need a reliable service to control them all. Meet Better HR!
Why should you give it a try? Well, there are at least 5 reasons:
Get access to all the employees.

This will help you to find any info you need for your reports. This will save you precious time.

Communicate right from the app

. There is a built-in chat you can use to boost communication.

Set notifications not to miss anything

. You can create notifications for yourself or any of the employees working for your company.

Control deductions

. This is a very important function of the HR department. However, it might get too hard to control it manually.

Export data

from the app to create reports and make analytics. What's more, you can automize many processes with the help of built-in analytic tools.

Track location

. There are some positions that require staying in the office. And there are workers who'd like to break these rules. With the help of Better HR, you can now track such matters and report them.

Create an onboarding plan

. This is a truly important thing you can do as an HR specialist. If you fail to follow the plan step by step, the new employee is highly likely to be disappointed and can leave the job very soon.
The size of the app is less than 80 MB, which isn't too big for such a wide range of functions.
Download Better HR at no cost and start to control your HR processes easily! The app is available for iOS, as well as Android users.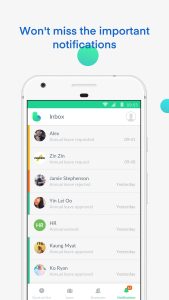 EasyWork – Company & HR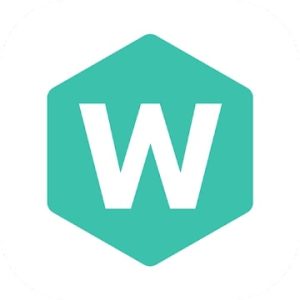 You would like to manage HR processes well but have no opportunity to download professional HR software on your computer? Then you need a reliable mobile app.
EasyWork is one of the best solutions you can go for. Let's see what you will get right after the download:
Control finances.

This is vitally important for your company. If there are any mistakes, there will be holes in the budget. This is a huge problem for an HR department, this is why try not to let this situation happen.

Create polls

to measure how satisfied your colleagues are. This will help you to see if there are any problems. The option will also come in handy if you need to make an important decision.

Check attendance.

If your employees have to be present at the office. However, some of them might try to break such a rule. EasyWork will help you track your attendance.

Create instant notifications.

This option is the best for managers as they have plenty of work to do and a huge number of calls to make.
The app is absolutely free to download and use. The only thing you need to do is to register your company and add its employees.
Get EasyWork on the App Store or Google Play for free!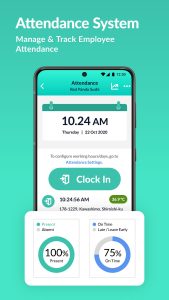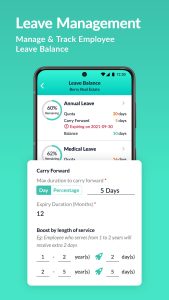 WebHR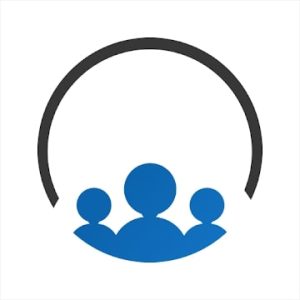 Here comes another good service for HR tasks. This lightweight app is the best solution for small and middle-size companies.
It has an intuitive interface that will be clear at the first glance. All the functions have their title, which clearly displays their purpose.
Now let's take a closer look at some of the best functions of WebHR:
Track your employee's

time and attendance

. If some workers tend to break the rules, you will be the first to know about it.

Quick access to any employee's profile

. As an HR manager, you often need to check some details about a worker. It is much better than asking for this info every time you need it.

Track the location of each worker

. To do it, you need to install the app on your worker's phones. You will receive a notification if a person tries to leave the office too early or skips work.
Some users complain about the glitches with GPS. Sometimes it might work a bit incorrectly. However, the developers often update their products so we can hope the situation gets better soon.
Both iOS and Android users can download this cool HR app and use it at no cost.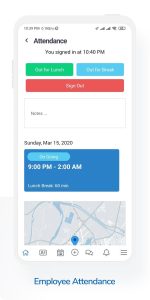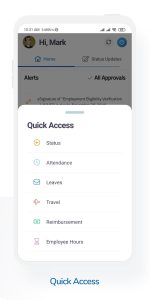 You can also check: 10 Best Bookkeeping Apps for Android & iOS (Personal & Business)