Are you a fan of draw-and-guess games? Then keep reading this article!
We've gathered together the 9 best Pictionary apps for Android & iOS that let you enjoy your time with mates and express your creativity at the same time.
The coolest thing is — none of these games require any special artistic skills so even if you're dense when it comes to sketching — you still got the chance to slay these games! Herewith, the majority of these games come with powerful drawing tools so no limits for expressing your creativity here.
On the hunt for the games to play with your fam? This article has you covered: 13 Best Family-Friendly Games for Android & iOS
Pictionary Air
Let's start with a classic Pictionary game to lighten up your evening.
Shortly speaking, this is a good-old drawing game in an app form. The mechanics are simple — you draw in the air and it will be mirrored on your phone or TV. Sounds a bit unrealistic but the app tracks your movements and displays in on the screen. Beyond that, the game covers various brushes — from a basic one to a sparkling magical one.
You can also regulate the size of the brush and its shade with the color wheel. The rules are the same as the original game — you guess the word, draw it and your mates have to find out what it is. Herewith, you can give them clues and prompts by interacting with your drawing.
The game also covers a timer (which is optional) and a score count to keep track of your results. You also get to set rules for all the rounds individually such as getting an extra point for something and all that. The game is made for people of all ages and drawing skills so you can draw any scribbles you want.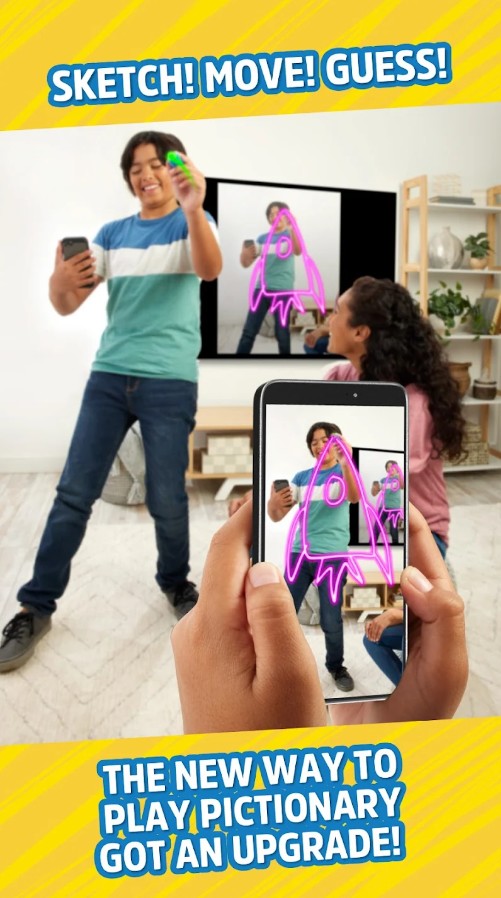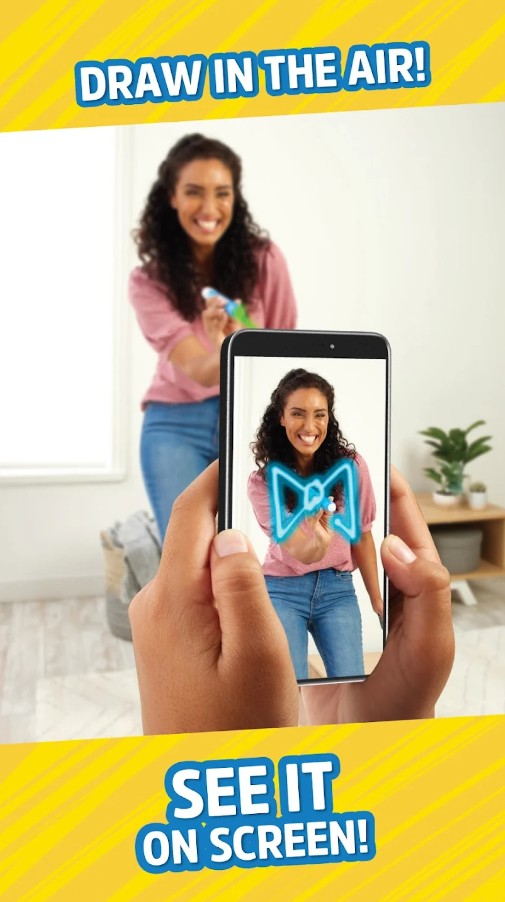 You may also like: 11 Best Snake Game Apps for Android & iOS
PictureIt
This is a minimal draw and guesses game that is nice to have a play night with.
This is a multiplayer game so you can play with mates or fam even if you're apart. Inviting someone to play is easy — just send them an invitation link. Plus, you get to record the whole session to laugh rewatching it later on.
The rules are simple — you get to come up with the rod, visualize it in drawing and wait for your co-payers to guess what it is. Along with the drawing, you can give clues for your mates to guess faster. Besides, the game covers a huge base of words for you to guess — all you need to do is to draw the meaning.
All the words are categorized for easy navigation. There are such categories as animals, brands, flags, food, and so on. In case the number of options won't satisfy you — you can make a custom word. You can also set the rules for all sessions such as add a timer, pick a bonus system, and more. The app will track the score of all the players automatically so you won't miss anything.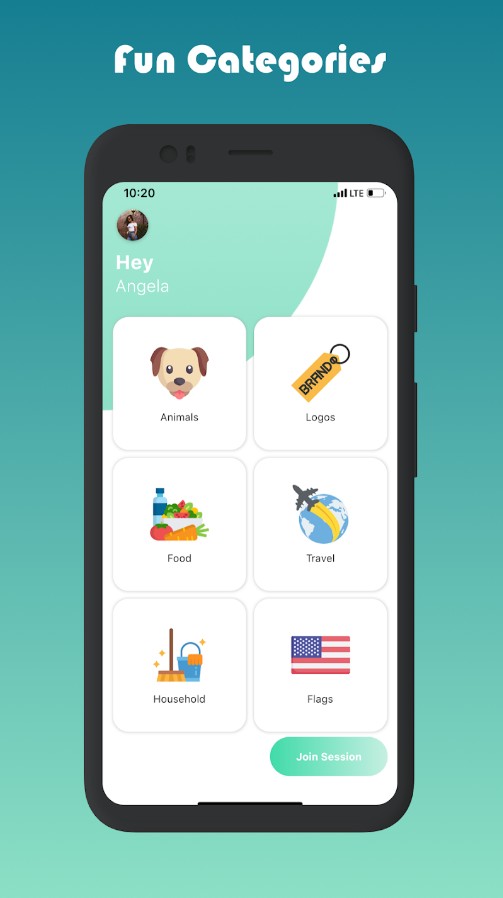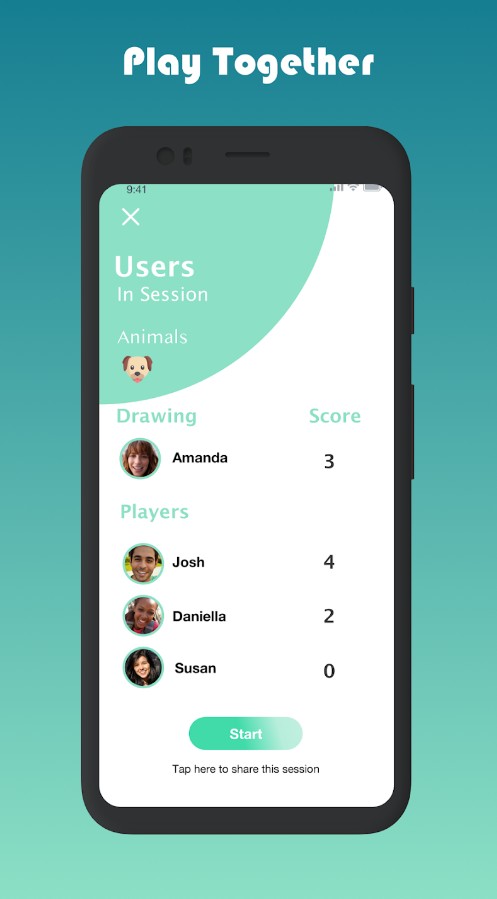 Drawize
If you need a fun Pictionary game to play with rates — don't skip this one.
It's an online game that you may rather play with friends or worldwide users. There are two types of rooms for that — private (that require an invitation link) and public. In case you're not in the mood for social contacts you can do a quiet single session against the AI. The rues are a simple as they can be — draw the words for your co-players to guess.
Herewith, no special drawing skills are required so draw scribbles and strange figures — nobody will judge you. But most importantly — have fun playing! The game runs on a bonus system so make sure to earn gem points for correct answers and understandable drawings. Everything you earn you can exchange for accessories for your avatar, extra brushes, and more.
Beyond that, you can use the gems to level up your exp. and rank. You can even use them to get more reactions which means more guesses and a higher chance to guess the word. Plus, you can set the rules for all the sessions individually by adding a timer, hints, and even the ability to kick out the annoying opponents.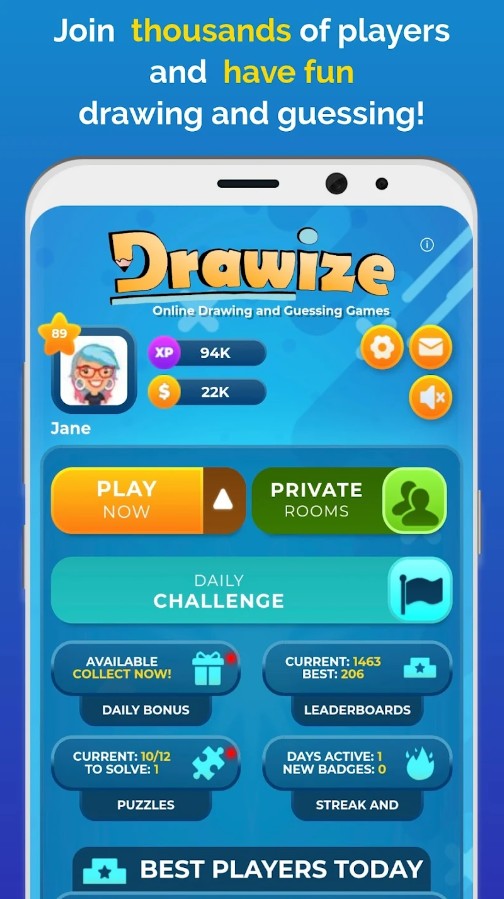 Panda Draw
As you may guess by the name, this game is a classic representation of the dictionary genre.
To be fair, this is also one of the most played games in the genre for now. The reason for the success is simple — the game has a user-friendly interface, simple controls and doesn't require any artistic skills at all. More to say, you can draw and scribbles you're capable of — nobody will ever judge you in this game.
Herewith, the game covers a wide range of artistic instruments — from classic brushes to some glittery ones. The game runs on a reward system so you get to exchange your points for new instruments such as rainbow brush and all that. Besides, you get to regulate the size of the brush, the color and erase all the unneeded parts as well.
There are two modes — the first requires u to draw and the other one to guess. As for the words you need to draw — the app has something for everyone. There are such categories as pop culture, logos, food, animals, movies, actors, and so on. New packs of words are being added regularly so you won't run out of material.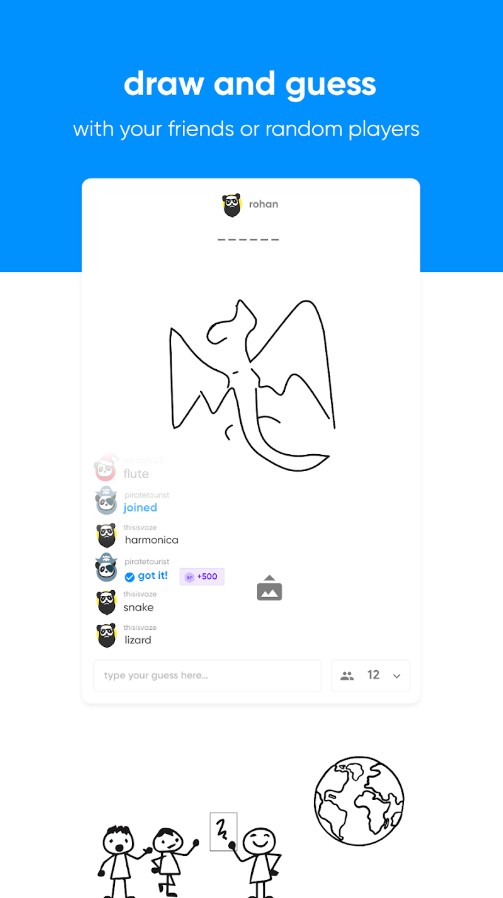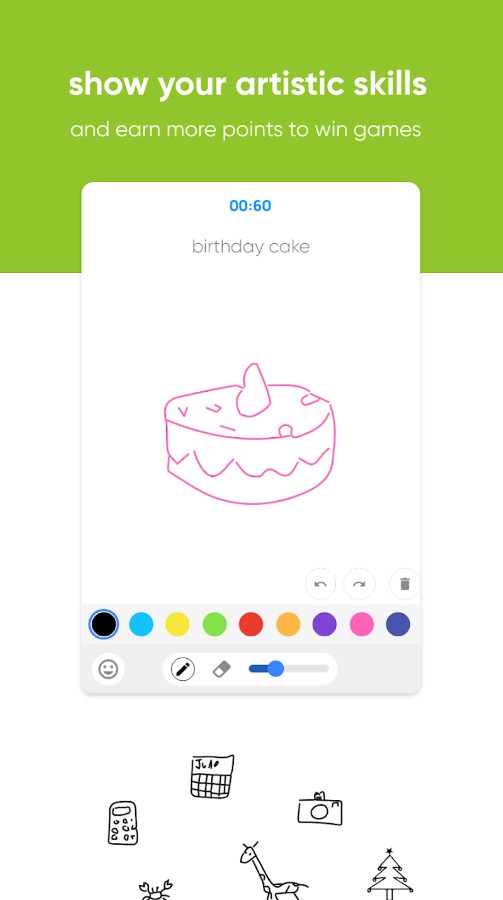 Check also: 7 Best Would You Rather Game Apps for Android & iOS
Draw With Friends Multiplayer
The Draw With Friends Multiplayer mobile app is all about creativity, socializing, and endless fun.
This app provides you with plenty of different drawing topics. If you're doodling a dog, sketching a spaceship, or illustrating an igloo, you'll find topics to suit every artistic inclination. This app caters to both beginners and seasoned artists.
You can choose your challenge level, ensuring that the game remains exciting and accessible for everyone.
As the name suggests, Draw With Friends Multiplayer is all about connecting with friends. Whether you're in the same room or miles apart, you can enjoy hilarious and creative moments together.
In conclusion, Draw With Friends Multiplayer is an excellent way to bond with friends and unleash your inner artist.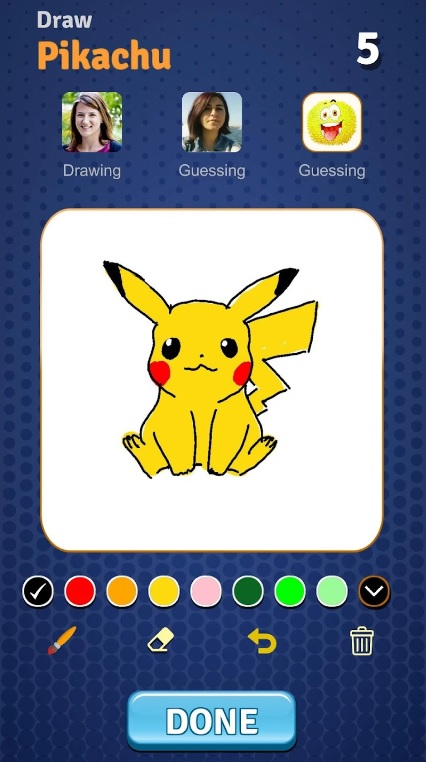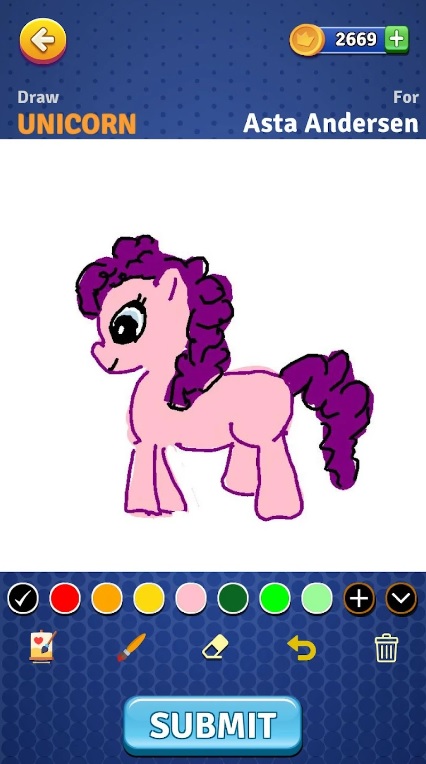 Gartic.io
It's a standard draw-and-guess game that is great for playing in a big company.
The thing is — it lets you add up to 50 people to each session. All you need t do is to send an invitation link and get ready to play. You start by picking a username and a language (the game is multilingual so no worries about that). Plus, you can custom your cartoon avatar to make him look a lot like you (or not like you at all).
Then, it's time to make and customize the room. You get to pick the bg color, add the chat settings, and more. Speaking of chat, you can allow or restrict audio messages, and notifications. At the beginning of each session, the group gets to pick one player who will draw, and the work of the others is to guess.
All the players earn points that can be exchanged for turns, clues, avatar decor, and more. You can also start dialogues chats with other users in private. It needs to be said, the drawing tool in this app is quite powerful. There are plenty of brushes, a color wheel, and pre-made figures you can use as well.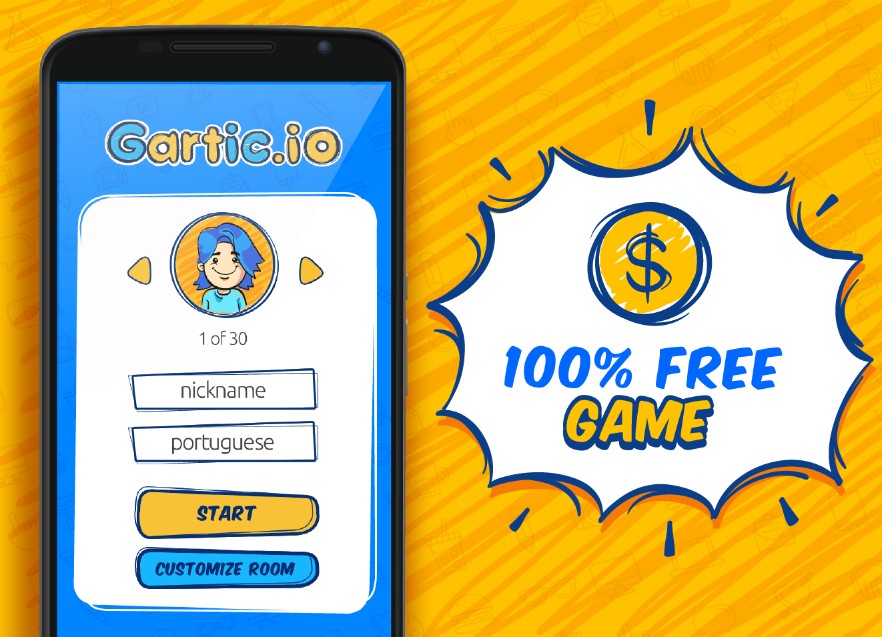 Pictionary Word Generator
If you're a fan of word games and creative challenges, the Pictionary Word Generator app is designed just for you.
Pictionary Word Generator suggests a rich variety of topics and words to draw and guess. From everyday objects to abstract concepts, the app caters to players of all interests. Whether you're a budding artist or simply enjoy playing with words, this app has something for everyone.
This engaging mobile application is here to unleash your inner artist and stimulate your imagination. One of the highlights of this app is the ability to play with friends and family, either in person or remotely.
In conclusion, Pictionary Word Generator is a fantastic way to connect with loved ones while having a blast with this classic guessing game.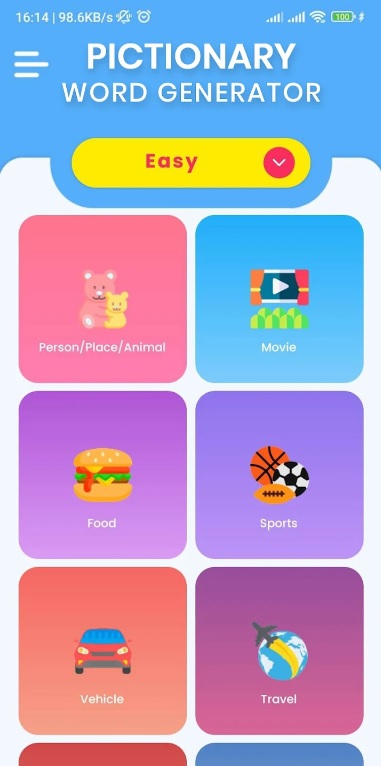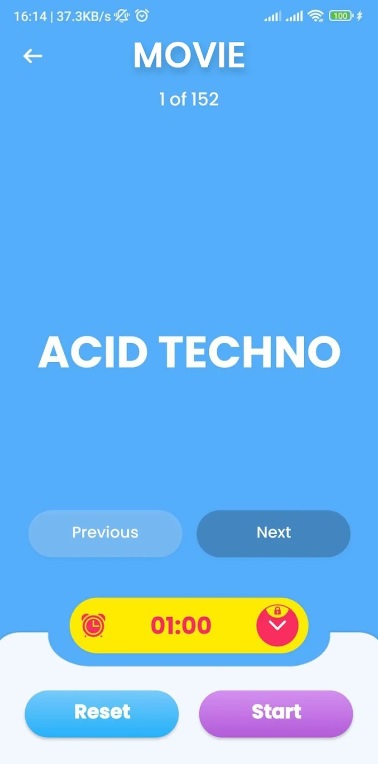 Draw it
The name of this game fully reflects its concept. It's a drawing game.
As always, the key to this game is peed so the faster you draw or guess the more points you'll get. That's use there's a timer for both drawers and guessers so keep that in mind. Herewith, it doesn't matter how high your artistic skills are so feel free to draw scribbles or whatever else just make sure to make it easy to understand.
The game covers various brushes and you can use a color wheel for bright accents. You can also regulate the size and intercity of the brush if needed (but the majority of users don't even bother to do that). Plus, the game covers plenty of word packs for you to draw. There are packs dedicated t animals, brands, celebs, pop culture, and more.
However, not all packs are available right away — some of them you can only unlock with the help of earned points. The points can be earned for correct guesses, understandable sketches, and regular challenges you take part in. It needs to be said, the app runs on sub packs that give access to exclusive word packs but it's still optional.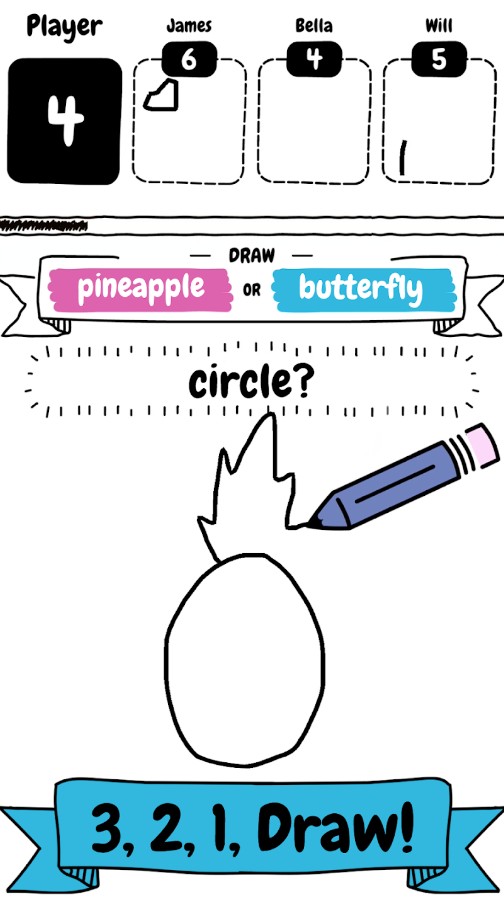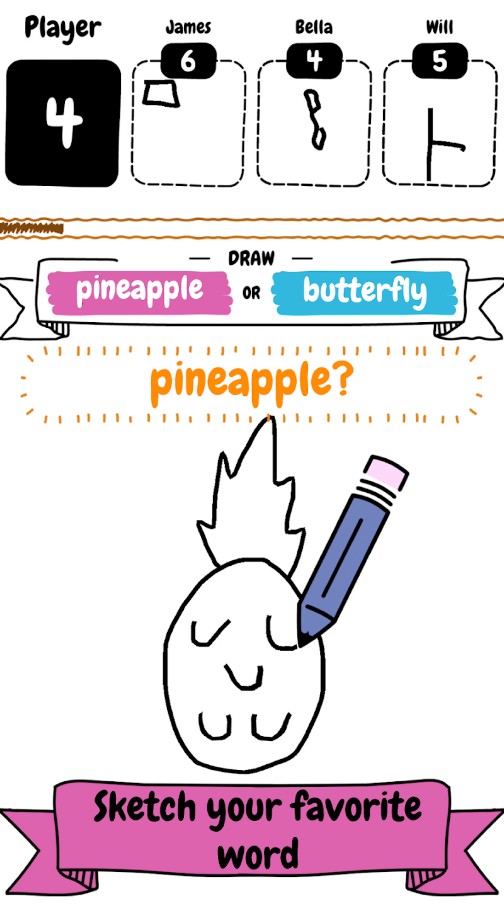 Piction
Piction is a captivating and creative mobile game that combines the thrill of drawing with the excitement of word guessing.
This is a game that taps into your creativity. Players are divided into two teams: the drawer and the guessers. The drawer selects a word or phrase to illustrate, and the guessers must decipher the image to identify the correct word. It's a game of wits, artistry, and communication.
It also promises hours of fun and laughter as you put your artistic skills and word knowledge to the test. With a wide range of topics, from everyday objects to abstract concepts, Piction keeps things fresh and challenging.
You can choose your preferred difficulty level, ensuring that the game remains engaging for players of all ages and skill levels.
In conclusion, Piction is a source of fun and learning for all ages.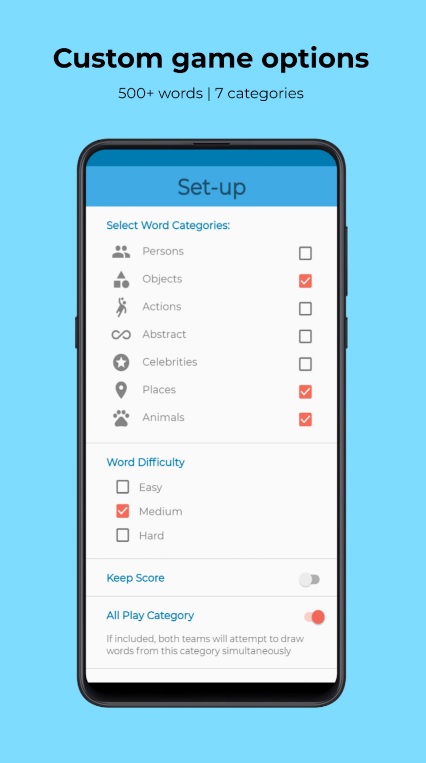 You may also check: 5 Best Telephone Pictionary Game Apps for Android & iOS
Pictionic
And lastly, we have a sketch game you can play with your mates.
It's an MP game with classic Pictionary rules. As the new session begins, there's one player who will get to draw the word that is given to him while the other has to guess what it is. The player who draws can also give other players hints by interacting with the sketch.
It needs to be said, the game covers over 1000 words in different categories such as nature, sports, travel, movies, and more. In case you can't decide what to go for you can try a random mode but it can be quite challenging. Plus, the new words are being added regularly so you won't run out of new ones.
As for the drawing tool, you get everything to express your creativity. There are several brush types, a color wheel, and some funky decorations as well. Herewith, it doesn't matter if you're good in sketch — you can slay this game even if the last time you have drawn something was in kindergarten.