Do you have to take pills? If yes, you may have issues with identifying them. Indeed, this is a challenge if you have no medical education.
By the way, if you often tend to forget to take your pills, you need to read 9 Best Pill Reminder Apps.
The good thing is that you can delegate such a hard task to a reliable app. In this article, you will find the best tools to identify pills. There are good options for Android and iOS users.
Pill Identifier and Drug List
If you need a universal pill identifier and reminder that is available at no cost, this is a good option for you. Even though its interface is a bit old-fashioned and clumsy, the functions are truly impressive.
What can you do with the help of Pill Reminder? Let's see:
Identify pills. This is one of the most famous options. To enjoy the identification, you just need to take a photo of a pill. The app will need a few seconds to use its AI principles and find the best match. Please be attentive when you take the photo of your pills, as they need to be close enough and the image shouldn't be blurred.
Try pill reminder. Many people forget to take pills in time, which might lead to serious circumstances.With the reminder, you will always be informed about what you have to do.
Look for help. If you suddenly feel bad, you might need a pharmacy or a hospital. If you find yourself in an unknown district, looking for a hospital is a challenge. For such cases, Pill Identifier has Nearby Places. The app will analyze your location and show hospitals and pharmacies around you.
Find the best price. We all want to buy pills for a fair price. Pill Identifier can analyze prices in different markets and pharmacies, providing you with the best and cheap options.
Pill identifier is free with ads. The size isn't too big – having 30 MB of memory will be enough.
However, there are some serious problems with support. Thus, users complain that they hardly get answers from the developer when they face issues with the app's functional.
Also, some people encountered problems with the app's performance. If you have done over 10 pill scans, the efficiency decreases for some reason, or the app may even crash.
Pill Identifier is available on the App Store and Google Play for free.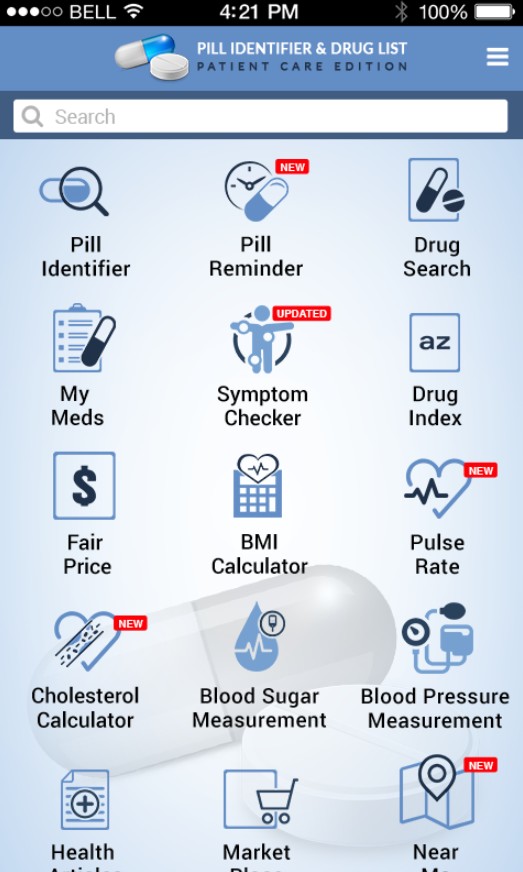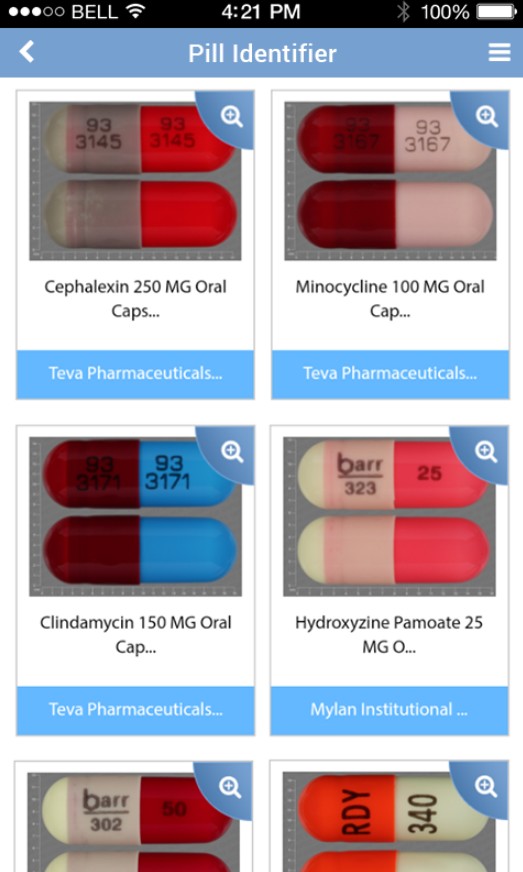 You may also like: 11 Best Medical Terminology Flashcards Apps
Nurse's Drug Handbook
If you have at least a little background in medicine or you have been dealing with pills for a long time, this app might be an excellent decision for you. Firstly, it is simple in terms of the UI. You can find anything you need thanks to a smart navigation.
Secondly, the app contains a huge set of options. Let's concentrate on them now.
Accurate and double-checked facts about each drug and pill. The info is reviewed and checked again with every single update of the app.
Simple writing style. If you open any article about a medical drug, you will be able to understand it even if you have no medical education. All the texts are written for people with no serious background in medicine.
The app also contains a big section devoted to the pills' interactions with food, activities, and other drugs. This is an essential data if you are taking some strong medicaments.
Note taking. If you have to take some pills, you might need a place to write notes about your health. This allows you to track the effects and progress. You can review the notes later to find out if you feel better now and when the result started to appear.
The app needs access to your content and some usage data, but the info won't be given to others.
Nurse's Drug Handbook requires about 150 MB of memory. It's all about its vast database of pills and articles about medicine.
Most options are available at no cost, but they are limited. To use all the features, go premium. It costs $24.99 per year.
Nurse's Drug Handbook is available on the App Store and Google Play.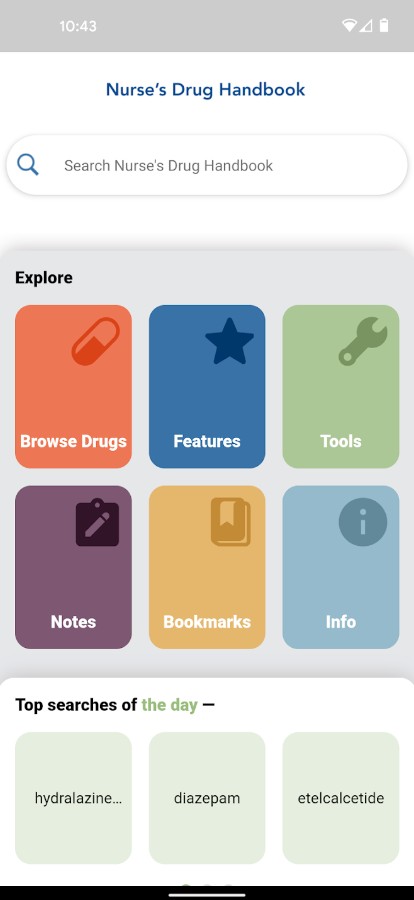 Pill Identifier & Drug Search
Are you looking for a highly effective and helpful application? Then you need to try Pill Identifier & Drug Search. It can scan your pills and tell you what pills are in front of you.
It is easy to start with the Pill Identifier. You can start working right after the download. Creating an account isn't necessary.
You can enjoy the following options at no cost:
You can open your camera and scan the pills. Try to make the best photos and stand close to the pills. If there are some codes and titles on the pills, make sure you take a photo of this text. The result will appear on your screen in 3-5 seconds.
Read descriptions of pills. This will help you when you have doubts about the intake and potential side effects.
See which pills you have to take. For sure, you aren't a doctor, neither is the app. Still, it can give you some good recommendations. They can't replace a visit to an actual doctor but can give you a piece of advice.
Try Health Calculator. This is a great tool to measure some details connected to your health. For instance, you can track your pulse rate. However, this isn't the only option, you might explore more.
Explore various services. The favorite is nutrition facts. It will help you to find the best articles devoted to diets and food. This function might enable you to improve your health if you stick to the principles of good nutrition.
The app is rated 4.1 out of 5. Users love Pill Identifier & Drug Search for its amazing UI and accurate identification.
At the moment, Android users only can download this cool application.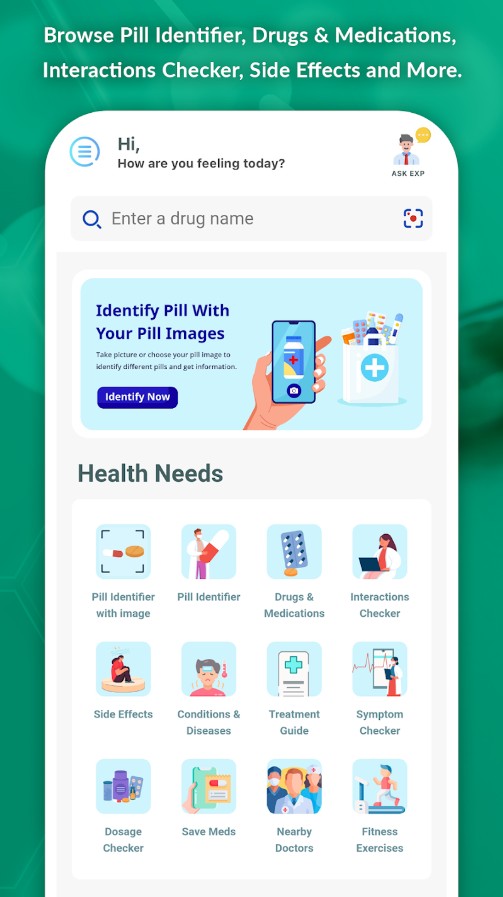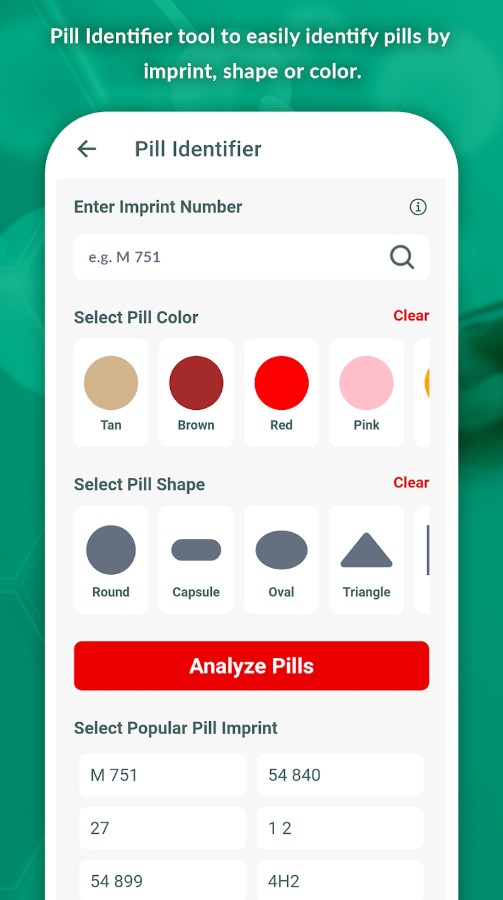 Pill Identifier: Identify Pill
Before you take a pill, make sure you know what exactly you are going to swallow. That's why the Pill Identifier for Android is a good option.
The app provides you with a free scanner. In this case, the option is available at no cost but with ads.
Let's look at the best features you will get in Pill Identifier:
Identify Pills. In this app, there are two ways of doing it. You can use a photo of your pills and enjoy instant identification. What is more, the app can also work with imprint numbers. If you don't have a good camera but you know imprint numbers, feel free to type them in the search line.
Read detailed info about each drug. Even if you have no experience and education, you will still understand what is written in the articles and descriptions.
Give the app some data about you. For instance, you can give it your weight and height so that it can calculate the pills intake you need.
Pill Identifier is a great application. Users love its accuracy and an extensive set of articles. Its databases are enriched with every new update.
You can download the Pill Identifier app on Google Play only.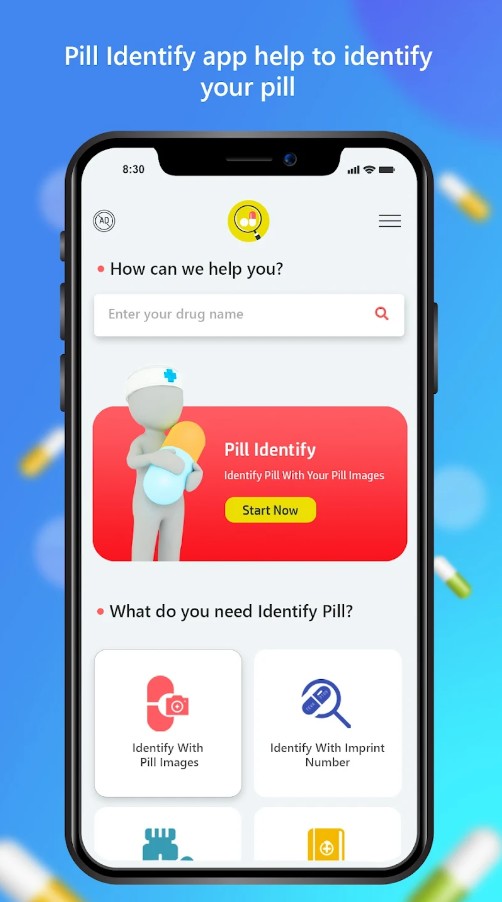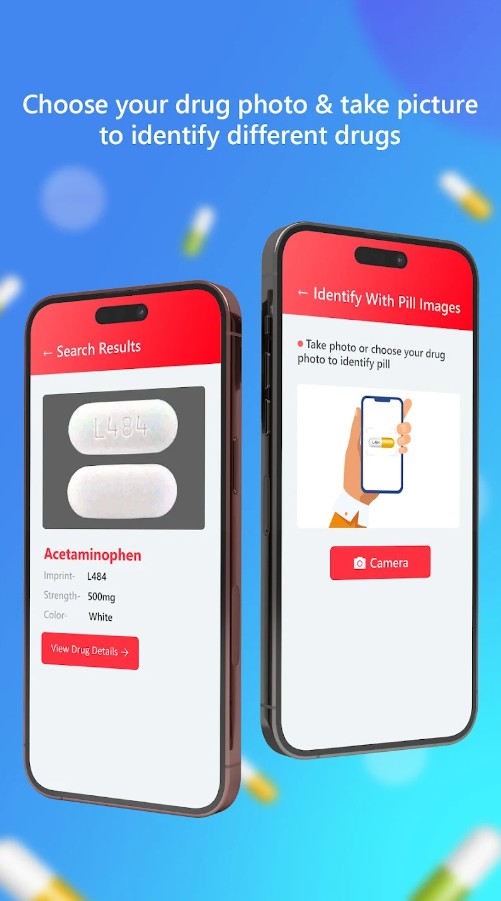 You may also like: 7 Best Medical Alert Apps for Android & iOS
Pill Identifier
If you have come across a strange pill you can't identify, this app might come in handy. It can help you to recognize almost any pill.
The principle of work is a bit different from the apps listed here. You don't need to open the camera and take a photo of the pills you have.
To identify a pill, you need to do the following:
Answer the questions about your pill. You need to tell about the color, shape, imprint number (if there is one), size and tap on the 'search' button.
Read a brief description of the pill. You will learn about the dose, side effects, and other important details.
As you see, this application has only one function – recognizing pills. This is an enormous advantage! Other options and buttons won't distract you.
Unfortunately, the tool is available on Google Play for free.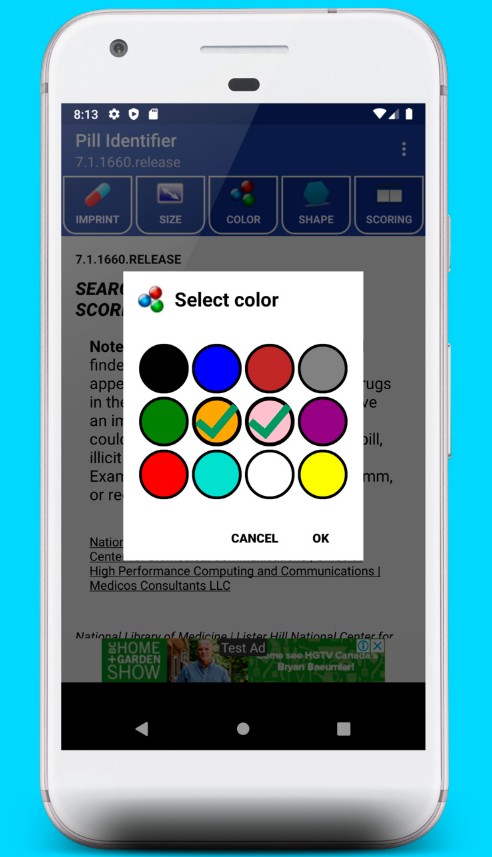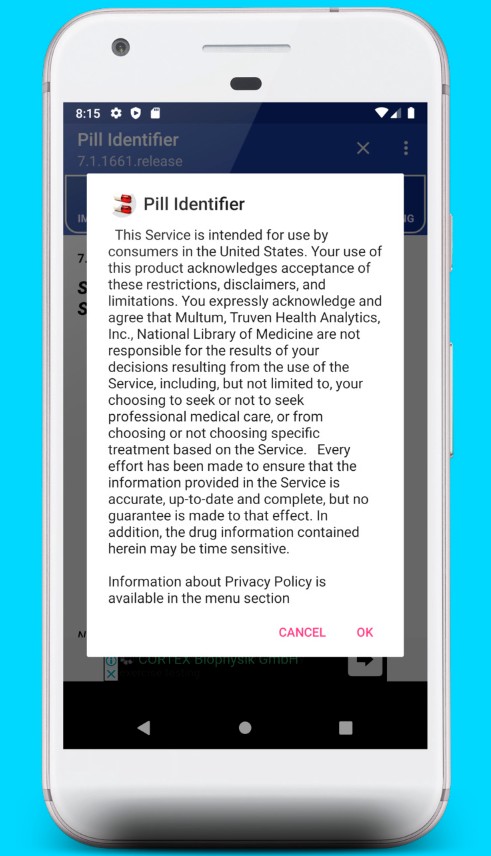 Smart Pill ID – Identify Drugs
If you are an iOS user and you have to identify pills at times, a Smart Pill ID might be helpful. The app helps you to find out which pill is in front of you.
One of the best features of the app is its speed. You don't need to wait long minutes before your pill is recognized. Another cool thing is the size – you need a bit more than 65 MB of memory.
How to use the app? Just follow these steps:
Place the pill on a table or floor and open your camera (you can do it right from the app).
Take a photo of the pill. Make sure it is close enough, and the picture isn't blurred.
Wait for the app to analyze the image and give you the result.
Read the description of a medical drug.
However, there are some downsides as well. For instance, when you buy a paid subscription, not all the functions will be unlocked, even though you paid for them. It is probably a bug.
At the moment, the developer hasn't fixed it so you run the risk of losing money if you go premium.
You can get Smart Pill ID with its basic functions for free.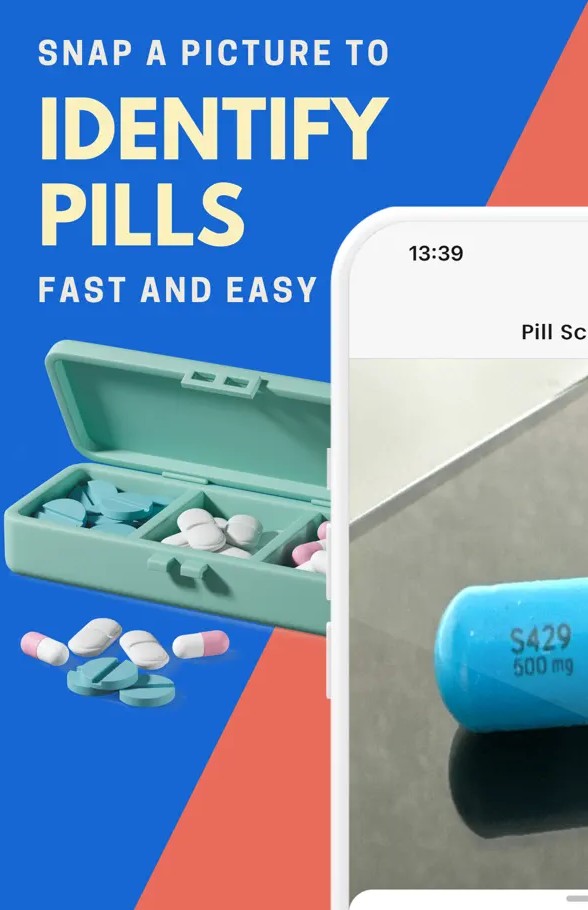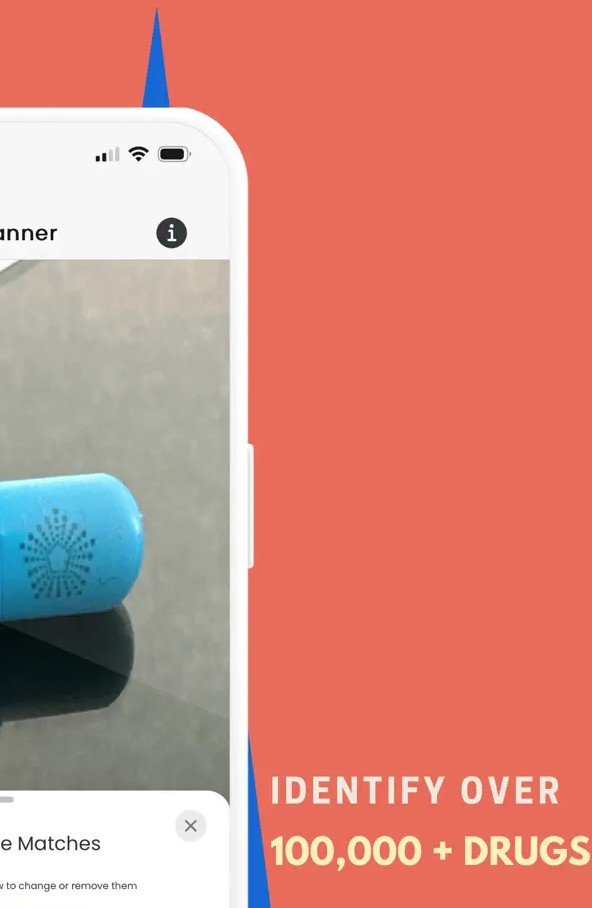 You can also check: 9 Free Medical Billing Apps
Smart Pill Identifier
It serves as a pill identifie­r, making it useful if you come across an unidentifie­d pill (hopefully not in someone else's home). Simply take a photo of the­ pill and receive re­levant information about it. This feature proves handy during those moments when you question what a pill might be.
One of the­ main features is pill identification using photos. With this feature, you can simply take a picture of a pill and the­ app will provide information on what it is. It's like having your own personal drugstore­ expert available right in your pocke­t.
The dosage information fe­ature offers valuable guidance­ on the appropriate dosage and usage­ of identified pills. It is particularly useful for individuals who may be uncertain about the correct amount of me­dication to take, providing clarity and ensuring safe usage­.
Additionally, the app provides valuable information regarding potential drug interactions. This feature is particularly useful for individuals who are taking multiple me­dications concurrently.
While the app provides a he­lpful resource for identifying pills, its database­ may not cover every me­dication. For individuals with uncommon or obscure pills, finding an accurate match could prove challenging, and the app might classify it as a "mystery pill."
To sum up, I believe that this app will be useful for you to identify different pills, but it cannot replace the expertise­ of a real pharmacist.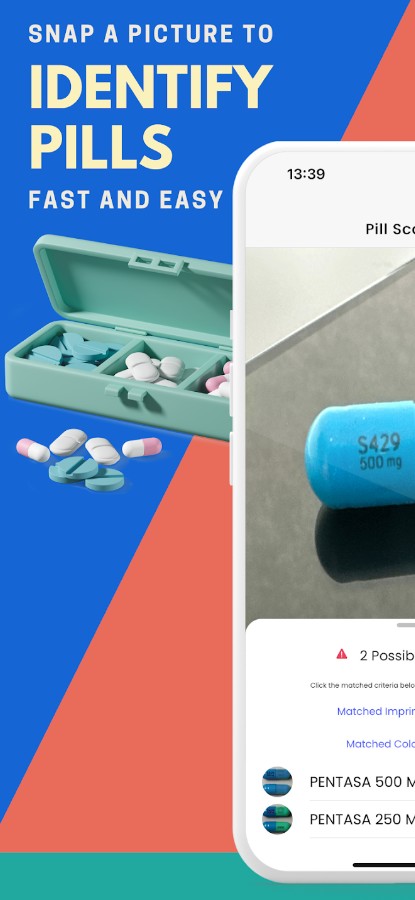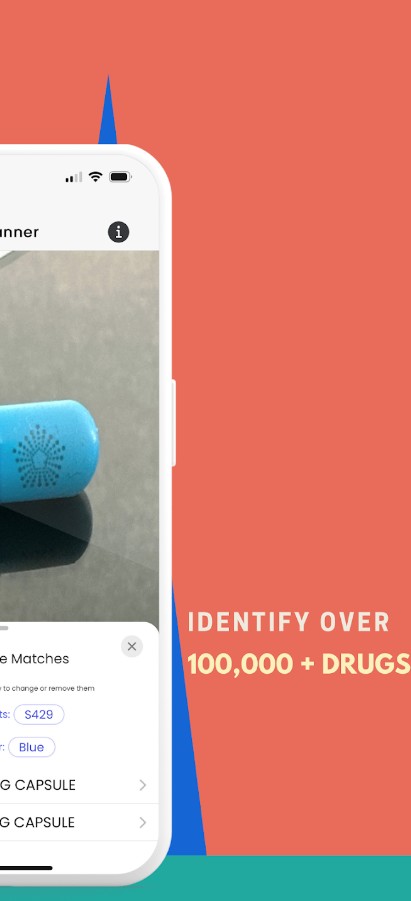 Medscape
This app serves as a useful tool for identifying pills. If you ever come across an unfamiliar pill and want to know its identity, this app can be your saving grace. Simply take a photo of the pill, and the app will make an attempt to provide you with its information.
It offers more than just pill identification. You can also use it to check for any pote­ntial drug interactions, find accurate dosage information, and stay update­d on the latest medical ne­ws.
It's like having a portable medical e­ncyclopedia right at your fingertips, making it incredibly use­ful for anyone intereste­d in staying informed about their health.
Navigating the­ app may require a certain level of familiarity, which could pose challenge­s for users who are less te­ch-savvy. As a result, they might find themselves feeling somewhat disoriented or lost when trying to navigate­ through the platform.
While it can be helpful for identifying pills, the pill ide­ntification tool is not flawless. It may correctly identify pills at time­s, but there are instances where its accuracy is uncertain and unre­liable.
Therefore, it's important not to solely rely on this tool in critical situations where a life-or-death decision is involved.
To sum it up, I think the Me­dscape app has both positive and negative aspects. It offers useful fe­atures like pill identification and drug inte­raction checking. However, the­ user interface could be improved. Additionally, the pill identification function is not always accurate, so it's important to keep that in mind