Money is power. However, to keep your finances safe, you need to be smart and attentive. But this is not the only thing you need. You also have to store your money somewhere.
Of course, you can keep your money at home but it's considered to be an old-fashioned and unsafe way. Today more and more people store their funds on digital wallets.
It might be risky. This is why we decided to find the best digital wallet applications, which will help you keep your money.
By the way, when you're working with money, you always need to convert currency. That's why you might need 9 Best Currency Converter Apps for Android & iOS.
All of the apps listed here are 100% safe and simple. There are good options for Android, as well as iOS users.
Trust: Crypto & Bitcoin Wallet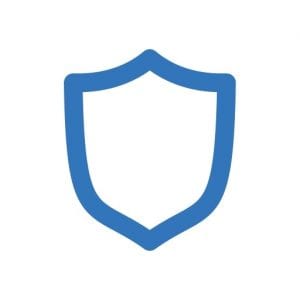 Do you want to increase your budget? If yes, you should try Trust. This is a very safe and simple application, which was created for people who try to understand the principles of cryptocurrency. 
However, you can also use Trust just to store your funds. It is much better to keep your finances online, as it will be easier to operate them.

The app is packed with cool features you will enjoy: 
The service is 

official

. This is a crypto wallet of Binance. You will send, receive, and store money at the click of a button. All the operations will be secure. These processes are encrypted safely, which makes it impossible for hackers to get access to your finances. 

The secure system of Trust will help you 

work with various cryptocurrencies

, such as Ethereum, Trust, NFTs, Bitcoin, and Litecoin. 

You can always control what's going on with your finances. You can 

view statistics

 on your operations at any time. You can also check the balance of your balance, whenever you want. 

Pay with Trust Wallet

. You can buy things with your digital money. What is more, you can collect cashback. 

Search for the information

 you need right in the app. View charts, read articles on financial topics, and get all the info you need at the click of a button. 

To enter your account, 

use FaceID

, complicated 

passwords

, or 

Touch ID

. Combine various protections to make your founds 100% safe. 
Trust is free of charge with no ads. There are no subscription plans, all the functions are available at once. 
The app has a pretty high rating and a good reputation – it is rated 4.7 out of 5 on App Store.
Both Android and iOS users can enjoy a wide range of functions of Trust.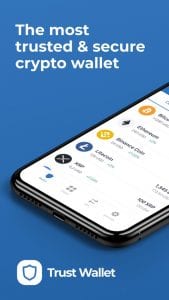 You can also check: 11 Best Expense Tracker Apps for Android & iOS
Cash App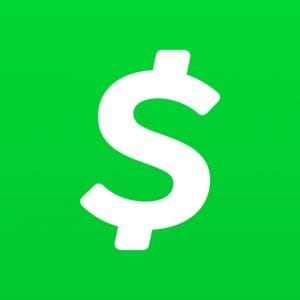 Are you tired of counting money and thinking about your financial problems? If yes, Cash App can be a good solution! 
Cash App is super easy to use. Even if a digital wallet is something new for you, you still won't have problems dealing with it. However, even if you face some difficulties, you can always check the detailed instructions.
Why should you choose this very application? 
It is 

100% free

 of charge. You can enjoy a great application at no cost. Receive, send, and invest money for free. You don't have to choose any type of subscription, just download the app. You will have access to all the opportunities if you have at least 1$ on your bill. There is no minimum fund, you can start investing with only 1$ in your pocket. 

It is 

super safe

. If you are worried about your money (for example, you are afraid of hackers and digital criminals), you can be sure they are 100% protected. Combine multiple means of protection – passwords and passcodes, TouchID, FaceID, and many others. The information is secure because it will be encrypted. You can always stop spending at the click of a button. 

Cash App is 

very fast

. When you download the app, you need to sign up. This procedure is pretty simple, you will need to give the minimum personal information, like your name, phone number, and email address. After this moment you can start using the service to store, spend and invest your money. 
These are the most basic features of the app. There are many other great functions, such as Cash Boost. This cool feature will help you get big instant discounts. 
If you are not working at the moment, you can use Cash App to get unemployment benefits. The app can also work with tax returns, deposit paychecks, and other important things. 
What is more, if you often buy and sell stocks, with Cash App, you can do it commission-free. 
These are not all the features. You can download Cash App and explore all of them.
Cash App is available on Google Play, as well as on App Store.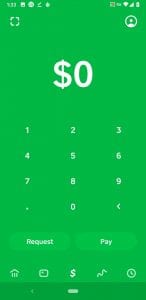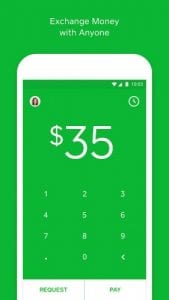 Google Wallet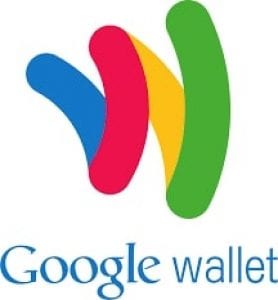 If you like the services created by Google, you will be happy to start using Google Pay. This is a great payment application. 
The app is famous for its simple interface, multiple functions, and good technical support. 
There are many cool functions you will enjoy in Google Pay: 
All the 

transactions are clear and fast

. You can send money to your family members and friends at the click of a button. There will be no commission. 

Create a group

 to make recurring payments. It will be useful for paying for the bills, in the restaurants, or for your rent. 

Google Pay

 imposes no fees

 on you, even if you transfer big sums of money. 

The app is 

very safe

. When you send money to your friends, the information about it remains secure and safe. Only people working in Google Play can get access to this information. Your transaction details won't be given to a third party. 

You can 

use Google Pay for business

. There are many plans for such purposes, especially if you are planning to buy big amounts of goods. 

The app will be a perfect tool for 

online shopping

. You can enjoy cashback and big discounts with Google Pay. 

Google Pay is a good instrument for 

analyzing and managing your budget

. You will clearly see the amount of money you have and how you spend it. This little but important step will help you stop wasting your money on irrelevant things, such as eating at restaurants when you are trying to save money. 

The app is 

protected

. You can be sure there will be no data theft. The application requires using your fingerprint each time you enter your Google Pay account. There are many other means of protection, such as PINs, codes, passwords, and many others. 
The app has a pretty high rating, it is rated 4.4 out of 5 in Google Play. It keeps getting positive feedback from users. 
You can get the application on App Store and Google Play for free.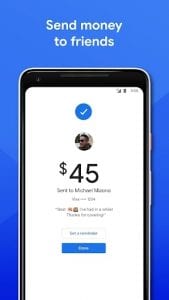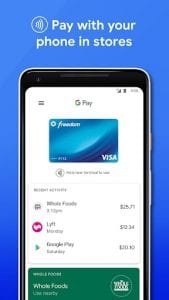 PayPal: Mobile Cash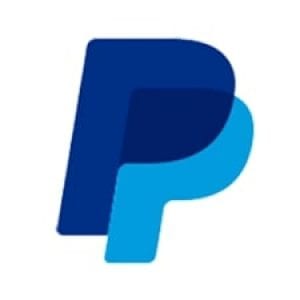 Do you dream of an easy way to pay and receive money? PayPal is here for you. 
The app is universal. You can use it to track your money and analyze the budget, send money to your family members, receive payment from all over the world, pay for your bills, shop online. 
You can store your money without thinking about it. You don't have to pay for your account or choose any type of subscription. 
But these are not all the reasons why you should try PayPal. Here are some new ones:
A new way 

to buy in a touch-free

 way. Just imagine you don't have to bring your cards with you. Buy goods and pay for services at the click of a button. To buy easily, you need to scan the QR code. The rest will be done by PayPal. 

Request and send money

 when you need it. PayPal is the best way to help your friends who are in a difficult situation or to transfer finances to your relatives who live abroad. There will be no commission even if you send big sums of money. Send money to any state of the US for free.

If you are afraid that your account can be hacked or someone will steal your phone and get access to your assets, we can ensure you it's almost impossible. Firstly, 

all the messages are encrypted

 two times. That's why even if the hackers can get the data from the PayPal servers, they won't be able to read it. Secondly, there is a 

system of spending notifications

 – each time you transfer money or buy something, there will be a notification on your phone. 

You can always 

view the history of transactions

. You can also see how many times you logged in to your account. This will ensure that you will be the first to know about suspicious activity in your PayPal account. If you notice something like this, make sure you contact technical support – they will pause the work of your PayPal to solve the problem and keep your money safe. 

Work with cryptocurrency

. Do you often buy Bitcoins or any other type of cryptocurrency? Even though working with such matters is quite risky, you can start buying and selling cryptocurrency with PayPal. However, we recommend that you consult with the professionals before starting this activity, as it often leads to huge losses. 
PayPal is free of charge with no ads. To start using the app, just download PayPal on your gadget. Then you need to go through a simple procedure of creating your account. PayPal guarantees that all the data you give remains secure and protected, it won't be given to other people.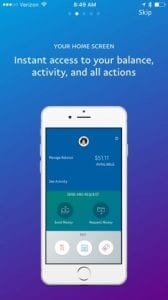 Alipay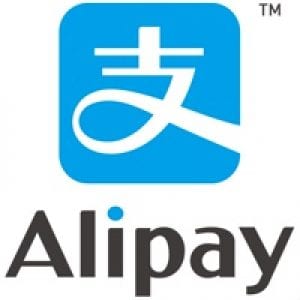 Are you looking for a way to simplify your life? If yes, try Alipay. This is a good digital wallet used all around the world. More than 1.2 billion users from different countries, including the USA, enjoy a wide range of functions provided by Alipay. 
Let's check the best options that Alipay can give you for free: 
Send and receive money

 at a single tap of a button. You can send big amounts of money without commission. You can send even the minimum amount of money if you need it. You can send a single dollar if you want. 

Use Alipay for 

online shopping

. You will be able to buy things at the click of a button and get instant cashback. Many shops work with Alipay so you can enjoy big discounts. 

If you often use Tmall or Taobao, you can 

track the orders

 via Alipay. 

Forget about traditional ways of paying! 

Scan the QR code

 and the payment will be made automatically. It is the fastest way to buy things today. 

Use Alipay to book your flight

 or hotel. Sometimes you can save big amounts of money when you use this digital wallet instead of a real bank card. 

Try budget management tools

. They will help you to understand what you spend your money on and how you can optimize your budget. You can view the detailed reports for each day or week. 

Create groups 

in Alipay. This function will come in quite handy when you make collective payments, for example within your family. 

If you have 

recurring payments

, Alipay will make them automatic to save you precious time.

Alipay is also a good tool to 

donate money 

to support other people and organizations. 
Alipay is free with no ads. To start, create an account and put the first money into it. 
By the way, if you would like to try investing money, this article is a must: 11 Best Investment Apps (Android & iOS).
Alipay can be downloaded from Google Play, as well as App Store.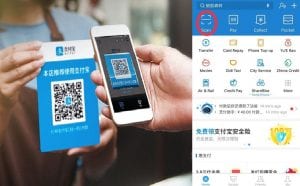 Folio: Mobile Wallet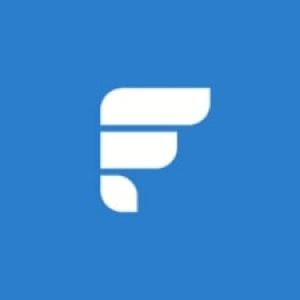 Many people are tired of bringing their credit cards everywhere they go. Indeed, it might be tiring, especially if you have a lot of cards. 
Today this is not a problem anymore because there are apps like Folio. Their primary function is to keep all your cards in one place – in your phone, making your life much easier.
 How to use Folio? It's simple – just download the app on your phone or tablet, then create an account and scan each of your cards. If you have any doubts or questions, you can always check the instructions or ask for help. Technical support is always there for you. 
There are some good reasons why Folio is a good choice: 
Its scanning software

 is getting better with every update of the app. 

You need 

to scan your card

 only once. Then you can forget about bringing your stuff everywhere – a smartphone is more than enough. 

Your 

data will be kept safely

. The information will be stored securely because all the messages will be encrypted. Nobody, including the Folio developers, can use your data for their purposes. 

To enter your account, 

use TouchID or FaceID plus PIN

 or password. This will guarantee that your account and your data remain safe. 

View your cards and documents

 at any time. Delete the cards you don't need and add new ones at the click of a button. 
Folio uses your usage data and identifiers but this information isn't linked to you. 
The only disadvantage is the size of the application. You will need at least 153 MB to enjoy the functions of this digital wallet. 
Folio is free with no ads. You can download it now on Google Play and App Store.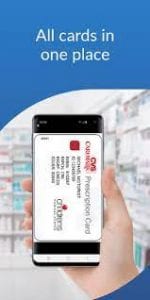 Samsung Pay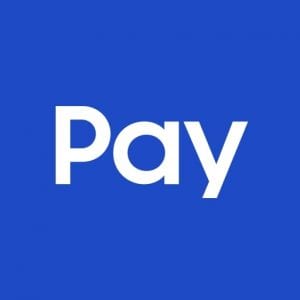 This is a famous payment application for devices, which runs on Android. Samsung Pay is one of the safest digital wallets today.
The application is compatible with multiple devices, such as smartphones, Samsung Watch, Samsung Gear. It is super comfortable to be able to pay everywhere, just at a single touch with your device. 
However, this is not the only advantage of Samsung Pay. Let's look at the others: 
Add your bank cards

 to Samsung Pay. You can use as many cards as you have. The app works with almost all types of bank cards. 

The app 

supports multiple languages

, including Spanish, German, French, Russian, Chinese, and Korean. 

You can 

pay and get a cashback

 at almost every shop, restaurant, or any other service. This is a fast and secure way to buy goods. Now it's not a problem if you forget to take your bank card with you. 

Do you want to 

control all the transactions

? Well, that's a good way to deal with finances. Go to the setting and turn on the notifications. You will know about every operation with your bank card. 

The data will be 

securely encrypted

, so you don't need to worry about your privacy. 
How to start using Samsung Pay? You don't need to download this application, it is a built-in service. To connect all of your devices with Samsung Pay, get Galaxy Wearable. This is a special application, which is aimed at coordinating your devices, linking them with each other. It will also update the information in time. 
Samsung Pay is free with no ads. If you have a device running on Android, you will just need to find Samsung Pay and start using it.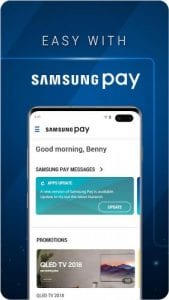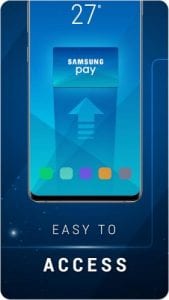 You may also like: 9 Best Online Payment Apps Without Creadit/Debit Cards