Nowadays, rap battles are taking an increasing place in the lives of not only professional musicians, but also beginners in this field. Therefore, rap battle apps & websites gain more and more popularity,
In order to make it easier for artists without experience to start their creative journey and gain popularity as soon as possible, new apps are being created where each user can gain experience and feel like a real battle rapper, competing with other participants.
And remember that no artist can go without a collection of tracks recorded in the studio. The best apps for that can be found here.
Battle me
Battle Me is a mobile app for musicians and hip-hop fans around the world. Here, your phone is your own microphone. In addition, this app has a recording studio, which is very convenient.
Thanks to the built-in sound perception, the quality of the sound recording on the phone are quite good. You can record all stages of the track: the main track, backing vocals, and instrumental. You are also given a notebook where you can make notes, write down future lyrics, or just drafts.
After that, choose the rhythm that suits you and start recording the track. However, there is a limitation on the length of the song: the maximum duration is 2.5 minutes, so try to fit your future hit within this time frame.
You can then publish your track by adding a unique cover or video with any description. Other users will see your track and will be able to rate you and even write a review where they will share their opinion.
In addition to everything that was previously told, you are given the opportunity to participate in a real virtual rap battle: you can choose an opponent and challenge him to a fight!
If the opponent accepts the challenge, your battle is immediately published, and you have three days to get the votes of other users – your judges.
If the majority of the judges give preference to you, and not to your opponent, then you win and get points that will help you climb higher in the ranking and take the lead at the top.
The most interesting thing about this app is the tournaments. They are divided into several stages. There is a qualifying round where all participants present their tracks, and the best of them go to the next round – the playoff stage.
The app then splits the rappers into pairs, who then re-record the tracks. Of all the participants in the playoffs, only two couples remain in the semi-finals. The winner is determined by the ratings of other users.

The participant with the most votes in the semi-finals becomes the winner of the tournament and receives an achievement.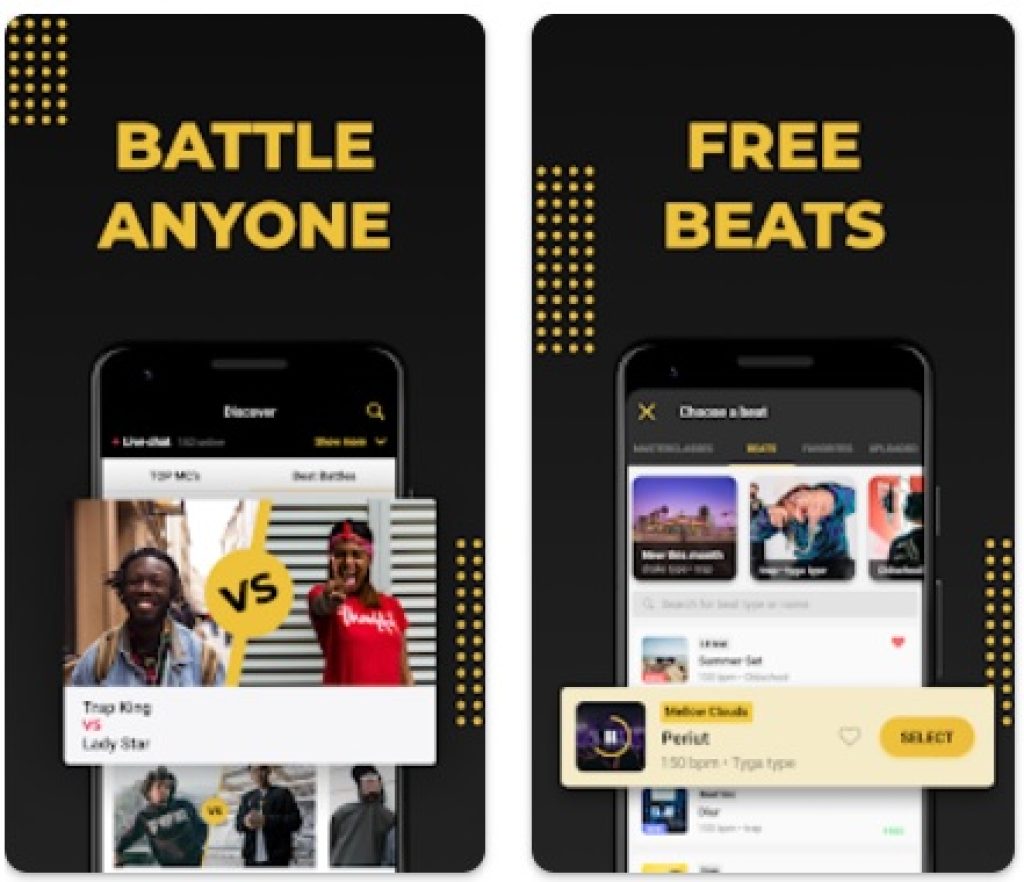 You may also like: 5 Best Beatbox Apps for Android & iOS
Rap Fame
This app brings together two essential levels for any rap artist: the recording studio and the rap community, which has many other users.
Here you will find weekly rap tournaments in which you can show everyone your abilities and surprise other users with your talent.
Over five hundred free beats from the best beatmakers of your choice.
A convenient search system for the most efficient and high-quality search for rhymes.
Create a profile to show off your musical skills.
Regular app updates adding new features.
Large selection of effects for the track.
Ability to create rap teams or join existing clans.
Huge hip-hop community with other users.
Realization of sound recording at a high level, the possibility of mixing and mastering directly in the phone.
Participation in rap tournaments for leading places.
A special selection system with the ability to form a tape from your favorite tracks.
Possibility to vote for the best songs.
Just open it, choose the beat that suits you and start rapping. Then post your finished work to the community so other users can rate your track. The main thing – is not to miss the opportunity to be heard. Share your creativity with thousands of people to gain real popularity in the media.
You can also challenge your friends or other users to rap battles. Here your choice is not limited by anything and anyone!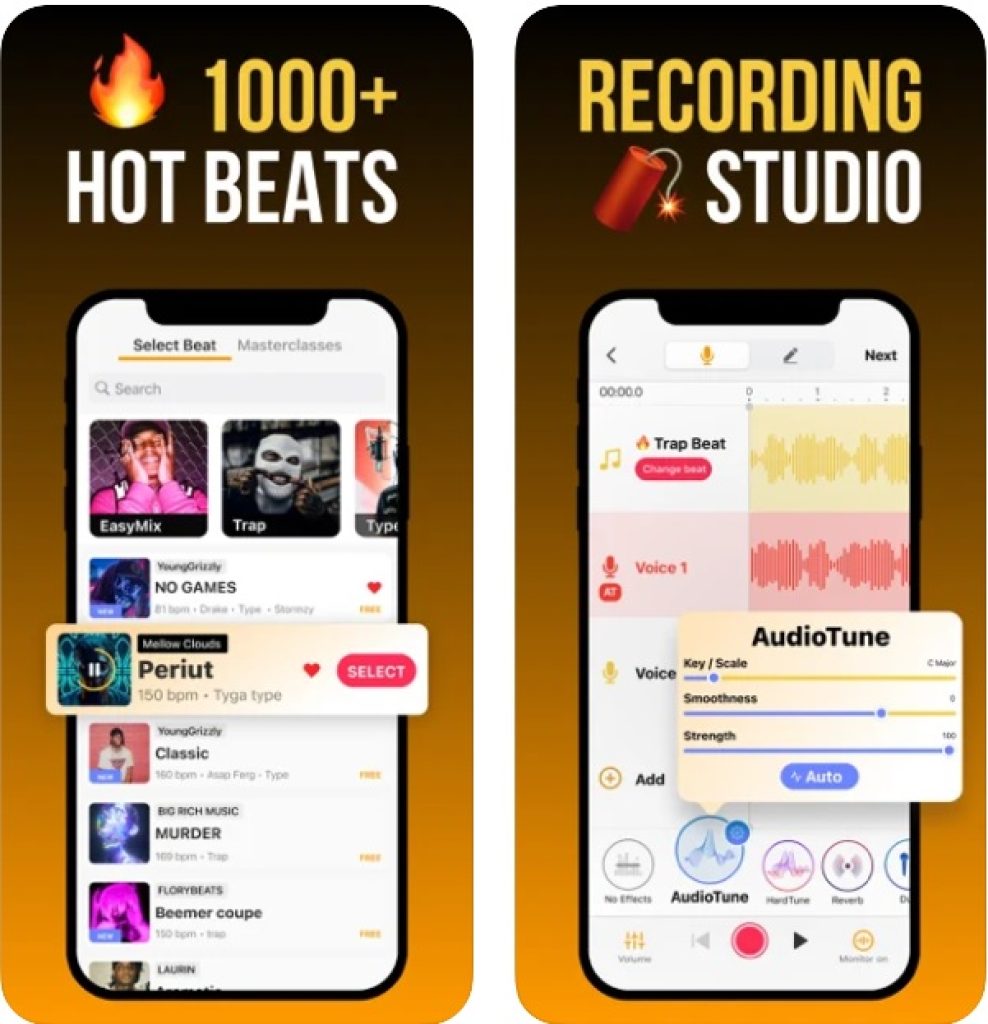 Rap Maker
This is an app in which participants compete with each other without the help of vocal skills. here the main tool and the key to victory is the ability to come up with cool texts on the go!
If you have a sense of rhythm, good rhyming skills, and smart rap punches, then this app is the place where you can fulfill yourself and make a name for yourself at the very start of your career as a rap artist.
In this app, you are given the opportunity to team up with your friends, share your achievements and victories with colleagues, and also act in battles as not only a participant but also a judge.
For victories in battles, you get a unique local currency that helps you climb higher in the rankings and take a leading position at the tops. The more wins, the higher you are in the ranking. Everything is simple!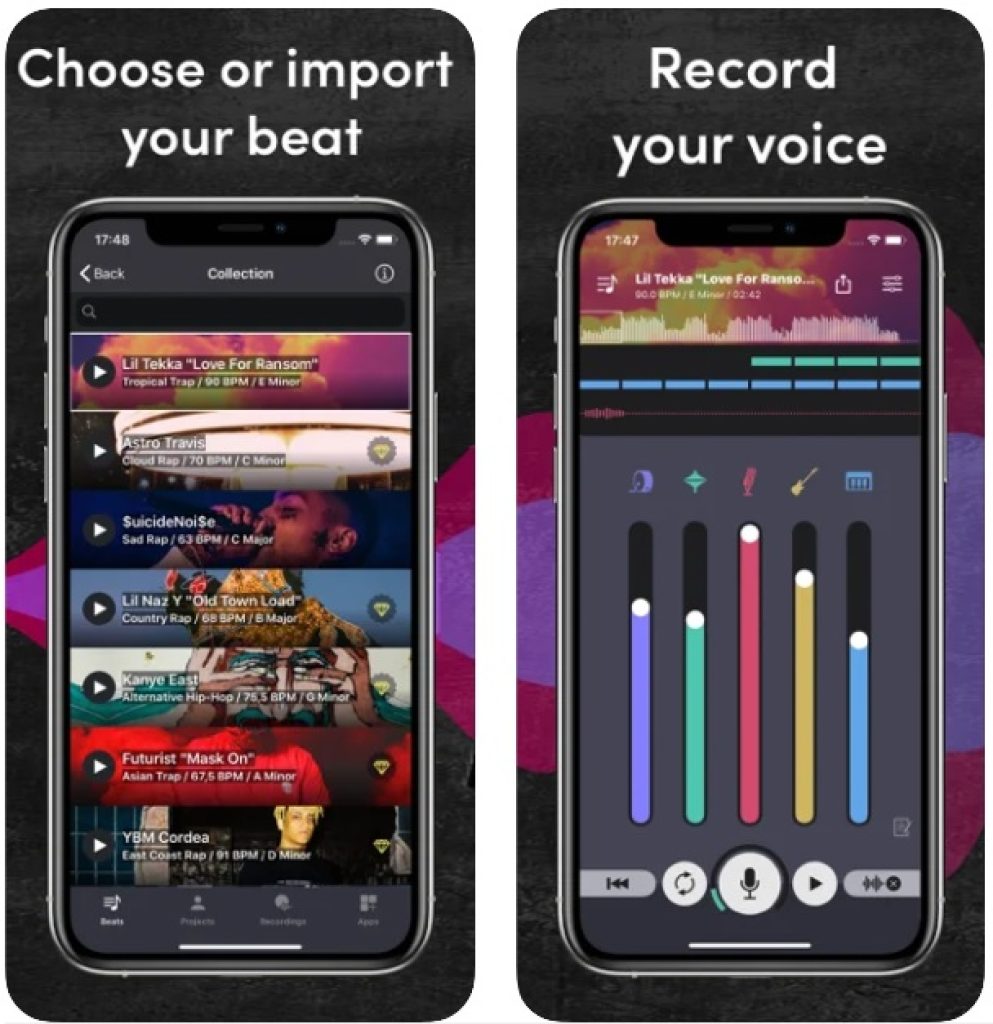 Autorap by Smule
AutoRap by Smule uses cutting-edge technology to turn your voice into something amazing if it isn't already beautiful.
This app is useful for anyone who wants to realize themselves in the field of rap and music battles. It allows you to rap in 2 different modes, depending on your preference.
Firstly, with the help of sound processing, you can turn your ordinary speech into a cool track with minimal effort. Moreover, you can recite absolutely any words, and the app itself will do everything for you.
Secondly, you can choose a melody from the library and write down the text under it. Once you've finished recording, processed the track to your liking, and mixed it, you can share it with your friends or with a community of artists like you.
In this app, the emphasis is not on battles, but on recording tracks and high-quality processing of your songs. However, if you wish, you can also compete with other users by uploading a track and sharing it with the community.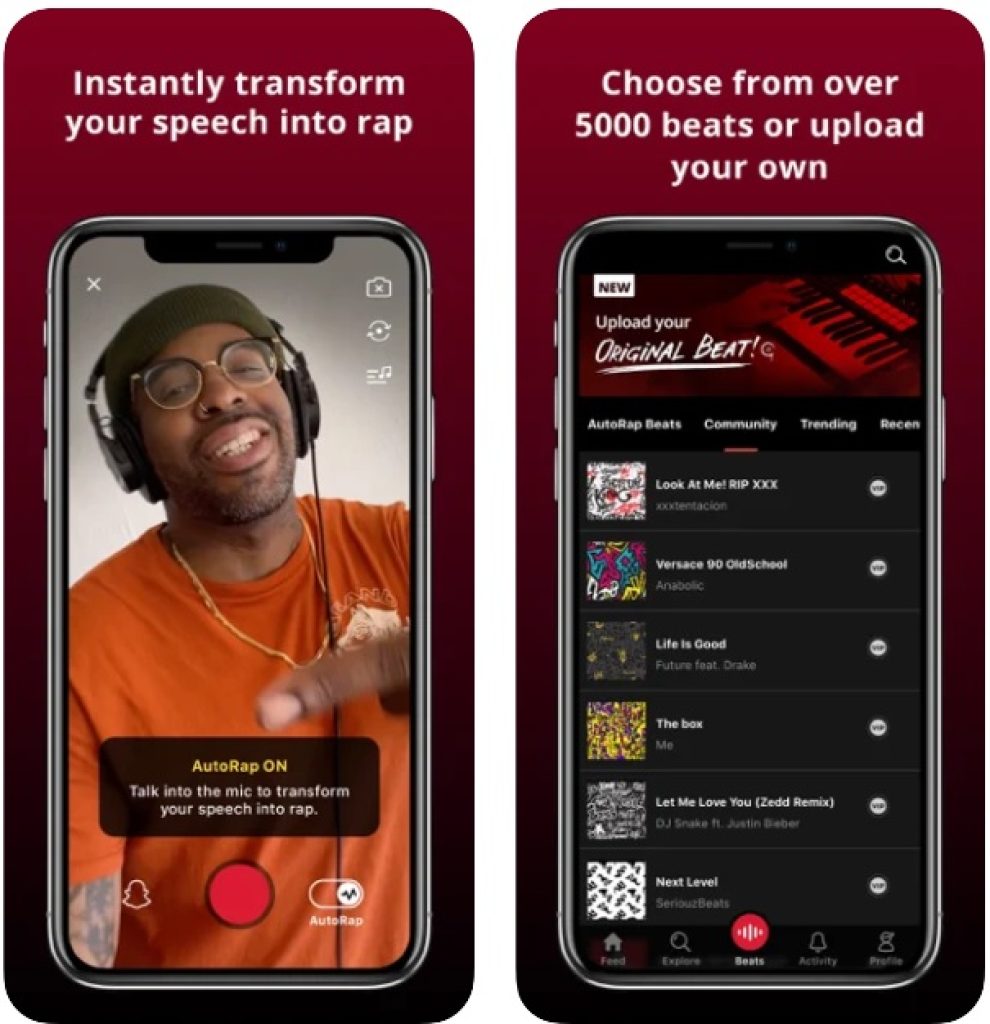 You may also like: 11 Best music composer apps
Rapuncline
Even if the rap battle isn't all about raisins, they play an important role. There must be some cool tricks or funny jokes that all listeners will definitely remember.
This application shares its ideas with you if you find it difficult to come up with something yourself. Rapunchline – Battle Rap is a unique inspirational app that not only helps you rhyme but gives you access to jokes that you can laugh at and use in your rap battles.
The main goal of the rap battle is to ridicule the opponent in poetic form. And if you have problems with the addition of verses – this application is exactly for you. Here you can find the funniest and mocking lines that your audience will definitely like.
Use forbidden tricks, make fun of your opponent, and make fun of his unsuccessful and boring rap to win in any battle. And for this you do not need to sit for hours, racking your brains. Simply download the application – and that's it!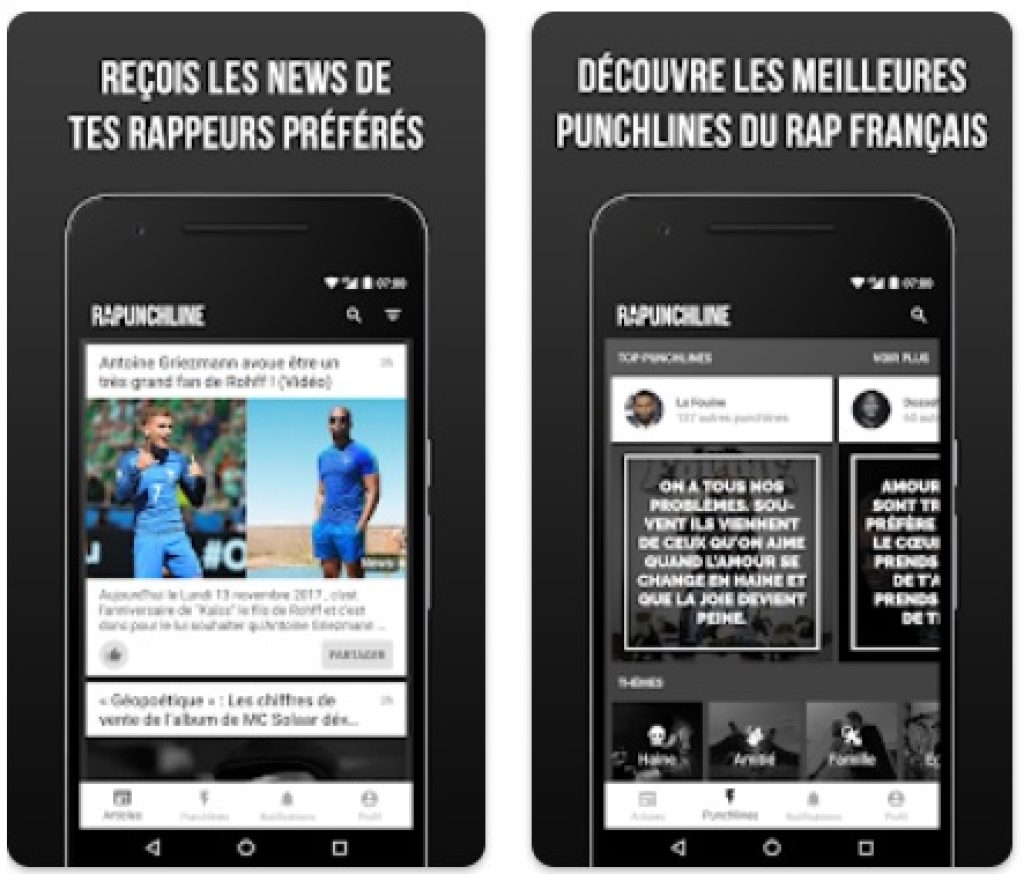 LetsBeef
This is quite an obsolete rap battle website, but it's still possible to discover real gems here. Create your account so you have your own platform to add tracks and participate in battles. Or, at least, leave the comments!
On the main page, you can see the list of the most recent battles that took place. Here you can get acquainted with the work of many artists and not only compete with them, but also team up to record joint tracks.
By rating the tracks of other users, you help them become better, just as they help you. In the music business, it is all about who you know so don't be afraid to reach out.
One thing we noted about this source is that even if you're new here, it won't take you long to navigate – there is a quick mini-guide on the main page that will briefly tell you about all the sections.
You can share your music created here with a huge audience or just your friends, whichever you prefer.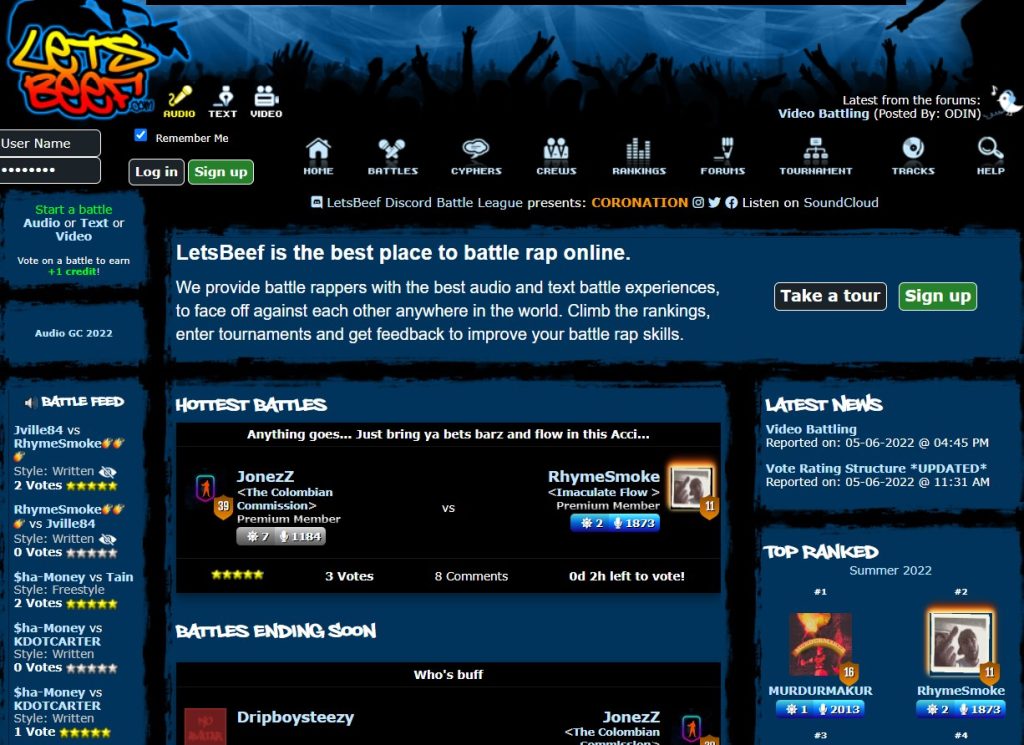 4bar – The Rap Challenge App
This app was created a few years ago by a rap artist who wanted to create a platform where he could collaborate with young talents from all over the world and organize rap battles with participants around the world.
That is why this application is not some complicated software, but just an easy-to-use platform – just open the home page and see the list of all the tracks.
Find out which ones you can join, which ones you don't like, and appreciate the work of other artists.
Despite the fact that the app was created not by professionals, but by an ordinary rapper who has no skills in the IT field, it turned out to be the most technologically advanced, modern, and convenient.
When you go into the library and join a track you like, you'll see text below the timeline that shows you the song's timing. In this regard, this app works similarly to Smule.
Right after you finish recording your song, you can edit it to your liking and publish it, and then other 4bar users will check it out.
This app is a great way to practice before showing off your skills in front of a real audience, which is why so many users use it every day today.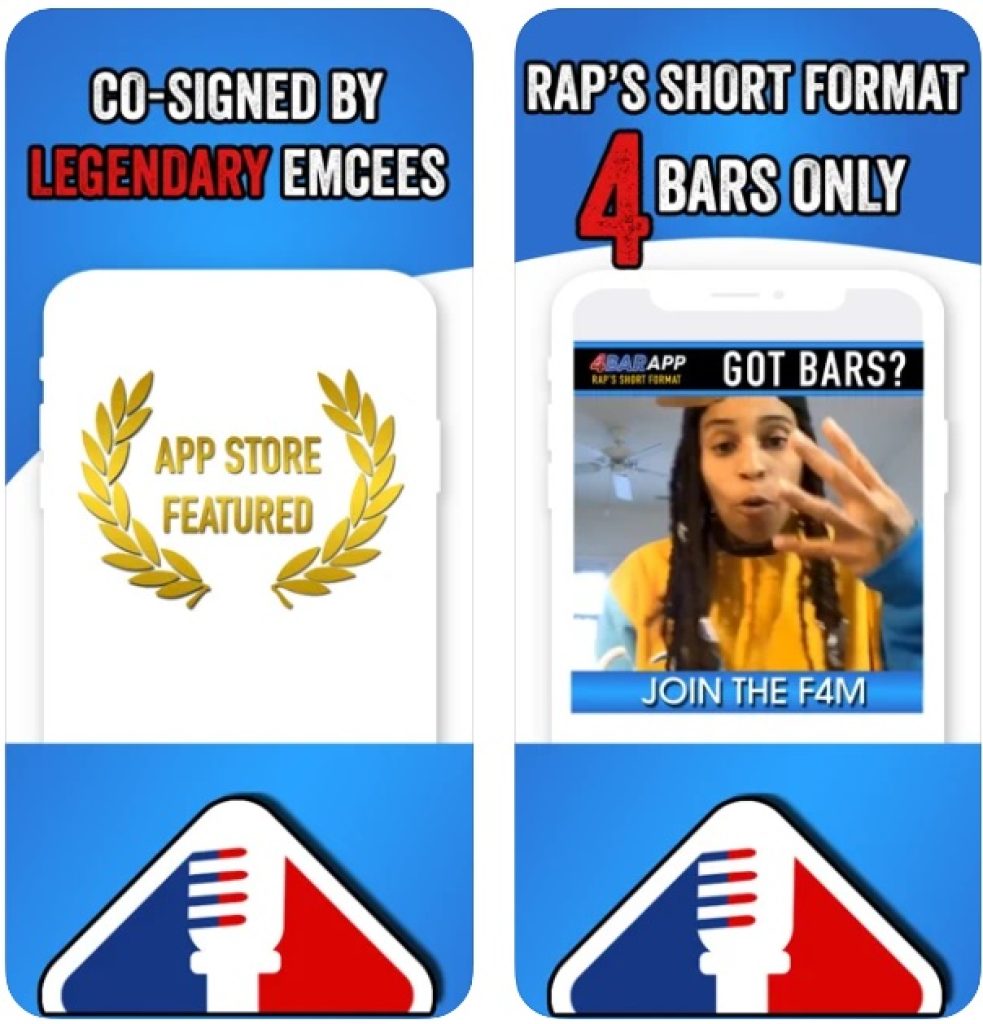 Tape-a-Talk Voice Recorder
The application's built-in voice recorder allows each user to record voice and sound in the highest quality. It also supports the possibility of an unlimited number of recordings at the same time.
With this app, you can get the most out of your voice and listen to the purest sound of every song in your library. If you want, you can save space on your device, because the app allows you to export the track to the lighter AAC format, which will still sound good despite the compressed format.
Here are some more features of Tape-a-Talk:
The app gives its users the opportunity to record tracks at any time – both during work and business meetings and in their free time.
Listen to your already recorded tracks, record new ones and edit them directly in the app without using other services. It works like a voice recorder, so you shouldn't have any problems using it.
You can save recordings to both the internal and external memory of your device. If you wish, you can also save your recordings to the cloud. To do this, just create an account in the app and connect the cloud backup function.
So you won't lose your songs even if your phone is stolen – all tracks will remain in the cloud and you can access them from any other device by simply entering your details.
Tape-a-Talk is a handy tool for musicians, artists, and anyone who wants to connect their lives with music. Customize the app according to your preferences with detailed filters, and app interface, and enjoy the app's media library that will help you become a battle rapper much faster.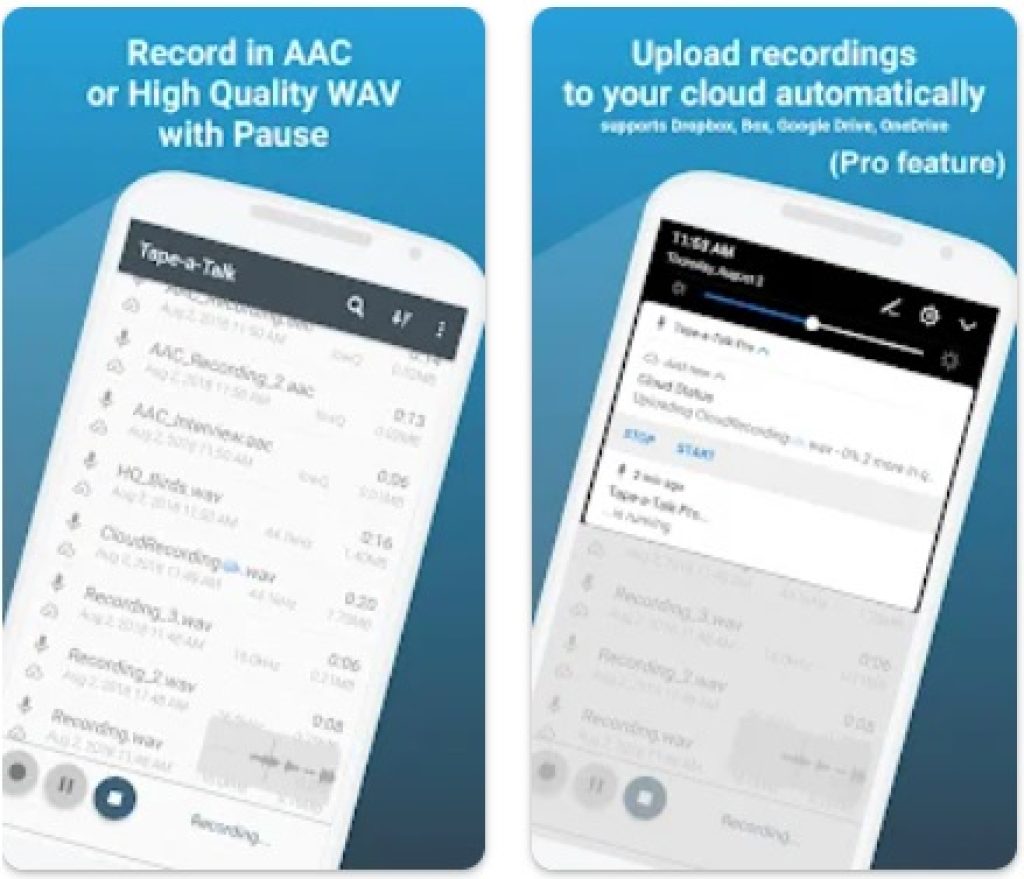 You may also like: 9 Free Apps for Music Mixing
Rap Wars
The idea of ​​this application is to provide battle rappers with a special platform where they can compete with each other, demonstrate their skills and talent, listen to other artists' music and record their own. Here, with the right tactics and a sense of rhythm, you can become the local king of rap.
Rap Wars gives rappers the ability to record a rap, compete against other users, and rate their music. This service is also a beat store. Here you can buy paid beats or download free ones that will help you bring your music to a large audience.
Be careful, a lot depends on the right choice of the beat in the track, so choose carefully. In addition to the beats provided in the app, you can also upload your own beats.
Thanks to the huge number of active users, you can fight not only with friends but also with strangers, which will help become a stepping stone to getting into the hands of a label and becoming a professional artist.
The creators of the app believe that rappers from all over the world should be able to showcase their talents to a large audience, and rightfully so.
Not everyone has the opportunity to perform in real venues these days, so virtual platforms are the perfect outlet for anyone who wants to try their hand at music.
Registration is required to experience the personalized features of Rap Wars, but if you choose not to register, you can still enjoy reading our beats and listening to other rappers.