Have you ever wondered what the phrase 'all monsters are in our head' means? The apps below will demonstrate to you that it is really so! Get ready for a chilling experience. You'll be laughing and crying, but I promise you it will be lots of fun.
You may also like: 11 Best scary stories apps (Android & iOS)
Zombify
Zombify is an amazing app for turning people into zombies! If you are a zombie, don't raise your hopes too high – this is just an augmented reality app, not something that will be useful for you. If you are not a zombie though, this app will help you to see what you're going look like if you become one.
First, the app recognizes your face and then immediately makes you look like a zombie. And it is not just a picture – it is a moving video. There are lots of different effects like roaring, hiss, and others.
And there are filters too. Plus you can add some more complicated animations or insects! Roaches, maggots, snakes… These last two options require payment though. Apart from that, the app is absolutely free.
Zombify is so much fun. I recommend you to try it first. It is so funny to share your zombie photos and videos with friends and family. Although it is better to choose those who have steady nerves. Download buttons are as always right under the descriptions.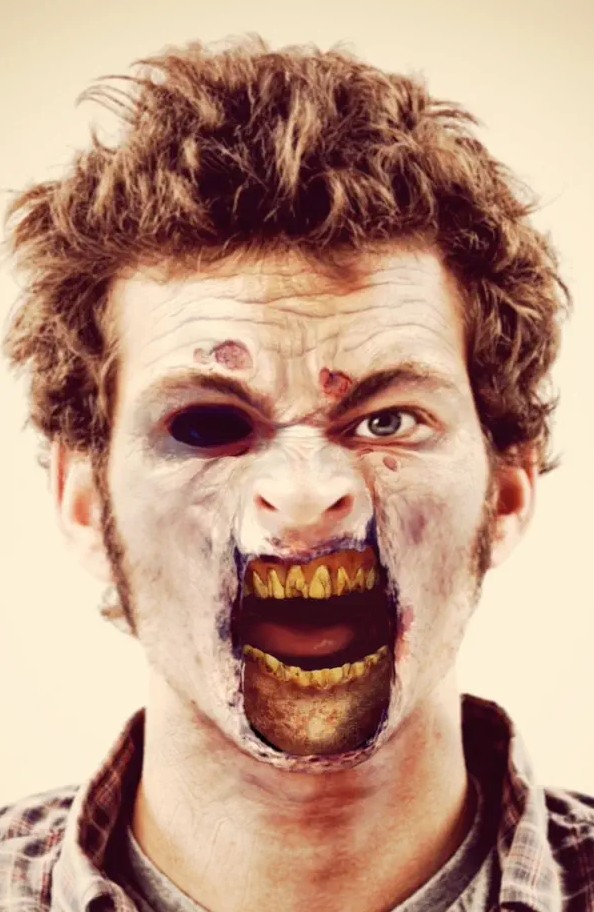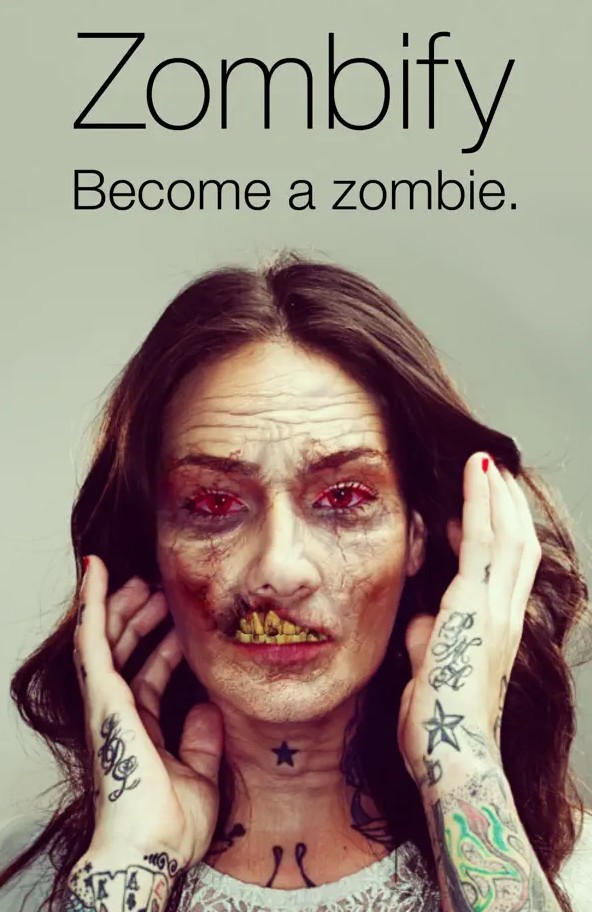 You may also like: 21 Best Zombie game apps for Android & iOS
Face Changer
Face Changer is a good-quality picture editor.
First, you add a picture from your gallery. Then a little widget will appear on the bottom of your uploaded picture. There you will be able to change the color of your pencil and your writing instrument. You can add text to your pictures as well, choosing from different fonts, colors, and sizes.
If you press a hand button a new window will appear. You'll be able to see different accessories, glasses, eyes, noses, and ears to put on your face. Some of them are quite spooky, so you can make a scary face!
This is a great app that will entertain you and your friends as you can share the edited photos on social media!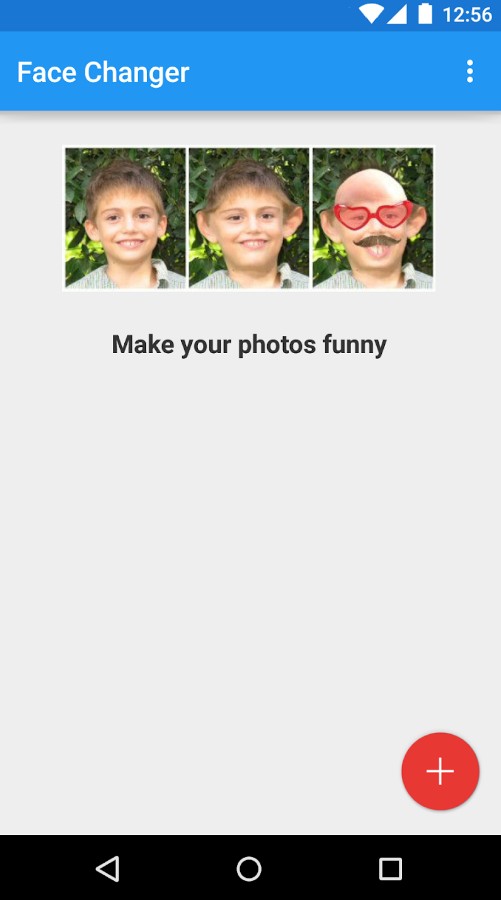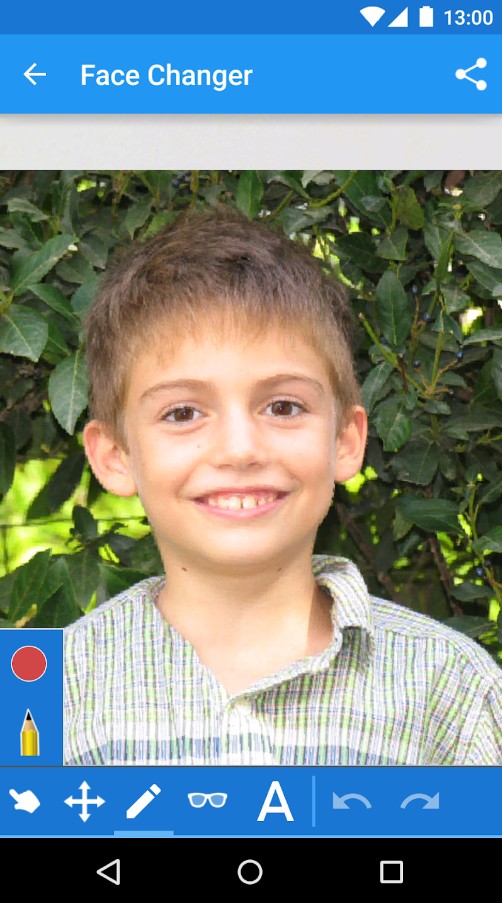 Scary Photo Editor Horror
The Scary Photo Editor Horror app invites you to embrace the macabre and add spine-chilling effects to your photos, creating a gallery of hair-raising visuals that will send shivers down your spine.
It offers a variety of scary effects that can turn a simple selfie into a haunting masterpiece. From bloodcurdling eyes to ghostly apparitions, you can experiment with different effects to give your photos a supernatural twist.
Beyond its spooky features, Scary Photo Editor Horror also boasts an array of filters that let you fine-tune your photos to evoke just the right amount of unease.
So, this scary editor is able to make your photos horror enough to have fun with friends.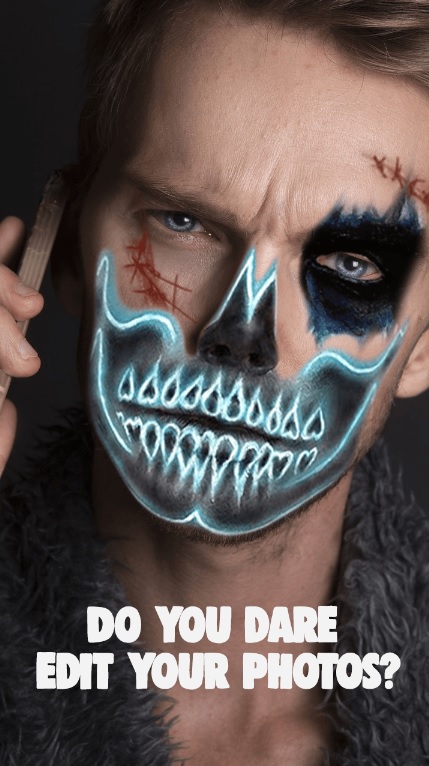 Face Warp
Face Warp is a great entertainment app.
When you get on the app a camera will open and at the bottom of the screen, you'll see all the options of the faces. When you press on one of them, your face will change.
You can make your eyes look very big or small, enlarge or diminish all of the face features, and many more. Sometimes your face will change so much that it will even become scary!
The only disadvantage is that you can't select pictures from the gallery, it only works with a camera. But you still can take a picture and save or share it.
Overall it's a good quality app that will make you laugh!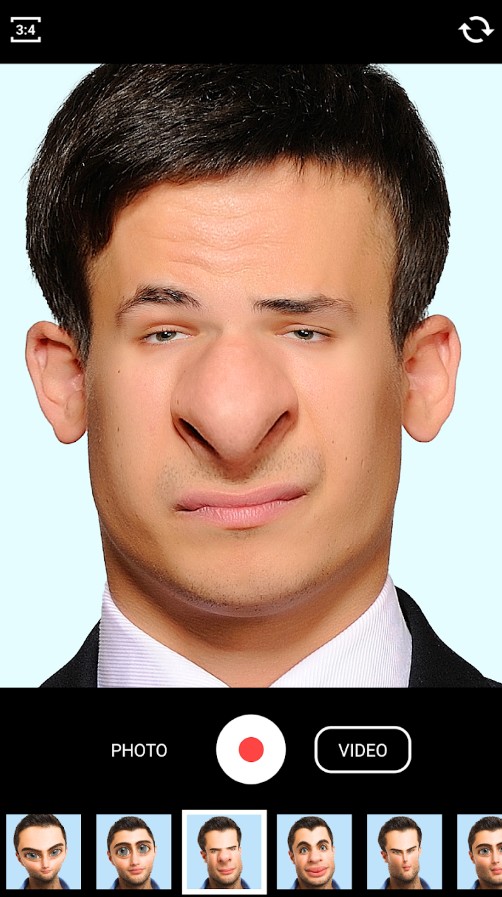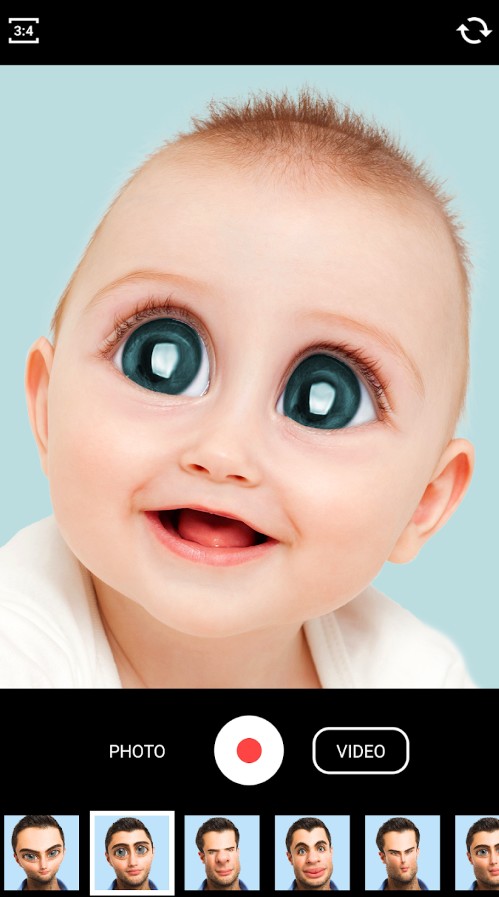 Funny phone prank with camera
Well, basically, this one is a scary face changing app, but there is a different meaning behind these words here. You see, this is a prank app that allows you to make people scared, and therefore this is a scary app. You can get the most inadequate reactions after using it, so it definitely is.
And the app is totally capable of changing facial expression of your victim, so 'face changing' – nothing is wrong with that as well.
To make everything clear, I'll explain how it works: first, you set a timer for several seconds; secondly, you pass on your phone to your friend asking him or her to look at something (like a photo gallery or a video). When time is up, your friend gets this (second screen):
And there are sounds too! And even the vibration if you want it. Imagine how unexpected all that will be! Download the app and try this joke. Use it only on stable people, or you'll definitely face the most inadequate reactions!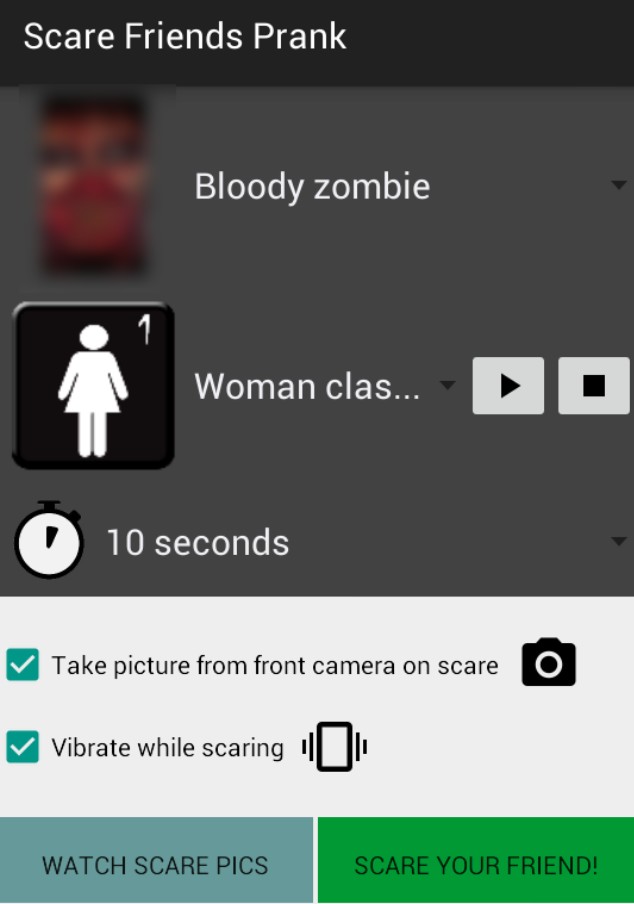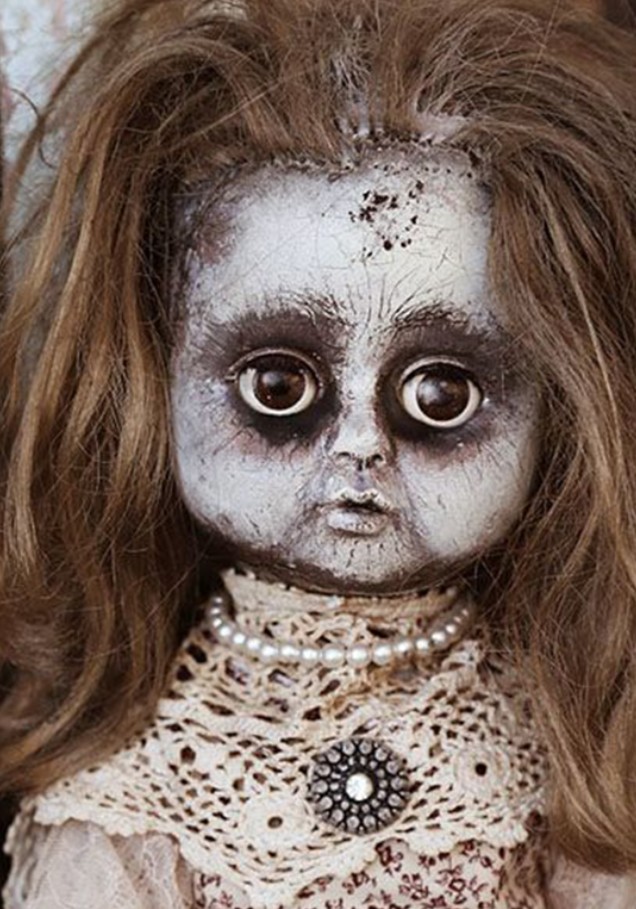 You may also like: 15 best prank apps for iPhone & Android
Funny Face Effects
It's an entertaining app that will change how your face looks.
Firstly you choose pictures from gallery, Facebook or take a picture using the app. Then you can try out different effects and choose the one you like best.
They can change your facial features or hairstyle. Also, by using the buttons on the bottom of the screen you can stretch and distort any photo. Some of those will change you so much that you won't be able to recognize yourself, that's kinda scary!
After you're done you can share your picture on social media or just save it.
Download this great app and make fun of yourself or your friends!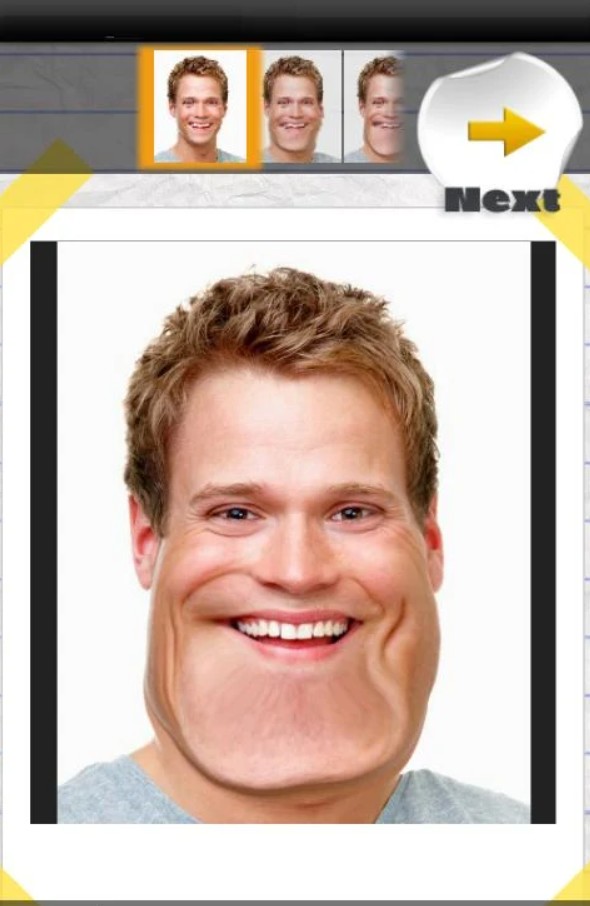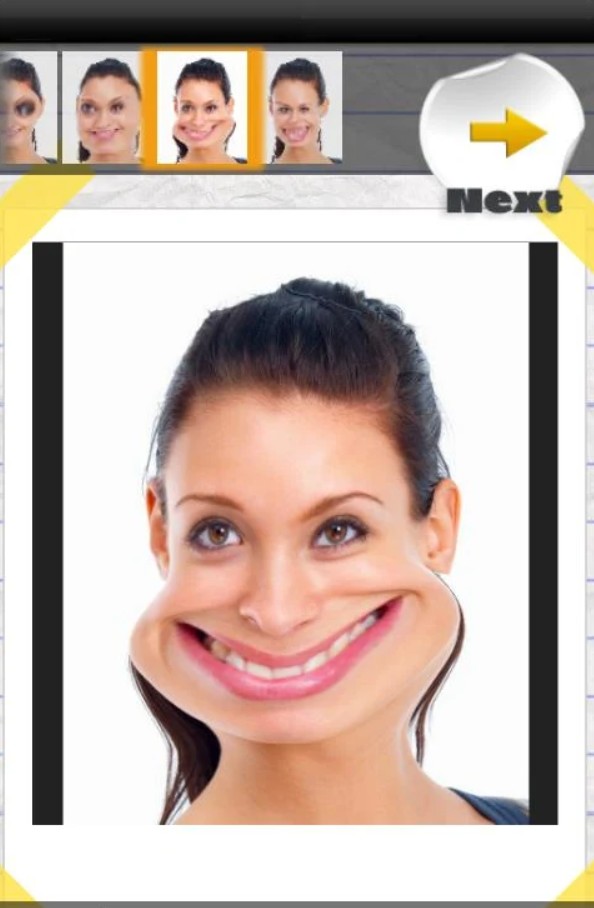 Cupace – Cut and Paste Face Photo
When you enter the app you'll see the options "Cut Face", "Face Gallery" and "Paste Face"
Use "Cut Face" to cut out a part of the picture. First, pick a photo from a gallery. Then, select the area you'd like to remove using a magnifier. Or zoom in on the face you'd like to delete from the photo.
Your faces will be saved in "Face Gallery".
If you want to paste the face to another picture press the "Paste Face" button. There you'll be able to select a face from your "Face Gallery" and put it anywhere in the picture. You can rotate and adjust the size of your face.
You can even make scary pictures! For example, make every person in the picture have the same face, or cut out a scary face add it to one of your friend's bodies!
It's an awesome app that you can use both in entertaining and useful ways.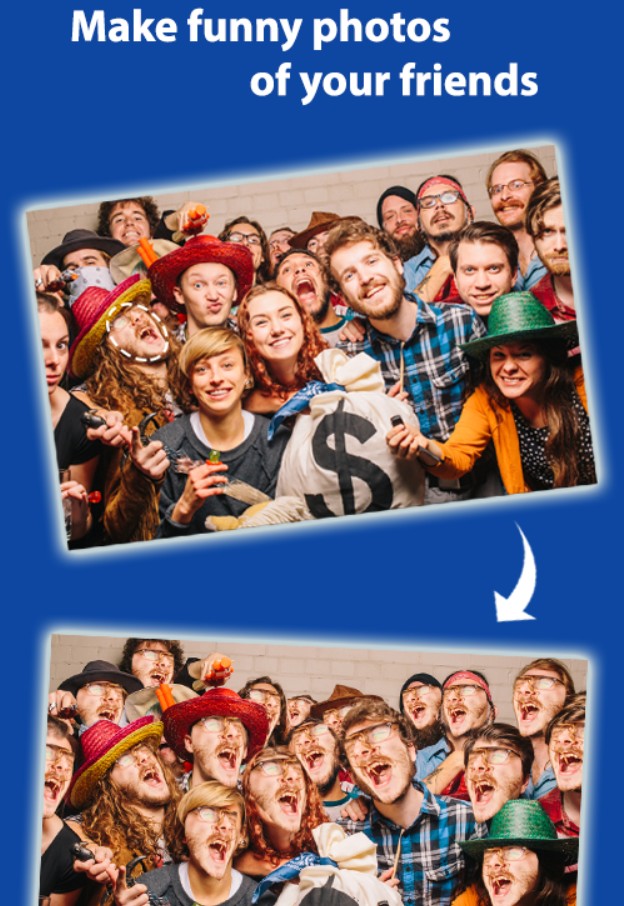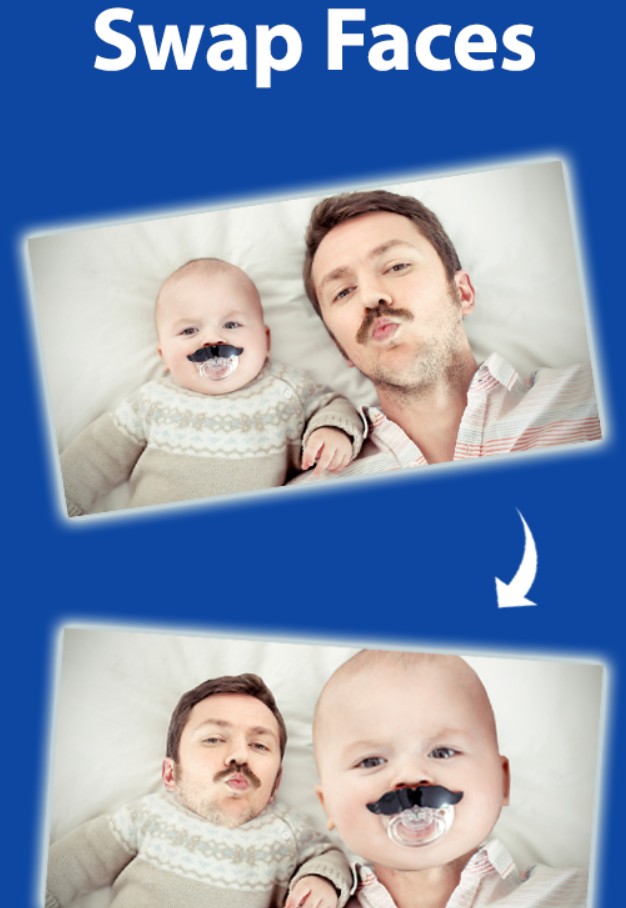 Halloween Photo Editor – Scary
Halloween Photo Editor – Scary is your go-to tool for transforming ordinary images into hauntingly captivating masterpieces.
This app has an array of spooky effects that can send chills down your spine. From ghostly apparitions to blood-curdling filters, you can immerse your photos in a realm of ghoulish delight. 
Ideal for Halloween enthusiasts and casual users alike, the Halloween Photo Editor – Scary app offers a variety of filters beyond just the frightful effects. You can explore a wide range of enhancements, including color adjustments, lighting tweaks, and more, to bring your Halloween-themed photos to life.
Moreover, it offers a platform for unleashing your creativity, allowing you to express yourself through spine-tingling visuals. Whether you're planning to surprise your friends with eerie images or want to give your social media posts a sinister twist, this app equips you with the tools to make it happen.
Finally, I find the faces that this app creates very horror, so you can be sure that it will help you to prank all your friends.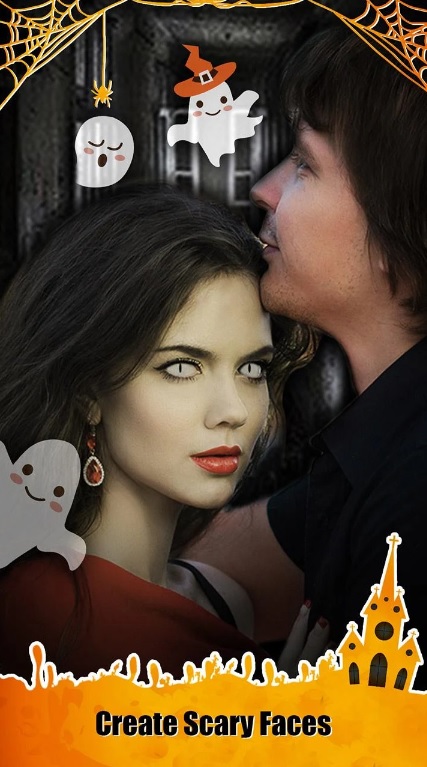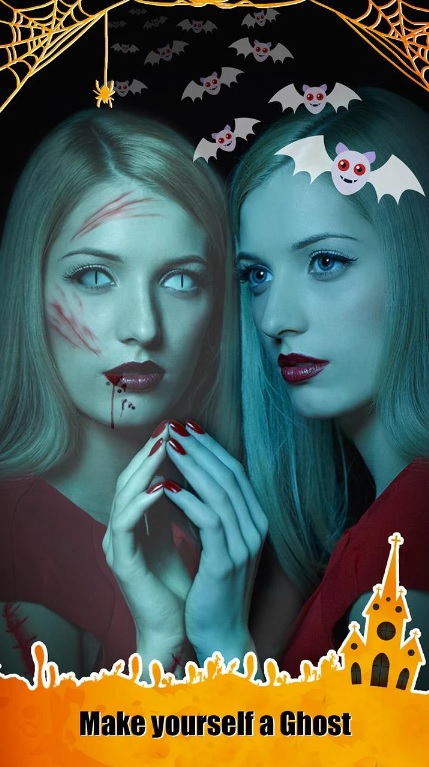 Horror Face Maker
This app offers an array of terrifying effects that will transform your ordinary pictures into scenes from a horror movie.
But Horror Face Maker doesn't stop at zombies. It invites you to dive into a universe of monstrosities, where you can craft various creatures that go beyond the realm of the living dead. Conjure up vampires, werewolves, or any other terrifying being you can imagine.
In addition to its scary effects, the app boasts an assortment of filters that allow you to fine-tune the mood of your photos. Create an atmosphere of dread, mystery, or suspense, and immerse your viewers in a world of the unknown.
In conclusion, Horror Face Maker is an app that allows you to explore the realms of horror and fantasy and lets you create a diverse range of nightmarish creatures and eerie effects.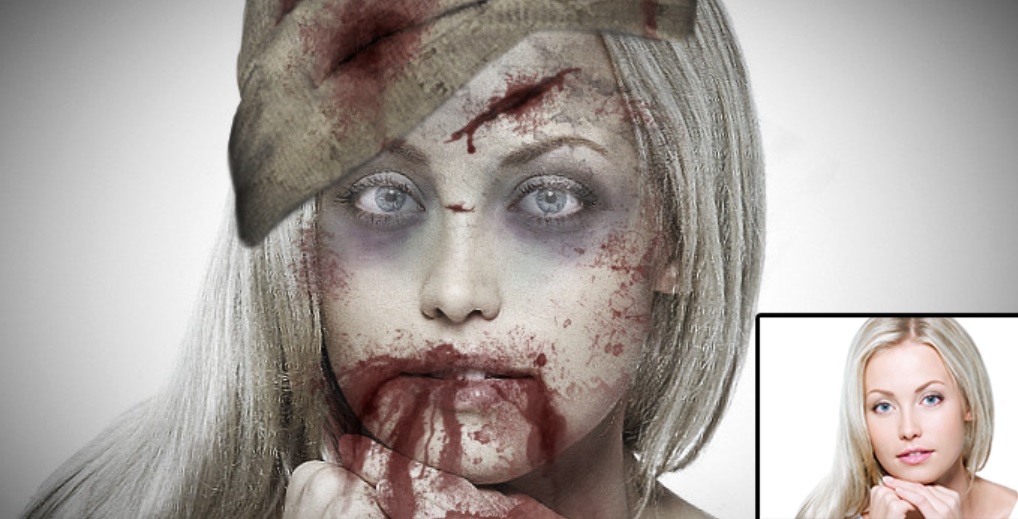 Face Swap
This one is just one more simple face changing available on Google Play. It is not always scary – sometimes it is just fun. But there are scary masks too, like those you can see on the screens down below. Pretty scary, if you ask me! The app also lets you swap faces, which is one more crooked mirror style effect.
Face Swap is free, but there are in-app purchases. You can remove the ads, for example. In sum, this is an easy-to-use Android app which popularity grows during the Holloween season and drops after it. No matter how it may be, it is still worth a try!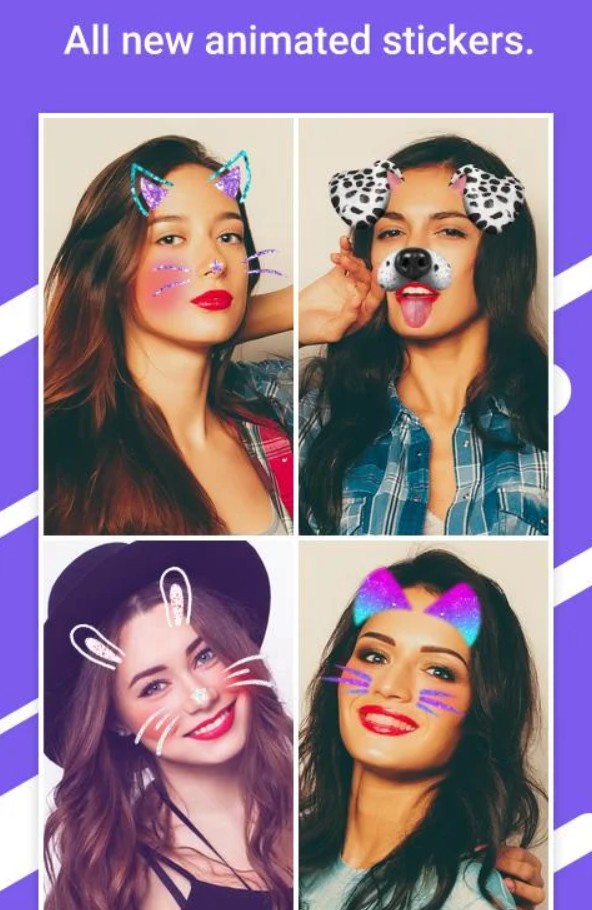 Zombie Booth Scary Face Photo Editor
Zombie Booth for iOS is an oldie. This app has been out there since 2015, and believe or not, 2015 was almost 4 years ago. Maybe even more if you read this article later than the year it was published in. The app has 20 free masks and 30 more if you are ready to pay for them. There are some basic editing features like rotate and resize.
You can share the results on your social media to scare your friends or, which is more probable, make them laugh. For a change, this is a nice app to have! There are no freaky video effects, but it works fine. So, iOS users, don't miss it if you like simple (and old)!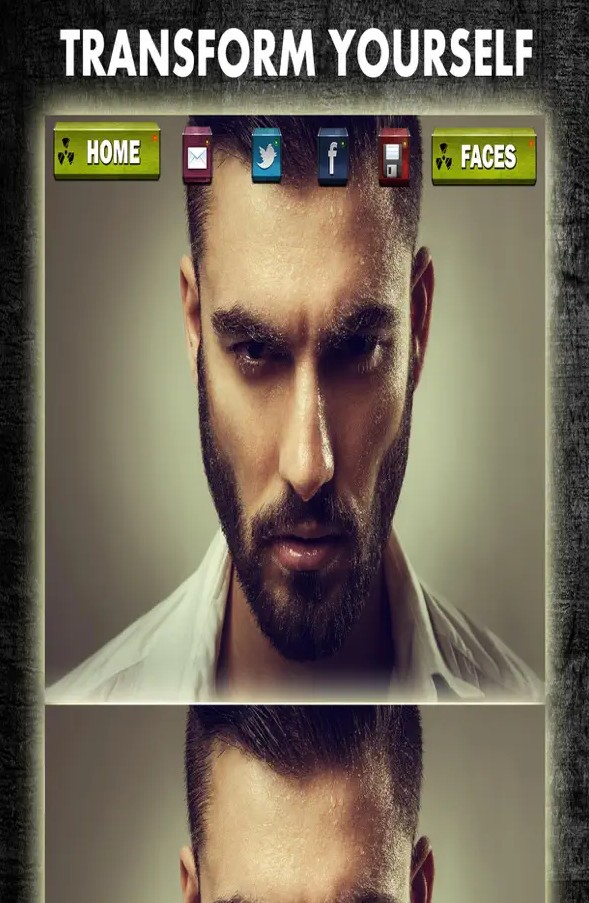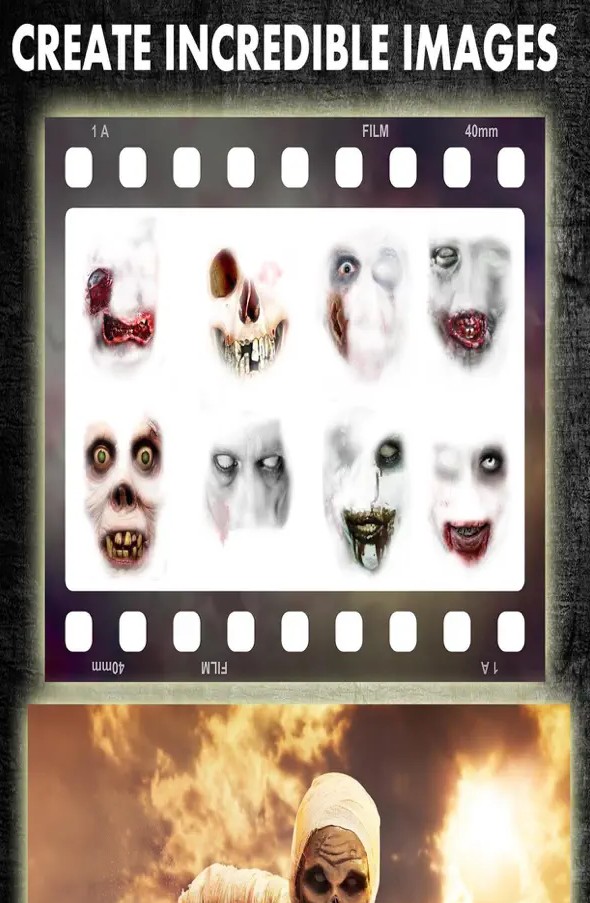 You may also like: 9 Best Scary Voice Changer Apps (Android & iOS)
Snapchat
The pearl of this list. Finally. The scariest face changing app ever. You've probably heard about Snapchat – it is both a chatting app and a camera created with the goal to let people communicate at the moment.
Snaps or photo messages are deleted after some time, so it is impossible to view them later (until you make screenshots). Because of that people post the craziest pictures there. It is both funny and kind of scary sometimes.
Anyway, you should try the app's filters (if you haven't already). They can be really cool. And scary. You decide what's cool and what's scary! Download the app and see if you can enjoy it. Don't forget to invite your friends.