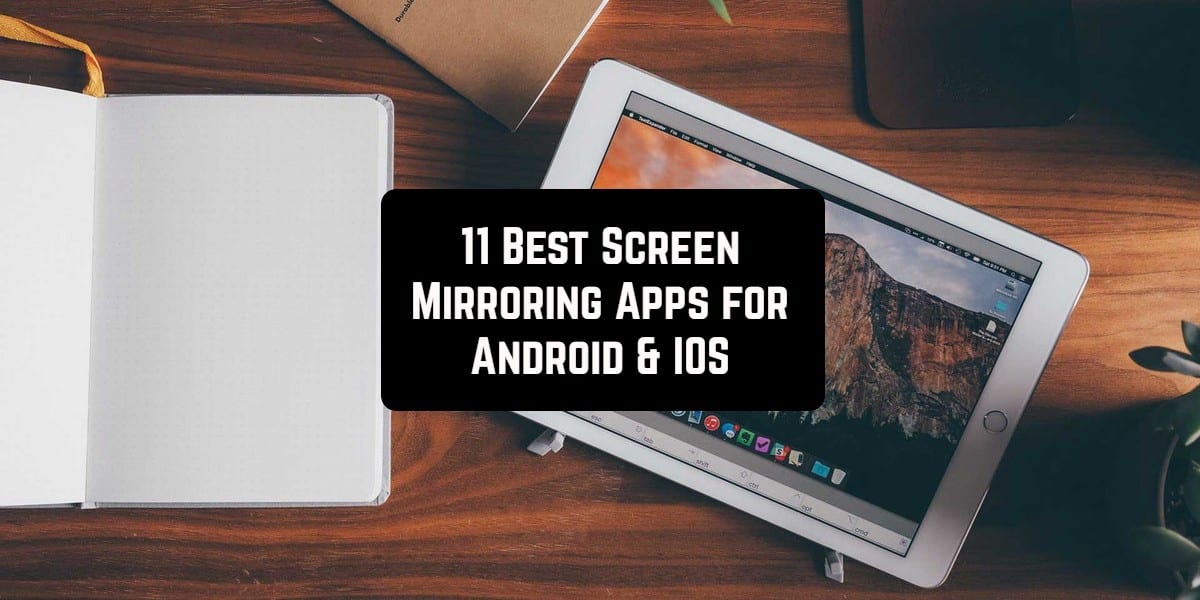 Back in the day, screen mirroring was just a feature that nobody found much use for. There were latency issues, flickering, and loss of connection.
But not anymore. Screen mirroring apps are the best and easiest ways to display the content of your device's screen to your PC and TV.
With improved technological advancements, these apps can be useful for many things. Some people like it for streaming or gaming. Others use it for education and technical support. It is also a great way to watch your favorite movies, serials on a big screen.
Whatever the reason, that list will help you find a suitable option. Here are the best screen mirroring apps for Android and iOS users!
AnyDesk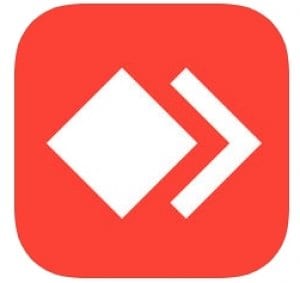 AnyDesk is an advanced, lightweight and extremely fast remote desktop program that can be used for many purposes. AnyDesk is your partner for online teamwork.  It provides an access key to all users so that you can easily connect your device using the password key. You can quickly join your team and work on text, pictures or source code together.
The most important feature that makes AnyDesk different from dozens of remote desktop software is it's highly optimized for speed. The app enables you to work smoothly, without a stuttering display thanks to constant 60 fps. When the delay rate is too high in other remote desktop software, AnyDesk can handle busy operations in minutes.
It is easy to use and download AnyDesk which makes us forget all the handiness of remote desktop software.
Price: free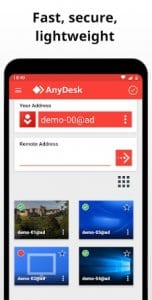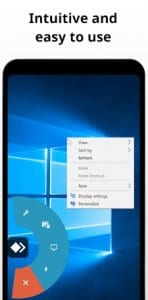 Check Also: 15 Free movie streaming apps for Android & iOS
back to menu ↑
ApowerMirror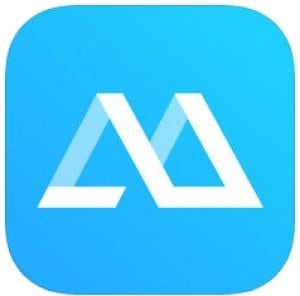 ApowerMirror is a screen mirroring application to stream Android & iOS screen to Windows computer or Mac. It allows you to remotely control Android devices on the computer using a mouse and keyboard.
You can easily choose to connect your phone to PC via USB cable or through a Wi-Fi.
This app enables you to record all the activities on your phone screen seamlessly. It is also capable of taking screenshots with one click anytime you want. Moreover, once a new notification arrives at your phone, for example, a coming call or a new message, it will be displayed on the PC simultaneously.
If you want to send SMS, Facebook, Twitter or any other messages, this app offers you the convenience of typing in words and send messages utilizing the computer keyboard.
Therefore, you can freely play all kinds of smartphone games, send SMS or WhatsApp messages, and manage various apps from PC. Besides, any notifications on your Android will be displayed on the computer, ensuring that you won't miss any important issues while working on PC. Try it now – you won't be disappointed!
Price: free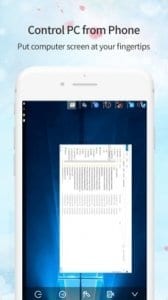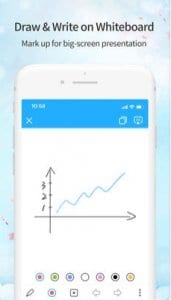 back to menu ↑
AirServer Connect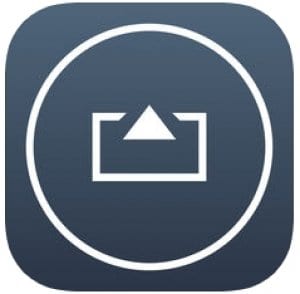 AirServer Connect is a companion app for AirServer that lets you discover and screen mirror your smartphone display across a corporate network to one or more instances of AirServer at the same time. It allows you to mirror games, apps and share photos with friends and family on a big screen.
You can easily mirror your mobile device to a PC after following simple steps. You have to open the Airserver setting on your PC or laptop and click on the QR code button. Now open the Airserver app on your smartphone and click on the scan button to connect your smartphone with PC. It will automatically read the QR code and easily mirror your smartphone with your PC device.
AirServer Connect can be helpful in educational institutions, business organizations and even for gaming.
As a teacher, you can engage students attention, in business, you can connect seamlessly in the meeting room, and as a gamer, you can play your favorite games on a big screen.
AirServer Connect has some unique presentation functionalities, including a split screen feature, enabling for multiple inputs and users to be sharing the screen simultaneously. You should definitely try it out!
Price: free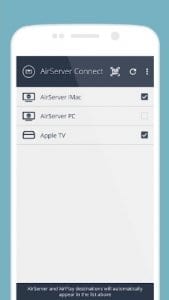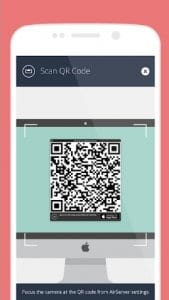 back to menu ↑
TeamViewer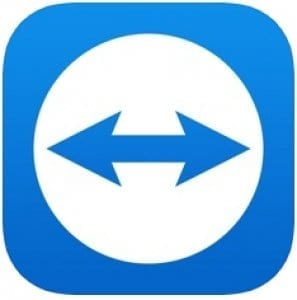 TeamViewer is one of the most popular screen mirroring apps.
It provides easy, fast and secure remote access to Windows, Mac, and Linux systems. TeamViewer is already used on more than 200,000,000 computers worldwide.
The main benefits of TeamViewer are its general usability, mobile support, and flexibility.
The app enables you to access your data and applications at any time and anywhere, it offers the highest security standards and it has excellent customer support.
TeamViewer is completely secure, it helps a lot when you need to access the system and do work or when you want to help your friend to install anything or if you want to share the files.
The app has great speed, so the quality of the video is good even if you have a computer with low resources. The app will go smoothly and with excellent quality.
Whether you are a businessman or just an average individual user, you can easily use this app to control and access a computer remotely and securely.
So if you're looking to always have access to your own computer from afar, TeamViewer is an app for you.
Price: free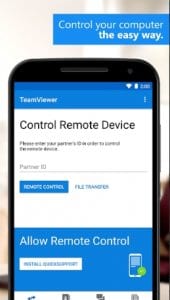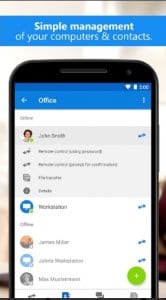 back to menu ↑
Google Home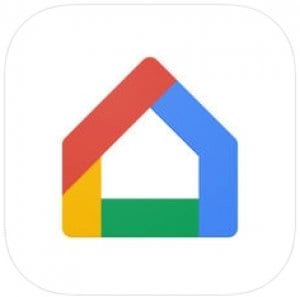 Google Home is another mirroring app that allows you to easily control your Chromecast from your smartphone. It is easy to use and free app for all Android and iOS users.
The app helps you to directly cast your screen from your device to your TV with this app and a Chromecast. You can also get available music and easily play, pause and change the volume of the music. Along with audio, you can also get access to video and easily stream them with this app.
Google Home works pretty well and can be used for more than just mirroring. It can control, organize, and manage compatible lights, cameras, TVs, and more, all from just one place. The app works like a remote with hundreds of smart devices from the brands you love.
It also gives you shortcuts for the things you do most, like playing music or dimming the lights when you want to start a movie.
If you need your phone screen on a TV, you can put your trust in this app!
Price: free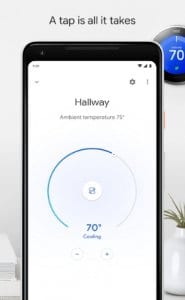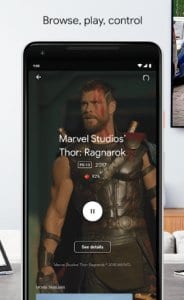 back to menu ↑
VNC Viewer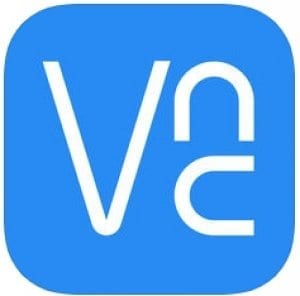 VNC Viewer is another app that turns your phone into a remote desktop, giving you access to your computer from anywhere in the world.You can view your computer's desktop remotely, and control its mouse and keyboard as though you were sitting down in front of it. The app stands out by offering a minimal free version that supports up to five computers accessed remotely by up to three users.
VNC Viewer offers remote control for personal and business use. Individuals may be attracted to its free plans, for home use, and small businesses may like it for its inexpensive subscription-based plans for professional and enterprise use.
It is ideal for IT professionals and for others who need to work on client computers. It's also great for corporations that need to monitor employee computers and software.
This app allows you to do anything now on the go, which saves lots of your time. It will change the view of your life, phone, and the things you can get done.
Price: free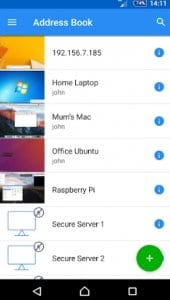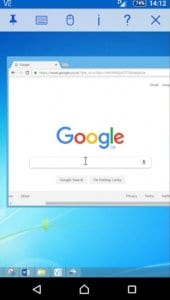 back to menu ↑
Samsung Smart View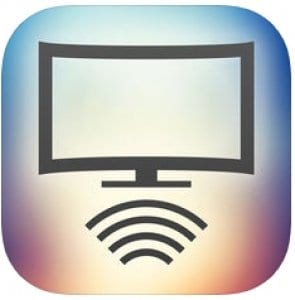 Samsung Smart View is different from the apps mentioned above. Samsung smart view lets you create a connection between your TV and mobile device. Whatever you like to do on TV, can be done on the small screen just by touch.
It allows you to easily get access to your personalized Smart Hub on your smartphone or tablet.
The app enables you to enjoy movies or any other files from your smartphone on your Samsung Smart TV. Your phone will serve as a remote control for your Samsung Smart TV in this app.
You can also use this app to play the content of your computer on your TV.
The app allows you to easily search your favorite TV shows and series and easily stream them anytime on your smartphone and tablet. You will get access to your favorite movies, sports, music, games, and others on your smartphone without interrupting your viewing experience on the TV. Along with these, you can also turn on the TV in standby mode using your smartphone ( you need Bluetooth to be turned on )
So it is definitely a great app to try!
Price: free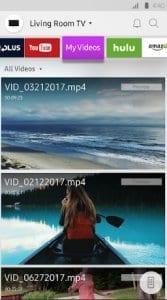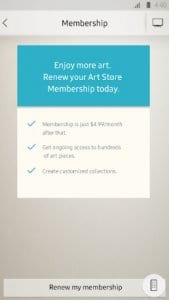 back to menu ↑
Mirroring Assist
Mirroring Assist is one of the best screen mirroring apps that allows you to access Mirroring360 software from your smartphone by using a Mirroring ID or QR code.
To share your screen with Mirroring360, you just need to download the app on your phone and your PC.
You will find Mirroring Assist one of the easiest to use apps.
It allows you to easily record your PC, laptop or mobile screen and has a vast sharing option, which means that you can share your screen with 40 people at a time.
Moreover, you may easily access all of your apps, movies, videos, and other files from your phone to a big computer screen. It has both free and paid subscriptions with different mirroring options. You may use it as per your choice.
Price: free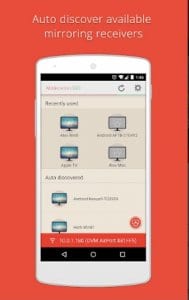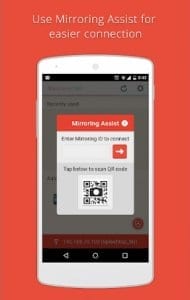 back to menu ↑
Screen Stream Mirroring Free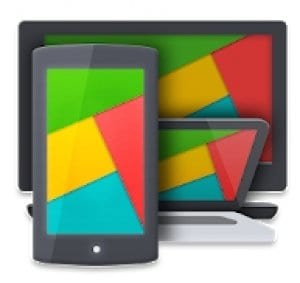 Screen Stream Mirroring Free is an app that not only offers you to mirror to web browsers, media players and Chromecasts but also to Twitch, Youtube and Ustream.
The interface of the Screen Stream Mirroring Free app is easy to get a grasp of. From the moment you download this app, it is easy to use. It does not require any setup, and the different functions are well-labeled to ensure the user understands the purpose of each one.
The main feature of this app is broadcasting which allows you to share your audio and your phone screen in real time. You can mirror your phone screen on any device on the same network. It can be a PC, Smart TV or any other supported device.
Another great option of this app is the streaming timer which shows you how long you have been steaming for. It goes off when the screen locks. And last but not least, this app has a screen drawing that can be great for when you need to illustrate or demonstrate something.
Screen Stream Mirroring Free app offers many features that could be useful to any Android user.
Price: free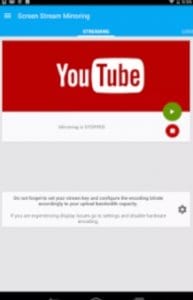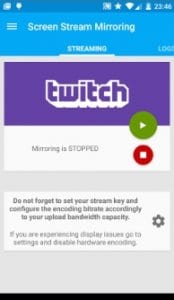 back to menu ↑
Microsoft Remote Desktop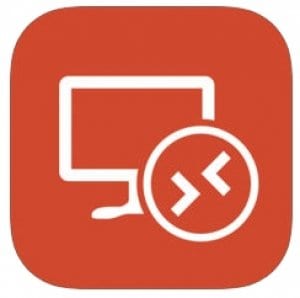 Microsoft Remote Desktop is another best screen mirroring app to download for an Android device or iPhone.
It is a simple, easy-to-use and free app that can be used to gain access to remote resources through remote desktop gateways.
With this app, you may easily access your phone on a remote PC to complete your work from anywhere.
To start using the app you'll need to open it and add your computer network. Once the connection is established, the connection will be saved automatically for future usage.
You don't have to worry about your important data, the app will keep it secure while giving you the best service of screen mirroring.
The best feature of Microsoft Remote Desktop is the multi-touch option. It also allows audio and video streaming directly using the app. Along with secure connection and protection to your data, files and other content.
This app is definitely worth trying.
Price: free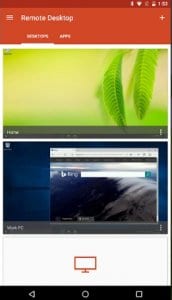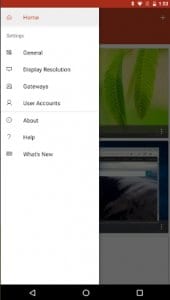 back to menu ↑
Chrome Remote Desktop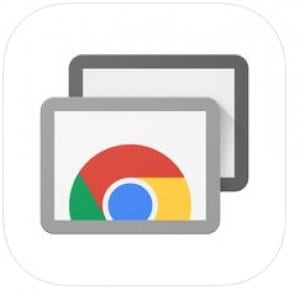 Chrome Remote Desktop is another great screen mirroring app for Android and iOS users developed and owned by Google.
This app allows you to access your mobile device from any device through mirroring technology. It provides a secure connection and easy access to your Android and iOS phone. It's perfectly usable on a phone but works better with tablets.
To start using the features of this app, you need to configure the same software on your PC first. Once it is installed on both the devices, then you can start using all the functionalities by mirroring them.
As soon as you open Chrome Remote Desktop, it will automatically start searching for PC networks nearby. You can also share your remote access with a different person.
There are many screens mirroring apps that you will find, but Chrome Remote Desktop is one of the best one available.
Price: free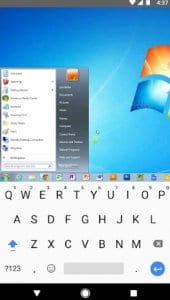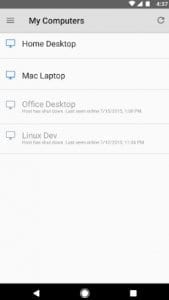 You can also check: 10 Best Screen Recorder Apps for Android