If you're getting ready for the MCAT, you know there are plenty of materials to learn. There are lots of educational materials out there: books, courses, tutors, and more. But let's be real, apps are the handiest way to study.
That's why we've picked up the 7 best MCAT prep apps 2023 (Android & iOS) that will help you get fully prepped for the exam. These apps contain plenty of study materials such as a schedule, video lessons, articles, flashcards, tests, and much more. Some of them are standalone, and some work better as an addition, but all of them will be helpful in your learning journey.
MCAT: Practice,Prep,Flashcards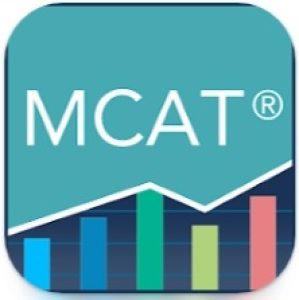 Let's start with a fully-featured MCAT prep up to level up your study.
This app is developed by a well-known test prep company, and it was even named the best educational app a couple of years ago (in case you have trust issues). It comes with a simple UI and a wide functionality that lets you prep on the go. The app contains a bunch of full-length sim tests that let you get to know the testing.
All the sessions are timed, so you get quite a realistic experience here. Once you're done, you'll get to view your overall score along with some in-depth analysis. For instance, you'll get to view the explanations for all the answers you've got wrong. Plus, the app will mark your weaknesses, so you'd know which topics you need to repeat.
The app covers a huge lib of flashcards for all aspects of the exam. All the cards come with detailed HQ pics and diagrams, so no worries. And if you won't get satisfied with the variety, you can create custom flashcards right away too.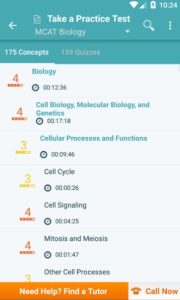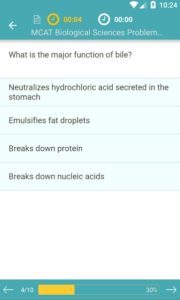 You may also like: 11 Best Apps to Learn Organic Chemistry
UWorld MCAT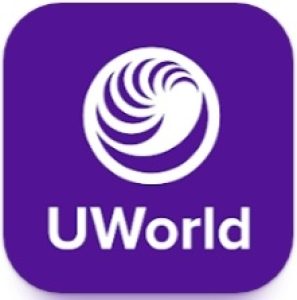 Next, there's an app with a bank of 2K+ MCAT queries.
Sooth to say, the quantity of queries you get in this app is quite impressive. All of them come with in-depth explanations and descriptions that help you learn the material. Plus, there are plenty of bright, high-quality illustrations for visual learning and a deeper understanding of the topic.
The app covers all the themes of the MCAT. It also contains in-depth explanations for both correct and incorrect answers, so you could fully get the topic. In case you wanna focus on practicing a specific concept, you can also customize a test sim.
The app comes with a wide selection of flashcards to study with. All of them include HQ illustrations and cover all facets of the exam. More to that, the app lets you create your own set of cards easy as a pie. You'll also get to keep an eye on your score and monitor all the weak points.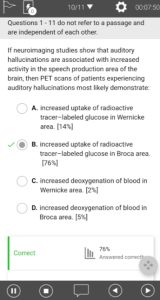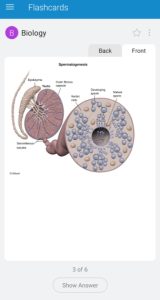 MCAT Prep by MedSchoolCoach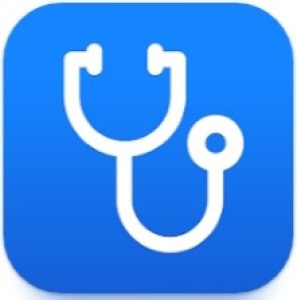 This is the app to increase your knowledge and get prepped for the MCAT stress-free.
It covers hundreds of free vid lectures, course notes, and snapshots to study with. Plus, there is over 2K of flashcards and tests to use what you've learned. All the edu materials and flashcards get split into sections according to the AAMC themes. There is the basis of biology, CARS, living systems, and behavior.
As for the vid info, there are over 80 hours of materials made by the experts, and you can browse the queries for each lesson separately. You may rather go through the lectures one by one or search for a specific one if needed. All the lessons you've gone through will be marked, so you won't get confused.
There's also a special progress panel that lets you keep an eye on the score. Besides, the app lets you build a custom study schedule and organize your routine. You can also monitor the overall progress and view your strong and weak spots. And the cherry on top: the app is entirely free, so it is definitely worth trying.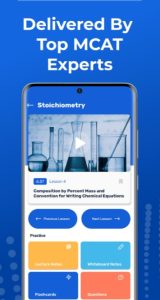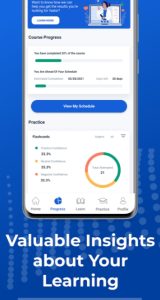 MCAT Prep by Magoosh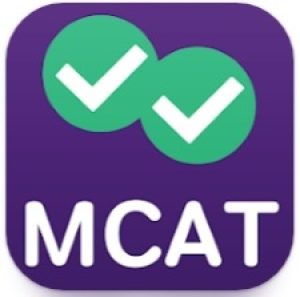 Here's another app to help you effortlessly master the MCAT.
The app has all disciplines of the MCAT. It covers a bunch of vid lectures and articles for you to study with. Nevertheless, it runs on sub packs, and not all content is free there. To get more precise, there are 40 vid lectures for free and over 250 if you'll pay.
In case you already study with some other materials and are not willing to pay, you can use the free version as an addition. And if you'll decide to go for a paid pack, this app will become a solid one-stop educational tool. There's also a free trial for a paid pack, so you get to explore what you're about to buy.
All the queries are split into thematic sections, and they are short enough to incorporate into a busy schedule. Speaking of which, the app lets you plan your study routine in detail. You'll also get to observe your score and view your imperfections.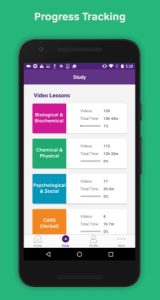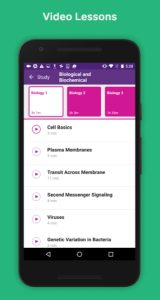 Check also: 7 Free Muscle Anatomy Apps
MCAT Prep: MCAT Flashcards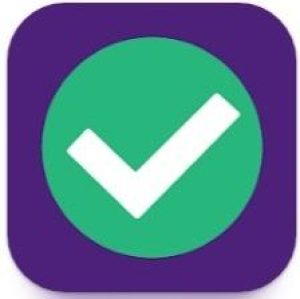 It's a Magoosh app that offers MCAT flashcards.
As you may guess, this app is not a standalone, but it's a nice addition to your current study routine. It covers a bunch of cards for all the key disciplines of the MCAT: from general chemistry to sociology and physics. All the cards are split into thematic decks, and you can practice them individually.
Plus, once loaded, all the cards will be available without a web connection, so you can prep at any time needed. The cards also follow a spaced repetition algorithm that helps you to prep more effectively. Each card will be rather tagged with mastered, reviewing, or learning marks. The ones that are marked with learning will appear more frequently, and it will only stop when you'll master them.
Herewith, even the mastered cards will appear from time to time, so you could keep them fresh in your memory. The app also observes your progress in all the concepts individually and in general. It will send you visual reports with all your strong and weak points marked.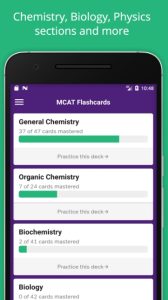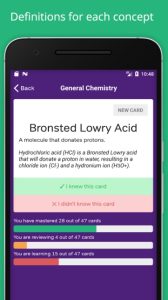 MCAT Prep Mastery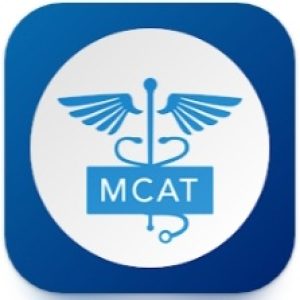 This app will help get smarter with your prep.
It comes with a wide compilation of cards and quizzes for you to try your knowledge. Overall, there are over 2K queries, and hundreds of flashcards to study with. All the questions come with in-depth explanations, so you could master them right away.
All the key subjects of the exam are covered, so you won't need any extra materials. Plus, there are over 900 MCAT terms for you to learn, all with detailed descriptions. And if you wanna bring more fun into your study, there are plenty of subject-specific quizzes for you to do.
The app observes your development and provides you with detailed reports on your weak points. If you'll get any topic wrong, it will keep appearing until mastered, so nothing gets left there. However, the app runs on sub packs and the free version is quite limited.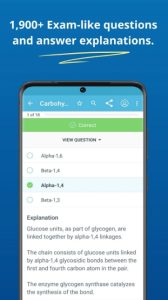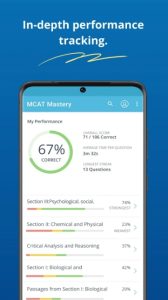 You may also like: 9 Best Apps for Reviewing NCLEX
MCAT Flashcards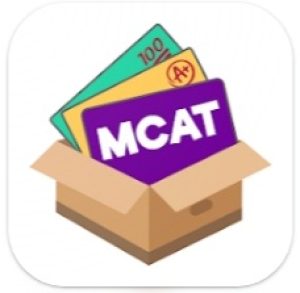 And lastly, there's an app that helps you to effectively study for MCAT.
This app contains hundreds of pre-made flashcards for all the subjects covered by the MCAT exam. These flashcards will help you fasten up your prep and get more in a short time. Plus, the app contains a couple of modes such as study, slide show, matching, memorizing, and quiz, so make to pick the one that works best for you.
For now, there are almost 3K flashcards dedicated to all exam themes. Herewith, you get to adjust the schedule to incorporate it into your daily life. You can also customize the cards by changing the font, the background, and the language.
Besides, the app covers an audio pronunciation mode for all the terms and descriptions. You can also download as many cards as you want in case you're into offline studying. The app will observe your score and displays the stats for all the topics and modes.