What if you desire to play your friend, but all ideas are already exhausted? Of course, you could call him on the phone and say something amusing, but then he immediately recognizes your voice, and this will ruin a very interesting and thoughtful joke. This is where special programs for the phone on the Andriod and
This is where special programs for the phone on the Andriod and iOS operating system will help you, which can change your voice, and make sure that no one will ever know you. With them, you will feel like a real master of the rally and you will be able to constantly call all your acquaintances, amused over their surprise and amusing reaction.
Prank your friends with your phone and these best voice changer apps.
Voice Changer – Voice Effects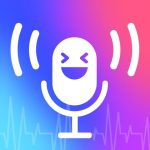 This voice processing app is suitable for fun pranks and entertainment. It will change your voice beyond recognition in a few moments.
You can put a funny sound on the alarm clock and scare your friends. All sounds can be changed repeatedly. For social networking videos, you can change the tone and pitch.
Child and adult funny voice modes are available. You can even edit the singing. Music effects such as echo and others are available.
The app is constantly updating features. Sounds are recorded, transmitted, and saved in high quality. Sound effects are marked with icons. Filters that you like can be added to your favorites. The tool is also available offline.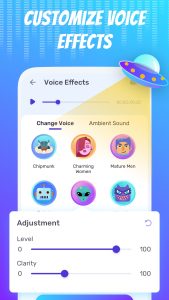 You may also like: 13 Best Mouth Talking Apps for Android & iOS
Voicer Celebrity Voice Changer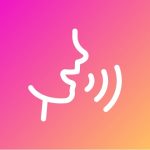 The app is designed to change voices. The most popular feature is replacing the user's voice with that of a celebrity. This is suitable for funny pranks.
You can share the result on social networks to gather lots of comments and likes. Your friends will be surprised. There are many various filters: helium effect, robot, woman, man, child, singer, or actor.
The voice is recorded in high quality. You can make phone calls and voice alerts with filters for every taste. Chorus, karaoke, and theater effects can be superimposed on altered audio recordings.
Sounds recorded from the microphone are edited to the appropriate quality. Using the platform is intuitively easy. Any sound filters can be found by searching. The app is constantly updated.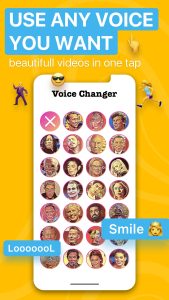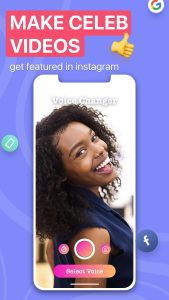 Voice Changer with Effects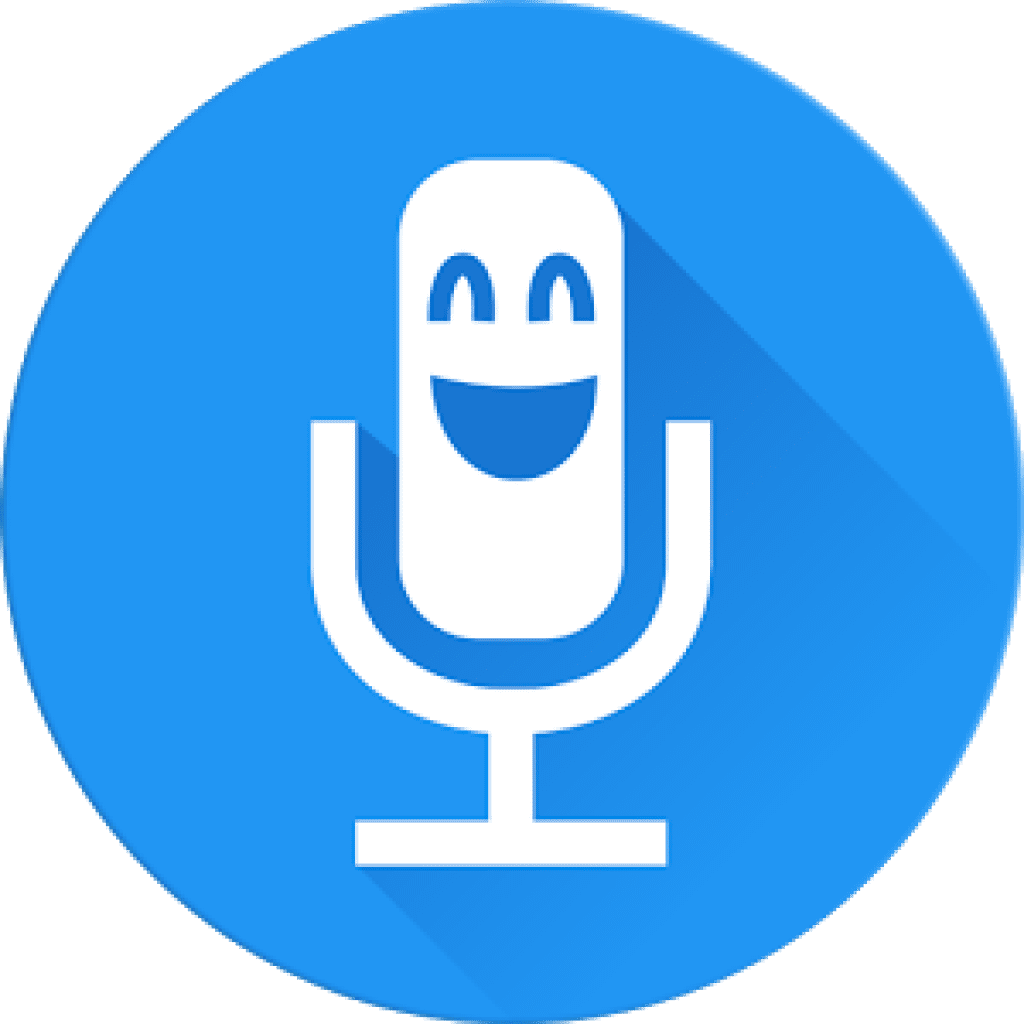 Voice changer with effects is an entertainment software for Android developed by Sergio Viudes. Change the recording of your own voice and share the results with your friends!
Capabilities
This utility is a voice modifier with integrated impacts. The user just needs to pronounce certain phrases or sing a famous song, and the utility will change the voice up to un-recognizability.
Speak as Darth Vader, sing the serenade with the robot's voice, diabolically scream, read the message with the alien's accent, squeak as a small creature – all this is possible thanks to this compact program.
The total number of filters does not exceed 23, but this is enough for cheering yourself and your loved ones. Received records can be stored in the internal memory of the device, as well as shared in social networks.
All effects change the voice quite qualitatively and are distributed free of charge. The only drawback of the program is the presence of built-in advertising banners, which does not interfere with the recording.
Interface
The main menu has a concise design, which contains a minimum number of graphic elements. Immediately after starting the utility, a menu appears for starting the recording.
The resulting voice track can be subject to change filters, which are displayed as small shortcuts with effects descriptions. Each filter can be listened with the appropriate key. Additional features include: setting as ringtone and notifications, saving to internal device memory and Share.
The result
Voice changer with effects is a mere tool for modifying the voice in audio recordings, which will appeal to lovers of entertainment and jokes.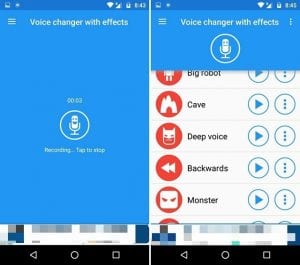 Voice Changer Plus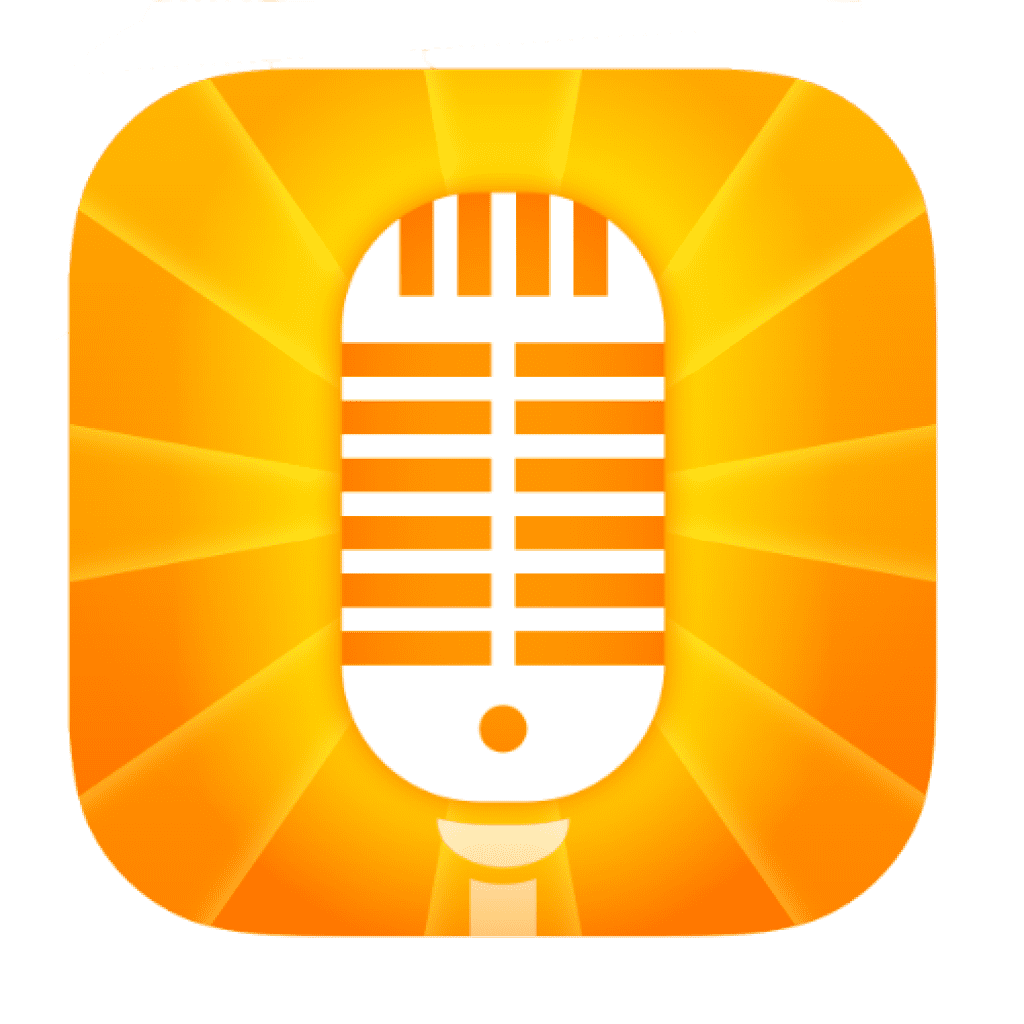 Every person has moments when, well, there is absolutely nothing to do. With someone, this happens more often, with someone less often, but it happens to everyone without exception.
Everyone, in this situation, gets out of the situation in his own way, killing time in one way or another. To do this even with fun, we want to offer you an amusing time killer called Voice changer plus.
Voice Changer Plus will delight with simple design and handy settings, and most importantly the program is distributed free of charge. In addition to the basic functions with transforming the voice, you may employ various background effects that will make the voice unforgettable.
It's sufficient to just touch and voice recording is automatic. In this case, you are able to select quickly the wishful effect from the list.
Main functions:
more than 55 different effects;
you are able to append photos;
creating a ringtone;
work with social networks;
additional effects packages;
comfort design.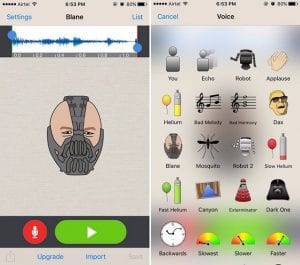 Best Voice Changer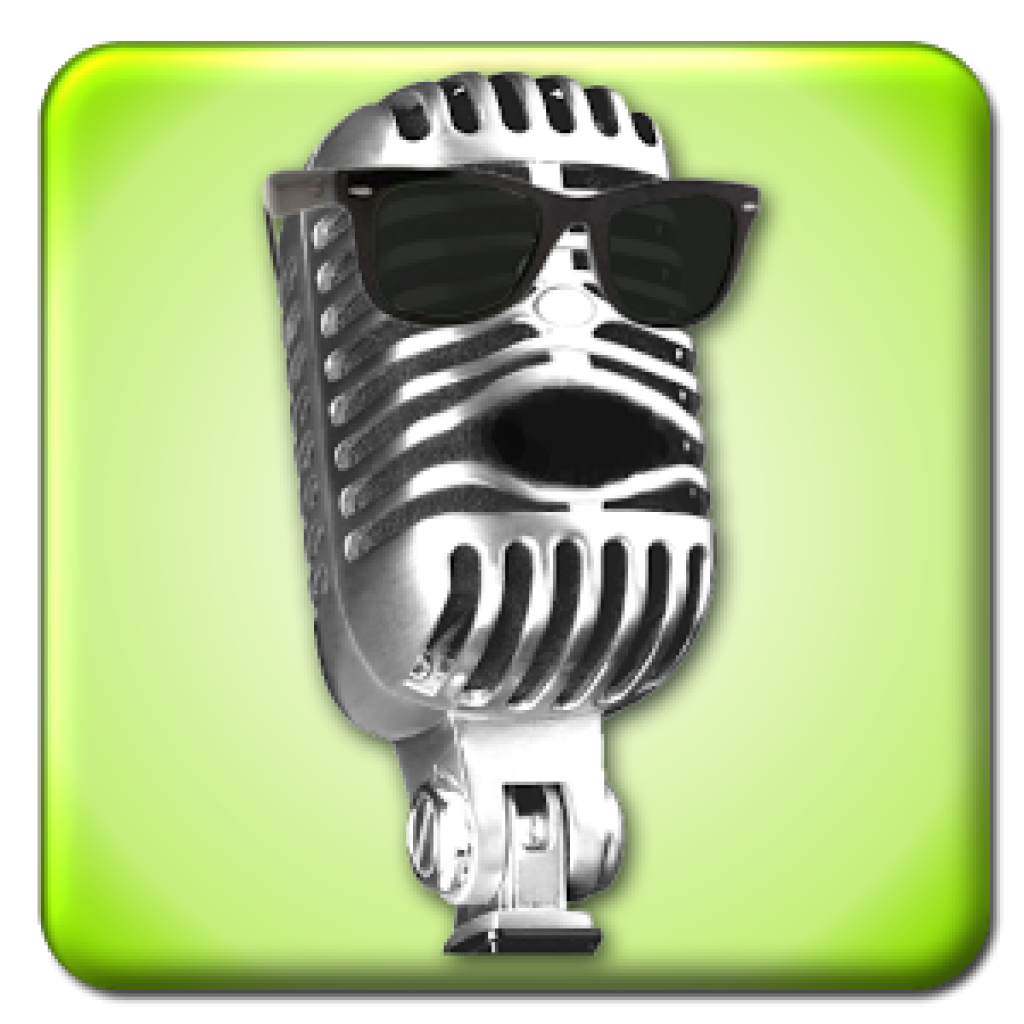 A mere utility that gained popularity in the west and has more than a million downloads. Its functionality is very plain.
After pressing the "Record" button, you may speak your speech into the mic and then listen to the recorded with the overlay of one of several affordable impacts and filters.
It is feasible to keep your favorite option. The capability of making calls is not provided.
The Best Voice Changer program may transform your voice into a different voice: a megaphone, the voice of a chipmunk, the voice of a child, become a robot, a checkpoint, a squeaky voice, a soft or coarse voice of a man and a woman.
There is an ability of supplementation various effects and background sounds: echo, chorus, street, airport, rain, airplane, crowd, battlefield.
A very useful function is to modify the speed of speech. Record your voice on the recorder, and then transform it to your taste. In additives to the listed effects and sounds, you may discover more voices available in the Best Voice Changer program.
The utility operates quickly, which is also worthy of attention. The saved voice is saved in WAV format. Therefore, all the same, it is worth free download Best Voice Changer.
[wpsm_column size="one-half"][wpsm_pros title="PROS:"]
large selection of votes;
saving the result;
change in speech speed.
[/wpsm_pros][/wpsm_column][wpsm_column size="one-half" position="last"][wpsm_cons title="CONS:"]
no change in the recording of the telephone voice.
[/wpsm_cons][/wpsm_column]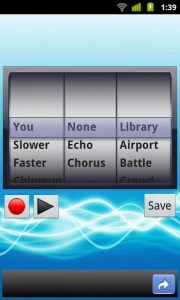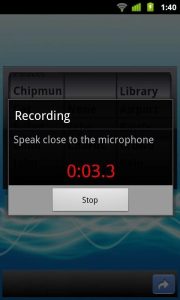 You may also like: 9 Best Scream Voice Changer Apps (Android & iPhone)
Voice Changer – Sound Effects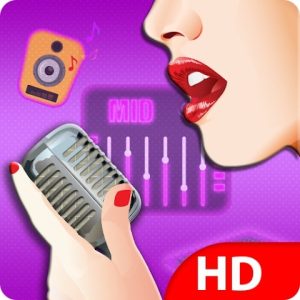 An app that changes the voice on video. All recordings are done in proper quality. More than twenty-five sound effects are available.
The app is intuitively easy to use. Downloaded media files are also suitable for editing. Available effects include a variety of adult and child voices.
Many ways to arrange a prank. It is possible to adjust file parameters and share the results unlimitedly. When an effect is applied to a voice, there is an option to enhance the vocals. 
There are pitch and basic tone adjustments. Different playback speeds are also available. The interface is attractive and logical. All files are sorted into folders.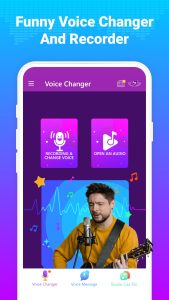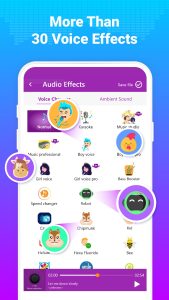 VoiceTooner – Voice changer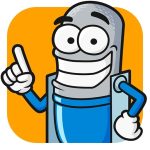 Try this for voice-over videos. Created for entertainment purposes. The updated version has cartoon sounds and a new range of music.
Using the program is intuitively simple. You need to record your speech or singing on the recorder. A certain character on the main screen will start repeating all the words.
Each character has its own sound effect. It is also possible to create a video with multiple effects. It can be shared with friends or posted on social networks.
Nowadays such videos get a lot of likes and views. Try the available effects: helium balls, robots, giants, zombies, aliens, and so on. The app is free to download. The video is saved in decent quality. It is easy to share in messengers and social networks.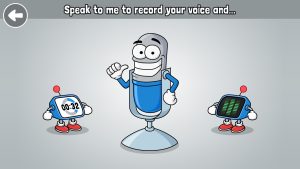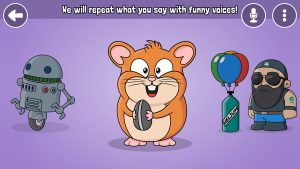 Voice Editor, Sound Effects
This voice editing app is designed for fun pranks. There are a variety of unique characters with which you can set adult and child voices.
It is possible to cut a voice from any file. In this way, unique ringtones are created. You can change your voice to a video in a few seconds. Then post new posts to social networks or send them to friends in messengers.
It is possible to change the format of the sound, change tone, volume levels, and design. There are tools for processing singing.
Using the program is intuitively simple. Users are only limited by their imagination. Content created based on the app is now trending and actively gaining popularity. The voice of the video changes at the snap of a finger.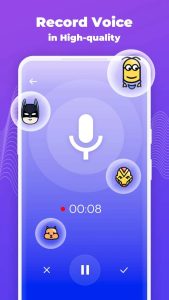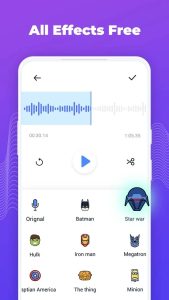 You may also like: 12 Awesome Facetime alternatives for Android
Video Voice Changer Pro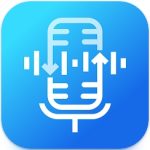 An app for editing the voice on video. You can not only change its duration, but also impose sound effects.
The platform is available for free to download. Different variations of male and female voices are available, as well as fantastic characters.
There are more than fifty effects in total. You can adjust the voice, speed, tone, frequency. Downloaded videos are edited as well. Automatic settings are saved to improve quality.
The result can be posted on social networks and gain positive feedback. The finished videos are sent to family chats to play pranks on loved ones or friends.
Using the app is intuitive and easy. It is free to download and does not take up much memory on your mobile device. Suitable for use by children under the age of six.