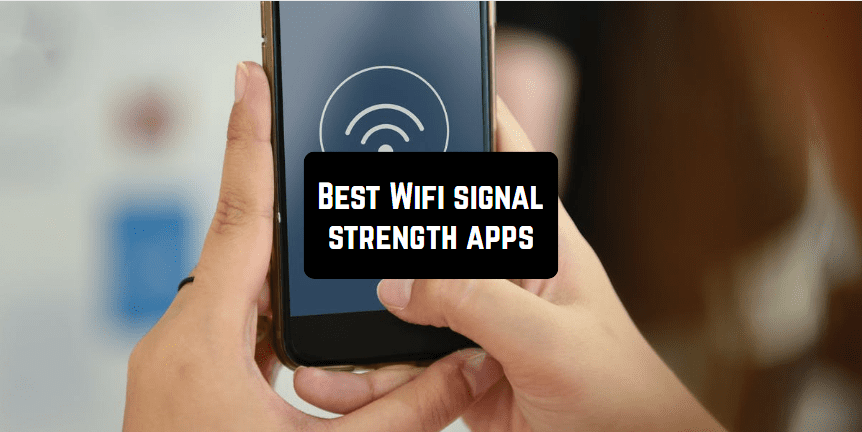 They say good people go to Paradise when they die. Well, it is definitely a lie. Why? Because nowadays Paradise is the place with the fast WiFi connection and not only the good people by far have access to it.
We use our smartphones basically all the time, keeping there out whole life (you are probably reading this now from your smartphone) so it is a disaster when the WiFi connection suddenly goes wrong. Do you think you there is nothing you can do about it? Actually, you can. Or, being more precise, these apps can. Check out this list and get the best WiFi connection – fast.
Wifi Analyzer
One weird fact about the Internet is that it's actually better in developing countries and cheaper. In such advanced technological places like Europe or the United States, you will suddenly discover that connection can be below satisfying level and the payment is unjustifiably expensive.
So you have noticed that your WiFi works slower than usual. First, you need to scan the state of your connection. Press open the app then you will see the round diagrams on the black screen. Diagrams will have different colors because they display different signals. You can see, for example, how good is your neighbor's connection.
Diagrams are always in motion which is logical – signal changes every second. After you figure out how strong your signal is you can proceed to settings. You have an option to scan interval or open network indicator. You can also merge duplicated APs – it will blend BSSID, SSID into one signal. You can choose group mode for the list.
Then you will probably indicate – maybe you should switch to a better route or replace the router. Or you will notice that you're not the only one using your router.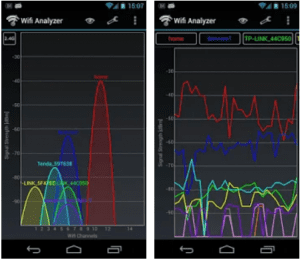 You may also like: 15 Free wifi texting apps for Android & iOS
back to menu ↑
Scany – Network Scanner
Various factors can influence the WiFi signal. You have probably noticed before, that some places have better WiFi. Well, it is explained by the purpose of it. In offices of large-scale enterprises, the signal is usually quite strong since it is a producing necessity. In cafes or shopping malls signal can be weaker since many people are using it simultaneously and there are too many misleading objects.
Well, this app is for corporate LAN and Wi-Fi hotspot owners, network administrators, security specialists, developers and everyone who needs to diagnose and resolve network issues and easily do everyday network tasks. It will find and show you all the devices connected to your network., along with their names, addresses, and manufacturers.
How else you can analyze your network? You can check ping, trace, WHOIS, DNS lookup, port scanner – all that you can do using the app. The list of network names being detected: Bonjour, DNS, Mac OS X and iOS, NetBIOS, Samba, LLNMR, and Windows PC, NetBIOS, Samba, LLNMR, and Windows PC.
Scany will detect your network path bottlenecks and packet loss visualization and will fix it. Besides, it can reverse hostnames, AS numbers and countries info in order to fix network errors. Just try not to get lost when you are opening the app. It looks elaborate, it carries a number of functions and it's better to be used by a person who understands something in wireless networks.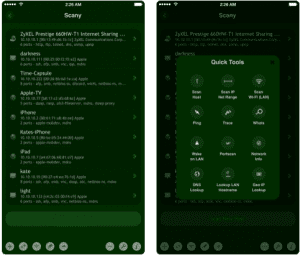 back to menu ↑
Fing
Maybe, 20 or 30 years ago the Internet was the huge wire going underground. All the local networks were provided by it, through a dense system. Nowadays "the air" is more popular. We just have one router at our houses/offices connected to that underground wire and sending signals to all the devices. And that became a new possibility for people to take that signal when they're not allowed to.
Besides, the bad WiFi signal sometimes means that your network has been hacked. Use Fing to analyze your Internet connection problems and fix them. More than 35 million people have already appreciated it. You can do speed tests it you're not satisfied with how fast is your network.
Because of the precise recognition of IP address, MAC address, device name, model, vendor and manufacturer, the app will provide you with information about which devices are currently using your network. Maybe, some of them you can unplug and thus fasten your WiFi signal. Automate network speed tests and get reports for benchmarking ISP performance.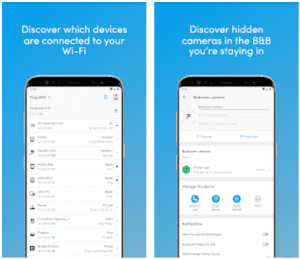 back to menu ↑
Wifi Manager
We all depend on WiFi connection nowadays. Moreover, it is crucial for our daily work. We need to make online calls, use email, browse through the web sites… And we cannot wait for hours for it to upload. Worse, if your connection is unstable.
To prevent all these fails, use this WiFi Manager. There is a built-in channel radar to improve connection quality. Thus you can discover the best working networks around you and plug into the best one. What is more, slow working WiFi may occur from apps on your phone which take most of the speed. WiFi manager will scan your device to detect if there are some applications which are too heavy and shut them down.
There are 2 modes that you can choose from: Auto Booster and Priority Order. The first one helps you to get auto connected to the best available network that is in range. It allows you to switch easily between the available connections. The latter helps you in easy handling of multiple WiFi connections.
According to data usage, this app maintains a log of your daily, weekly & monthly data usage in both list or graphical format. Moreover, you can use the Scheduler to set the time when to switch on and off to your network. If you need it, you can track your connection's Public and Private IP addresses, MAC address, DNS-1, DNS-2, Gateway IP, Proxy IP, Proxy Post & Country Code.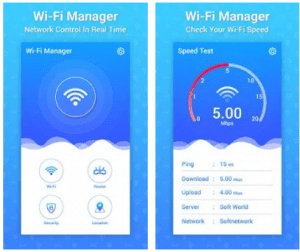 back to menu ↑
WiFi Manager – Scan Wi-Fi
It is a question if the occurrence of 5G will replace traditional WiFi network for our smartphones. Some people claim it is unhealthy because of the waves which will occur along with 5G. However, we see that in Japan they successfully use 5G and no one has died so far. But still – WiFi is our main Internet connection and yet irreplaceable.
Detect which WiFi signals are around you and analyze them. The app will perform a detailed analysis of a network you choose, showing SSID, BSSID and so on. Use tools to stable the connection with your current WiFi. In addition, you can use this app to provide a WiFi signal for your friends.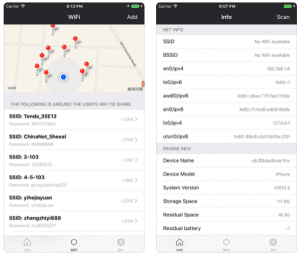 back to menu ↑
Wifi Analyzer- Home & Office Wifi Security
Now that our networks contain a lot of crucial data it is important to keep it safe and sound. This app has been proven as one of the best ones on the whole Google Play. The tools that it uses in work are various and effective. Basically, it does what any decent WiFi Analyzer should do – it keeps your connection on track.
In other words, it checks the signal info, blocks unwanted connections, diagnoses your Wireless Speed and strength, as well as map your network on a professional graph visually showing the activity on your wireless network.
Unlike some apps where you really need to know some stuff, this particular app is convenient to use for any person. Because everyone wants good WiFi. The app checks the WiFi speed (the problem of slow working maybe your device, not the connection itself), displays public IP address, DHCP, and DHCP lease to make improvements.
Another option will show you all the connection which are currently happening through your device. It displays established foreign connections, listening to IP interfaces, and closed connections. You can use a port scan or Blacklist IP checker to scan your IP.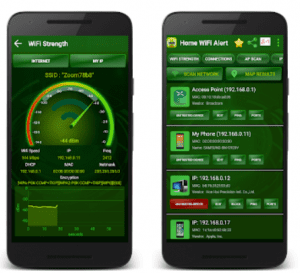 back to menu ↑
IT Tools – Network Analyzer
Let's imagine you are watching an interesting movie in high res but your WiFi slows down to the stage when you have to make pauses to watch it. Or you are listening to the music you really like, but because of the signal gaps, it mutes constantly.
This app will help you to understand what is going on with your Internet connection and it is understandable for all level users. Standard network diagnostic tools such as ping, traceroute, DNS lookup, and whois are also provided. You can check your network on plugged Bonjour/mDNS services, including all extra data stored in the TXT record. Another option is to check the system for UPnP devices, including sub-devices and services.
The app provides details of the network hops to the destination host. You can choose yourself which interface you would like to use. Regarding DNS, the app will provide you with data if someone crashed into your network, if yes, it detects when an IP address is entered and looks up the reverse PTR record.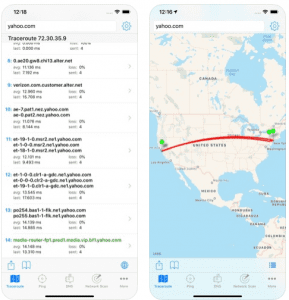 back to menu ↑
WiFi Data – Signal Analyzer
Imagining a smartphone without WIFi nowadays is like imagining a bird without wings. Many functions of it work only with a WiFi connection. For example, Samsung VR app, Oculus, works only if your phone is connected to a network and that network must be fast.
So in case if you want to check all the data from the WiFi device, this app will be your assistant. It will display the list of networks that surround you and you also will be able to see them in colorful diagrams (like in the 1st app). It will diagnose connection status and signal strength. Using a WiFi connection manager fixes the wholes in your smartphone's connection.
Access point list tab will help you to stay aware of all the better networks to connect your device to. Every row describes one network with its name, channel, security and signal strength.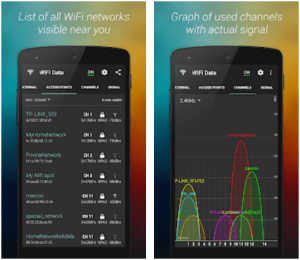 back to menu ↑
Network Signal Info
This app will give you precise and detailed information on the network you are currently using. It works both for WiFi and mobile connection. You will receive quick visual information on how strong your signal is. There are usually 3 categories: weakly, good and excellent. Graphically in the form of mostly "only" three to five bars on the Mobile Radio and three to five "waves" by a WiFi connection.
All the necessary info about the connection data and network details will be listed below the speed indicator. Thus you can find out what is the problem of your WiFi connection and try to fix it. You will also find info about the radio towers nearby. And once again, the uniqueness of this app is that it works both for WiFi and mobile signals.
However, for those people who are not good at informational technologies, this app will be not easy to use.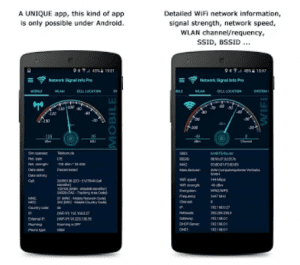 back to menu ↑
WiFi Router Master
Tired of going around your house hoping to find the best location for strong WiFi connection? Use this app to find out, where you can get the strongest signal and how you can improve it. Use ping to make an Internet speed test, access your router remotely using WiFi Router Master function.
Track those who else uses your router. See how many devices are connected. Get a detailed description of each of them. The app analyzes the networks to provide reliable information on WiFi network optimization to solve interference in signals. You can enhance the connection speed in configurations.
Along with all these functions, the app has a nice interface which looks cute and understandable. So here even unadvanced users will be able to solve their problems with WiFi connection.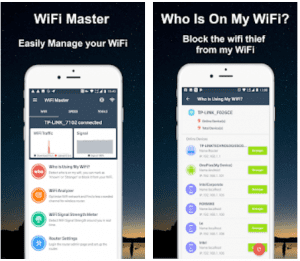 back to menu ↑
WiFi Monitor
It is possible to notice the fact that most of the WiFi signal straighteners are for Android. No clear idea why, but probably the reason is that iOS is a more closed operating system and it is harder to change its configurations. Anyway, there is plenty of choices for Android owners then!
Stay fully informed about the network that you are using, with all its SSID's and BBID's, use router manufacturer to boost the signal, but before connecting check your hotspot security options. The app tracks the dynamics of the signal and improves it. However, we all know that the stronger the signal of your WiFi router – the better is the connection. There is not much you can do if the signal is weak.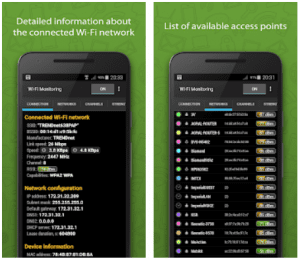 You may also like: 10 Best WiFi booster apps for Android