Since its rise in 2020, the popularity of 3D pics continues to grow. However, it might seem difficult to take this kind of pics with a regular smartphone. Luckily, the app developers have everything covered.
There are lots of free 3D photo apps for Android & iOS that lets you take mesmerizing pics without much effort. These apps come with multiple features that will pop up your pics and some of them even enable you to record vids in 3D!
In case you're a fan of panoramic shots, check out these best panoramic camera apps.
Here's the list of the best free apps in that category you should try. Take a look!
Phogy 3D Camera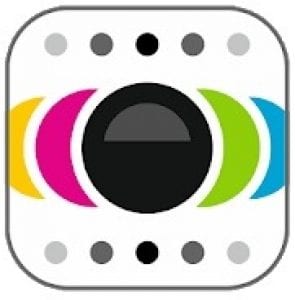 Phogy is a live 3d cam that enables you to take innovative shots.
Shortly speaking, this app grants you to make 3D pics that will move as you move your phone.
Therewith, you may not only use the app to take new shots but turn your old pics into 3D ones. Plus, the app works with your front cam as well so you'll be able to take bomb selfies.
In addition to that, the app also enables you to come up with moving live pics that you can save as GIFs, mp4 vids, or use as wallpaper for your lock screen. Herewith, you get to mark the movable parts by yourself and add various effects to them. You may also add captures, 3D frames, and other decor.
Speaking of how to take a shot, it won't take much effort from you. All you need is to open the built-in cam, aim your target and then move your mobile right and left while still aiming at the target.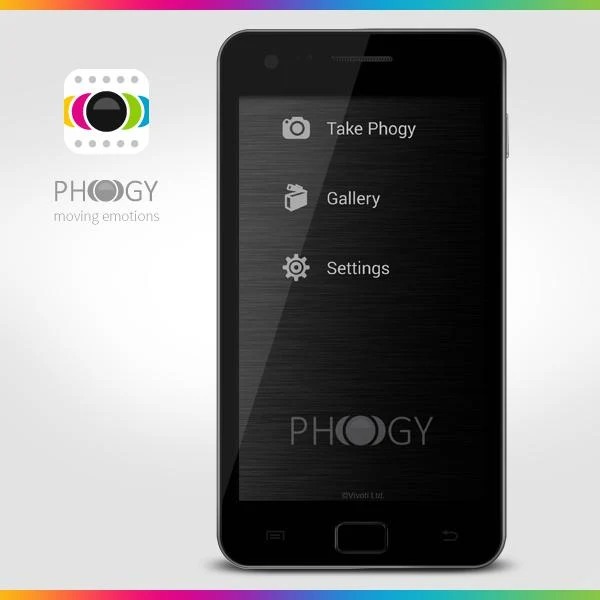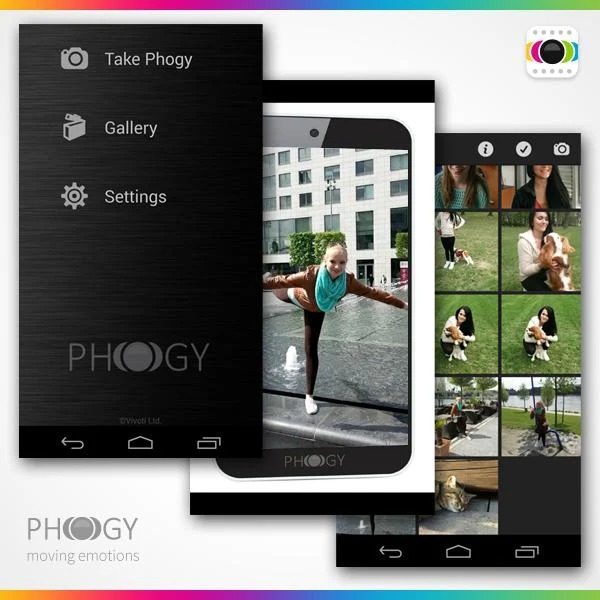 Plus, the app lets you take an unlimited number of shots which is great. Once it's done, you may share the outcomes on your SM, via email, or right on the thematic marketplaces.

You may also like: 9 Best Apps to Enhance Photo Quality on Android & iOS
PopPic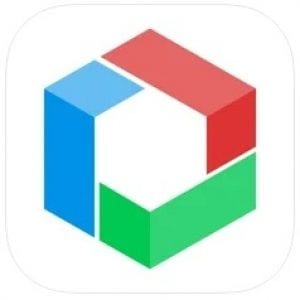 PopPic is an app you can take 3D pics with.
Along with its sister apps, this one uses your device cam to take tridimensional pics. What it does is it captures more depth so your pics won't look flat.
When the pic is taken you can view it in 3D — just rotate your device to see it from a different angle. Plus, you can tilt your phone towards and a way to zoom the object in and out.
The app also enables you to edit your pics by adding more depth and alter the focus. Besides, you can add various captures, items, and decor to make the pics more authentic.
Their app also has a versatile compilation of presets you can use and adjust by your will. You can even load pre-made pics and view them in 3D.
Another cool thing about this app is the ability to make live pics and use them for your lock screen. Therewith, you may select the moving areas and save them as GIFs.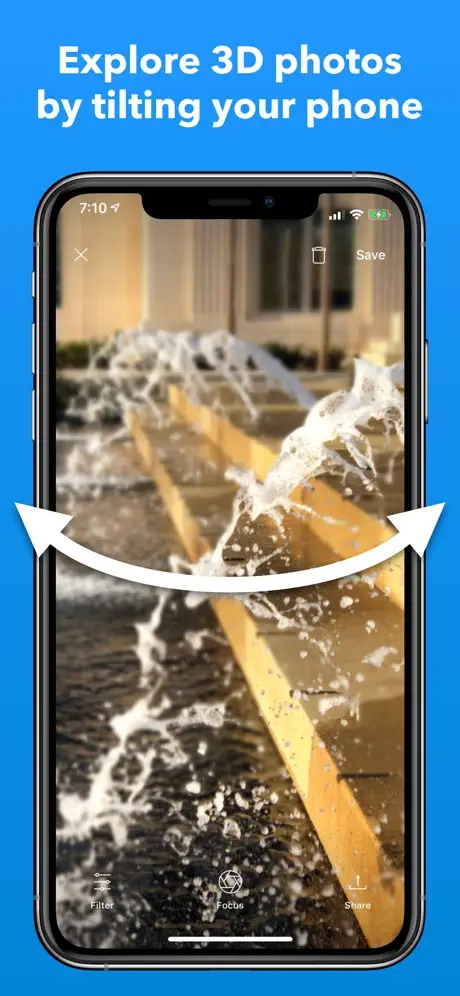 Once you're fully done you can export the pics to your SM, marketplace, or just share with your mates. The app runs on sub packs but there are lots of features you can use for free.

MakeIt3D – 3D Camera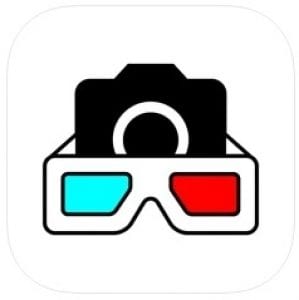 As you may guess by the title, MakeIt3D is a 3D cam app that lets you making tridimensional pics.
This app comes with easy UI so you can quickly take 3D pics or turn old fat shots into 3D ones. Let's start by figuring out how to use it.
Firstly, you'll need to take two pics using the built-in cam to choose two pics from your gallery. Then, you'll need to set the 3D stereo with arrow pins. Next, pick the 3D stereo mode and that's it — the app will cope with the rest.
Herewith, you'll be able to adjust the outcome pic if you don't like the auto result. Plus, there are several stereo modes you can choose from — gray, colored, wiggle, and more. The only thing you need to know about this app is that you need actual 3D glasses to see the stereogram.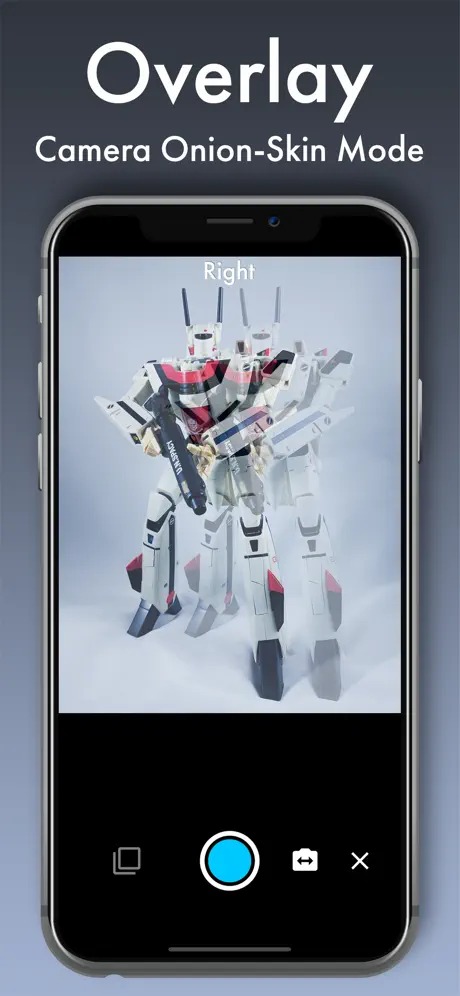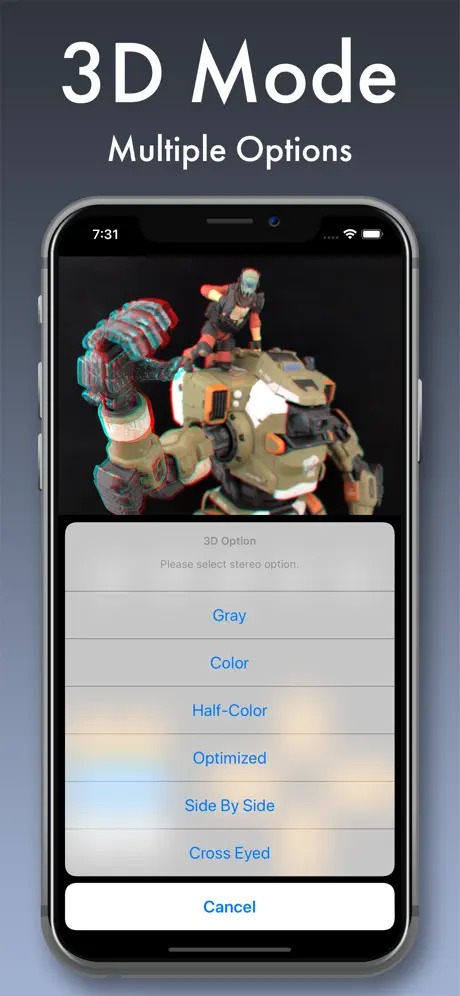 Without the glasses, the pic may look odd to you — like it only has a glitch filter on and that's it. Therewith, all the pics are being saved in HQ and full resolution so no worries about that. You can also save the pic in several formats according to how you're planning to use it.


FILM3D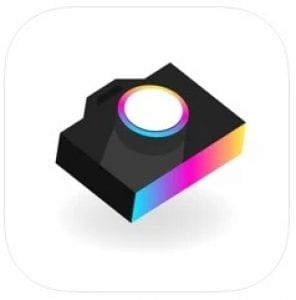 FILM3D is an app that will add an extra dimention to your pics.
The main goal of this app is to let you take creative pics that look authentic and unique. This app runs on smart photo techs that can cope with turning your mobile's cam into a fully-powered 3D cam.
Along with its sister apps, this one grants you to rather make 3D shots with a built-in cam or edit your pre-made pics.
The process of taking a pic takes a second and you can apply various overlays and filters while shooting to see how it will look. The app covers a massive compilation of pro-crafted effects that may bring different moods to your pics.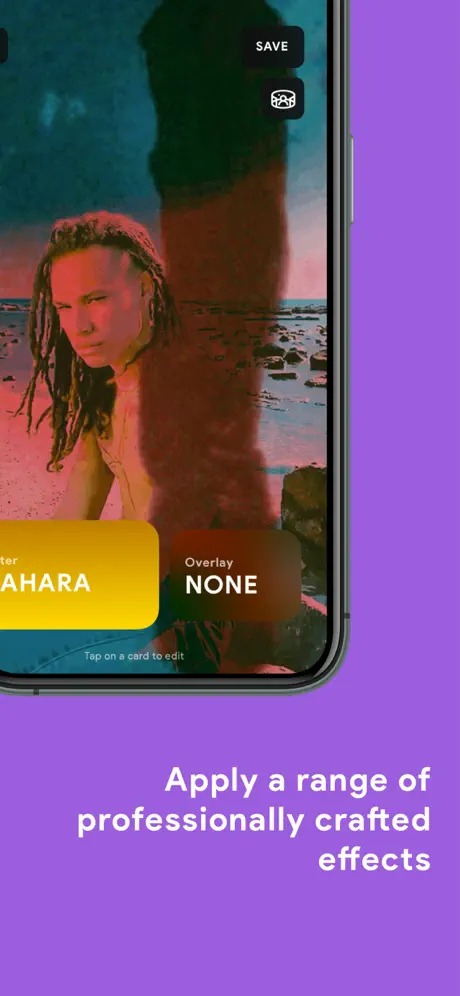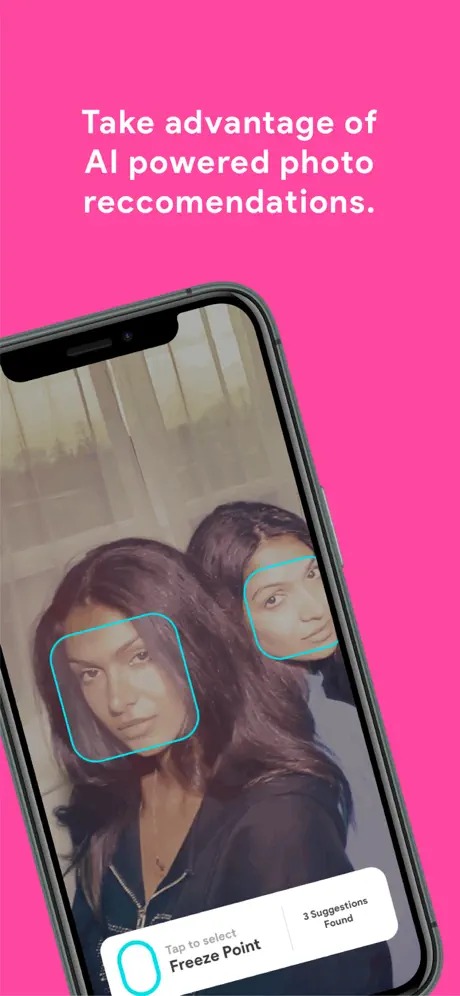 Plus, the app has an AI model that can recommend to you how to make your pics better. You can also add overlays, captures, and other fun stuff. Once you pic is ready you can export it right on your SM or other platforms. You can also store it right in the app to not clutter your phone too much.

Parallax: 3D Photo Editor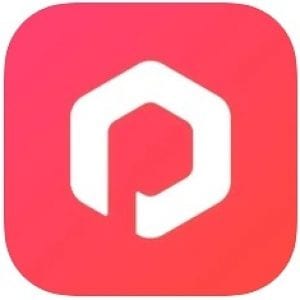 Parallax is an app that can cope with taking 3D pics and recording 3D videos.
The main goal of this app is to help you come up with unique pics that will pop up your SM accs. Plus, along with taking pics and vids the app also grants you to turn your old pics into 3D ones with just one tap.
Once the auto part is done you can switch the direction of the 3D, blur the bg and strengthen the depth even more If needed.
You can also regulate the amplitude decrease of the motion. Speaking of how to take 3D pics and vids from scratch, the app has a built-in cam with 4 capturing modes.
Therewith, you can experiment with the manual mode and play with directions, shot diagonally, and all that. You can also adjust the length of the 3D effect, add grain, blur, and more.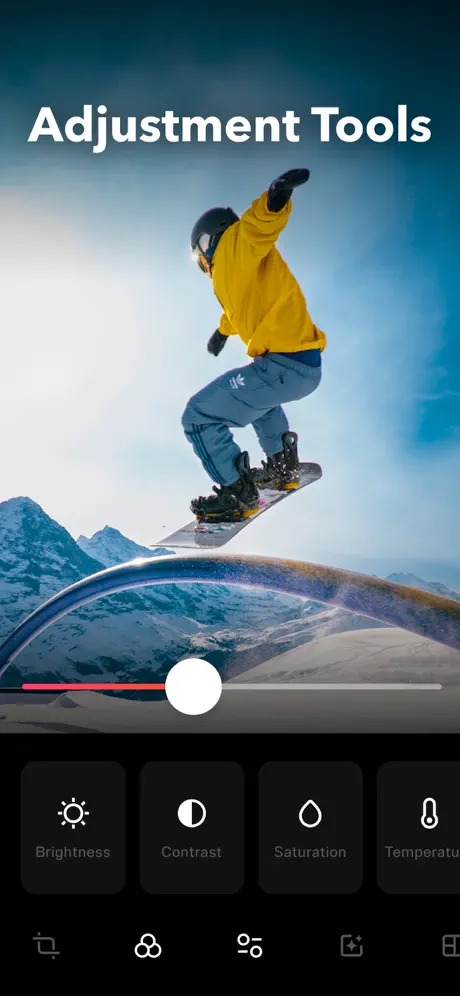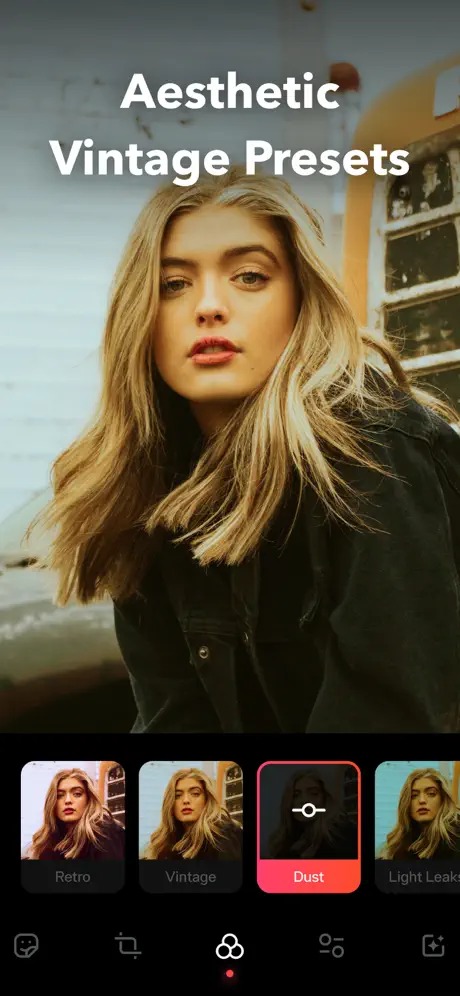 The same goes with vids — you get to use the same cam and modes. Once it's done, you can edit the pics by adding more effects and captures. There's also a huge compilation of overlays and glares you can use. All the pics can be saved in high resolution and shared right from the app.

You may also like: 11 Free Glitch Effect Apps for Android & iOS
Focos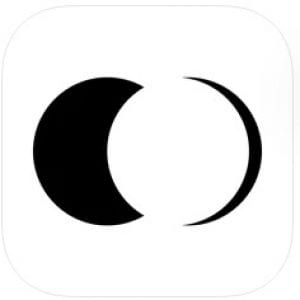 Focos is an app that will add depth to your pics. This is an app that takes high-tech photography features right on your phone.
The app comes with a huge compilation of features that may seem a bit extra at the first sight but the UI is simple and you'll quickly figure out how everything works. You can rather take pics with a built-in cam or alter pre-made ones.
Once the pic is done you can play with the focus and blur some areas on your pic. Plus, the app has a bunch of effects that imitate the lenses of pro cams and lots of boking effects as well. You can also stick with an auto edit mode or adjust the depth and the grain for the shots.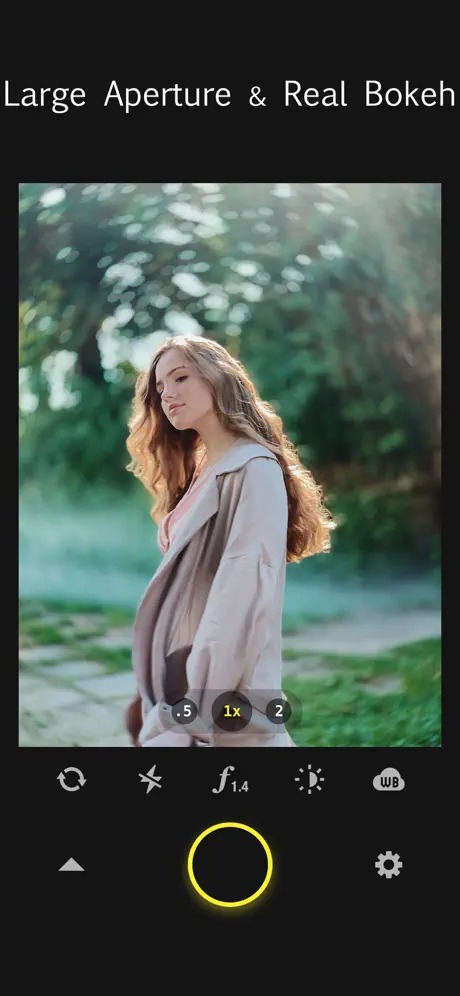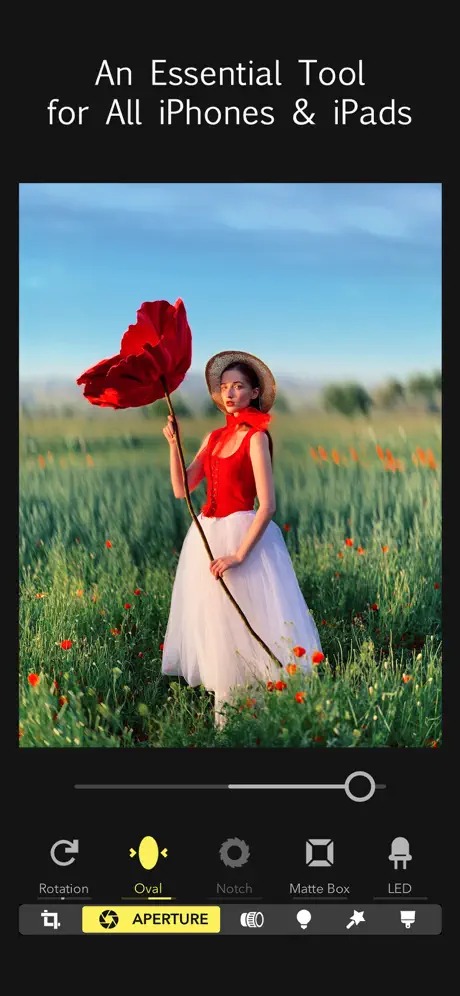 Additionally, you may regulate the depth areas on your pics and add more lights in your 3D space. You can also add colorful glares, settle the brightness, and all that. Once you're done you can save the pic in high resolution and export it wherever you want.

Loopsie – 3D Photo Editor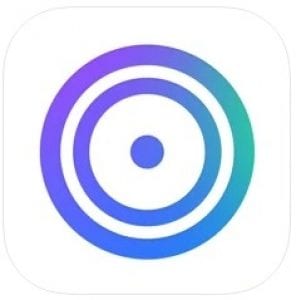 And lastly, Loopsie is an app that empowers you to make tridimensional pics and make creative vids.
This app runs on a solid 3D cam that lets you take stunning shots and record vids in high resolution.
Plus, the app has a stabilization tool that will save you from the pics and vids ruined by shaking hands. Plus, the app works with your front cam as well so you'll be able to take selfies as well.
Although it might seem that the app is overloaded with features the interface is user-friendly and it's easy to navigate. You can also try various shooting modes such as repeat loop, bounce one, and all that. Besides, you can make breathtaking live pics that can be used as wallpaper from your devices.
Therewith, you can draw with your finger to mark the parts of the vid that will be animated. You may also add some captures, effects, glares, and more if needed.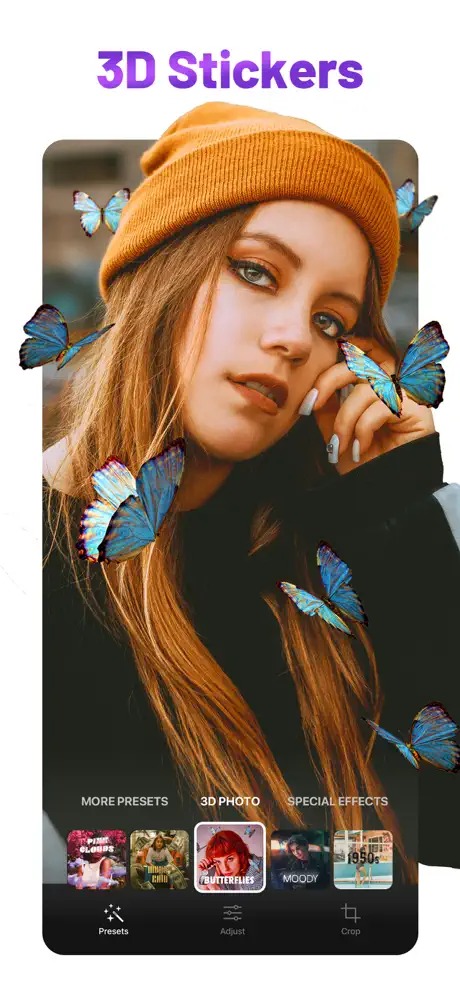 Then, you can export your work as an mp4 vids with bg music. Plus, you can save the results in various formats according to how you're planning to use them. You can also share the pics in HQ right from the app.


Movepic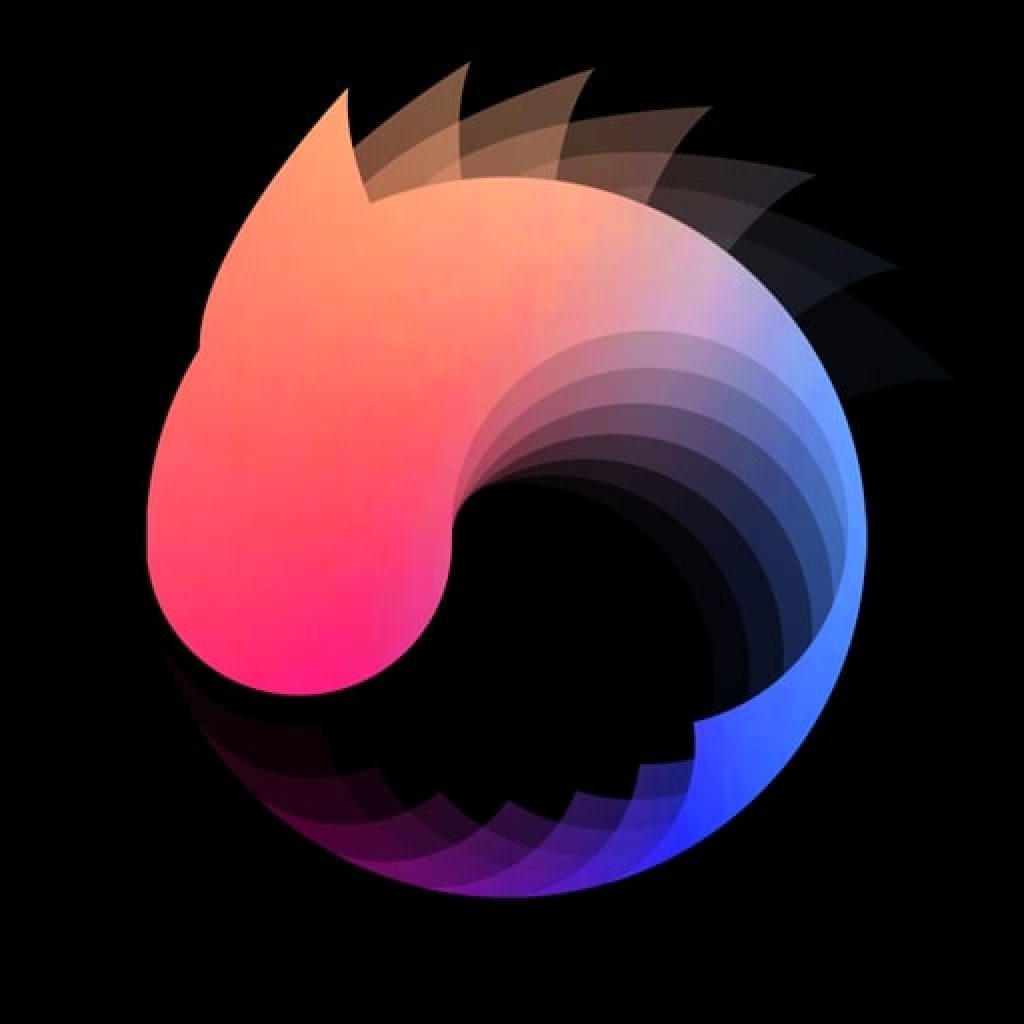 Be transported to a bright and uncharted world with the Movepic: 3D Photo Motion Maker mobile app. Here the laws of gravity do not work and your imagination is limitless.
The app is created for all lovers of photo art without exception. Enjoy the incredible special effects, and create your own works of art for free. Working on image editing does not require a lot of time.
This modern photo editor will give you the pleasure of daily work. Add lively animations and vivid effects. Create a unique collage that will be a valuable gift for family and friends.
You can use ordinary photos to create full-fledged clips. It offers handy layouts on all kinds of subjects: a romantic evening, a friendly relationship, and a sci-fi action movie.
The animation will allow you to reveal the essence of the photos on a larger scale and add a little real magic. Use different transitions to make the clip harmonious.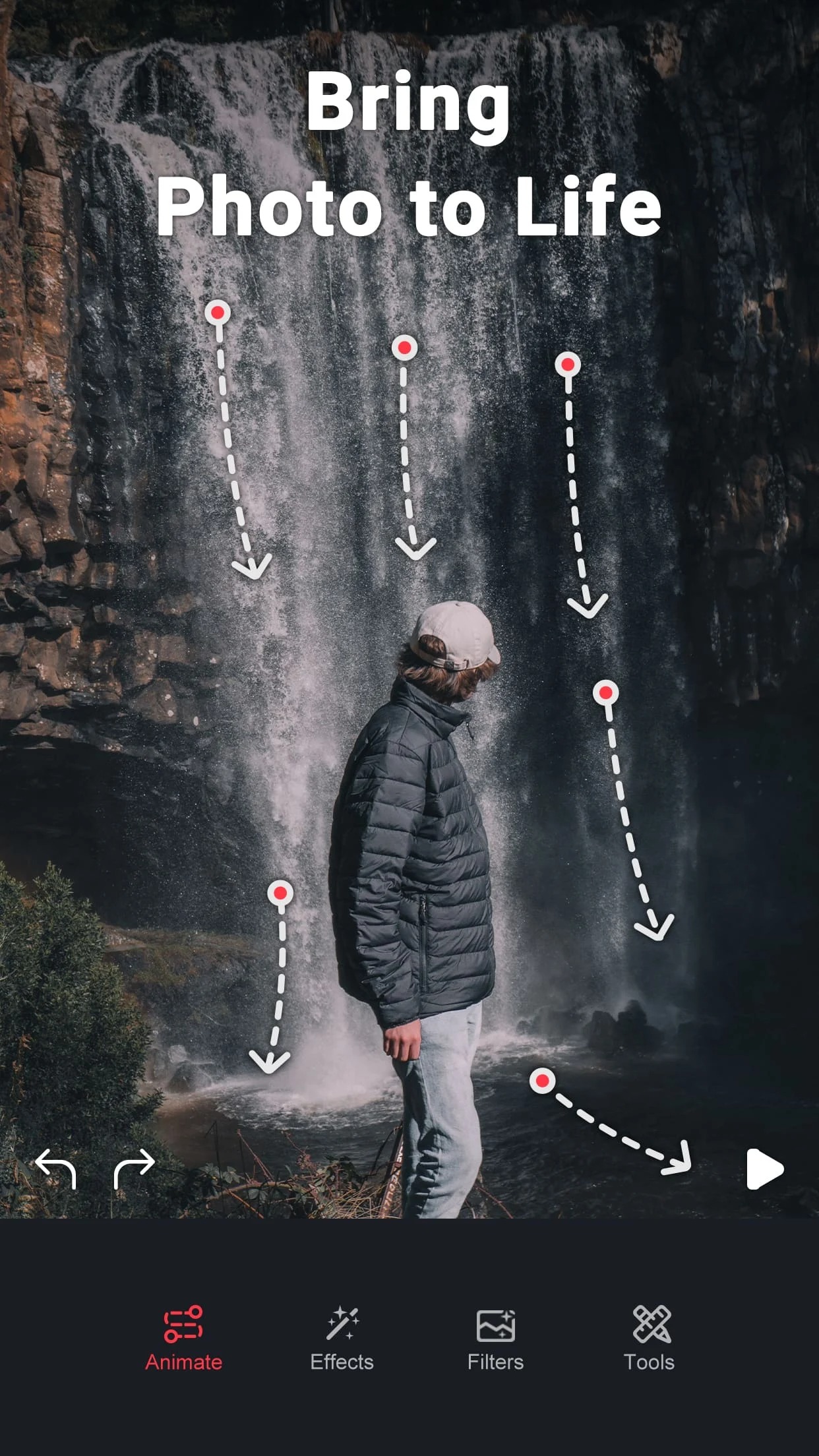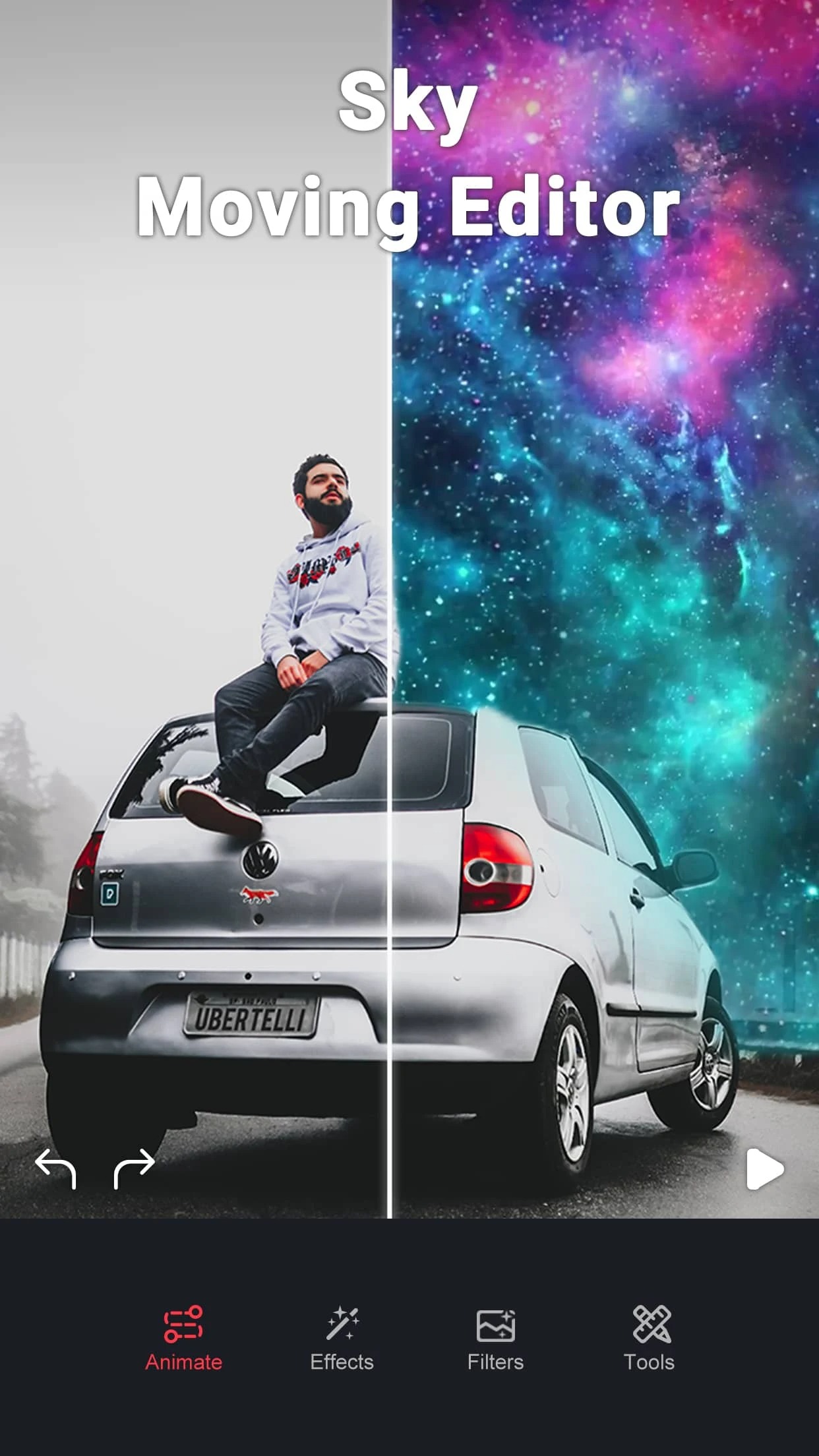 Use the necessary effects to get the right emotional background. You don't need any extra devices or apps to use Movepic fully.

You may also like: 11 Free Photo Overlay Apps for Android & iOS
Vimage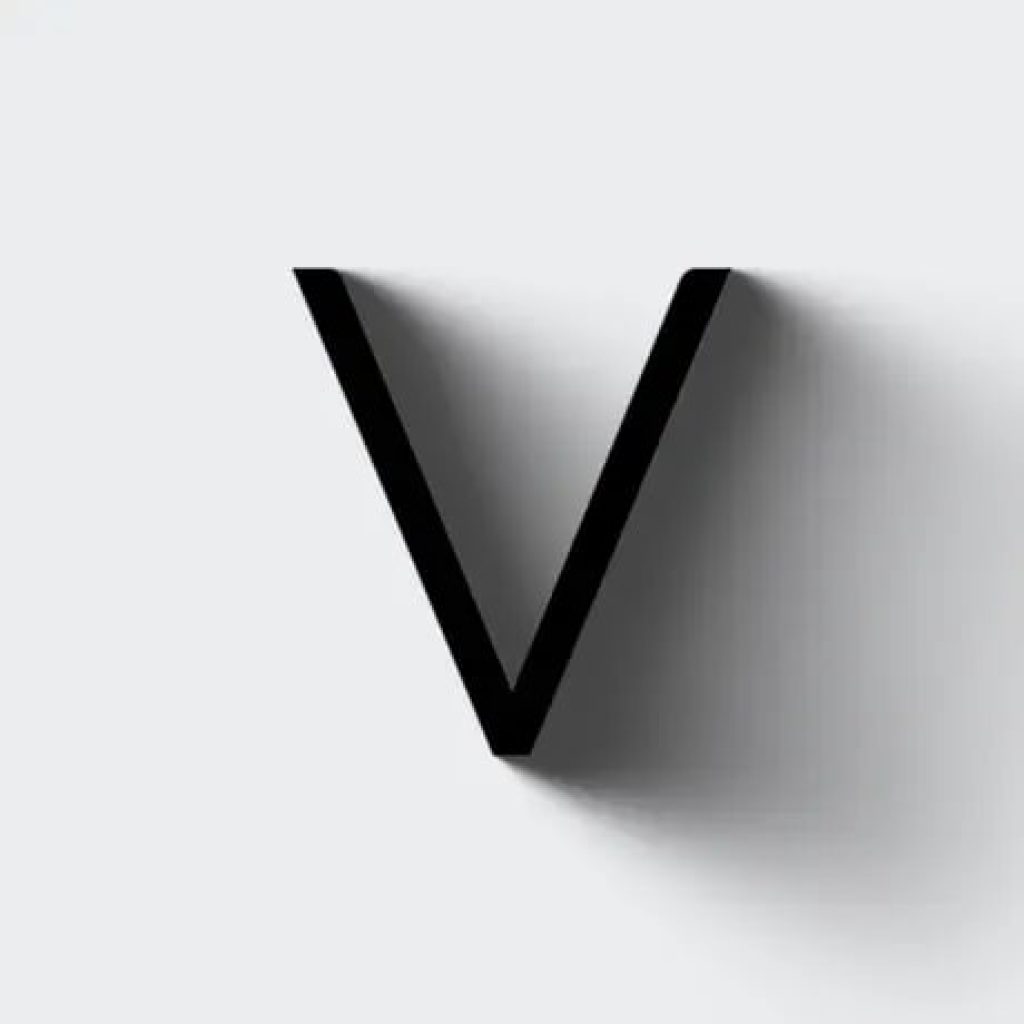 Make fiction a reality with the VIMAGE app. Now your phone will be a full-fledged photo processing studio. You are the artist and creator, so feel free to take the creation of photo masterpieces into your own hands.
A huge number of super features and new options are already waiting for you. No long and tedious operations: the app is based on artificial intelligence and fully automates the process.
Complement your images with animations, add bright colors, and accentuate where it's needed.
All filters and options are freely available. Get ready-made GIF files for your social networking feed. Forget about old exposures – welcome to a world of unique features. Now all the new developments are gathered in one app. Use your camera to get a parallax effect.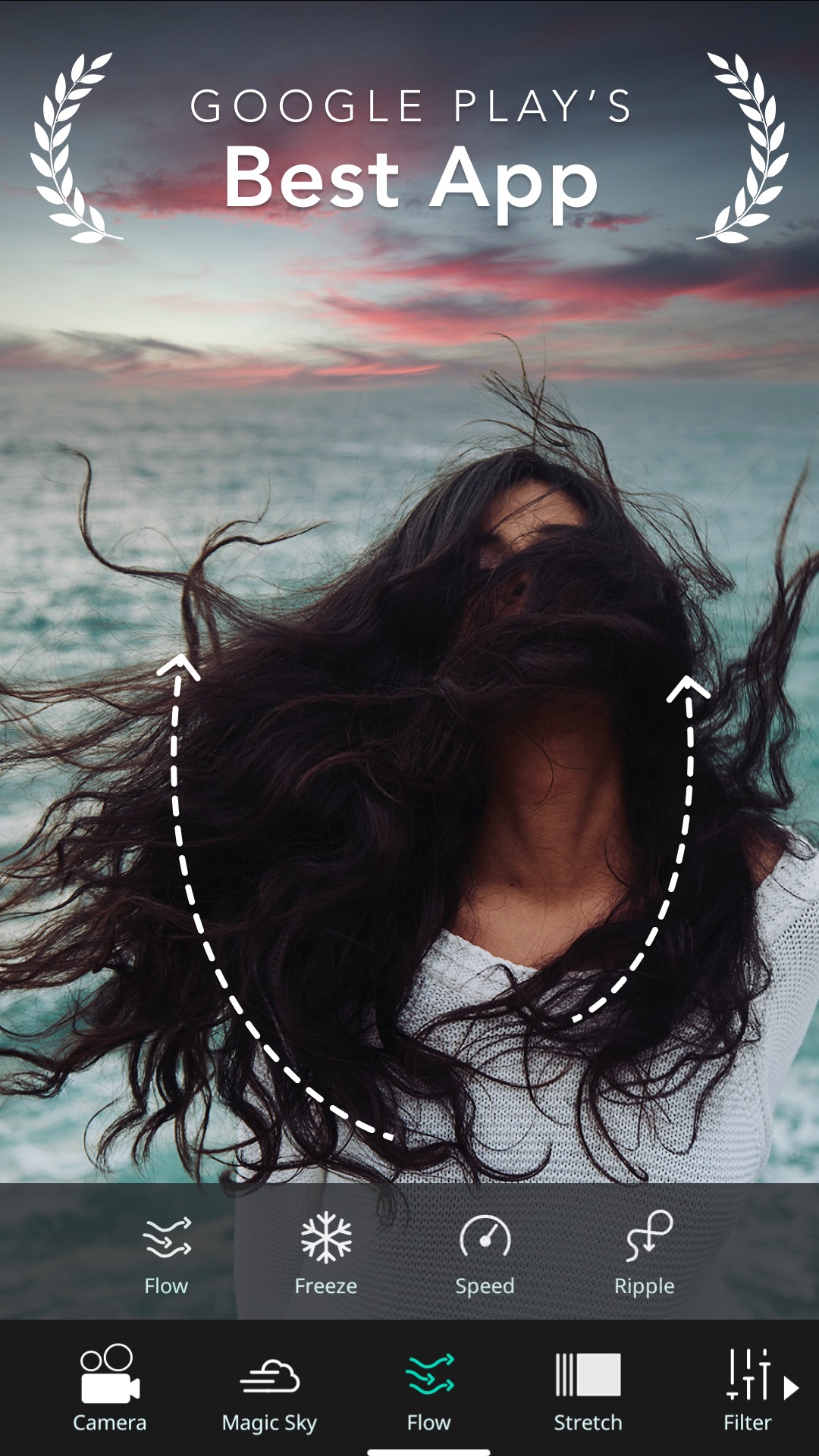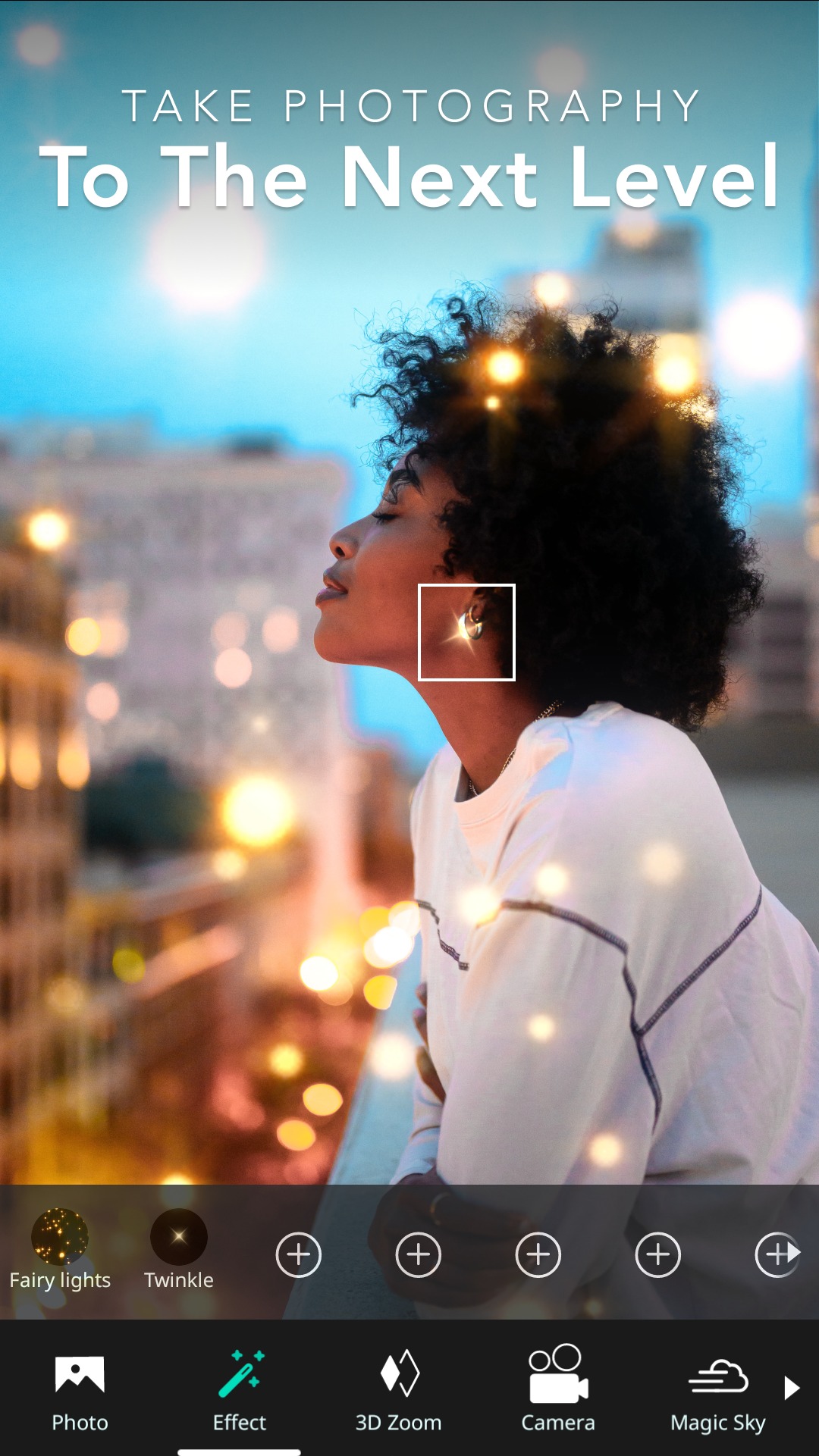 Make a photo unique by using up to 10 different tools at the same time. Make your photo black and white, and use a sepia or noir filter. Join a community of photography enthusiasts with over 10 million members.