Audacity is a popular and high-quality audio editing application. With it, you can import, mix, and combine audio files without any difficulty. But, it is not available for Android users. Not only that, but edits you make are mostly destructive, meaning they are written permanently to the original audio file so it's impossible to recover after making mistakes. It's no wonder that Audacity is the go-to choice for people who just want quick-and-dirty audio work.
Here's a roundup of the best apps like audacity for Android to help you do all your basic and advanced editing on the go.
RingtoneMakerMp3 Editor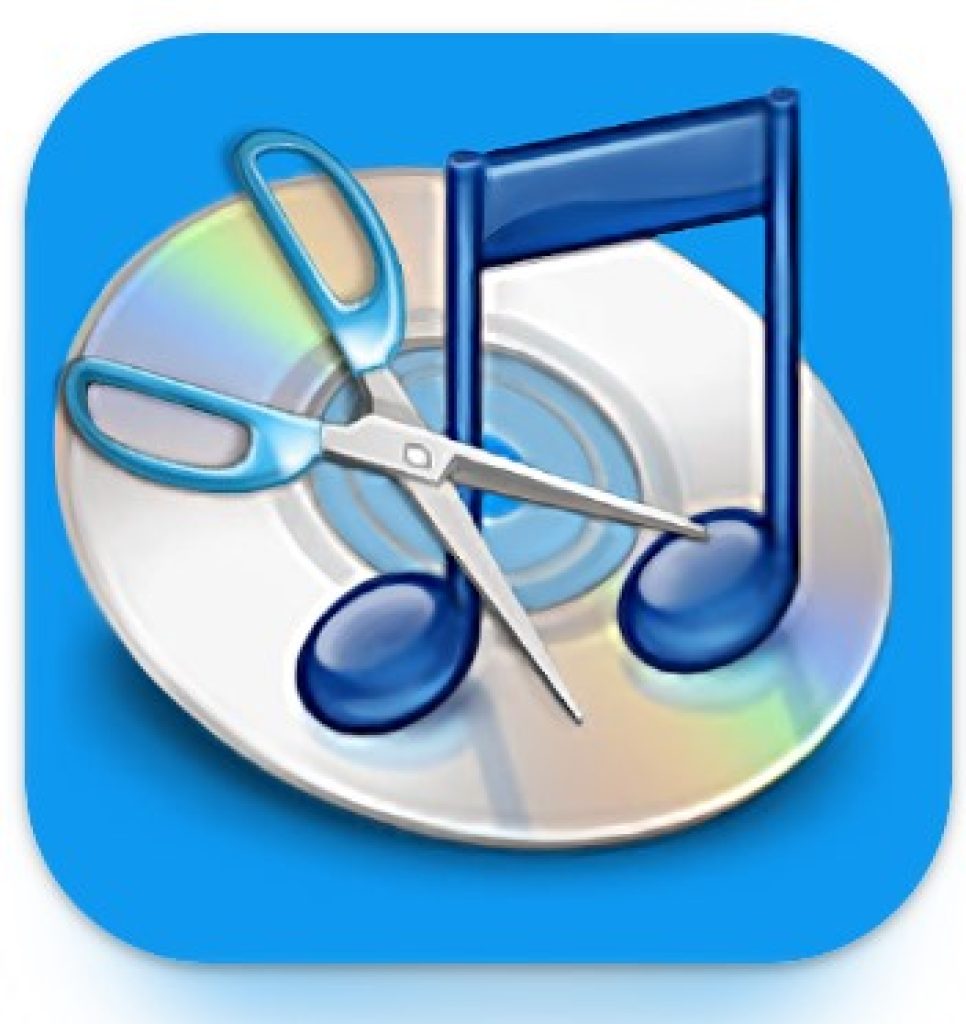 This is another quality program called Ringtone Maker Mp3 Editor from the studio Mobile_V5.
It is designed mainly for trimming tracks, successfully saving them, and then placing them where you want.
In fact, this is a competitor of the above application, which also supports MP3, WAV, AAC, AMR without any problems.
At the same time, you can record yourself and then edit, which is already interesting, and then send it where you want.
As for the editing itself, you can select any fragment (with swipes only) and zoom and rewind it.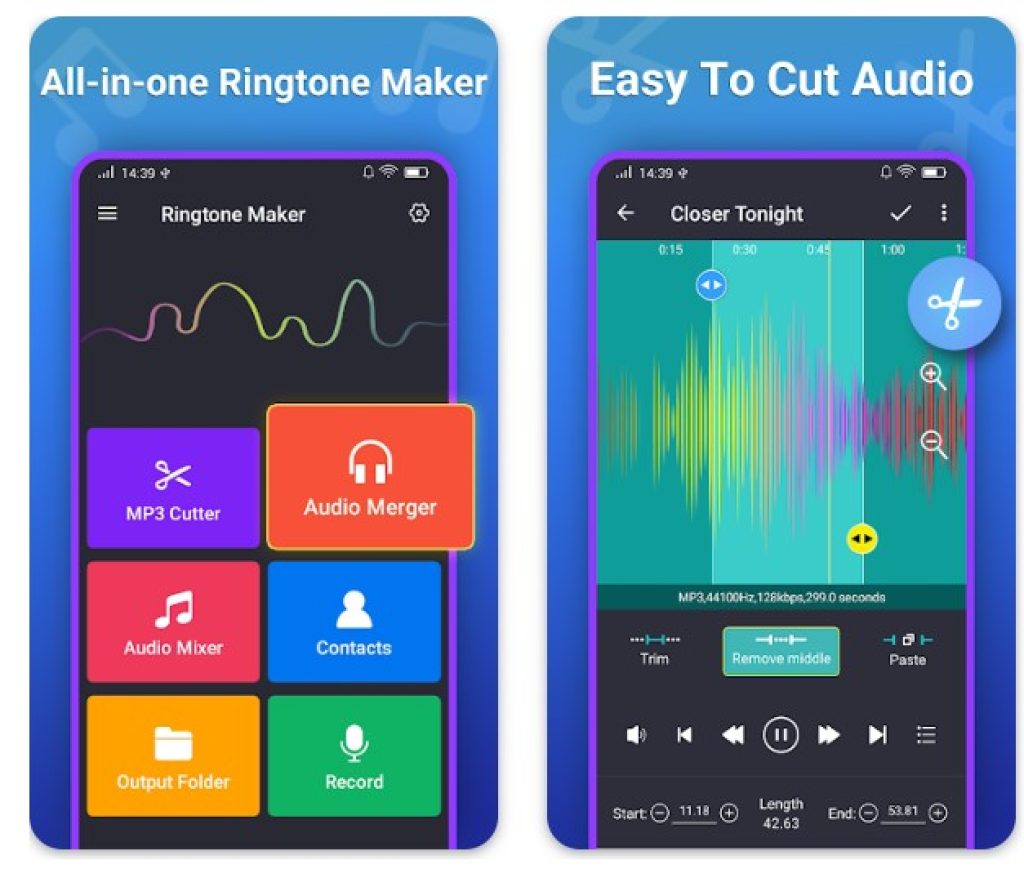 You can also check: 11 Free Apps to Transcribe Audio Files to Text (Android & iOS)
WavePad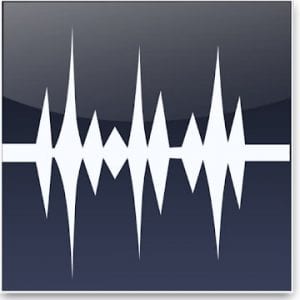 WavePad is a free and fully-featured Audacity for Android alternative with professional audio editing capabilities.
The app supports a wide range of effects, bookmarking, batch processing, compression, Audio Unit plugins, scrubbing, and spectral analysis.
You can create and edit sound recordings including music and voice, duplicate sections of recordings and add echo or effects like noise reduction and amplification.
WavePad has a simple user interface and allows you to share your final edited audio with family or friends.
Plus, the app brings features like a voice changer and text-to-speech (speech synthesis), which is ideal if you're working on audio that requires the use of multiple voice types.
Video editors can also edit the audio in their videos in WavePad without separating audio from the video first using a different tool.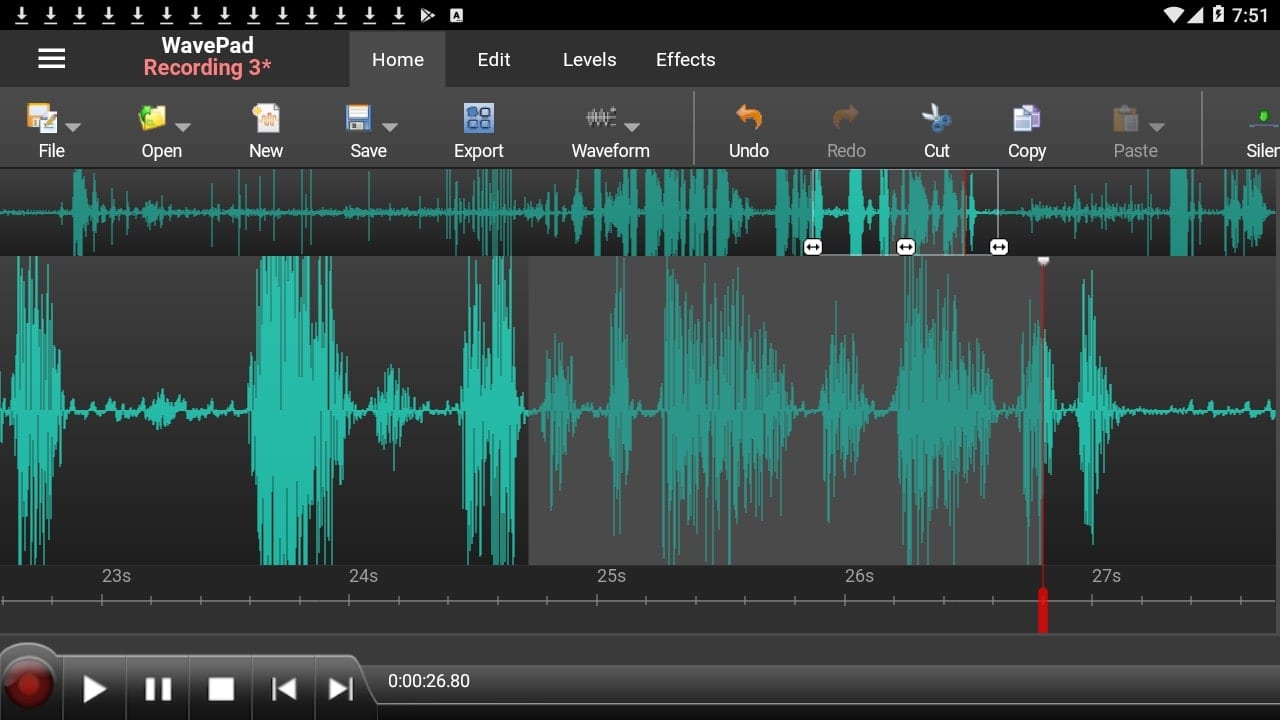 The app is free for personal use, but you can purchase the premium version if you want to use it for commercial purposes.

MP3 Cutter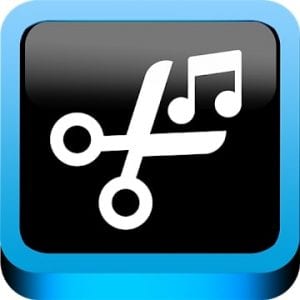 The program offers trimming tracks for the ringtone, alarm clock, and various notifications, as well as the ability to glue two fragments.
Not without an integrated player. And all this is offered completely free of charge.
MP3 Cutter does not boast about its capabilities, does not make you jump through tabs, and immediately offers a full list of available music, as well as two actions with the last – to cut and merge tracks.
A quick search is provided for convenience. This is a high-quality enough audio editor for all users.
Here you can make a ringtone literally in a couple of taps/swipes, without getting bogged down with other formats and effects.
The possibility of self-expression is also provided, as the program allows you to glue fragments together.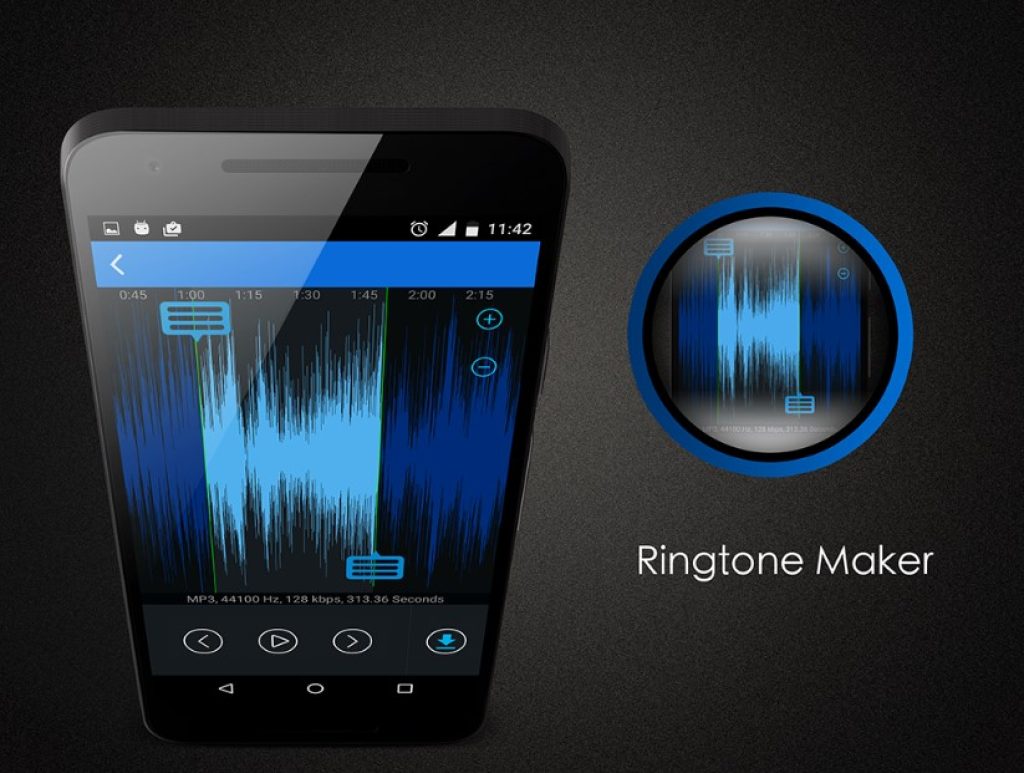 MixPad Multitrack Mixer Free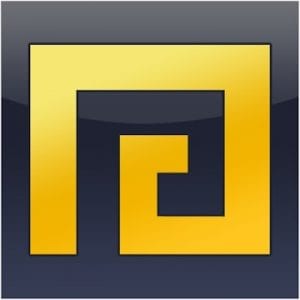 MixPad is a free, easy-to-use mixer studio with professional recording and mixing features you can use to create your music, mix songs, or record podcasts on the go.
The app works like a digital mixing desk where you can mix your own music, vocal and audio tracks, pan, fade, and adjust the volume.
Like Audacity, MixPad is loaded with audio effects including reverb, compression, and EQ, plus royalty-free sound effects and a music library with lots of clips you can use in your productions.
You can mix an unlimited number of vocal, music, and audio tracks, save to popular file formats like MP3, split, trim, and copy tracks.
The app supports sample rates from 6 kHz to 96 kHz and ASIO for sample accurate recording.
Plus, you can use the Beat Designer to craft your own beats, export all popular bit depths, and upload to cloud storage like Google Drive, Dropbox, and SoundCloud.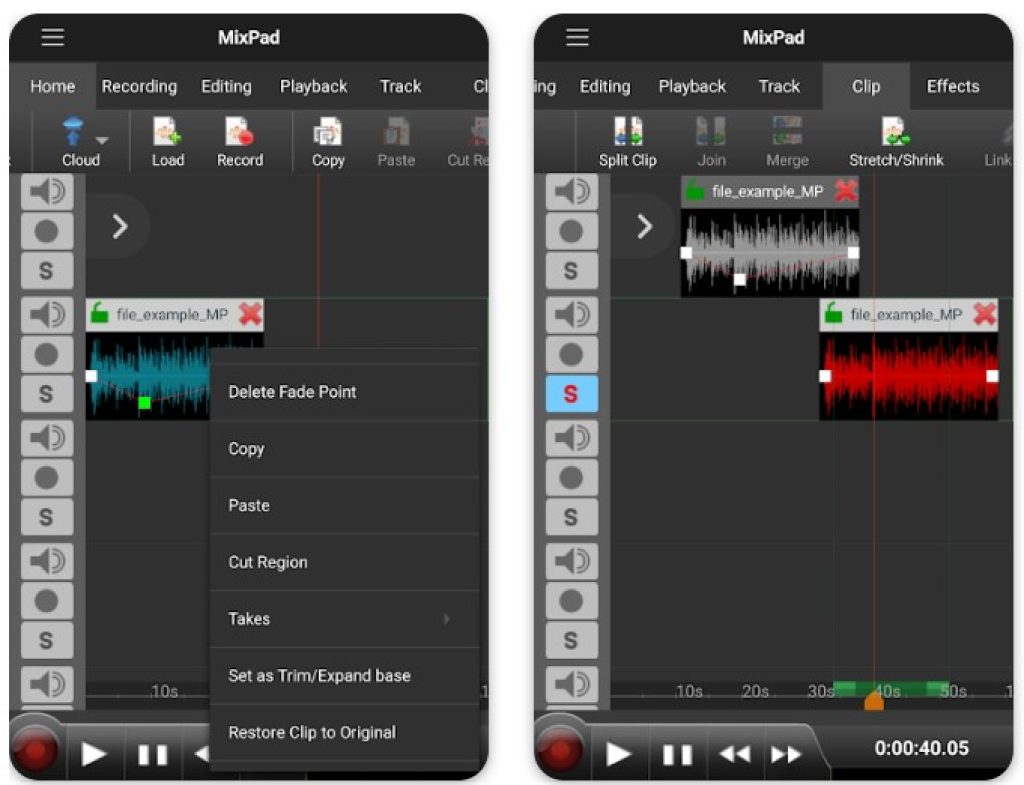 Music Maker JAM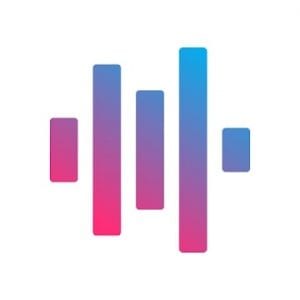 Music Maker Jam is a simple beat maker app that's easy to use no matter what level you're at as a music creator.
The app lets you create or remix beats or tracks for any music genre, so you can unleash your musical skills and creativity.
Among its powerful features include more than 300 mix packs with over 500,000 loops to make your own style of music, and the ability to record your tracks on the 8-channel mixer.
You can also arrange song parts, change harmonies and tempo, or play around with real-time effects like delay, stutter, or reverb.
You can also remix tracks by shaking your Android device, record and mix your vocals into your beats, and share songs on social media networks like Facebook, YouTube, SoundCloud, or TikTok.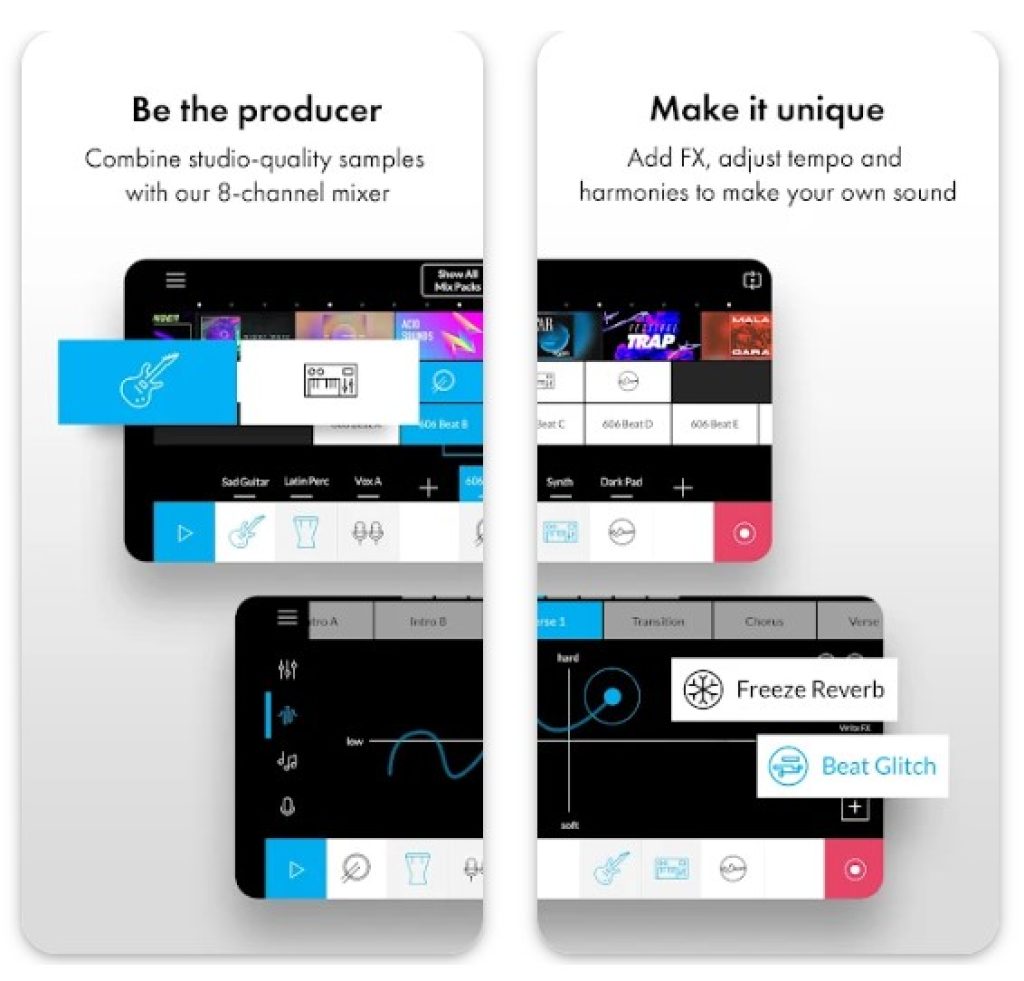 You can also check: 11 Best music notation apps for Android & iOS
Lexis Audio Editor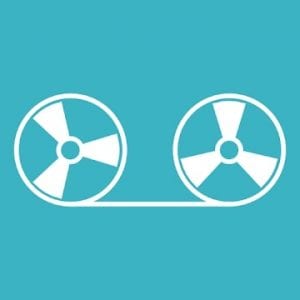 If you just want to fly through some audio editing or mixing tasks, the Lexis Audio Editor is worth considering.
While the app isn't as powerful as Audacity or other alternatives listed here, it'll still get the job done when you want to splice something quickly before saving or sharing it with others.
Some of the basic functions you'll find in the app include a recorder, player, cut, copy, paste, delete, trim, insert silence, fade-in, fade-out, noise reduction, and normalizing.
You can also record or import an audio file into an existing file, change speed, tempo, or pitch, and mix the current file with a different file.
The app supports regular audio formats like MP3, FLAC, AAC, M4A, WMA, and WAV, as well as video formats like MP4, 3g2, and 3gp.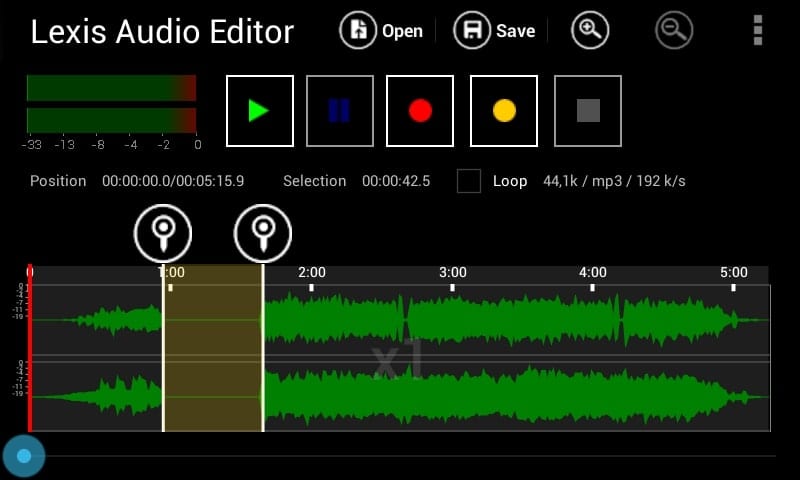 A trial version is available with all features except saving in MP3, which you can only access in the paid version.

Music Editor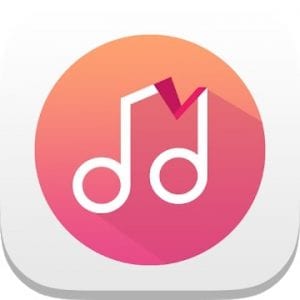 The application allows you to edit your favorite songs and save selections.
With this program, you will be able to trim the silence at the beginning of the song or cut only the fragment you like.
This way you can turn any favorite music into a real ringtone. Just mark the beginning and the end with the sliders on the screen and press the "Save" button.
This is a small audio editor for quick ringtone creation for those who don't want to bother with precise trimming and effects.
The program itself can work with MP3, WAV, AAC, AMR, so it's not that simple. By the way, the audio editor's distribution package is the same size as the application itself.
Now about the editor. Everything is implemented here for convenient trimming, i.e. frequency scale, scaling with both pinch and keys (more subtle).
There is also a clear trimming slider, as well as a manual selection of time, that is, from which millisecond to which trim.
Fast rewind and auto-repeat are also implemented. To save what you've done, just touch the upper right corner of the screen.
The situation with the "Music Editor" is different from the situation with the solutions described above, because the sloppy translation, advertising, and lack of track gluer completely override the intelligible tools and record low consumption of resources and battery.
So, if you are a person without pretensions, then feel free to put this program on your device, as it will cut any track quite accurately, quickly, and conveniently.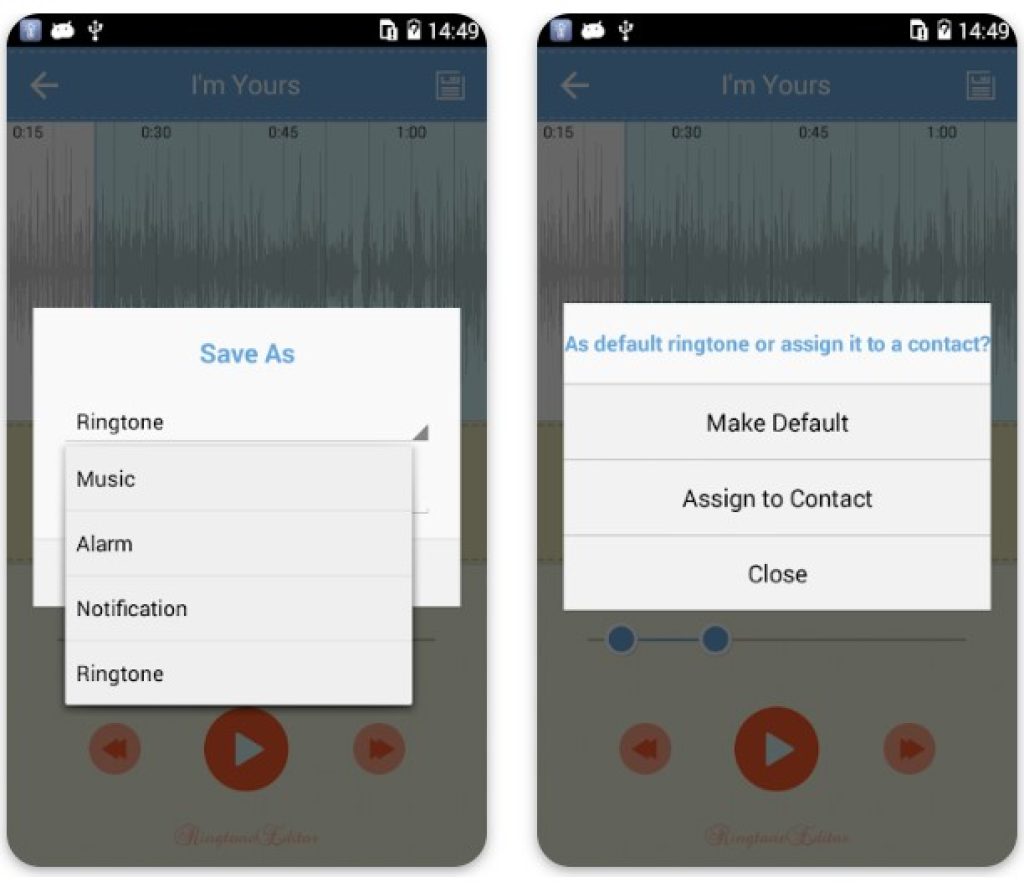 Audio MP3 Cutter Mix Converter and Ringtone Maker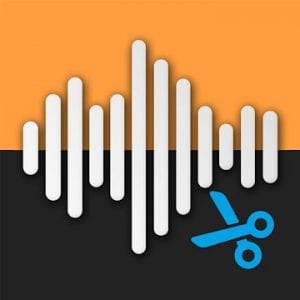 The Audio MP3 Cutter Mix Converter and Ringtone Maker is a powerful and complete app with the features you need in an audio editor.
With the app, you can trim, mix, or merge audio files, change metadata fields like music album name or art cover, and convert from one format to another.
You can also set trimmed audio as a ringtone, alarm, or notification tone, create remixes using two songs in the same or different format, adjust the volume in your mashups, and access your music creations easily.
The app also lets you record voice or music, and then share your creations on social platforms including Facebook, or WhatsApp. The app doesn't have an audio compressor, and it's ad-supported.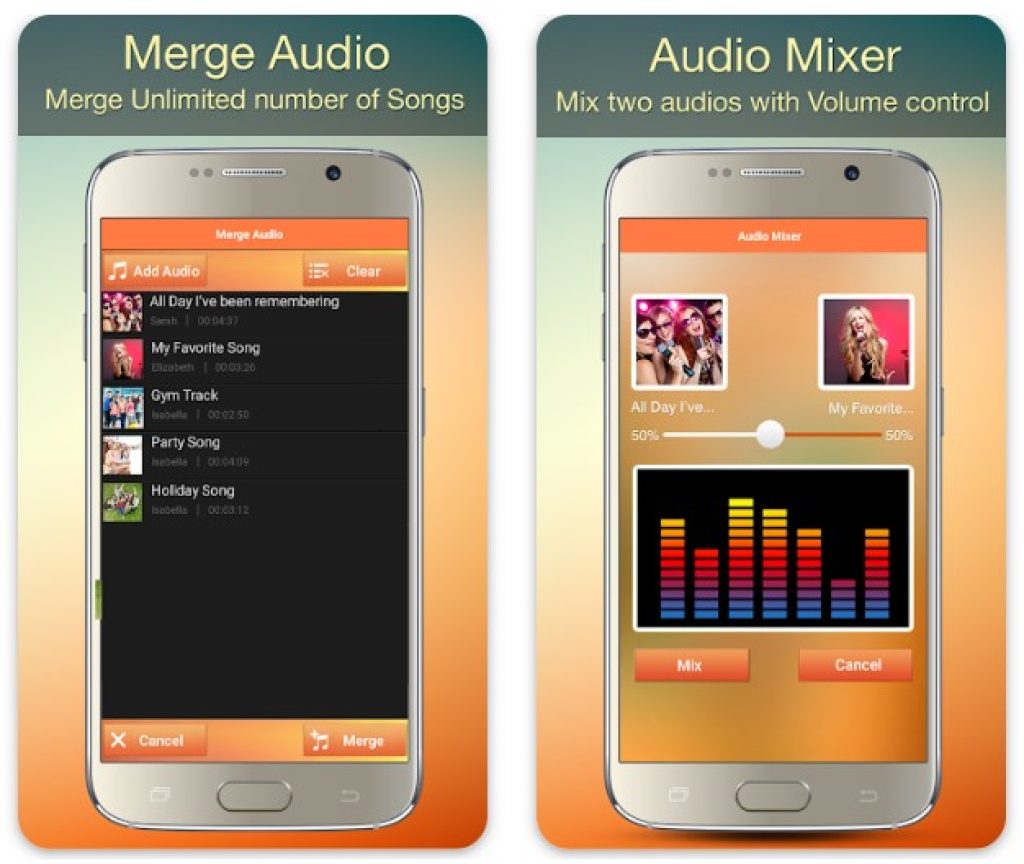 WaveEditor for Android™ Audio Recorder & Editor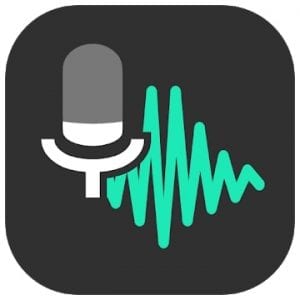 WaveEditor is the go-to application for recording and editing audio.
One of the really nice things about WaveEditor is the sheer amount of file types that you can use with WaveEditor.
There's just so much that you can do with WaveEditor.
You'll find features like multi-track mixing and editing, WAV or MP3 recording formats.
There are even visual tools for editing, such as FFT, oscilloscope, spectrogram, etc.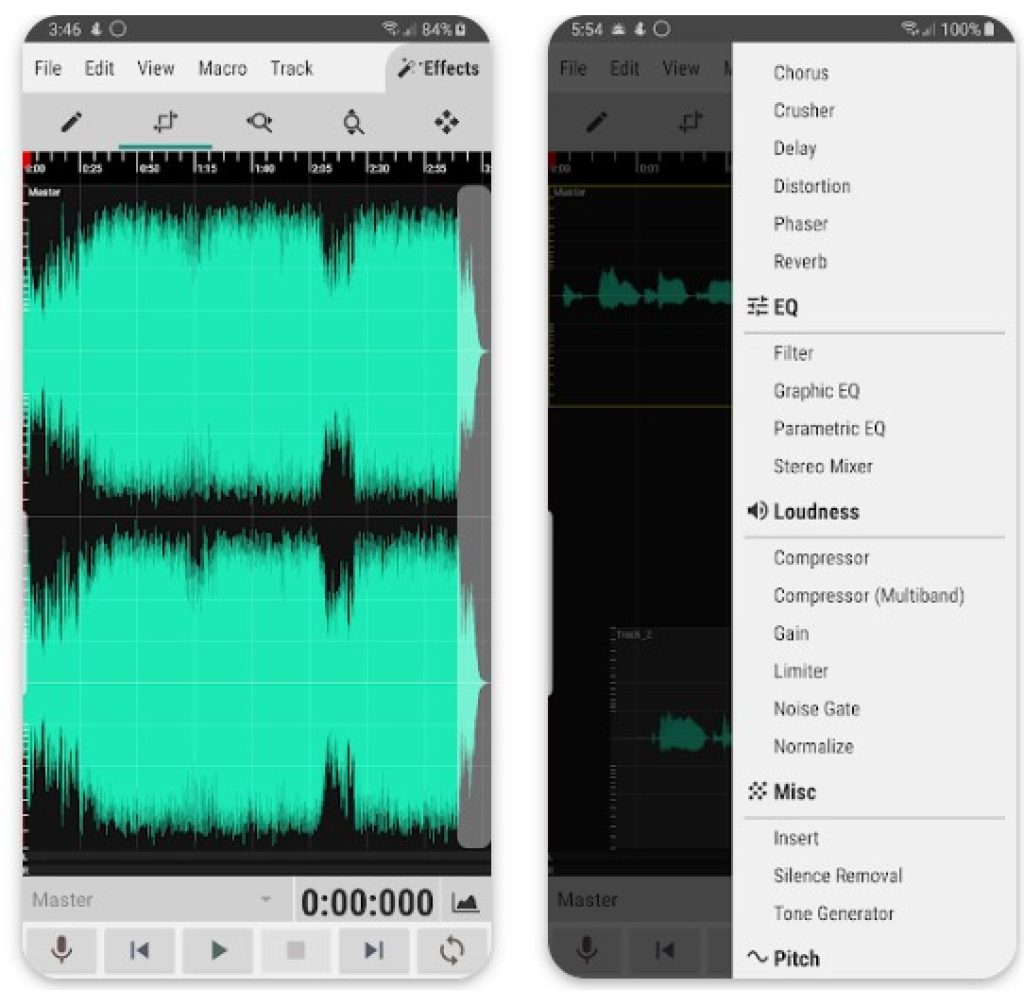 Music Editor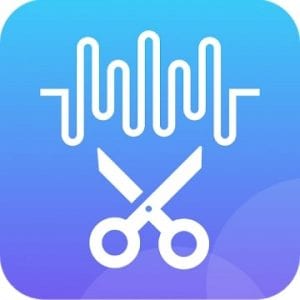 The Music Editor app is a free Audacity alternative for Android with a feature-filled audio editor.
You can merge two songs into one, adjust volume levels, compress audio by changing the bit rate, sample rate, and channel.
Besides, you can cut out certain parts of the music and set it as your device's alarm tone, ringtone, or notification tone.
The app also lets you convert your music to different formats such as AAC to MP3, MP3 to WAV, or M4A to MP3, and so on.
If you need to split audio into two parts, there's a split audio feature for that, and all your processed files will be displayed under the My Creations section.
With Music Editor, you can mute part of the audio, edit audio speed to fast forward or slow it down, reverse the audio to play it in reverse, and edit metatags such as album, title, year, composer, and cover.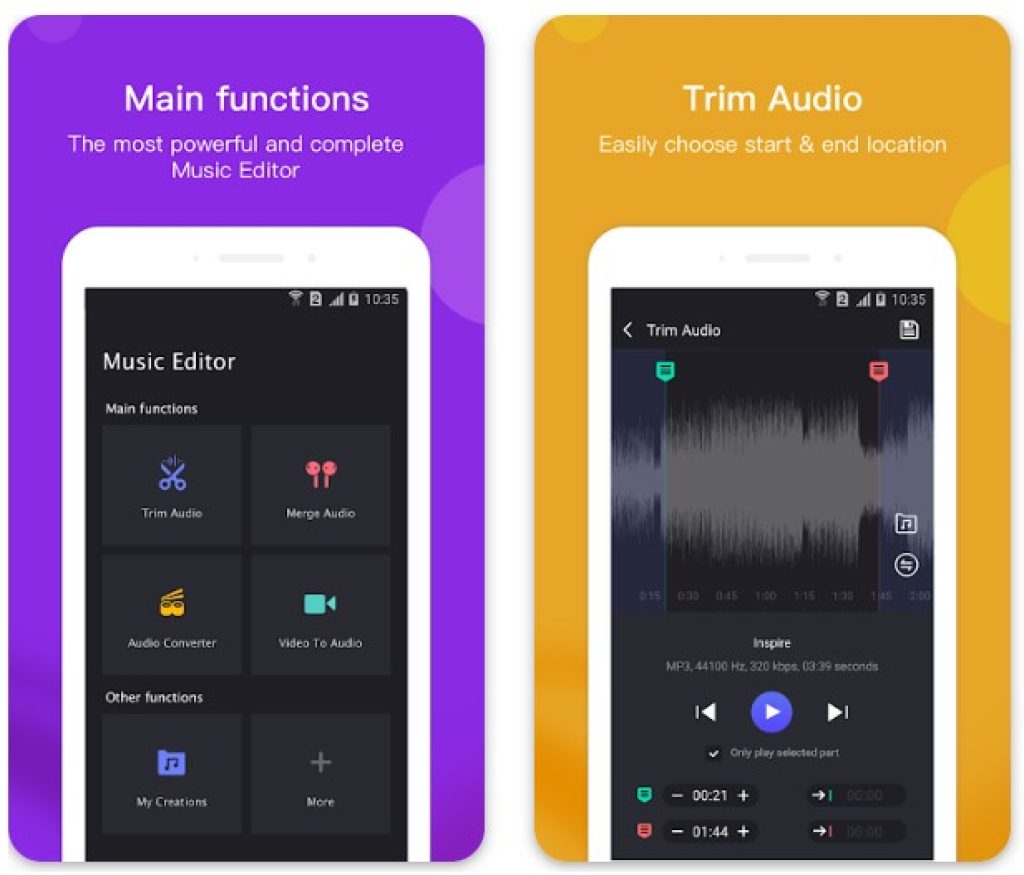 You can also check: 11 Best Apps to Add Music to Video (Android & iOS)
Audio Evolution Mobile TRIAL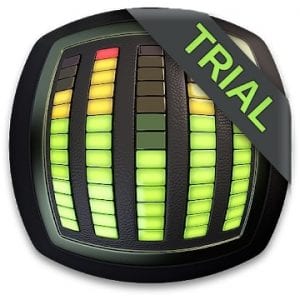 Audio Evolution Mobile Studio is loved by many, and most incoming users will probably love it for its simple and easy to use interface.
It's all very organized and easy to navigate around.
There are tons of advanced features packed into this app as well — multitrack audio recording, your basic audio split and splicing actions, such as move, cut, trim, and even the ability to remove tracks entirely.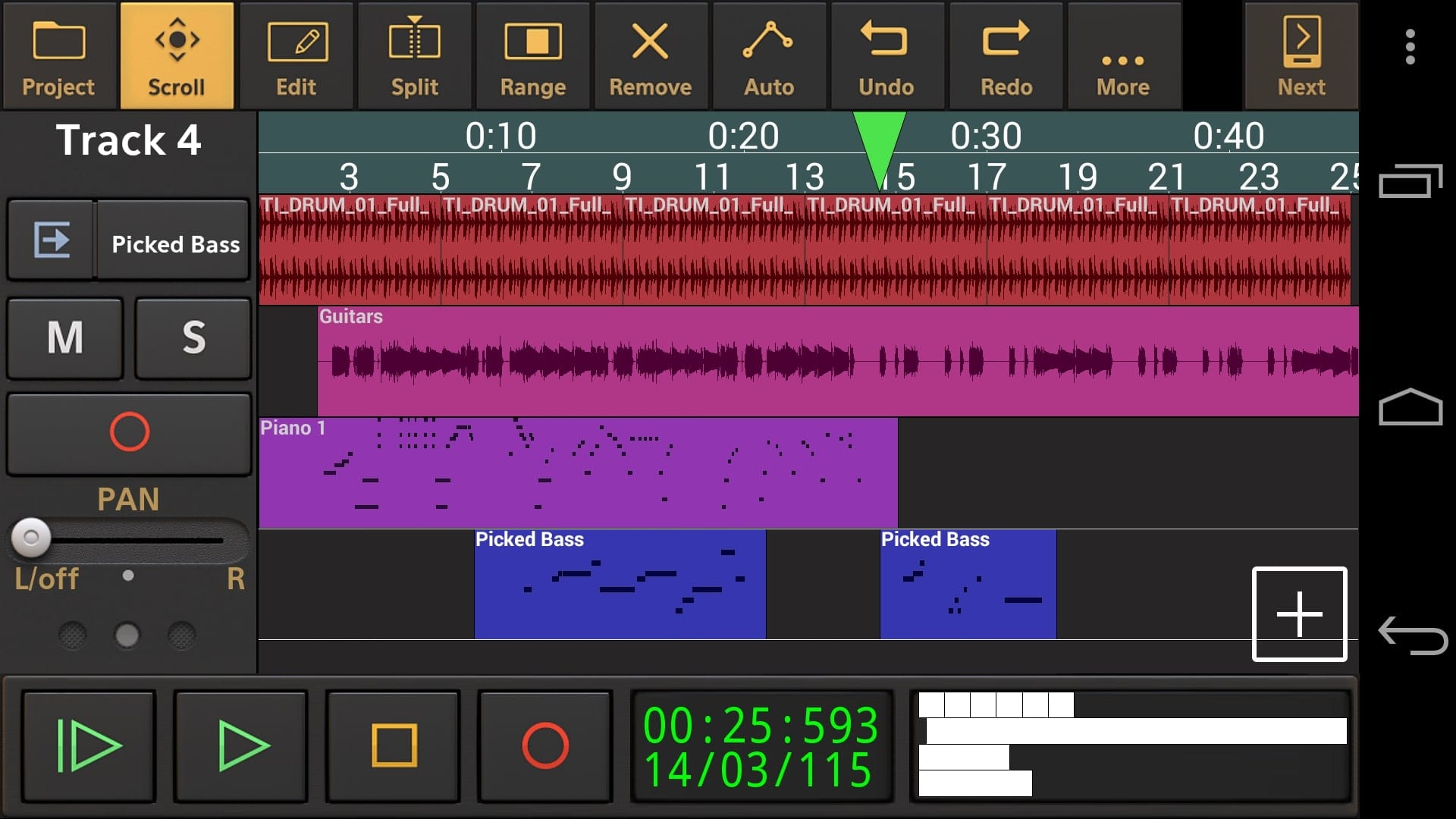 Audio Evolution Mobile Studio even has support for external hardware — if you want to use the software in conjunction with USB audio interfaces, you can do so flawlessly.