It seems that artificial intelligence is only needed for some serious and time-consuming tasks. Yet, it can also come in handy in your everyday life. This also applies to the world of fashion. If you are into it, then try these best AI apps for fashion.
You can now use the power of artificial intelligence to create the perfect look for an upcoming party or to tidy up your closet. These best AI outfit generators will help you do just that, so let's take a closer look at them.
Aiuta
If you need an expert opinion on your closet, Aiuta is the perfect choice. This app will successfully replace your hairdresser, stylist, and makeup artist. If you want an unbiased view from the outside, this program is for you.
Artificial intelligence will analyze your parameters and take into account your wishes. With its help, you will be able to create the perfect image for any occasion. Whether you are going to a party, preparing for a masquerade, or looking for a suitable option for everyday use.
To launch the virtual stylist, take selfies in the chosen outfit. Aiuta will tell you what colors go together. You will learn what things you can wear with your favorite pants or skirt. Read about this season's new trends and note the comments of famous people in fashion.
Show what you have in your closet so that artificial intelligence can help you find the right pair and perfect accessories. If you like the image of a closet item created in the app, you can get recommendations on exactly where to buy a similar option.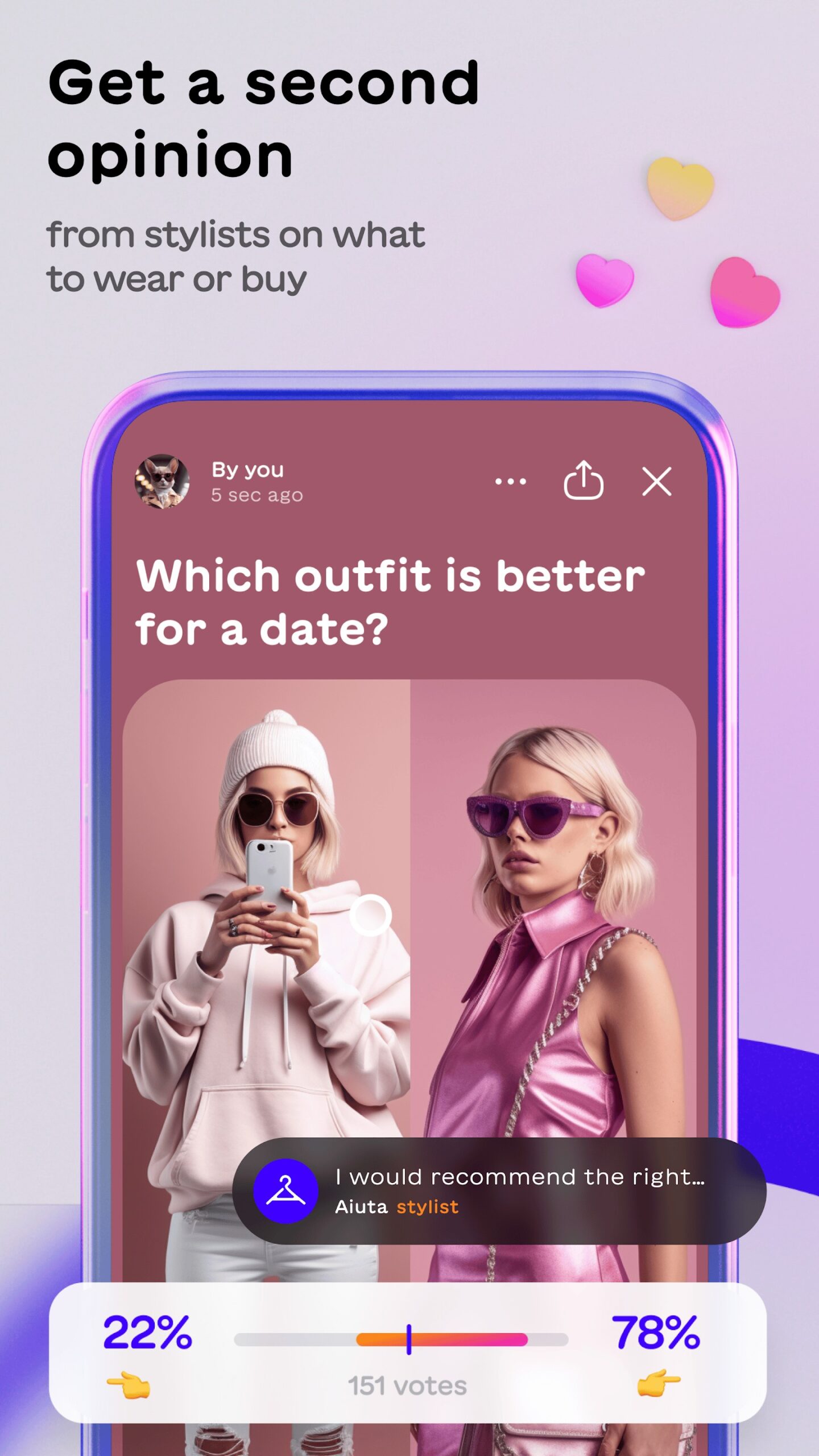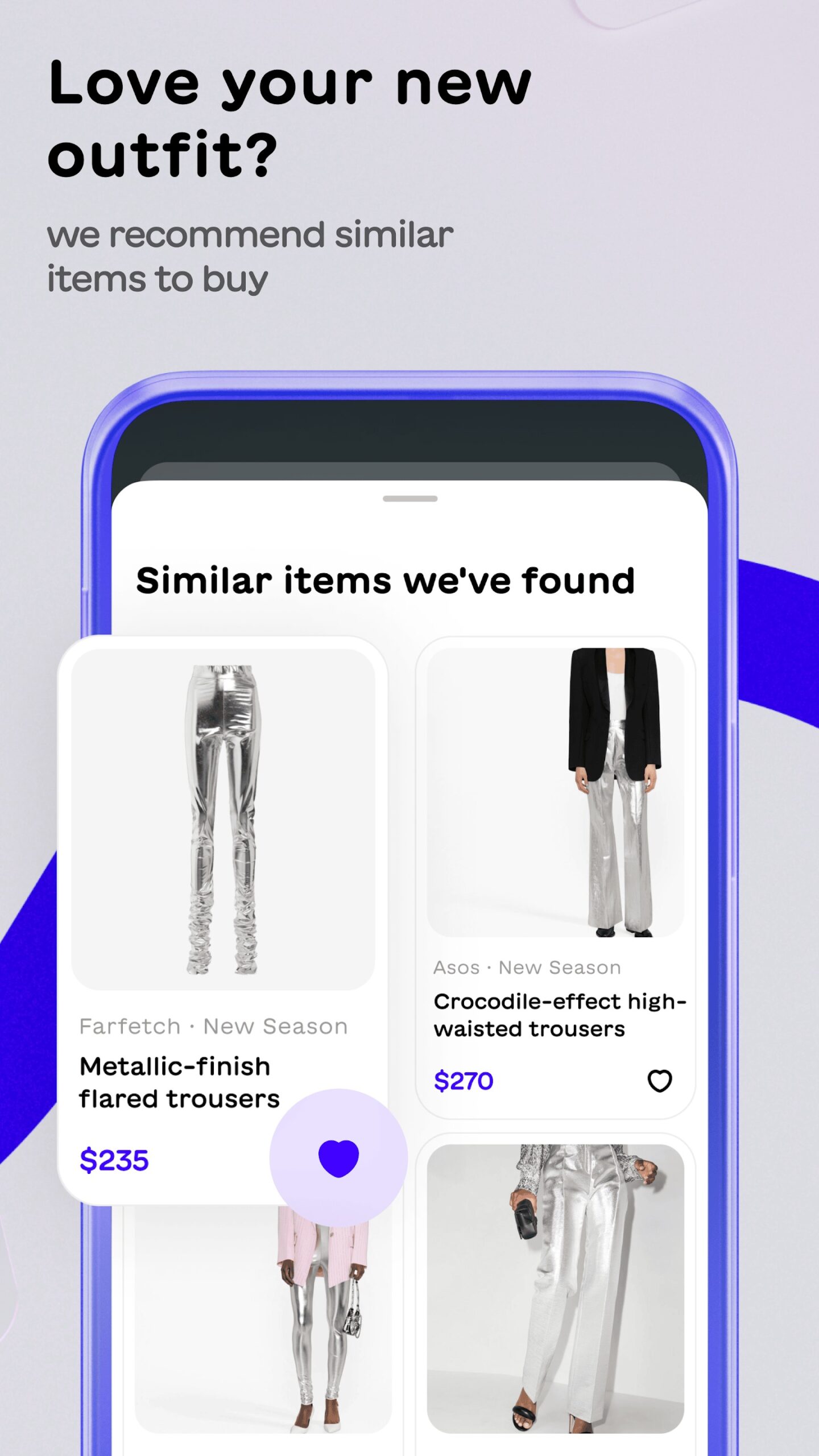 Now you will know exactly what suits you and how to wear this season's fashionable items.


You may also like: 11 Best Apps to Change Clothes on Pictures (Android & iOS)
Acloset
Acloset demonstrates the power of artificial intelligence in fashion. Find a trendy look for a night out at the club or an anniversary party. Get advice from professionals on choosing your daily outfit.
You won't have to complain that your stuffed closet doesn't have the right options for the upcoming celebration. Take pictures of all the clothes you have piled up on your shelves. Or download photos of similar items from the internet. Don't forget about shoes and accessories: hats, scarves and gloves.
Give the program the task of selecting the look. Get ready for combinations of already available items. To look stylish, you do not need to change your closet and spend a lot of money. It is enough to tastefully use things that are already available.
Indicate in the photo the time and cost of the purchase. This will help you determine how much money goes into updating your closet.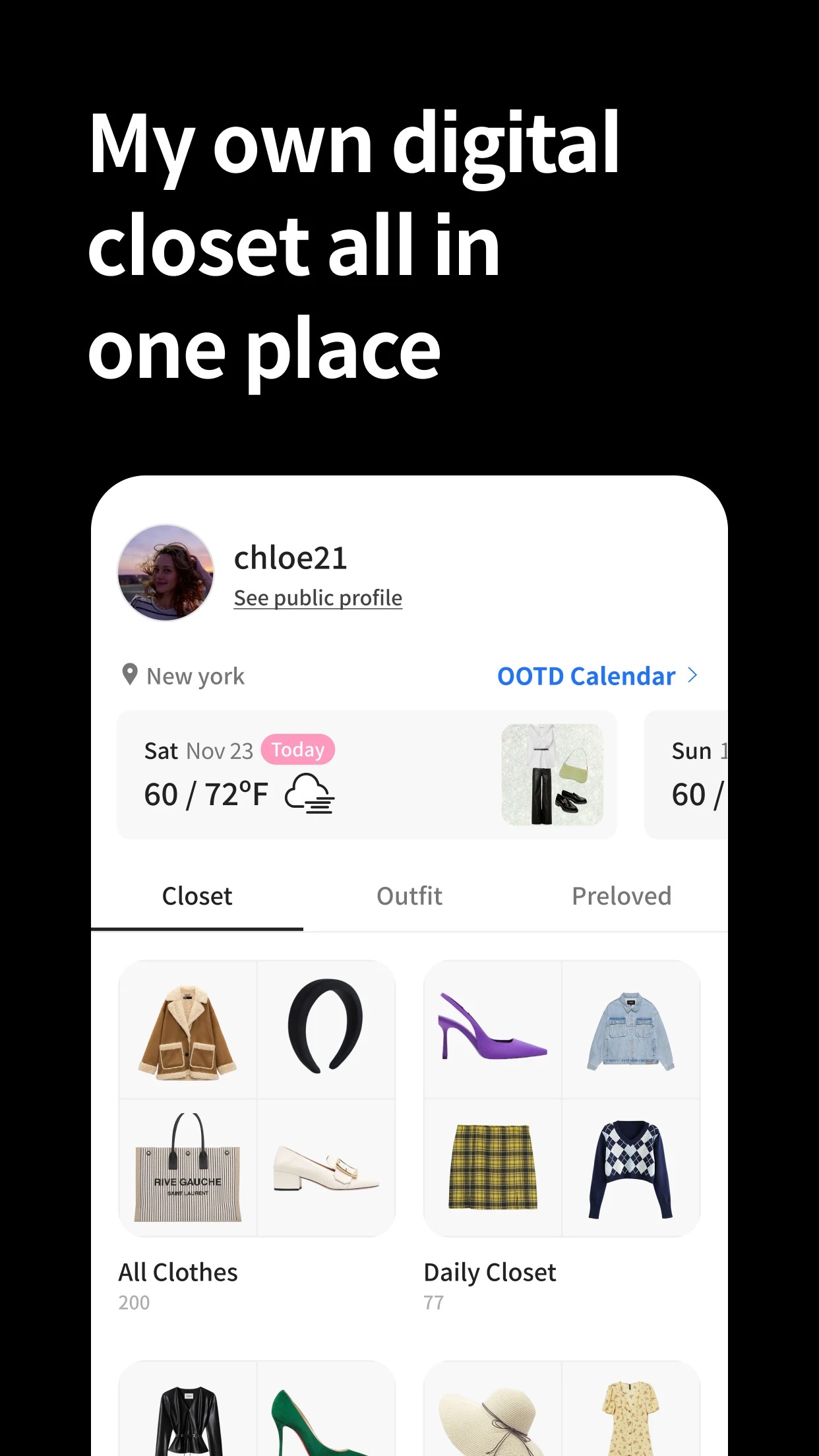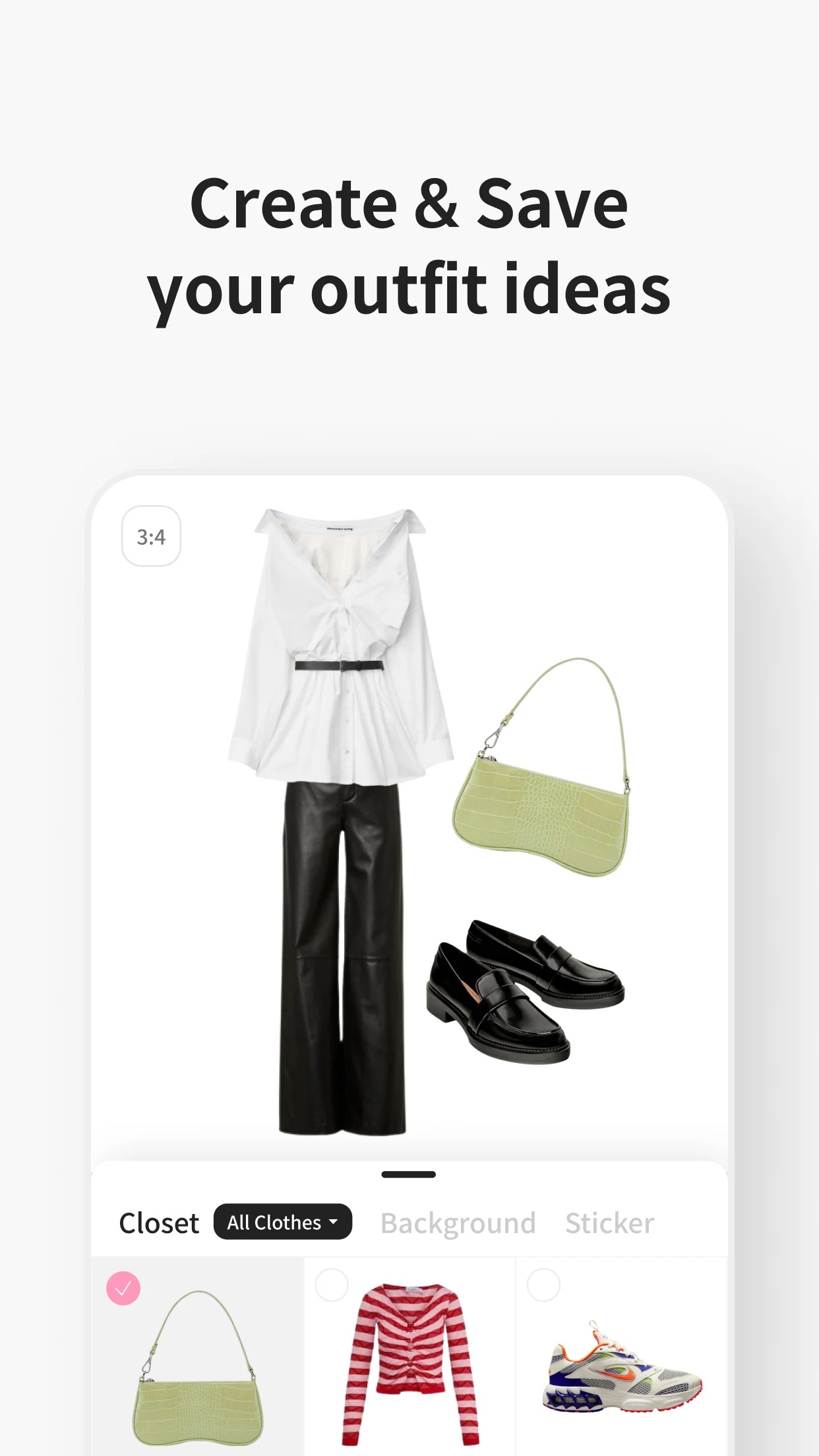 Moreover, here you can sell unwanted items or trade them for vintage shops. Receive money for clothes that you want to ged rid of. The community already has more than one million users.


Style DNA
Style DNA offers a modern way of generating your outfits. By creating digital copies of items from your closet, you can visually evaluate the items you have already bought and match them with the right pair. Now you will only buy what you need and what suits you.
Create multiple tabs for different life situations. Separate different styles: formal, home, sports, weekend.
When buying a new item, you can always check with the AI stylist. You will receive sound advice on the skills to create a style. It is possible to dress fashionably even without having a large sum of money.
Clear your closet shelves of unnecessary things. Without regret, remove closet items that have long gone out of fashion. Take selfies and let artificial intelligence do an in-depth analysis. It takes into account your height and weight, body shape, facial features, and your wishes.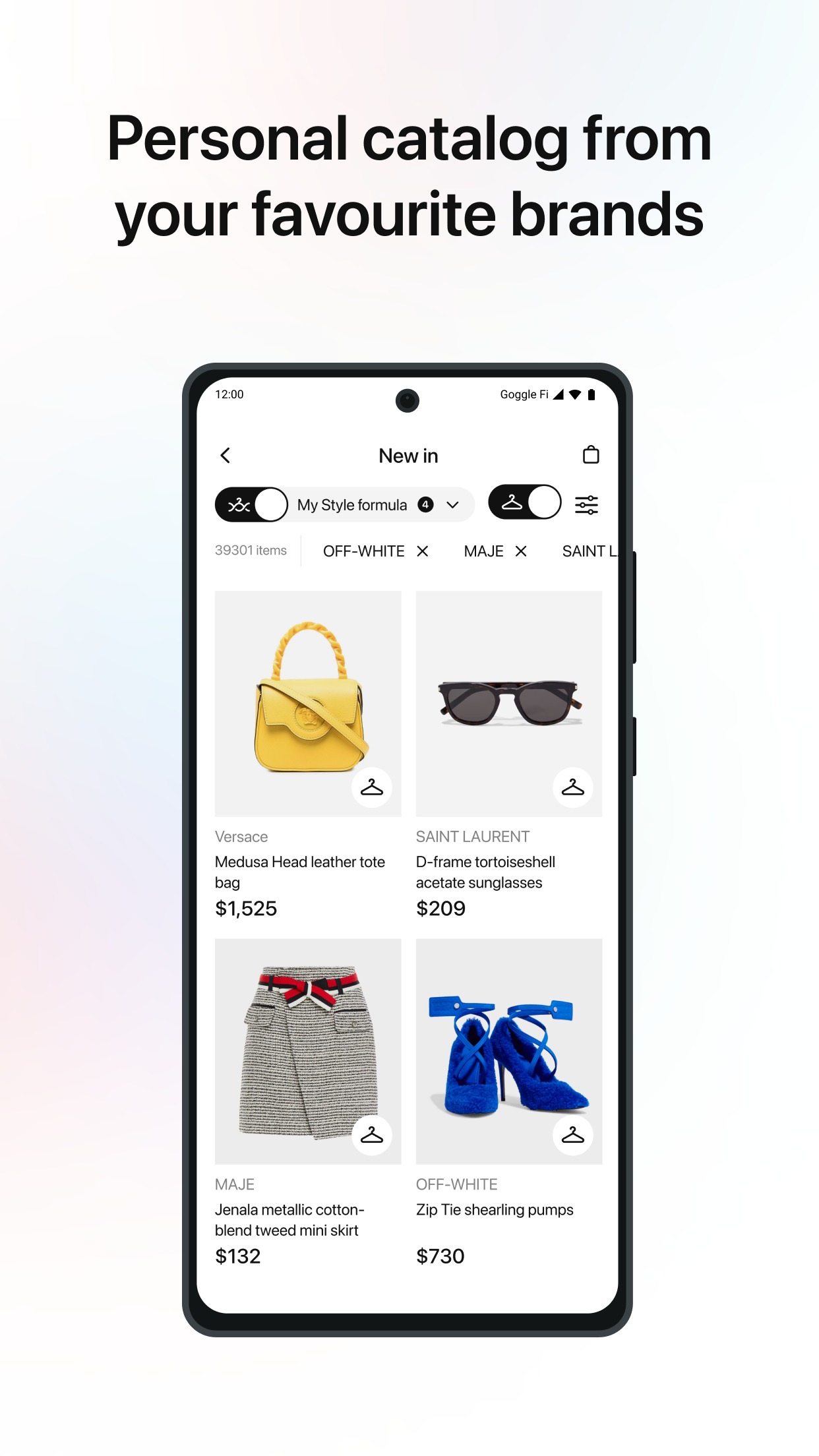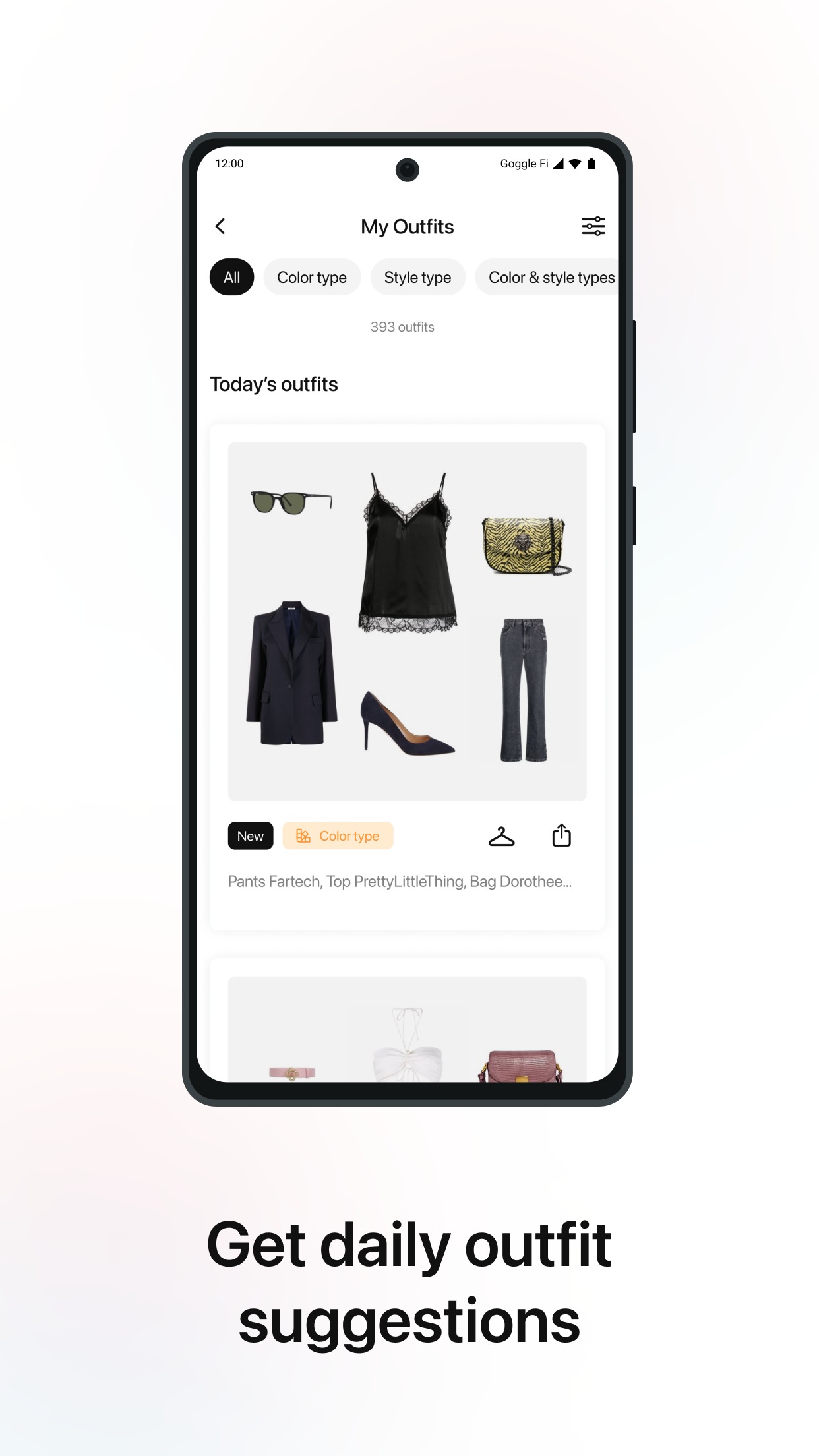 Get a selection of closet items designed just for you. Accentuate the colors, length, or design of the pieces. With Style DNA you will look stylish and feel comfortable.


Letsy
Letsy helps you evaluate how your trendy item will look on you. Take full-length selfies and upload the photo to the app. It is desirable to take a full-length photo, without accessories and extraneous objects in the frame.
The better the quality of the photo, the more effective the work of artificial intelligence will be. To get a digital image of a piece of clothing, you need to create a textual clue. To do this, describe the item in your own words and wait for a few seconds.
Soon this garment will appear on you to allow you to try it on. In the description, you need to specify the type of clothing: top, underwear, dress, pullover. Next, describe the material and color of the item.
Remember to specify the length and the presence of buttons and zippers. Describe in detail the print on the selected item.
This app allows you to create a digital version of the closet. You will be able to find the right combination of things that you have long forgotten about. If you like the proposed image, save it in your favorites.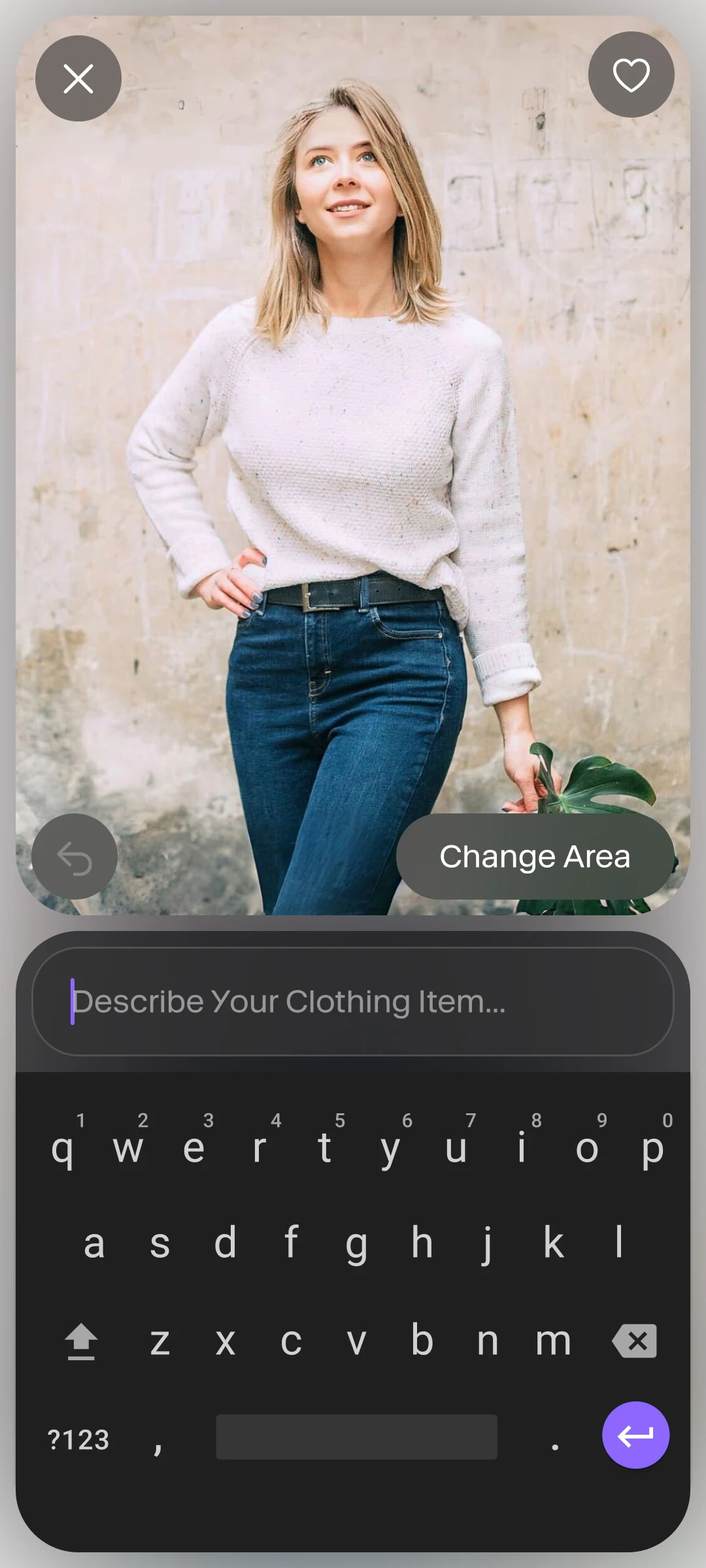 Here you will find the latest fashions and can try them on without salespeople and intrusive boutique visitors. Buy things after you've read the style tips on Letsy.


OpenWardrobe
OpenWardrobe will make picking out outfits simple and fast. Apply outfits electronically to save time and money. Make a digital version of your closet to be able to experiment with new things. Now you will look flawless with helpful hints and tips from an expert in the fashion industry.
By uploading photos of the clothes that are available, you will be able to assess the number of similar items and match them with the right pair. Remove items from your closet that are flawed and don't fit your look.
Create several clothing options for any theme: cocktail party, work and study, a night out with friends, or going to the movies. Uploaded photos go through powerful filters that remove the background and put the thing in the right folder – no limits on the number of photos.
Thanks to artificial intelligence that has been trained on millions of pictures, you will get generated images for any occasion. With the help of Pocket Assistant, you will save a significant amount of money on your clothing purchases.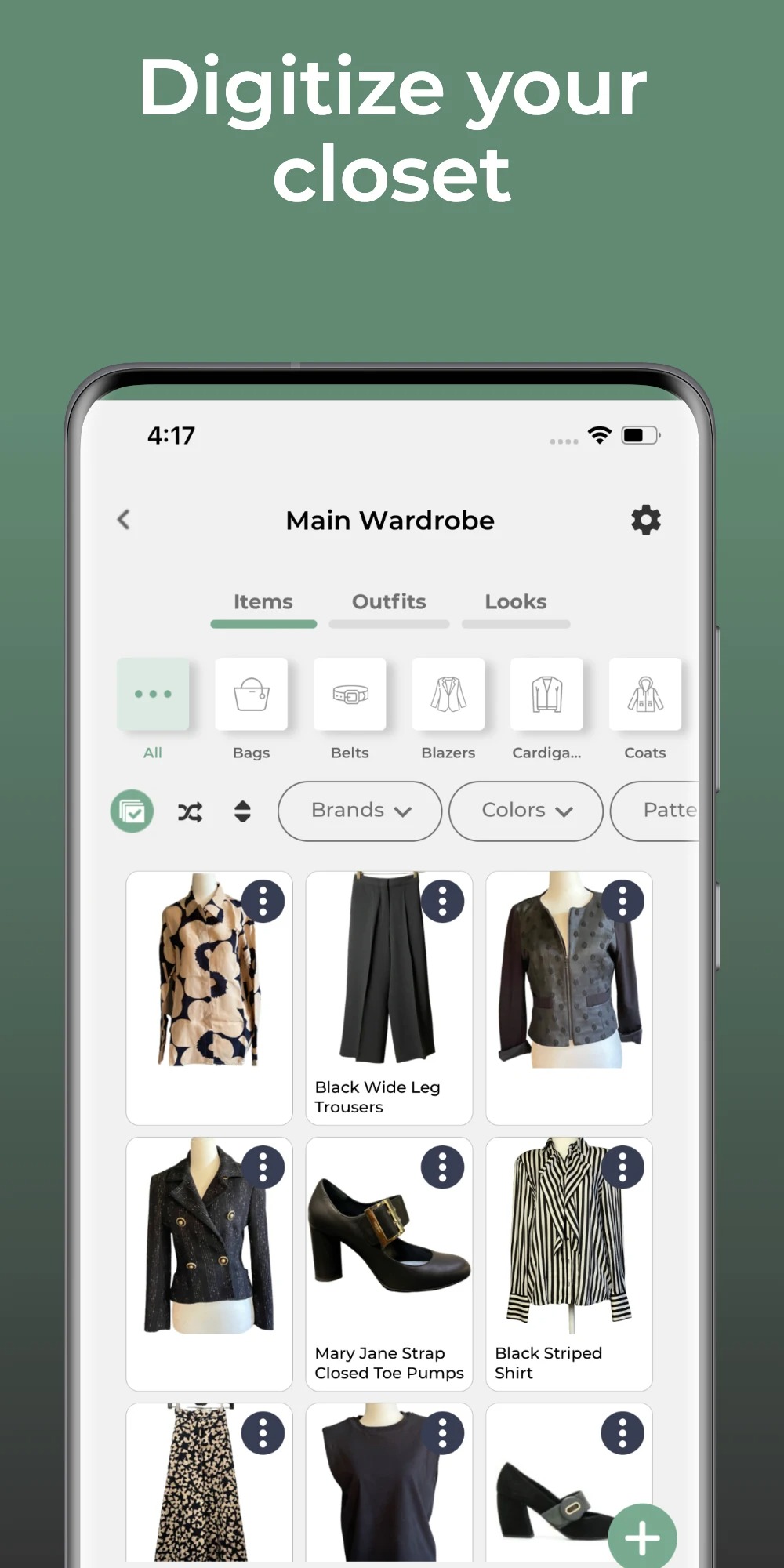 Ask for help from famous stylists and fashion designers. Be irresistible with OpenWardrobe.


Whering Digital Closet Stylist
To create colorful outfits, you will need a Whering Digital Closet Stylist. The app is powered by artificial intelligence, which significantly speeds up the process of fitting and digitizing your closet. Now all your outfits and looks are collected in one place. Sort them by purchase date, cost, or color scheme.
Note what each one can be used for. In addition to working with items that are already in your closet, you can look at new patterns. Save clothes you like on social media and online services. More than 20 million items of clothing for children, men, and women are in the database.
You can download an image from the original source directly to your favorites folder. At any time you can evaluate the selected item and create a new look with it. The "W-Pick" function allows you to draw interesting ideas for inspiration and get outfits for every day.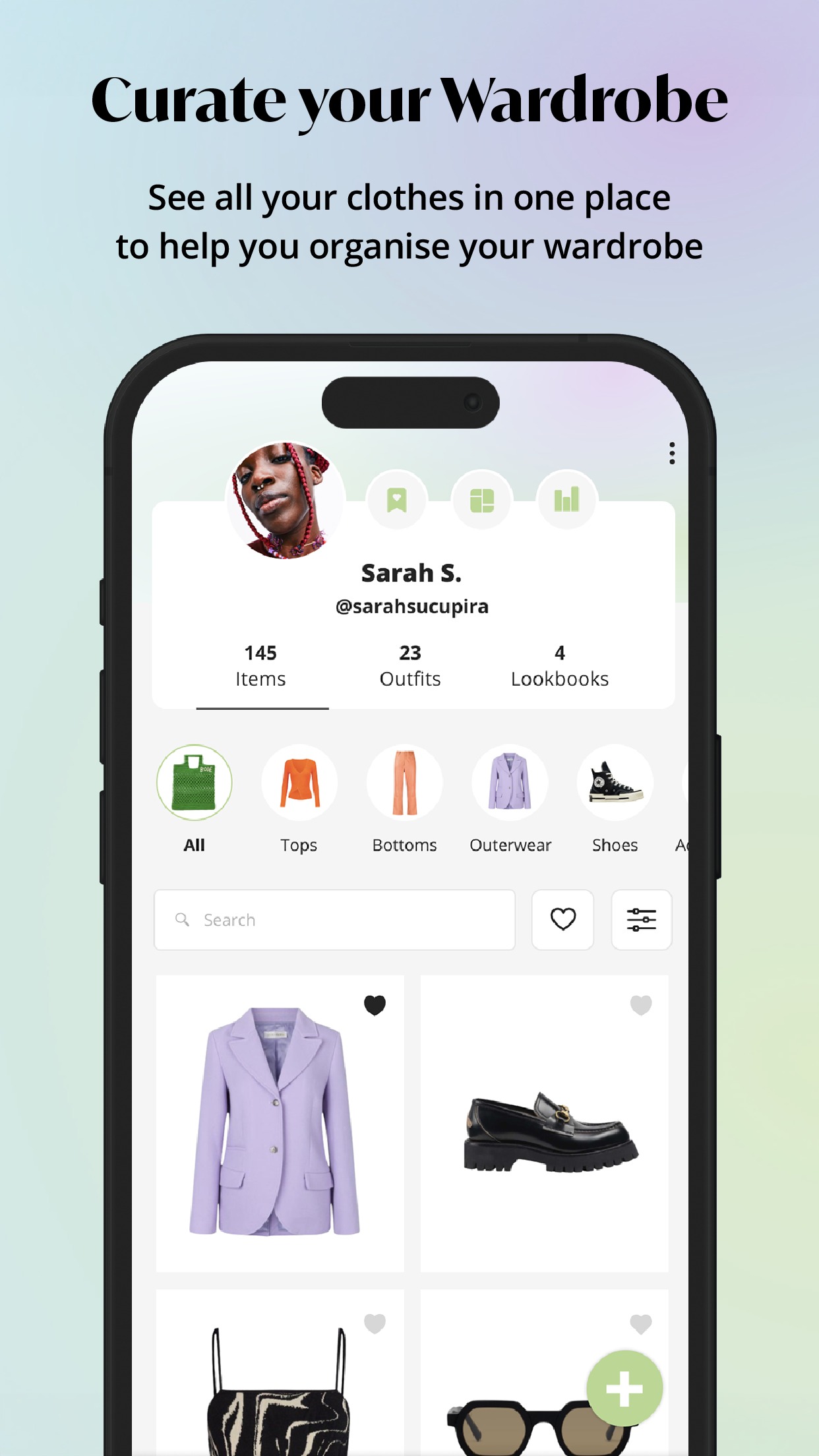 When going on a trip, be sure to have your closet fully assembled. The Whering Packing Lists section shows you some important items you'll need on your trip. Take a new look at your closet and give a second life to your favorite items.


You may also like: 15 best apps to buy clothes on IOS & Android
Pronti AI
Trust Pronti Al to update your closet. This app analyzes your uploaded information and creates versatile looks depending on your desires and mood. Personalize your closet digitally. Pick up interesting combinations of clothes you've already bought.
Spend money only on purchases that perfectly match the items in your closet. Learn about multiple uses for a single item. Be amazed at how differently the same accessory looks with different things. Learn about this season's top fashion trends and create a closet without spending a lot of money.
For the program to have an idea of your style, you need to take a photo of each piece of clothing and upload it to the app. Artificial intelligence will remove the background and enhance the photo if necessary. As a result, you will get a closet with clear and convenient sorting.
Tell Pronti where you need to appear in the chosen outfit. It can be a casual look, an outfit for a celebration, or a date. Done: get a carefully designed look that will emphasize your strengths and express your personality.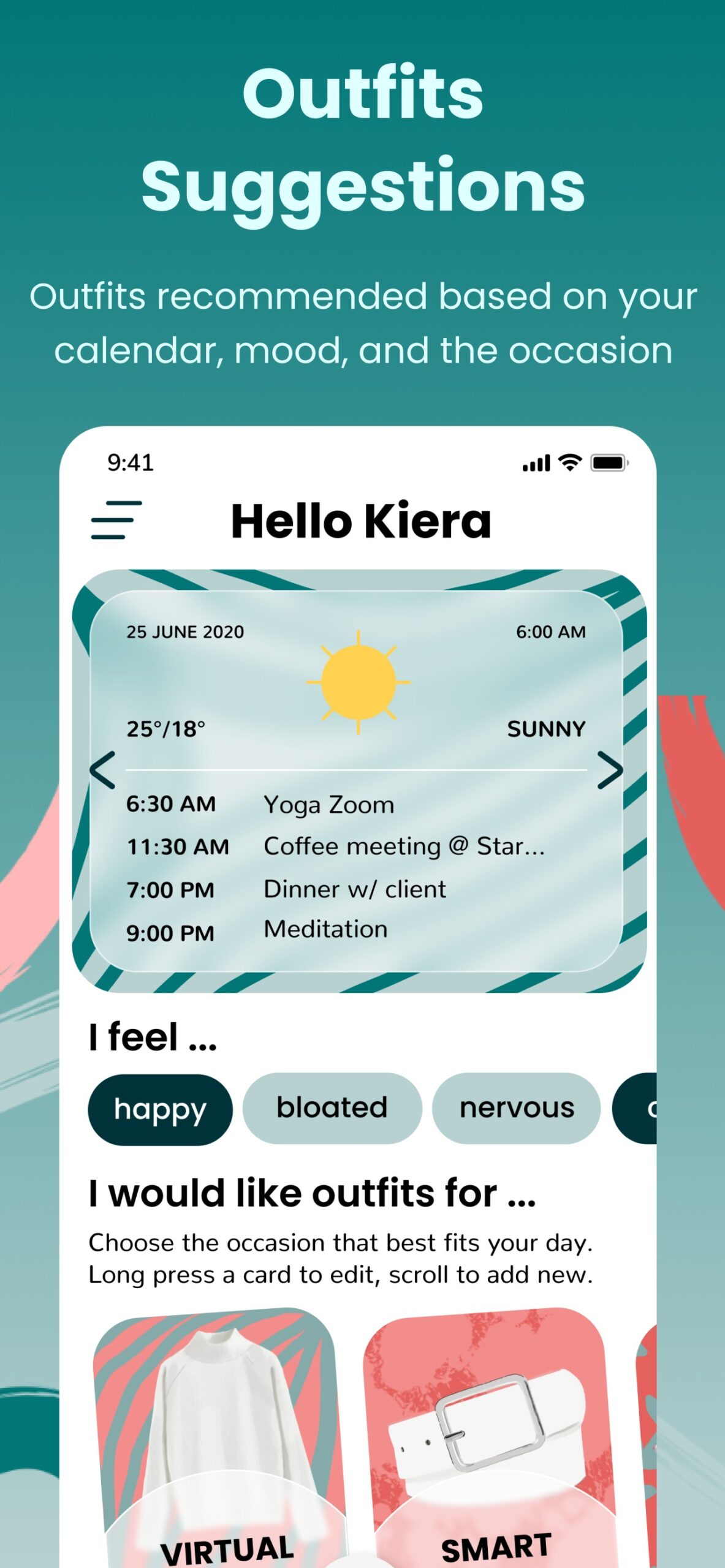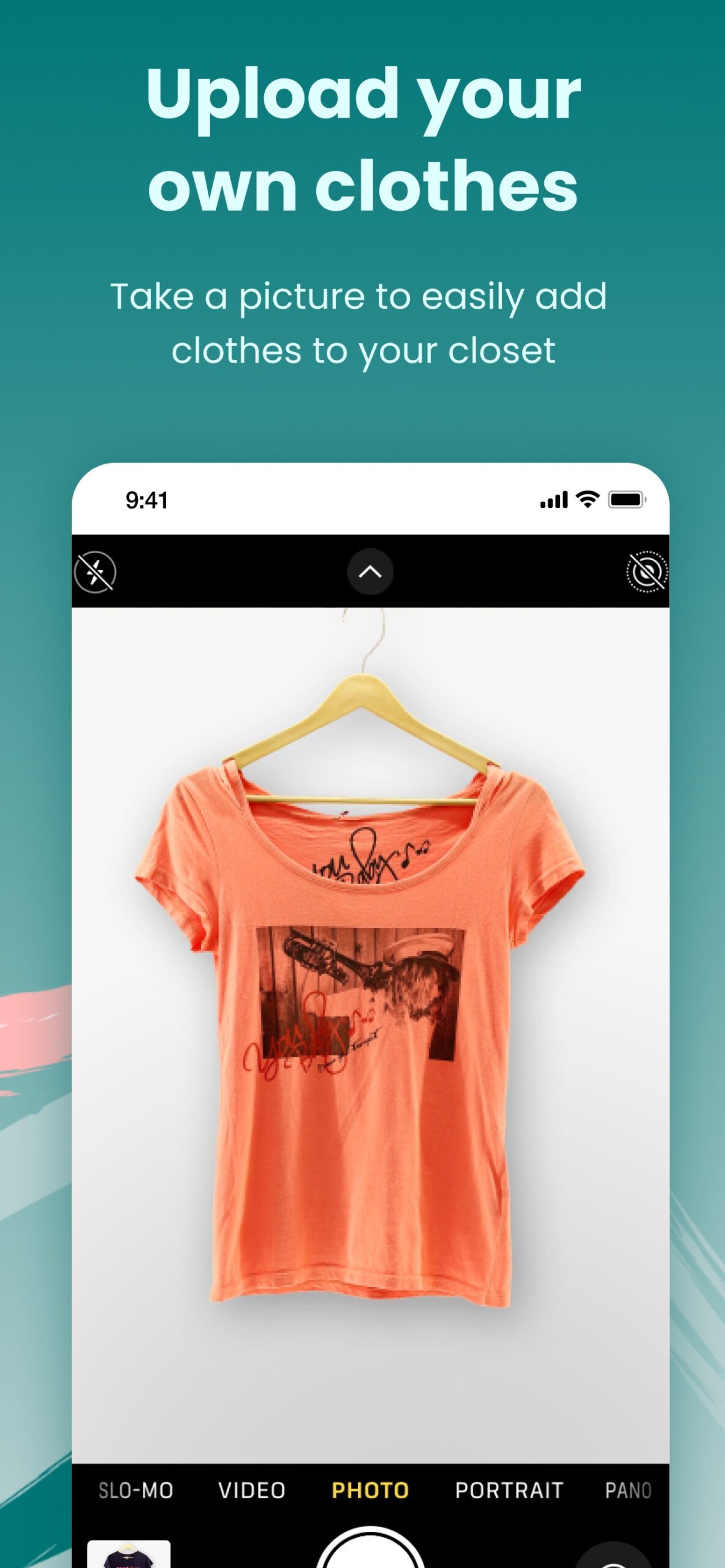 You can always get acquainted with the new items of your favorite brands and clothing suppliers right in the app.


Superlook
The Superlook app functions as a personal stylist, allowing you to try on any outfit. Choose a category and brand of clothes. Decide on the size and color. Think about what occasion you can wear this option for.
The app allows you to think through the outfit down to the last detail. The program generates any clothes right on you in real-time. Now you can feel like a real model and test the developments of the world's clothing manufacturers.
Upload your photo in full face. Your face and hands should be free and clearly visible in the image. Choose an item of clothing that you like. Change the color, length, and pattern of the fabric with a single touch. Here you can forget about the boundaries of your creativity.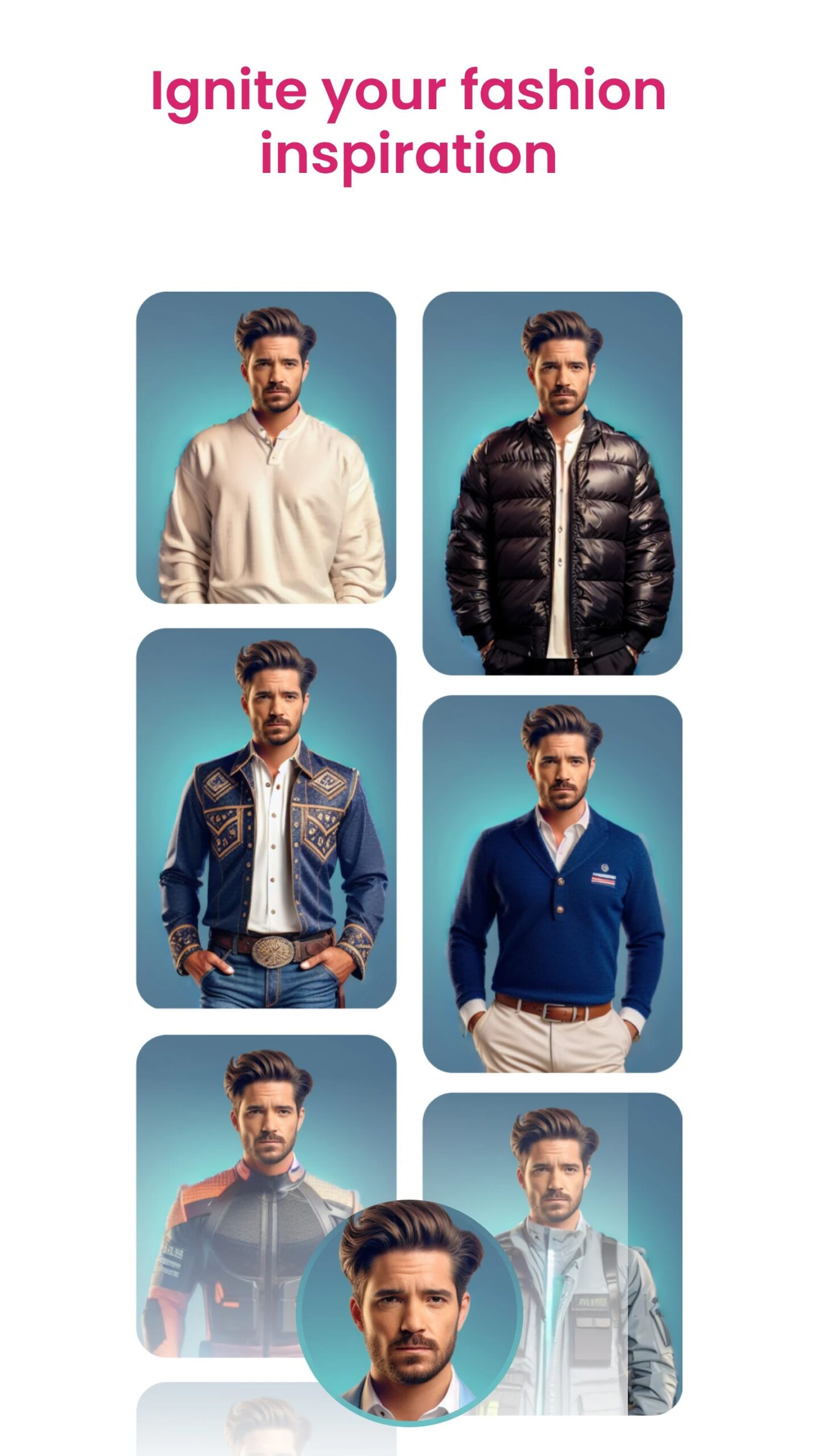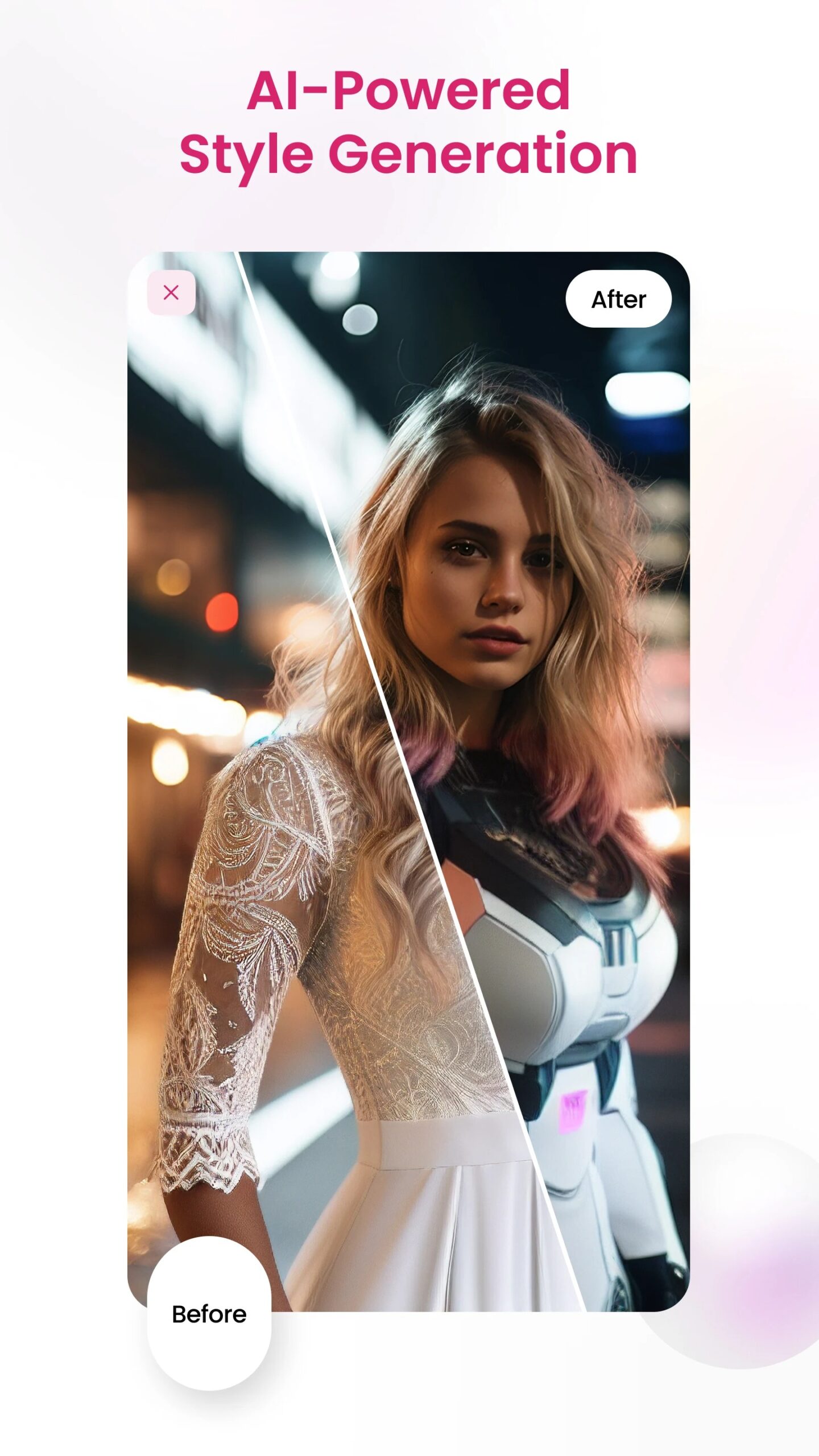 Choose a costume in a futuristic direction for the carnival. Create the most unusual costume to collect candy for Halloween. Or pick up an incredible dress for a New Year's Eve ball. All outfits are designed to fit your figure. Superlook can be a complete source of ideas for every day.


Live3D
Try yourself as a designer of fashionable and creative clothes. Using the Live3D service, you are not limited in your choice of fabrics, tools, and patterns. You can create any look you have long planned to see on a model.
Clothing Generator works for free and offers a modern set of tools that real designers use. The color, depth of the neckline, and length of the product can be adjusted with one button. A wide palette, a lot of accessories, and jewelry for clothes are at your disposal.
To create an item of clothing you need to describe it in text format. Specify all the details that are important for your outfit. Next, mark the style of clothing: retro, youthful, sporty, every day, strict. A few seconds separate you from the appearance of the conceived item on the screen.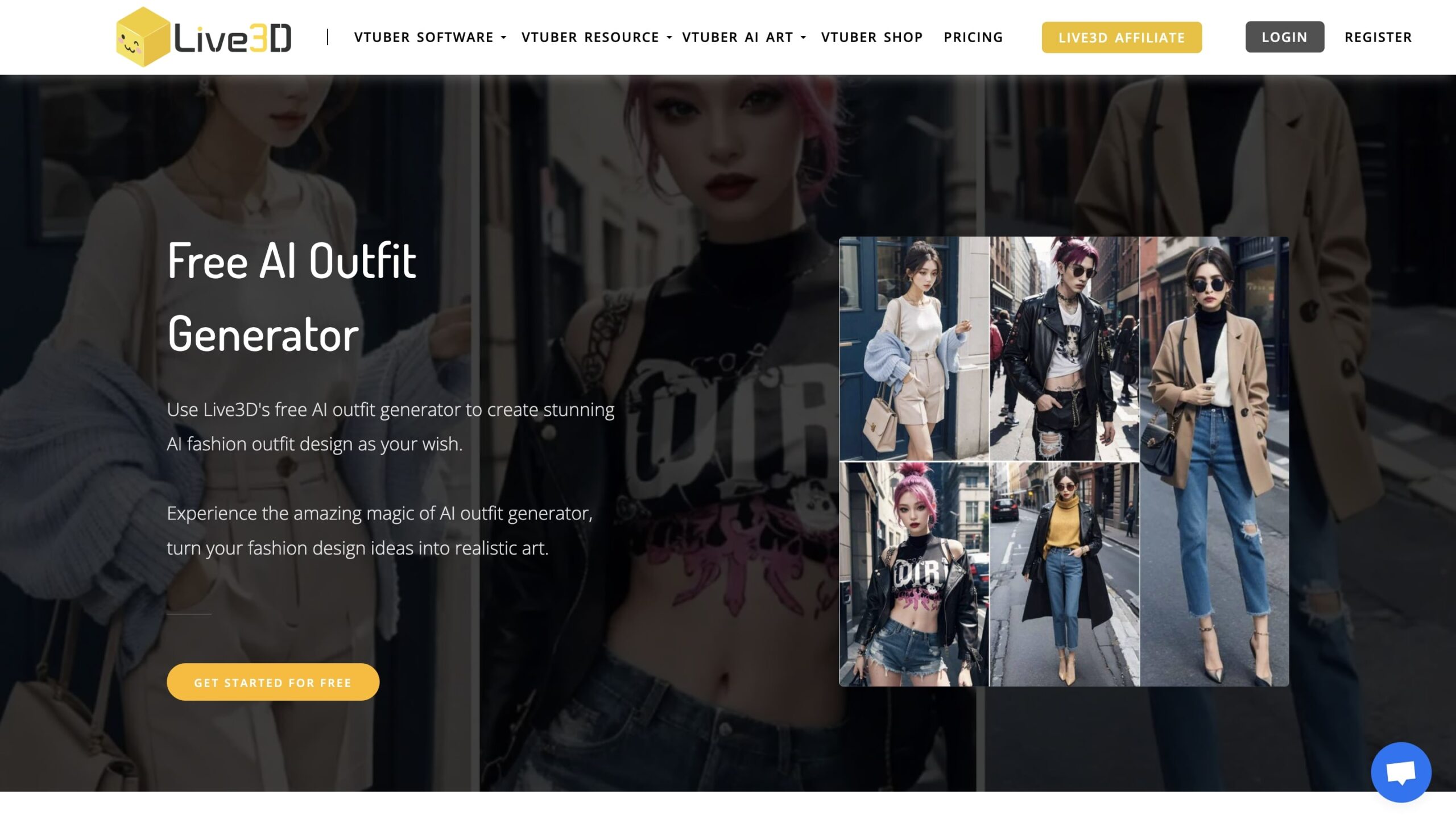 To create full-fledged models you do not need to have artistic skills and the ability to work with photo editors. You can make changes to the finished version at any time. The service is great for your creativity and fun. The whole fashion design industry is now available to everyone.

MyEdit
MyEdit invites you to try your hand at fashion modeling. Choose a style or outfit you want to test on yourself. Make your clothes stylish and comfortable.
The first thing you need to do is to specify the style of clothes you will be working on. Upload images of clothing items from your closet, social networks, and websites of famous brands. Based on them you will create your own models.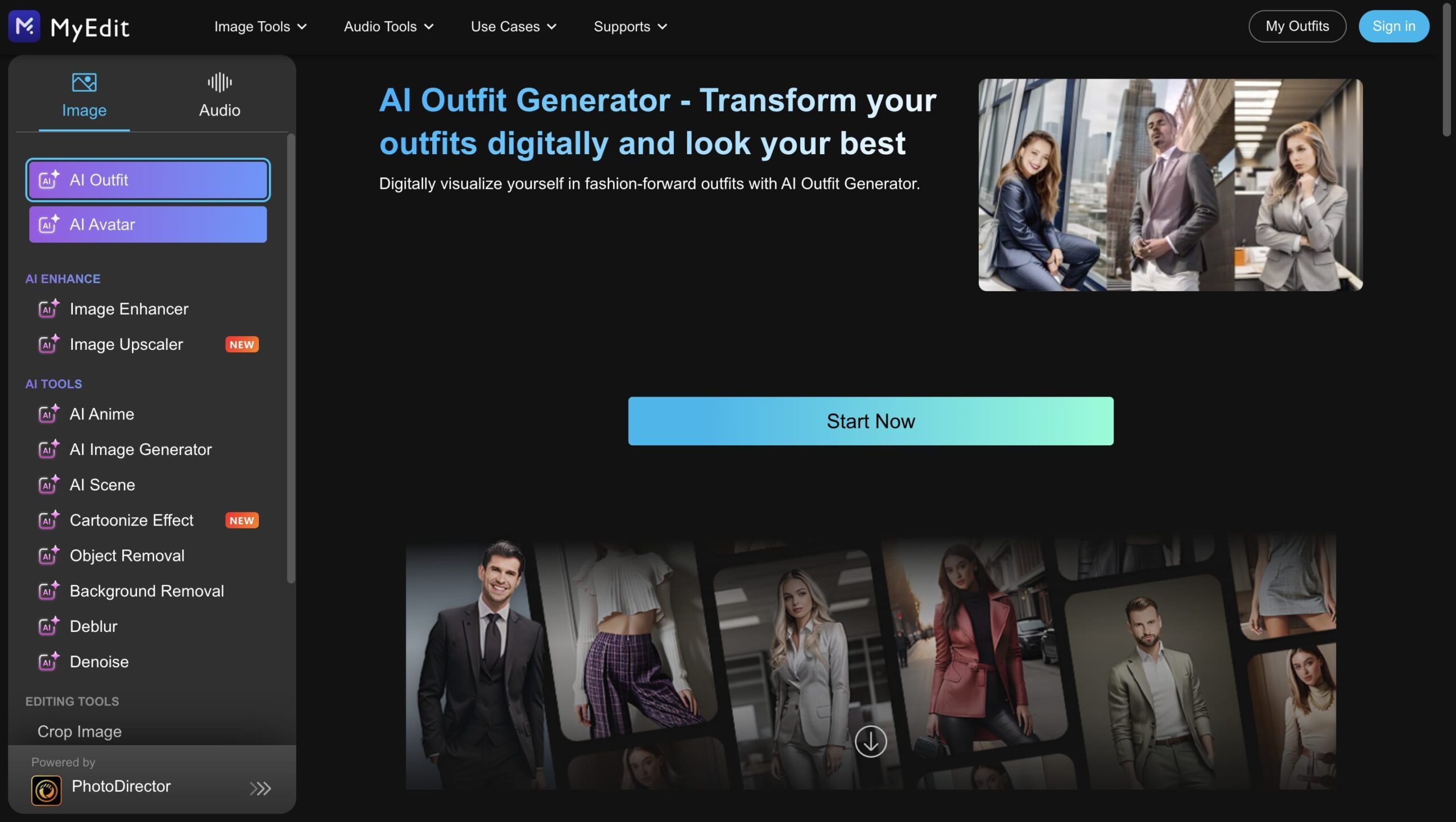 Change the design and tailoring, choose a color and a different print. Feel free to show your individuality: share the generated image on social networks or send it to print for further use.

You may also like: 7 Best clothes swap apps for Android & iOS
Fotor
Give your finished sketches in a 3D format. At Fotor you can evaluate the virtual version of the finished product, correct mistakes and make the necessary changes in your opinion.
This service will be useful for everyone who is interested in fashion design and wants to be aware of fashion trends. To work you will only need an Internet connection cause the clothes generator works free of charge.
To change the color, you just need to choose a tool and work with the color scheme. Start experimenting with different styles. Manual drawing is replaced by image generation with the help of artificial intelligence.
The menu of the service does not require special skills, so everyone can use the generator at full capacity. Write what you want to see in the end. The program turns ordinary text into bright and stylish outfits before your eyes.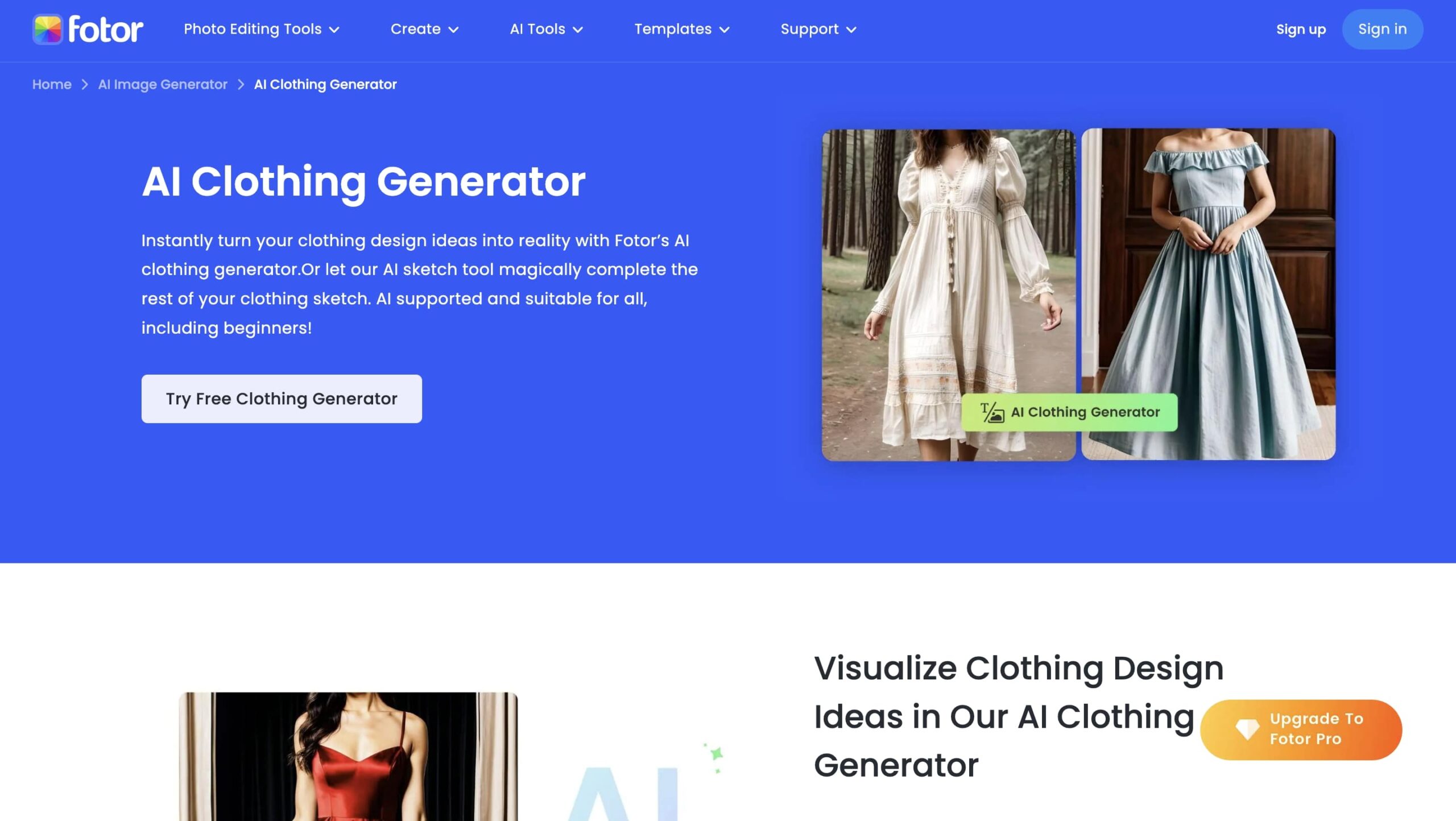 Another option is to use ordinary photos taken with your phone or downloaded from the Internet as a basis. Explore new fashion possibilities with the free clothing generator.