Almost all smartphone owners use various applications for their phone and tablets, and, of course, everyone wants to choose the best ones, especially if it's about games. In this case, the consumer is in search of an excellent gameplay, bewitching plot and excellent graphics.
The modern market does not slumber and relentlessly pleases its customers with new and unusual applications.
Especially for you, we made a selection of 14 best weed game apps for Android & iOS. And only you will decide on which game to stop the choice.
You may also like: 10 Best Flower Matching Games for Android & iOS
Weed Firm 2
Weed Firm 2: Back to College – in this game, you will play in the role of a young man who has very good knowledge of botany. You will need to apply his knowledge and enterprise to grow a few varieties of marijuana and sell them.
Choose buyers wisely, because someone can surrender you to cops! Cultivate marijuana, collect money and buy more and more valuable varieties of this herb.
Grow only the right "grass", which will be in demand in the market, sell it only to the best customers who will not hand you over to the cops.
Take up selling this real buzz, stand on the dangerous path. Plant new varieties and expand your business. Trade in all states and carefully sweep tracks. Advance in the field of trade and start growing mushrooms. Go beyond and start trading in the whole universe.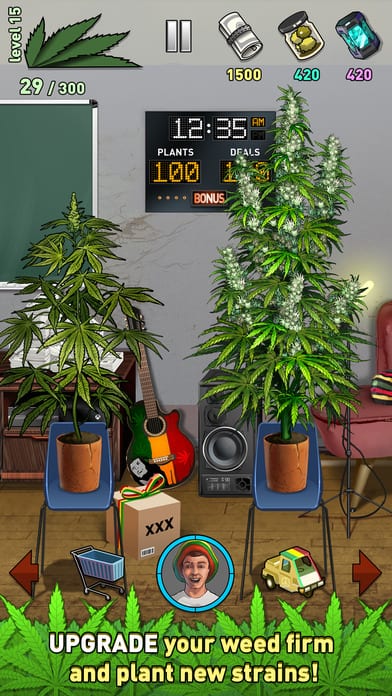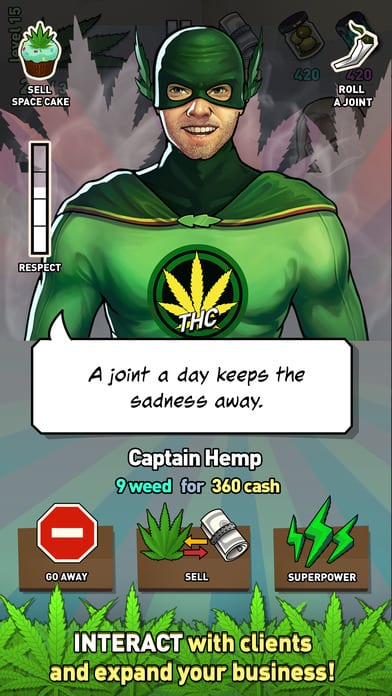 You may also like: 17 Best Local WiFi Multiplayer Games for Android & iOS
Weed Streets
This is a game in the genre of city building simulator in which you have to grow weed.
Your business starts from the lowest stage. You have quite a bit of weed and a couple of clients. However, if you put more effort, you will get a whole street very soon.
You have to get a license to sell hemp and then buy old buildings. They can be improved and turned into a part of your business.
Imagine being a tycoon! Hire workers, upgrade your businesses and defend yourself from gangsters who want to get your company.
However, not only the bad guys can be a danger, but also the police. Do everything possible to save your business. It is exciting to go through a lot of hardships to become successful.
Little by little you will get the whole street, but what to do then? Do not stop expanding your weed business and try to broaden your property to the entire world.
The design of the game is 2D cartoon graphics which is attractive due to its uniqueness, brightness and fun.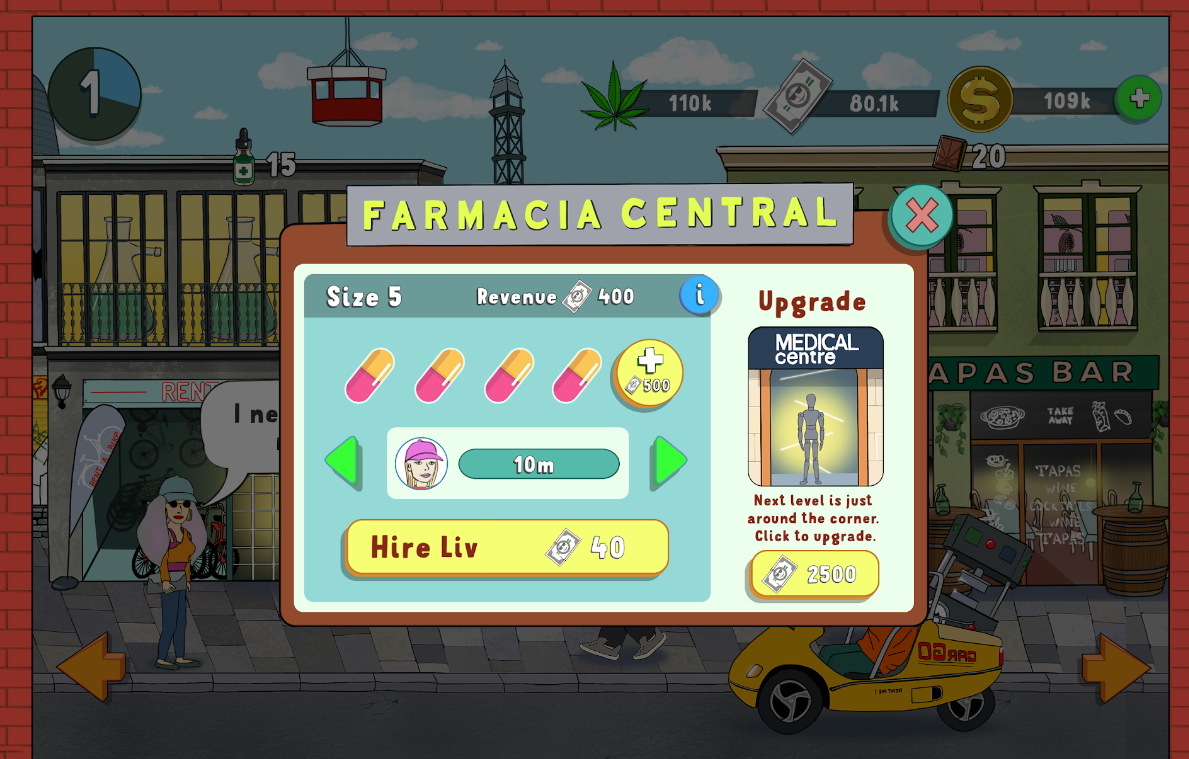 Weed Shop
Weed Shop for Android and iOS devices is a pretty cool app where players have to grow their hemp and sell it exclusively for medical purposes.
At first, you store will be empty. It has a special room where you can grow your own varieties of drugs. Water, take care for it and do everything possible if the only hemp was of better quality.
After all, competition in such a market is very high. If you produce quality grass, then soon more and more buyers will come to you. In your room, everything is arranged and you can live here. Free purchases are available in the app.
With their help, you can afford any sort of marijuana, and it will also give you the opportunity to purchase the most important items and tools.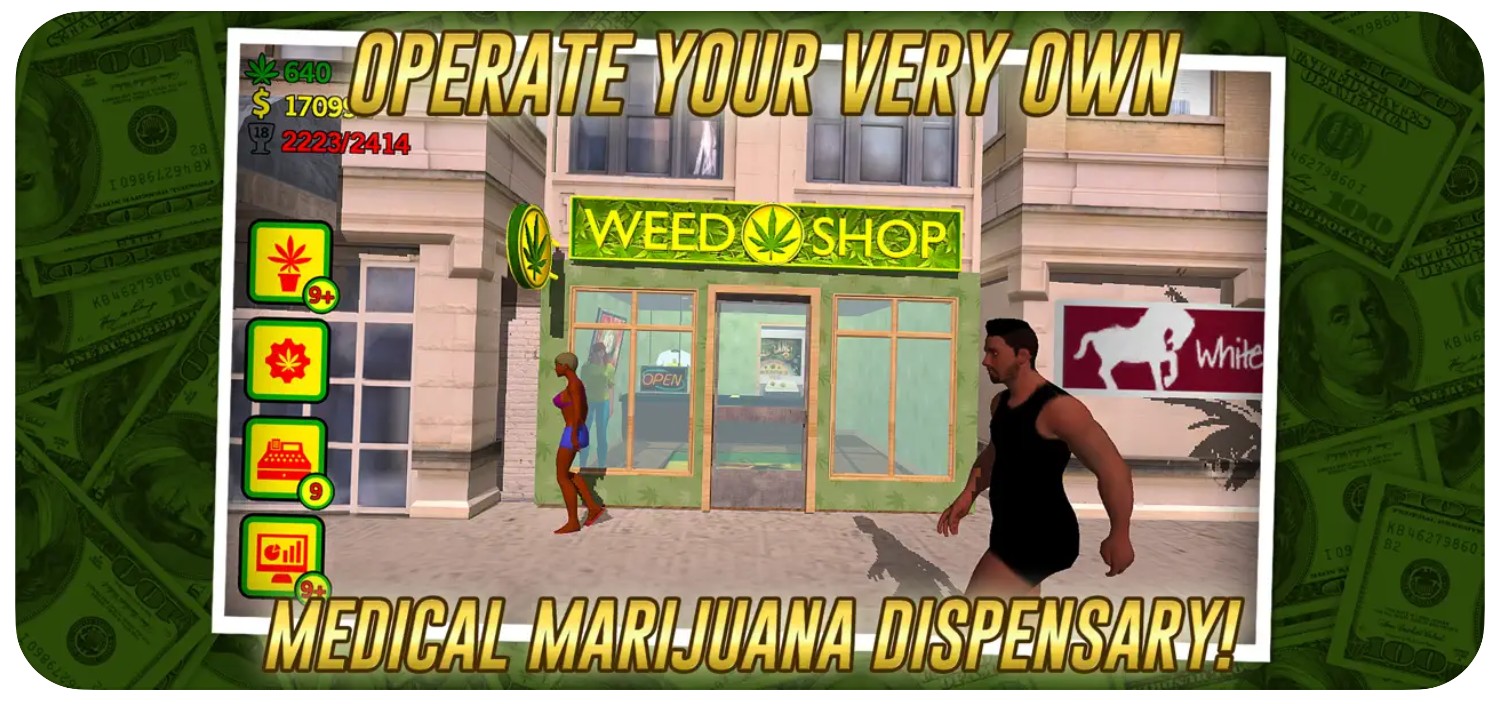 iSmoke: Weed HD
ISmoke: Weed HD – is an unusual simulator in which you can legally smoke a "grass".
The plot and the gameplay
If all the other games are boring, and the autumn melancholy does not give a smile, then this application will help at least a little brighten up the gray routine. With the help of the program, you can try your hand at being able to twist the "joint", and then light it with the built-in microphone.
Also, no one will prevent the bulb from "stirring up". And all this is allowed to be done under meditative music in the style of reggae. Most importantly, that for such smoking nobody will knock at the door and will not demand to present documents. Authentic management is attached.
Graphics and sound
Strangely enough, but the graphic component of the game looks quite good. The objects are well detailed, and the picture itself is voluminous. To smoke the "grass" is allowed in several locations: a gateway, a forest, a tropical island.
The environment is well developed and done qualitatively. The application is wonderfully optimized, which allows it to work perfectly even on not the most powerful devices. There are several musical compositions. The soundtrack was well chosen.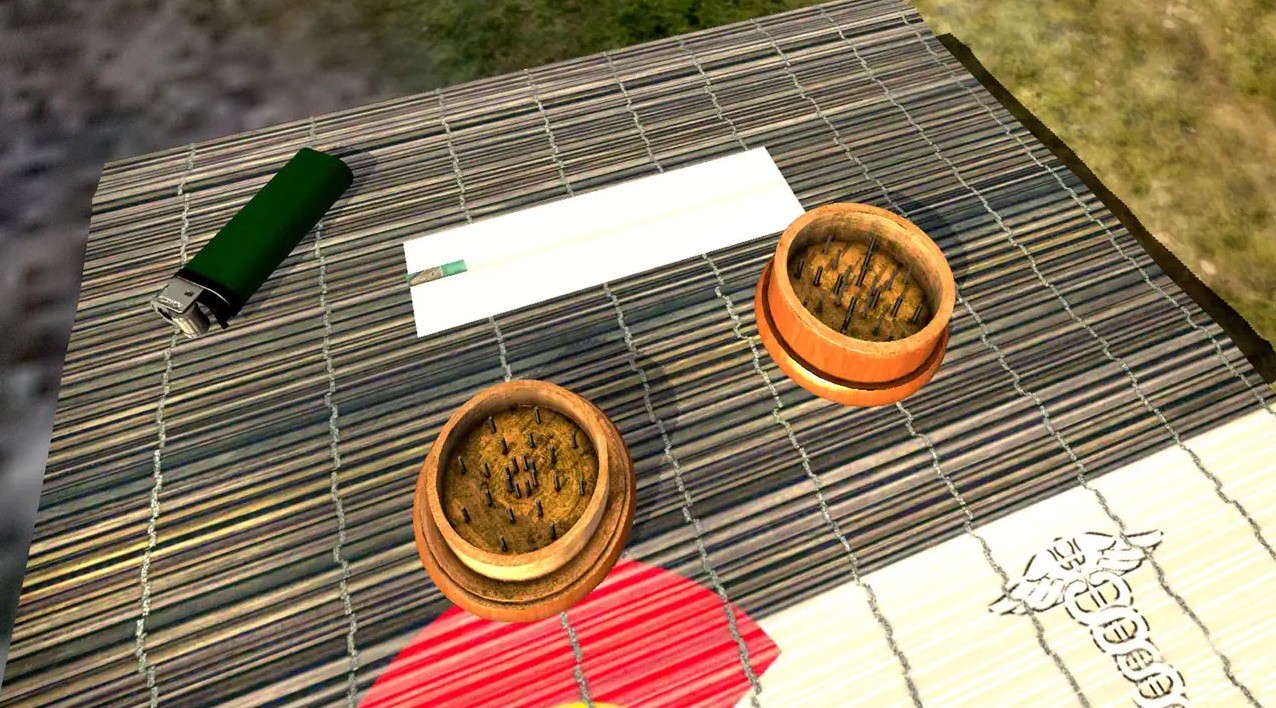 Bud Farm – Grass Roots
Pot Farm – Grass Roots – is quite an original application, which can be attributed to the genre of the farm. However, this time you do not have to plant wheat or corn, grow cows or sheep, you will have to establish a legitimate cultivation and sale of marijuana.
To do this, you must create a real farm, hire employees and specialists. In addition, for greater coverage of the market, you can bake confectionery, negotiate with medical institutions and of course, just sell.
Start your business with several plants and grow more and more each time. But you need to be careful because your successful business can be prevented by a spider mite that kills your crops and plants.
Sell as much marijuana as possible and purchase special tools for this money that will make it easier for you to work and make your bushes more enduring to different conditions. Find new customers among your friends from social networks and sell them the necessary goods.
Develop your own farm and be the best businessman in such a market. The application is completely free and very interesting.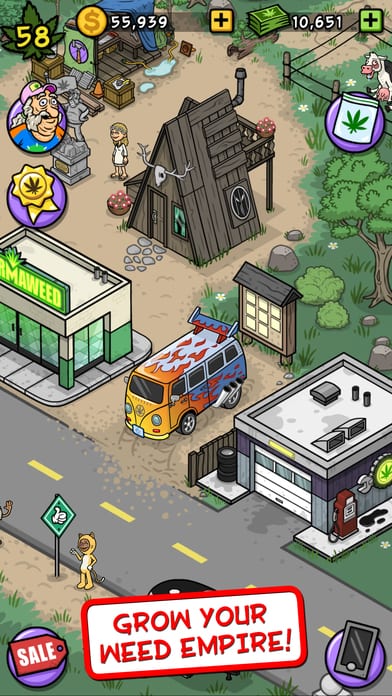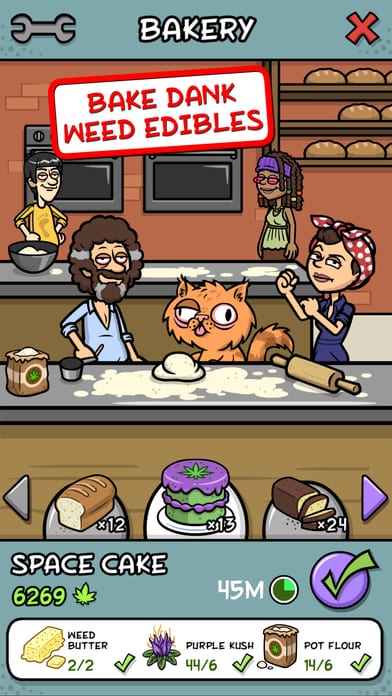 You may also like: 25 Cool Android Games with Controller Support
Ganja Farm – Weed empire
We bring to your attention the game-farm on a somewhat unusual and controversial topic.
The game is devoted to the topic of drugs, and the player will have to grow the most real marijuana and build a giant empire to grow these useful and important plants for human development.
The main character of the game is an obvious rastaman who does not want anything. He only lies under a tree and smokes the jambs that the player grows for him.
He is dressed, by the way, according to rastaman's multi-colored fashion. In general, his life was a success because he has such an assistant, as a player.
The graphics in the game are pleasant, but nothing more. The main thing is that there are funny characters to deal with: trade with them, communicate, receive various tasks from them. The plants are quite well traced.
The goals of the player in this game are the same as in most game farms. First of all, this is the development of our own economy from scratch.
The main source of income for the local economy is the cultivation and trade of cannabis. However, in addition to this plant, it will be necessary to grow other crops. The player will have to break the beds, plant plants on them, and build various buildings that will help to earn more.
By the way, the game has quite an interesting economic system, quite diverse and deep. And, interestingly, the more cannabis people smoke, the higher the player's experience in this difficult business.
The player will have to deal with breeding new varieties of cannabis, which will have a stronger effect on consumers.
Separately, it is worth remembering such an important detail as the reggae music, which creates an appropriate rastaman atmosphere.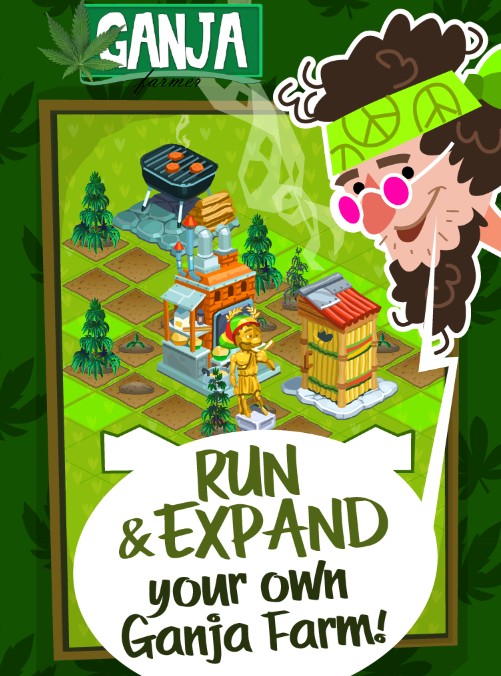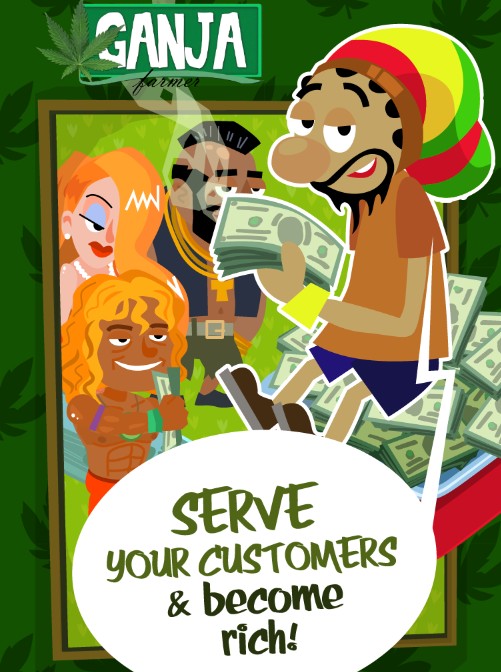 Hempire
This is a game where you can not only grow an array of vibrant plants but also build a thriving business empire.
Expanding your cannabis operation brings joy with each harvest, thanks to the app's engaging gameplay and storyline. Expanding your cannabis operation brings joy with each harvest, thanks to the app's engaging gameplay and storyline.
The app allows you to grow various plants, not just cannabis. The cast of characters adds depth and charm to your virtual world, fostering a sense of connection and camaraderie.
With a vast array of options and strategies at your disposal, you can tailor your approach to suit your unique preferences and goals. The benefits are manifold: from the satisfaction of watching your plants flourish to the thrill of running a successful business, the app offers a well-rounded and enjoyable experience.
So, Hempire can become your favorite game very soon because it provides you with interesting gameplay and simple navigation.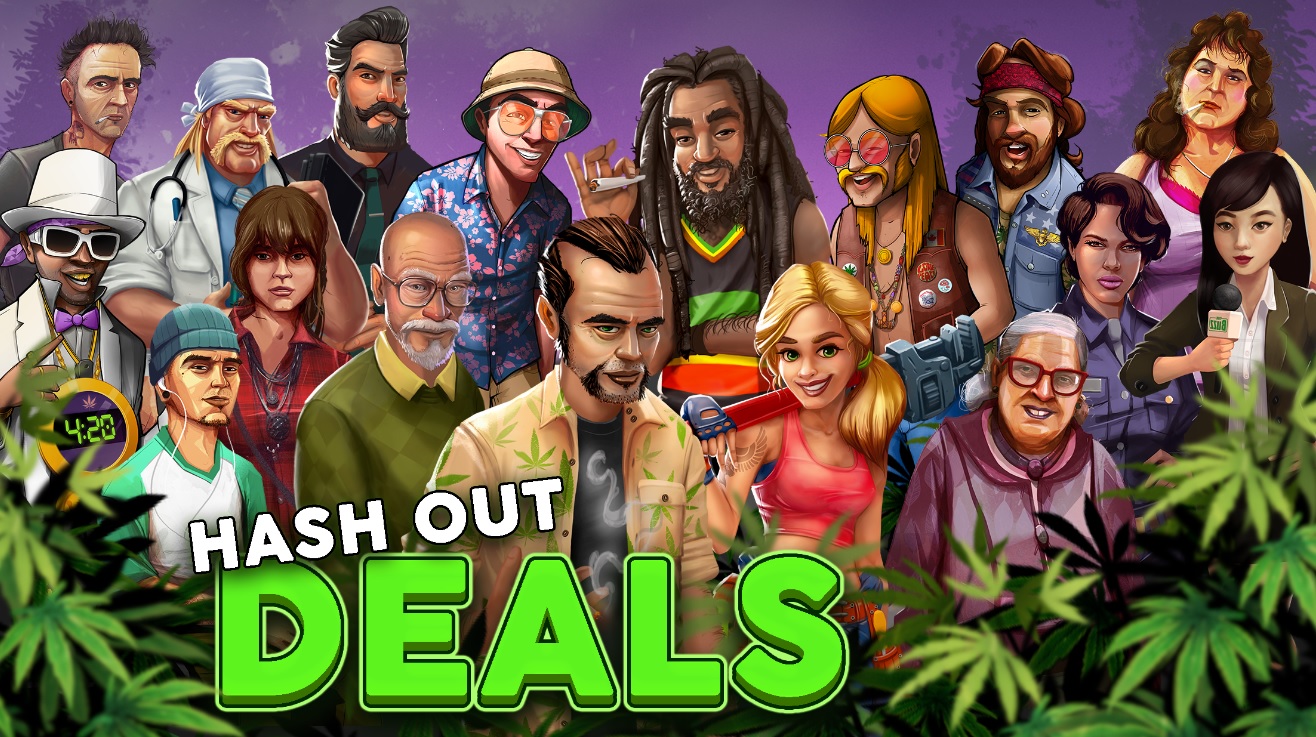 Weed Island
Did you dream of having your own farm with cannabis? All your dreams will come true together with the application Weed Island.
At the beginning of the game, you have to grow marijuana on a small piece of land. But in the process of playing, your lands will increase. Now you can set up your marijuana sales company.
Get your own workshops and sell canapés to your neighbors and friends. If you are tired, you can entrust this matter to your assistants, and you only have to observe from the side.
Features:
Steep characters and great graphics.
Possibility to grow mushrooms, hemp, coffee plants.
Build your workshops.
See what your friends grow on their farms.
Stand-alone game.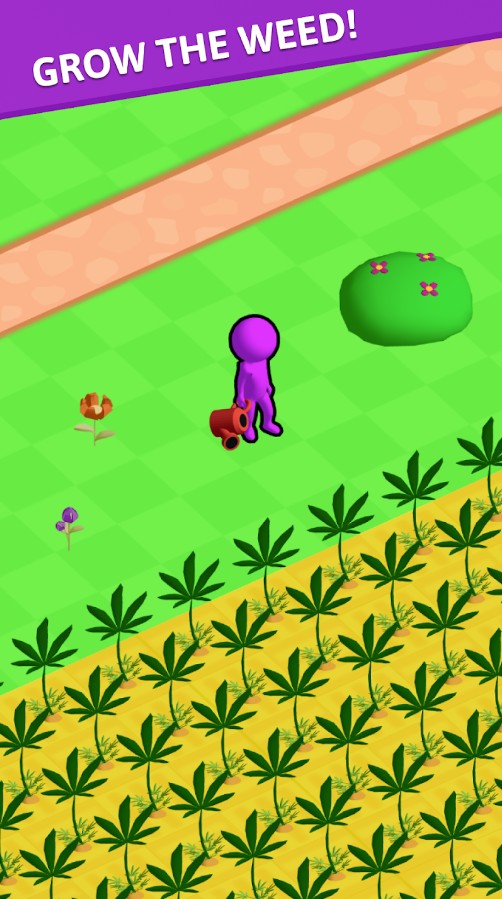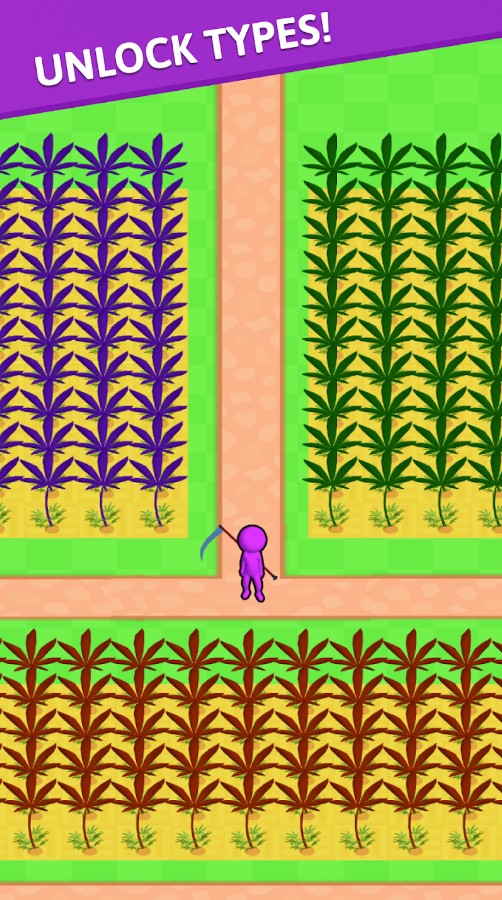 Wiz Khalifa's Weed Farm
This game offers a unique experience of the weed farming. You can get your own weed garden on your mobile phone.
As you tend to your cannabis crops, you'll also have the opportunity to nurture a variety of other plants, enhancing the visual appeal and diversity of your farm. This adds an extra layer of creativity and engagement to your farming experience.
Meet a diverse cast of characters who bring a sense of community and camaraderie to your virtual farm life. Interact with them, share stories, and build connections as you progress through the game.
The app is designed to provide an entertaining and immersive way to learn about the cultivation process and the business of farming. As you cultivate your crops, you'll experience a sense of achievement and satisfaction, creating a truly rewarding experience.
This app has exciting gameplay and is a good option to pass time when bored.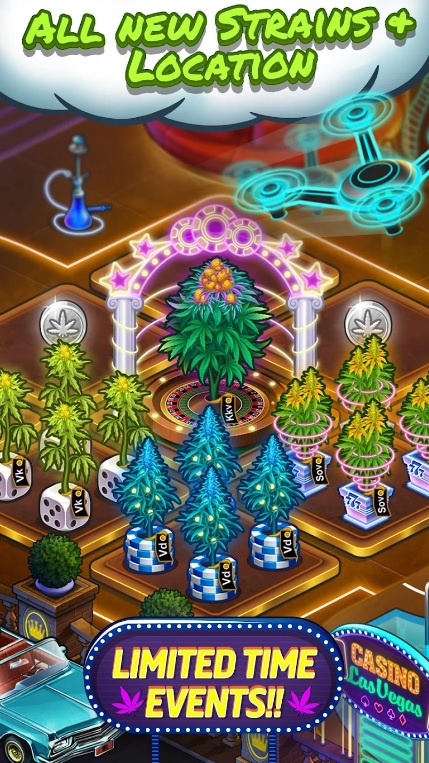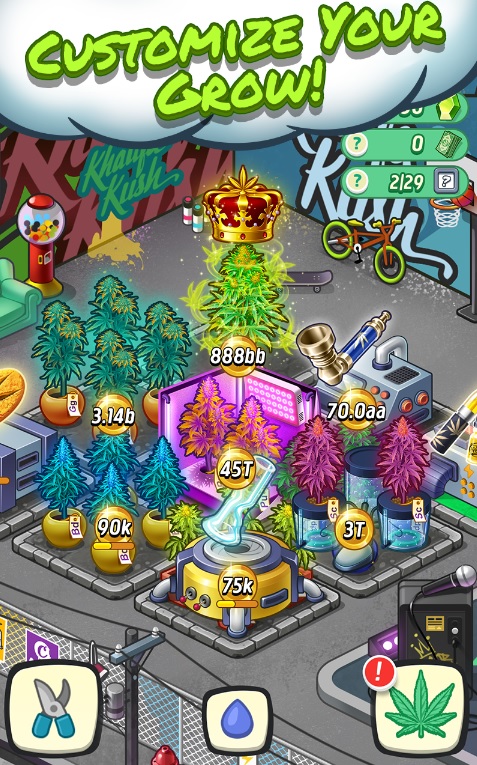 Weed City
In addition to cannabis, the app offers you the opportunity to cultivate a variety of other crops, expanding your horticultural skills and creating a diverse and colorful farm. As you nurture your plants, a sense of accomplishment and joy blossoms, creating a delightful and fulfilling experience.
The app boasts an array of charming characters, each adding their unique flair to your virtual world and fostering a sense of community. With a rich storyline and engaging gameplay, you'll find yourself immersed in a world of growth and prosperity.
Choose from an expansive cast of characters, each with their own story and personality, and build meaningful relationships as you navigate the challenges of running a successful cannabis business. As your empire thrives, the benefits of your hard work become evident, filling you with a sense of achievement.
Beyond cultivation, the app offers various options and activities to keep you entertained and motivated.
To sum up, this game allows you to dive into a world of adventure, connection, and business acumen as you cultivate your way to success in Weed City.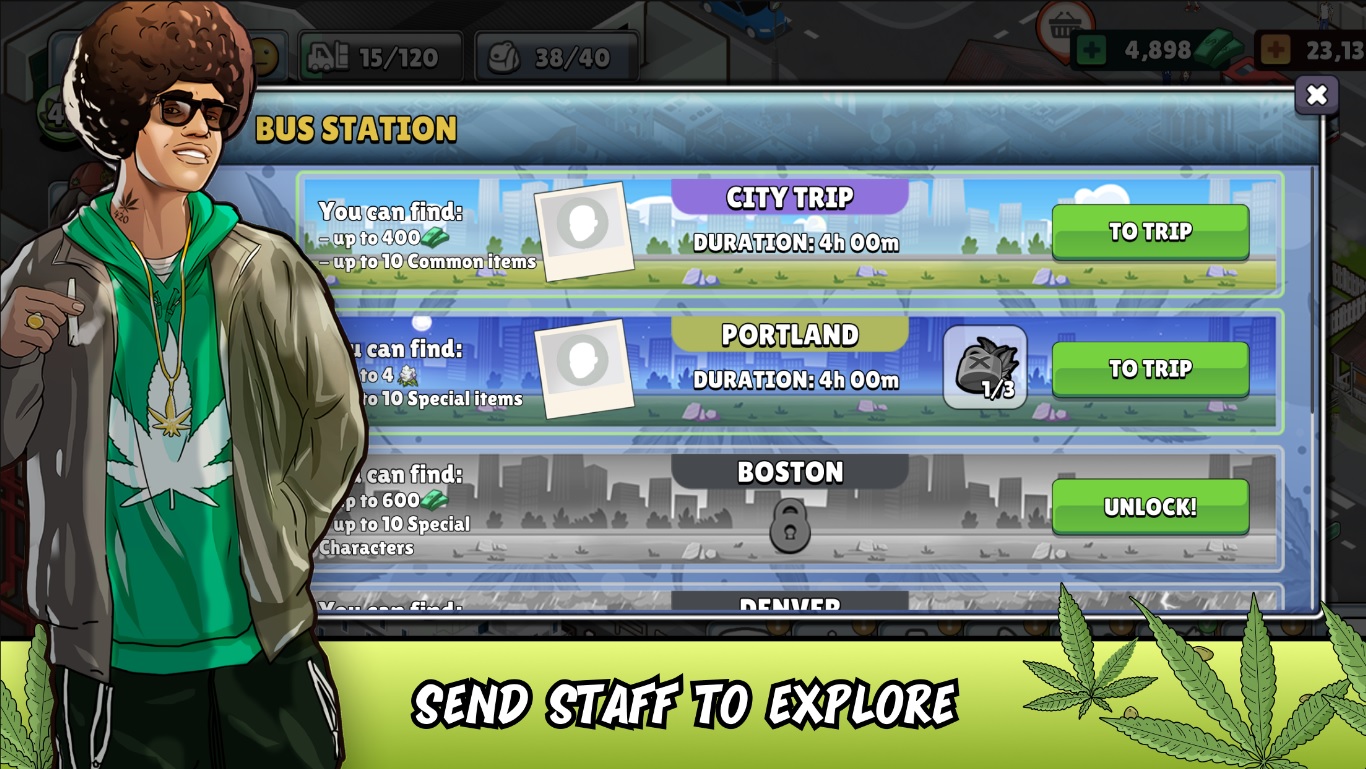 CannaFarm
This app invites you to cultivate and manage your very own cannabis farm, crafting a vibrant haven of growth and happiness.
While cannabis takes center stage, you can also nurture an array of other crops, expanding your agricultural prowess and adding a colorful tapestry to your farm. As you nurture your plants, a sense of fulfillment and achievement blooms, turning your farm into a joyful and rewarding sanctuary.
The app introduces you to a cast of charming characters, each with their own stories and personalities. Forge meaningful connections as you navigate the challenges of running a successful cannabis business. With a captivating storyline and engaging gameplay, the journey to prosperity is as enjoyable as it is rewarding.
Beyond cultivation, CannaFarm offers a variety of activities to keep you engaged and entertained. Immerse yourself in a world of adventure, community, and entrepreneurial success as you cultivate your way to happiness in this delightful app.
To sum up, I can recommend you to try this game if you are interested in weed farming but do not want to do it in real life.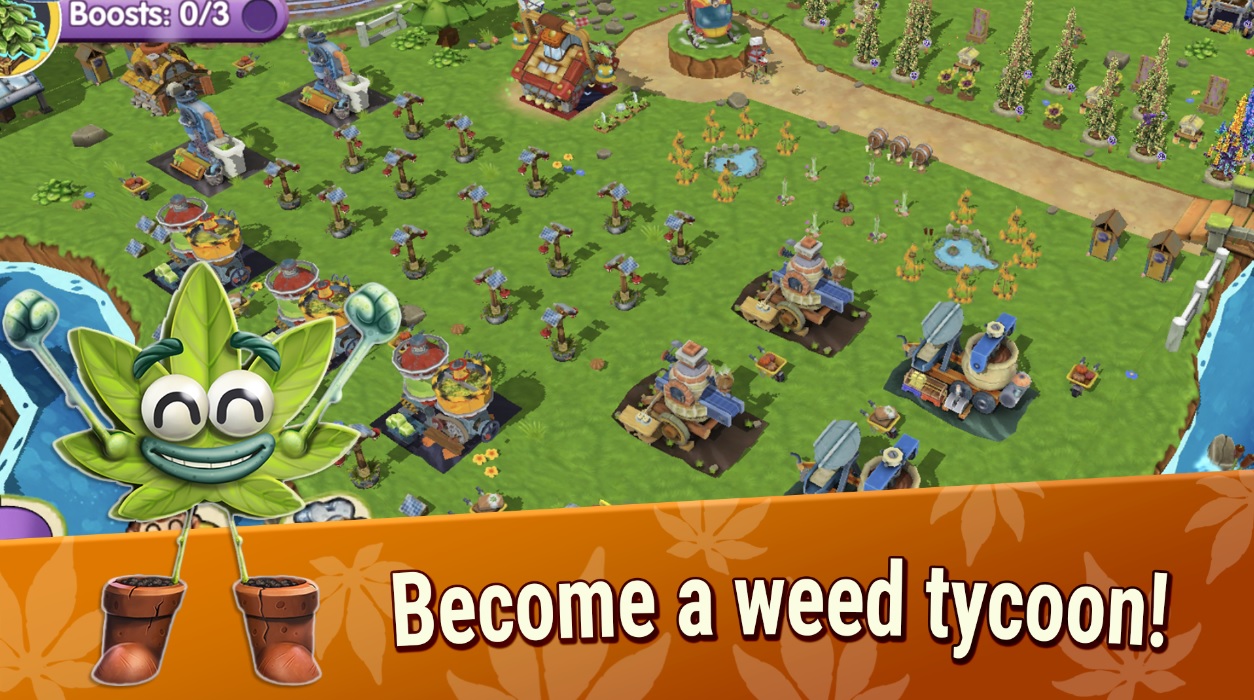 Weed Inc: Idle Tycoon
Set up your own business with Idle Tycoon!
Start from the bottom and grow your way to the top!
You can choose from a variety of weed strains, such as Sourdiesel or Trainwreck, grow and collect them. You will also manage every aspect of your business from grow room to the store.
Expand your production by pending new locations in LA, Denver, Seattle, and New York City. Also, renovate those locations to gain more money, which you can then use to buy more weed to grow.
The graphics and sound are great, so you will definitely enjoy playing!
It is important to mention that the developers do not encourage anyone to follow the actions in the game. The game is for those who are 17 or more years old.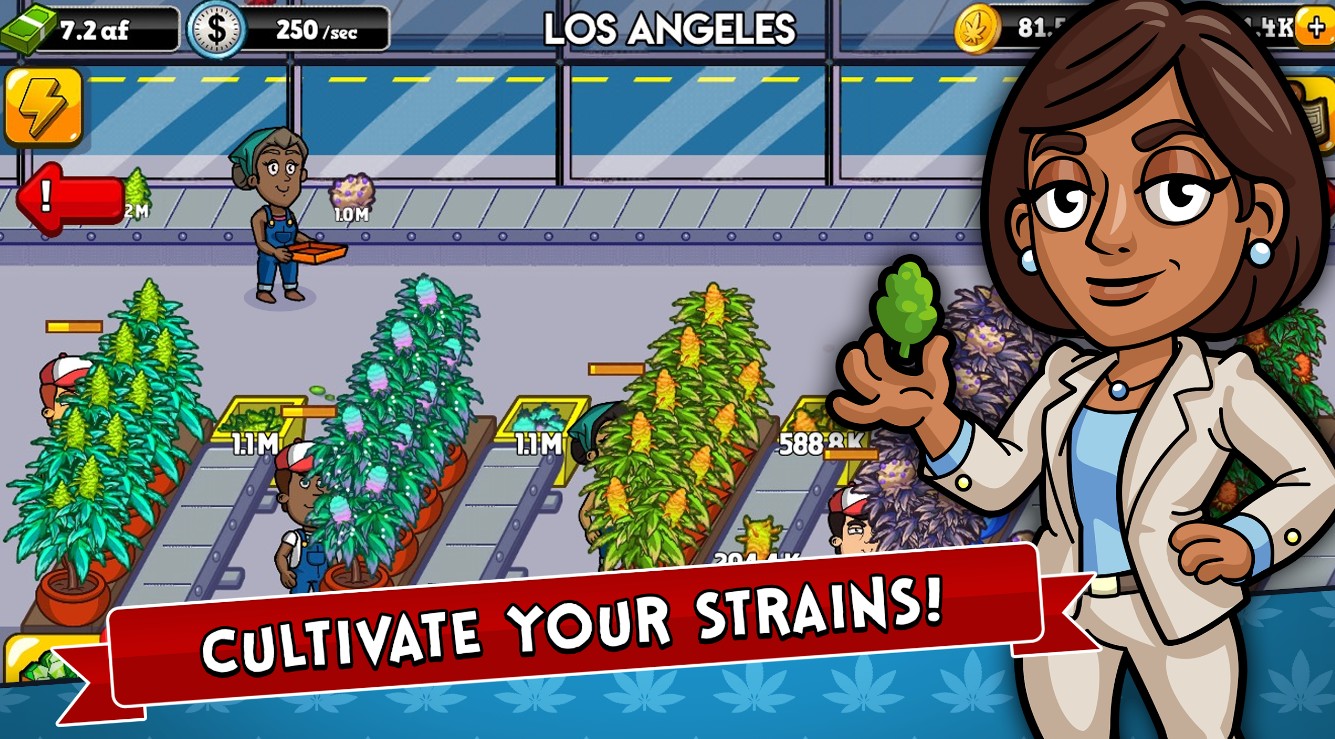 Cheech and Chong Bud Farm
Join Cheech and Chong on their journey to make bank from a green business!
The old buddies come to a new town of Hierba Verde, where they are trying to enhance their business. Help them by finding new friends, buying, and improving new locations.
Deal with the police officer Stadanko who is always on your way!
The graphics are clean, and the sound that comes with the game is pretty cool as well.
Build your empire with Cheech and Chong, go ahead and download the game!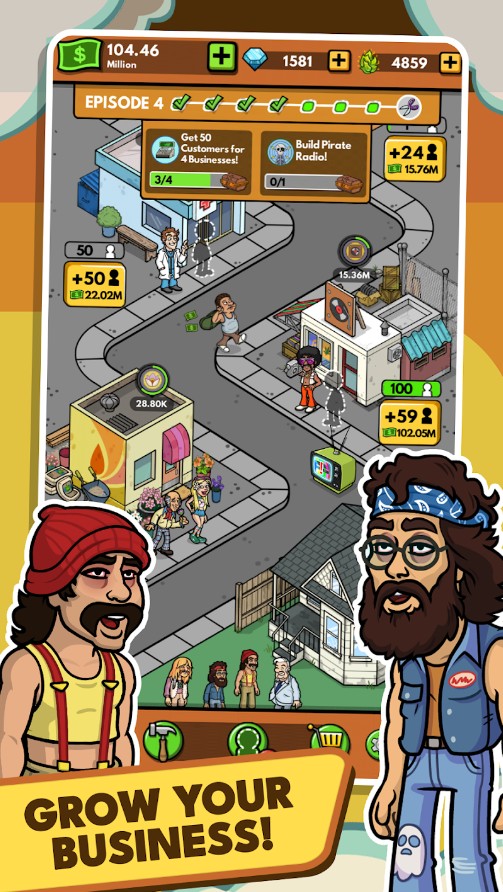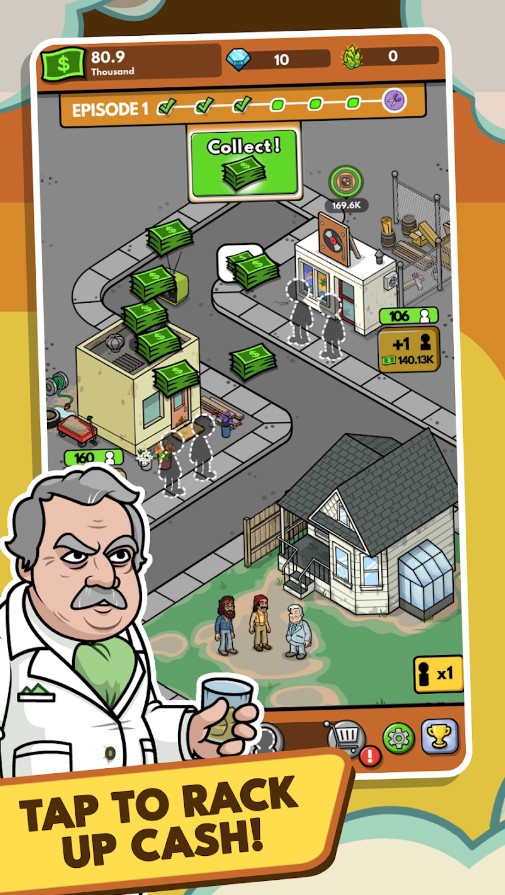 You may also: 16 Best Point and Click Adventure Games for Android & iOS
Weed Crush
Take care of your cannabis fields in Weed Crusher!
The more you harvest and the more money you get, the cooler you become!
After you harvested some weed, sell it to strangers who are asking for some, that is how you will earn coins and diamonds.
There are different islands with different fields and strains of weed, which adds variety to the game. Improve your main character, boost their power and speed in the upgrade section.
The 3D graphics of the game are quite impressive, so you will definitely enjoy Weed Crusher!
The game is for those aged 17 or more. It is important that you understand that the developers are not encouraging anyone to use illegal substances or sell them.