11 Best Crowdsourcing Apps for Android & iOS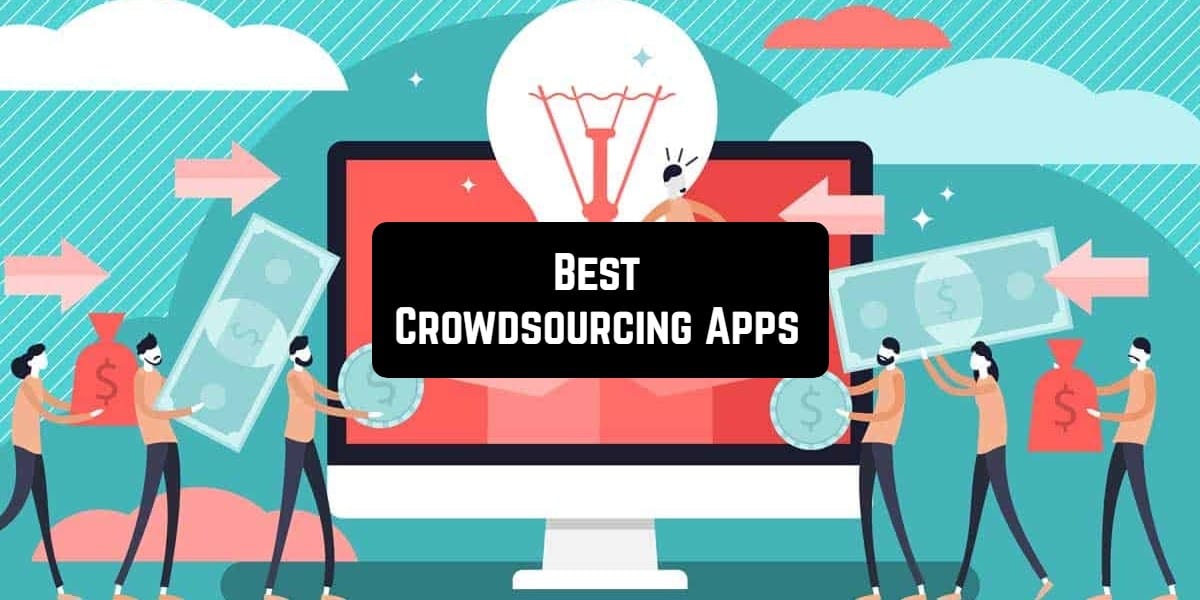 Nowadays, the format of a crowdsourcing app becomes more and more popular. In case you don't really know what a crowdsourcing app is, it's an app that uses people's resources for a particular purpouce.
There are lots of crowdsourcing apps for Android and iOS that can help you deal with various tasks easier. Those apps can do lots of stuff – from reporting you about the traffic jams to learning languages and helping blind people. You can also ease the way you travel as a crowdsourcing app offers you everything – from a car to the apartment.
Here's the list of 11 best apps that category that worth your time. Have a look!
Airbnb
Let's start with an app called Airbnb. This is an app that helps you find an apartment when you are away from home.
This app gives you access to millions of hotels, apartments, and houses that you can rent while traveling. The app has a powerful searching engine with lots of filters that you can use to find the place that fully meets your requirements. There are dozens of filters for the hotels about the eating system, the room amenities, the activities, and much more.
As for the hosting apartments, each offer has a detailed description of the place, the info about the local attractions and also the list of rules you need to follow while staying there. Plus, each offer included a comments section where you can read the reviews of real people and see their pics of the apartment.
Along with that, the app has a section full of unusual upcoming activities that are a crime to miss. The app now covers almost two thousand countries and contains more than six million vacation houses and flats. The greatest thing about this app is that you will be able to find a place for living even if you've started to look for the last minute.
In the long run, if you need an app to book the residence for your trip, the Airbnb app will be your best shot.
You can also check: 11 Best car locator apps for Android & iOS
Uber – Request a ride
The second app is called Uber and this is a well-known taxi app that you can use all over the world.
Way back when the app came into the market it immediately changed the taxi game for lots of people. The app grats you to get your taxi in minutes wit no need to wait in the taxi line. Plus, the Uber app is available in more than seven thousand cities around the globe so you can be sure it will take you wherever you need. You can also book a ride ahead of time if you need it.
While requesting for a car you can choose the type of car you want and you will always see the price of your ride. You can also rate the driver and write a more detailed comment if you have something to say about him/her. Furthermore, you always name, the photo and the personal rating of the driver when you get the car.
Along with that, the Uber app has all the features for you to feel safe and comfortable during the ride. At that, you can share your ride with your relatives and friends and they will be able to track your location while you're in the car. Plus, the app has an emergency button that immediately contacts you with local authorities and it automatically shares your location and trip details with them.
To crown it all, if you need a taxi app for safe and easy riding, make sure to give Uber app a try.
Duolingo: Learn Languages Free
Duolingo: Learn Languages Free is a crowdsourced language translation app that enables you to learn a new language in a creative way.
The main purpouce of this app is to make the long and power taking process of learning a new language more fun and interactive. It might sound childish but the app is actually quite powerful and its a pleasure to learn languages with it. Plus, with the help of a game-like learning process, you don't get bored of it that fast and it doesn't feel existing.
For now, the app includes learning programs for almost forty languages so you have a variety of choices. Besides, all the lessons are quite short so you can practice on the go. Each language includes speaking, reading writing, and listening sections. The coolest thing about this app is that it can actually get you prepared for real-life conversations with native speakers and not just give you the basic knowledge.
This app also tracks your progress and sends you regular notifications with a reminder to study. As you improve your skills you can win rewards and share it in your social media. Plus, all the courses are free which is truly amazing.
In the long run, if you want to take interactive language lessons, be sure to try the Duolingo app.
Figure 1 – Medical Images
Figure 1 – Medical Images is a crowdsourcing medical app for doctors that empowers them to share photos and interact with colleagues online.
To cut in short, this app is like an Instagram but for medical workers only. The app grants doctors to share their pics and researches and discuss it with colleagues from all over the world. Besides, this app serves a place where every healthcare pro can go fro advice to discuss the condition of the patient while keeping his personal data privat.
Furthermore, the app has a list of discussion topics that you can join to share your best cases or test you professional skills. The app also has a built-in chat so you can write directly to your colleagues.
Plus, the app will be helpful for medical students as it includes thousands of real medical cases fro, professional doctors. As for the geography of this app, it now covers more than two hundred countries so there are lots of specialists you can communicate with.
To crown it all, if you're a medical worker looking for an app to interact with colleagues, give the Figure 1 app a try.
Be My Eyes – See the world together
As its name supposes, Be My Eyes – See the world together is an app that enables the crowd to help blind people when they need it. What this app actually does is it allows blind people to call for help so the other users that are available at the moment could help them. When the user responds to the call he connects with the blind person via video call and tells him what he sees around.
It needs to be said, the are lots of sighted users in the app who are ready to help so even if one particular user rejects the call there is always another one who will accept it. Plus, the app is completely free and the sighed people are not getting paid for their help they are more like volunteers. What is more, the volunteers are speaking two hundred languages so every blind person can find someone he will understand.
In case the problem that a blind person needs to solve is too difficult for the volunteer he should call the customer support to be reconnected with a professional. The only limit the app has for volunteers is that they need to be 17 and. Moreover, the average waiting time for the call to be accepted is just fifteen seconds.
In the long run, if you want to be a volunteer for blind people, pay your attention to the Be My Eyes app.
Quora — Ask Questions, Get Answers
As you can see by the title, Quora — Ask Questions, Get Answers is an app where you can ask whatever you want and get an answer fro it. The main goal of this app is to make the process of getting answers you need quick and easy. Basically all you need to do is to whether find a topic related to your question or just add it on the waiting list. On the other hand, you can answers people's questions yourself if you are an expert in some field.
Plus, this app integrates with Twitter and Facebook so you can share your questions and answers. Along with that, you can follow the topics you're interested in and see all the questions that is being added to it. Furthermore, each user earns the rank that appears near to his username. At that when you read somebody's answer you can see if he is an expert or just and enthusiast. You can also go that person's profile to read his info about himself and maybe connect with him directly.
To crown it all, if you're looking for a place to share your knowledge and find the answers to your questions, make sure to give the Quora — Ask Questions, Get Answers app a try.
MiFlight™
MiFlightTM is a crowdsourcing app that provides you with all the current information about the airports and flights.
The main goal of this app is to give you an ability to track all the changes with your flight online. The app gives you information about the security checkpoints, the length of the line, and all the other useful stuff that keeps you fully informed. In case you wonder how it works its quite simple – the users report about it.
Along with that, the app includes the maps of thousands of airports with all the terminals, cafes, stores, and restrooms. Plus, you can check the number of people who are taking the same flight as you and predict the length of the terminal lines. Thus, you can change your plans and arrive at the airport sooner or later.
It needs to be said, the app adds new airports each month so even if you can find the one you need don't rush to delete the app. However, some features of the app require a premium subscription.
In the long run, if you travel on a flight a lot and want to save your time at the airport, try the MiFlight app.
Crowdsource
Crowdsource is a multi-purpouce app by Google that enables you to connect with people all over the globe and help other products of Google get better.
The main point of this app is to make you feel like a part of something big and useful. At that, you can help to improve various google services like to help a translator understand the language more, help google to get better in identifying pictures, and all that. All of it is getting done quickly and easily just by answering simple questions.
Thus, you can make Google better wherever you are while you have an Internat connection. Plus, you can choose to do the tasks that you want – from recognizing the handwriting text to sharing photos and translating the quotes. Along with that, while you answer the question you will get bonuses such as an invitation to the local community meetings, invitations to the online Hangouts, and other pleasant things.
To crown it all, if you want to become a part of the Google community make sure to try the Crowdsource app.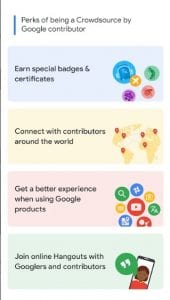 Waze Navigation & Live Traffic
As its name supposes Waze Navigation & Live Traffic is an app that shows you the local traffic situation in your town.
This app works as a basic navigator that you can use to reach a destination point but it also tells you about the traffic situation, the police, the crashes, and all of it at the same time. Plus, if the route you've chosen is bad decision according to the road situation the app will offer you to change the route.
The good thing is once you've loaded the map of the particular city you can use the app with no Internet if you don't care about the traffic and all. At this point, the app serves great as a navigator and it has the night mode that automatically turns on when its evening time. Plus, the app has a build-in speedometer that will report you if your speed is too high.
Along with that, the app keeps you informed if you have roads you need to pay for on your route and gives you the prices. Furthermore, the app shows you time that the particular trip will take you, and it's constantly updating while you ride. You can also save on gas while using the app as it offers you discount coupons for the popular gas stations. Plus, you can sync the app with your favorite music services.
In the long run, if you want to always know what's happening on the road, be sure to give the Waze app a try.
BlaBlaCar: Carpooling and Bus
BlaBlaCar: Carpooling and Bus is a well-known crowdsourcing car service that empowers you to find a car or travel companions for your trip.
The main goal of this app is to connect the drivers who have empty seats in their car with the passages looking for a ride. This app is very easy to use – you just pick your destination point and the date of a ride and the app will show you the drivers that are available. You can also publish an announcement of your ride and wait for the drivers to respond.
At the same time, you can respond to the driver's announcements and offer yourself as a passenger. Along with that, all the announcements includes the cost of the trip and the rules that the passengers need to follow. Plus, each driver and passenger has a personal star rating and the comments section where you can read people's experiences with him. You can also use the app to book a seat on the bus.
As a driver, you are free to decide if you want to give a particular person a seat in your car and you can deny his offer. The app has a great-searching engine so you can only view the announcements that are close to your current location. There are also no rules for time limits so you can book a car seat an hour before it happens. There are also different types of rides – from short ones to long-distance ones.
To crown it all, if you are a tourist and who prefer to travel by car, pay attention to the BlaBlaCar app.
Unbabel for translators
And the last but not least, Unbabel for translators is a crowdsourcing translation service that uses both online techs and human editors to translate stuff.
Mainly, this app is great to use if you need to translate a document and you're ready to pay for it. The app works simply – a customer sends an email with the documents that are needed to be translated and the service automatically translates them. Then, the app hires an editor to check the translated text and correct all the mistakes and it usually costs 2 cents for a word.
If you're interested and want to be an editor you need to sight up, pass the test, and go through training lessons. Once you're done with that you will get access to the paid tasks. An average editor can easily earn from $8 to $20 for an hour which is quite impressive considering that you don't need to translate the whole file all by yourself. Some tasks have time limits, some don't and you can choose the ones that meet your preferences more.
In the long run, if you need to translate something or you want to earn money on editing, make sure to try the Unbabel for translators app.
You can also check: 15 Free apps to find cheap flights (Android & iOS)