If you want to lose weight, but are afraid of heavy exertion due to hypertension, then you should try the DASH diet. It is supported by the US National Heart, Lung, and Blood Institute. Consult with your dietitian before starting this diet.
DASH diet won't only help you lose weight, but also lower the risk of heart disease. The main priority of this diet is to reduce sodium intake, as well as eat more vegetables and make your meals less.
You will lose weight because you reduce cholesterol in the blood. This diet has another advantage, it will reduce the risks of getting diabetes. You can find other diets here.
Let's take a look at the best DASH diet apps for Android & iOS.
SmartDiet Planner, Calorie Counter to Eat Healthy
We highlu reccomend you to try this app if you are on DASH diet.
On the main screen, you will see the number of calories, carbs, protein, and fat you have consumed today. You can press the left and right buttons to see your stats on other days. Simply search for the meals you had from the list, add them, and the counter will reevaluate all your stats.
In the lower part of the screen, you'll get meal suggestions. In the bottom right corner, there's a "Water" button that you can press to record your water intake.
There's a FAQ section in the app where you can find some health advice.
The unique feature is that it provides you with a smart coach. The coach recommends what meals you should have and what time would be the best for you to have meals.
The problem with this app is that when entering weight when you first enter you can't fill in more than 320 pounds. The developers say that that's because they don't think this program will help people above that weight.
Overall it's a decent app that will help you stay healthy.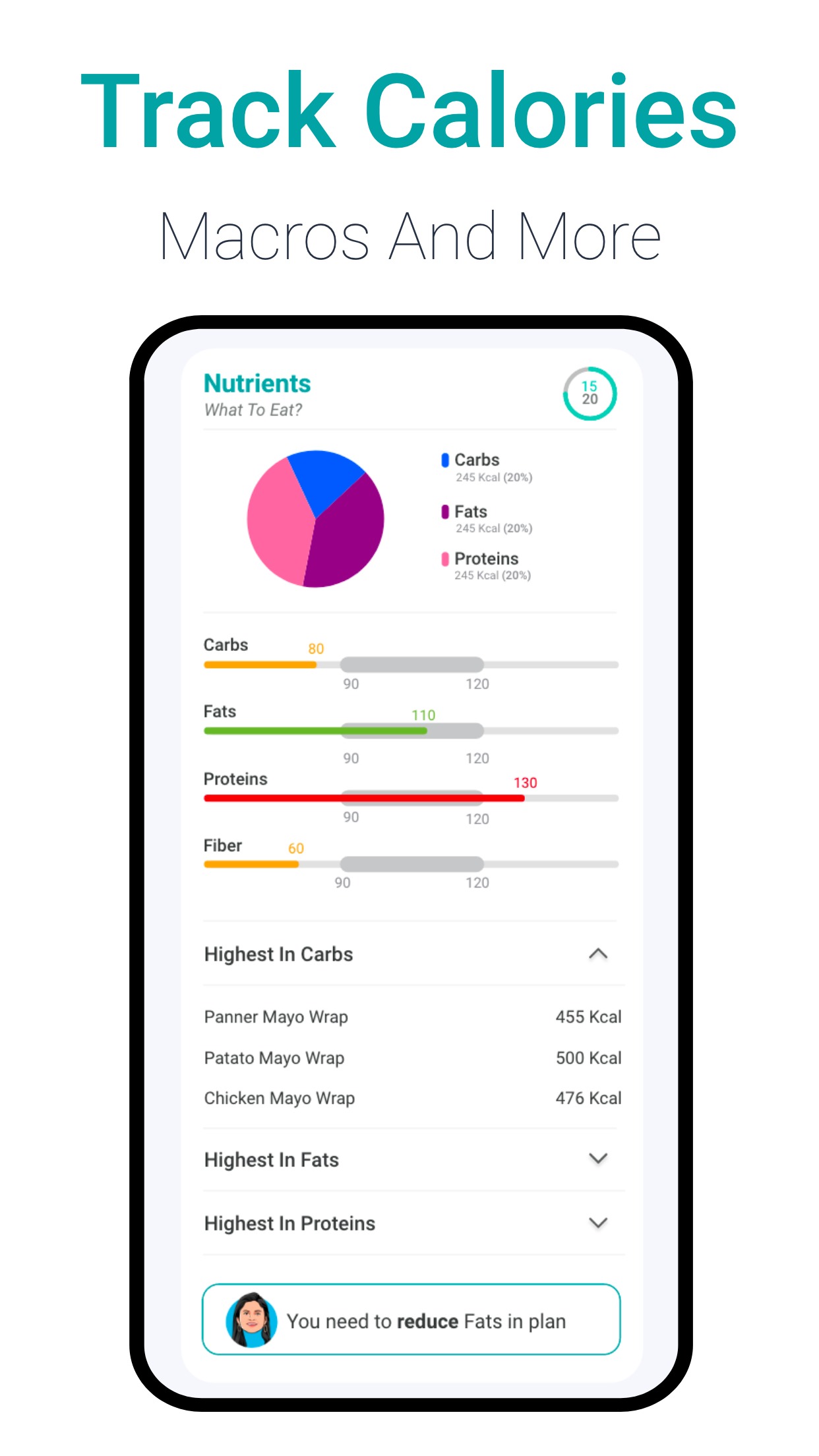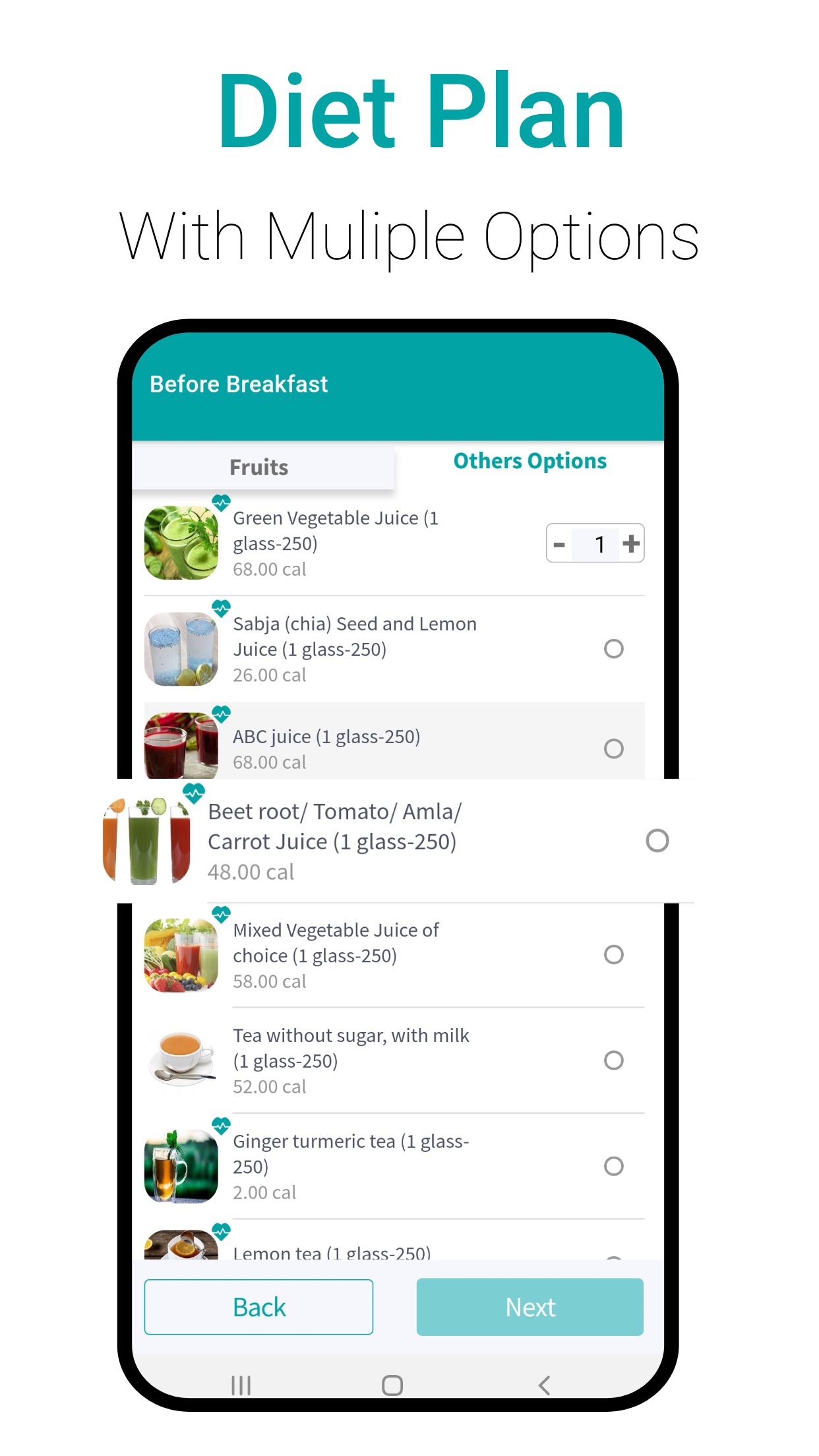 You may also like: 11 Best Weight & Food Calculator Apps for Android & iOS
Dash diet: Food Tracker
The issue of proper and complete nutrition can be easily solved with DASH Diet. This app will replace your personal nutritionist and help you achieve excellent results in weight loss. No complicated menus and rigid diets can bring harm to the body.
All recipes have been seriously selected by experts in the field of healthy eating. By reducing your weight to normal values, you will be able to take control of arterial hypertension. Get your body in shape by changing the format of your diet.
Learn about the benefits of fresh fruits and vegetables. Get tips on how to prepare meals low in digestible carbohydrates. Reduce your saturated fat intake and introduce fiber into your daily diet.
The DASH Diet involves a gradual and comfortable transition to proper nutrition. Here you will find simple meals for every day. You can also prepare new recipes from Asian cuisine. All diets are freely available and do not require registration.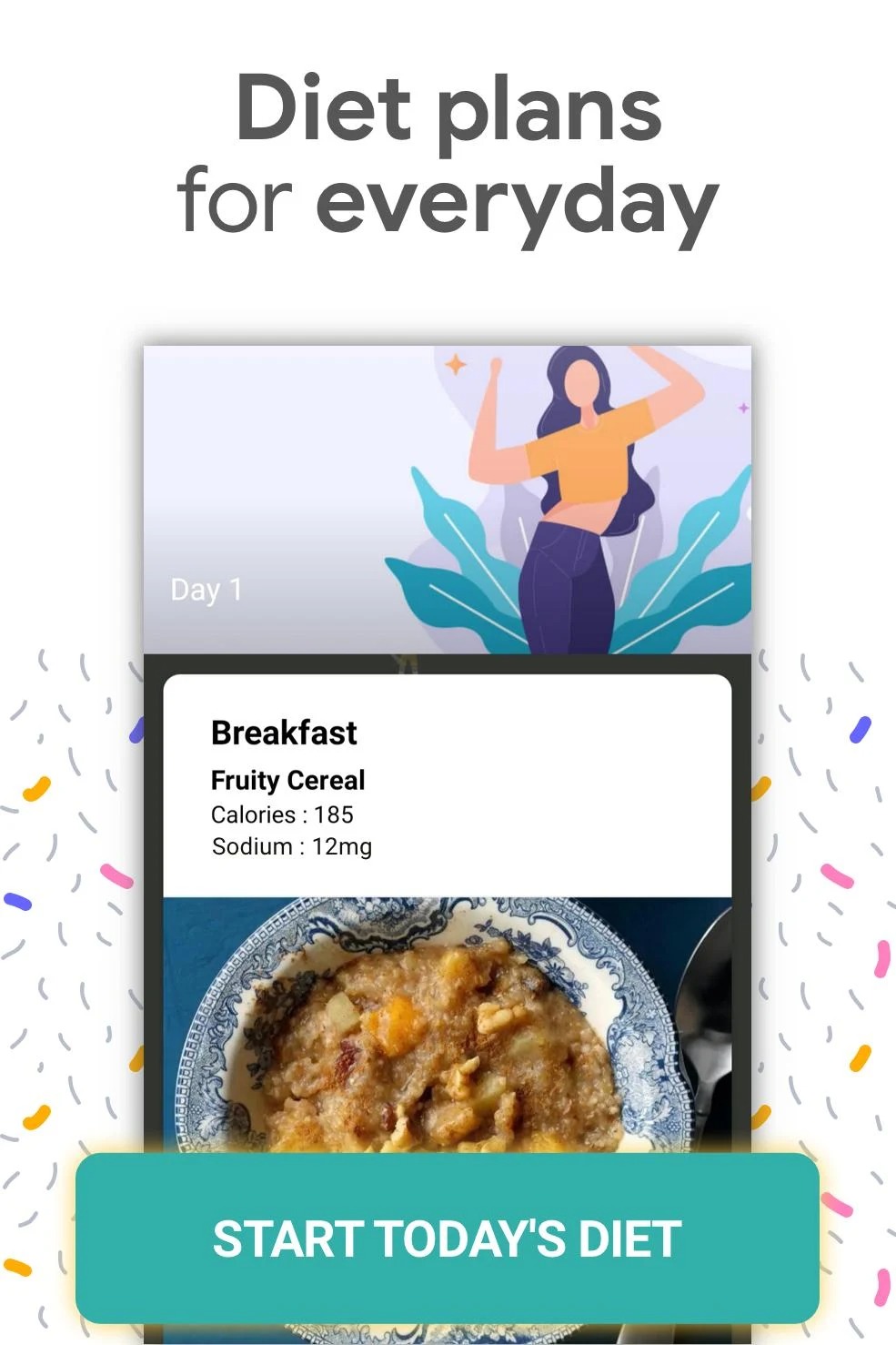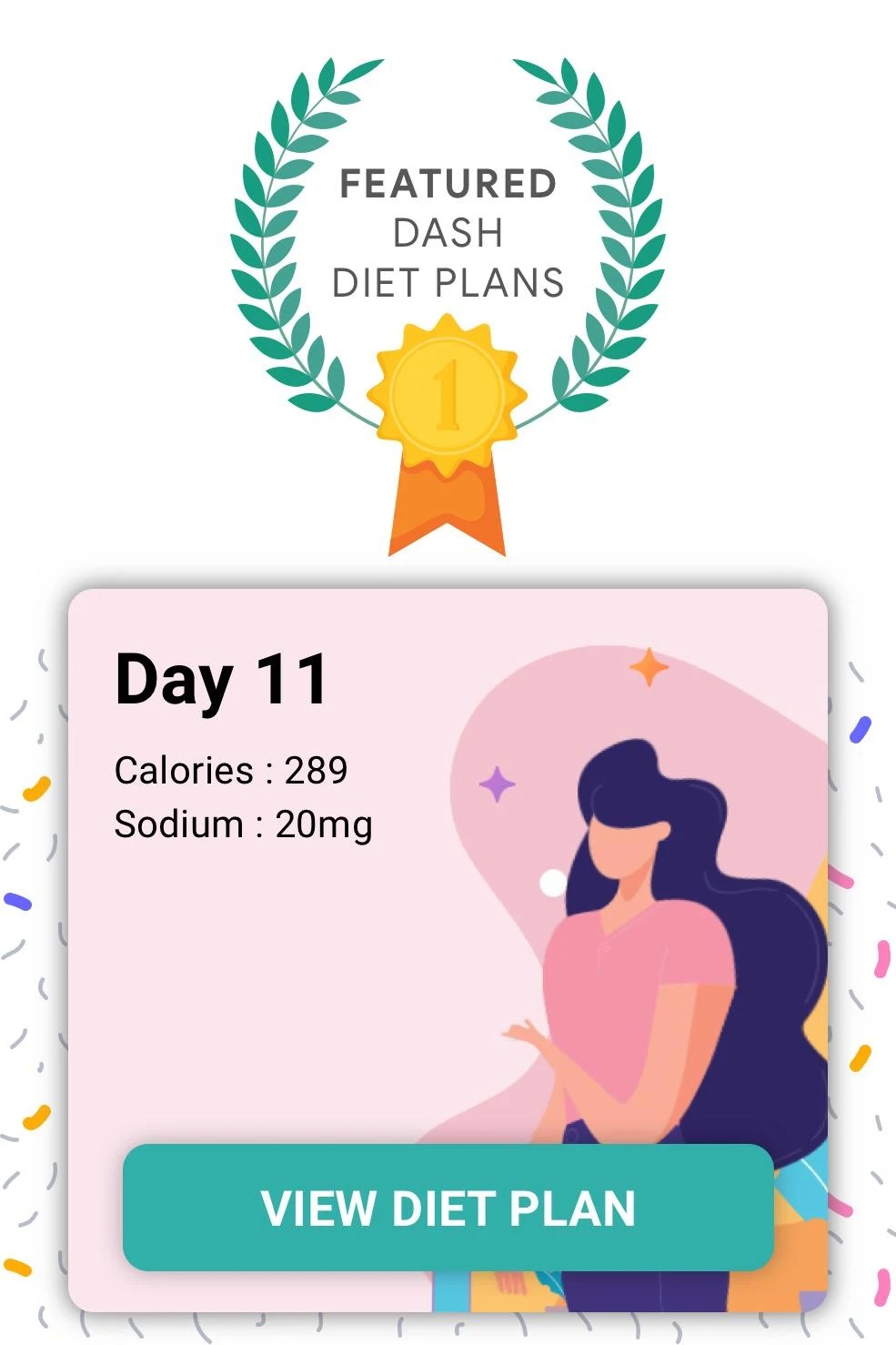 Dash Diet Plan & Food Tracker
Learn the important rules of proper nutrition with the Dash Diet Plan & Food Tracker. Take care of your health and the health of your loved ones in advance. Use the advice of experts and nutritionists to revitalize your body and avoid many serious diseases.
Being overweight increases blood pressure and stress on the cardiovascular system. Elevated cholesterol can cause cardiac pathology. Irrational consumption of carbohydrates can cause diabetes. Find out what you can replace easily digestible carbohydrates and saturated fats with.
You no longer need to search for recipes for simple and healthy meals every day. DASH diet offers various options for both beginners and people who have been practicing proper nutrition for a long time.
Pay attention to eating enough fruits and vegetables every day. All dishes are coordinated with experts and practically do not repeat. Delicious food can be healthy – check it out with the Dash Diet Plan & Food Tracker.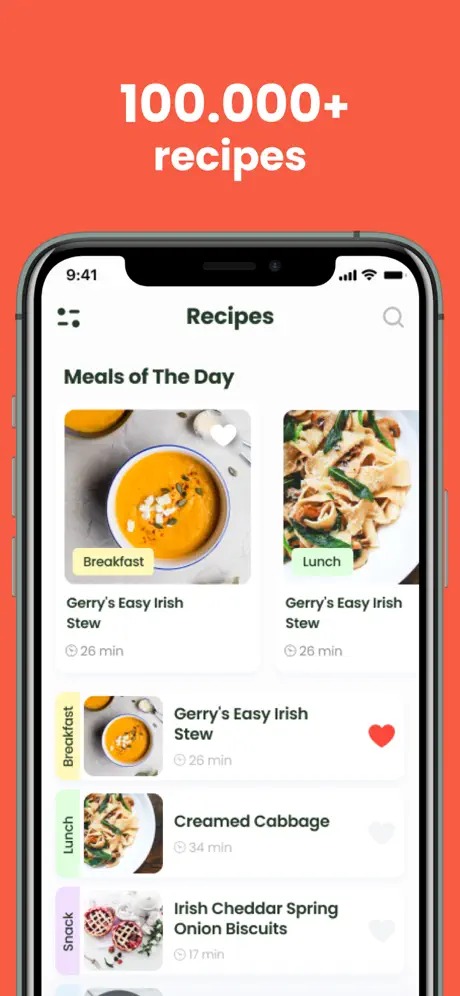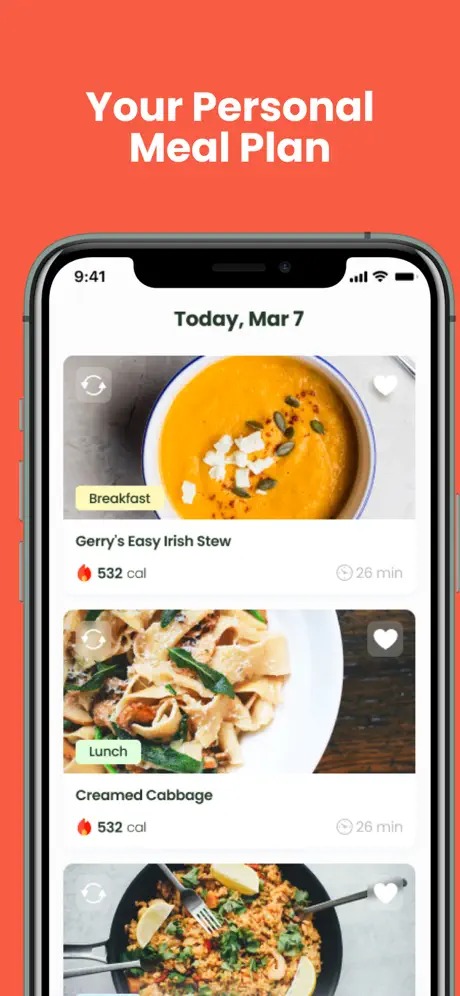 DASH Diet: Doctor Recommended
A convenient and practical app for anyone interested in maintaining their health. DASH Diet: Doctor Recommend offers recipes for dishes that contain healthy ingredients.
This app will be relevant for patients suffering from heart and vascular diseases, diabetes, metabolic syndrome, and obesity. It is also suitable for healthy users who want to prolong their youth and health. Use a ready-made menu for breakfast, dinner, and lunch for the whole family.
You don't have to worry about what to please your family with today: just choose a dish from the prepared menu. You will have a whole week's worth of ready-made grocery lists available to you.
Gradually you will be able to give up unhealthy foods and achieve sustainable weight loss. Once you install the app, you will get free access to all options. After a week, the monthly subscription will cost $9.99.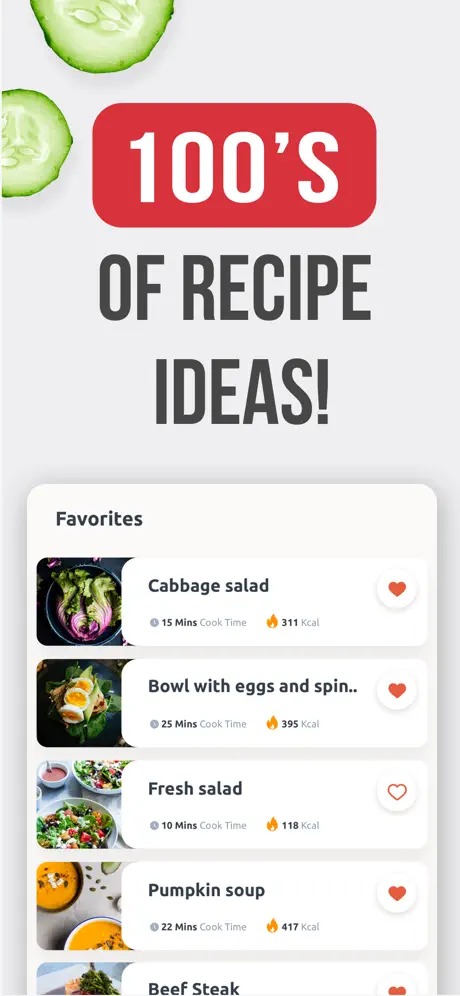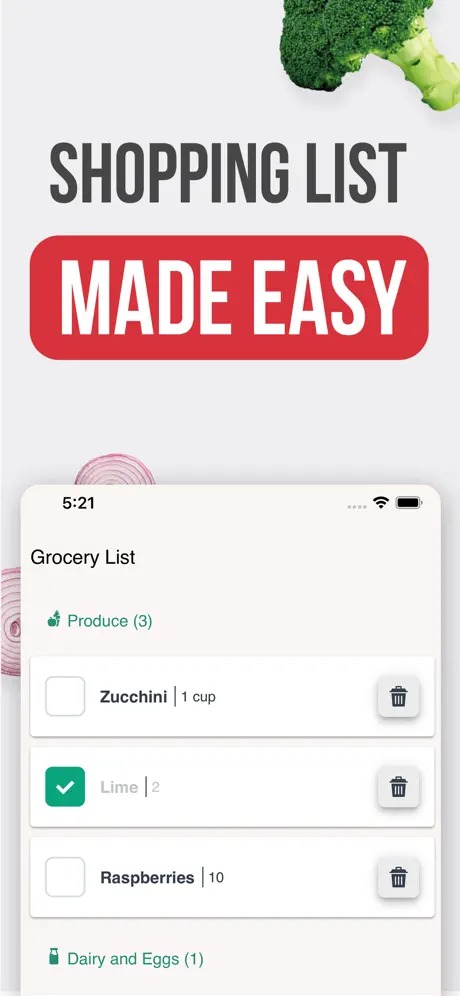 You may also like: 7 Best Apps to Track Food for iOS & Android
SUPER DASH DIET MEAL PLAN
Do you have high blood pressure? Download this app and you can try the DASH diet. The app will introduce you to all the basic rules of the diet. You can get a detailed meal plan for each day.
Create a shopping list right in the app and it will correct it. Read helpful and motivating articles about this diet. You will be surprised, but after a week of using the app, you will develop a healthy eating habit.
Read about all the benefits of this diet. The app has a separate article on each topic about this diet. You will be able to get nutritional recommendations for all meals.
Get new recipes every day. Follow all the recommendations of the app and you can lower your blood pressure, lose weight, and also be always energetic and joyful.
The app has been downloaded over 10 thousand times. The developers continue to update it and add new features and tools to support the diet.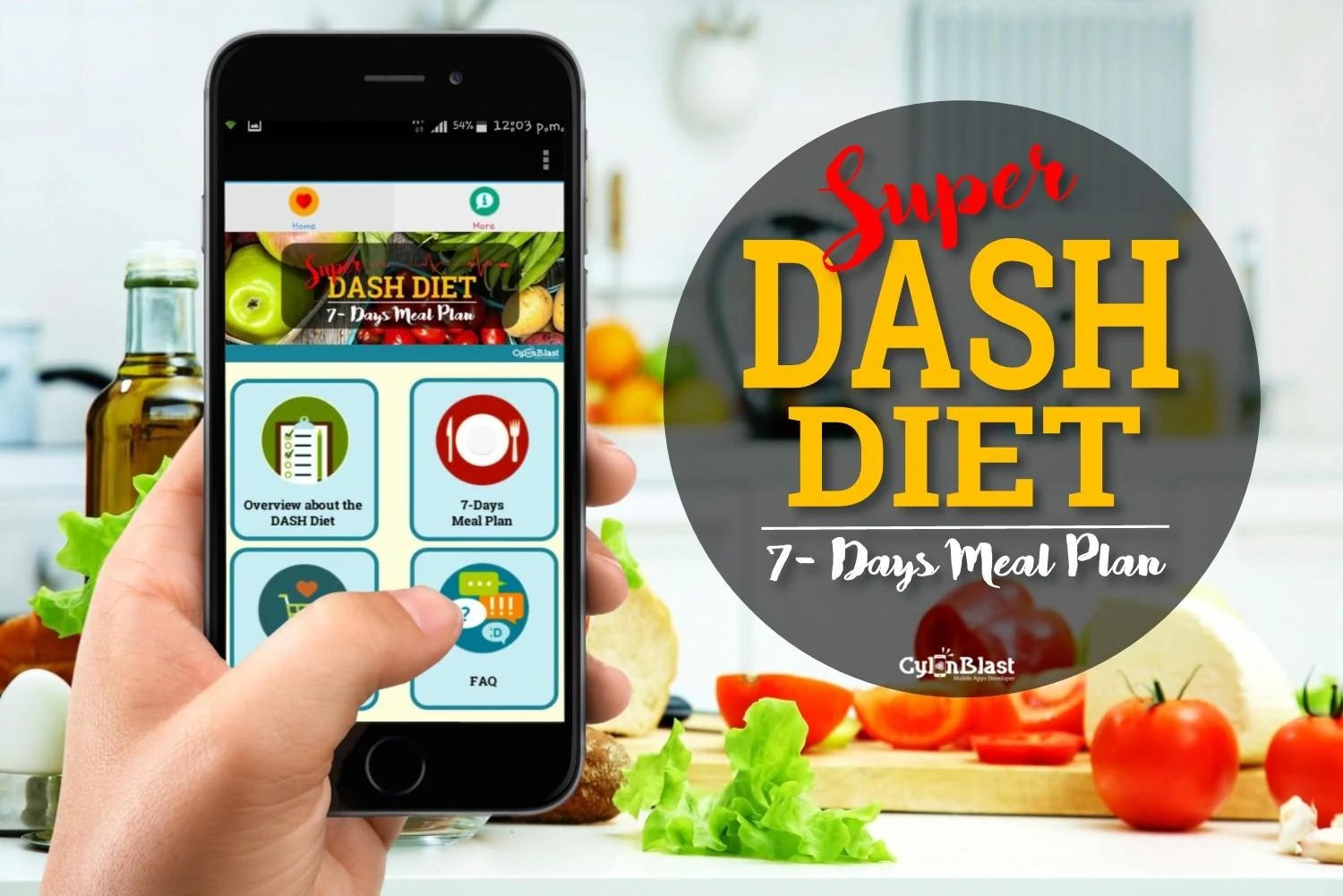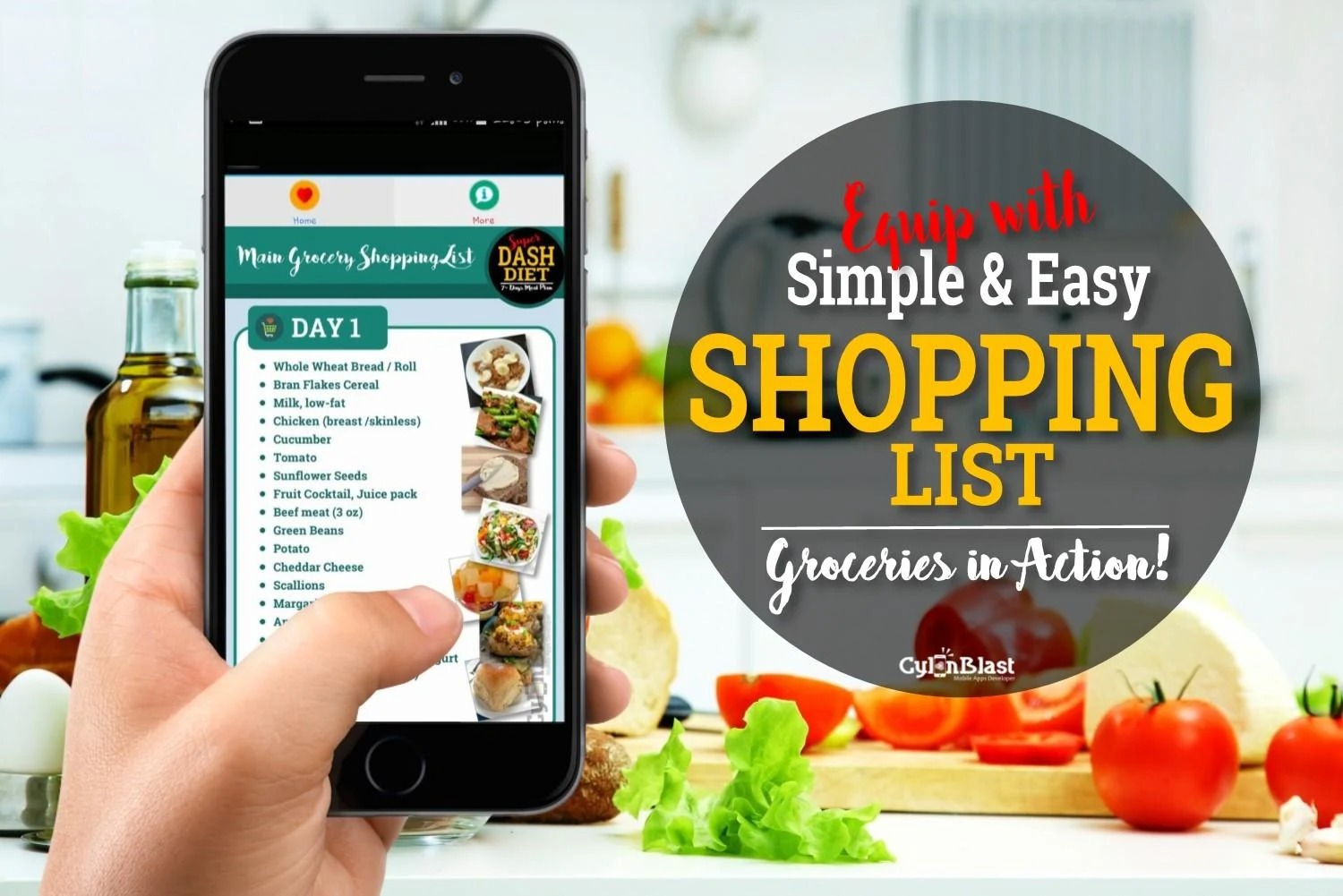 DASH Diet – With Meditations
Sometimes we need meditation to concentrate on our diet. This app will help you maintain your DASH diet and stay focused at all times. You will find over 50 cool recipes in the app. Try them all to find your favorite dish. You will receive a detailed list of all the ingredients.
The app will give you nutritional recommendations. All recipes are divided into 4 categories. These are breakfast, lunch, dinner, and snacks. Read articles with useful information about the DASH diet. Practice meditation every day. The app has video tutorials with meditation.
Your Internet connection is almost unnecessary to work in the app. Internet is needed only for watching meditation video tutorials. The app will calculate your optimal sodium intake.
The developers are adding new screenshots and meta tags. Download this app and you will be able to change your eating habits in just a week of use.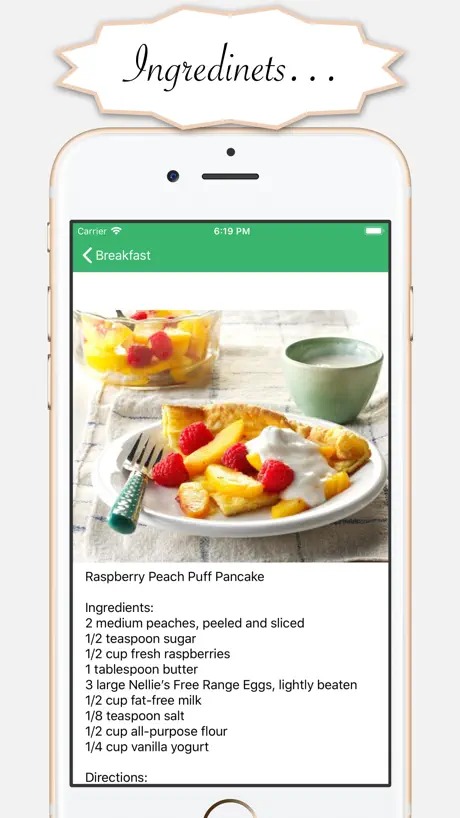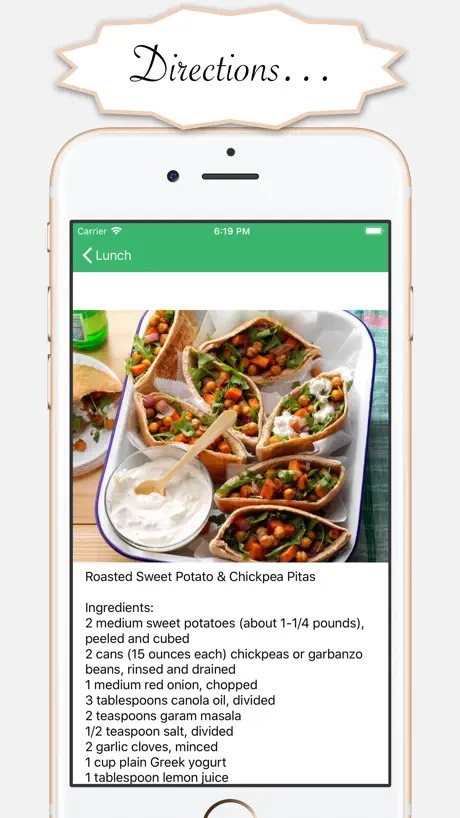 My Dash Diet: #1 Food Tracker
This app is a high-quality health app.
It allows you to track your diet by simply searching what you ate in the "Search" section or selecting from an existing "Food list" that's also divided into sections like grains, protein, dairy, etc.
If you have the opportunity to cook a healthy meal at home this app will be of great help. Go to "Recipes" where you will find all the meals you can make. When you click on a dish you'll see the ingredients that the meal requires. Press the "Macros" and "Nutrients" buttons to see that information.
You can also track your daily progress in calories, proteins, fibers, etc. The diagrams are built well like the rest of the app.
This is one of the best diet apps on the market.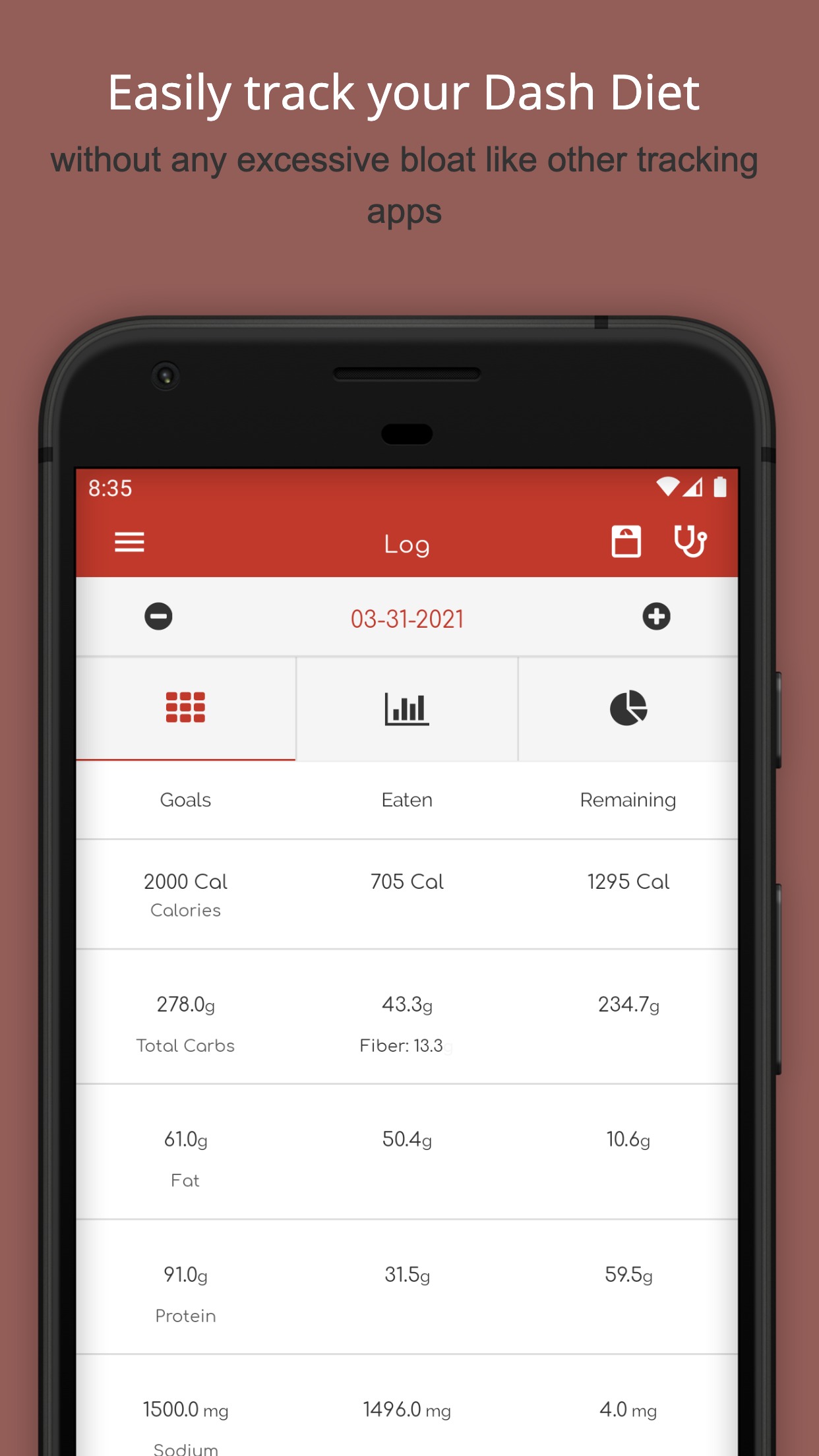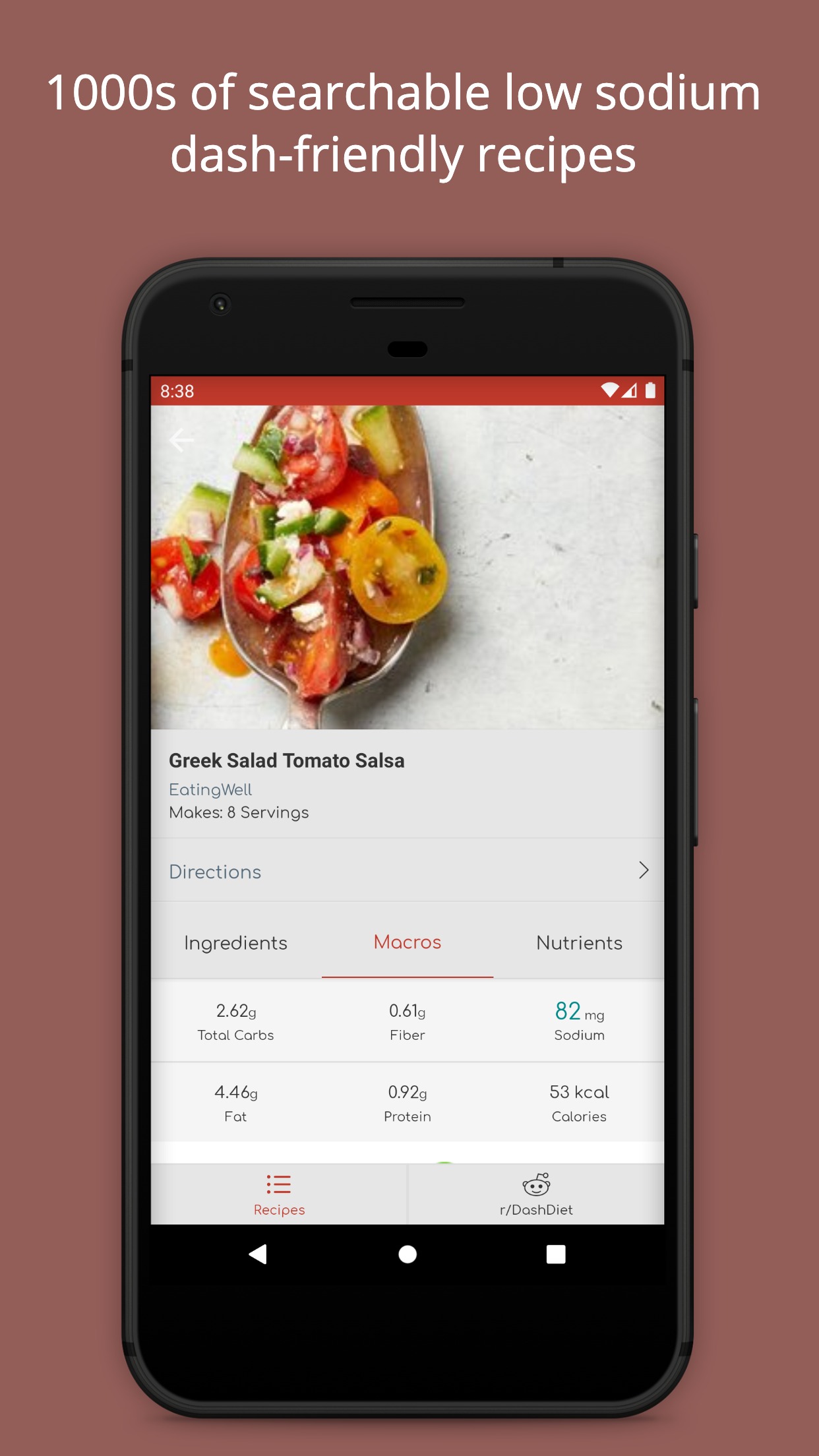 You may also like: 11 Free Health Coaching Apps & Websites
DASH Diet
This app will become your assistant in the DASH diet. You need to enter your physical information such as age, gender, height, weight, and activity level. Then, the app will calculate your calorie intake as well as sodium intake.
You can read a detailed description of the diet. The app has tons of healthy recipes for every meal. Try to eat fat-free or low-fat foods. This will help you lower your risk of heart disease.
The app was developed in collaboration with professional nutritionists. You can choose 2 sample menus. Try to follow one of these menus for a week and you will see positive results. The app doesn't take up much space on your smartphone. It weighs only 15MB.