Dental hygiene is something extremely obvious daily habit, but some people face some hard times with it, especially kids. Sometimes you just want to diversify your routine and make everything more cheerful than it usually is. For those purposes, we collected exciting dental hygiene apps down below.
It's important to take care of all the aspects of your health state – for instance, how long ago did you check your vision? According to the statistics, each second person suffers from a decrease in vision abilities but doesn't know about it. Check out the article about Free Eye Test Apps for Android & iOS and figure it out now!
The Philips Sonicare FlexCare Platinum
We open our list with an app that was developed as an addition to the toothbrush by Philips. In order to get the maximum result, you will need to connect your device to that toothbrush.
The Philips Sonicare FlexCare Platinum gives users a clear view of their brushing habits. The data from the toothbrush is sent to the apps to help consumers increase compliance.
With this application, users can improve their cleansing techniques. Here you will find the map, where your mouth is divided into six segments. The rules claim you must spend twenty seconds on each segment.
Each of those six segments is broken down into two sub-segments.
All data is aggregated and collected over time, as you are using the app. You can receive feedback about your brushing technique in between dental visits, using the special feature in the app itself. The online dental professional can identify the special mouth map in the focus area such as gum recession, cavity.
This is like artificial intelligence which informs that you should spend more time in this area or you should miss it.
In case you want to pay special attention to some spots in your mouth while cleaning, you should mark them in the app and it will remind you each time before the brushing process. All of the personalized data is stored in the app and even share progress reports at their next checkup or in-between visits.
If you have a specific goal such as improving your gum health or getting fresher breath you will get personalized advice, once again.
The Philips Sonicare FlexCare Platinum has smart sensors in the handle and the same sensors you have in the mobile phone. This is like GPS for your mouth.
Overall, this is a gem app for those who are really into their dental hygiene – a combo of latest technologies and top-quality gear by Philips.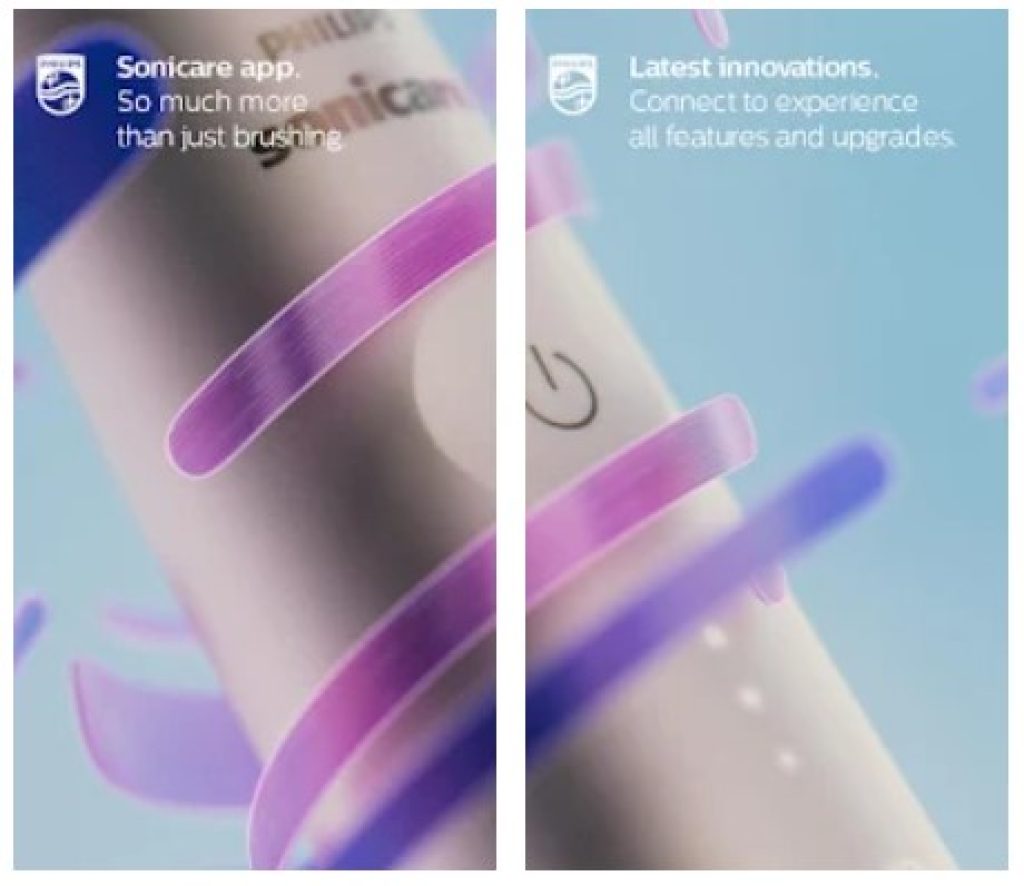 You may also like: 7 Best Prescription Drug Price Comparison Apps
Chomper Chums – Children's Toothbrushing
This is an educational app for parents to teach their kids proper brushing techniques. Chomper Chums teaches kids healthy habits from the early age. This app was created for children from four to eleven years. Any parents know how it is difficult to get their kids to brush their teeth.
This app helps parents engage their children in the brushing process with fun and pleasure. While using the app, kids can follow animals and learn brushing techniques during the appropriate times. There are three animated characters that kids can interact with – an alligator, a horse, and a lion.
Using technology and using fun interactive characters allow teaching kids healthy habits, focusing on healthy eating and nutrition.
In Chomper Chum's children can buy healthy snacks for animals such as fruits and vegetables. If kids choose candy animals will be not active and a little sluggish.
You can chart progress on a daily, weekly, and even monthly level and share it with a dental professional during the next appointment. This is one of the greatest apps that seamlessly blends education and gaming into one fun package.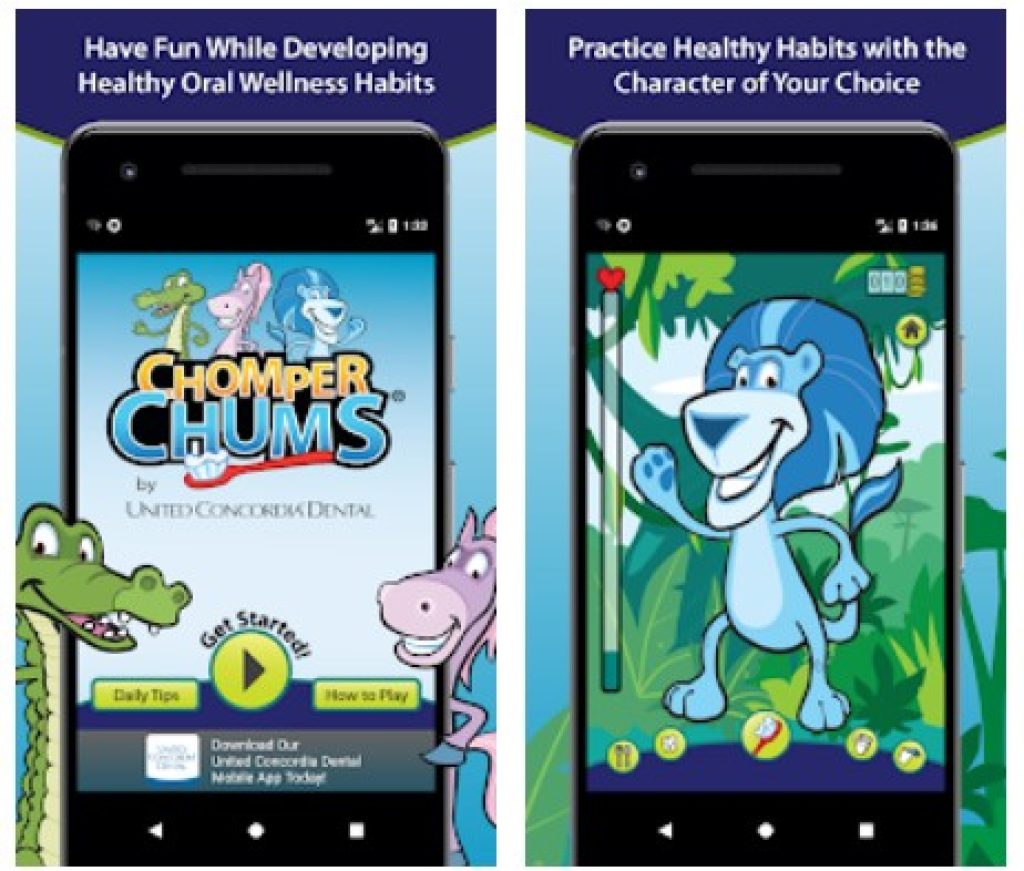 Oral B
The Oral B apps can sync your electric tooth brash to your phone and it's going to start and record your brushing style using the app. It is like having a professional coach. It helps you guide through your entire brushing process.
This app is also developed specifically for the electronic brush produced by Oral B.
Each brushing session automatically activates your time while displaying a guide to lead you through the dental professional recommended cleaning.
For focused care, you can work with your online dental professional to highlight your problem zones and be guided through various cleaning routines for a personalized brushing experience. Plus, your brush and your toothbrush immediately notify you if you ever apply too much pressure.
The apps track your performance over time allowing you to regularly visualize your progress and see your achievements. Your toothbrush easily connects to your phone so you can receive reminders recommendations, rewards, and even be notified when it's time to change your brush head.
On the apps, dental professionals can program brushing routines for patients matching their needs to help them improve their brushing habits from one dental session to another and focus on the problems zone within a patient mouth.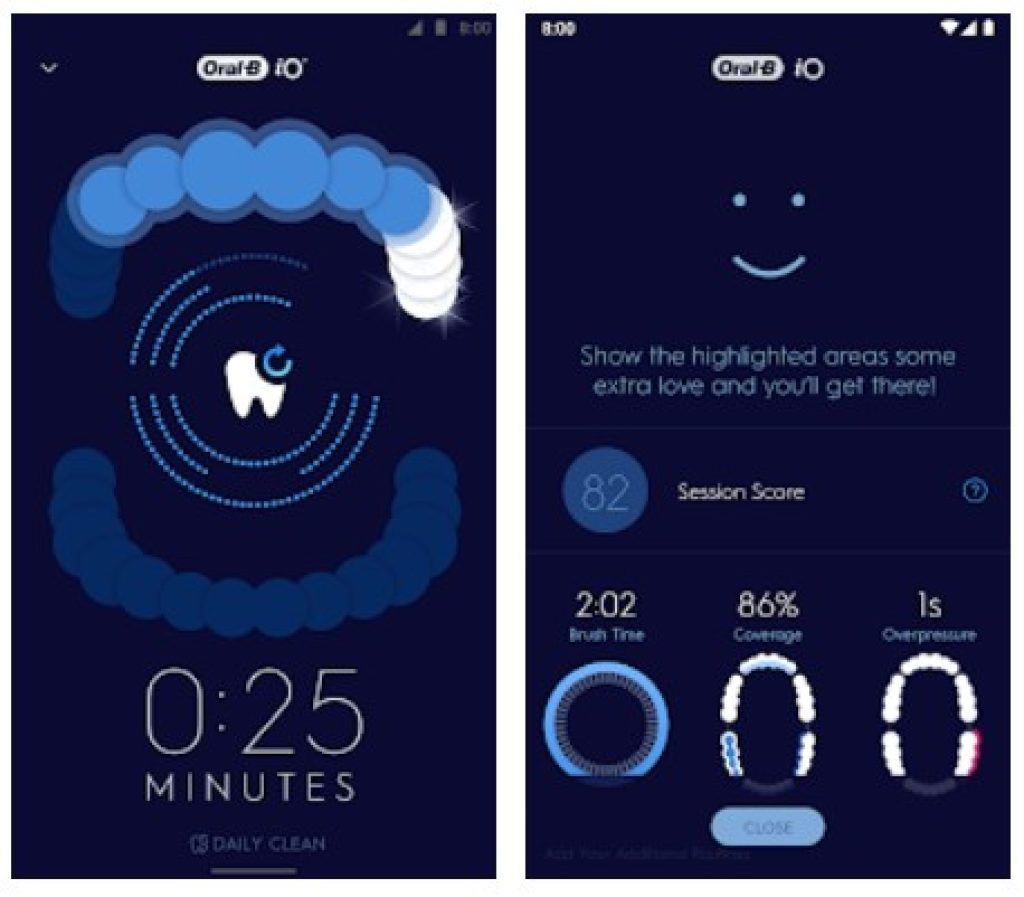 You may also like: 11 Free Apps to Measure Body Temperature (Android & iOS)
Playbrush
Playbrush was developed with a dentist and scientifically proven to motivate children to brush more often for longer and all-around their mouths.
Playbrush is a game-changer and adds a touch of excitement to the bathroom. Playbrush is available to you either as a smart interactive attachment for any manual toothbrush or as a fully integrated electric toothbrush – as you already guessed, this app is developed for specific gear.
Launch the play brush app on a smartphone or tablet and the play brush will automatically connect, now immerse yourself in interactive tooth brushing.
The game will encourage your child to brush at the correct speed and to brush all the sides of their teeth equally to maintain this newly-discovered brushing motivation. Statistics will help parents track their kids' brushing progress.
The Playbrush game subscription gives your child access to even more games and extra brushing data to monitor your child's progress over time. The app provides an interactive brushing coach, detailed statistical overview, Quiz game, and much more.
Playbrush removes boredom and tantrums from the bathroom and replaces them with fun and better dental health.
However, not everything is well with this app – many users face issues with connecting the app to the brush and major errors in functioning.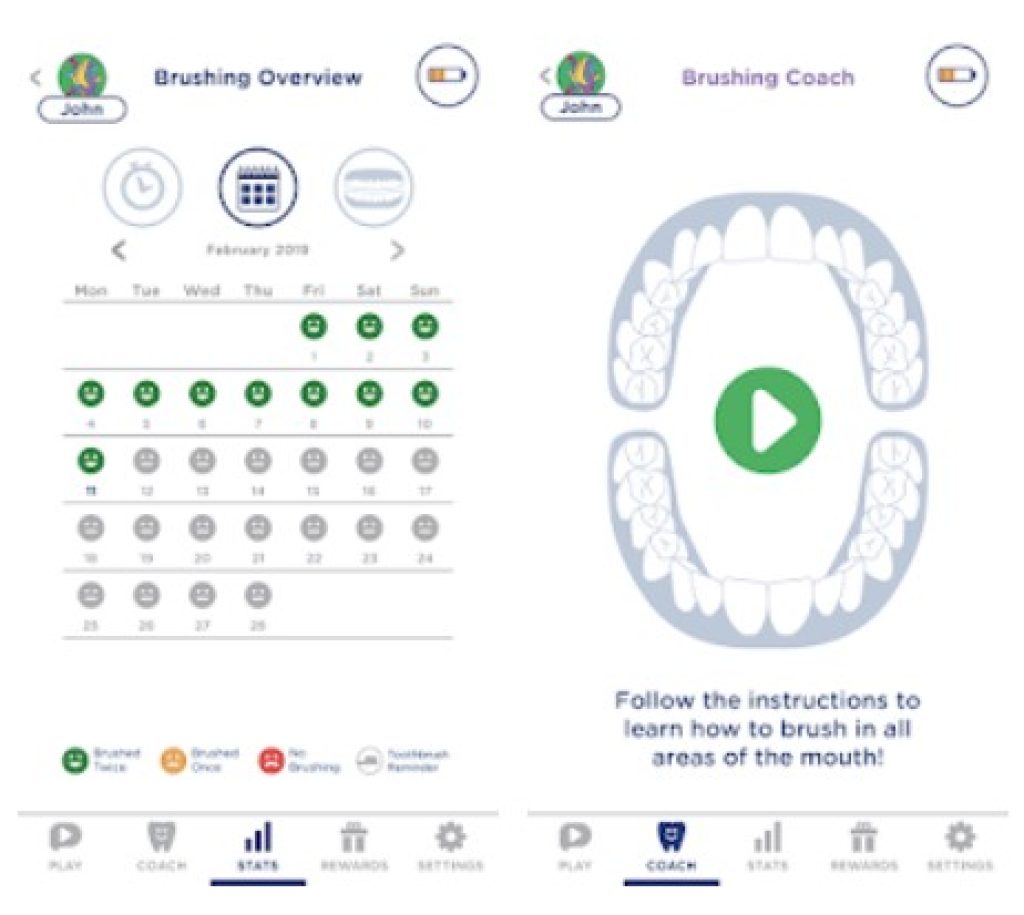 Brush DJ
The free Brush DJ app is a fun and easy way to protect the investment you make in your smile. The free Brush DJ app developed by the dentist makes keeping your mouth healthy, fun, and effective. This is one of the few apps on our list which isn't attached to an electric toothbrush and works independently.
The app allows you to set reminders when you need to see your dentist and hygienist and even when to change your toothbrush. Brush DJ gives you the latest information on how to keep your mouth healthy depending on your age.
The apps track your performance over time allowing you to regularly visualize your progress and see your achievements. You can easily receive reminders recommendations, rewards.
And for an app of this type, Brush DJ has quite nice feedback in stores by users and it's a great motivator to dedicate more time to your brushing activities.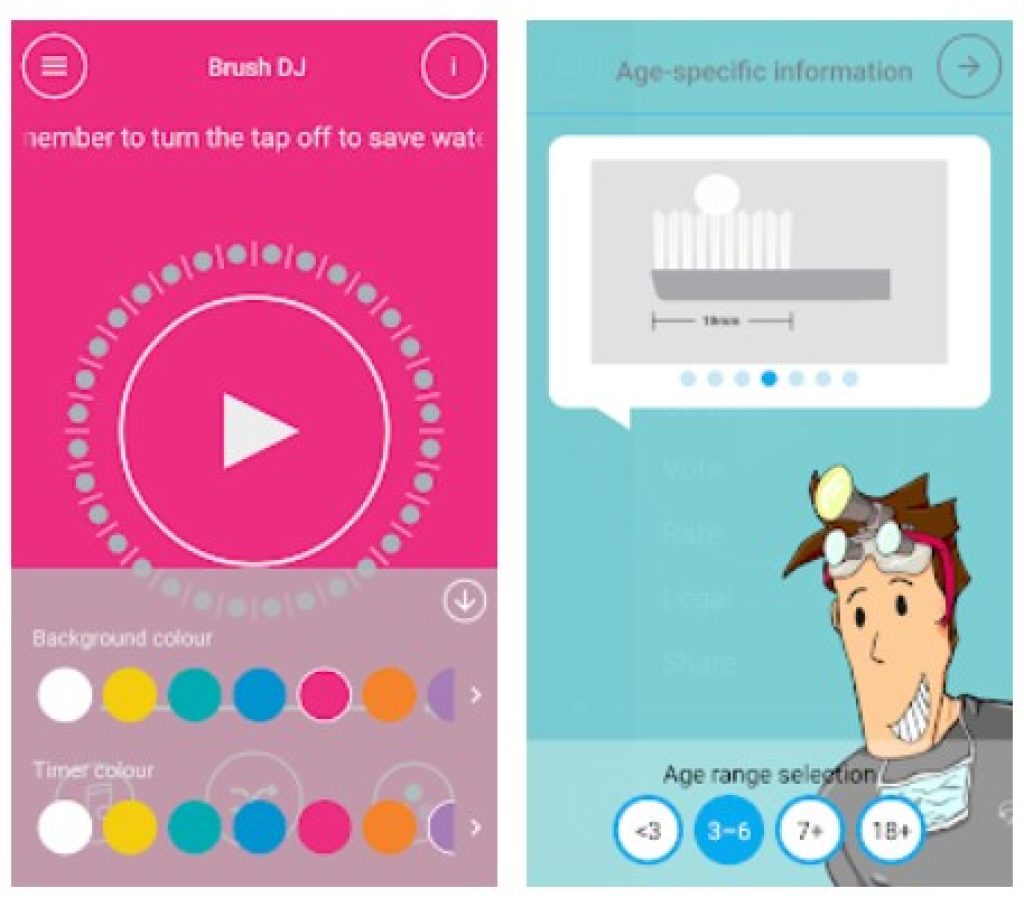 Colgate Magic
Colgate Magic apps show children the way to brush their teeth as a fun game. Instead of a boring routine, you will have a captivating game. Firstly you must set up an account for your kid (name, surname, age). Now your children must open the profile and put on the large green button in the middle of the device.
After that, you will see a virtual mirror and scheme of teeth. You must use the front camera on your mobile phone. You can choose among the various masks such as princess, pony, unicorn, driving mask. With these masks, your kid will get extra motivation to start brushing their teeth.
The app guides you to brush fully around all teeth. Children are focused on diamonds and unlocking the rewards. This app helps to prevent lots of cleansing issues and harmful habits with the brushing process because children focus on the game.
During brushing your kid must fight with monsters and earn diamonds. The diamonds then can be used to buy and discover new masks. You can track sessions, see progress and keep rewards.
And even though everything mentioned above sounds extremely exciting, the developers still need to do lots of work before the app can finally start working properly. Among the most common issues, we can mention app bugs, crashes, errors in work, and many other unpleasant nuances.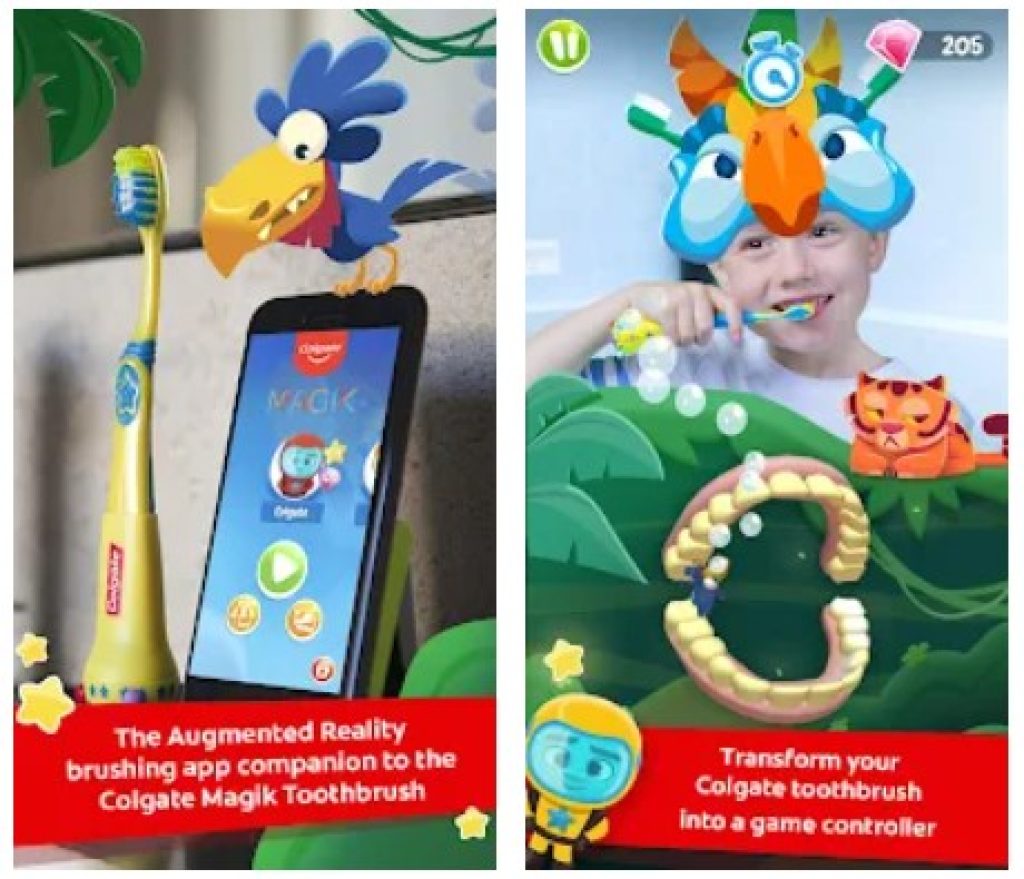 You may also like: 11 Best Eye Exercise Apps (Android & iOS)
The Tooth Savers
This app is focused exactly on the process of brushing the teeth, but rather on teaching kids the idea of the importance of it. As a result, we have quite a cute game that can be a subject of interest both for kids and their parents.
Kids are introduced to the app by listening to a story about an unfortunate kingdom cursed by an evil sorceress. The wicked spell left the kingdom quirky inhabitants with rotten mouths and decaying teeth. And now your kids must help toothy and tooth savers return everyone's precious smiles.
In the app, you will discover such characters as pirates, little Red Riding Hood, and even an evil sorceress herself. Each character comes with its own tooth brushing game and companion video. Using their fingers kids brush each character's teeth to get rid of all the nasty grubs.
During the game process, you are constantly reminded about proper tooth brushing techniques such as brushing behind the teeth. The animated videos accompany children during brushing and last four to five minutes.
Watching the video while brushing twice a day will unlock a new character for them to play later. This is one of the greatest apps that seamlessly blends education and gaming into one fun package. The app has great reviews on App Store what proves ones more its quality.