Nowadays, many special effects, and in particular animation, are gaining very high popularity. They are used in various fields, from the animation of children's cartoons to full-length films and TV shows. This article will bring you free 2D animation apps.
And more animation apps can be found in this article.
FlipaClip
FlipaClip: animation is your best animation assistant. You can see this without any doubt thanks to the sophisticated functionality of the app, as well as the unique interface and many variations of various built-in tools.

This app has options such as:
a huge number of drawing tools, such as lasso, thin and thick brushes, eraser, figures, and many others; in addition, it is possible to choose the size of the canvas and insert text with a large selection of fonts, as well as Samsung pen
the ability to use as many as three different layers, and when switching to the version for advanced users, all ten; it is worth noting that the one-time use of more than five layers can impair performance
creation of frame-by-frame animation with a frame scale, frame viewer, and grid or loop
the ability to add various audio files and tracks with subsequent editing of the soundtrack (up to six tracks for free), including the ability to record voice
create a frame-by-frame rendering effect by importing or drawing images on top of user-added videos
the ability to share your creativity with friends and on social networks in various formats, such as GIF or MP4
support of PNG frame series with transparency
Thus, this utility is suitable both for a beginner who takes his first steps in animation and for a mastered professional who has been engaged in this activity for a long time. You can download this program and easily make sure that this is the best assistant in this area.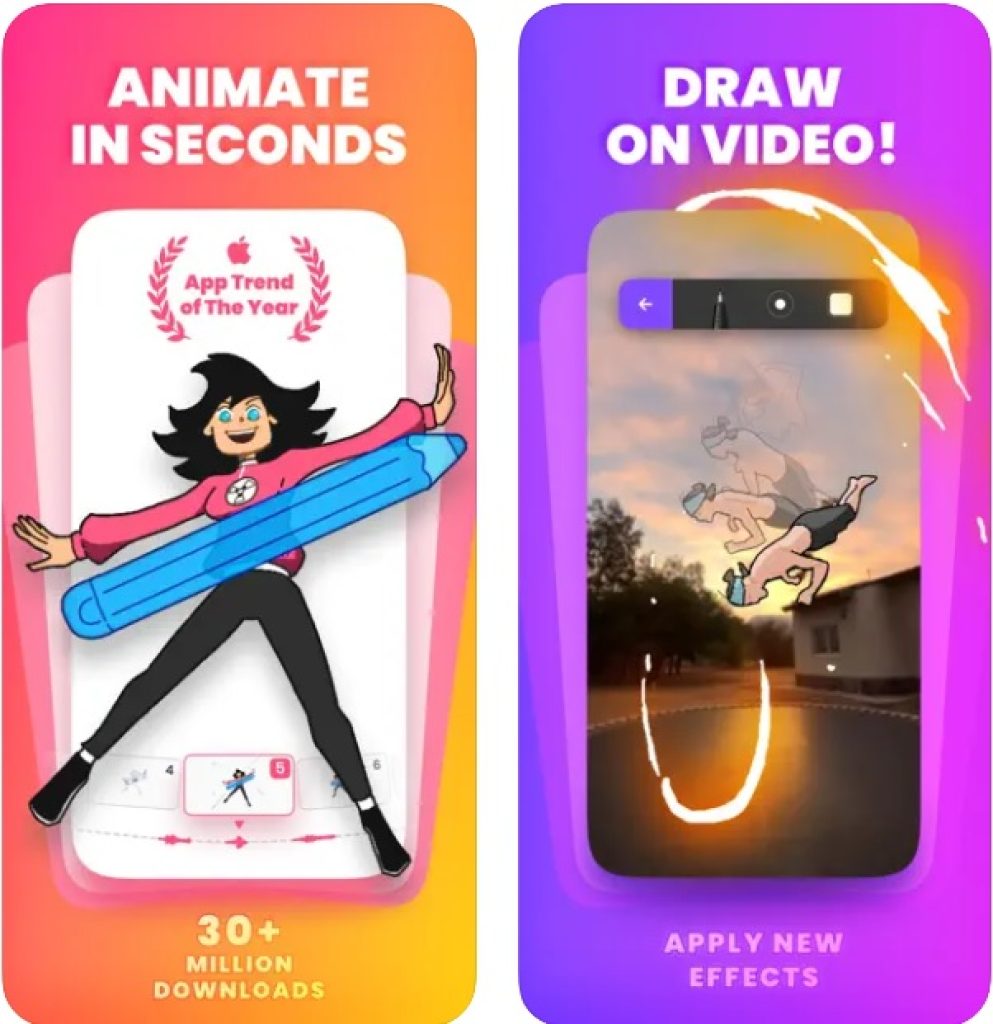 You may also like: Free 15 drawing apps for Android
Stop Motion Studio
If you ever wanted to create a really decent movie with elaborate stop motion animation, then you should stop choosing on this app. This utility is very easy to use, incredibly powerful, and interesting in the variability of its functions.
The developers of this program distinguish the following range of the most important functions:
full-featured movie editing and easy-to-use interface; the meshing mode is also noteworthy for facilitating the positioning of animated objects, compact editor with timeline, as well as copying, formatting, and many other frame operations
creating masterpieces of cinematic art, assigning them unique names, adding information about authors, and even creating digital and text cards; in addition, with the help of a variety of video filters, you can give your films absolutely any appearance
an unusual rotoscopy function, namely functional frame-by-frame manual processing using a series of simple steps known to literally every user; this option allows you to import video clips that will eventually develop into a great animation
an ability to work with background and foreground, graphic background editor, as well as creating a damping effect
an advanced image editor that allows you to add text or speech clouds, create credits, change facial expressions to various animated characters, retouch and color images, and more
adjustable shooting interval, as well as full camera control with automatic or manual white balance, exposure, or focus
adjusting the photosensitivity of the digital camera and shutter speed
the ability to share your masterpiece with friends, family and other users; saving can be both on the device and on YouTube in 4K format, as well as in Stop Motion TV
All of the above features give us the opportunity to make sure Stop Motion TV is one of the best animation creation utilities, if not the best at all. You should just try to work with this app, after which you will not want to try something else, because it is perfect.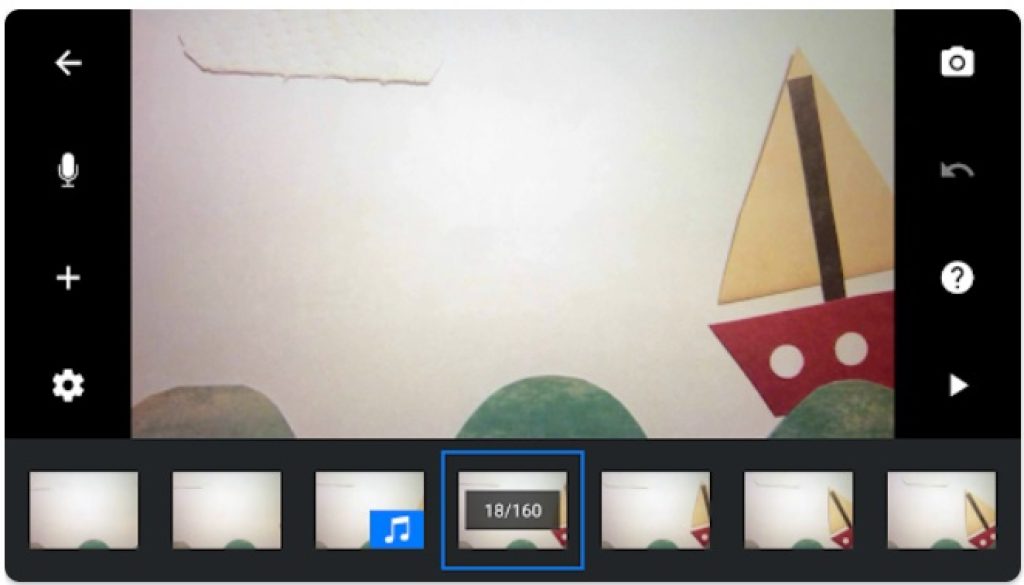 Animation Creator HD Express
This program combines two utilities with different directions – ordinary apps for animation and an advanced frame-by-frame editor. It is easy to make sure that it is the best choice if you are just starting to take the first steps in the field of cinema.

Currently, it can be distinguished by the following chain of basic functions:
the highest resolutions of an already finished film, such as Ultra HD 4K, 1920×1080, and many others, and no limit on infinite frames or animations
export in video or GIF format, as well as a smart audio manager that will allow you to perform literally all operations with audio tracks, from cutting certain seconds to completely changing the format of the audio recording
detailed layers will fully allow you to get animated frames and characters at a decent level, as well as create a holistic video sequence that can capture the attention of the viewer
the wide functionality of various graphic tools, such as pencil, a pen with the function of current ink, eraser, an abundance of shades of paints with different types of hatching, choice of linear latitude, various shapes, and a number of others
all kinds of formatting of the resulting video sequence: select, copy, paste and cancel, as well as the unique function of direct scaling and posing of animation
panning and time-lapse editing with the possibility of rearranging both at the beginning and at the end of the video sequence
At the moment, this app has won the hearts of many users and was able to surprise even the most experienced professionals. In addition, the program is constantly being improved and updated, which makes it possible to make sure that this is exactly the animation editor you were looking for.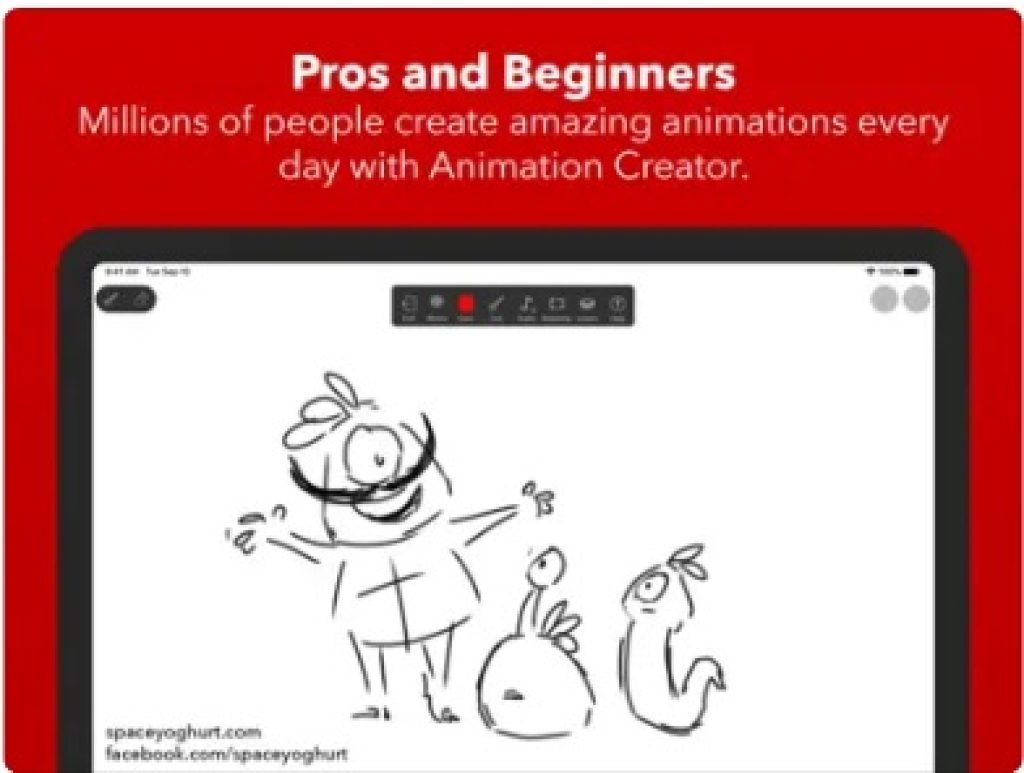 Toontastic 3D
This app has been the choice of many users for many years who want to create decent animated animations. In addition, the utility won the Parent's Choice Gold Award, and also received 5 stars from the well-known company Common Sense Media.

This program has the following noteworthy advantages:
user-friendly interface and graphics made at a decent level
a huge number of pre-installed animated figures of bloodthirsty pirates, transforming robots, dangerous villains, and many other characters who will taste and give a lot of positive emotions to your children and loved ones
a clear graphic design and an incalculable variety of 3D visualizers and tools with which you can edit characters to your taste and color, and possibly create your own
a unique opportunity to add yourself or someone from friends to your video sequence using photos from your gallery or album, followed by individualization of design and emotions that you want to convey through your nugget hero
the ability to mix your musical creativity with the tracks installed in the app, as well as all kinds of formatting of the resulting audio file; in addition, when you add your track to the program, you get an additional plus from the developers
the choice of three-story arches: a short story, a scientific report, or a classical narrative with elements of any other genres, there is an opportunity to take any details from someone else's work, but only with the permission of the author
the ability to share your creations on any of the available social networks or save a video sequence for your memory
Summing up, it is worth saying that the app was made by Halfbrick, which at one time created the cult game Fruit Ninja, which to this day is considered one of the masterpieces. Well, looking at this utility, we can say that the company has acquired another worthy project.

Animation Studio
Animation Studio is the very utility that will allow you to start making movies right now. The program gives you complete freedom of action to show creativity and visualize all the most interesting animations in your brain into a holistic video recording.

The utility has the following characteristics:
wireless media transfer, with which you can transfer all the materials necessary to create your video sequence, at maximum speed and without losing important content
a system for adjusting the sound in your clips, giving complete control over the acoustics and audio content of your project; in addition to it, the program contains character visualization systems and storage systems that allow you to change the design of the hero and save it
remote assistant, which is able to eliminate almost the entire range of problems that arise during animation, as well as able to bring new ideas to your creation
an incalculable number of graphic tools that allow full freedom of action and allow you to breathe a second life into many "dead" projects; in addition to the standard set of utilities (eraser, layers, background editor, and the like), cell switching is also presented here
voicing characters straight from the microphone of your device or using the pre-installed voice of professional announcers
a variety of formats in which your works can be saved
By downloading this app, you will get not only a worthy program for creating films but also the opportunity to find yourself a worthy profession in this area, because the developers of the utility cooperate with many agencies that are interested in finding new and ambitious cinema figures.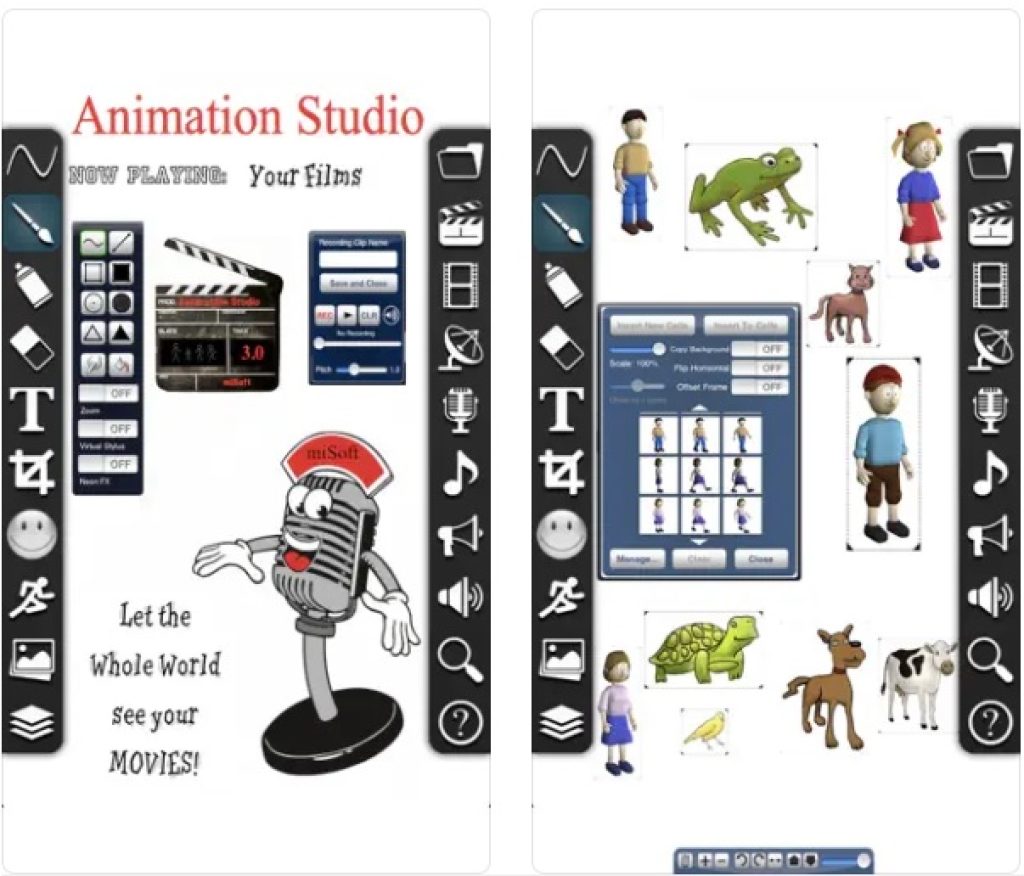 You may also like: 7 Best apps to animate still photos on Android & iOS
Pinreel – Animated Video Maker
Just one app… And so many opportunities. Imagine, you get a utility to create truly excellent animations, the opportunity to promote your social networks, and a professional approach to business in one bottle.
What else can want a person to work in the field of animation?

You can highlight the following features of this utility:
the ability to use various certified logos and texts, animated images and voice inserts, stickers and emojis, visual and graphic effects… in a word, the program really fits the phrase "here is where to roam"
complete freedom of action; create your videos by animating characters even from scratch, although changing ready-made models, you can vary almost an infinite number of combinations, which will by no means leave you indifferent and give you the inspiration you need
the ability to use animations from the live broadcast of various television programs and transfer them directly into your story, while visualizing it with a combination of other elements
color palette with many shades and their derivatives, allowing you to convey various emotions and feelings of heroes through coloring or creating unusual combinations
exceptional ability to animate not only the background and characters, but even text – adding color, effects, and even emoji
promoting your creation on various social networks, followed by increasing coverage and gaining fame in cinema to work with larger projects
At the moment, Pinreel is a very efficient and well-known app, on which a very large amount of time was spent for young talents to show their abilities.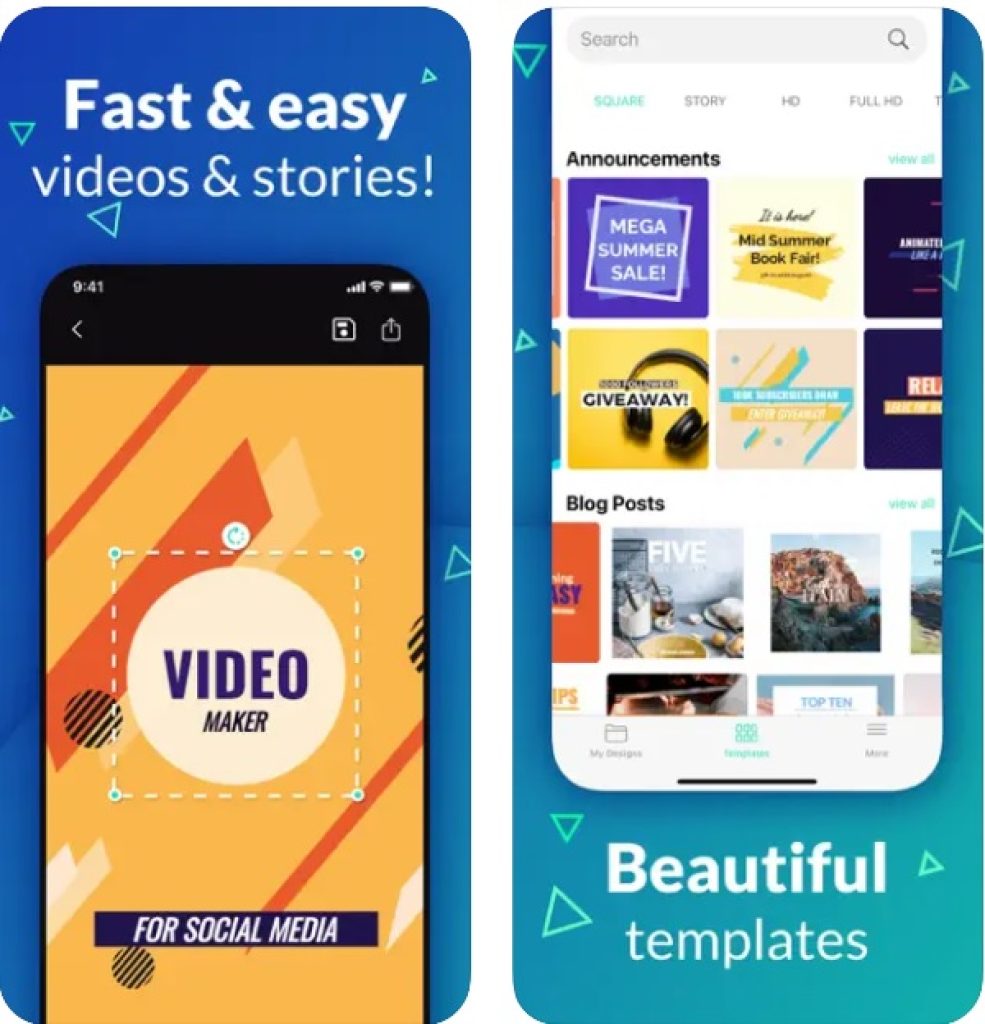 LottieFiles – Animate & Design
LottieFiles is an app that provides absolutely everything you need so that you can create a decent animated video. Thanks to the worthy interface of the utility, as well as the presence of wide functionality, you can choose the design, edit, write text, render, and much more.
The program has been used for many years by a wide range of professionals, including designers, developers, and a number of others. App gained its fame mainly due to functions such as vector graphics, simplified animation of logos, text, and various icons.
When creating a ready-made video sequence, you can share it in three different formats – MP4, GIF, and JSON. It is worth paying attention to the color palette with many shades, which was made with raster graphics elements.

In addition, the developers have added the ability to work with the program using a virtual keyboard, which can make it easier to work on occasion. It is due to the fact that developers are very widely known that app allows even the newest users to develop in the field of animation and cinema.


Animation Desk – Cartoon & GIF
If you ever wanted a utility that has the full set of necessary tools for stop-motion animation, then Animation Desk is ideal for you. It is safe to say that this app is ideal for both creating interesting action-packed stories and for animation and sketches.
Creating animation has never been easier and more exciting. Still, the option "tracing paper," the timeline of frames with subsequent viewing, various tools for copying and pasting, as well as the ability to work with layers simplify everything to banality.
In addition, the utility also has rendering tools. The program has important functions such as scaling, brushes and erasers, and a color palette for creating and managing color schemes and rotating the scene.
There is also an export of frames in the form of images, in addition to this, video is exported in PDF and GIF formats.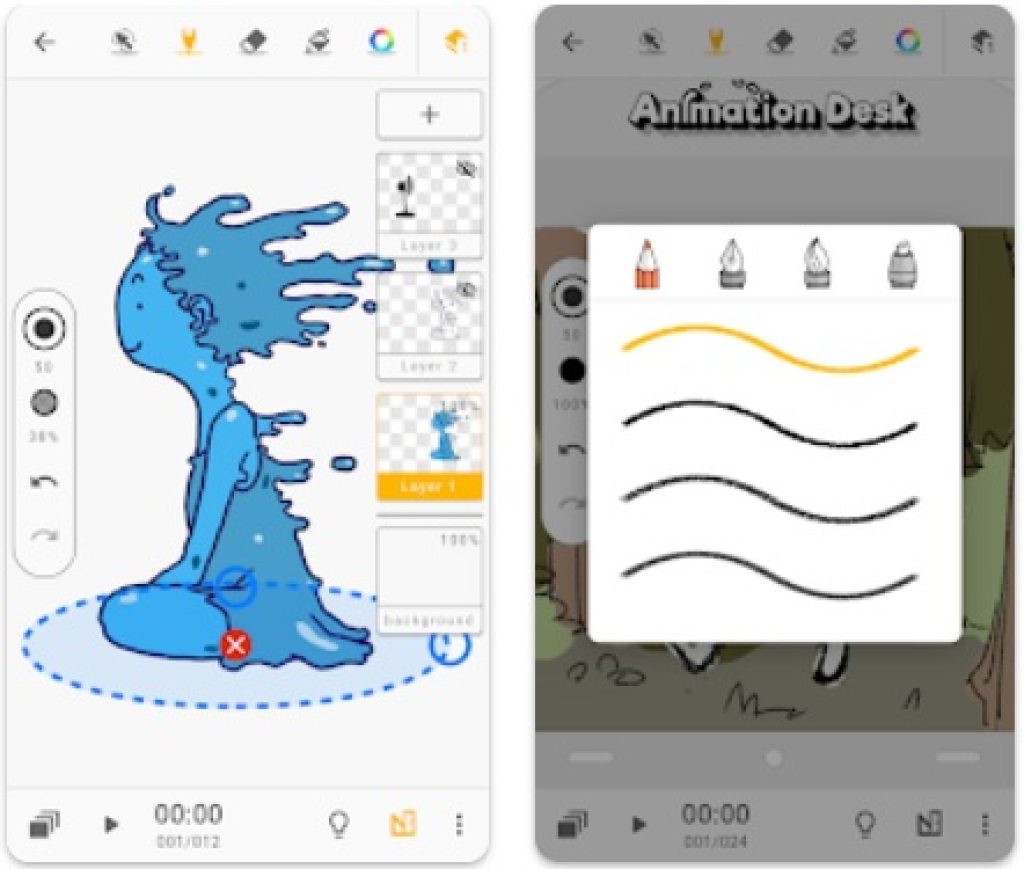 Write-on Video – Story Planner & Video Maker
Write-on Video makes the creation of video sequences not only exciting and productive but also as competent as possible in terms of organizing its own video production. Thanks to the sophisticated functionality of the app, you can edit videos using animated stickers, speed control, and much more.
Video creation in the utility is carried out using preinstalled or customized video sketches, adding sketches to any scene, and exporting the finished video to PDF format. The app allows you to import materials from anywhere, from devices to your gallery.
As the most important formatting functions, it is worth noting animated stickers and emojis, various filters, transition and fades effects, a smart speed control, a subscript comment option, and high-quality video sequence resolution.

Also in the app, there is a time-lapse voice acting function with a built-in voice recording or the use of voices of a professional sound engineer.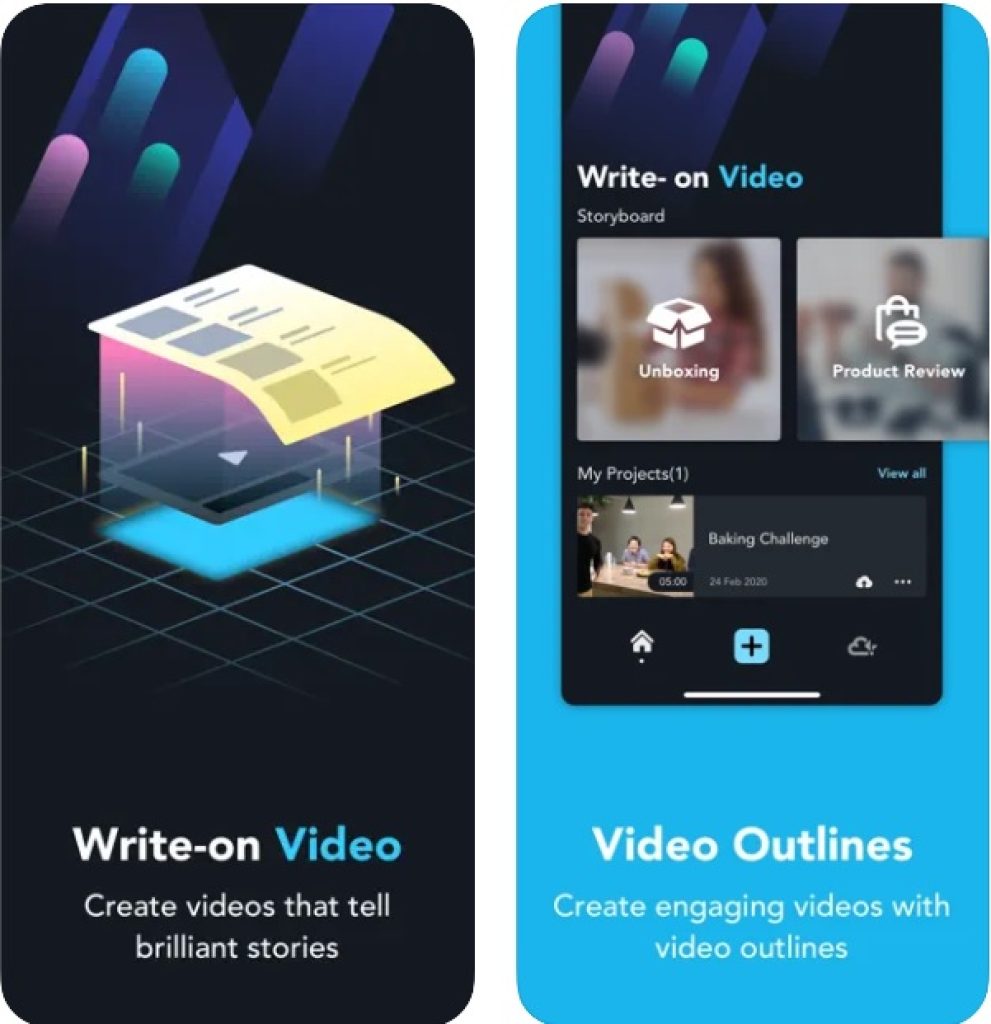 Power Director – video editor
Power Director is a leading animated full-featured video editor, marked with Google Play's "Editor's Choice." It allows you to create videos in resolution up to 4K, edit in multi-track mode and publish the resulting video sequence on various social networks.
The most important features of this utility are: a multidisciplinary speed control to create a video in accelerated or slow motion, a stabilizer to correct shivering video, and animated credits to create a catchy introduction.
In addition, you can experiment with audio effects using the Change Voice option. The app also has a chromakey, which allows you to both replace the background and diversify the video sequence.
It is worth noting the transition effect, which is best suited for creating dystopian films, as well as the mixing mode, designed to create double exposure effects.

Thanks to the large option, this program is one of the best today.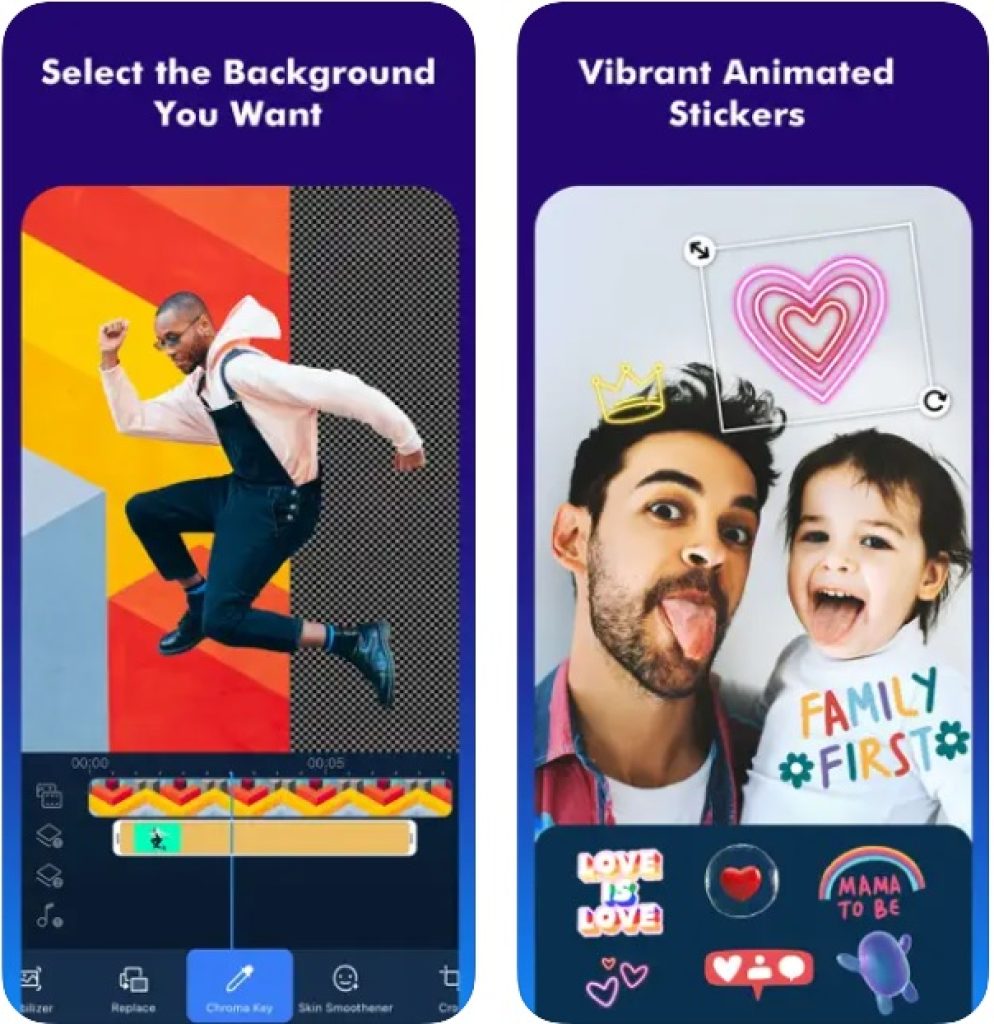 You may also like: 11 Best graph paper drawing and digital drawing apps for Android & iOS
Film Maker Pro
This video editor is the best fit for both beginners taking the first steps and professionals. Looking at the wide functionality of this utility, we can safely say that the developers have provided users with a truly competent and professional approach to business.
The key advantage of this app is the presence of videos without framing, as well as elaborate splash templates, with which you can create and upload videos with ease to platforms such as YouTube. In addition, the program provides detailed instructions for editing videos.
Film Maker Pro features over fifty variants of various animated emoji and stickers, as well as an abundance of sound effects. It is worth noting the presence of high-class video filters that can make this video editor truly indispensable even for the most fastidious user.