The question of privacy has become one of the major issues in the times of digitalization we live in. Our phones do quite a good job protecting our photos and videos, but what can stop an unwanted intruder if one gets access to your smartphone?
Here we have gathered the top best free apps to hide photos and videos on your iPhone and Android. Moreover, if you are looking for apps that will help you to conceal something on your phone, we recommend exploring the article about the fake calculator apps to hide stuff on your gadget.
Keepsafe Photo Vault
Keepsafe is one of the most trusted apps among those dedicated to hiding photos and videos. It uses a PIN password that you set to lock down your gallery. If you don't like digits, you can set a fingerprint touch ID or encryption.
You can use Keepsafe either on your smartphone or your tablet device. Besides keeping your memories safe, it has many other functions to help you organize your images, videos, and documents. For example, it has an in-built camera so you can take photos straight from the app.
To organize your gallery, you can create custom albums with their names to find a necessary image with ease. After that, you set a protection method to a particular album, so you can leave some parts of the phone open and protect others.
The app also has a backup function, so there is no chance you lose your valuable photos. The Trash Recovery function will save something you could accidentally delete.
If you want to share your photos and guarantee your safety, you can do so with Keepsafe since it sends photos only for a limited time due to its Safe Send option.
It will be useful to install Keepsafe on all your devices – the app has a synchronization function that allows you to browse your content on any platform.
Keepsafe has its Cloud storage and connects all your devices to it. If you feel your phone is overloaded, you can upload a part of your gallery to the Cloud and enjoy more free space.
Overall, it is a great ad-free app to protect what you want to hide from other people's eyes.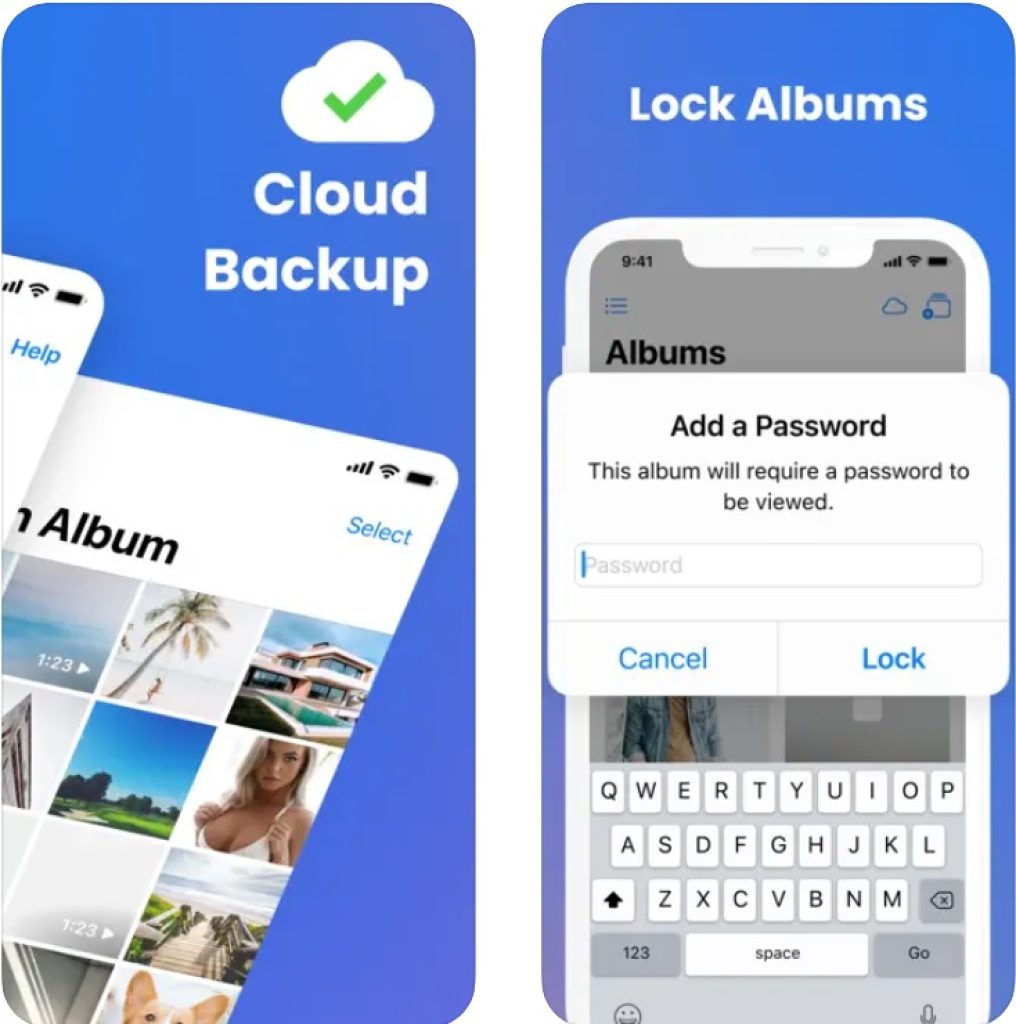 You may also like: 5 Best iOS Apps to Hide Text Messages
Vaulty: Hide Pictures Videos
Another popular app to hide photos and videos on Android. It also uses a popular method of PIN-code or text password protection to safeguard albums, or vaults you would like to create, but you can also set a fingerprint to unlock your gallery fast and easily.
You can create as many vaults as you like and set up a different way of accessing all of them. This way you can open some of your vaults to people you trust and protect everything else on your device at the same time.
The app has a backup function in case you broke or lost your phone. You can save your secret photos and back up them on a new device.
If somebody tries to break into your gallery, you'll know who it is. Vaulty takes a photo of an intruder every time somebody enters the wrong password. If it's just you, don't worry, and enjoy a picture of yourself.
Have you ever come across the need to install a separate video player to play the format your phone can't handle? With Vaulty there's no such problem since it can play any video you have on your phone that it can store in its memory.
To protect your albums, you have to open Vaulty, tap an album, select particular files and then press the lock at the top of the screen to hide it. Very simple. If you download pictures and videos from the Internet, you can save them directly to your vaults by selecting Vaulty from the list of sharing methods.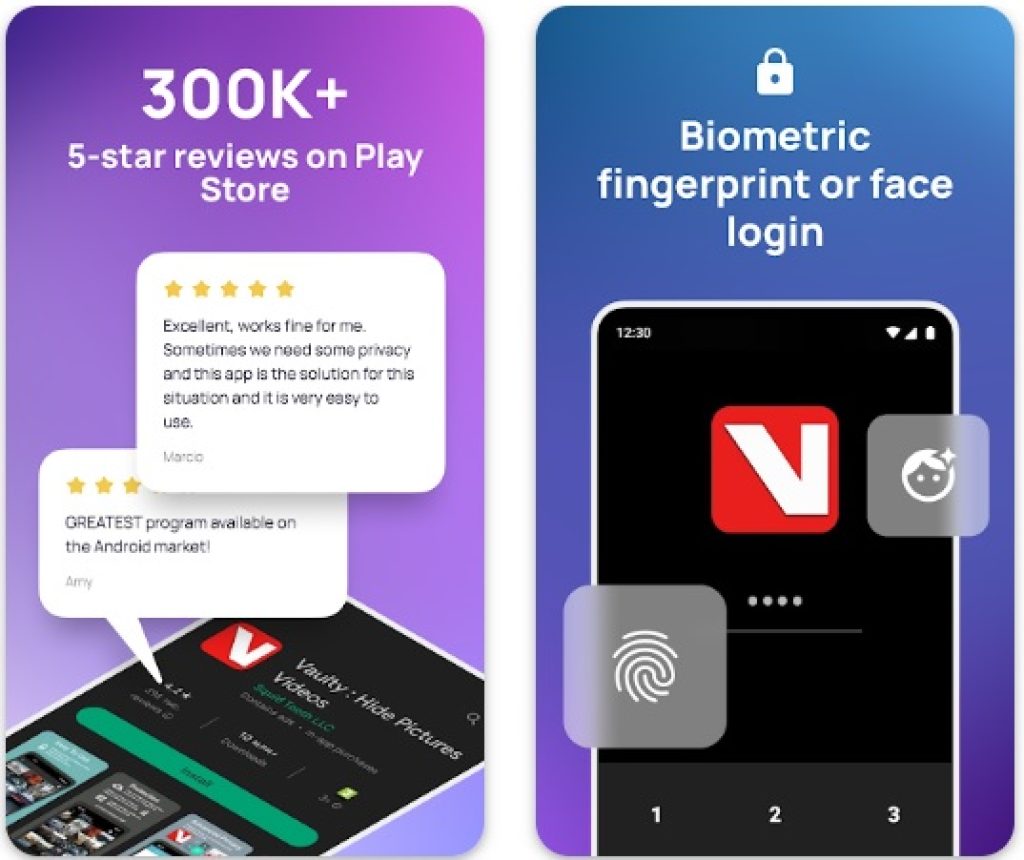 HiddenVault Secret Photo Album
This service is the number one app for hiding your photos and videos on iOS devices. HiddenVault is a multifunctional platform that has many in-built features to make your smartphone experience as safe as possible.
Giving any app access to your files is a risk to some extent since the data is often stored in clouds or any other external services. At this point HiddenVault is different.
It doesn't have any external storage for your photos and videos and they continue to be stored on your phone. This way the app decreases the risk of a hacker attack.
The app has a security architecture called Zero-Knowledge. It means that the platform has no access to your data and the system guarantees protection without affecting your files at all.
Everything else must be quite familiar: you make custom albums and set a password for each of them. You can opt for a PIN code or choose Touch ID or Face ID.
HiddenVault works not only with visuals but also with passwords. So you can lock a password with another password. Sounds strange, but an average American user has approximately 150 accounts, so storing your passwords safely is truly a necessity.
Once you set a sign-in to other apps and services with HiddenVault, you can now be confident about them. The app's team claims it doesn't have any storage for confidential information, so you can be sure your password is safe and forget about remembering it every time you want to sign in.
Though Web privacy is not our central topic today, it is still one of the most important issues. HiddenVault has a cool in-built web browser to surf the net anonymously. You can customize it by saving bookmarks to access the website you like confidentially and easily.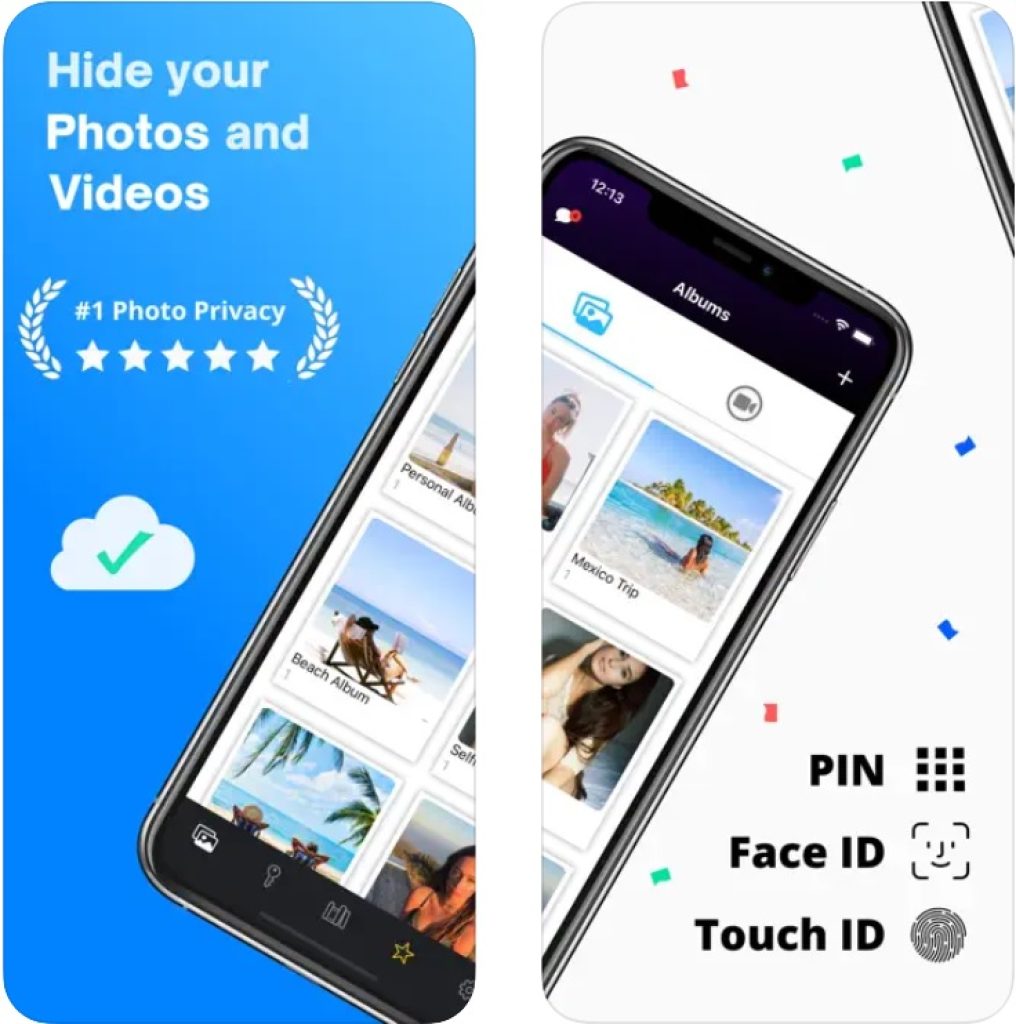 Private Photo Vault
This app has many of the features we have already talked about. Private Photo Vault uses a password system to protect the albums you choose in your gallery. Here you can choose a PIN code, a pattern lock, a dot lock, or a Face ID / Touch ID.
The app encrypts all the data you put in it. The team claims that due to it you are the only person to access the vaults. Everything is normally stored directly in the phone memory, that's why Private Photo Vault has no backup and performs the function of an external protection system.
The app has a built-in photo editor and a slideshow feature, so it performs all the functions of a traditional phone gallery and has a simple intuitive interface of it. It also has a private browser, so you can watch the content on the Internet safely and download photos and videos directly to protected vault albums.
If you want to share your photos, you can do it directly from the app. You can choose an e-mail function, or send an image via a classic text message. You can send your files to a standard Gallery app and upload them to Private Photo Vault from it.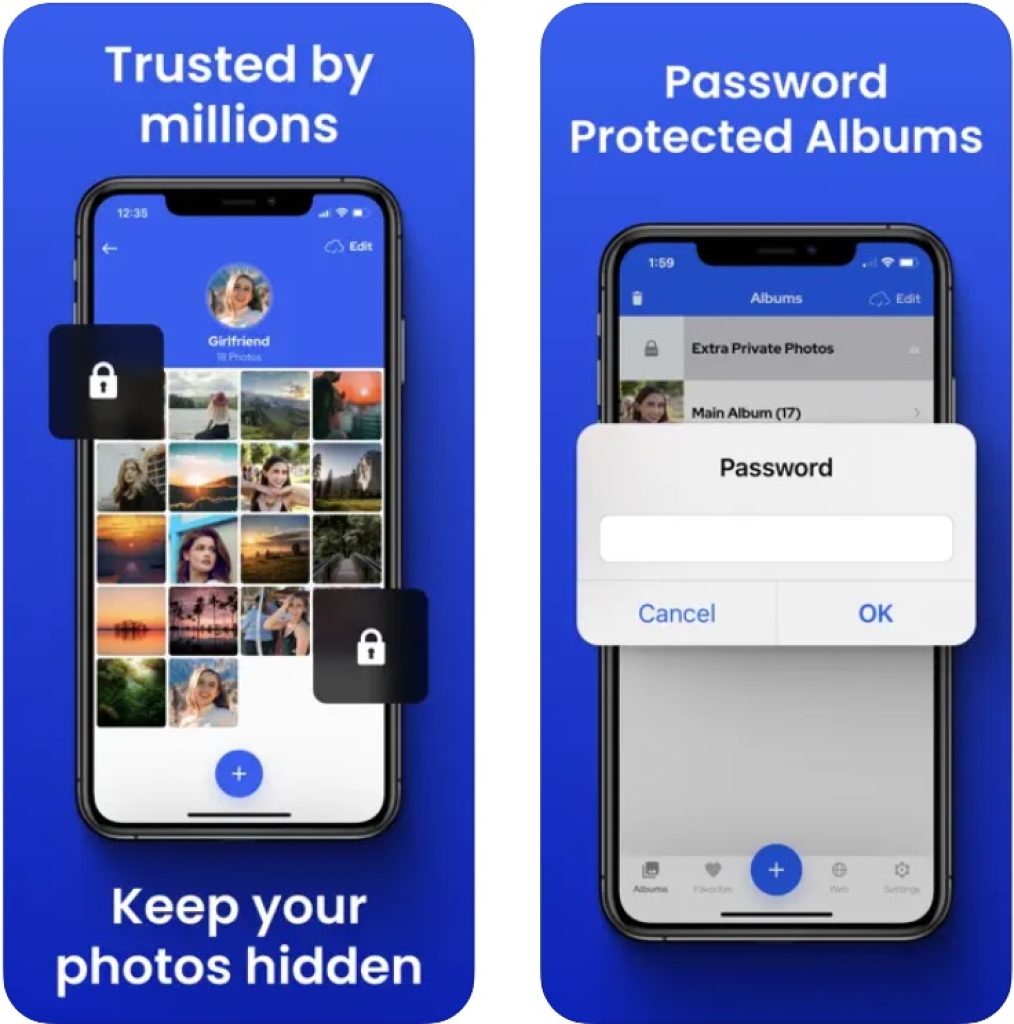 Hide Photos Video -Hide it Pro
Another app with an almost unlimited set of functions. But you, as well as a possible intruder, are going to spend some time figuring out what is going on.
The thing is that the app is disguised. Neither you nor others will find a vault icon on the screen. The app is hidden behind a completely working Audio Manager tool. Audio Manager to adjust the volume up and down can be replaced with a calculator or something else that won't catch much attention.
The app is hard to find on the main screen, but it's even harder to do so in the recent list. Hide it Pro is not tracked and disappears from it automatically.
Here you can find multiple password options like a pin, an actual text password, or a pattern. You can also set a fingerprint or a face unlock.
Hide it Pro has many useful tools for storing and categorizing photos and videos. You can try secret chatting and secret calls, or browse the Net with an in-built browser.
Last, but not least, is that you can now ensure the safety of your other apps, not photos only. Enjoy complete safety, maintained by free Cloud storage with a backup function.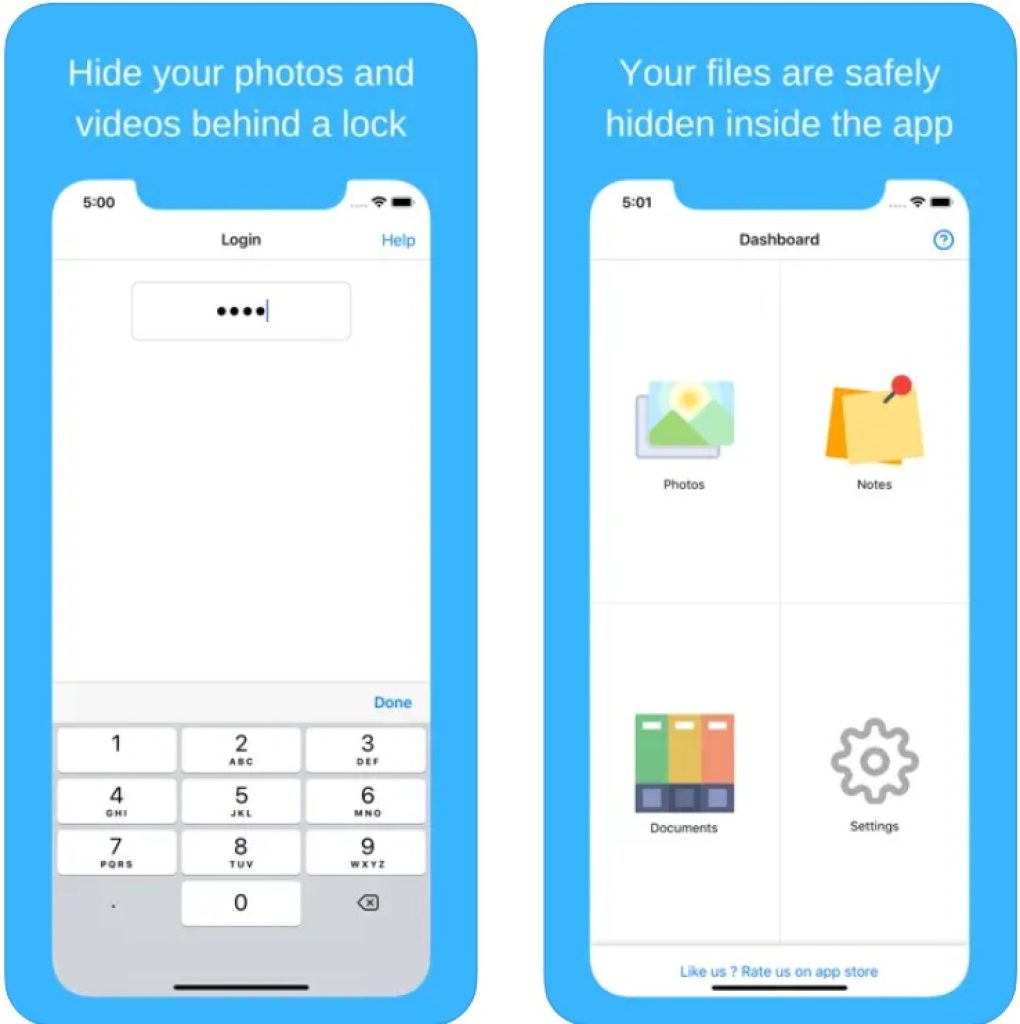 1Gallery – Photo Gallery & Vau
As it comes from the app's name, 1Gallery is limited to what we are talking about here – protecting your photos and videos. The app is an alternative to the basic gallery your phone has with a complete set of functions.
All the files are encrypted with an AES Encryption system. To use it, you are to set a password. You can choose one of the traditional options: a code, a pattern, or a fingerprint.
As the app focuses on photos, it also can operate many non-standard image formats like RAW, panoramic, SVG, and others. You can edit them with an in-built editor with an extensive set of functions: crop, rotate, filter, resize, video trim, etc.
If you decide to change your phone, you can transfer all the photos easily from the app. To do so, you will have to create a separate folder you will later use in a Gallery app installed on your new device. To sign in so that the service could detect your profile you will have to use an e-mail address.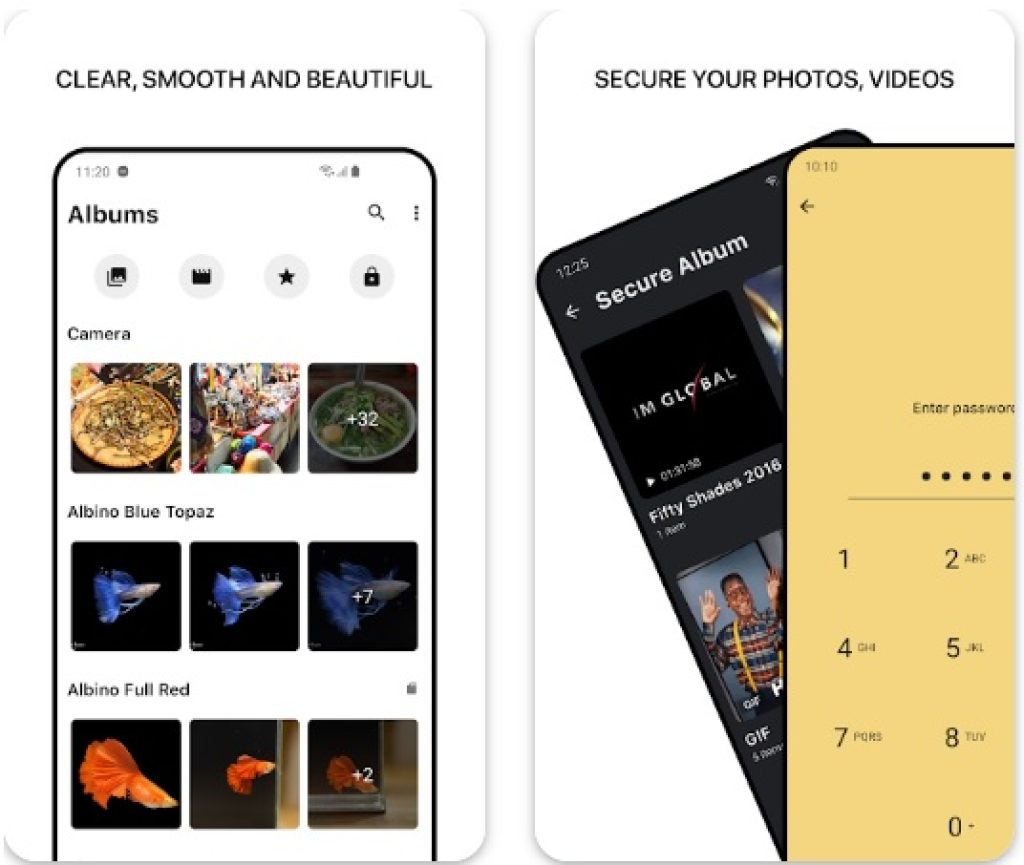 LockMyPix Secret Photo Vault
LockMyPix is one of the services that uses AES encryption to endure the safety of your photos and videos.
The app has a very stylish design. No matter how you decide to access your vault: with a PIN, a Face ID, a Touch ID, a fingerprint function, or a standard password, you will always feel as if you access secret storage with state secrets since the main screen is impressive.
However, banks and state institutions also use AES, so it's even true to some extent.
To save your files from potential intruders, you can create a Fake Vault with its separate password. This decoy secret feature allows you to follow those who want to access your files without your permission. The app also takes a photo of an intruder for you to know who tried to break into.
The actual vault disappears from the screen, and instead, you will have a standard radio or a calculator to store your secrets. Only you will know how much hides behind a standard functional app.
LockMyPix has no ads, so you can edit your files as much as you want without any disturbance.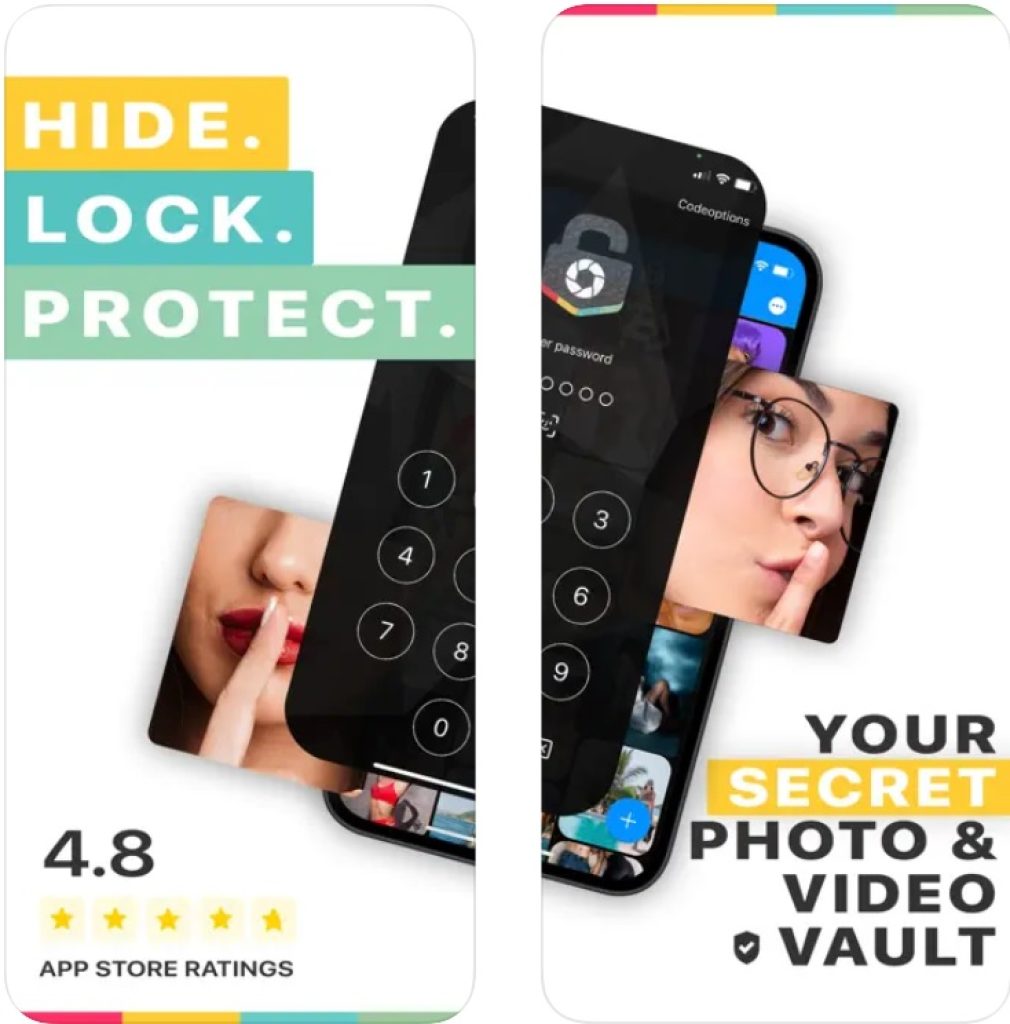 You may also like: 7 Best Android Apps to Hide Text Messages
Safe Gallery
Though the app is called Gallery, it can work with any type of media file and ensure their protection. The choice of methods here is similar to a classic one: a password, a pattern, or a fingerprint.
The app has a cool set of tools to organize the storage. It has a filter that allows you to work with every type of media file separately, including audio, videos, and photos.
The interface reminds that of standard file storage so it's intuitive and easy to use. The design, however, is a bit out of date and reminds us of a retro console main menu.
The app is an external protection system, so be careful and don't accidentally delete this folder from the files storage: all your secrets will be lost too. If you decide to delete it, remove the protection first since the protected files will be deleted too.
All in all, it is a good no-frills option. However, if you are an inexperienced user and are afraid of losing something in the file system, it's probably better to look for something with Cloud storage functions.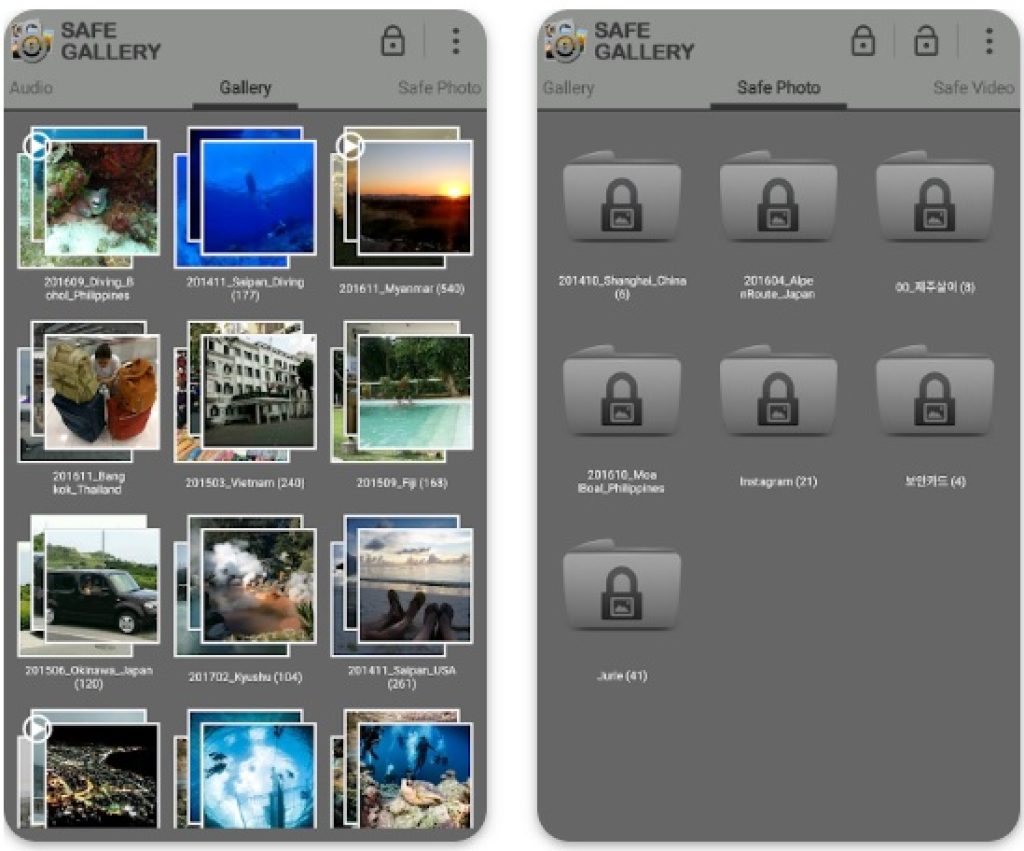 Calculator Photo Vault
Another functional calculator to protect anything you want to protect.
The app has the simplest design possible. It is called just Calculator and looks like the plainest one imaginable. However, you can perform every possible math puzzle with an extensive functions panel.
And the main operation you are to perform is to insert a numeric PIN right into the numeric panel of the calculator. A little advanced mathematics over here.
But, of course, we are not talking about how good it is as a calculator, but how good it can store your secrets. The vault has a useful filter so that you could find anything you want within seconds.
The files are divided into pictures, actual files, videos, PDFs, and Excel. You can also set your custom groups as Cats or Dogs.
Calculator also has a private browser and an intruder selfie-making function. If you want to maximize your safety, you can also create another fake vault to fool potential unwanted users.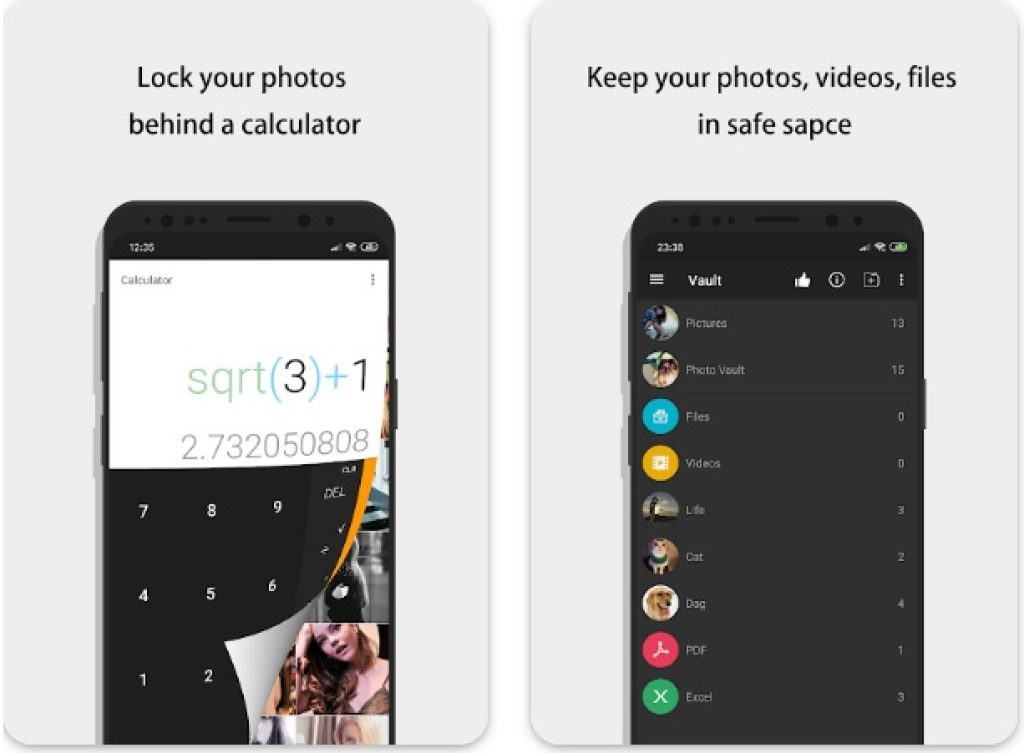 Hide Pictures & Videos – FotoX
Fotox has a good PlayMarket rating and hundreds of users have already entrusted it with their photos and videos they would not like to reveal.
As for the protection methods, you can use a fingerprint, a password, or a code, or you can choose a Fake Crash method, where you will have to imitate the app's crash.
This service is a complete multifunctional file manager. You can manage your folders and take a new photo or film a video directly from the app. To create a new folder, just press a new folder button. Fotox has a pleasant design and a light-green theme, which you can change at any time to any color you wish.
You can view your photos as is in a gallery, but you won't be able to edit them since the app presents them as files rather than graphic images. You can copy or rename them, as well as move them to other folders.
Of course, you can also delete them and share them with other users directly from FotoX. The app has backup functions performed by its Cloud storage, so you will have to sign in to synchronize images. The Cloud has 5 GB of free space.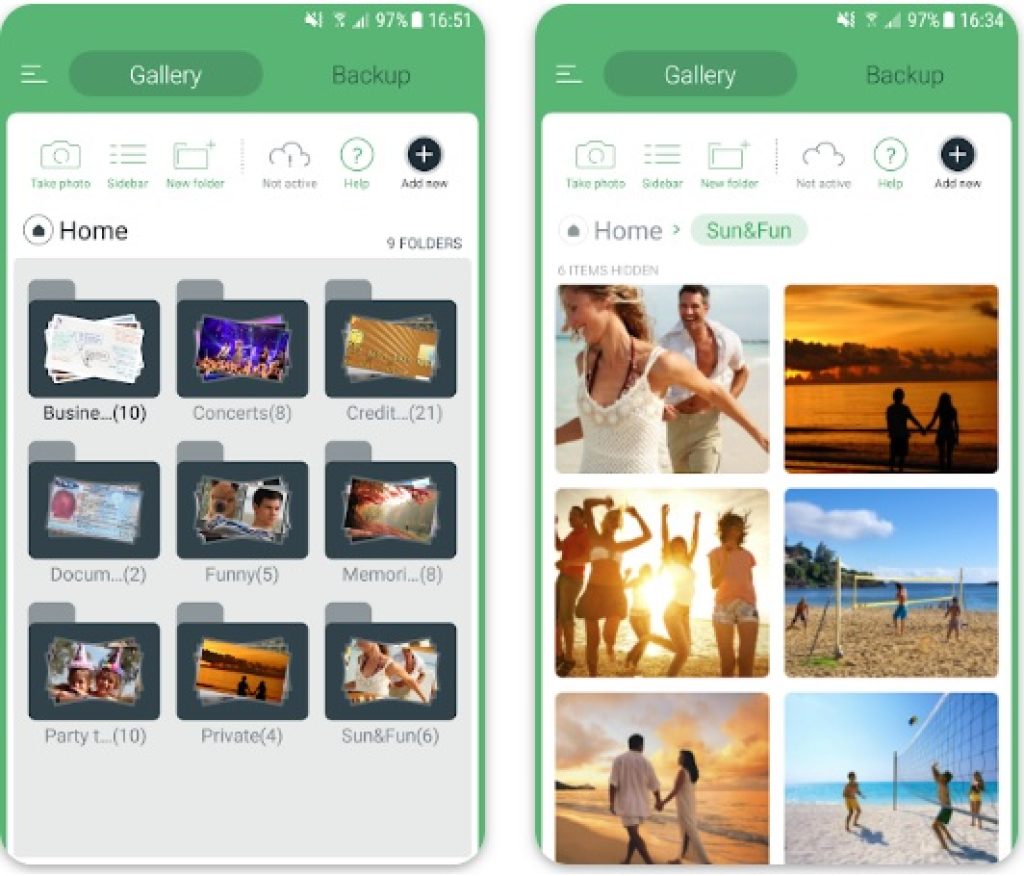 Secret photos – KYMS
KYMS is a powerful security tool with AES Encryption and real-time decryption that ensures military-grade protection. It is convenient to use for browsing your files since you don't have to wait until they are decrypted. Here you can open them immediately while the decryption process will continue automatically.
The app has multiple formats to work with, including non-standard video files and documents of any type. You can protect an Mkv, a Wmv, an Avi, an Flv, and many other videos, as well as numerous Excel, PowerPoint, Word, and Pages files.
You can upload files into the app from every possible source, including camera, gallery, iTunes storage, your PC or Mac via an Internet connection or right from the Internet thanks to an in-built browser. It has bookmarks and history which are completely private.
If you want to cover your secrets immediately, you can try the so-called Panic Gesture: just cover your phone screen with your hand, and the app will log out and shut down at once.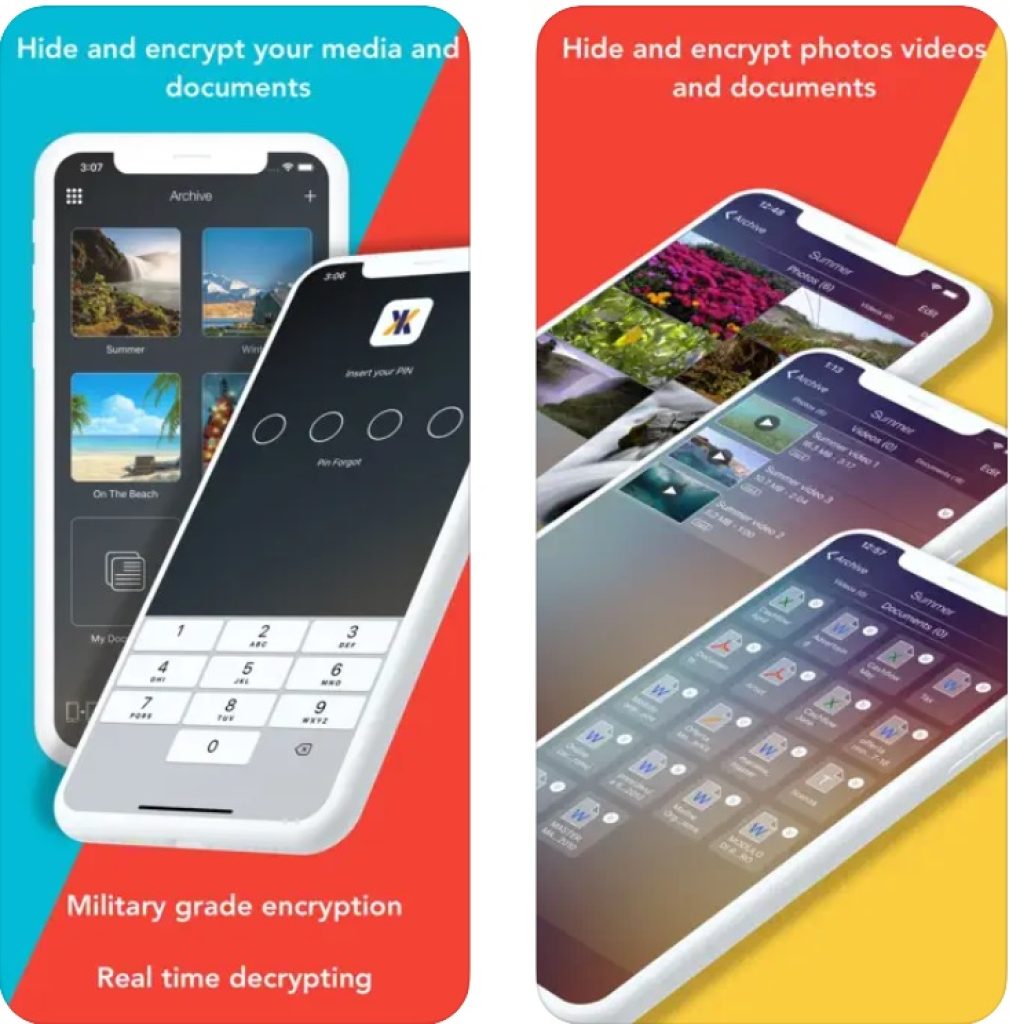 GalleryVault – Hide Photo Video
GalleryVault is the most no-frills service of the type imaginable. It has a cool design to make your experience as smooth as possible and it is one of the easiest, so if you worry to get confused, this one is a good choice to start with.
To protect your files, you will have to create a password or a passcode that is supported by a Touch ID and a Face so that you could sign in within seconds.
The app has a disguising icon to block access to your files from unwanted people. You can also track who wanted to access your phone by a support alerts system that takes a photo of an intruder.
To ensure your safety, you can change the name and the design of the app yourself and create something completely new. If you want, you can opt for some standard designs GalleryVault offers itself.
You can use an installed browser to download images directly. There are no hiding limits so you can protect as many photos and videos as you want.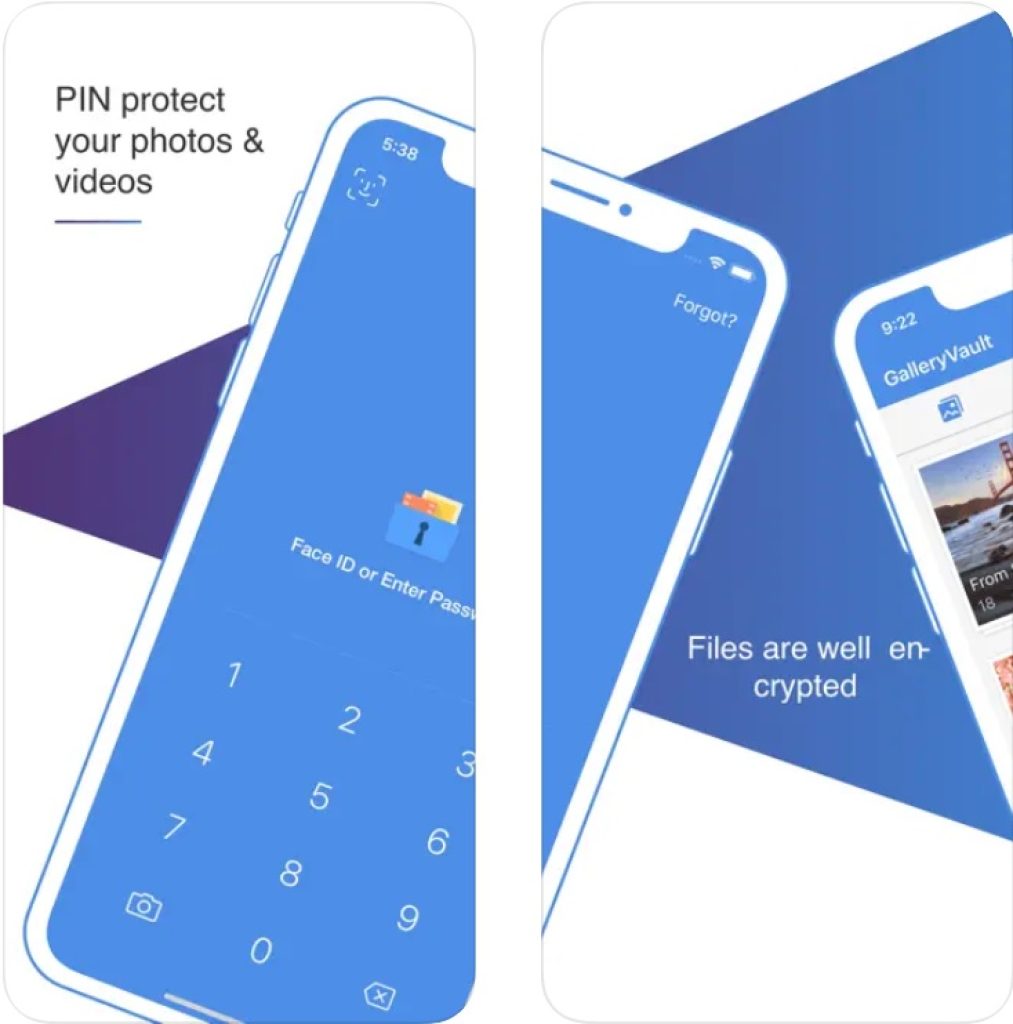 Best Secret Folder
Once you have installed this app, you will see that it comes exactly as it's named. It is a set of protected folders for you to store and categorize your photos and videos.
The icon of Secret Folder is hard to find on the screen. With a set of basic entrance methods, you can be sure about the protection of your files.
You can use various methods to upload files into the app. To manage them, you can create an unlimited number of folders to have the best experience with your extensive private library. This way your media will always be organized and you will be able to find them quickly.
To customize your vault, you can remove and rename filled folders. You can share them directly from the app via e-mail.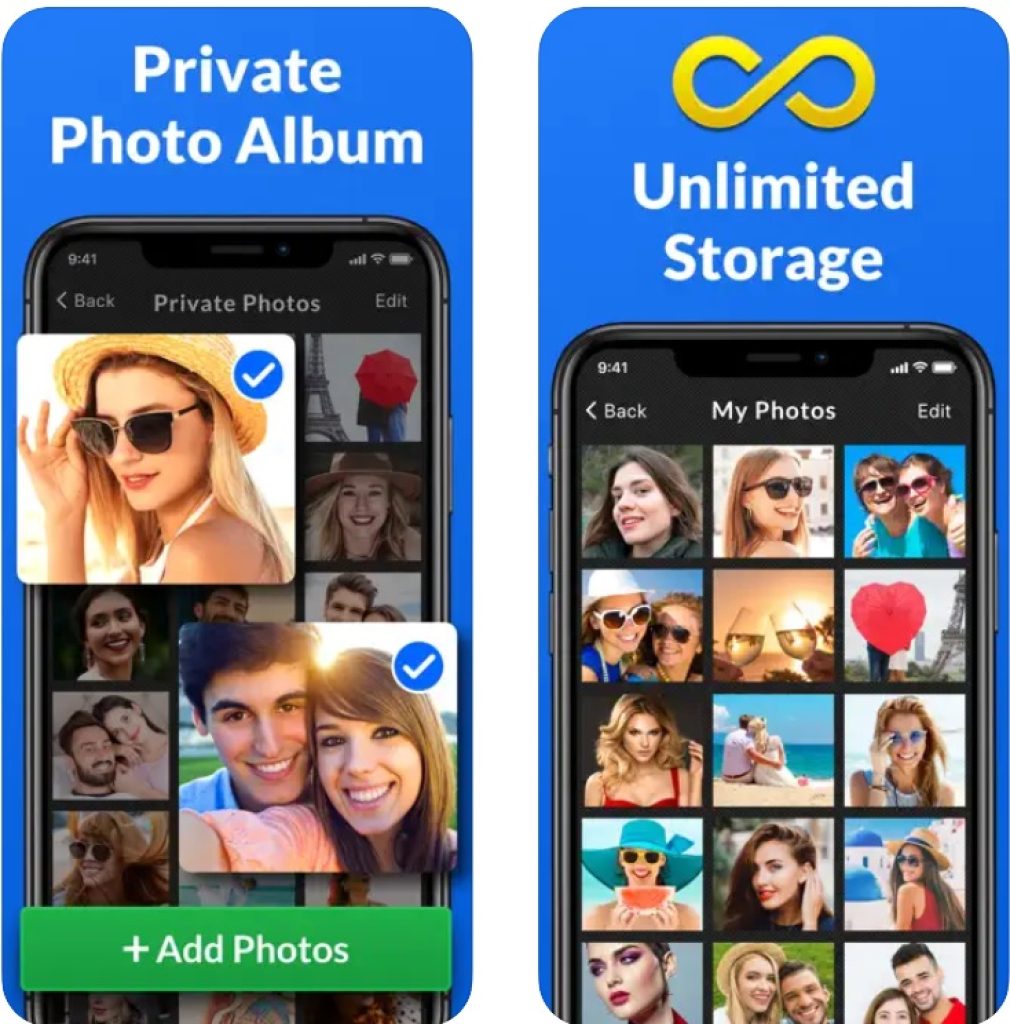 Calculator# Hide Photos Videos
We have already had a calculator and even some of them here, but who said that there can be too many calculators? Especially when we are talking about not just a basic one, but one with a hash?
Jokes aside, it is said to be the richest app in the market regarding function. It works with almost every possible file format, including videos, photos, documents, notes, passwords, and even to-do lists and contacts.
You can hide what you want from the gallery and customize automatic delete features. Enjoy using an in-built web browser to download files directly to the vault. Everything else is integrated too, including Password Manager, Wallet, Secure Notes, Reminder, To-Do lists, Contact Manager, and Importer.
To backup tour secrets, you can connect a cloud storage service like Dropbox to the app. As you can see, it is indeed very flexible and functional.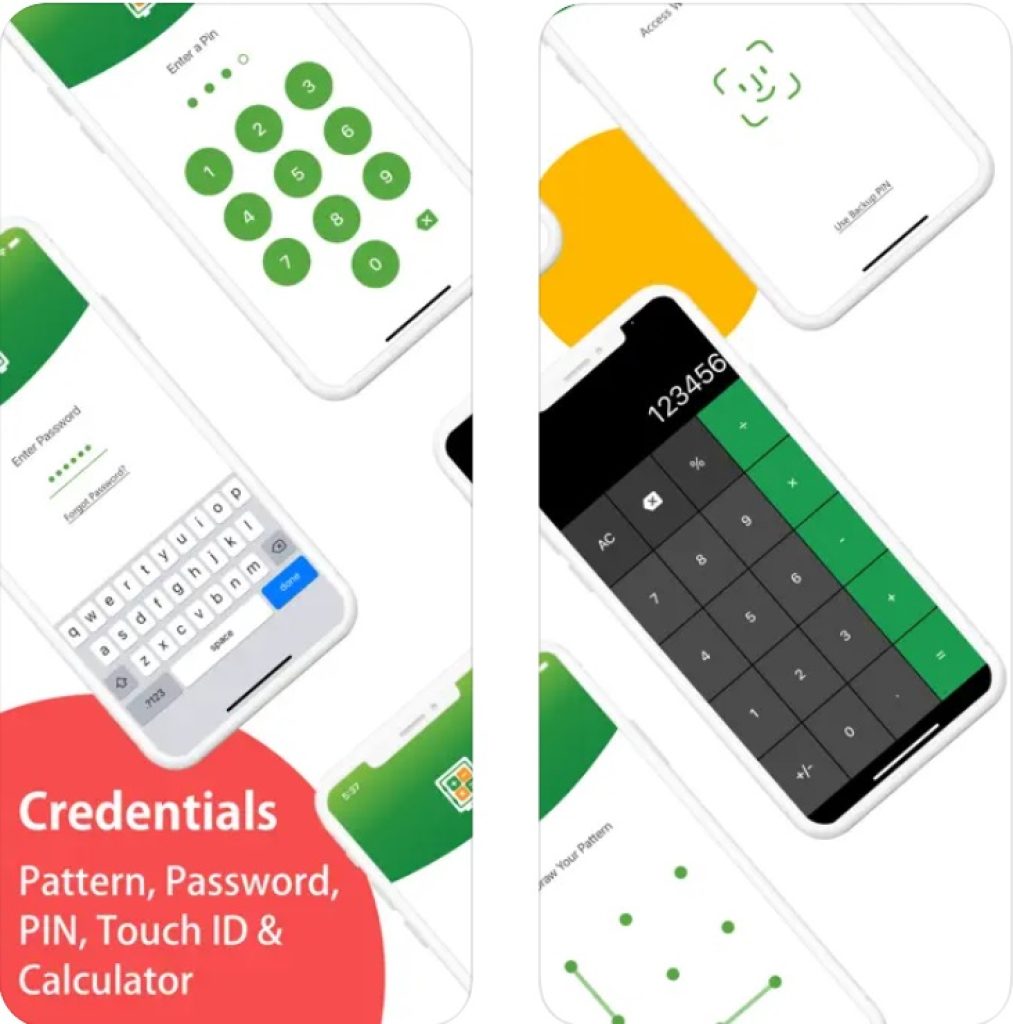 You may also like: 11 Best Apps to Hide Apps for Android & iOS
Google Files
If you don't want to download any external application to your phone, you can just enable Google Files safety filters – a simple and elegant security solution.
All you have to do is just to create a Safe Folder to hide private images, videos, audio, and documents, in short, everything you can store within Google Files.
This way you don't hide such a secret vault at all, so it will be noticeable to those who have access to your phone. However, they still don't have a 4-digit PIN code to see what's inside. Make sure you don't forget the code – it will be impossible to reset in the future.