Are you tired of waiting for a new newspaper to solve your weekly crossword puzzle? It's not a problem! You can solve crosswords every day. You just need to install cool crossword apps on your smartphone.
Crosswords have a colossal positive effect on our brain. If you solve crosswords every day, you will be able to remember the school curriculum, and also expand your knowledge in all areas of life and science.
Crosswords will also help develop your memory and logical thinking. You will be able to expand your vocabulary, and crosswords will help prevent dementia in old age.
Moreover, almost all apps do not require an Internet connection to work, so you can solve your favorite crosswords anywhere.
Are you stuck in a traffic jam? Solve crosswords! Are you in a long line? Solve crosswords so that time passes quickly. We've put together a list of only the best crossword puzzle apps for you. Find an app that suits perfectly your crossword preferences.
If you want to improve your brain skills, even more, read this article and discover new logic apps.
Crossword Puzzle Free
This app deserves to be the first on our ranking list. It lets you solve thousands of crossword puzzles anywhere and anytime. Many crossword lovers call this app their dream crossword puzzle.
This app has all kinds of crosswords from the simplest to the most difficult. Your task is to fill in all the squares with letters to make words. You can solve crosswords on any of your devices. The app can work offline. Don't worry if you don't have the Internet, you can always solve your favorite crosswords.
Moreover, the app has several crossword packs. They are divided into 4 levels – Easy, Medium, Hard, and Very Hard. Start with a simple level, gain experience and you can solve a very hard level.
If you have problems guessing a word, you can always use a hint. The app will show you some letters in a word if you don't want to open it completely. Lock the letter in the word so you don't accidentally erase it. Do this only if it seems to you that the letter is correct.
The error assistant will point you to the wrong letters or words. You can easily fix them. Pretty good for a common crossword puzzle game, isn't it?
If you don't want to remove all the incorrect letters yourself, let the app do it for you. Click on the "Clear Errors" button. The app impresses with its unique and stylish interface. The dark theme does not annoy or distract from solving crossword puzzles.
The musical accompaniment of the app soothes and tunes in thinking. You can turn off the music and sounds in the settings. Believe it or not, this cool crossword puzzle app only takes 24MB.
This is a great opportunity to solve crossword puzzles without affecting the performance of your smartphone. Crossword Puzzle Free has been downloaded over 1 million times worldwide. Try this app and you will not be able to break away from solving your favorite crosswords.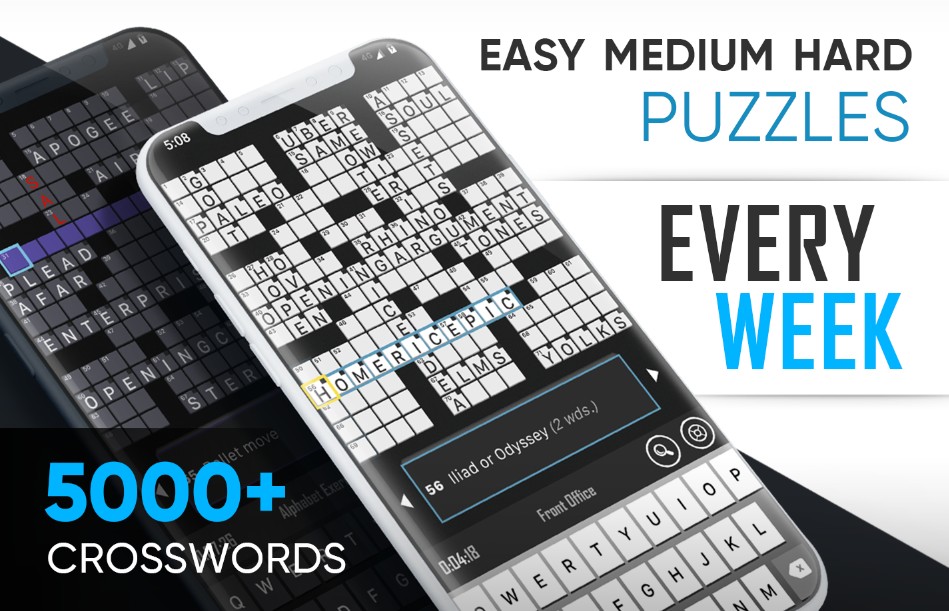 You may also like: 11 Best Games Like Sudoku for Android & iOS
Crossword – World's Biggest
How is this app different from others? It has collected over 10 thousand different crosswords. Enjoy crosswords every day with World's Biggest Crossword. The app has 7 game modes. This will allow you to diversify solving crosswords. More than 10 thousand clues are waiting for you.
Complete daily tasks to receive rewards. World's Biggest Crossword has game currency – gold coins. You can spend them on hints. Get trophies and open secret crosswords. Personalize crosswords by changing the background.
You will find a huge selection of backgrounds of any theme and colors. Choose the difficulty level. The more difficult the difficulty level, the longer and larger the crosswords will be. This will allow you to develop your thinking and expand your vocabulary. The app will be useful for those who study languages.
Complete the daily diamond crossword puzzle for even more bonuses. Take your crossword puzzles to a whole new level in quote mode. Your task will be to guess not only one word but the whole expression or quote.
Complete all challenges to earn the Crossword Superstar title!
The app has a bright and cheerful interface that will not let you get bored. If you need an assistant, you can contact the technical support of the app. You will be contacted and all problems will be quickly resolved.
World's Biggest Crossword is free but has items that you can buy to make the game easier. You can turn off the features of the paid item at any time if you do not want to use it.
The app weighs 52MB. It does not require any permissions and does not run in the background. Download it and join the huge community of crossword lovers.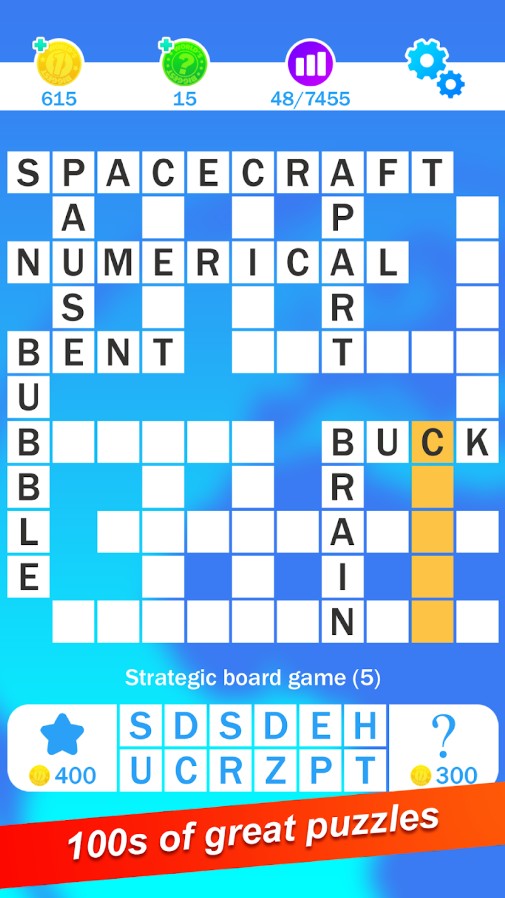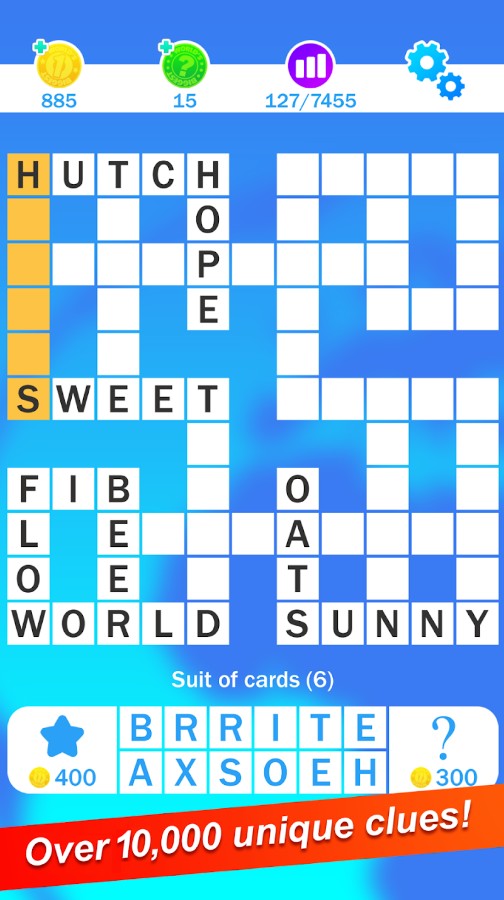 New York Times Crossword
The New York Times makes us happy with this wonderful app. They created a crossword puzzle app for those who love crossword puzzles from their newspaper.
You will be able to solve the daily crossword puzzles that are published in the newspaper. The app will give you 7 days of unlimited access to crosswords. You can subscribe to the full version of the app if you like. Register in the app so as not to lose your progress.
Registration is fast and doesn't require a lot of your personal information. Daily crosswords are released at 10 am. Don't miss the daily dose of crosswords every morning.
Have you ever solved crosswords over your morning coffee? Try it! You will notice that it is easier for you to solve crosswords in the morning. Crosswords are getting harder every week, so you must have an account to not to lose your progress.
Crosswords are easier on Mondays. Try to solve a difficult crossword puzzle on Sunday. If you are short on time, you can solve mini puzzles. They can be solved in a few minutes but they still develop your brain.
The app has an elegant interface that can be personalized. Open app settings and select pack. You can also look at the leaderboard to see where you are. Become the smartest crossword player.
Open the achievements tab to check your rewards. Complete tasks to get more achievements. The New York Times Crossword has a cool calendar that shows your monthly progress. See how many crossword puzzles you were able to solve, and also find out how it benefited your brain.
The app has been installed over 1 million times. If you are a New York Time lover, then the app will be a great addition to this popular newspaper.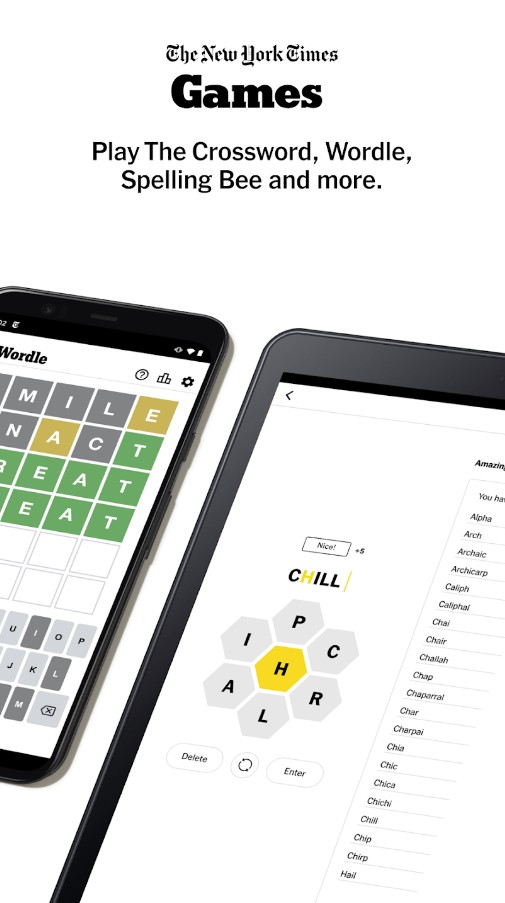 Crossword Unlimited
Meet another crossword app. It is suitable for those who like simplicity. More than 1,000 different crosswords are waiting for you. The app has good and understandable definitions for the hidden words. Try several game modes.
The classic mode is familiar to everyone. You need to guess the words horizontally and vertically. Have you ever tried the arrow crossword puzzle? Questions are already on the grid. The arrow shows the direction where you need to write the word.
If you want to optimize your screen space, try the barred crossword mode. Don't think that if you make a mistake in the crossword puzzle it can't be fixed. This is not a newspaper in which we write with a pen.
The app has a couple of features to fix. You can delete a letter or a whole word. Crossword Unlimited is an almost endless game because new crosswords are generated automatically by the game. You will not be able to play the same crossword puzzle grid.
Adjust your grid before playing. Choose the size and difficulty of the words. The app will also let you choose the theme of the words. If you are interested in mechanics, then solve crosswords on this topic!
Apart from all that has been said, you can also zoom in and out on the crossword grid. This is a great opportunity to focus on a specific moment in the crossword puzzle. If you are tired of playing, then save your progress and you can continue after a rest.
Crossword Unlimited lets you play multiple games at the same time. You will be able to play large grids on small smartphone screens without any problems. The app supports over 10 languages. This is a great opportunity to start learning a new language or just test your knowledge.
Crossword Unlimited is only 25MB. You can solve crossword puzzles anywhere and anytime. Try this app and you can develop your thinking and vocabulary!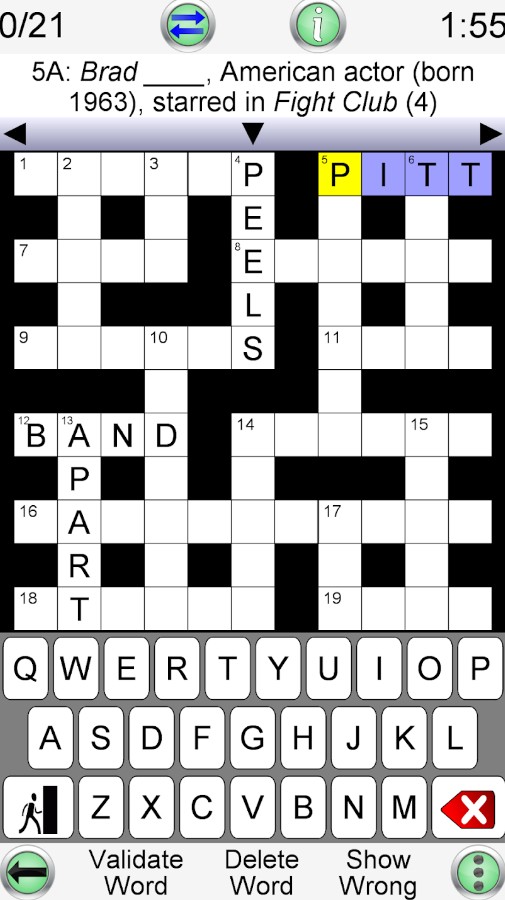 Crossword⋆
Challenge yourself in over 2 thousand mini and large crosswords. You will receive unlimited hints to help you find all the correct answers. Each crossword puzzle has its own theme of words.
If you have chosen cross-typing on the topic of Thanksgiving, then the words will be appropriate. Crossword⋆ is a mixture of fun, knowledge, and tranquility. Nothing will rush you, because the app has no time limit for solving crosswords.
Solve them at your own pace. The app has themed days of the week. Now we will list them for you and you will understand that this is a great idea to diversify the game.
Monday is music day. Tuesday is a meal day. Wednesday is the day of miracles. Thursday is book day. Friday is the day of the cinema. Saturday is sports day. Sunday is a day of fun. The app has a large collection of crosswords for all occasions.
Moreover, the developers are adding new crosswords every day. Don't miss to solve the new crossword puzzle. The app will show you errors by highlighting the wrong letters or words. You can quickly delete the original letters and insert the correct ones.
The design of the app is very cute. You will love the cartoon graphics and beautiful special effects. The musical accompaniment is not distracting or annoying. You can turn off the music in the app settings.
Crossword⋆ lets you choose your background music. Open up a large library and choose what you like. The app adapts to your position. You can choose landscape or portrait mode.
If you have several devices you can sync them with each other. This way your progress will not be lost. Download Crossword⋆ and you can solve your favorite crosswords every day while developing your brain.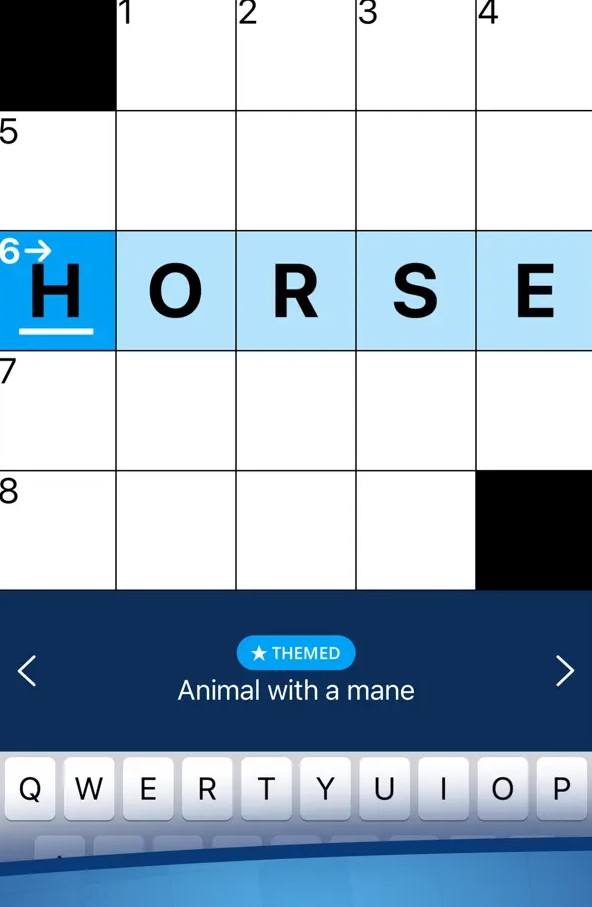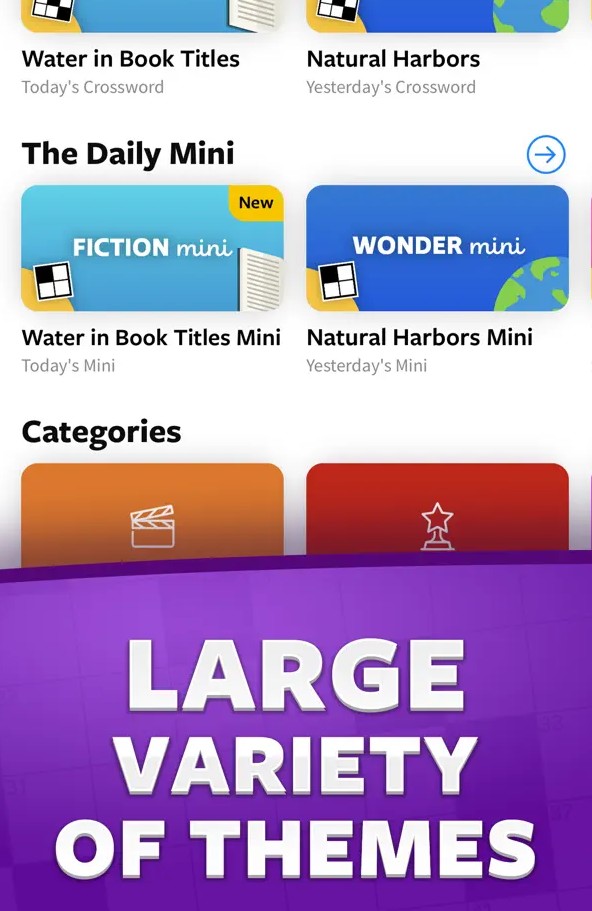 Crossword Scanner: solve daily
This app is suitable for crossword puzzle lovers.
Unfortunately, it is not always convenient to carry magazines with crosswords, but all puzzles can be easily copied to your phone.
First, take a high-quality photo of the crossword puzzle. Make sure that all the details are visible. Upload the photo to the app. Or scan the puzzle, there are convenient tools to do this quickly.
Now you have the opportunity to solve your favorite crossword puzzle right on your phone. Tap on the appropriate spot and enter the answer. The text will appear on top of the photo.
The app also has the feature of solving a crossword puzzle with other people. To do this, you need to register and invite your friends. It is much more fun to unravel puzzles together online.
Save the crosswords to return to them when you have time. You can create a whole collection of puzzles and never get bored in the office.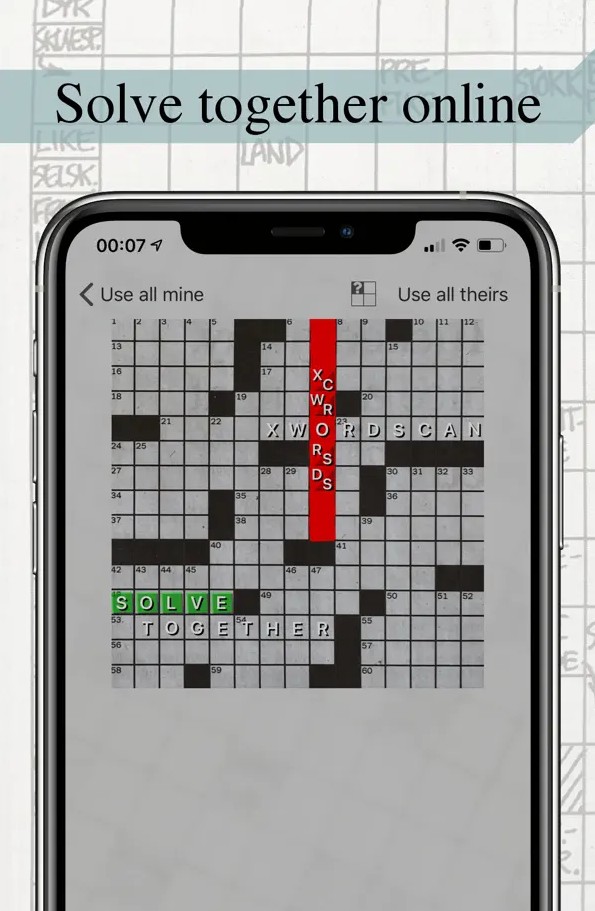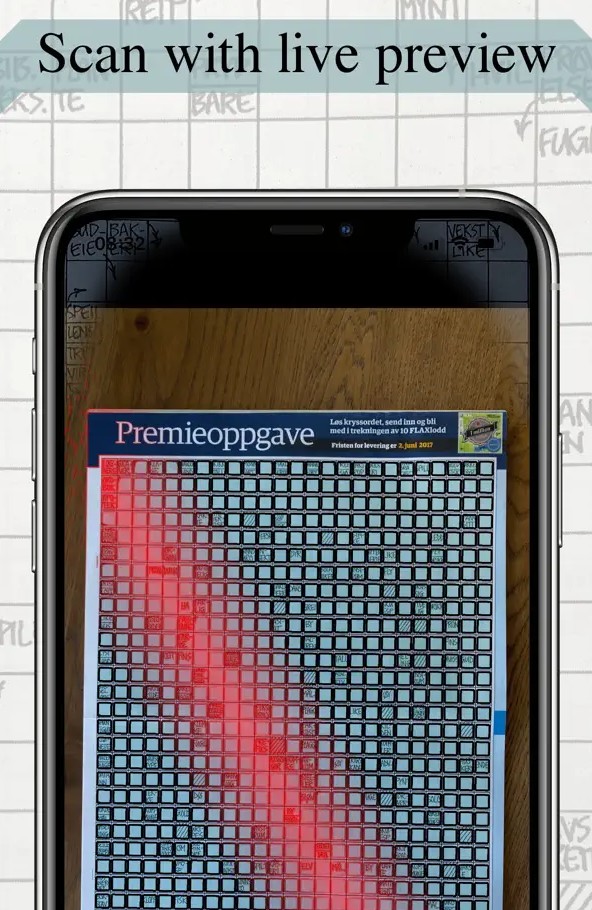 CodyCross: Crossword Puzzles
What keeps vampires away? Garlic! Such interesting questions will be encountered in the crosswords of this app.
CodyCross has become the best app of 2017. You will have a completely new crossword puzzle experience. The app will help you relax in the world of knowledge and become a little smarter. It's always best to learn with fun. The app has exclusive gameplay. You can solve crosswords wherever you are.
CodyCross is a small alien who came to Earth to study it. Will you help him? You will travel through space and time learning new and interesting facts. Answer correctly to reveal the secret word.
Thousands of levels with unique designs await you. CodyCross is a great opportunity to relax and study at the same time. Check your knowledge in different fields of science.
You can also test your language skills. Your task is to write words without errors so that the app will count the answer. If you are stuck on a question or word, then use the hint to continue the game.
CodyCross has 4 types of clues. You can buy additional hints with in-game currency. Connect the app to Facebook to sync your progress across all your devices.
Enjoy stunning crossword backgrounds. You will dive into the atmosphere of the topic. The app will allow you to solve crosswords offline but with limited features.
If you love the development of the plot, then play the adventure mode and explore the Earth with CodyCross. You can subscribe to the full version to get more features. Open the app settings and select the difficulty level.
The app has 4 levels of difficulty. This is an addictive game. CodyCross has been installed over 50 million times. Join a huge community of Earth explorers and become a trivia master.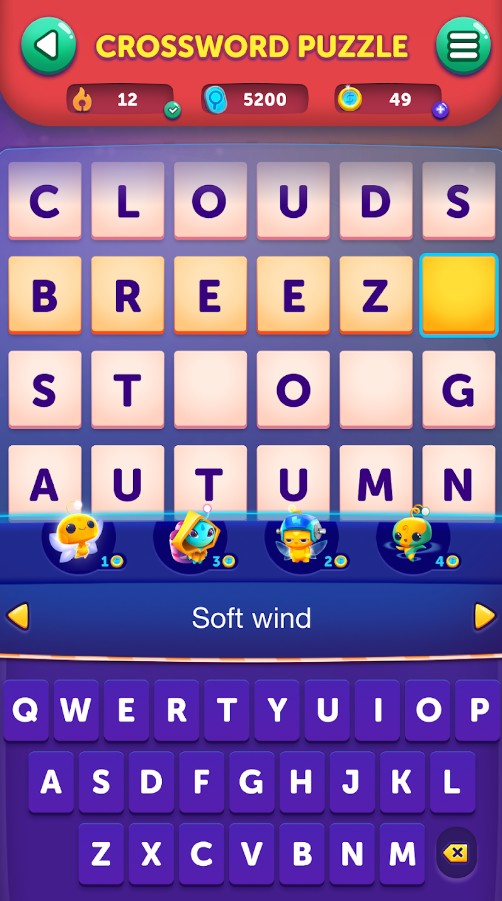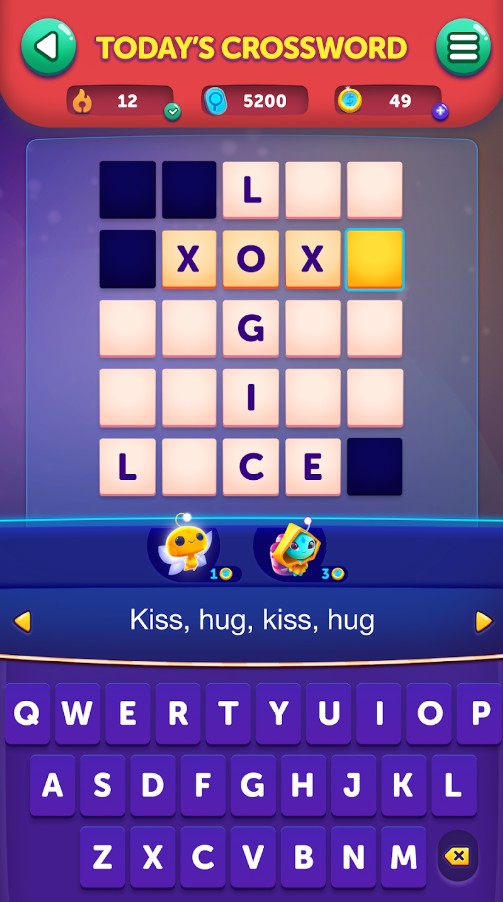 Crossword Puzzles!
Do you love solving crosswords but don't always have them at hand? This app will allow you to have a crossword puzzle wherever you are. It does not require subscriptions. You can solve crosswords every day for free without registration.
The app is cozy. Nothing will distract you. Enjoy hundreds of beautiful backgrounds of nature and cities. You are waited not only for crosswords but also for other brain development puzzles.
Hints will help you if you suddenly get stuck. Check your crossword solutions and find errors. The app will indicate incorrect letters or words.
The app has a simple and comfortable interface. A big advantage of the app is that almost all puzzles are available offline.
You can choose the horizontal or vertical orientation. The app takes up a little over 100MB. We recommend trying it for those who love comfort and tranquility.

You may also like: 11 Best word association games for Android & iOS
Crossword
If you ever wanted to really break your head over solving any mentally and logically difficult problem, then Crossword will take so many hours of your life. Just think, the app has been developed for more than a year and the tasks are really worth the fact that they have been poring over for a very long time.
The user-friendly interface and ease of use have kept this utility in the top of developing games for more than six months. Due to the fact that this is not an ordinary, but an educational game, the app can be used not only by adults, but also by young children.
Since crossword is a thought task, it will be important to note that in an exciting gameplay you not only enjoy the game, but also train your brain, develop logical thinking, assess the situation, and also increase your IQ. Download the app now and keep your mind up and running.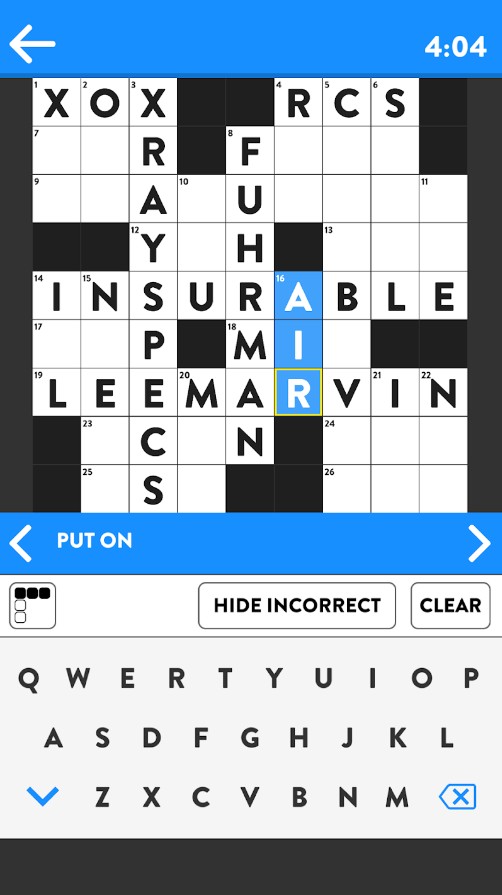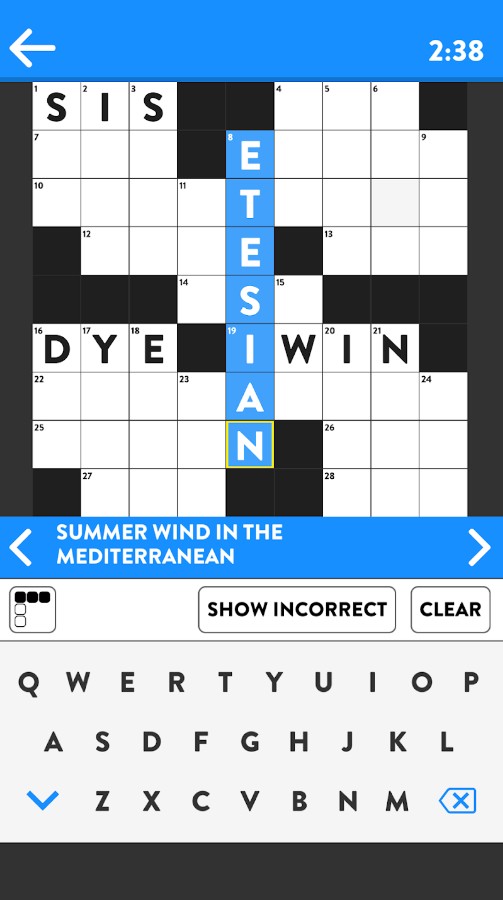 Crossword Jam
Crossword Jam offers an extensive range of levels, ensuring that players of all proficiencies can join in the fun. Each level is like a mini expedition, and there's always a fresh challenge waiting.
In this game, levels are organized into blocks, with each block offering a unique set of puzzles to solve. This structure keeps the game engaging and allows you to progress through various themes and difficulties.
One notable feature of Crossword Jam is its "word search" element. As you explore each level, you'll uncover hidden words that add to your vocabulary and enrich your gaming experience.
Finally, I think this crossword game is one of the best in this category, it provides you with plenty of tricky games that will challenge your intelligence.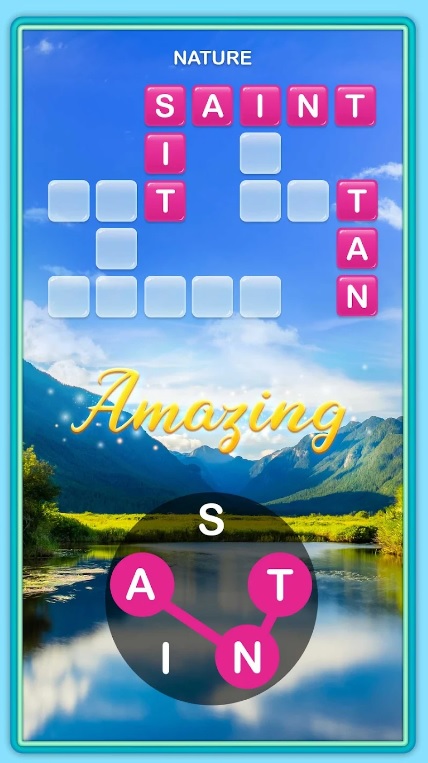 Crossword: LunaCross
The game doesn't stop at traditional crosswords; it also offers exciting mini-games that add a layer of fun and variety to your word-solving adventure. These mini-games keep the gameplay fresh and engaging.
As you journey through LunaCross, you'll explore a cosmic realm filled with intriguing items and concepts related to space and beyond. This unique theme adds a layer of fascination to your crossword-solving experience.
Additional functions like hints and letter shuffling are available to assist you when you're stuck, ensuring that the game remains enjoyable and accessible to all players.
LunaCross boasts a user-friendly design and intuitive gameplay. The visually appealing interface and cosmic graphics make it a joy to play. It's not just a game; it's an interstellar word adventure.
In summary, LunaCross offers a celestial crossword experience with a variety of levels, mini-games, and cosmic themes to explore – so, I'm sure that you will like it.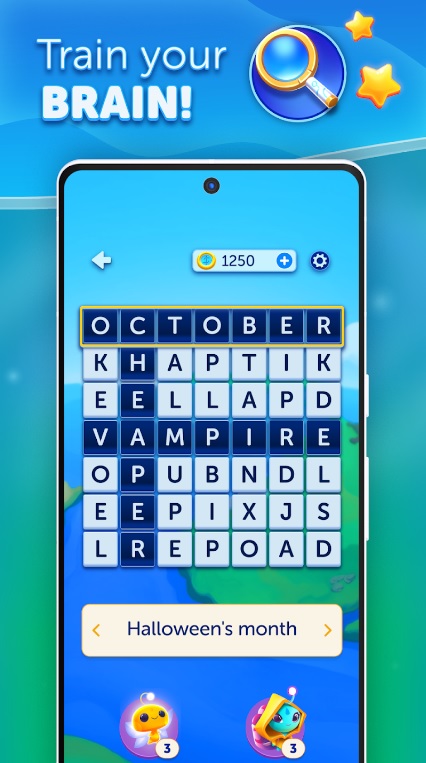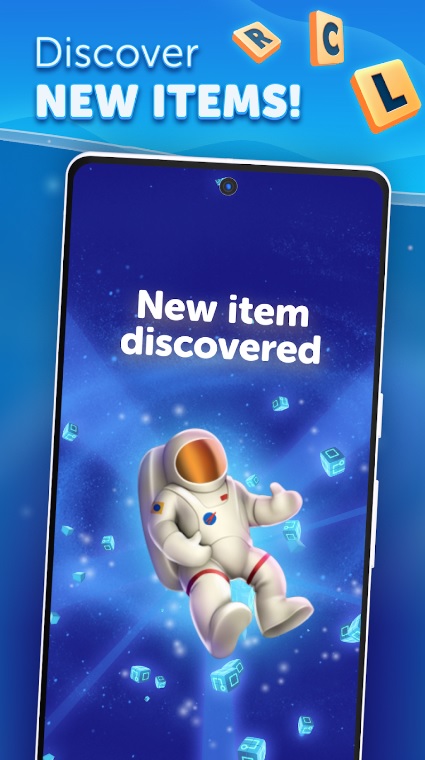 Quick Crosswords (English)
This app is suitable for beginners to solve crossword puzzles. All crosswords are quick and easy. If you have a couple of free minutes, then solve the crossword puzzle. This will make your time usefully and you will become a little smarter.
Have you ever heard that solving crossword puzzles is like mental yoga? It's fun to solve fast crosswords. You will be able to boost your vocabulary. The app will help improve your spelling and logic skills.
It is completely free and does not require registration. The app has over 5 thousand different crosswords. You will not get bored with this app on your smartphone.
Quick Crosswords (English) is great for daily brain training. The app uses British English. It can work offline. This is a great advantage over other similar apps. It is optimized for smartphones and tablets.
Users who have little space on their devices will be especially happy. The app weighs only 2.4MB! This is very small for such a cool crossword puzzle app. Install Quick Crosswords (English) and you will join 100 thousand people who love fast crosswords.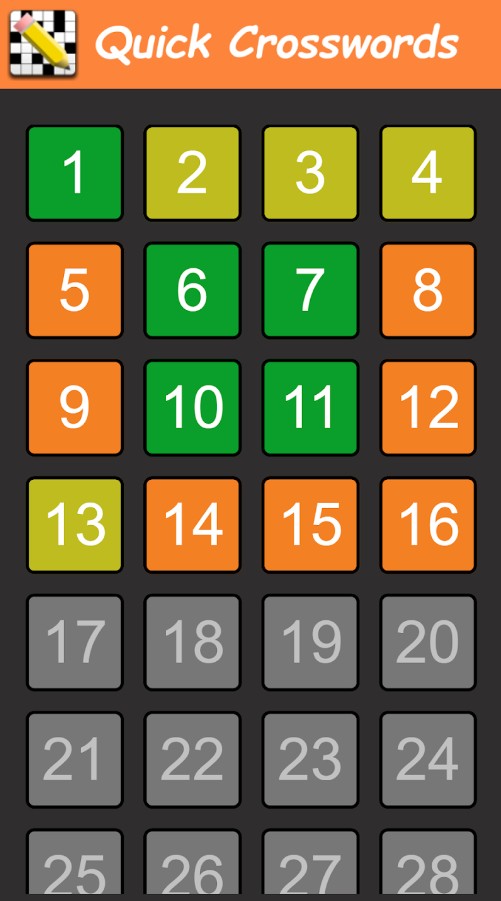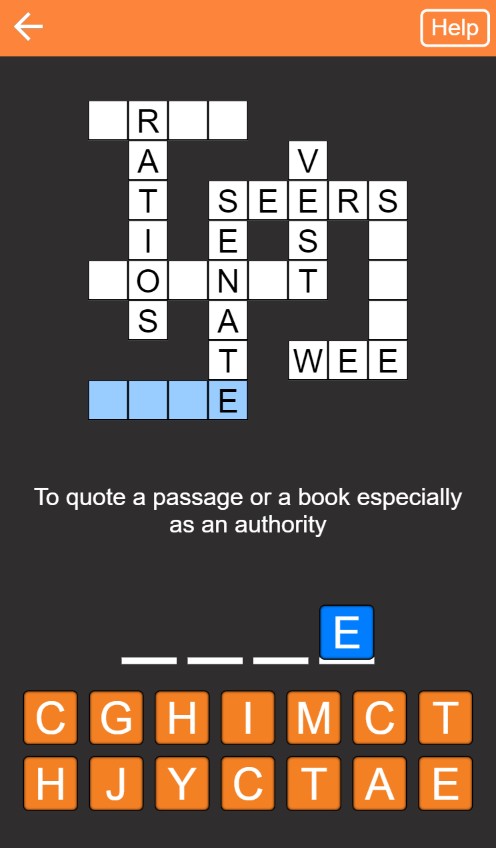 Movies Crossword Puzzle Game: Hollywood, Actors
Probably each of us has a favorite movie. This app will allow you to learn something new every day about Hollywood cinematography and legendary actors. If you are one of those who can't live without crosswords, then this app is for you!
Make exploring Hollywood more fun and exciting. Thousands of movie words are waiting for you to guess. The app has 25 episodes. Each episode consists of 1,000 levels. Not bad, is it? The app will teach you cinematography.
More than 2 thousand trivia questions and crosswords are waiting for you. If you want to win faster, use boosters. There are only 5 of them in the game. You will always be delighted because the timer will not let you get bored.
Try to solve the crossword puzzle as quickly as possible. Play with letters to make a movie. The app will show you help with information about the guessed word. You will be able to learn something new and interesting.
Movies Crossword Puzzle Game stores what you've learned in the reference section. You can always come back with studied actors or movie genres and read about them again.
Use an ice breaker if you get tangled. You will be shown one letter. Get stars for completing a level. The more stars you have in the rating, the higher you are on the leaderboard.
The interface of the app is cozy and stylish. Movies Crossword Puzzle Game has 9 game modes. This is a great way to diversify the game. The app will help you relax.
Background music is not annoying. Moreover, it helps to collect thoughts. The developers continue to update the app. They add new levels and improve performance. If you are a fan of crosswords and movies, then this app should definitely be on your smartphone.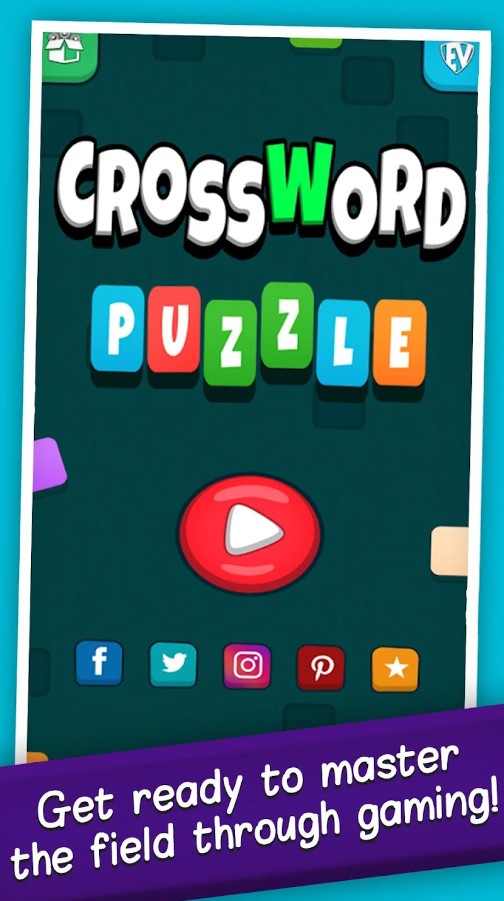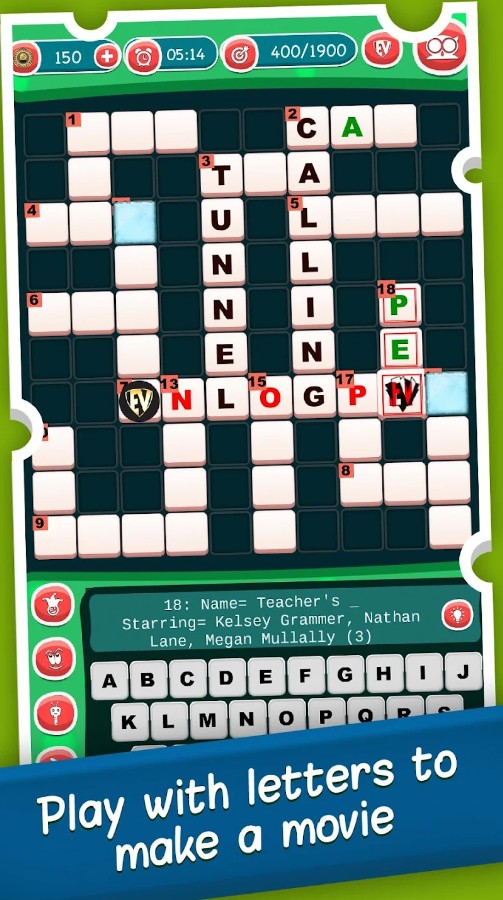 Word Hike
Word Hike is an exciting word puzzle game that promises an immersive vocabulary adventure like no other.
The game boasts a wide range of levels, ensuring players of all skill levels can enjoy its offerings. Each level is grouped into blocks, and you'll find a variety of puzzles within each block, making every step of your journey exciting.
In the main menu, you'll discover user-friendly sections, including levels, settings, and more, making navigation a breeze. Word Hike is designed for a seamless and enjoyable user experience.
In addition, you can access hints, shuffle letters, and reveal words when you're stuck, ensuring that the game remains engaging and manageable.
Word Hike's features include its vibrant and intuitive design, which adds to the overall enjoyment. The puzzles are designed to challenge your vocabulary and problem-solving skills, keeping your brain engaged and active.
Overall, Word Hike is an exceptional word puzzle game that offers not only entertainment but also a chance to expand your vocabulary.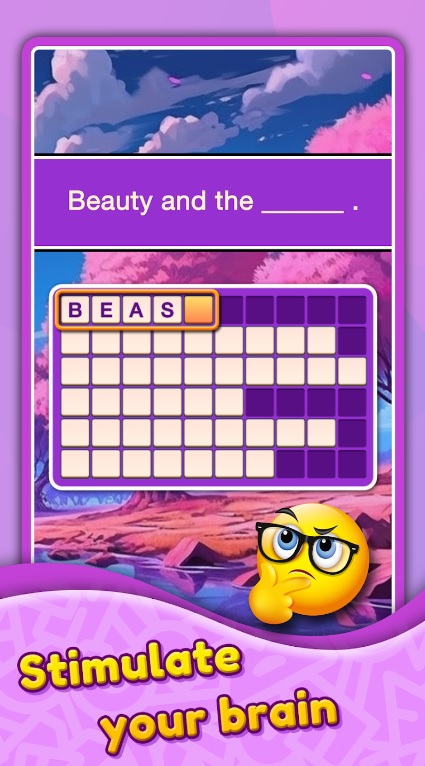 One Clue Crossword
Such a crossword app has not yet been on our list. Have you ever solved picture crosswords? No? This app is a great way to train your brain every day using the associative method.
You will not read thousands of clues instead of this crossword puzzle has one picture with all the hidden words. This is something new, isn't it? This is a completely new way to solve crosswords. The app has over 750 crosswords and 46 chapters.
New chapters are added every month. Over 200 bonus puzzles await you. Try new mix-up mode. Test your knowledge and logical thinking. The app will test your word skills at the end of each chapter.
You will receive an additional reward if you do everything right. Thousands of beautiful photos and HD quality are waiting for you. Be careful and solve all the crossword associations.
The app has a cute purple interface. The graphics are amazing in their quality. Buy hints for coins. You will also receive coins for completing levels. Crosswords have no time limit. Solve words and open stickers.
Collect a complete collection of stickers of different themes. If you have any problems, please contact technical support. The app has been downloaded over 1 million times.
It takes 92MB. Such a large size is associated with a large number of HD images. Try One Clue Crossword and you will not be able to stop solving associative crosswords.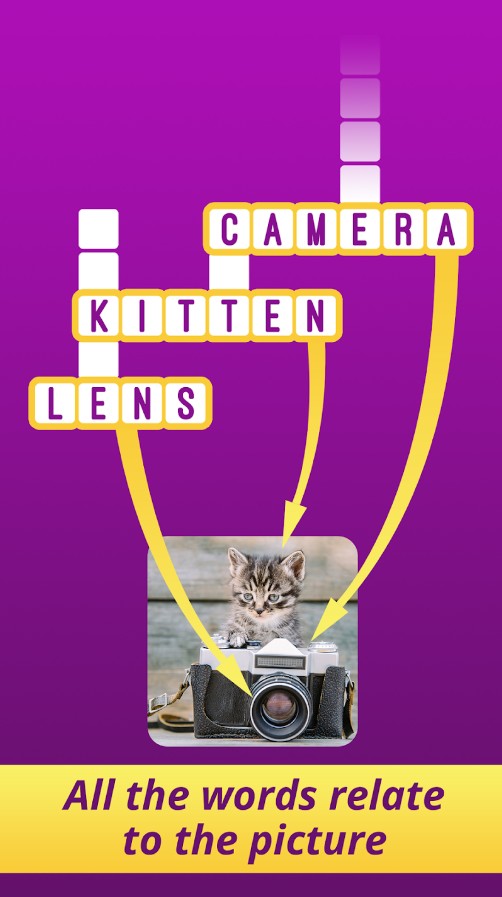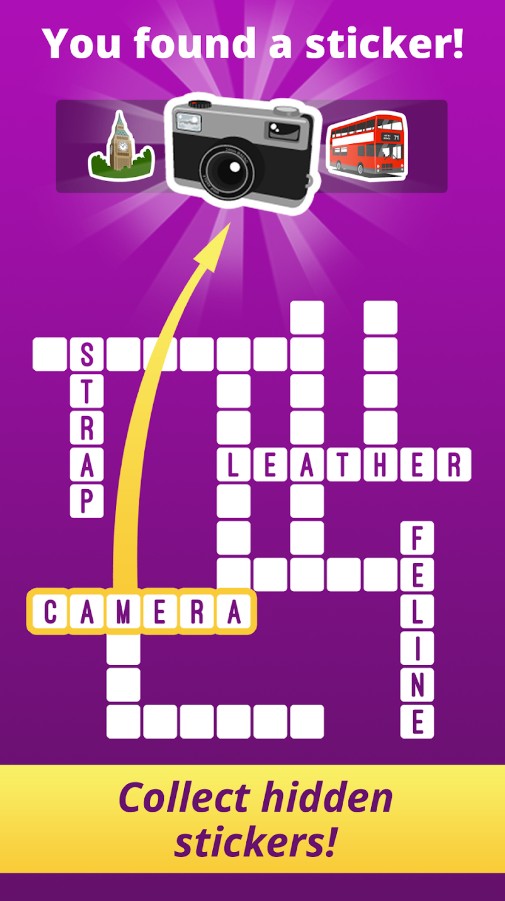 Crossword Quest
With an impressive collection of over 1000 levels, this app offers a wide range of crossword puzzles suitable for all skill levels. Whether you're a novice wordsmith or a seasoned pro, you'll find puzzles that match your expertise.
While Crossword Quest primarily focuses on solo gameplay, it adds a social twist by allowing you to connect with friends. Challenge your pals and see who can solve puzzles faster – it's a fantastic way to put your word skills to the test.
The app's user-friendly interface features sections for levels, daily puzzles, and settings in the main menu. This simplicity ensures a hassle-free gaming experience.
To sum up, Crossword Quest is your go-to app for a word puzzle adventure. It offers a diverse range of levels, social gaming with friends, and useful tools to enhance your gameplay.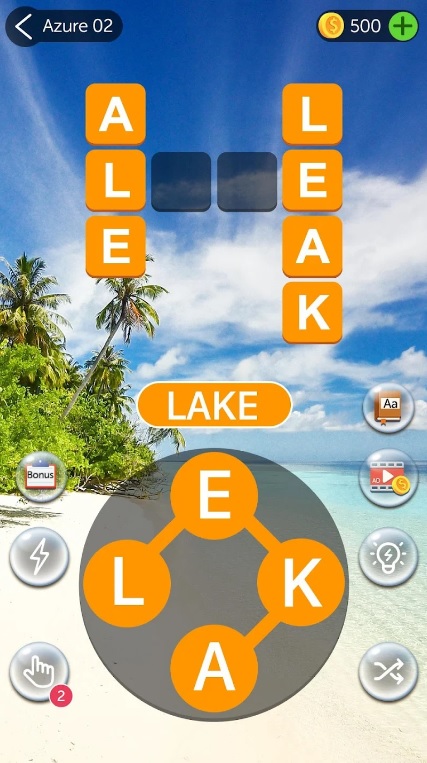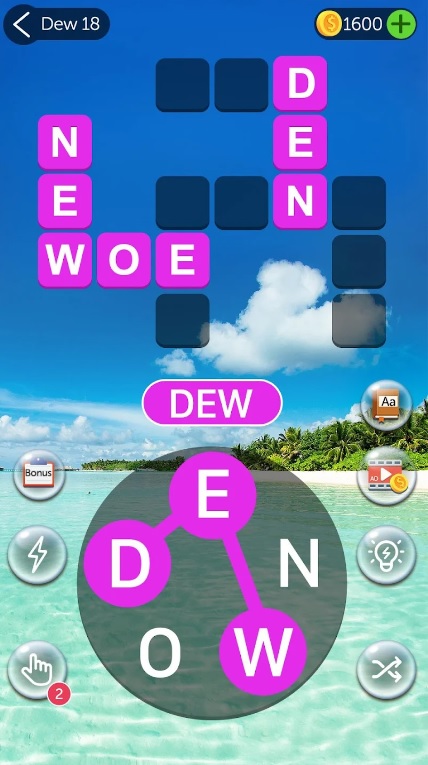 You may also like: 21 Best crossword apps (Android & iOS)
The Big Crossword
Do you want to solve the world's largest crossword puzzle? The Big Crossword app will make your wish come true. It has up to 1250 clues in one crossword puzzle. The grid is very large – 103 by 103 cells.
Can you handle such a difficult crossword? The app has 2 game modes. Choose the one you like the most. The first mode is the quest mode. All clues have been converted into quests. Over 80 quests await you. The second game mode is classic. You will solve crosswords in a classic style.
This app is designed for any category of people. It doesn't matter if you know American culture or not. You can still handle this crossword puzzle. If you get stuck use hints.
The app has 3 non-standard tips. The first is to show the first and last letter of the word. The second is the removal of unused letters on the keyboard. The third is to show the whole word if you have no idea what is hidden in the grid. You will be able to sharpen your wits thanks to this app.
This crossword puzzle is very large. Sometimes you will get confused about where you left off. Click on the mini-grid and the app will enlarge the part of the crossword puzzle where you left off to solve.
The app has game currency – coins. You can buy hints with coins. If you want to receive additional rewards, then play daily. The more you play the more coins you get.
Despite being the largest crossword puzzle app, it only takes up 5.5MB. Install The Big Crossword and you can become a part of a large community of over 100 thousand people.