In our world where the photoshop runs the show it can be so difficult to trust everything you see. Creating a fake image today is a couple of seconds. However, there is a way to reveal all the secrets – in the article down below we collected free fake image detector apps and websites for you to be sure.
And if you want not only to revel fake images, but to learn how they are created, we recommend you to explore our article about the deepfake apps.
Fake Image Detector
One of the best fake image detecting apps. It will make the thorough analysis of any pictures and will tell you in details where exactly the photoshop was used.
You can upload a picture to an app from the gallery. The the app will explore the quality of the video – some general parameters, like width, pixels and so on. Then, in case the image is edited, it will turn red and will show which types of photoshop software were used for the picture and where.
There are several results that you can obtain. Fake Image Detector can tell if:
It is a real camera image
Tempered with photoshop
Digitally altered
Possible tampered
And though the interface of the app is quite outdated it still works decently.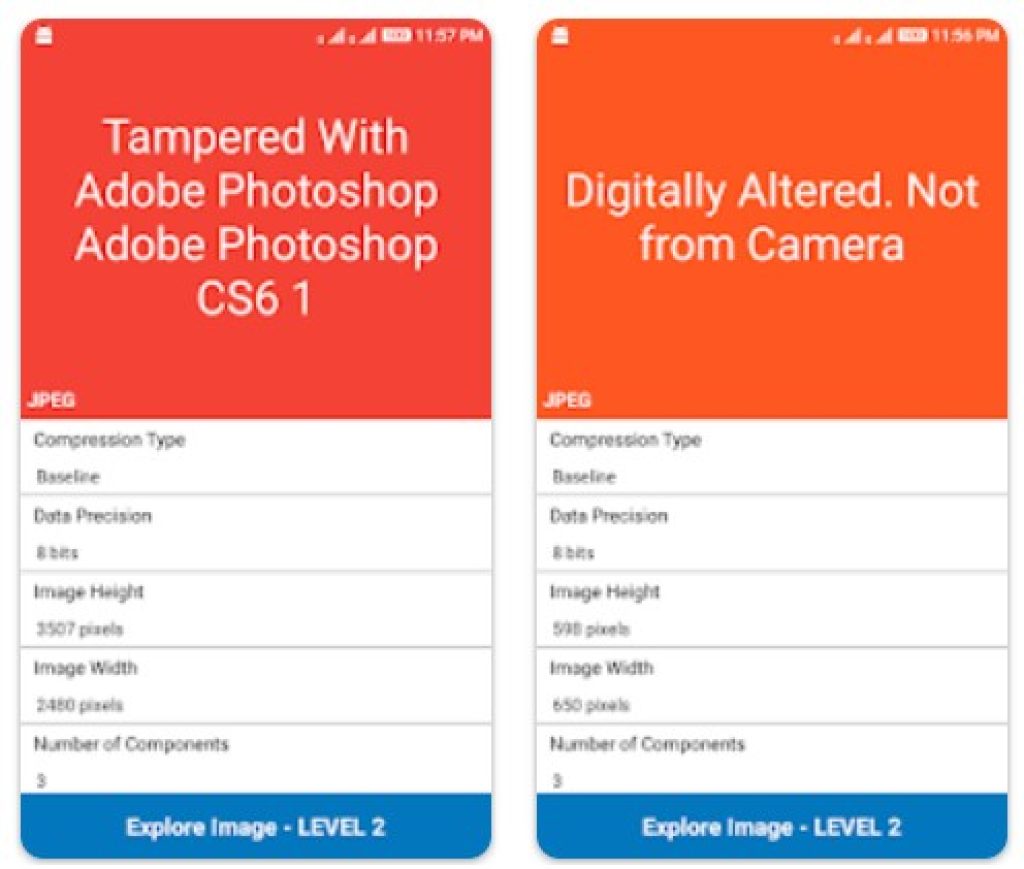 You may also like: 11 Free Live Photo Filters Apps for Android & iOS
Forensically
This is a web analyzer of photos that can identify if a picture was edited or not. It gives you a chance to study each image that you upload in details (or, better say, in pixels) and make the thorough analysis of it.
The following forms of analysis are available here:
Clone Detection
Error Level Analysis
Noise Analysis
Magnifier Enhancement
Principal Component Analysis
Thumbnail Analysis
String Extraction
Probably, this list is enough to detect what kind of a pic you see in front of you. The service is very convenient and quick in usage and it's completely free.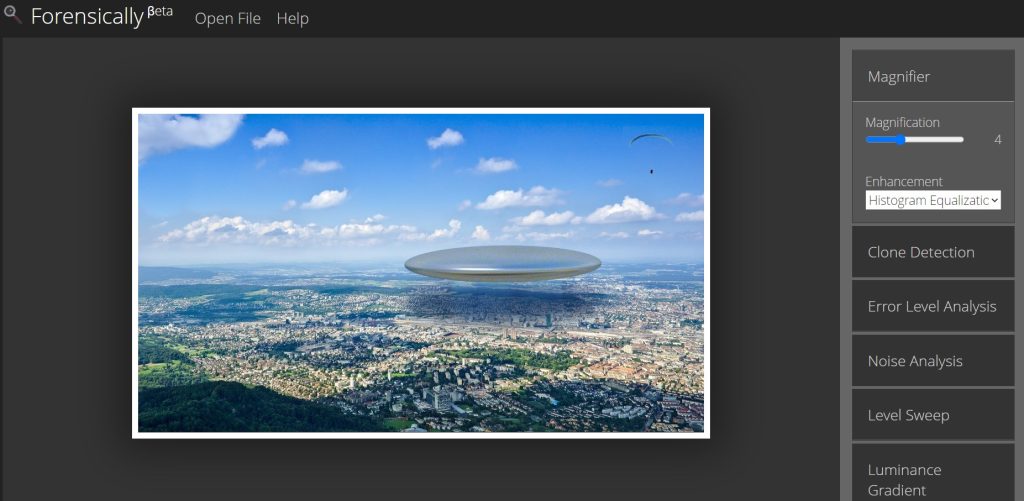 FotoForensics
According to the numerous sources, this portal is the best when it comes to the detection of the fake images. Unlike many other sources and apps, this one uses the decoding photoshop algorithms and thus leaks into the initial code of the image.
The program works in the following way:
You upload the image
The source decodes the image into tiny numbers
If the image shows errors at certain parts of it, then most likely it was modified
Another cool bonus of this web portal is that it provides the guides that will help you to learn how to use this software. Here is the full list of all type of analysis that FotoForensics can perform:
Error Level Analysis
Metadata Analysis
Last-Save Quality
Color Adjustments
Parasite Detection
However, one of the downsides of this web source is it's blocked in a number of courties and it might be tricky to use it eve with the VPN.


Check also: 13 Best Mouth Talking Apps for Android & iOS
Fake Image Detector
Another more or less popular fake image detector app. We need to say that it is much more simple than the previous app for Android and it only can possibly tell if the image is fake or not. To do that, you need to upload the photo to the app and it will tell you immediately.
However, the app in general is more a joke. There are no professional algorithms that can really tell you if the image is a real fake. Moreover, the interface design is just terrible. We only added this app to the list because there is a few of them out there.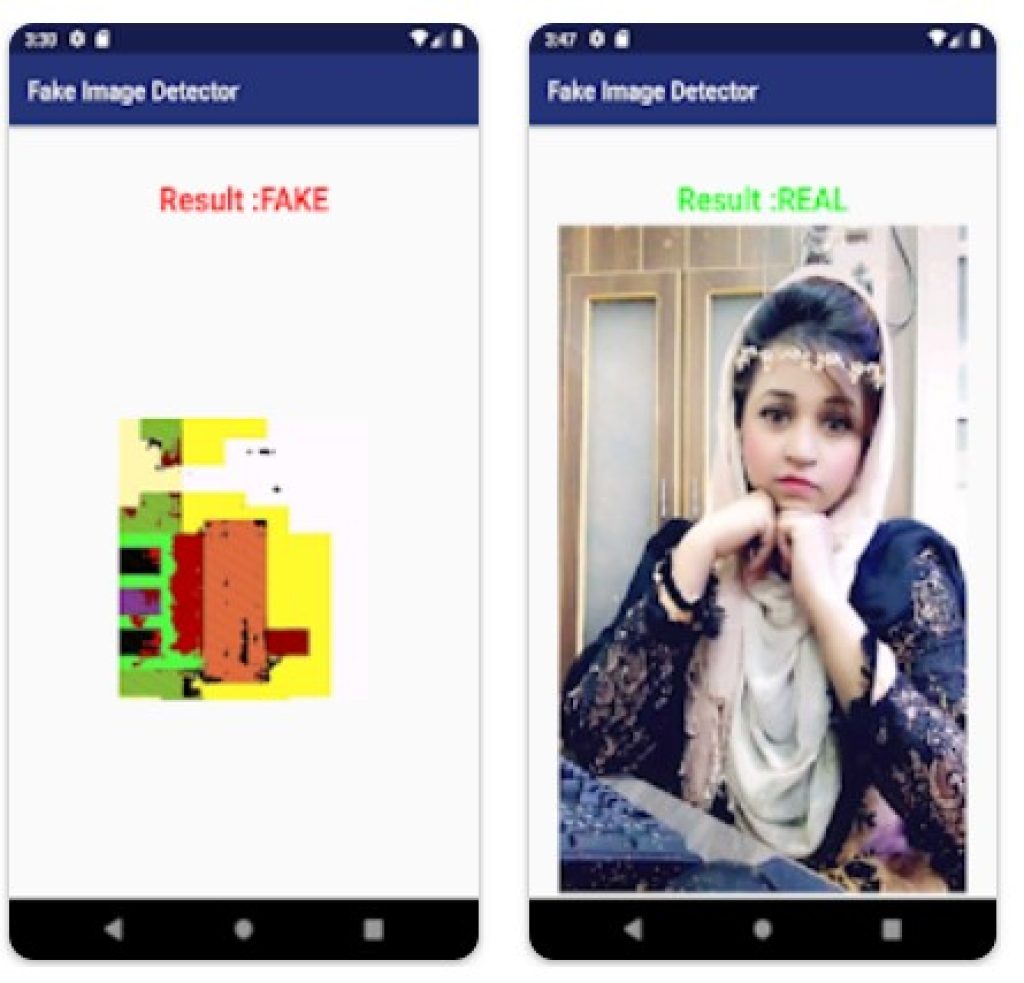 You may also like: 7 Best Apps That Bring Photos To Life And Make Them Talk
Image Analysis Toolset – IAT
This is more animage analyzer and it isn't meant to detect the fakeness in pictures, however, you can do some manipulations and try to reveal some aspects on images.
For example, you can use the color meter and see if there are any fluctuation in colors, or just to see which fitlers were applied to the pic. The logo meter will help you to find the tinies logos on the picture and revel its belonging to the other source, for example.